We know that it's hard to find time to properly plan for a trip with kids, so we have put together all the information and resources you will need to plan a memorable family trip to the Mayan Riviera.
This post contains compensated links.
Thank you to Xcaret and Xel-ha for hosting us on our visits. As always, all thoughts and opinions expressed within are our own!
The Mayan Riviera is a well-traveled region of the world and it's pretty easy to travel there. That said, there were a few things I wish I had known prior to going, which we write about in the some of the blog posts listed below.
We recently spent 28 amazing days with our kids in the Mayan Riviera. We based ourselves in Playa del Carmen and with the help of a rental car, we explored the many natural and cultural wonders of the area. We had an incredibly fun time and we all agree that it is one of our favorite family trips to date!
We hope the following resources will help you plan the best family vacation to Mexico!
When to Go to the Mayan Riviera
When planning a tropical vacation you want hot sun and blue skies, right? Visit holiday-weather.com to see typical weather in the Mayan Riviera by month.
Where to Stay in the Rivera Maya
All-Inclusive Package Deals
Of our 7 trips to Mexico, 5 of them have been to an all-inclusive resort. Typically , we are very active travelers, but there's nothing quite like being pampered in a tropical paradise for a week or two.
The simplest way of booking your Mexican all-inclusive family vacation is to buy a package deal with flights and hotel included. Apple Vacations has an extensive offering of all-inclusive vacation packages departing from both the U.S.A. and Canada.
Family Friendly All-Inclusive Resorts
These amazing all-inclusive resorts don't skimp on the luxury or pampering, just because they are also family friendly…
Grand Palladium Kantenah Resort & Spa (we loved our stay here with our 18 month old daughter)
Paradisus Playa del Carmen La Esmeralda
Don't miss our list of the Best Hotels for Families in Playa del Carmen.
Vacation Property Rentals
Our most recent trip to Mexico was our first off-resort vacation. We stayed at a 3-bedroom vacation home rental in Playa del Carmen, just a few blocks off the beach. We loved having a bedroom for each of the kids, a full kitchen and laundry facilities. We use Airbnb or VRBO almost everywhere we travel. With two small kids, we love having all the comforts of home.
If you planning to stay in the Mayan Riviera a while, have kids who need good sleeps, or simply want a cheaper alternative to an all-inclusive, a vacation rental is the way to go. Find a great place to stay in Mexico with our best tips to find a kid-friendly Airbnb.
Browse Mayan Riviera vacation home rentals.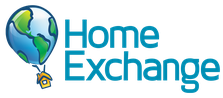 With the large number of people who own vacation properties in Mexico, it's worth checking to see if a free home swap is available on Home Exchange.
Getting Around the Yucatan Peninsula
If you are staying at an all-inclusive, chances are good that you have airport transportation included in your package. If you need to arrange your own transport, here are your alternatives:
Private Transfer
Want your driver to meet you at the Cancun airport gate with your last name on a sign? Booking a private transfer is a nice, reasonably cheap luxury to get your trip off on the right foot.
Car Rental
We rented a car on our most recent trip and despite the occasional unpleasant experience, I am so glad we did rent a car as it improved the quality of our trip immensely. It opened up the whole area to explore on our own timetable, not needing to wait for a tour bus, etc. We were able to get to the major attractions in the region at opening time, thus avoiding the crowds and the hot midday sun.
There are a few things I'd like you to be aware of before you rent a car in Mexico. If you are going to rent a car, please read the blog posts below:
Compare Cancun Airport car rental prices here. (If you find yourself getting excited about the prices, come back and read the blog post on driving in the Yucatan Peninsula first.)
Things to do in the Riviera Maya
Mayan Ruins
There are three major Mayan ruins which are an easy day trip from the Mayan Riviera. Our blog post, "How to Easily see the Best Mayan Ruins" has everything you need to know for a great day trip.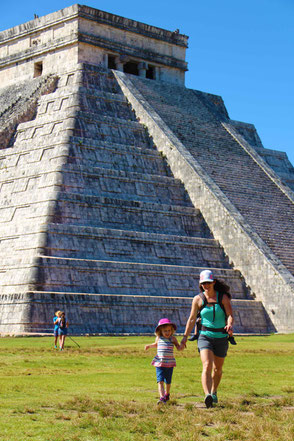 Recently named one of the New Seven Wonders of the World, Chichen Itza is a must-see!
Click here for more information on tours to Chichen Itza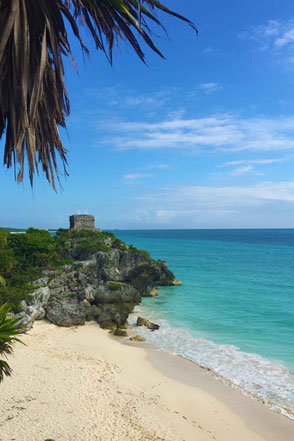 Dramatically perched high on a seaside cliff, Tulum offers some spectacular scenery.
Click here for more information about tours going to Tulum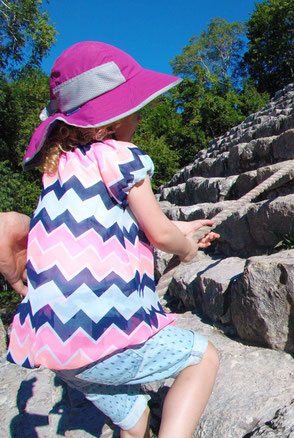 Nestled deep in the Mexican jungle, Coba is the only one of the three where you can still climb the main pyramid.
Click here for more information on tours going to Coba.

Swim with Dolphins
Few family experiences are more exciting than swimming with dolphins! Create memories your whole family will never forget by booking your experience today…
Delphinus has seven convienient locations in the Mayan Riviera, including within the Xcaret and Xel-ha theme parks. Transportation from your hotel can be included in your family package.
Click here for more information.
Dolphin Discovery also has seven locations to choose from in the Mayan Riviera, so you are always close by!
Click here for more information.
Eco Parks
Blessed with so much natural beauty, it's no surprise that the Mayan Riviera is home to some of the world's best eco-parks.
Xcaret and Xel-ha are the feature parks in the area and both are definitely worth a visit.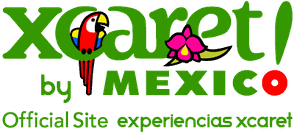 Set in the jungle along the Caribbean Sea, Xcaret is family-friendly eco-park with tons of nature-based attractions. Xcaret was named the Best International Theme Park in the world in 2016.
Click here for more information on Xcaret.
Also Read our Xcaret Blog Posts
A Day of Amazing Family Fun at Xcaret Park
Top 15 Tips to Have the Best Day at Xcaret Park

A great place to spend a hot day, this all-inclusive, oceanfront eco-park has many great land and water based activities for the whole family to enjoy.
Click here for more information on Xel-Ha
Also Read our Xel-Ha Blog Post
How to Have an Unparalleled Day at Xel-Ha


Does your family crave adventure? Try Xplor for a day full of ziplines, cave exploration, underground rivers and much more…
Click here for more information on Xplor

An incredibly unique half-day park, where your senses are aroused and nothing is as it seems…
Click here for more information on Xenses

The best family-friendly Mexican party you can imagine! Enjoy authentic Mexican food, drinks and music while floating down festive canals…
Click here for more information on Xoximilco.

The parks above are all world-class and larger than life. If you're looking for something a little more low-key, check out these smaller parks that we enjoyed during our stay.
Don't miss the chance to experience a cave walk that National Geographic named one of the Top 10 in the world!
Click here for more information on Aktun Chen.

A 60 minute guided tour where you can interact with local wildlife. Feed deer, pet Mexican hairless dogs, hold a parrot or even a snake if you dare!
Click here for more information on CrocoCun Zoo.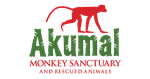 A home for rescued and donated primates and other species. An interaction with monkeys you won't soon forget.
Click here for more information on the Akumal Monkey Sanctuary.
Jungle ATV, Zipline & Monkey Combo Tour

Cenotes
The newest craze in the Mayan Riviera is to swim in kid-friendly cenotes, and we gotta say we loved it! A perfect activity for a hot day, escape the heat with your family and enjoy a swim in one of these natural wonders. They are typically out of the way, so hooking up with a tour is the way to go unless you have your own car.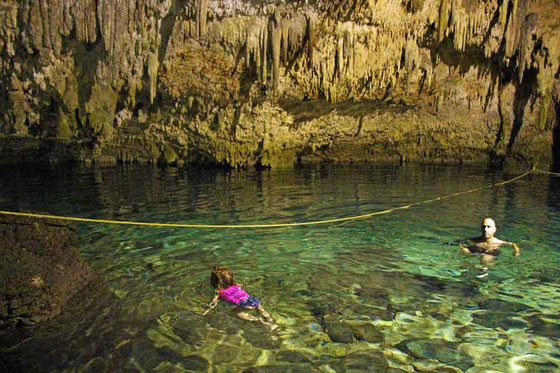 Xenotes: Operated by Grupo Xcaret, you can trust this will be a quality tour. Visit four different types of cenotes and enjoy swimming, ziplining, rappelling and kayaking. (Ages 6+)
Click here for more information on Xenotes.
Kantun-Chi: Enjoy a swim or kayak in four unique cenotes all within this beautiful jungle park.
Click here for more information on Kantun-Chi
Private Tour: Tulum and Cave Adventure from Cancun
Ik-Kil: This cenote has an amazing setting – it's open to the sky, but is located 85 feet below the surface. Some consider this to be the most beautiful cenote in Mexico. Located very close to Chichen Itza, it's easy to visit both in the same tour.
Click here for more information on Ik-Kil
Choo-Ha: A beautiful, cavern-style cenote, blessed with amazingly clear water (pictured above). I can't swim very good, so I appreciated the safety rope which spans the length of the cenote. This cenote is very close to the Coba ruins, making it a great place to cool off after climbing the pyramid.
Click here for more information on Choo-Ha
Family Friendly Attractions
Showing just how family-friendly the Mayan Riviera is, here are even more attractions the whole family can enjoy…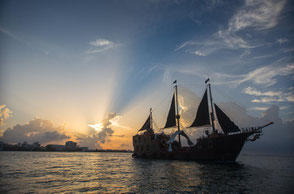 An all-inclusive evening cruise aboard a pirate ship, complete with a pirate show and fireworks.
Click here for more information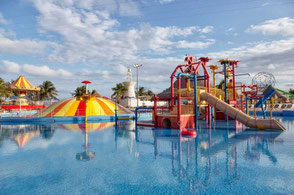 A family amusement park with something for everyone – a water park, ziplines, escape challenges and more…
Click here for more information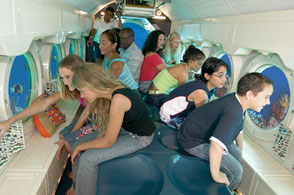 Dive to depths of 100 feet in a real submarine to see the world-famous marine life off the shores of Cozumel.
Click here for more information.

Beaches and Day Trips Near Playa del Carmen
The Caribbean is one of the world's most beautiful bodies of water, so naturally we spent a ton of time on the beach. Not being at an all-inclusive resort freed us up to visit many beautiful beaches in the area. Here are our favourite beaches near Playa del Carmen, day trips to visit Mayan Ruins and a day trip to Isla Mujeres.
Mexican Food
Mexican food is one of our favorite ethnic foods in the world. It's fair to say that it gets a bit of a bad rap for causing tummy troubles. We're grateful to report that all four of us didn't have any issues during our month there. The following blog posts share our favorite restaurants near Playa del Carmen and some food safety tips for Mexico.
Dog Sitting:
Do you have a pet? If so, would you like someone to come stay at your house and watch them for free while you are on vacation? If so, check out TrustedHousesitters.com.

Pin It For Later!