The Mayan Riviera is a hugely popular place to visit and for good reason; there is so much to see and do. We all know about the world-famous white sand beaches and glistening turquoise colored water and the amazing Mayan ruins. But did you know they also have a wide variety of eco-adventure parks as well? These parks showcase the natural wonders of the region (the jungle, ocean, cenotes and wildlife) and put it all together in a mix of fun, learning and adventure.
Here are six parks we really enjoyed during our recent visit to Playa del Carmen:
This post contains compensated links.
Thank you to Xcaret and Xel-ha for hosting us on our visits. As always, all thoughts and opinions are our own!
XCARET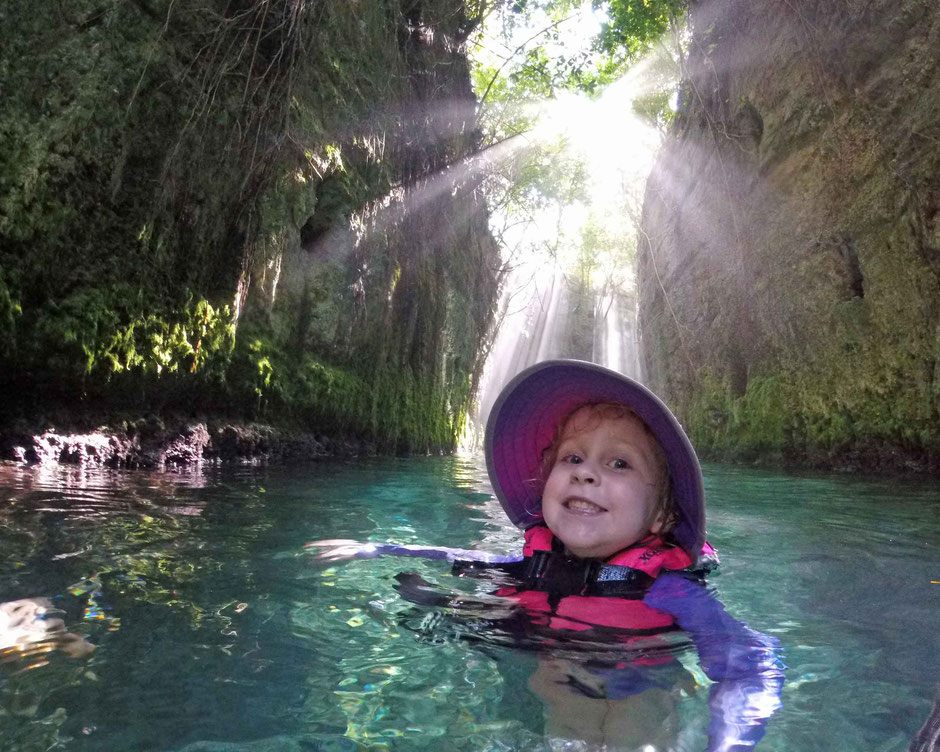 Experiencias Xcaret knows how to build great eco-adventure parks! They operate 5 theme parks in the region, including Xcaret, the winner of the Travvy Award for "Best Park in the World" in 2016 and 2017.
Xcaret sits on a remarkable piece of land, sitting right on the ocean with acres of dense jungle. It offers an incredible amount of amazing nature, cultural and adventure activities, including an underground river, all kinds of animal exhibits, swimming with dolphins, sharks or stingrays, a really fun Children's World, a Butterfly Pavilion, and so much more.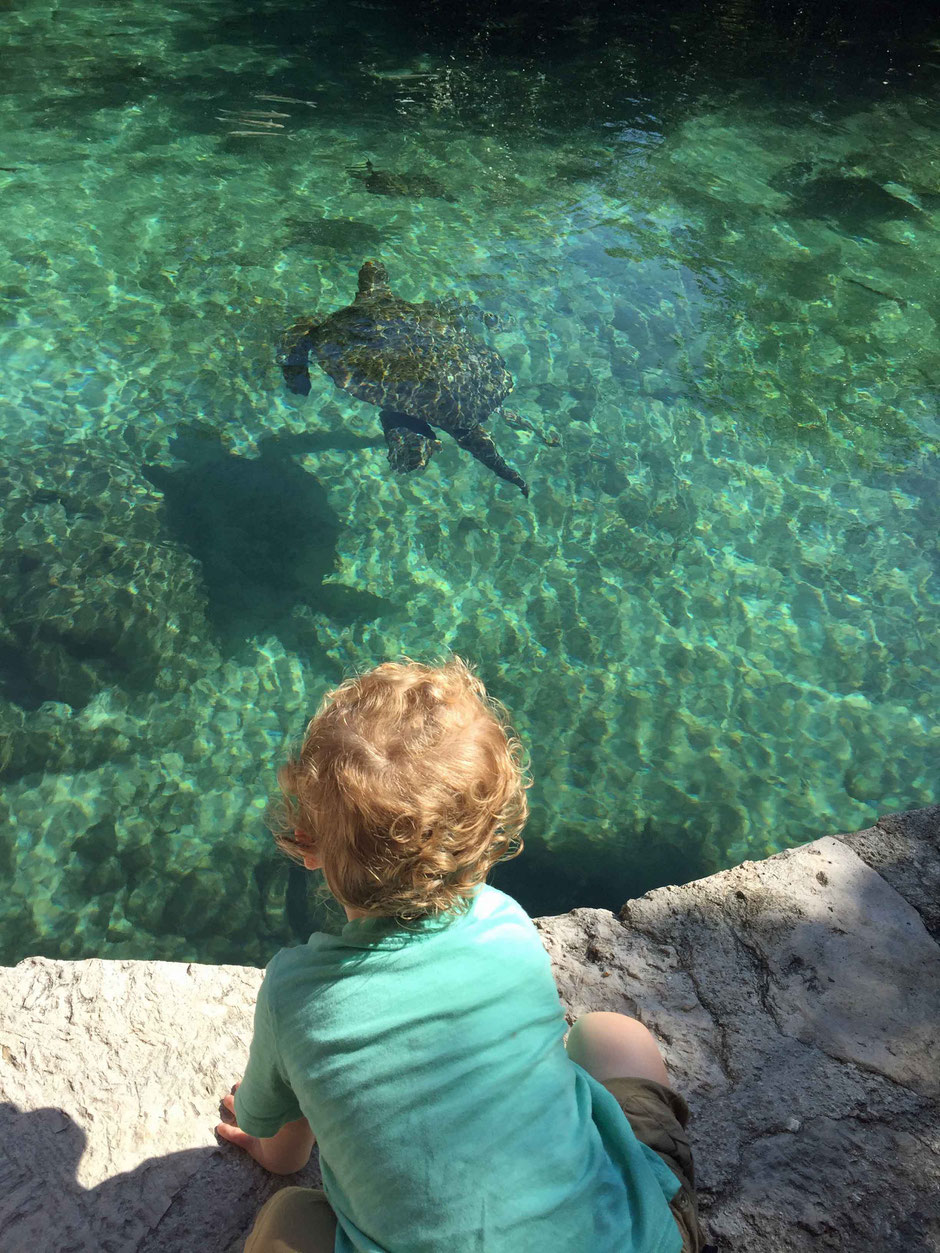 If you only go to one eco-adventure park during your stay, this should be it. Book your experience in advance and save 10-15%.
For more information on the Xcaret experience, please visit to our two full-length blog posts:
XEL-HA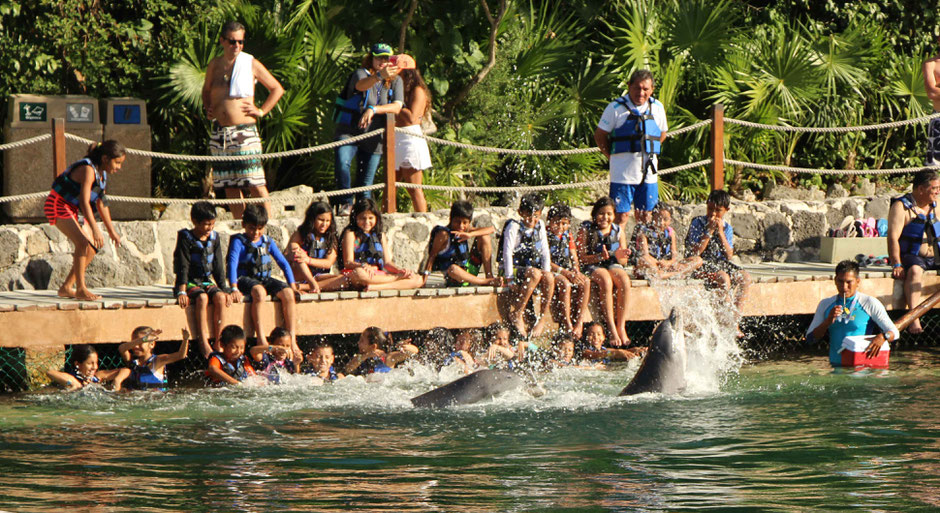 Xel-ha is another amazing park by Experiences Xcaret. Xel-ha is also located on picturesque oceanfront land, with a large, sheltered cove perfect for practicing snorkeling. Enjoy a relaxing float down a lazy river into the cove, then stop and enjoy exciting activities along the way such as aquatic zip lines, the Cliff of Courage, rope swings, etc. There's a wide selection of adventure activities such as swimming with dolphins, manatees or stingrays, SNUBA, zip-bikes and high-speed boats. The little kids are not forgotten with a fun Children's area complete with a floating lily pad walkway.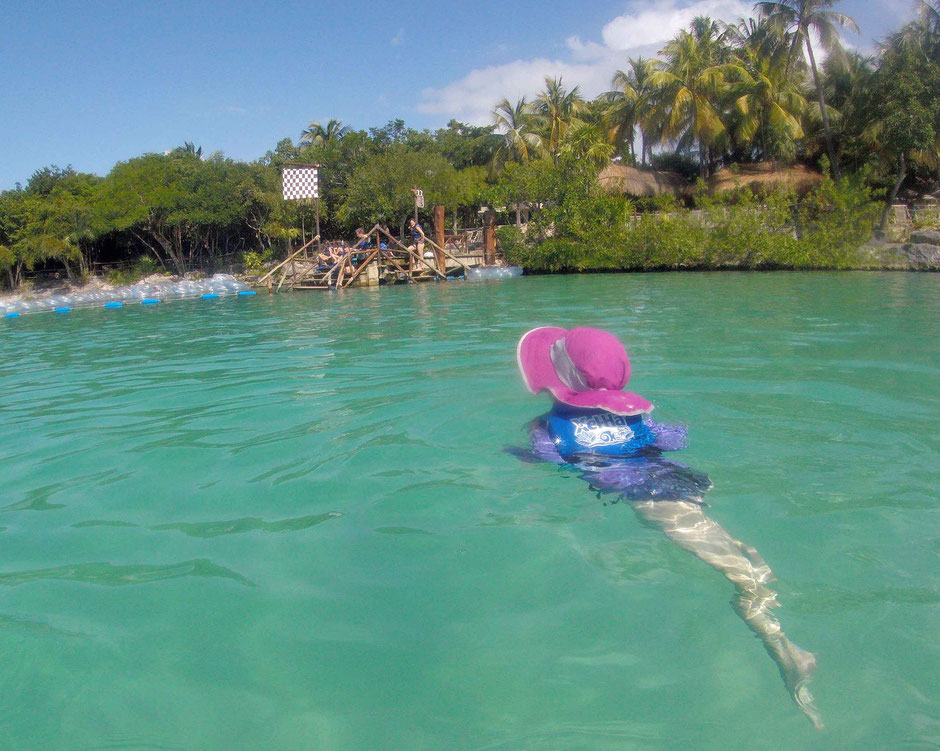 Check out our full blog post for in-depth information on Xel-ha.
Book your experience in advance and save 10-15%.
CROCO CUN ZOO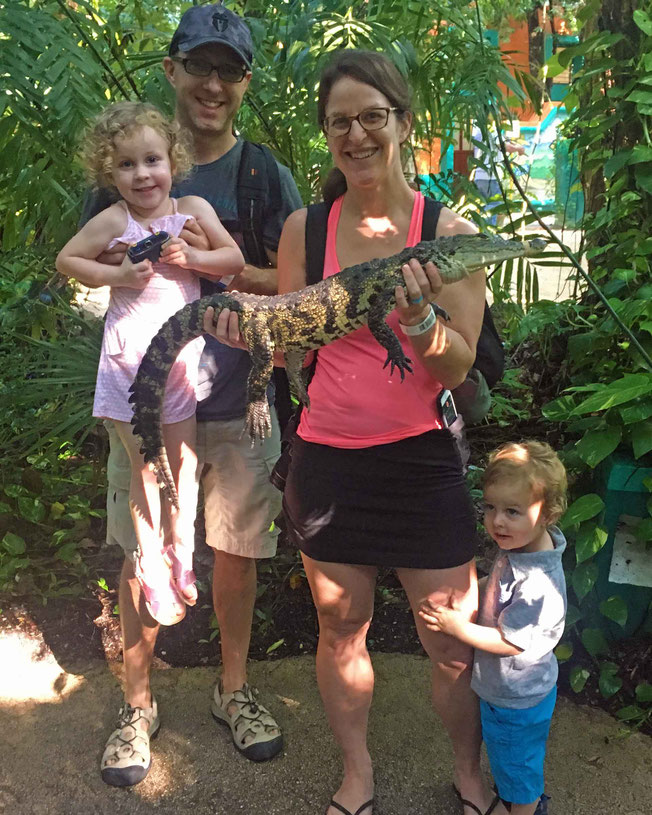 The fun and interactive CroCo Cun Zoo is located just north of Puerto Morelos. This animal rescue zoo is a good activity on a hot, sunny day as it's set in a dense jungle. The zoo is seen via a mandatory guided tour with stops at many different animal stations. Animals on display include: parrots, lizards, iguanas, crocodiles, spider monkeys, peacocks, deer, snakes, hairless dogs, etc. There are many interactive moments where you or your kids can touch or feed the animals. For example, your kids will love feeding the parrots and the small deer. The question is, are you or your kids brave enough to hold a baby crocodile or put a boa constrictor over your head?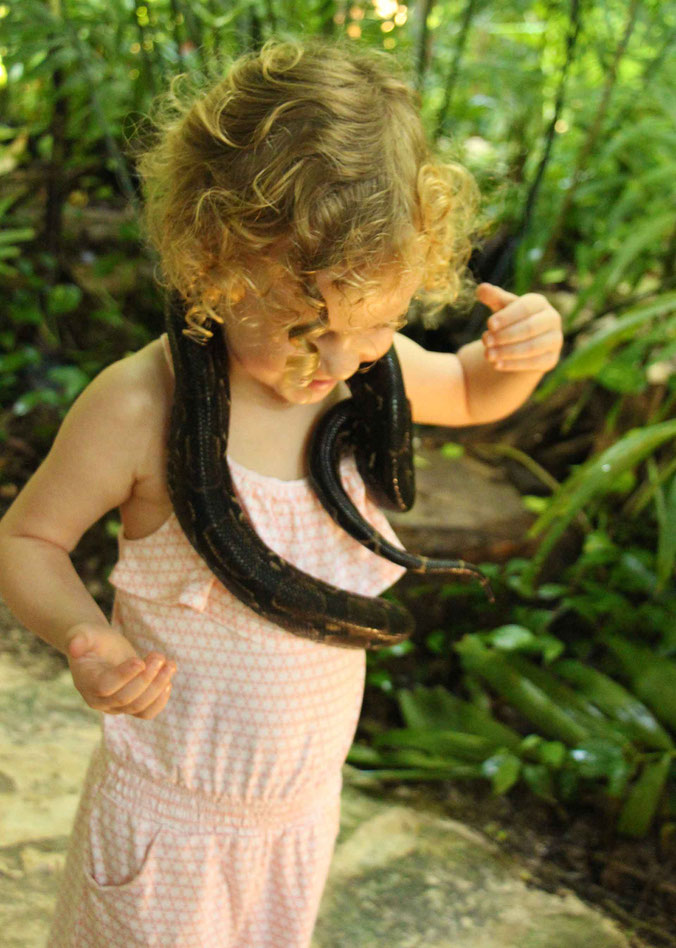 KANTUN-CHI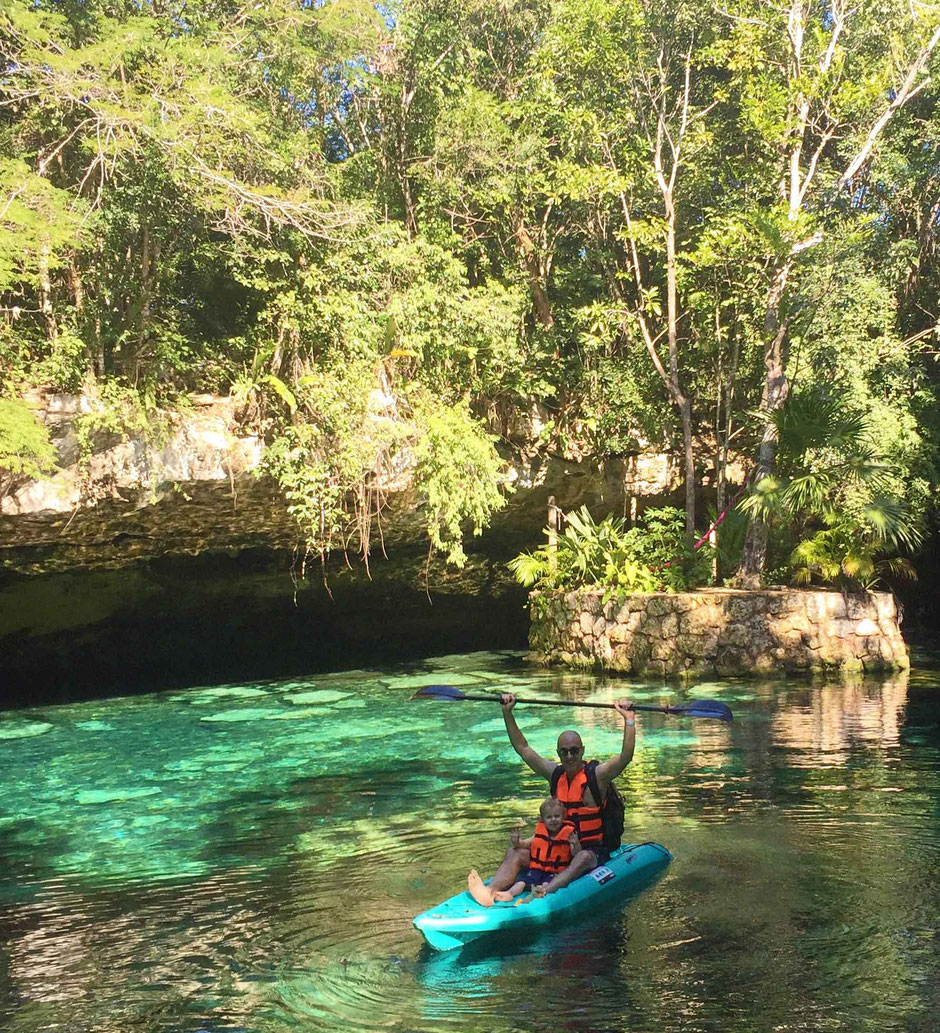 Located 30 minutes south of Playa del Carmen is Ecopark Kantun-Chi. This small park is home to four cenotes set within a beautifully manicured jungle.
Cenote #4 was our favorite. It is the furthest from the entrance and is a fun 10 minute walk through the jungle. If you don't feel like walking, they operate a little horse-drawn wagon to this cenote, although this service seems to only operate during busy periods. This cenote is nearly completely underground, with only a little natural light permeating in. It is in a stunning setting with the natural river stretching left & right and the roof of the cave not too far from your head. The water wasn't very deep and there are large rocks you or your kids can stand on inside the water.
Cenote 3 is an large, open air cenote surrounded by lush vegetation, with two kayaks available for use. There are two man-made islands in the middle, each with a hammock to spread out on.
Cenotes 1 & 2 are covered by rock, but open to the jungle on one side.
Lifejackets are included in the price and are mandatory. Change rooms and showers are also provided. Storage lockers are free (with a refundable 100 peso deposit). Don't put on normal sunscreen or mosquito spray before entering the park as they are not allowed.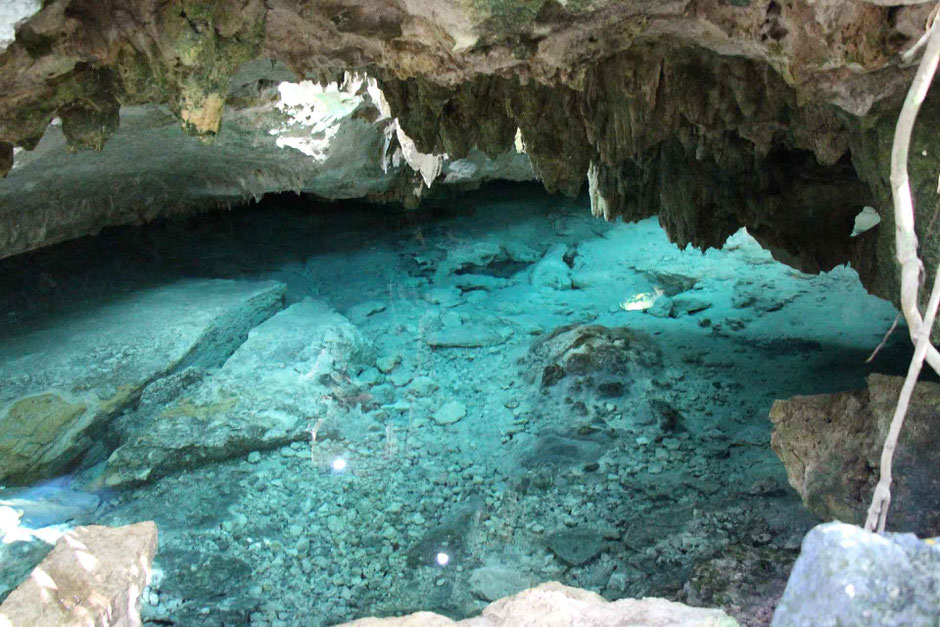 Order online and save 10%.
Get a private tour of Tulum Ruins and Kantun-Chi
AKUMAL MONKEY SANCTUARY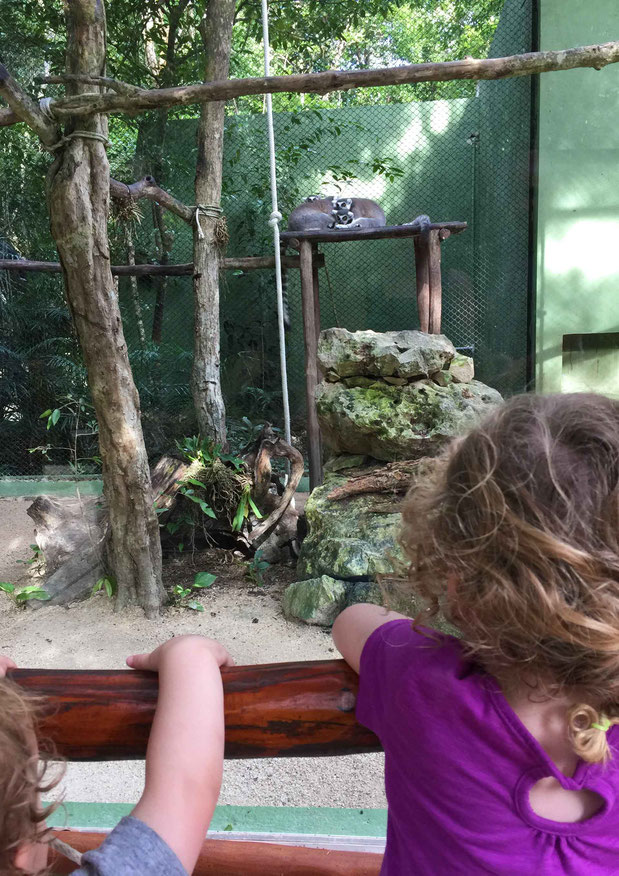 The Akumal Monkey Sanctuary is located approximately 25 minutes south of Playa del Carmen is. As you'd expect, there are a lot of monkeys to see but this animal sanctuary is not just about monkeys, it's also home to many donated animals, most of which were former exotic pets. Taking a guided tour is mandatory and its best to sign up online beforehand to make sure there is room in the timeslot you are interested in.
The park is home to a large variety of small monkeys. Their enclosures were a little small for my liking, but they made an effort to give them interesting habitat within. Other animals found at the park include lemurs, wild boars, silver fox, peacock, geese, deer, goat, boa constrictor and macaws.
The best part about the park is the many animal encounters. You'll have a chance to feed deer and goats, hold macaws and a boa constrictor. The spider monkey encounter at the end was amazing. You sit on a bench with some seeds and nuts and the spider monkeys come to you to get them. They will sit on your head or shoulders for a while and you won't believe how small and light they are!
Tip: If you want a great place to eat authentic Mexican food after your visit, swing by El Taco Maya in nearby Akumal. It's nothing to look at, just a typical locals restaurant with red plastic chairs, but the pork tacos are well worth the visit…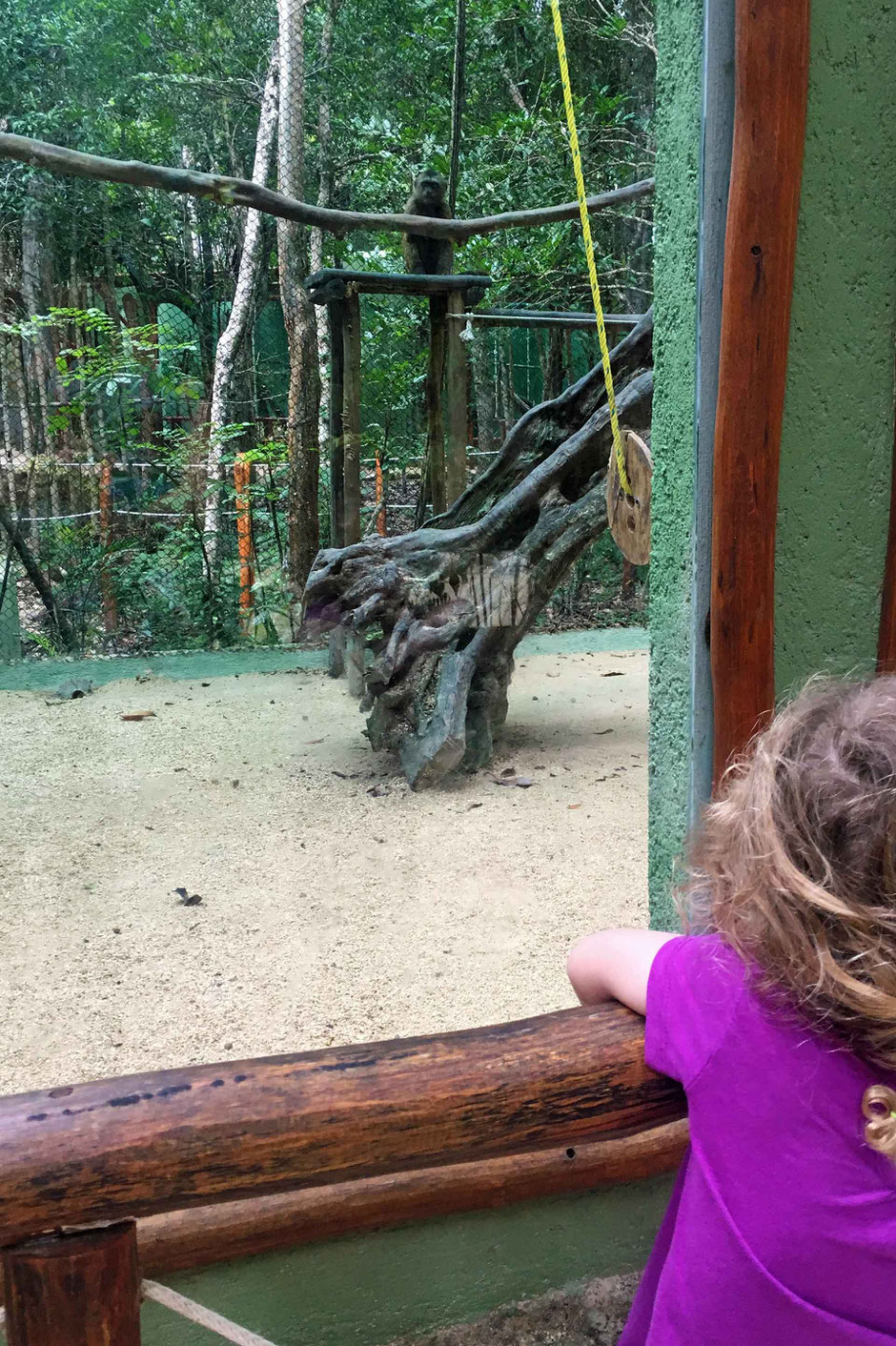 Akumal Monkey Sanctuary Tickets
AKTUN CHEN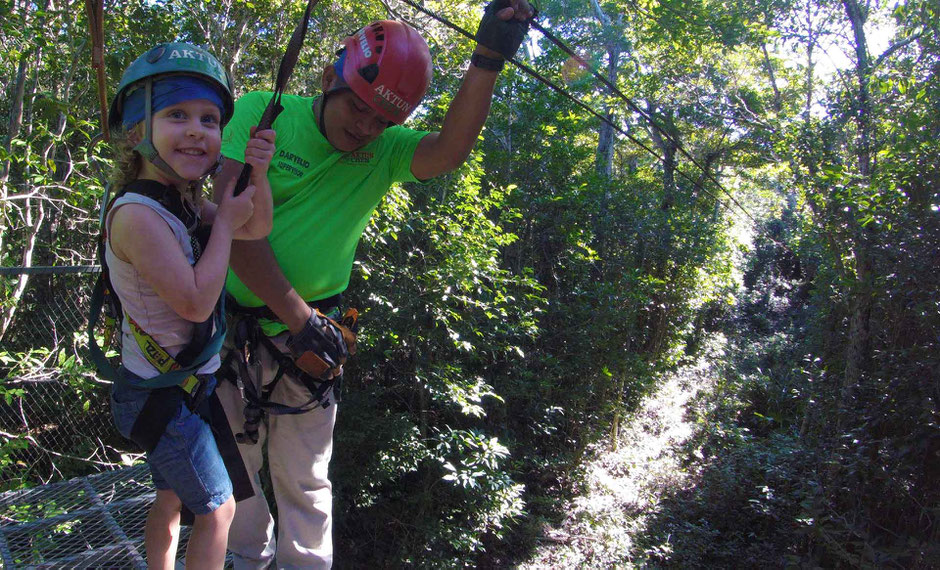 Just a little further south down the highway from the Akumal Monkey Sanctuary you will find the Aktun Chen Natural Park. Aktun Chen is home to three main attractions – zip lining, an underground river and a cave walk. A nice feature of this park is you only pay for the attractions you wish to see or do.
The cave walk is Aktun Chen's claim to fame as it was named in National Geographic's Journeys of a Lifetime book as one of the Top 10 Underground Walks in the World. We felt the cave lived up to the hype – it was pretty awesome. It was full of interesting stalactites and stalagmites, all lit up very nicely. At the end of the tour, we arrived at a cenote with amazing blue water. It was quite the sight with the brilliant still blue water reflecting the cave formations overhead. The terrain was easy enough for our small kids to walk, with only a little assistance here and there. Adults need to wear hard hats to protect against low hanging stalactites.
The zip line course consists of 10 zip lines which take you a total distance of nearly 0.6 miles of track. Interspersed throughout the zip lines are wooden suspension bridges which allow you to enjoy the canopy level at a much slower pace. What attracted us to this park was the age limit for zip lining – children aged 4+ are able to go as long as they have a minimum height of 3 feet and a minimum of 33 pounds. The park staff were great with our daughter – they were worried she might be a bit small, so the supervisor volunteered to take her around the zip line course himself. He was great with her and she had a truly amazing time.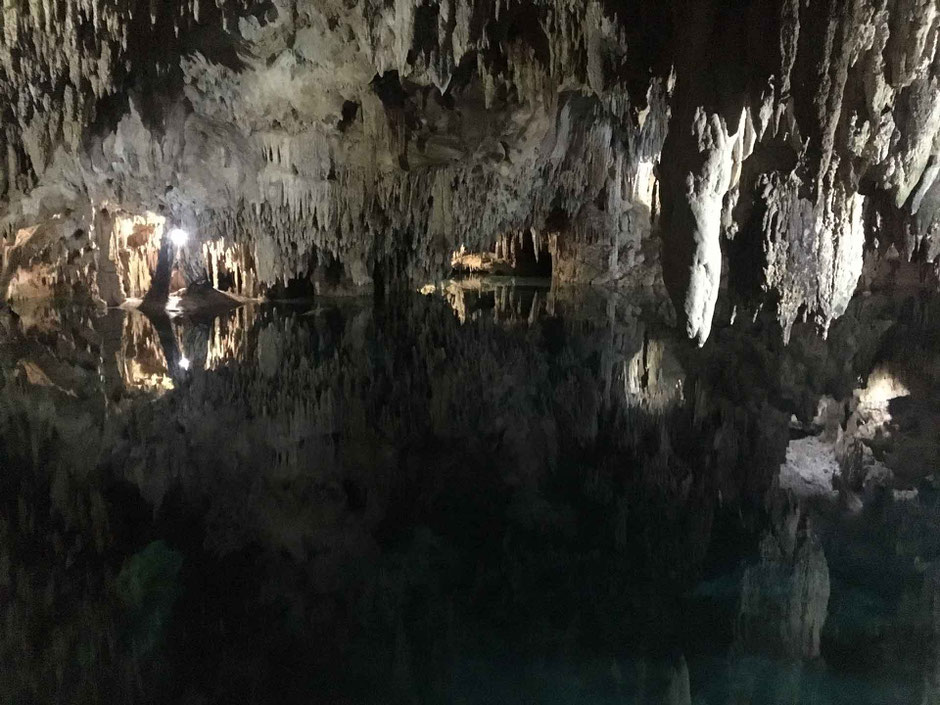 DON'T MISS: If you are currently in the Mayan Riviera or are planning a trip there, don't miss our blog post, Plan the Best Family Trip to the Mayan Riviera. It's packed full of planning tips, exciting family activities and links to all of our Mayan Riviera blog posts. It's sure to help make your family trip a memorable one!
Pin It For Later!