Get ready to get wet! Featuring a calm, turquoise lagoon as its centerpiece, Xel-ha is the perfect place to take your family on a hot day for some water based fun in the hot Mexican sun! You'll find Xel-ha has tons of activities, food & drink on offer, so here are our top tips to get you on your way:
This post contains compensated links.
Thank you to Xel-ha for hosting us on our visit. As always, all thoughts and opinions are our own.
PLAN AHEAD
Xel-ha is very big and uniquely shaped, so to make the most of your visit it helps to plan ahead. The land-based areas of the park hug a beautiful T-shaped swimmable lagoon. With the help of a bridge near the ocean inlet, the walking route around the park is O-shaped, which means you can't simply cut across the park to get to the attraction you want. To make the most of your time, pick a direction and follow it around the whole day.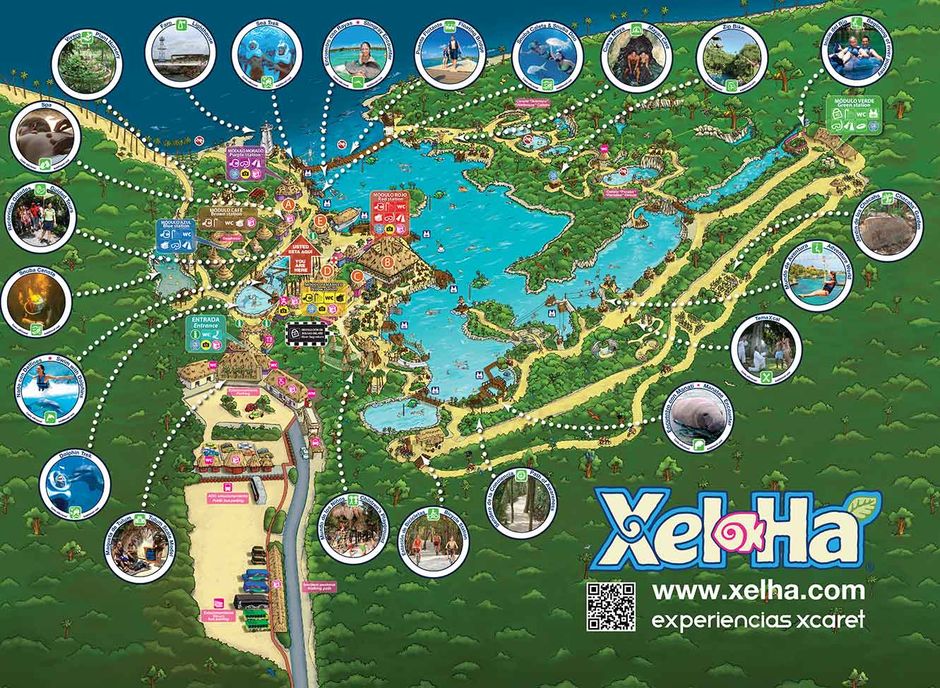 If you are planning a trip to Tulum on your vacation, come to Xel-ha first. There is an amazing scale model of Tulum here which gives you a great idea of what it was like during its inhabitation.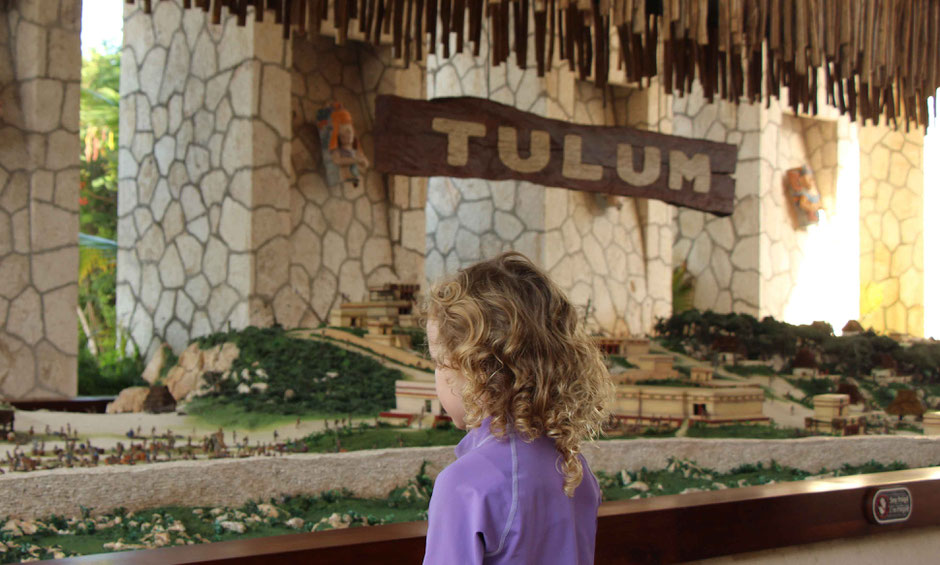 Tour suggestion: Tulum – Xel-Ha Tour
SAVE MONEY
There are a few simple ways to save money at Xel-Ha. Book online and save between 10-15%. With base admission tickets costing $90USD, this can save up to $13.50 per adult. Children between 5-11 are 50% off and children 4 and under are free.
If you are planning to visit multiple parks and/or archaeological sites during your trip, buying your tickets together can lead to significant savings.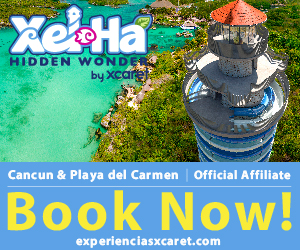 SNORKELING
If you or your kids are new to snorkeling, Xel-ha's tranquil lagoon makes a great place to give it a try. There are no waves in the lagoon making it much easier to keep water out of the snorkel. Plus, life jackets are provided and mandatory, which makes it a safe outing for everyone. There are enough tropical fish in the lagoon that everyone should see some during their time in the water. It helps to swim towards the flags in the water which identify locations where fish tend to congregate.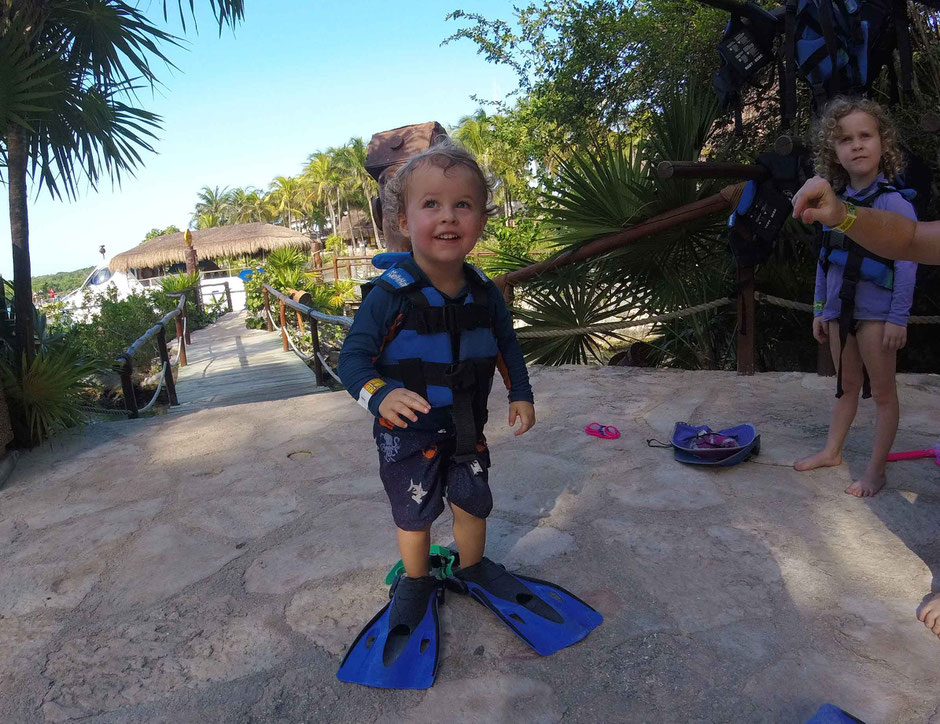 If you have small kids, you don't really need to take them very far to see fish. You enter the lagoon via staircases which descend straight into the water. We noticed that some colorful fish like to congregate near the staircases, so even kids who don't go into the water should get to see some fish.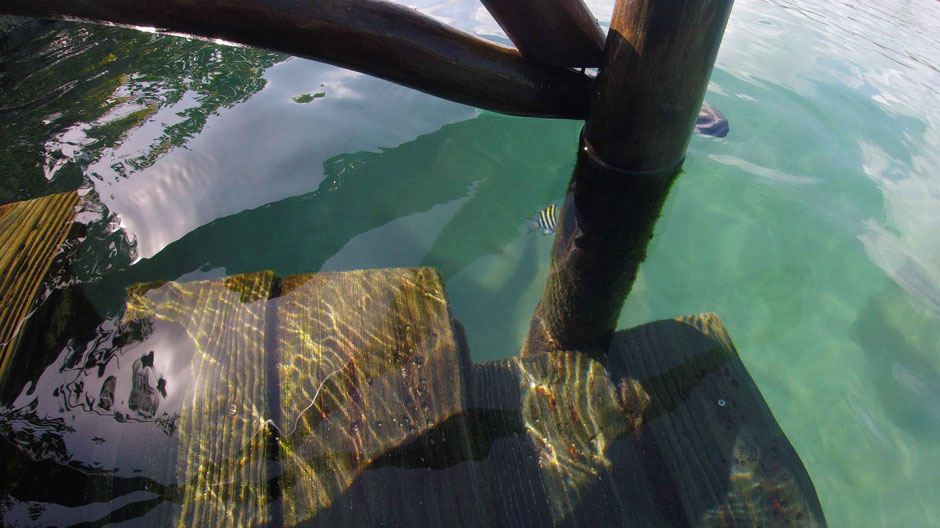 If your kids are too small to snorkel, an excellent alternative is to take them to the Steady Subaquatic Observatory. This stationary boat has a large underwater viewing area, complete with large windows on both sides and little stools to sit on. Our kids were too small to snorkel properly, so they absolutely loved this experience.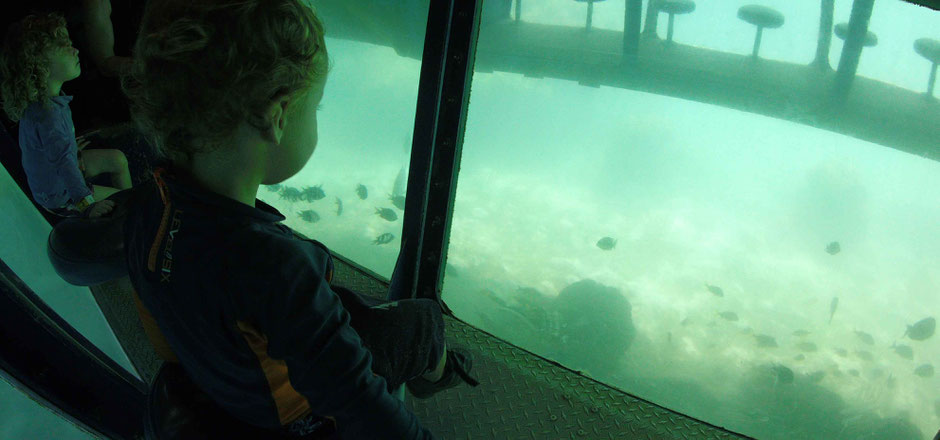 RIVER TOUR
Getting to the headwaters of the River Tour is a lot of fun. If you have bigger kids you can borrow complimentary bikes for a fun ride through the jungle. The smallest bikes were just a little too big for our 4 year old daughter, so we took the 'train' instead, which our kids thought was pretty cool. The 'train' is really two train cars being pulled by a pickup truck through the jungle.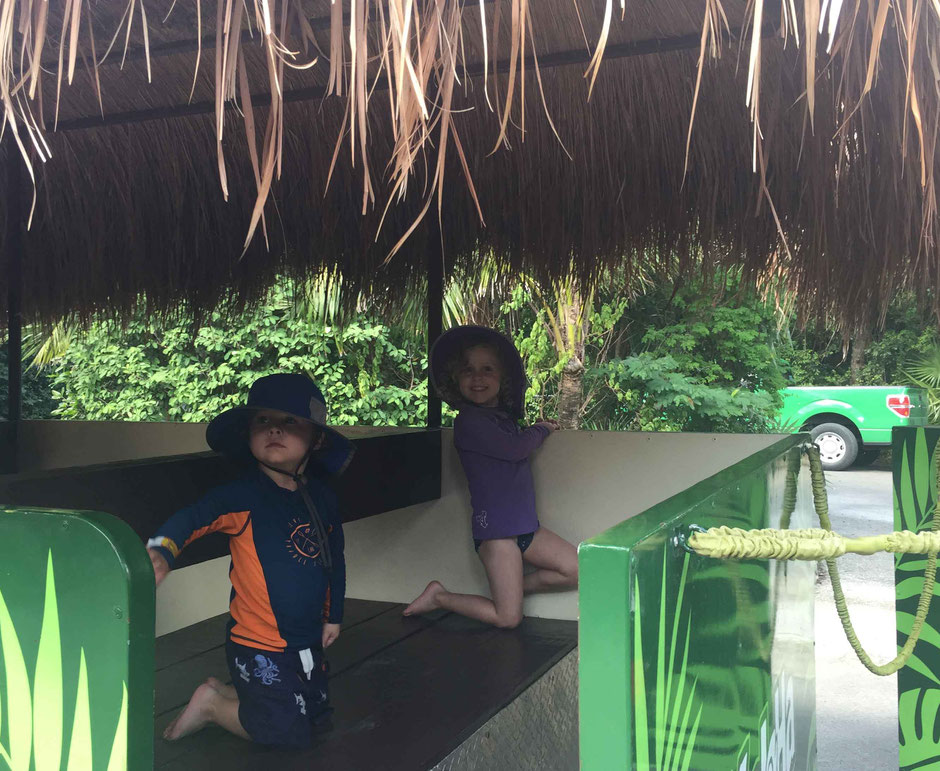 At the headwaters of the river, you put your stuff in a locked duffel bag, which then gets transported to the end of the river. Xel-ha staff gives you the key to the bag, which you bring with you to the end of the river where you retrieve your bag.
Next you have the option to grab complimentary snorkel gear. If you simply plan on sitting on your inner tube without getting in the water, you probably won't need any. Lastly, you enter the river and get your inner tube. Most people are given a single person tube, but given we wanted to take our small kids with us, we were given a much bigger two person tube, in the shape of a figure-8. The adult sits in the front hole, with the child in their lap.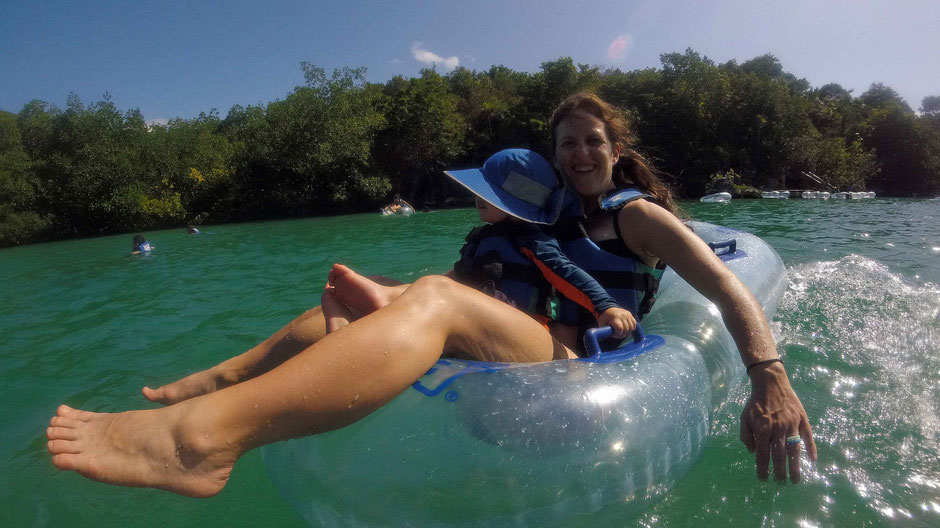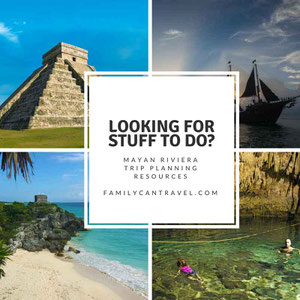 HEALTH & SAFETY
You'll be glad to know that they take safety very seriously here. Lifejackets are mandatory for all water based activities and they enforce all minimum height restrictions for attractions (we know – we tried to get our daughter up the awesome new scenic lighthouse attraction, but she was just slightly too short and was denied access).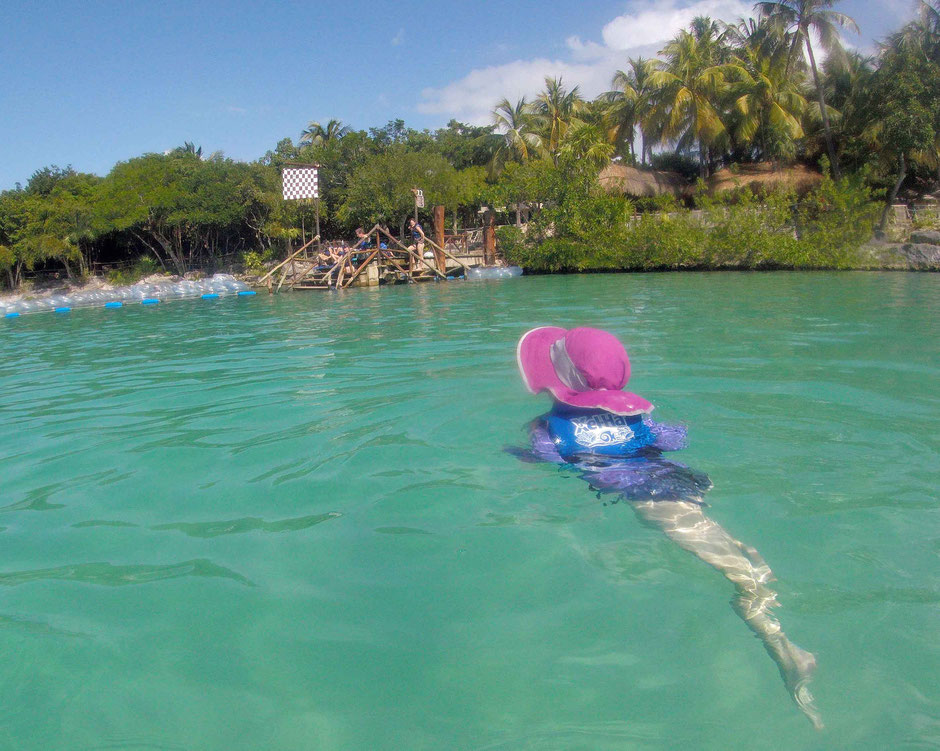 Xel-ha takes its responsibility to the environment seriously as well, as evidenced by their Earthcheck Gold Certification. On its website Xel-ha asks its visitors to, "Help us preserve and care for our ecosystem! To avoid affecting the natural balance of the ecosystem, only the use of sunblock and sunscreen containing titanium oxide and zinc oxide is allowed in the Park. If your products don't meet this requirement, at the Park entrance you will find an Information Booth where you can exchange your sunscreen for a free sample of a biodegradable product. Your sunscreen will be returned to you upon departure."
Click here if you'd like to bring your own supply of biodegradable sunscreen for your trip.
EQUIPMENT
Virtually everything you need for your day at Xel-ha is included in the standard ticket price. This includes all snorkel equipment, towels and even lockers. Stroller rentals are available for an extra fee shortly after you enter the park. One thing you may want to bring with you is an underwater Go Pro or a waterproof case for your smartphone.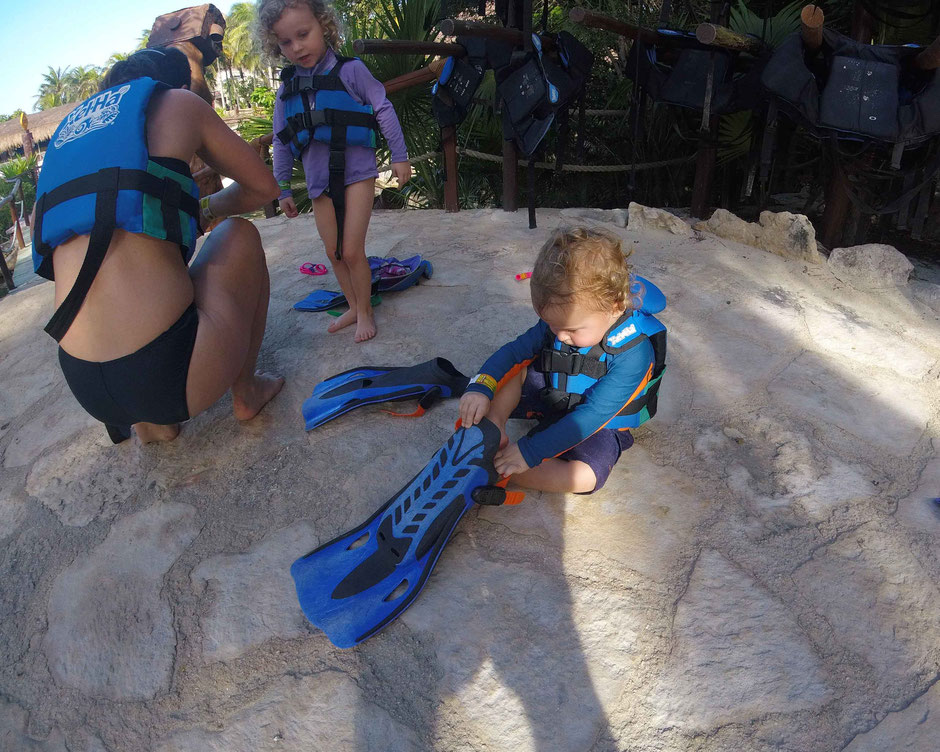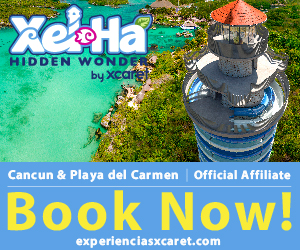 FOOD & DRINK
Are you like me? If I stay at an all-inclusive, it bugs me to go off-resort and pay for my own meals and drinks somewhere else. This is not an issue at Xel-ha, where admission is all-inclusive! Choose from any of their four restaurants which serve national and international favorites buffet style. Breakfast is served from 9:30 – 11:30 and lunch is from 11:30 to 5:30.
Playing in the hot Mexican sun make you thirsty? Xel-ha has that covered as well with four bars serving a wide variety of domestic and international cocktails, beer and soft drinks.
There are potable water fountains all over the property and outside food and drink is not allowed (except for baby food).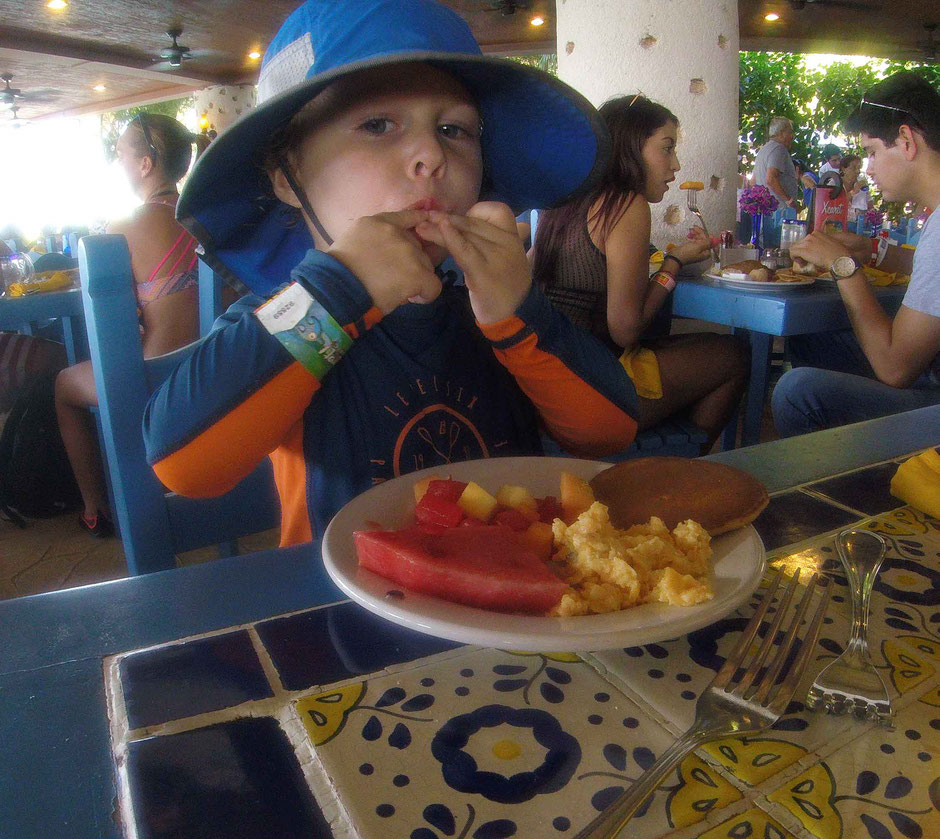 FUN FOR SMALL KIDS
Despite being an adventure eco-park, Xel-ha has plenty of activities for small kids.
Be sure to set aside some time to bring your little one to Children's World where they can run, laugh and play for hours. Your kids will love playing in the wading pool (with splashing buckets), the teeter totter, on a cool swing where parents and kids can ride together, an underground crocodile tunnel, an octopus to climb on and a rope bridge with a slide. In the lagoon there is also a pathway of floating lily pads for the kids to crawl & jump over. Our 4 year old daughter loved this activity and wanted to do it over-and-over.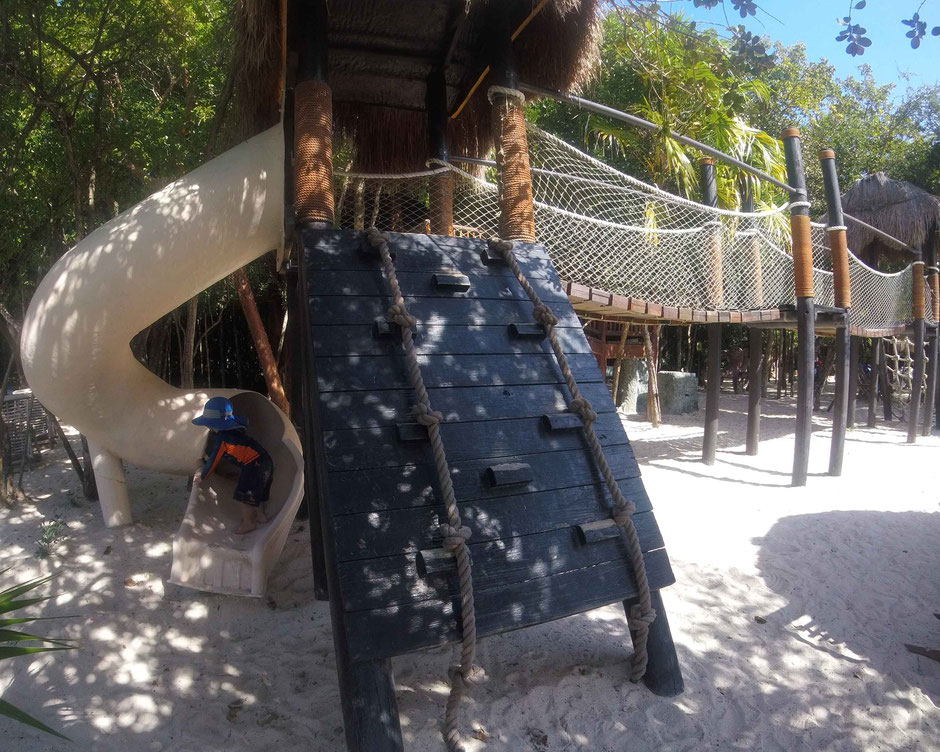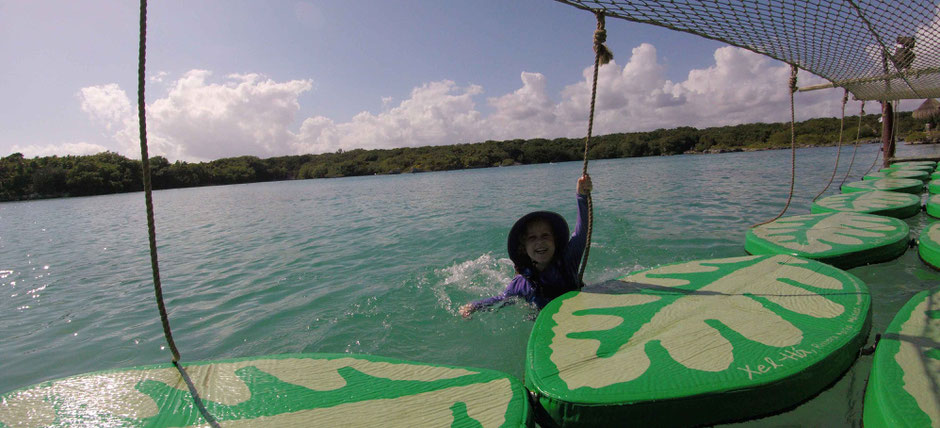 Your kids will likely be exhausted after some time at Children's World, so watch for a set of hammocks nearby to give your kids some fun relax time.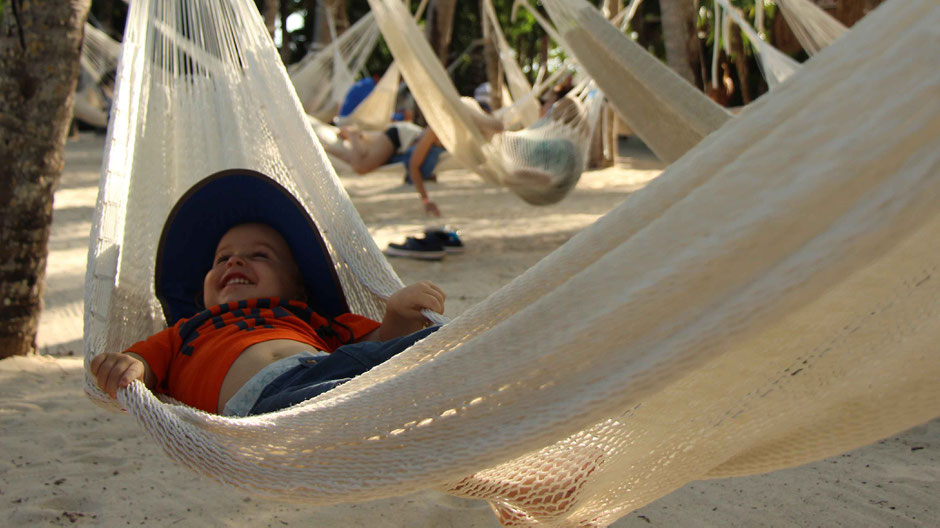 If your kids love nature, swing by the Bee Nursery where your kids will have a chance to see real bee hives. Worried about getting stung? No need – the Melipona bee is a stingless species of bee! Who knew there was such a thing!
As you walk through the park, look for fish food dispensers along bridges. Fish congregate in these areas and your little one will love watching the fish swarm for the pellets of food in the water.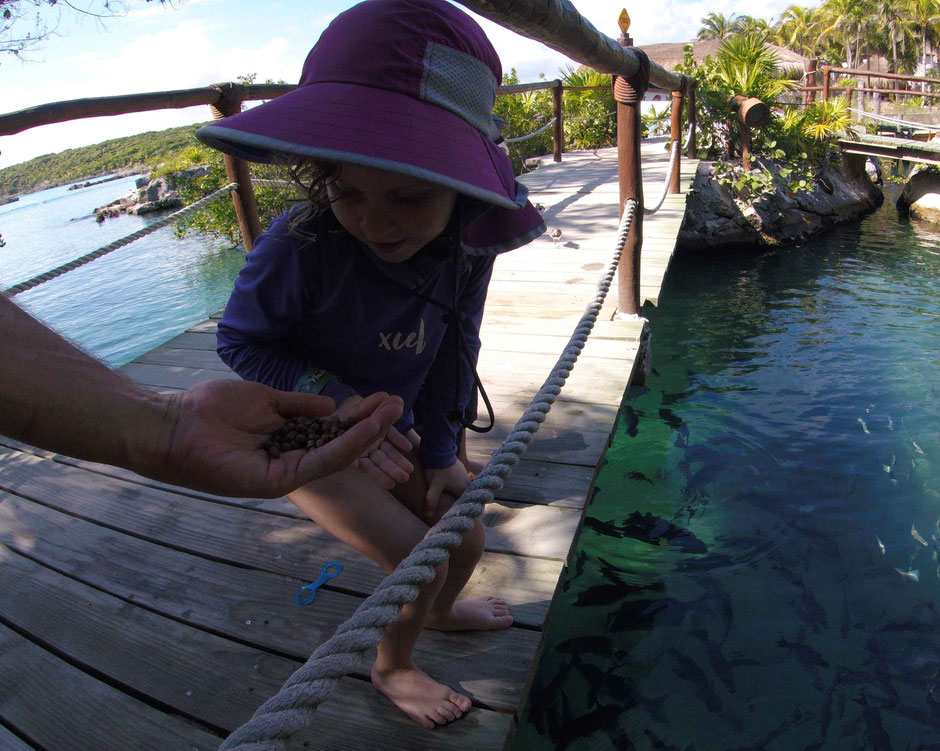 SWIMMING WITH DOLPHINS
Xel-ha offers several different packages for swimming with dolphins. The minimum height for swimming with dolphins is 39.4 inches / 1 meter. If your kids are too small, don't worry, they can still enjoy the dolphins. Simply hang out on the pathways surrounding the dolphin enclosure as there is often dolphin activity going on which you can enjoy for free!
Click here for more information on swimming with dolphins at Xel-ha.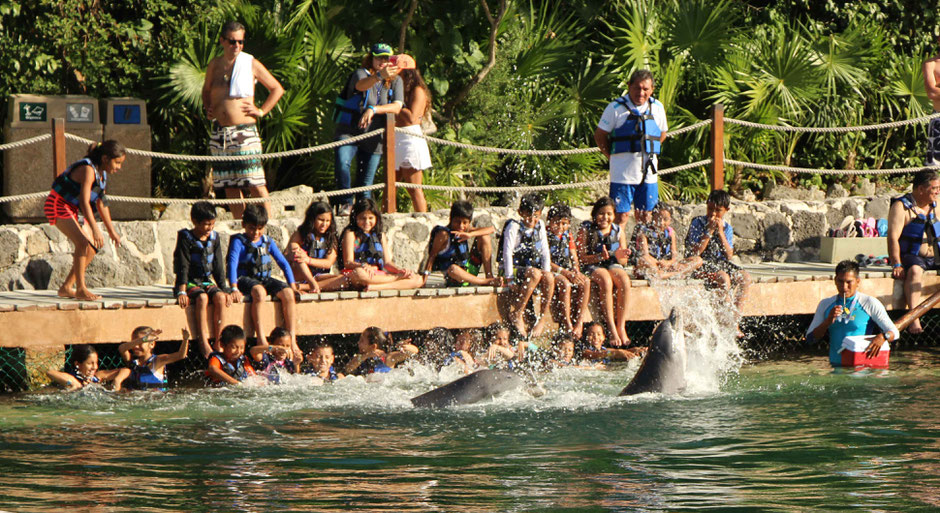 DON'T MISS: If you are currently in the Mayan Riviera or are planning a trip there, don't miss our blog post, Plan the Best Family Trip to the Mayan Riviera. It's packed full of planning tips, exciting family activities and links to all of our Mayan Riviera blog posts. It's sure to help make your family trip a memorable one!
Pin It For Later!