Jam packed with shops and restaurants, Calle Quinta Avenida is a hugely popular main tourist street in Playa del Carmen. I stayed in Playa Del Carmen for a month with my wife and two kids (aged 2 & 4) and we didn't eat a single meal along this street. I'm sure there are some nice places to eat on this strip, but as a general rule, restaurants in the tourist zones are low quality and high priced, so we found some great alternatives elsewhere.
Here are our nine favorite family friendly restaurants slightly off the strip in Playa Del Carmen:
This post contains compensated links.
MEXICAN FOOD
El Fogon
Our favorite! We enjoyed this place so much that we came here four times, including the honored spot of our final meal in Mexico.
El Fogon is a casual, covered, open-air restaurant with amazing Al Pastor dishes. Al Pastor is a Mexican take on shawarma spit-grilled meat brought by the Lebanese immigrants to Mexico. Pork is marinated in a combination of dried chilies, spices and pineapple, then slowly cooked on a vertical rotisserie.
The dish we ordered most often for the adults was Fajitas al Pastor. We both agreed this was some of the best food we've eaten in a long time. There was so much food on our plates that we often needed to take some home for lunch the next day.
Many dishes come with Frijoles Charros (bean soup) that you simply need to try. Ask if your meal comes with the soup and if not, be sure to order a side of it – it's seriously that good! We started ordering a side of the soup for our 2 year old, as we got tired of him eating all the beans out of our bowls!
The kids typically devoured their meals here. Over our visits we ordered them cheese quesadillas, ham & cheese tortas (sandwich), or simply sharing portions of our soups and entrees. Again, the portions were so generous that the kids often finished their meal for lunch the next day.
More info:
Carboncitos
Carboncitos is an authentic Mexican restaurant which is very highly ranked on TripAdvisor. They have a covered, outdoor seating area on a quiet side street, not far from 5th Avenue.
The Chicken Mole Enchiladas here were so good that Celine ordered them on both of our visits here. I had Stuffed Poblano Peppers the first visit and a stuffed chicken dish off of their authentic Mayan food section of the menu. I really enjoyed both my meals here, but the Chicken Mole Enchiladas were the clear winner. The pre-meal bowl of tortillas with a variety of dips was also a nice touch.
They have a small kids menu with some American favorites. Our kids were really good at eating Mexican food for most of our trip, but it was nice to give them a chance to eat something more familiar like chicken fingers and french fries. We also appreciated the crayons and paper placemat they got to color while we waited for our food.
More info:
Don Sirloin
Don Sirloin is a chain of simple, family friendly restaurants. On both of our visits we ordered a variety of tacos, including chicken, chipotle sausage, sirloin and al pastor. They offer a variety of salsas and sauces to choose from – the mango & jalapeno salsa was excellent and the pico de gallo was pretty decent too. The tacos were really quite good, but as is typical in Mexico, they were a little on the small side. One night we supplemented our tacos with a side of guacamole and chips.
For the kids, on one visit we ordered a chicken burrito. It was pretty big and we cut it in half to share between the kids. It had lots of green peppers inside, which was nice as vegetables aren't easily found in Mexican food. Between the two kids they ate the whole thing. On another visit, we brought in a few slices of pizza from a nearby takeaway place and they didn't mind at all.
More info:
La Ceiba de la 30
La Ceiba de la 30 is a casual, family friendly buffet. There is a decent selection of appetizers, entrees and desserts for the adults. They have lots of kid friendly options including pasta, several meat dishes (at least half of which were not spicy), bread, lots of fruit and desserts. Our kids loved the refried beans and cheese quesadillas. Kids under 100cm (39″) tall eat free, while kids under 120cm (47″) are half price.
More info: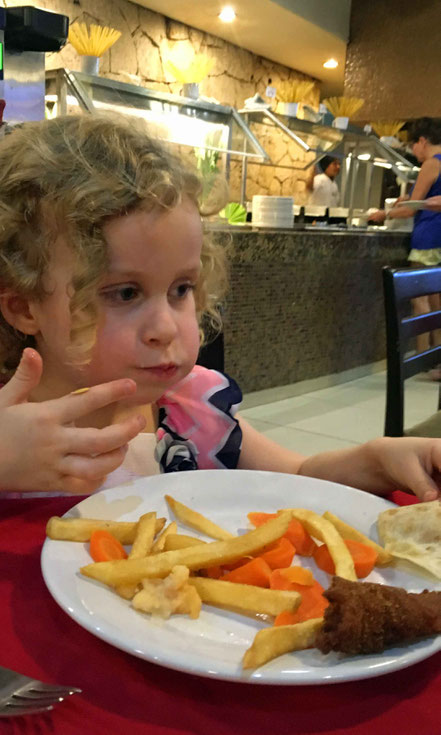 El Ranchito
El Ranchito is a reasonably priced, small Mexican place on 10th Avenue with good family-friendly menuoptions.
We ordered a side of guacamole to start, Celine got the chorizo burrito and I got the chicken burrito. Our burritos were huge and quite good, with the chorizo one being the better of the two. The chicken burrito needed a bit more flavor, which was solved with some spicy red sauce.
We ordered strawberry/pineapple juice and a chicken 'pizza' for the kids. The pizza had a Mexican twist with a tortilla crust, topped with refried beans, tomatoes, chunks of chicken and lettuce. It was really good, but the kids didn't eat a ton of it as they ate a massive amount of the complimentary tortilla chips, followed by more tortilla chips with the side of guacamole.
More info:
NON-MEXICAN RESTAURANTS
Kaxapa Factory
The Kaxapa Factory is a nice, small Venezuelan restaurant with a covered outdoor seating area. The service was very good, with friendly waiters who brought us a bunch of small shot glasses with a variety of juices to sample. They were all very good, especially the cinnamon one and the passion fruit one.
For dinner we got a bunch of dishes and split them between us. We ordered chicken & cheese empanadas, a chicken and avocado arepa (sandwich), a beef and black bean arepa and a beef and cheese kaxapa (a sweet corn pancake with filling). The food was very good and authentic – it brought back great memories of our pre-kids trip to Venezuela in 2009.
We recommend this restaurant as a lunch place as the arepas, while very tasty, were a modest size and we found them too small for dinner.
More info:
La Famiglia
Sometimes the kids just want something more familiar than Mexican food, so when our kids asked for pizza, we were happy to oblige. We ate at La Famiglia, a little Italian place on 10th Avenue, on two occasions and had a very satisfying meal each time.
We loved the complimentary pre-meal onion focaccia bread, served with an amazing chimichurri sauce. The bread was so soft, we could have eaten 10x the amount they gave us!
For the kids, we ordered a Hawaiian pizza each time, which they loved. We ordered a Mexican pizza for us, which comes with chorizo sausage, onion and jalapeno. The pizza was so delicious you'd think it was made in Italy, not Mexico. The pizza had pretty thin crust and ours didn't fill us up, so we topped ourselves up with the leftover Hawaiian (usually about half of their pizza).
As you'd expect, this restaurant caters to tourists, so it's a bit expensive relative to the local options. It was really good pizza though!
More info:
Mama Mia Pizza
On the night we bought Mama Mia Pizza, we had actually tried to go to La Famiglia for the first time, but we were too early it wasn't open yet. There are no sit down tables at Mama Mia, so we got two large slices to-go for 50 pesos (~$3). We then walked down the street to Don Sirloin's so the adults could have tacos while the kids ate their pizza slices.
There are several chains of takeaway pizza around Playa del Carmen, each offering a good selection of toppings. Great for an affordable meal or snack.
More info:
Museum of Fun & Ice Cream
This fun ice cream shop is located below the 3D Museum of Fun. It offers ice cream on a stick, ice cream or sorbet in a cup. The prices are slightly more expensive here than on 5th Avenue, but the quality was quite good and the portions generous. The kids each had an Oreo bar, which had a thick chocolate outer shell, covered with Oreo chunks, while the inside was a really yummy Oreo ice cream. I had a scoop of dulce de leche ice cream and pineapple sorbet, while Celine had dulche de leche and coffee. Everything was really good, but a little pricey at 370 pesos (~$24).
More info:
As you can see, there are a ton of eating options outside the main tourist area. Don't be afraid to venture a few blocks away from the strip – your tummy will be glad you did!
DON'T MISS: If you are currently in the Mayan Riviera or are planning a trip there, don't miss our blog post, Plan the Best Family Trip to the Mayan Riviera. It's packed full of planning tips, exciting family activities and links to all of our Mayan Riviera blog posts. It's sure to help make your family trip a memorable one!
Pin It For Later!