When we decided to rent an Airbnb condo in Playa Del Carmen for a month, my biggest concern was the drinking water. I knew Celine and I could manage to stay healthy, but what about our 2 & 4 year old kids? Surely they'd open their mouths in the bath or eat a bad taco or something?
I'm happy to report that with attention to detail and probably a little luck, we managed to spend four full weeks without any sign of tummy troubles. Here's a little insight on what we did to stay healthy:
This post contains compensated links.
Disclaimer: Celine and I have traveled a lot in countries where the water quality isn't acceptable for tourists, so we have some street smarts on how to stay healthy, but neither of us are professional health practitioners. This blog post is simply an account of our behavior based on experience and research and shouldn't be taken as professional advice. Please consult a travel health professional for your own situation.
WATER SAFETY TIPS
Drinking Water: This one is easy – our condo had a water dispenser which holds 5 gallon jugs of 'agua pura' (purified water). Our condo staff would bring up new jugs on request at a cost of 40 pesos ($2 USD) each. Each jug would last us approximately 3 days.
Coffee: We drink a lot of coffee, so rather than use agua pura, we decided to boil enough water each night that we could use in our coffee the next morning. Boiling water for at least a full minute (we often went way longer) is a very effective way to kill anything in water which may make you sick. Once the water cooled, we poured it in the coffee maker.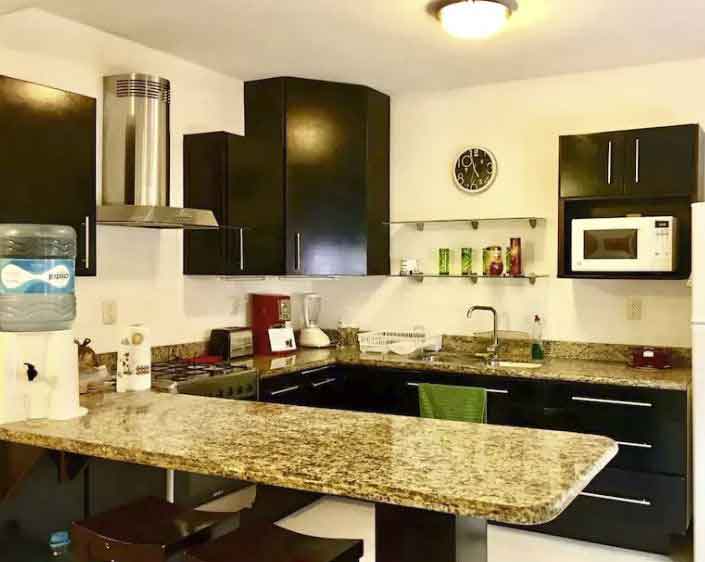 Bath Time for the kids: We viewed this as one of the more risky situations for our kid's health as they were too young to understand that they needed to keep their mouths closed the whole time. We reduced the risk by limiting the number of baths they had. Our condo had a chlorinated pool, so a daily dip in the pool is almost like a bath, right? Well, close enough anyways… When we did give them a proper bath, we kept the water levels in the tub very low and kept the baths very short.
Washing Dishes: Our condo didn't have a dishwasher, so we had to wash our dishes in the sink. Did we use agua pura for this? Nope – we used hot local water straight out of the tap with plenty of dish soap. We made sure each dish, cup and utensil was thoroughly dried before use.
Brushing Teeth: This one is pretty clear – we used agua pura at all times when brushing our teeth. This, of course, includes using it to rinse the brushes afterwards.
We didn't use one on our trip, but if you want an extra layer of safety, you can always consider buying a travel water purifier.
FOOD SAFETY TIPS
Buying groceries: The tourist district in Playa Del Carmen has two main supermarkets – Walmart and Mega. Both are very big and appear to uphold the cleanliness standards we have back home. We shopped for food at Walmart a few times, but mostly we went to Mega for a more local experience. The food safety standards at both stores seemed high and I had no concerns about feeding their food to my family.
Use Disinfectant: There is a rule of thumb about eating fruit and veggies in developing countries which says if you can't peel it yourself, you shouldn't eat it. If you stick to this rule, you will get tired of eating bananas and papayas in a hurry! To expand your food selection dramatically, do what the locals do and buy some food disinfectant. You'll find it available for sale all over the produce section. You simply take your produce home, soak it in water and add the specified number of drops of disinfectant and let it soak for the specified time. Worked like a charm for us!
Eating Out: When traveling, we try very hard not to eat out in the epicenter of the tourist districts – the prices are high and the quality is often low. We have success finding better quality and lower prices a few blocks away from the main action.
These restaurants are close enough that they are used to serving tourists and are used to adhering to our food and water quality standards. Think about it – if they give enough people the runs, they will get horrible reviews on Google or TripAdvisor, which can make or break a restaurant, so they are incented to keep you healthy.
In Playa Del Carmen, the epicenter of the tourist area is 5th Avenue. We ate out the entire time we were here and didn't eat on 5th once. We enjoyed our food everywhere we went and didn't get sick once.
In Playa Del Carmen, the epicenter of the tourist area is 5th Avenue. We ate out the entire time we were here and didn't eat on 5th once. We enjoyed our food everywhere we went and didn't get sick once. And thank goodness, because the food was amazing at the best family-friendly restaurants in Playa del Carmen that we kept returning to.
We stayed away from street food though. As amazing as it looked and smelled, the risk of getting sick is much higher and we simply didn't want to risk it with small kids.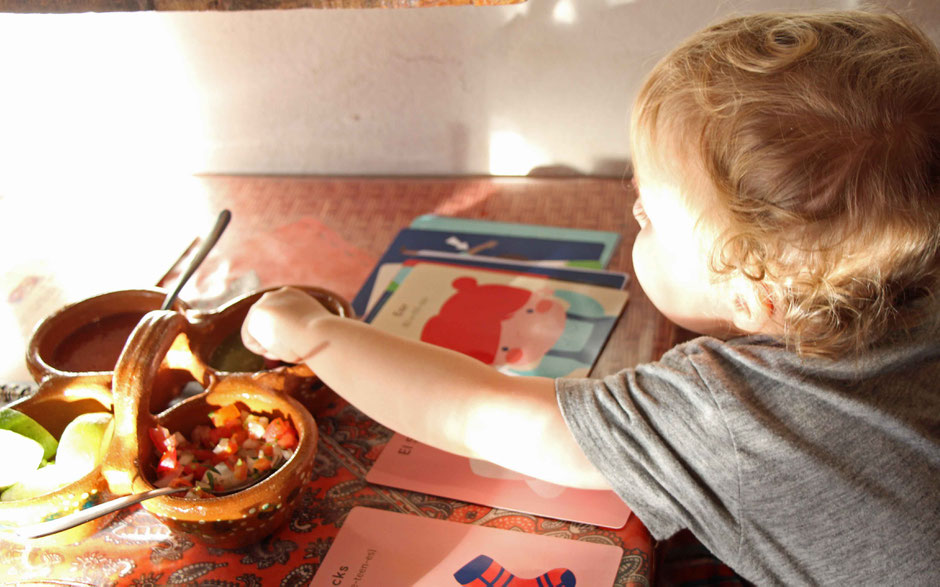 If you have smaller children, you may wish to read our Keeping your Baby Safe in the Tropics blog post. We hope you have a fun & healthy trip to Mexico!
DON'T MISS: If you are currently in the Mayan Riviera or are planning a trip there, don't miss our blog post, Plan the Best Family Trip to the Mayan Riviera. It's full of planning tips, exciting family activities and links to all of our Mayan Riviera blog posts. It's sure to help make your family trip a memorable one!
Pin It For Later!