We rented a car at the Cancun airport for our 28 day visit to the Yucatan Peninsula. Overall, we're very glad we rented a car, but there were a few negative experiences along the way which could have been avoided had we been more educated. Here is what we'd like you to know before your trip in hopes it helps you avoid some of the anger and aggravation.
This post contains compensated links.
Don't believe the advertised car rental price
As a seasoned traveler, I'm so annoyed at myself for falling for this… When I started looking for car rentals, I was very excited to see that I could get one for ~$5 USD per day!! I should've known this was too good to be true, but I talked myself into believing it… "things are much cheaper in Mexico" and "I'm renting for a month, so I must be getting a good deal".
Wrong.
When picking up the car at the airport, I was informed the quoted cost of the rental did not include (realistic) 3rd party liability insurance, airport fee or taxes. The quoted cost of our rental included 750,000 pesos (~ $40,000) of 3rd party liability insurance, which is way too low in case of an accident including people or property. We bought the the insurance to 3,000,000 pesos (~$162,000), which in hindsight was still probably too low, but this was the only coverage level offered. With the Basic Protection Package in hand (we opted out of theft and medical coverage), we ended up paying $34 per day for the rental – over 6x the originally quoted price!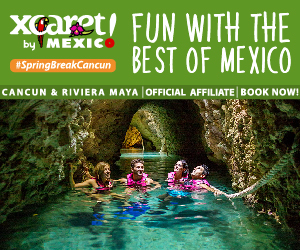 What's a shame about this pricing practice is that $34 a day isn't that outrageous for a midsize car rental. It was such an aggravating way to start our trip – I had just landed in Mexico very excited to start our trip and now I was angry at my car rental company and even more, I was angry at myself for falling for this. Had they just priced it fairly including mandatory insurance (as is the practice most places in the world), I'd have been perfectly ok with the price.
Note, that you should check your credit card car rental coverage and home auto policy before you go. Neither of my cards covered 3rd party liability in Mexico and I understand it isn't common for any at home policy to cover Mexican rental cars.
Lastly, be aware your rental company will also put a large hold on your credit card. Mine put a hold of 80,000 pesos (~$4,300) on my credit card.
Now that time has passed, I'm not mad at the price anymore, just at my own gullibility and the pricing practice. I'm still very glad we had a rental car and it improved our trip enormously. If we haven't scared you off, you can book your car rental here. Just have a good laugh at the super cheap advertised prices and be prepared for the real price when you go to pick it up.
Your gas station attendant may try to rip you off
Prior to filling up our rental car for the first time, I did some research on what to expect and discovered that gas station attendants in Mexico are quite skilled at ripping off tourists. Armed with this knowledge, I pulled into my first station determined not to get ripped off… but I still did…
I pulled into a Pemex station just outside Xpu-Ha beach (an awesome beach BTW). As I pulled in, all of the full-serve attendants were so friendly – they were all smiling and waving me towards their pump. Their eagerness to serve me should have been my first warning, but I fell for it and let my guard down a bit. Yeesh… I should know better than this!
Being a little wary, I asked for only 400 pesos (~$20USD) of gas. When the attendant finished, I started the car and the gas gauge needle barely moved 1/8 of a tank. I backed the car up a little to look at the pump and the guy was standing there pointing at the number 400 on the pump, thus "proving" to me that I got what I paid for. It looked like he was trying to hide something with his hands, but being a polite Canadian, I simply drove away, but I committed to myself not to get ripped off again.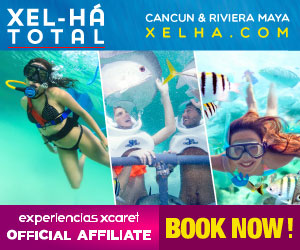 There is a long list of scams these guys can pull and I won't repeat them here as I found this article to be very useful. I used two key pieces of advice from this article and I'm pretty sure I didn't get ripped off again:
1) Avoid gas stations along the highway near tourist attractions.
The station where I believe I was ripped off is here. Check out its location – on the highway halfway between Xcaret and Xel-ha. Look at the Google Reviews for it… a looooong list of people venting about similar experiences.
Based on the advice in the article, I started filling up at this station instead. Note its location off the highway and just far away from the tourist areas of town. Look at the Google Reviews for this station – the odd complaint about getting ripped off, but nowhere near the amount for the highway station.
2) Get out of the car and watch the whole process
Back home in Canada, we are polite and like to avoid confrontation, so getting out of the car and staring at the attendant filling up my car felt so wrong, but I reminded myself of my first experience and forced myself to do it. Fool me once…
Here's the steps I took:
I got out of the car and greeted the attendant. I then asked for a certain amount of gas – typically 400 pesos. This limited my downside to ~$20 per transaction and allowed me to pay in 200 peso notes. (There is a common scam with 500 peso notes looking a lot like 50 peso notes).
I watched to make sure the attendant zero'd out the pump – effectively ending the previous pumping and resetting the pump to zero.
I then watched the attendant input the requested amount of pesos into the pump. This should be shown as the top number on the pump. (In hindsight, I believe this is the number the guy who ripped me off pointed to when I backed up to look).
A separate number on the pump will show the amount of pesos already pumped. The pump will automatically slow down and stop when it reaches the amount you asked for.
I paid in cash with 200 peso notes and asked the attendant, "ok?". This makes them count it in front of you while you watch. Once they confirmed it was ok, I got in the car and drove away happy.
Important Final Note
As a final note, we need to say that these two issues were our only negative experiences our whole month in Mexico. The vast majority of local people and businesses are decent, honest and friendly people. Our goal for this post is to make people aware of these practices in hopes of it not happening to anyone else.
DON'T MISS: If you are currently in the Mayan Riviera or are planning a trip there, don't miss our blog post, Plan the Best Family Trip to the Mayan Riviera. It's packed full of planning tips, exciting family activities and links to all of our Mayan Riviera blog posts. It's sure to help make your family trip a memorable one!
Pin It For Later!