I admit I was very intimidated about the thought of driving in the Yucatan Peninsula. On previous trips to the Yucatan, I've watched the Mexican traffic from the comfort of my air-conditioned bus on the way to my fancy all-inclusive and it always looked a bit crazy. But this time, we were staying off-resort and wanted to explore the area by driving a rental car around the Yucatan Peninsula.
This post contains compensated links.
Disclaimer
This blog post simply shares my experiences while driving in the Yucatan Peninsula. I did not study Mexican driving laws before, during or after our trip and none of this should be considered legal advice.
Driving from the Cancun airport to our Playa Del Carmen vacation home rental was nerve wracking, and the first few days of driving around the Yucatan Peninsula was no better.
Slowly, but surely, driving in Mexico became less stressful and even somewhat enjoyable. There is a method to the 'madness' of driving in Mexico and once you understand the flow of it all, it becomes a lot easier.
Here are 14 things you should know about driving in the Yucatan Peninsula:
1. Mexican drivers are not aggressive
At first it seems like most Mexican drivers are aggressive, but this is actually not the case. After getting used to driving in Mexico, I found that hardly any Mexican drivers are actually aggressive.
Mexican drivers are opportunistic – if there is an opening, even a slight one, they will take it. Once you get used to this driving behavior, you will start anticipating it and it simply becomes normal.
2. Traffic lights rotate between all four directions
When driving in the Yucatan Peninsula, I thought it was off that there is no such thing as a left arrow turn signal at the traffic lights. When you have a green light, it means you can drive straight or turn left. Oncoming traffic will have a red light.
The traffic signals alternate this way between all four directions. I found this to be very inefficient, leading to unnecessary congestion on the roads in the Mexican cities. Which in turn, is probably why Mexican drivers need to be opportunistic.
3. Don't believe signal lights on cars
It's perfectly normal for drivers in Mexico to have their turn signal on. Don't ever trust that any drivers in Mexico will actually turn where they are indicating, until you actually see the car moving with your own eyes.
4. Do believe hazard lights
Although you can ignore turning signals on cars in Mexico, you must pay attention to the use of hazard lights. Mexican drivers use their hazard lights as a signal that they are slowing down fast, like for a speed bump, a police checkpoint or turning off the highway.
If the person driving in front of you turns on their hazard lights, prepare to slow down.
5. Watch for speed bumps
Locals call them Policia Durmiendo (sleeping policemen). These speedbumps are everywhere and they come in different forms. Sometimes they are a series of half-buried cannonballs and sometimes they are a large hump in the road, typically doubling as a crosswalk.
Slow way down crossing these as they are always a bigger bump then they look. Be watchful at all times as they are sometimes not well painted or marked. Watch for TOPE signs, which indicate a bump is ahead.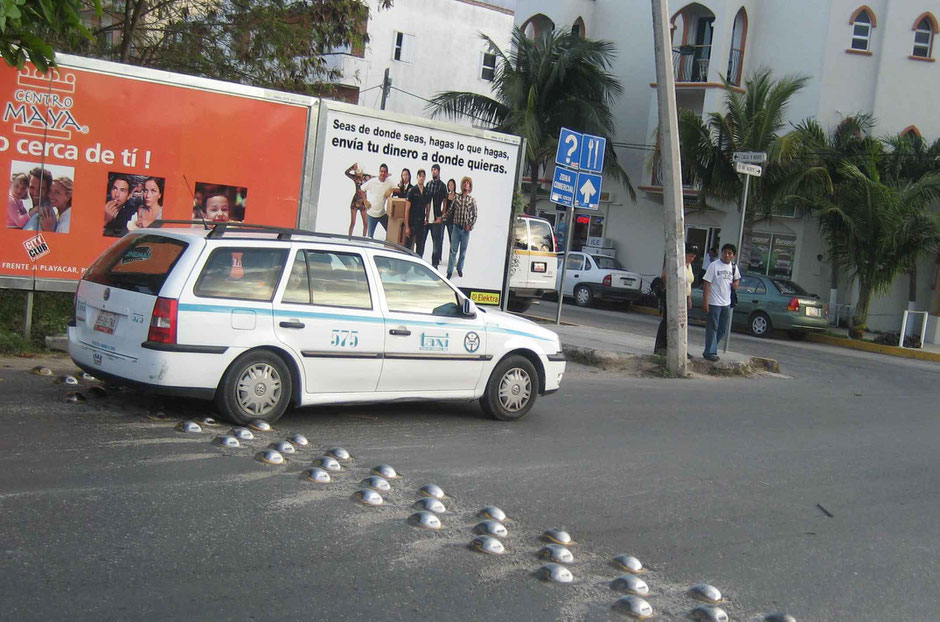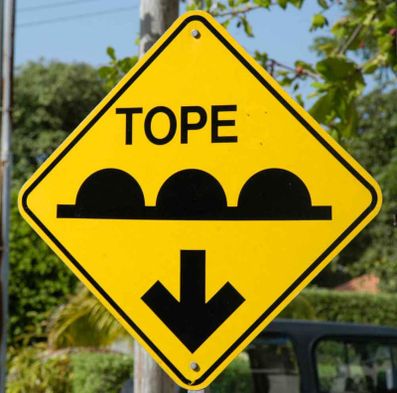 6. Cross walks
The speed bumps shaped like a triangle with the top cut off are actually crosswalks – they often have a pedestrian sign next to them. It seems that most of the time drivers will stop for pedestrians at these cross walks, but this isn't always the case, so be careful if you are walking!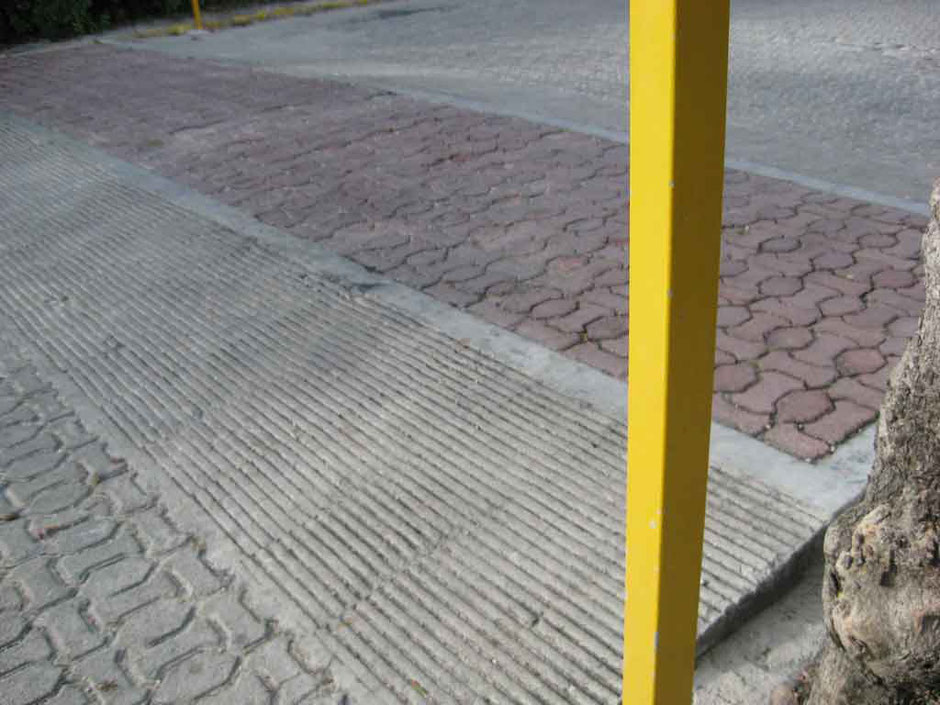 7. Pedestrians do not get the right of way
As a general rule, outside of crosswalks no one stops to let anyone cross the street. Pedestrians don't expect it, nor do other drivers. Don't stop for pedestrians as the car behind you isn't expecting you to do it. That said, as a family with two small children, we found a large number of taxis would stop to let us cross the street – typical Mexican hospitality!
8. ALTO doesn't really mean stop
To be honest, I'm not sure the official rules of what an ALTO sign means in Mexico, but it looks like a stop sign and the English translation of "Alto" is "Stop", but does anyone ever stop at an Alto sign?
Nope. Never. From what I can tell, these are treated more like yield signs. No matter how many times I did it, it felt so wrong to blow through an ALTO "stop" sign, but everyone does it.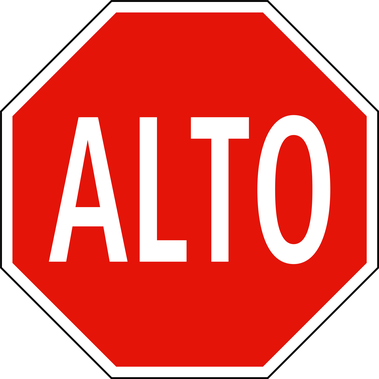 9. One way streets are everywhere
If you are not yet familiar with your area, plan your journey ahead of time as most side streets are one-way and it is very easy to get lost. Google Maps is an excellent resource here as they will denote the direction of traffic on each street with an arrow.
Note, you can download copies of the maps to Google Maps app before your trip, so you can use these maps without burning through your roaming data.
10. Be prepared for an unexpected detour
Maybe it was just while we were here, but it seemed like there was always a lot of road construction going on. Quite often you think you are almost home and then you get detoured into an unexpected neighbourhood.
If you have a passenger with you, Google Maps will save your bacon. If not, just follow the flow of traffic as most drivers will be trying to get back to the same place you were trying to go.
11. Merge lanes are very short
The merge from a side street to the main highway is a white knuckle experience every time. The merge lanes are way too short and you'll never get up to speed in time.
Do what the locals do and use the shoulder lane until you have the ability to safely pull into traffic. Again, Mexican drivers are great anticipators and most will see you coming and pull into the far lane to make room for you.
12. Be prepared for police stops on the highways
As a Canadian, I'm not used to police checkpoints on the highway, but you will find them a normal occurrence on the highways here. At first they made me nervous, but once I accepted their existence, driving through them was a non-event.
Whatever they were looking for, it wasn't us and it likely won't be you either. Note, there are always speed bumps through these checkpoints, so please slow way down.
13. Tropical rain may flood streets
On occasion it rains very hard here. When this happens the roads get very waterlogged and large pools of water form. In these conditions, almost all drivers had their hazard lights on and were driving around 70km/h (40mph) on the highway vs the typical speed of 110km/h (68mph).
On the highway, slow down and leave lots of space between vehicles around you.
In the city, the new hazard is the small lakes formed by the speed bumps. The lakes we saw were pretty deep, but vehicles were still making it through.
They must design the speed bumps to not be high enough to stall cars when it rains. Be careful though and make sure cars ahead of you are getting through before you attempt to cross.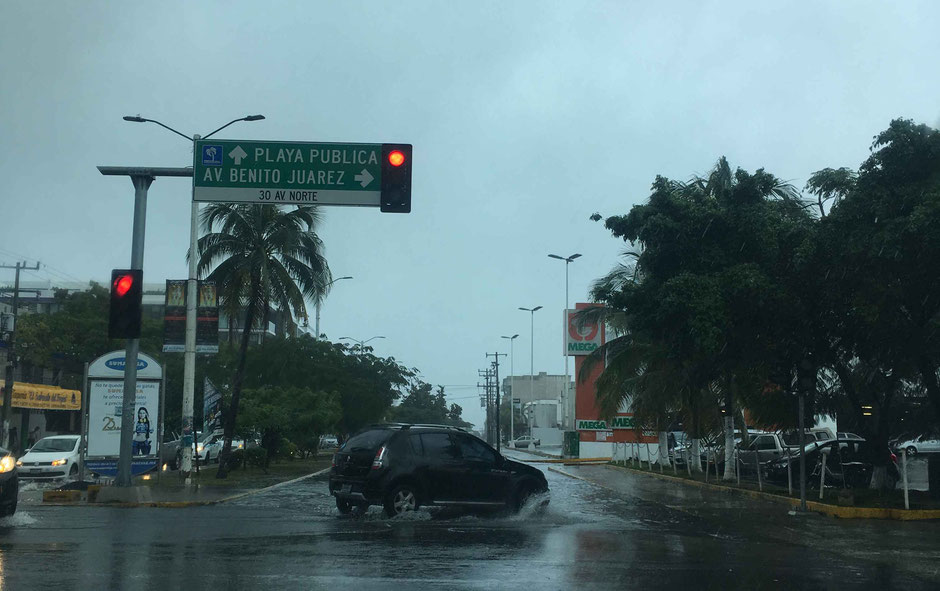 14. Beware the extra costs
From the rental car companies to the gas stations, you will encounter many unexpected costs on your trip. If you are planning to rent a car during your trip, be sure to read our blog post on renting a car in Cancun. We'll tell you about these scams and what to do to help avoid them.
DON'T MISS: If you are currently in the Mayan Riviera or are planning a trip there, don't miss our blog post, Plan the Best Family Trip to the Mayan Riviera. It's packed full of planning tips, exciting family activities and links to all of our Mayan Riviera blog posts. It's sure to help make your family trip a memorable one!
Pin It For Later!