A laid-back tropical island paradise a mere 8 miles away from Cancun? Yes please! Beautiful Isla Mujeres is a world-apart from the craziness of Cancun and makes for a perfect day trip with the kids. Between the ferry ride, the golf cart rental, the turtles and fun by the water, our kids had a great day!
GETTING THERE
The cheapest way to get to Isla Mujeres from Cancun is by ferry. There are several departure points from Cancun:
The main ferry port is Puerto Juarez, located just outside downtown Cancun. This port offers the most departures per day and is slightly cheaper than the other ports, but it isn't in the Hotel Zone, so it may not be the most convenient. (Tickets from Puerto Juarez)
Playa Tortugas and El Embarcadero are both on the northern leg of the hotel zone and each offer direct ferries to Isla Mujeres. For our day trip, we left from Playa Tortugas as it was the only port which we could confirm had parking. (Tickets)
Playa Caracol is located in the NE corner of the hotel zone. A limited number of non-direct ferries depart here each day. The ferries stop at El Embarcadero along the way.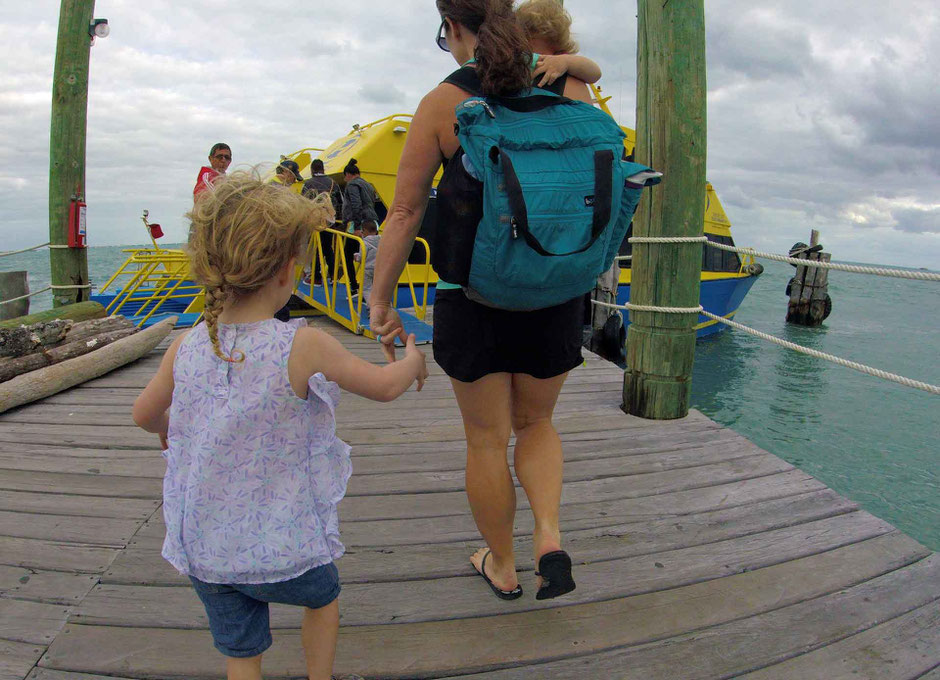 Of course, being Cancun, there are some way more exciting ways to get to Isla Mujeres. You can get there via catamaran, trimaran or sailboat, with many of these coming as part of a snorkeling & sightseeing tour. Our kids (aged 2 & 4) were a little too young to bring on one of these trips, but we would love to go the next time we are there. If interested, take a look at these fun tours.
GETTING AROUND
The tourist part of town occupies the northern tip of the island. It is small enough to walk from end-to-end in 10 minutes, so if your day trip to Isla Mujeres was for shopping, eating or a day at Playa Norte, all you need to get around is your feet.
If you wish to see the rest of the island, which we recommend, you can take a taxi, rent a golf cart or a scooter. It seems most visitors to the island rent golf carts or scooters as you see them everywhere. As you'd expect, the rental shops are all located immediately outside the ferry terminal – you can't miss them.
We rented a golf cart at a daily rate of 700 pesos (~$37usd) and we found it to be a great way to see the island independently. The kids absolutely loved it and were so excited to be in an open air vehicle. Meanwhile, we adults enjoyed the golf carts for the ocean views and sea breeze on our face as we explored the island.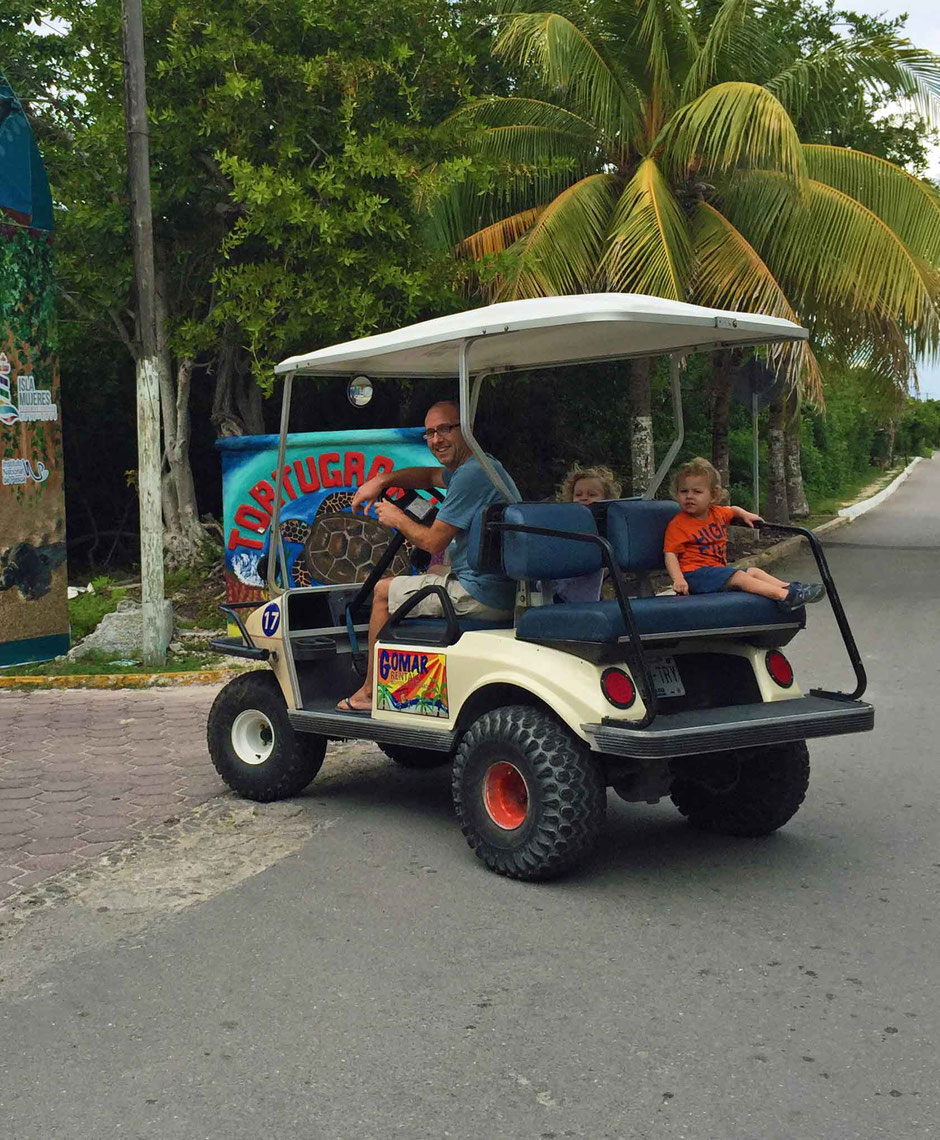 ATTRACTIONS
Isla Mujeres has lots of fun stuff for small kids. To give you a feel, here is what we did during our full day on Isla Mujeres:
Tortugranja
As soon as we got our golf cart rental we headed south to Tortugranja, a turtle farm located about halfway down the island. This is a small & simple facility, so keep your expectations in check, but they price it accordingly (admission for the four of us, including turtle food was 150 pesos – roughly $8usd).
The main building has 6 tanks in the center, one with baby turtles (so cute!) and the other 5 with larger turtles of a variety of species. The kids had fun trying to feed the turtles although to be honest most of the turtles ignored the food pellets. Along the outside walls of the room were a series of tanks with fish, some local & tropical, some not. Outside the main building are more tanks with turtles, many of which were larger than what we saw inside.
As we walked around the back of the building on our way out we passed the laboratory. There were two older gentlemen inside and one of them came running out when he saw the kids. He had two baby turtles in his hands and let our kids each hold one. The kids were so excited!
Overall, Tortugranja is a pretty simple place, but it was super cheap and the kids had a hoot, so we felt it was well worth the stop.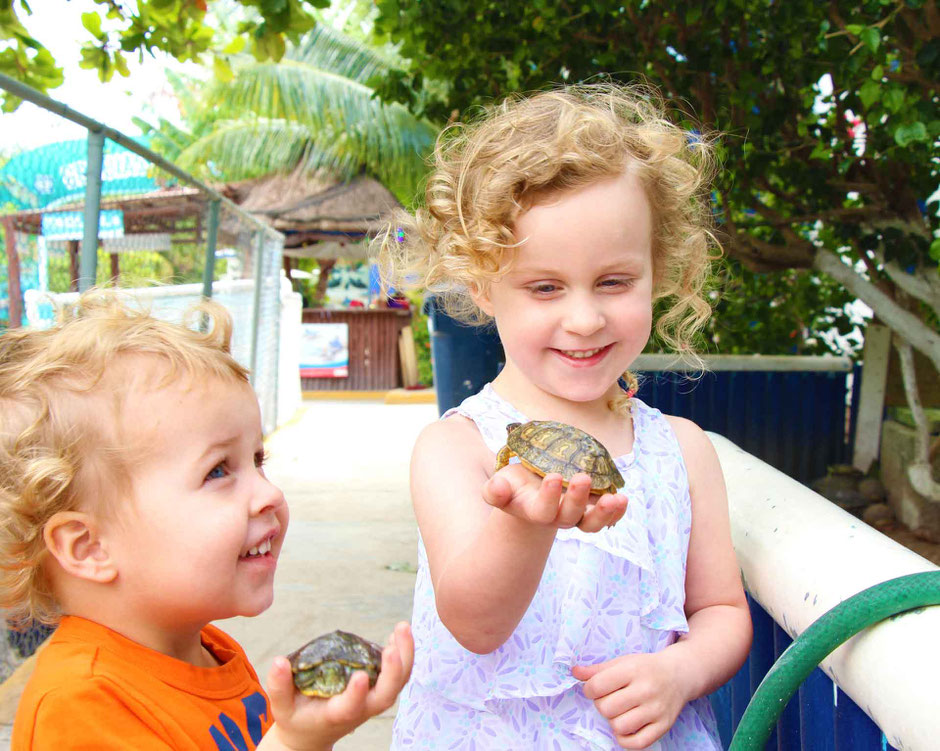 Punta Sur
Next we drove to Punta Sur at the southernmost tip of the island. The epic scenery alone, with the jagged cliffs and the open ocean make it worth the trip down here. There are two main sections to explore on Punta Sur:
The free area has a few nice sculptures (a giant iguana and a half-naked Mayan woman). There is a short path along the north side of the island with great views of ocean waves crashing on the rocks.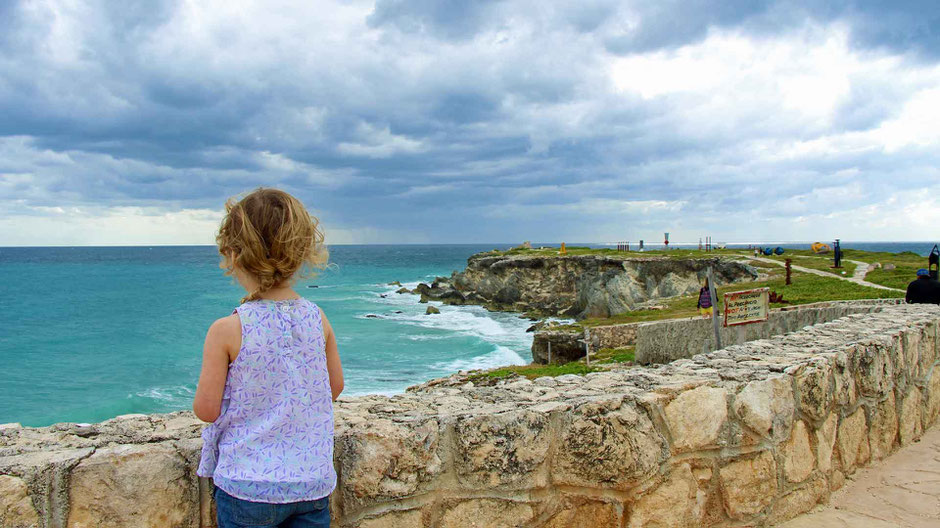 The other section is the quirky "Sculpture Garden", which extends all the way to the actual tip of the island. Admission for the adults was a mere 30 pesos (~$2usd) each to enter the sculpture park which extends all the way to the southern tip of the island. Along the pathways are a lot of interesting, modern-art sculptures. Whatever your taste in art, it was an undeniably cool setting for a display of artwork like this.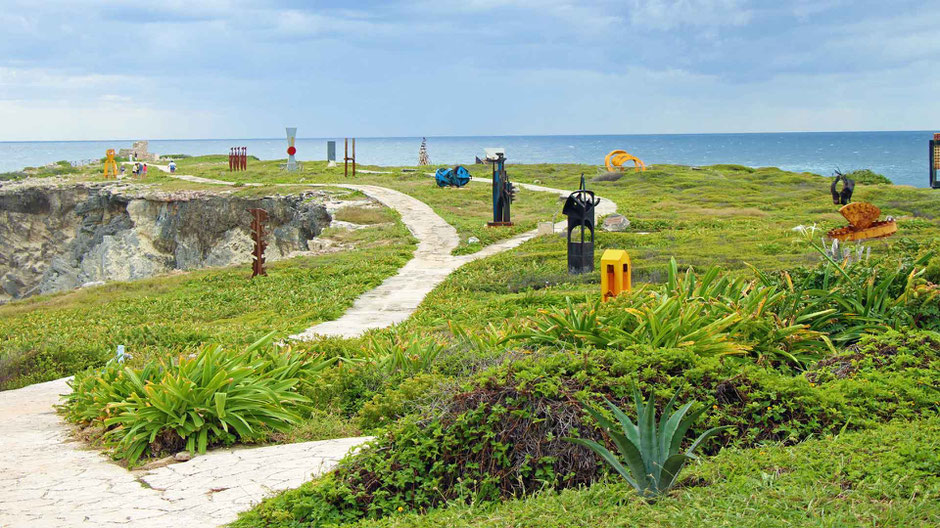 Near the tip of the island was a small set of ruins honoring the Mayan Moon Goddess. From here the path descends towards the ocean and turns back towards the entrance. This is a very scenic path along the bottom of rocky cliffs with waves crashing alongside.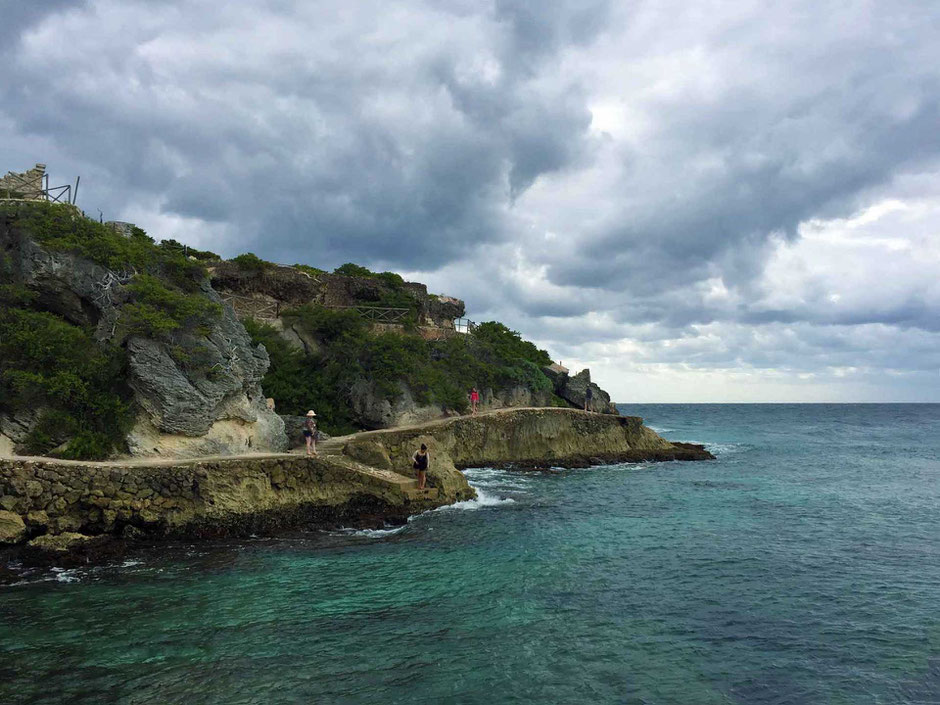 On our way back to town, we stopped at Green Verde for lunch. This was fun little restaurant with a small lunch menu with mostly Mexican offerings. The food was very good and the kids ate most of theirs.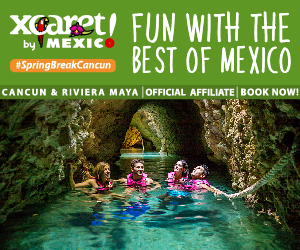 The Town
Once we got back to town it seemed like we had hit rush hour – the streets were filled with cars and golf carts and forward progress was pretty slow. We decided it would be faster to return the golf cart and walk. We walked north along Avenida Rueda Medina to the town's famous beach, Playa Norte. It was a beautiful beach and it looked like a great place to spend time with our kids, but unfortunately it was one of those rare cloudy and windy days so sadly we didn't stop to play.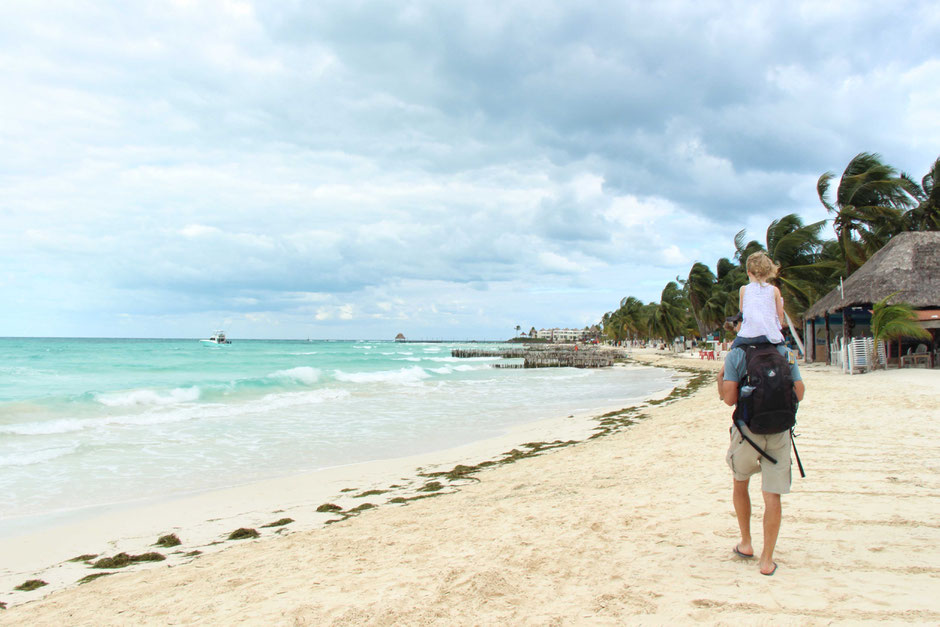 From here we worked our way back toward the ferry terminal along the charming, pedestrian-only shopping street, Miguel Hidalgo. As a parent with small kids, I love pedestrian-only streets as you don't need to worry as much about your kids running into traffic; and of course, the kids love the freedom to roam. This street is lively and colorful, filled with many restaurants and shops.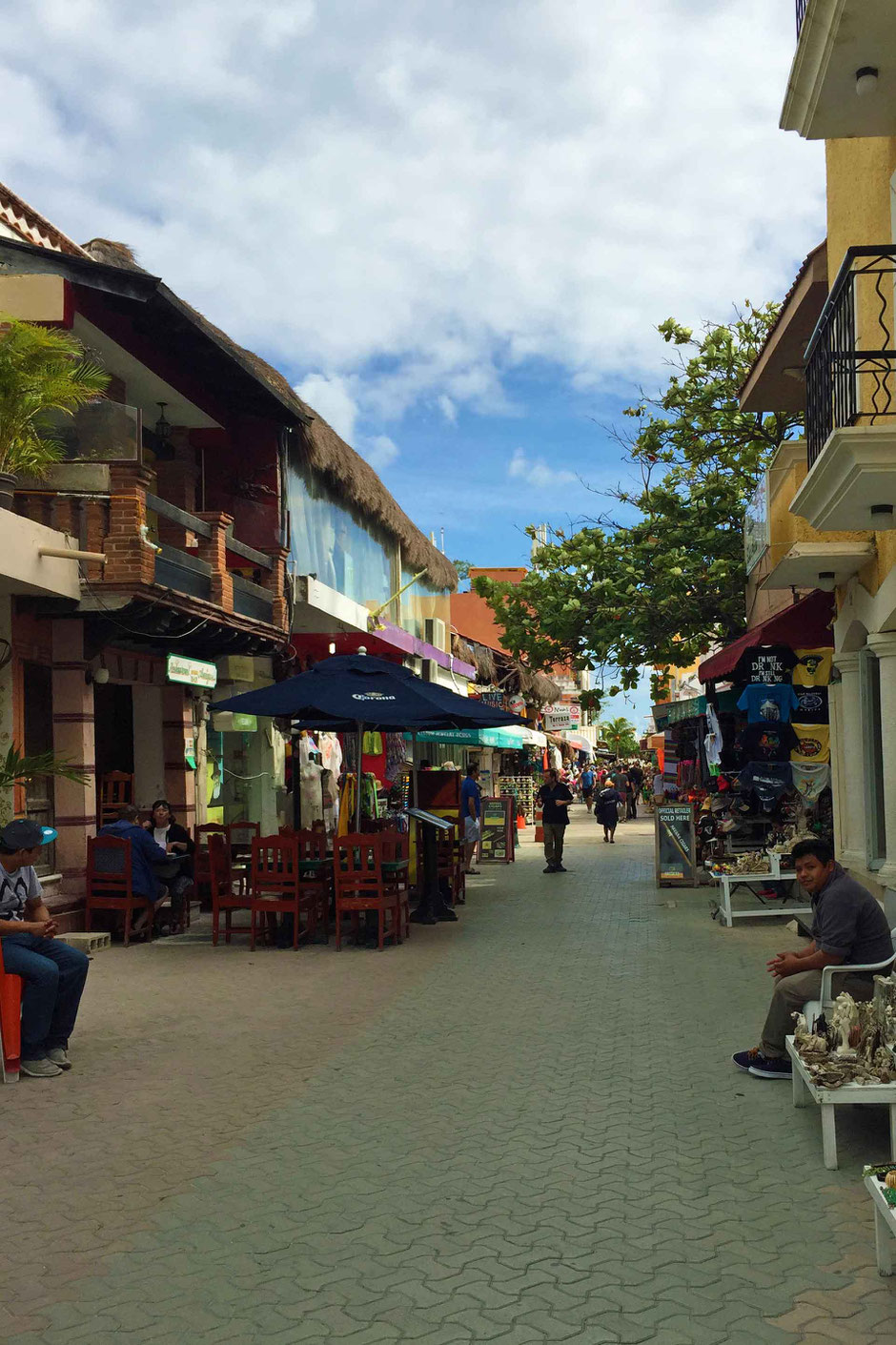 Fun Stuff for Older Kids
If you have older kids, there are many world-class activities to enjoy. Swimming with whale sharks is high-up on our bucket list, so I'm certain we will be back with the kids as soon as they are old enough! Here are the highlights:
MUSA Underwater Sculpture Museum
Parque de Los Sueños (water park)
We hope you enjoy Isla Mujeres as much as we did! If you have any good tips, please share them with everyone in the comments below…
DON'T MISS: If you are currently in the Mayan Riviera or are planning a trip there, don't miss our blog post, Plan the Best Family Trip to the Mayan Riviera. It's packed full of planning tips, exciting family activities and links to all of our Mayan Riviera blog posts. It's sure to help make your family trip a memorable one! Don't forget the beach toys!
We only write about destinations we have personally visited with our family. This post contains compensated links.
Pin It For Later!