Karlovy Vary is a popular spa town found in western Czech Republic. Also known as Karlowe Wary or Karlsbad, this scenic town is home to many thermal spas and mineral springs. Despite being a resort town known for relaxation, there are many fun things to do in Karlovy Vary with kids.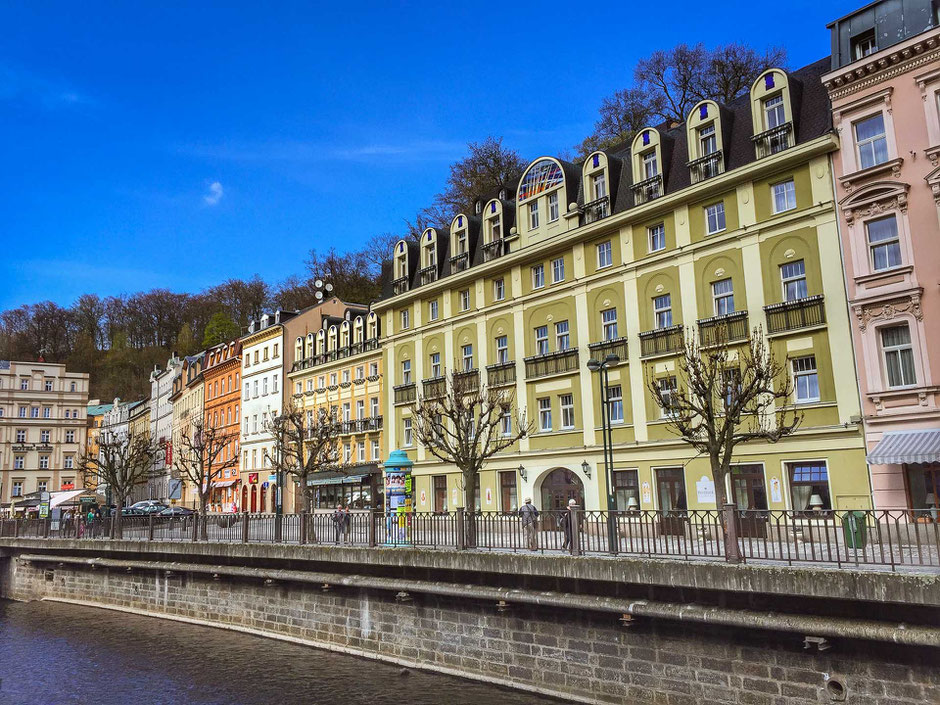 This post contains compensated links.
Top 4 Things to do in Karlovy Vary with Kids
1. Dvorakovy Sady Park
In the morning, we drove in to Karlovy Vary from Cesky Krumlov. We didn't have a lot of time to do anything epic this afternoon, so we threw the kids in their carriers and walked towards the riverside park, Dvorakovy Sady. The walk to the park was on a nice, wide, pedestrian-only pathway alongside the river. The rows of buildings lining the river are amazing – so tall, elegant and colorful. To be honest, it's one of the nicest waterfronts I've seen anywhere in the world.
The first bridge we crossed had a large group of people huddled along the handrails. It turns out this is a popular place to feed the ducks and fish in the river below. There were a handful of ducks, but there were literally hundreds of fish hanging out below the bridge. I've never seen so many fish in a 'natural' environment before!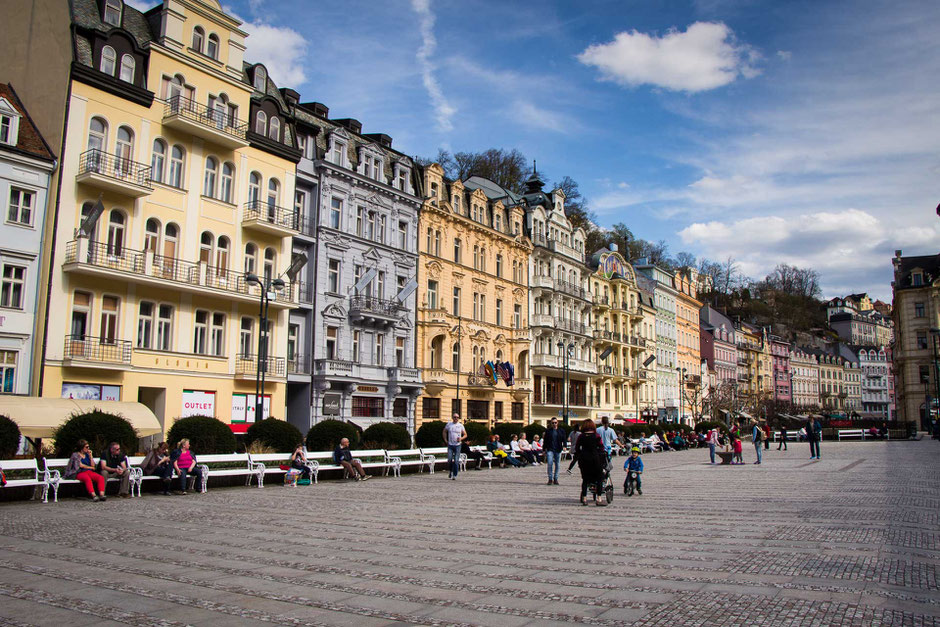 The park turned out to be small, but nice with an attractive little pond near the river. There was a gazebo at the far end of the park, which turned out to be our first "Colonnade". Karlovy Vary has lots of colonnades around town, which are fancy structures housing taps of mineral water – each with a different composition and temperature. This particular one was slightly warm and had some CO2 in it.
We kept on walking alongside the river and kept trying the water from different taps. Some were actually quite hot, with temperatures as high as 140F/60C, so we had to watch our kids carefully. The walk was a lot of fun for everyone. There was plenty of room for the kids to run, giggle and play, while we enjoyed the beautiful surroundings and the unique charm of this town.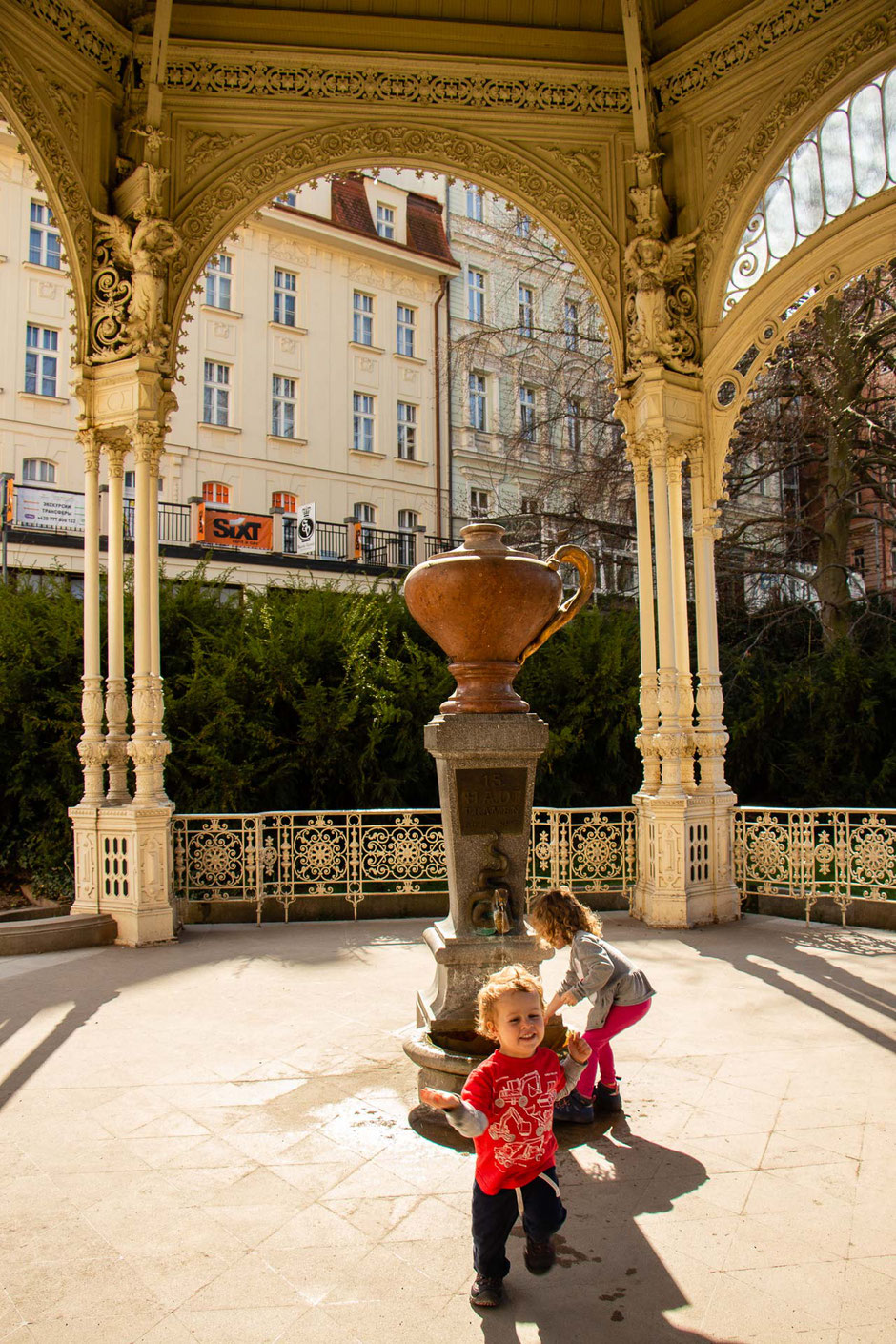 2. Hiking Karlovy Vary to Loket with Kids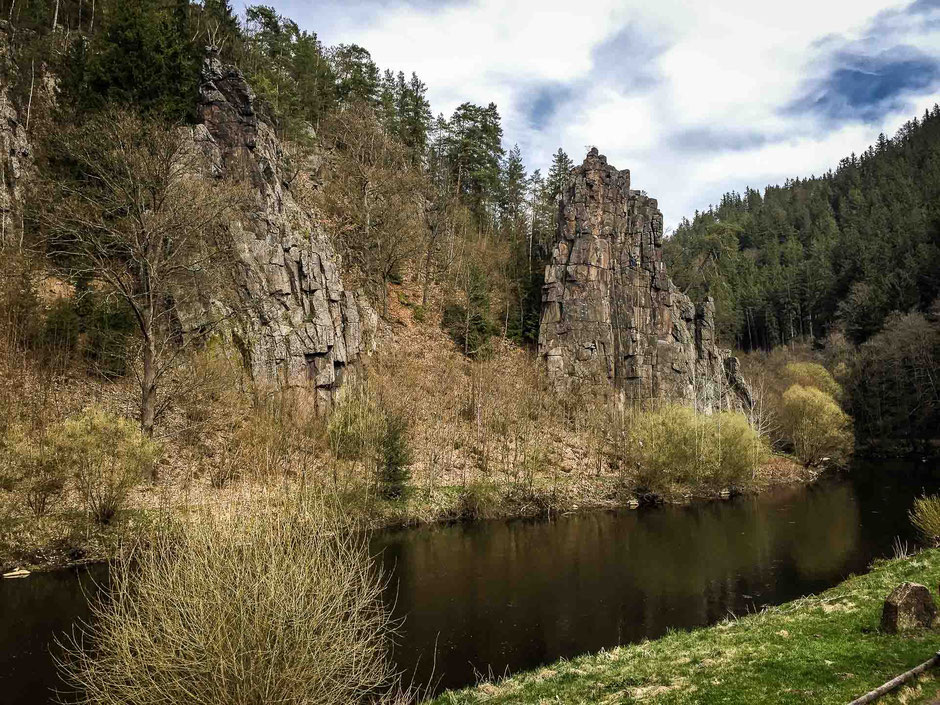 The main reason we decided to visit Karlovy Vary was to do the hike to Loket. When we were researching destinations for this trip, we stumbled across this hike and it looked so beautiful, we wanted to do it ourselves. So we were very excited to get on the trail today.
The hike itself did not disappoint – it was really beautiful. It winds its way through a forest, running parallel to the Ohre River the whole way, with steep moss-covered rocks on the other side of the path. The sounds of birds are everywhere and non-stop. It was a longer hike than we'd expected, hiking a total of 15 miles (24km) – a new family record!
For more details on this beautiful hike, visit this post on hiking from Karlovy Vary to Loket.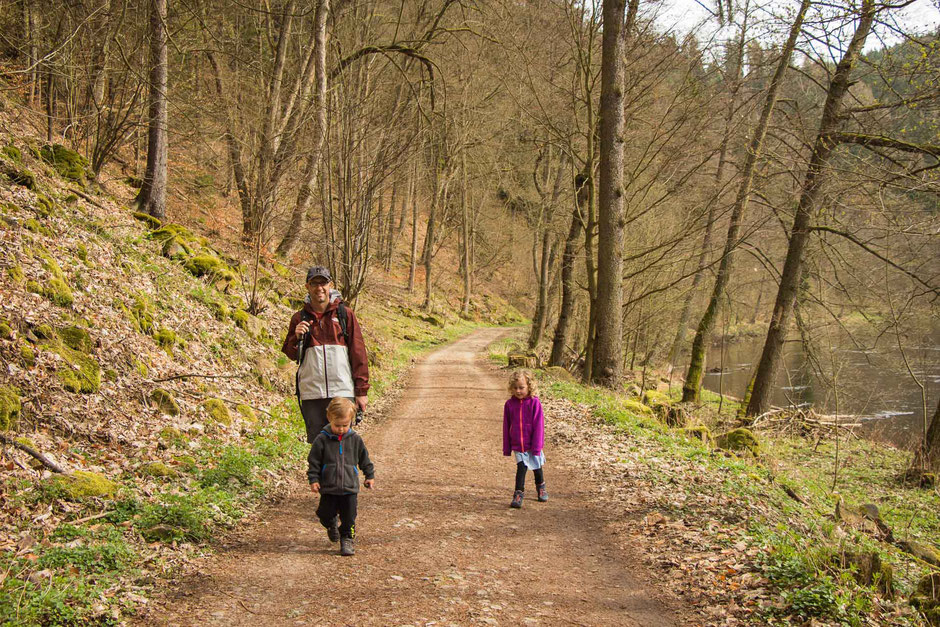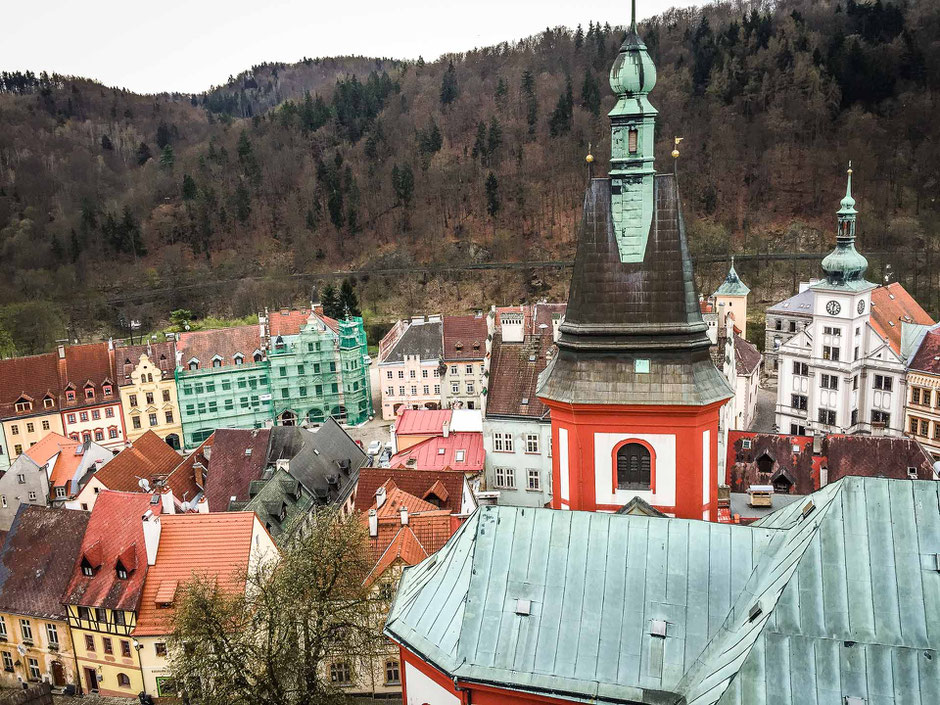 3. Diana Lookout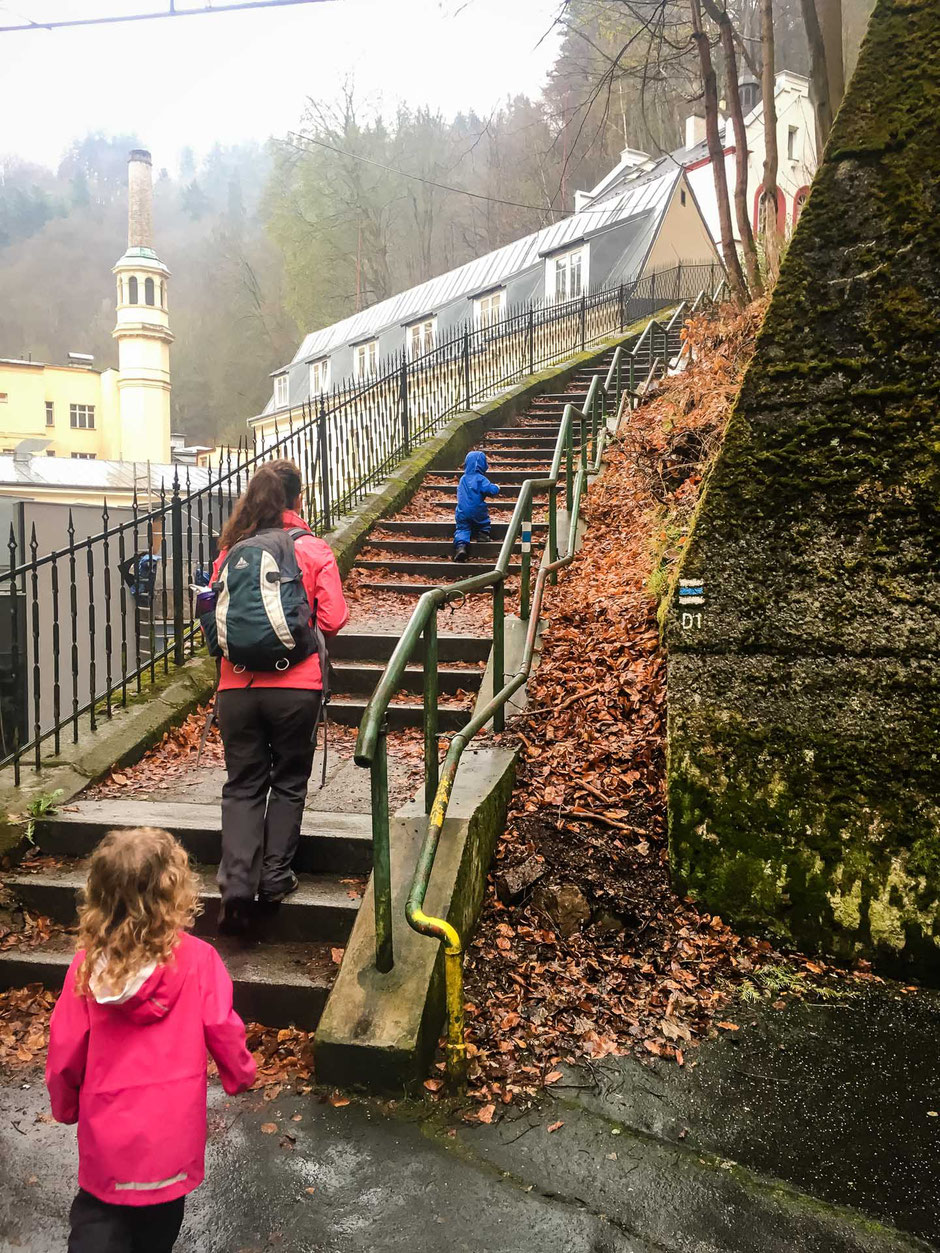 The following day, we woke to a cloudy day with light rain. We never let a little rain ruin a travel day, so we threw on our rain gear and headed out for a morning of fun.
We walked through our residential neighborhood of Drahovice down to the spot in the river where we left off on the first afternoon. It's amazing – there are no ugly buildings in the entire town. Everywhere we walked, every building was beautiful and immaculate. From here, we continued to walk upstream. The stores became very high-end at this point and the kids (and their mother) loved looking at all the fancy jewelry and porcelain figurines in the windows.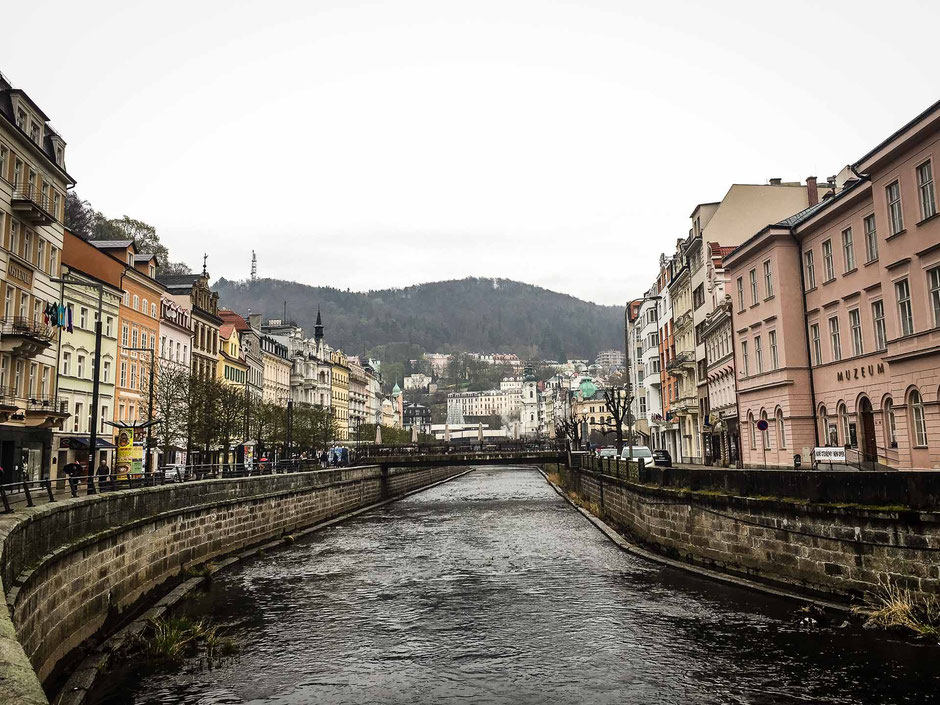 Our plan was to take the funicular up to the Diana Lookout Tower. We don't normally take funiculars up anywhere as we always prefer to hike up, but given we hiked 15 miles the day before, we felt our legs would want a break. When we got to the lower funicular station, we looked at each other and went, "Nah, let's walk up instead!", and we're so glad we did! Hiking in the rain meant we had the entire trail to ourselves, which is always a bonus!
We have an entire post full of all our best tips for hiking with kids and this one with all the best hiking gear for kids.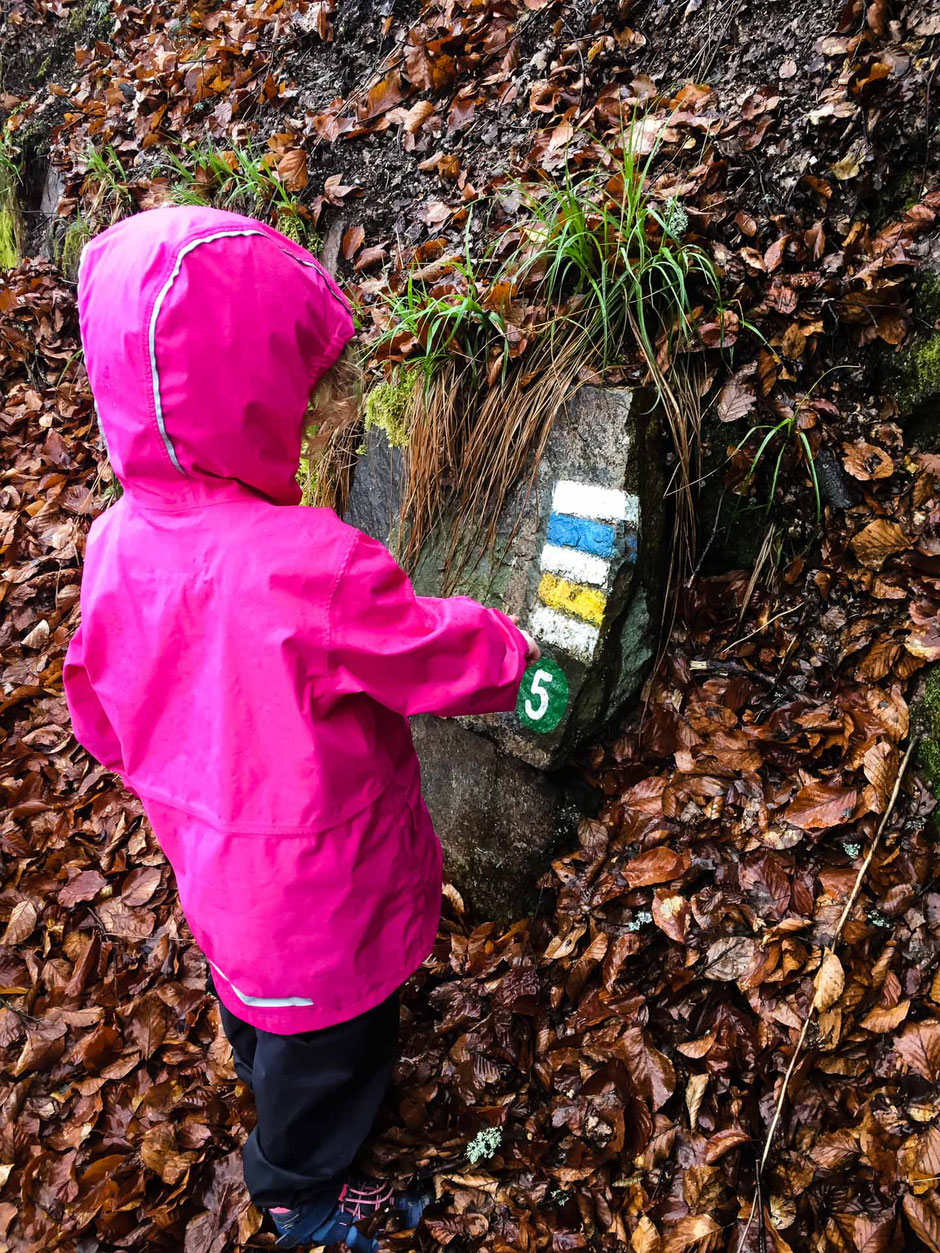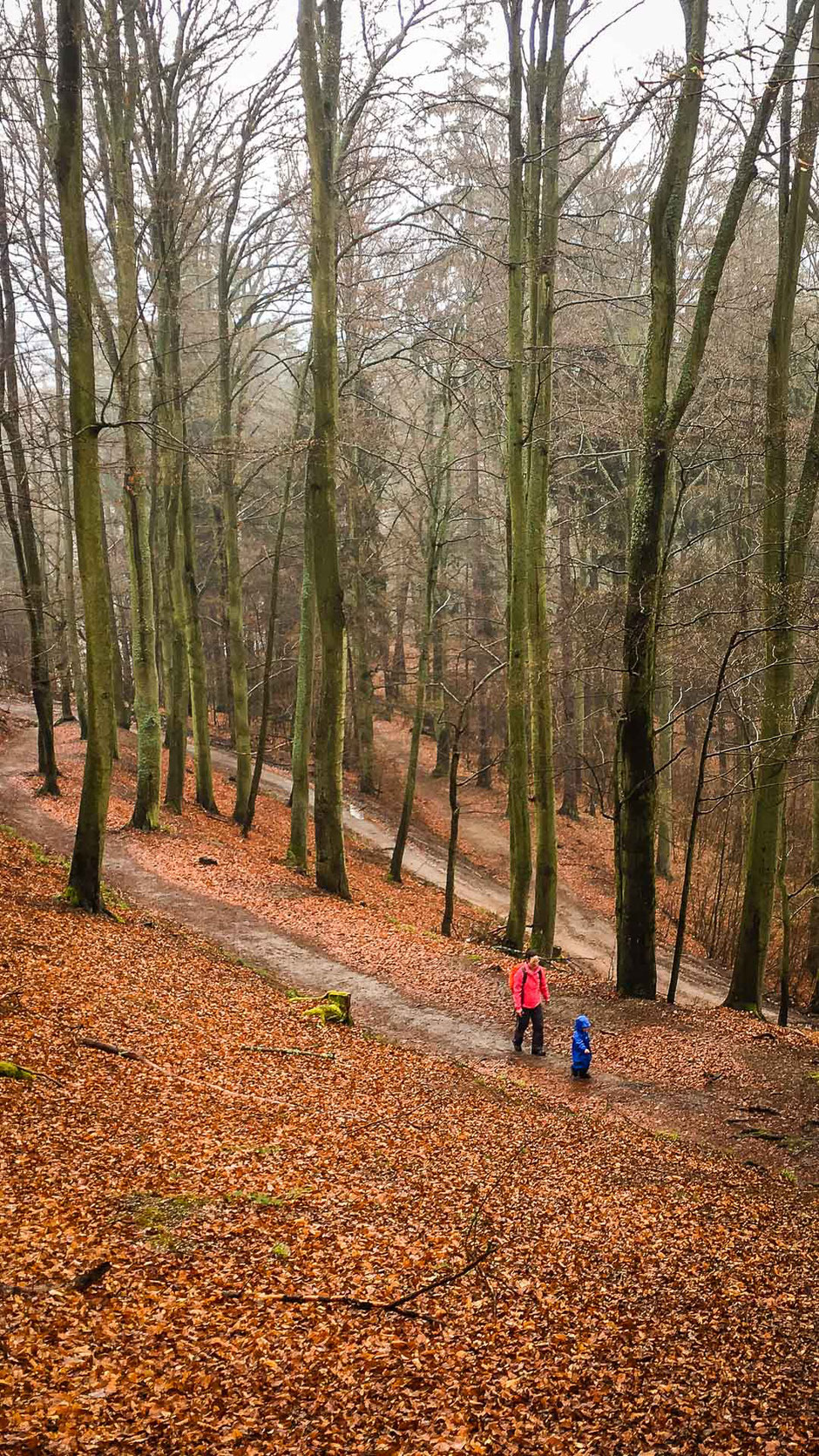 At the top, there are a variety of activities. We started to walk up the 130 stairs to the top of the lookout tower, when the elevator door magically opened. In a moment of weakness, we hopped in and took the easy way to the top. The views from the top of the Diana Lookout Tower are quite nice, but it was a cloudy, dreary day so we couldn't really see that much. It was free, so there's no reason to complain!
4. Butterfly House
The kids then found a nice playground next to the restaurant, so we let them stop and play for a bit. Next we visited the Butterfly House, which was right next door to the playground. The butterflies are in a single room, which has been transformed into a small tropical garden. You certainly get your money's worth in terms of butterflies – there are lots of them. Everywhere you look you see butterflies in all shapes and sizes. They even had my favorite butterfly, the Blue Morpho, which we first saw in the Amazon. The room also houses a few small tropical birds, a fish pond and a turtle.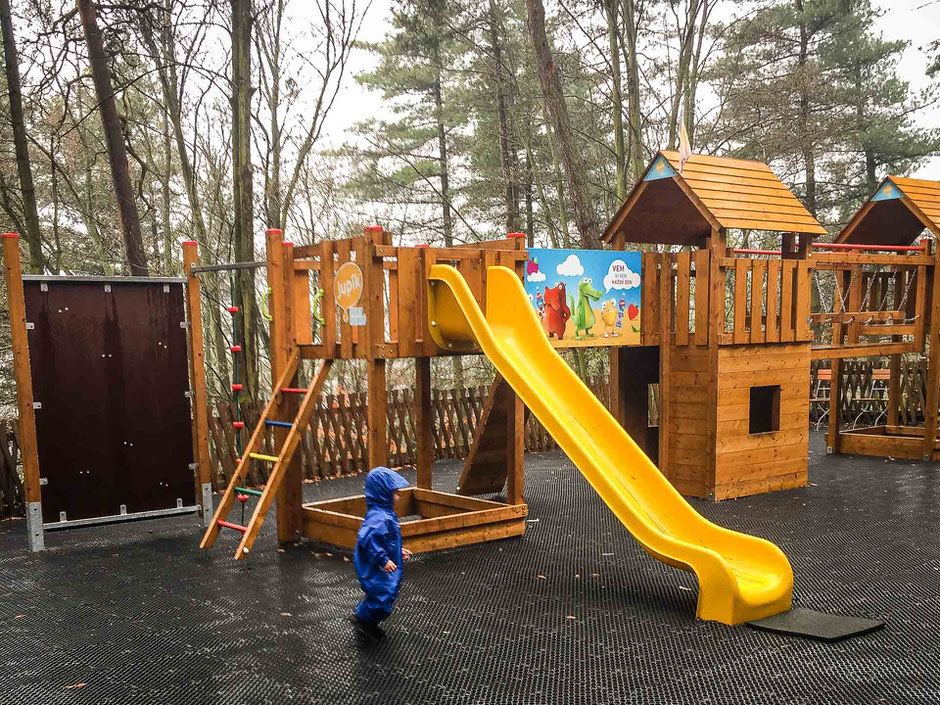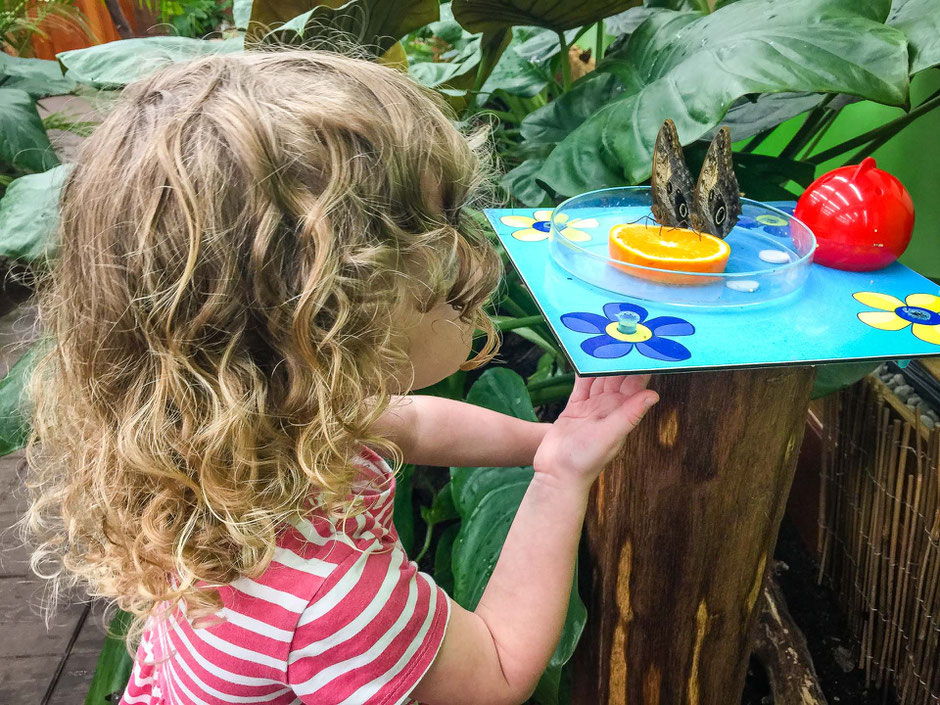 We used the Terra Maps GPS hiking app to find the correct pathway down to the other side of the hill to visit the Orthodox Church of Saint Peter and Paul. This beautiful Byzntine-style church, complete with golden onion domes on top, was modeled after a church in Moscow. We didn't go too far inside out of respect as we were dripping wet from of walking in the rain, but we could tell it was really beautiful.
It was a short stay in Karlovy Vary, but we are so glad we added it to our itinerary. Next up on our family trip to the Czech Republic, Bohemian Switzerland!
Visit Karlovy Vary with Kids
How to get from Prague to Karlovy Vary
Family Friendly Karlovy Vary VRBO vacation home rentals
Family Friendly Karlovy Vary Hotels
Family Friendly Restaurants in Karlovy Vary
Karlovy Vary Day Trip from Prague
Czech Republic with Kids
Pin It For Later!