Český Krumlov is famous for its UNESCO World Heritage listed Old Town, which remains in pristine condition after being left unharmed through the two World Wars. There is so much culture and history here; they have an amazing castle, a charming town square and great museums. But is it a good place to bring kids? We had a great time in Cesky Krumlov with our children, aged 2 & 4, by finding a good balance of activities that everyone could enjoy.
Here is how we spent our two days in Cesky Krumlov with kids: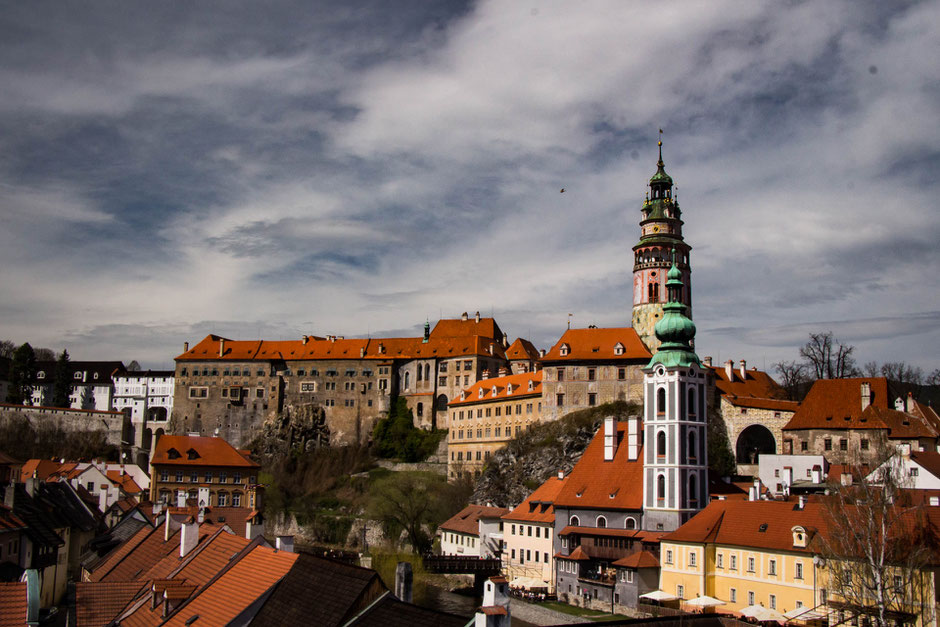 This post contains compensated links.
Guided Tour of Cesky Krumlov Old Town, Monastery & Castle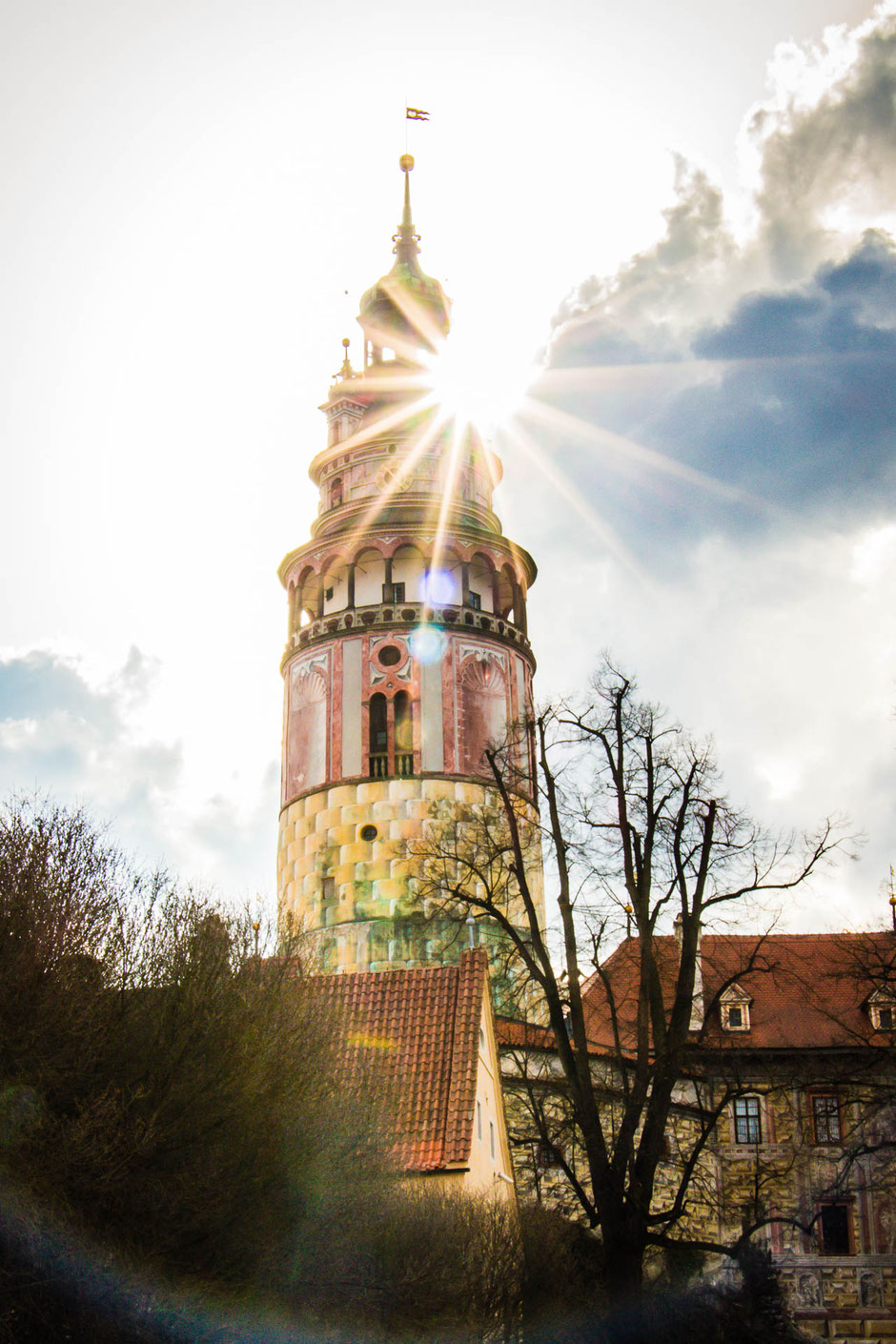 We arrived in Cesky Krumlov mid-afternoon after driving in from Prague, with a quick stop at Karlstejn Castle. This left us with a few hours to do something, so we spent the afternoon getting a private tour of the city.
We're not usually big on guided tours, especially with small kids, but having a private tour took the pressure off the kids making too much noise. Our guide immediately started the tour by taking us to a playground, so the kids could play while we talked – nicely done! Our guide took this time to find out what our interests were and what we hoped to see and do during our visit. She then took us for a stroll through the beautiful old town, through the monastery and ended at the castle. We are grateful for the useful and interesting information about the town, as well as personalized tips for restaurants etc.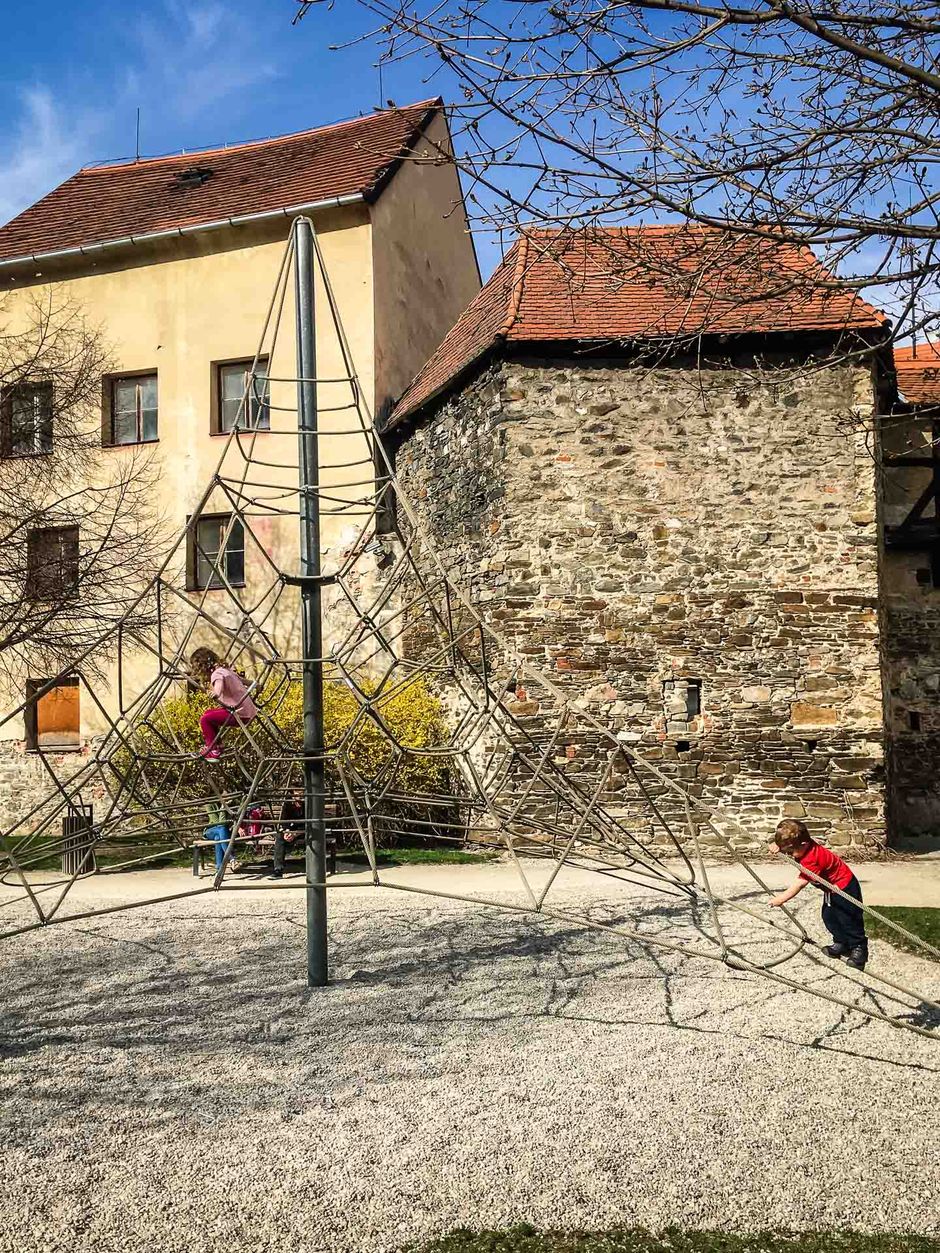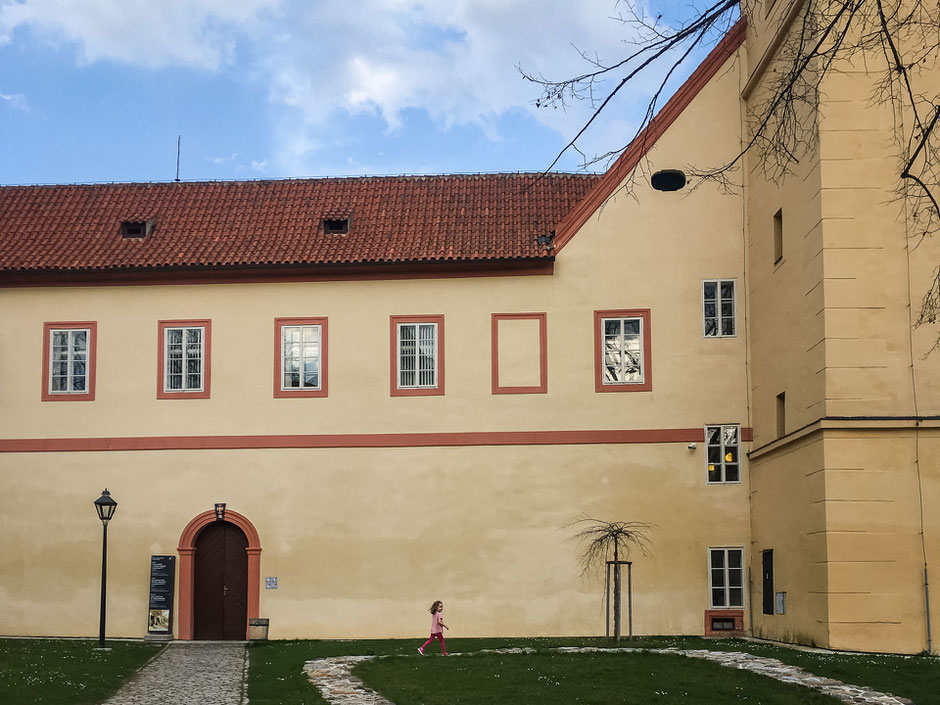 Hrad Divci Kamen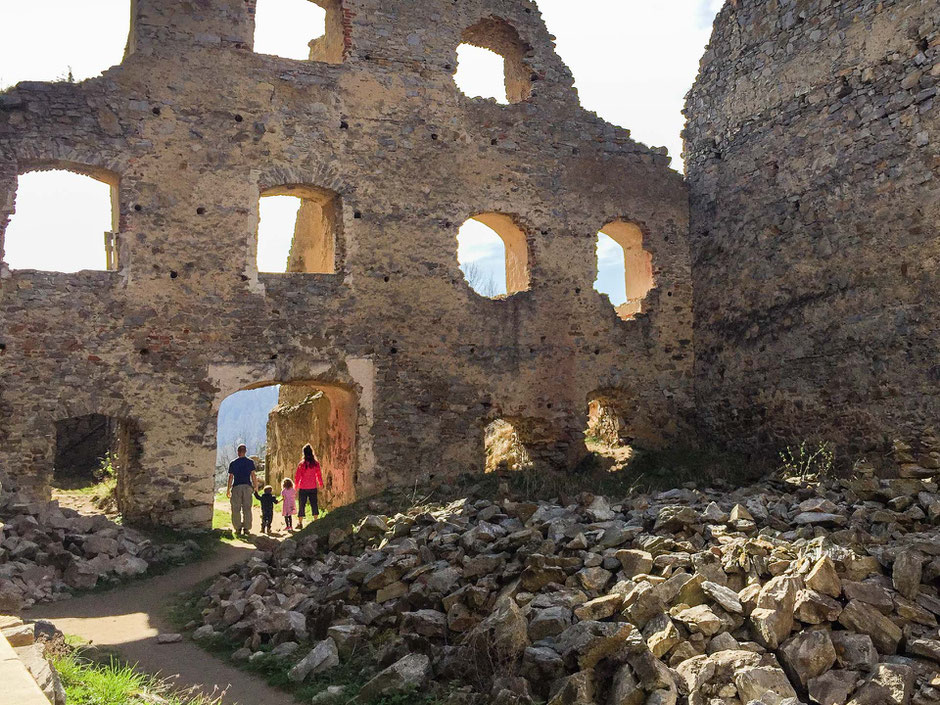 On our first morning in Cesky Krumlov, we drove 20 minutes north of Cesky Krumlov to explore the ruins of an old castle. Hrad Divci Kamen was a mighty castle back in the 14-16th centuries, but now lays in shambles.
The walls of Divci Kamen are pretty intact, but a lot of it is now gone. Rocks are piled on the ground everywhere, but there are clear paths and steps to follow as you explore the property. There isn't a set trail to explore, you simply walk wherever you want to.
The kids had so much fun here running around, climbing on rocks, climbing stairs, looking through medieval archery windows, etc. It's a kids paradise! (It's far from childproof though – so be careful).
This visit was one of the big highlights of our 3 weeks the Czech Republic. For more information please read our full blog post Hrad Divci Kamen – Cesky Krumlov's Hidden Gem.
Off-the-Beaten-Track Day Trip from Cesky Krumlov
Krizova Hora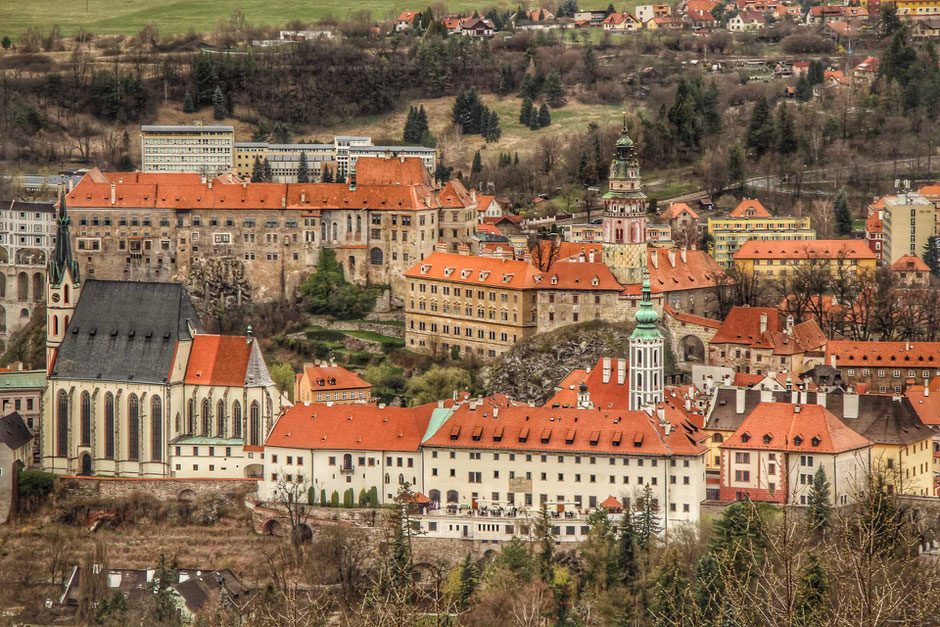 For our second afternoon we went for a hike to Krizova Hora (The Chapel on the Mountain of the Cross). We were able to start the hike about 1 minute from our front door – gotta love that! Krizova Hora is perched high up on a hill south-east of the old town. The hiking trail actually begins in the Old Town, but we found out using our Terra Map Pro GPS Hiking Maps hiking app that the trail went right by our Airbnb.
Once at the top, we enjoyed sweeping views of the surrounding rolling hills, the Vltava River, and of course the UNESCO World Heritage listed Old Town of Cesky Krumlov – an amazing sight! The chapel wasn't open, but we didn't really go up for the chapel, we went for the views and it was worth it.
We have an entire post full of all our best tips for hiking with kids and this one with all the best hiking gear for kids.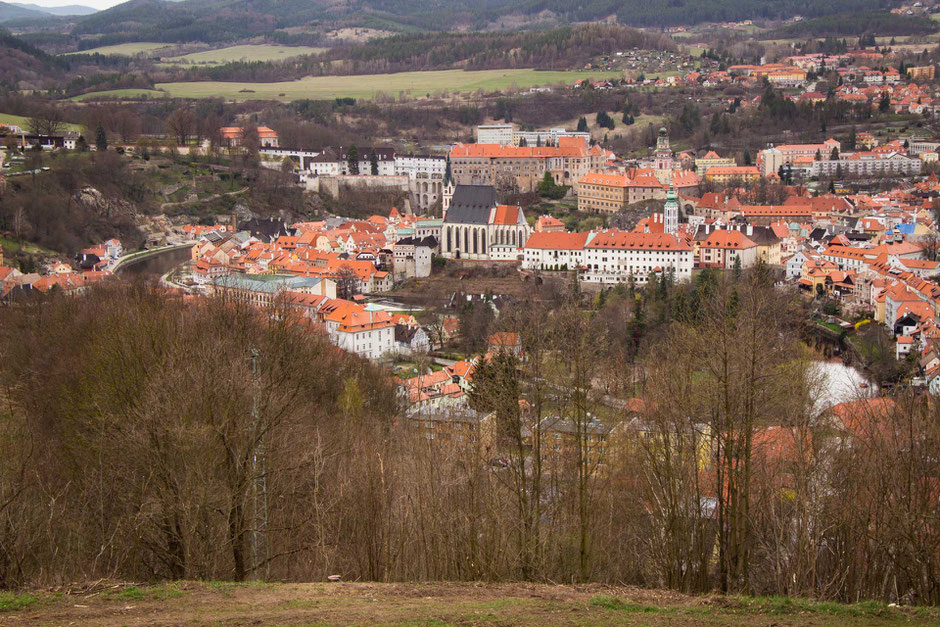 Old Town, Cesky Krumlov Castle and the Minorite Monastery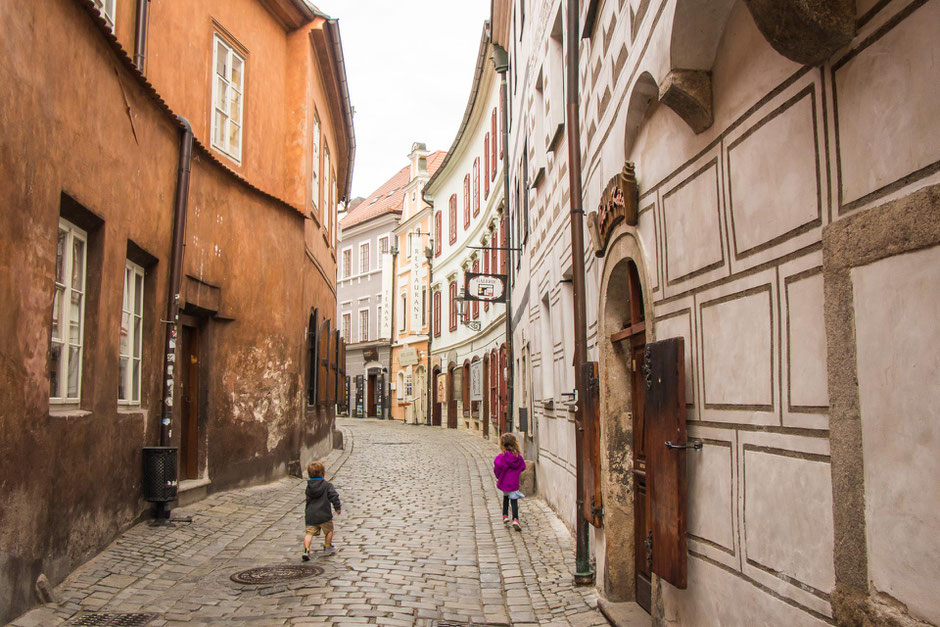 This morning the kids woke up early, so this allowed us to get to old town around 8:15am. Compared to our first afternoon, Old Town was wonderfully empty this time of the morning. The kids could run around and we got all sorts of good pictures with no one in them.
Wondering where to eat in Cesky Krumlov? This 3 Days in Cesky Krumlov has a ton of suggestions.
Our first stop of the day was across the river at the Cesky Krumlov Castle. Most of the exhibits don't open until 9, but they open the grounds early, so we went exploring. You can walk through most of the castle grounds for free and you only pay if you wish to enter the museums or climb the tower. The main pathway took us through a series of courtyards, each wrapped with beautifully painted brick walls. The path then opened up to reveal a viewing platform and a beautiful covered bridge, both of which offered amazing views of old town below. At the end of our walk, we reached the castle gardens. These meticulously planned gardens feature sculptured shrubs and trees, in a style and quality you'd expect to see in Paris.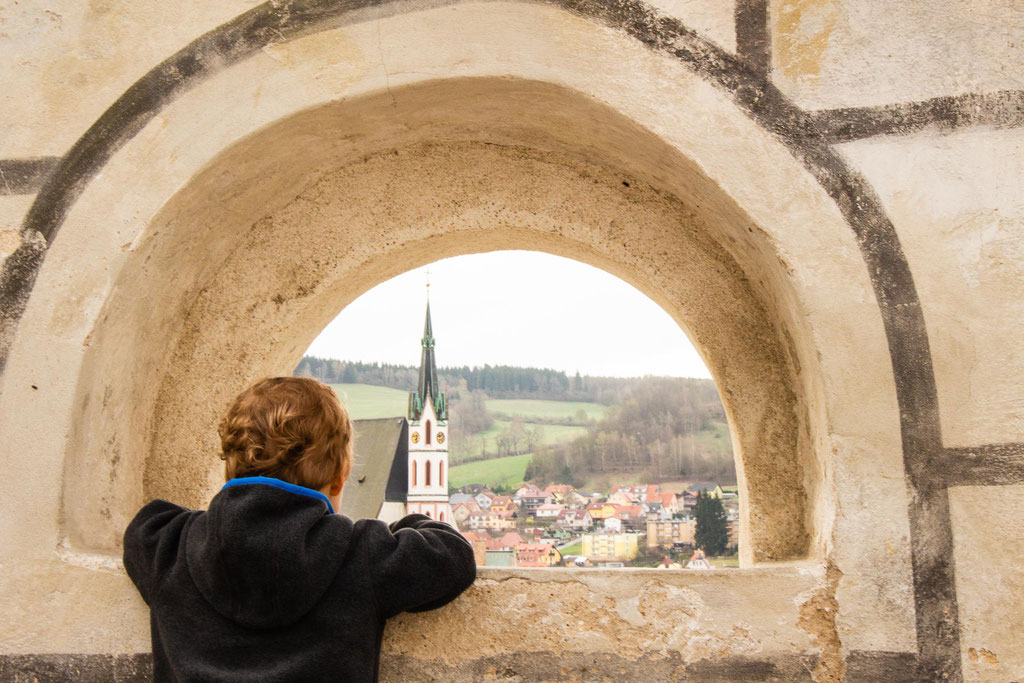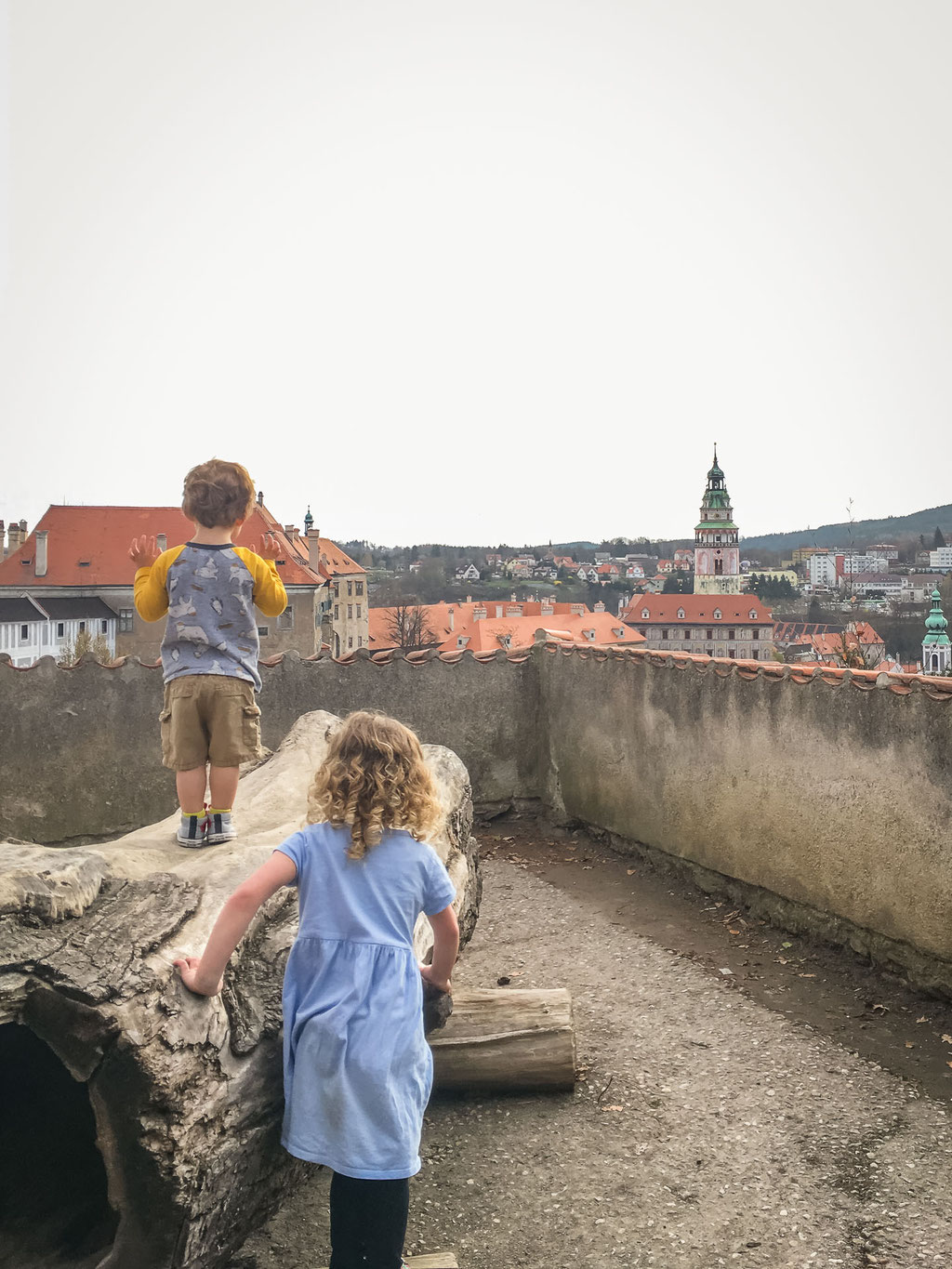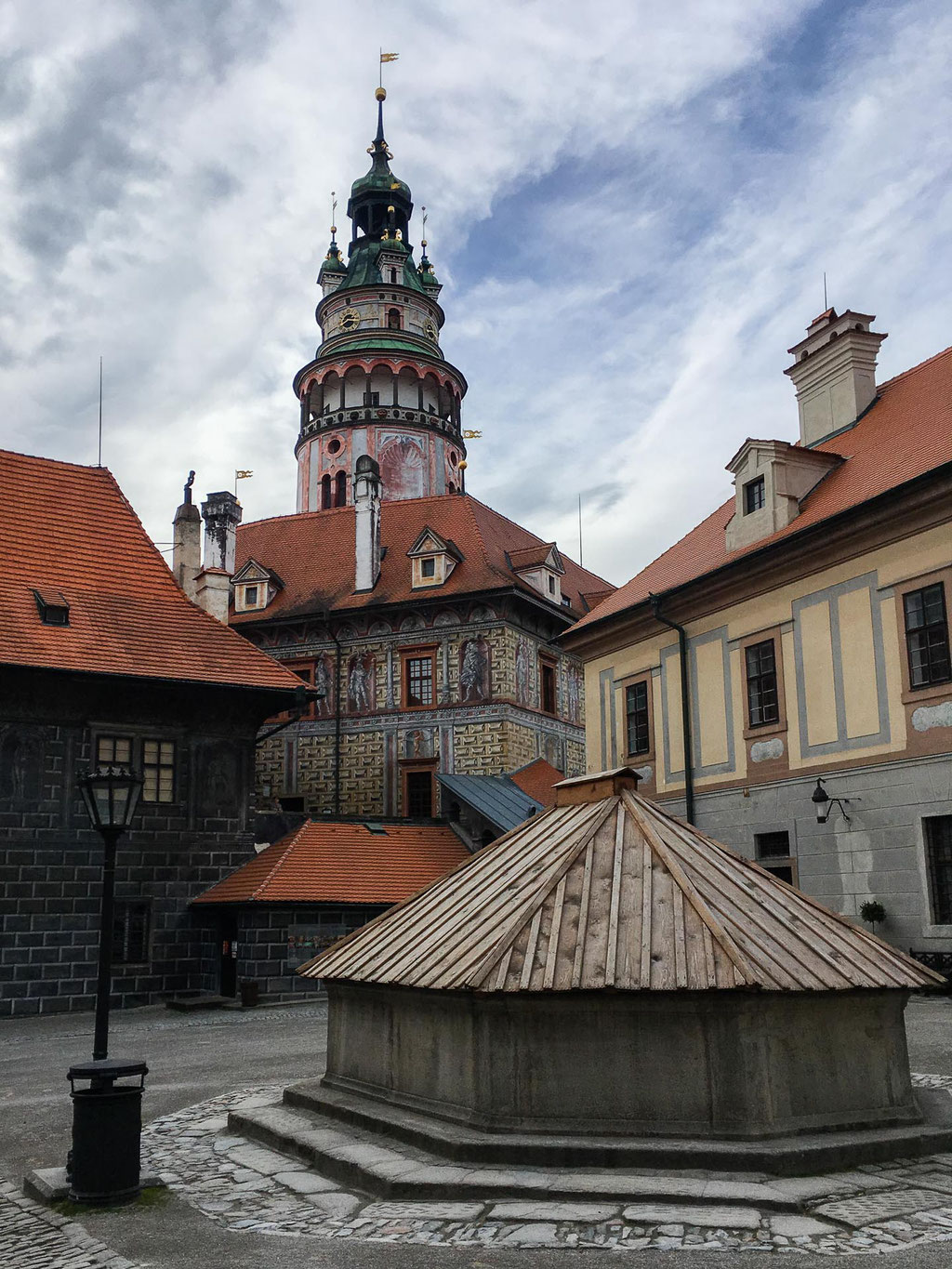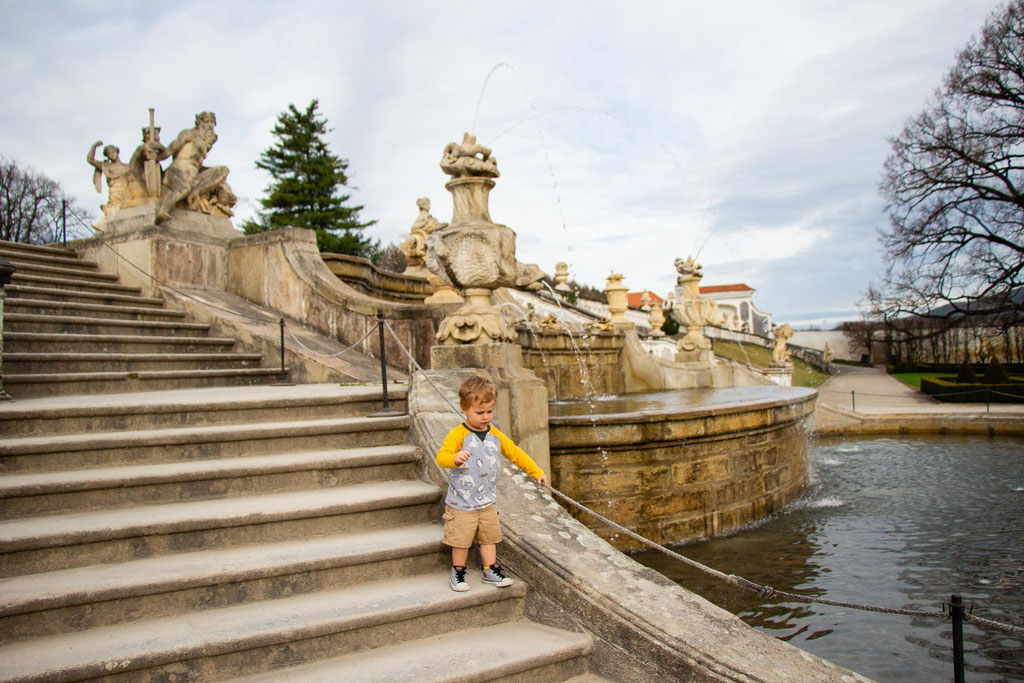 By this time it was after 9am, so we used our Cesky Krumlov Cards to enter the Castle Tower. The tower is so beautiful from the outside and appears very tall when looking at it from Old Town, but in actual fact, it's not really that tall. Our 4 year old daughter climbed it by herself with no issues at all, while our 2 year old wanted to be carried. The viewing platform extends all the way around the round tower, providing amazing 360 degree views of the town below.
Cesky Krumlov Old Town Private Walking Tour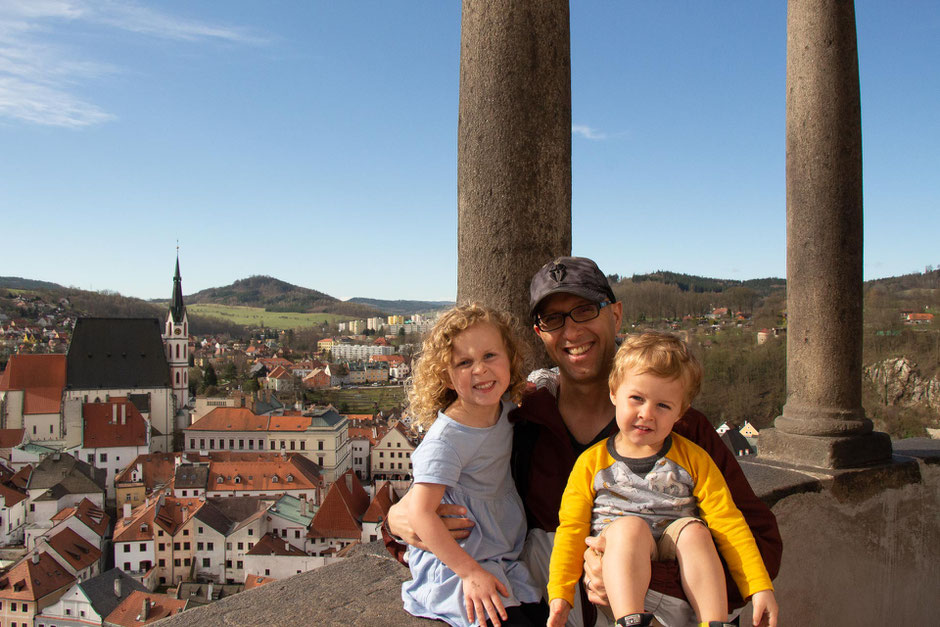 Next, we walked to the Minorite Monastery to see the "Interactive Exhibition of Human Skills". Ok, so it's not the best name we've ever heard for an exhibit, but it was really fun for the kids. The exhibit is designed to show what life was like in medieval times and to give kids a chance to try some of the activities from that era. The best part for the kids was a room full of medieval toys – they jumped at the chance to play with so many fun toys; in fact we couldn't convince our son to leave. Eventually Celine and our daughter left to explore the rest of the exhibit.
Our daughter really liked the displays up in the spooky attic, including the mildly scary room full of cartoonish skeletons and hellhounds, with spooky lighting and scary music playing. She also had fun in the spices room, where you guessed it, she could pick up and smell a bunch of different spices. Same goes for the soap room. She even got to try some stenciling and try on a tiny medieval dress – so cute! This was a great exhibit for our young kids – we're glad we came.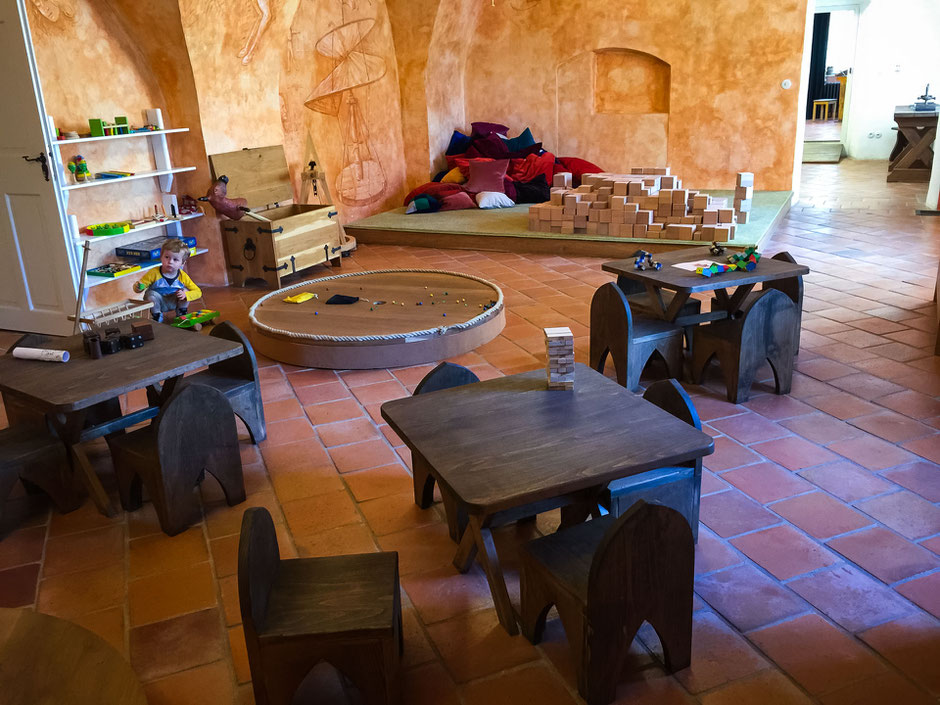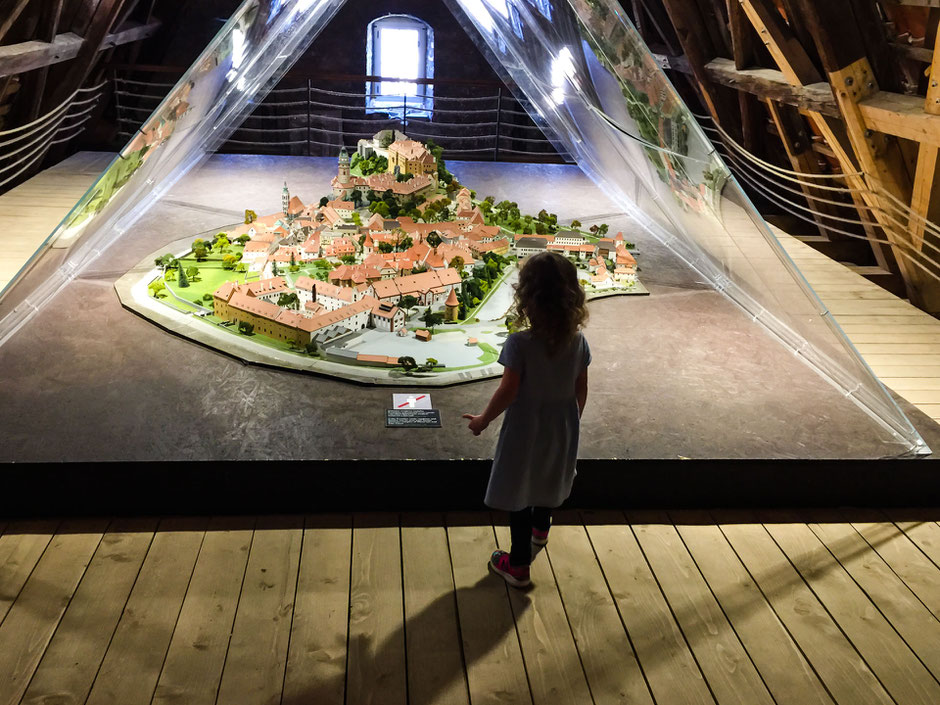 Cesky Krumlov River Walk & Playground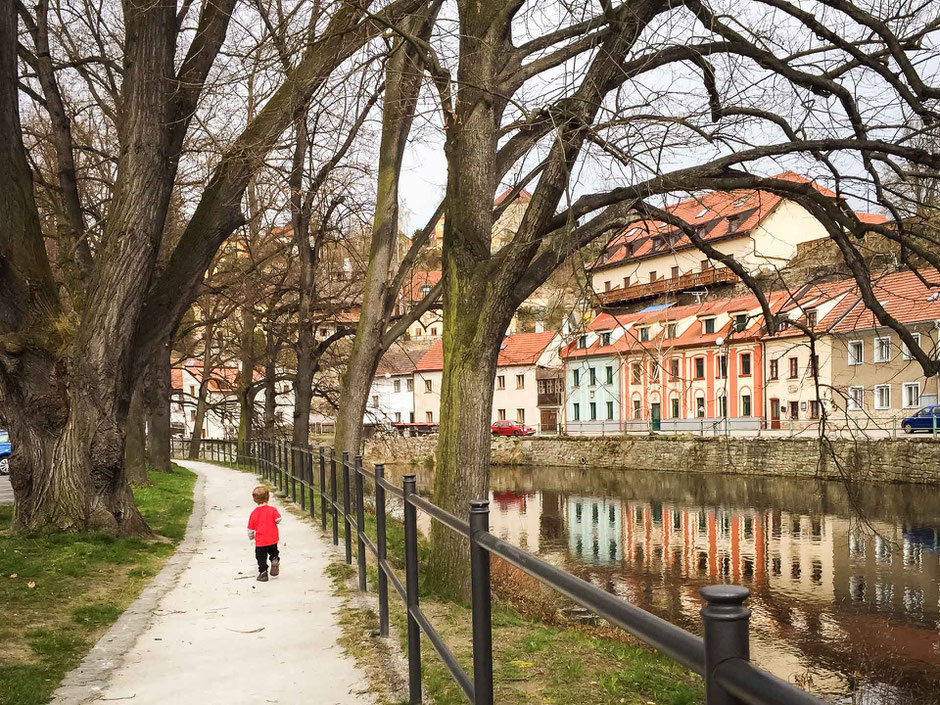 In our last afternoon, we walked back down to Mestsky Park so the kids could play at a playground. We crossed the bridge to the west of the park and had a nice walk along the river to the park. The playground was great for our little kids as all the equipment was age appropriate for them. Once they had a good amount of playtime, we walked along the river and crossed the bridge into Old Town, which we walked through one last time before heading to our apartment.
Practical Information
How to get to Cesky Krumlov from the Prague Airport or the Vienna Airport.
Family Friendly Cesky Krumlov Airbnb rentals (New to Airbnb? Sign up here for a nice discount towards your first stay)
Family Friendly Hotels in Cesky Krumlov
Family Friendly Restaurants in Cesky Krumlov
Most Popular Cesky Krumlov Tours, Tickets, Activities & Things To Do
We are grateful to Český Krumlov Tourism for their generosity during our visit. All opinions are our own.
Other Posts on the Czech Republic You Might Enjoy
Pin It For Later!