Hrad Divci Kamen (also known as Maiden Stone) was a mighty castle back in the 14-16th centuries, but now lays in ruins. These ruins are a short 20 minute drive north of Cesky Krumlov and are well worth a day trip out to explore.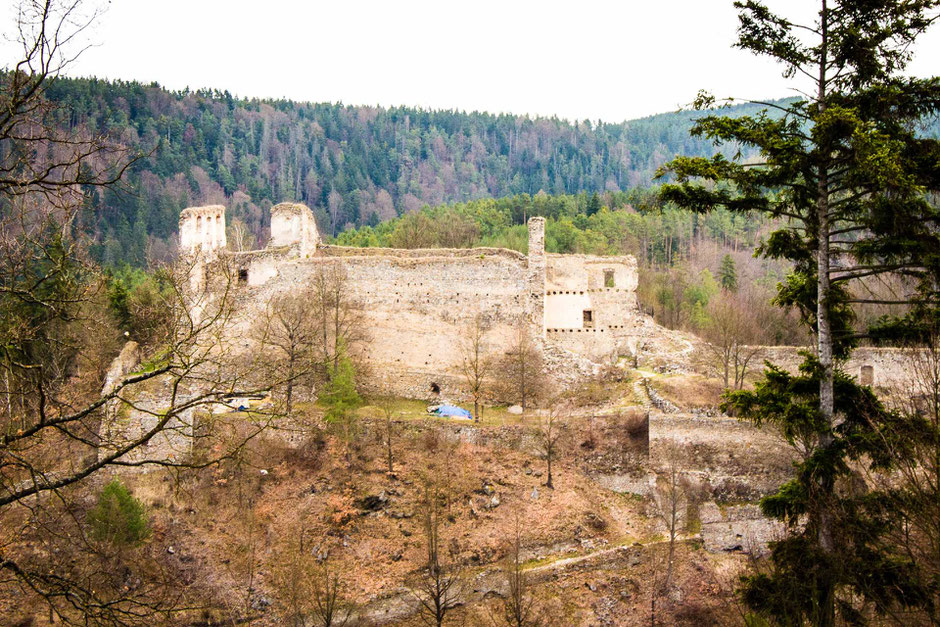 This post contains compensated links.
You enter the castle ruins by climbing some rock stairs, which begin at the shores of a lazy river. You officially enter the castle through a stone archway which delivers you into the castle courtyard.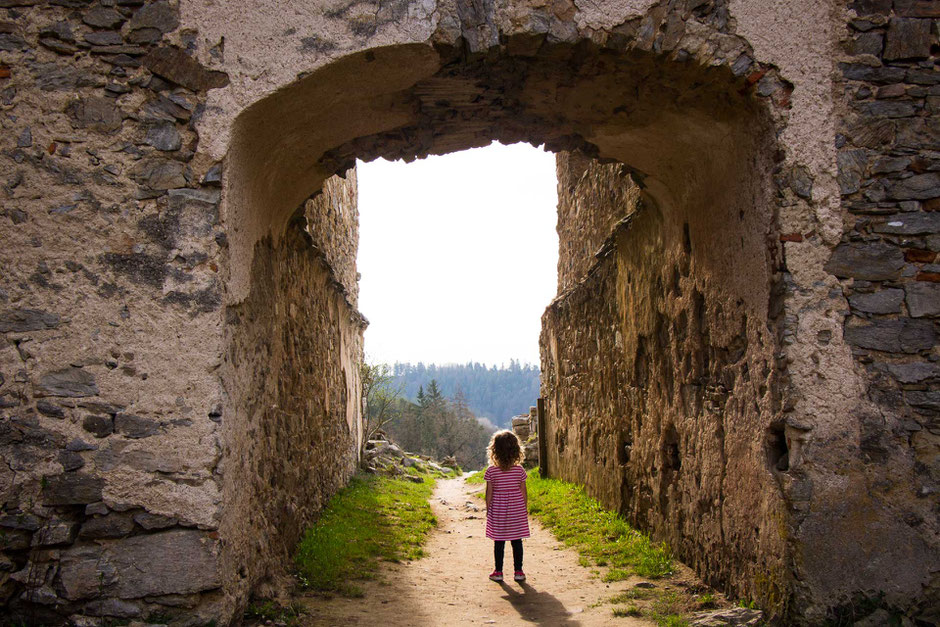 The exterior walls of Divci Kamen are pretty well intact as are some of the structural walls, but a lot of it is now gone. Rocks are piled on the ground everywhere, but there are clear paths and steps to follow around the property. There isn't a set trail to explore, you simply walk wherever you want to.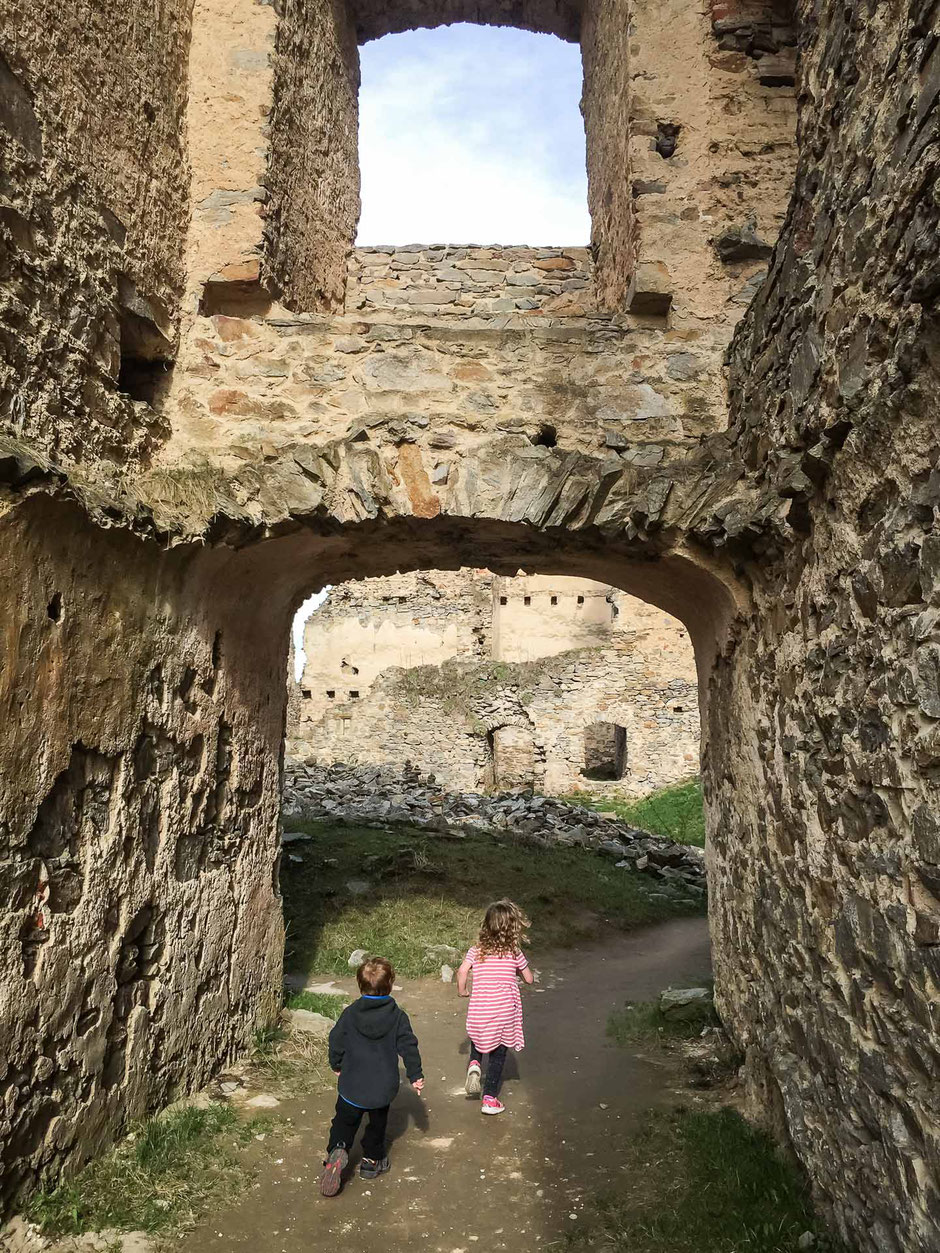 The kids had so much fun here running around, climbing on rocks, climbing stairs, looking through medieval archery windows, etc. It's a kid's paradise! There are some construction materials around from ongoing restoration efforts, so be mindful of what your kids are climbing on.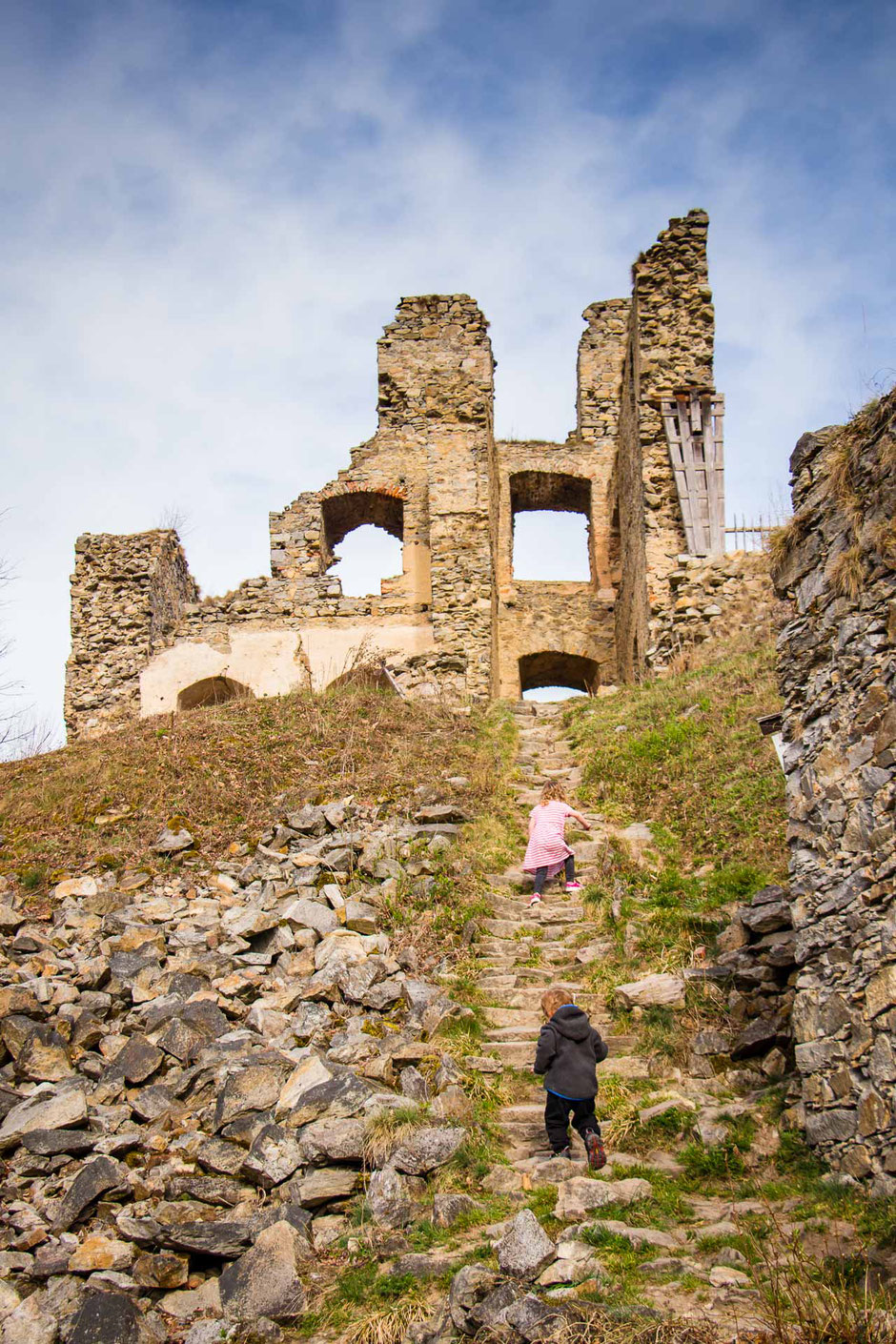 Our favorite area was inside what was probably the main building of the castle. A four story wall with many windows looms large on one side of the area, the sun beaming through the windows created an amazing effect. There is a little wooden stage in the area, where we sat and enjoyed our morning snack while taking in the atmosphere. There was a big rock pile with some inukshuks, so our daughter climbed up and tried to make her own. She did pretty well for a 4 year old. At the other end of the property is a lookout platform which offers amazing views of the castle complex and the surrounding river land.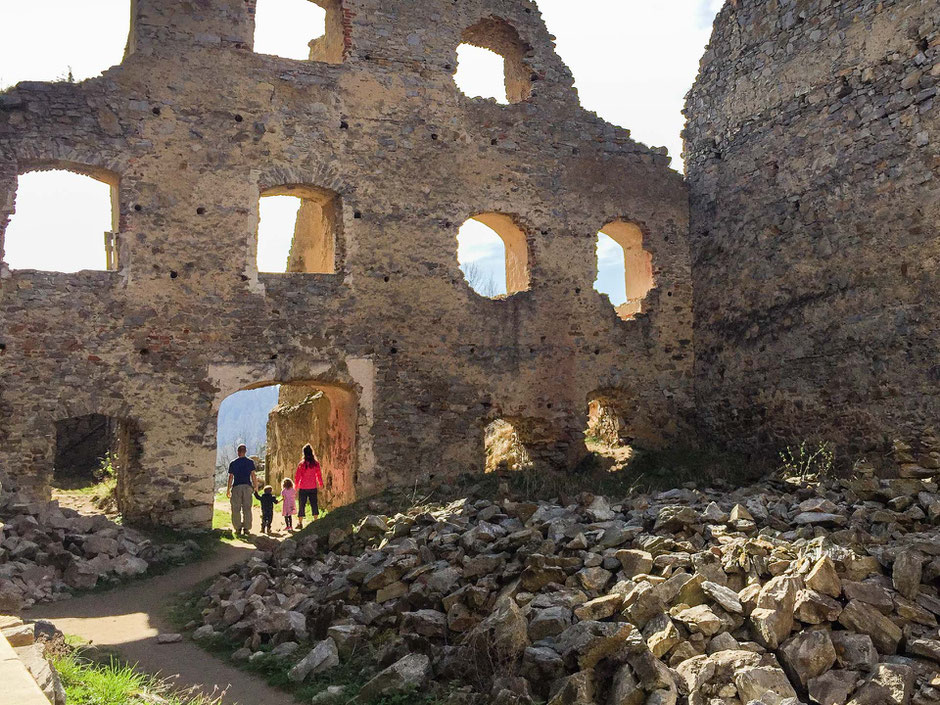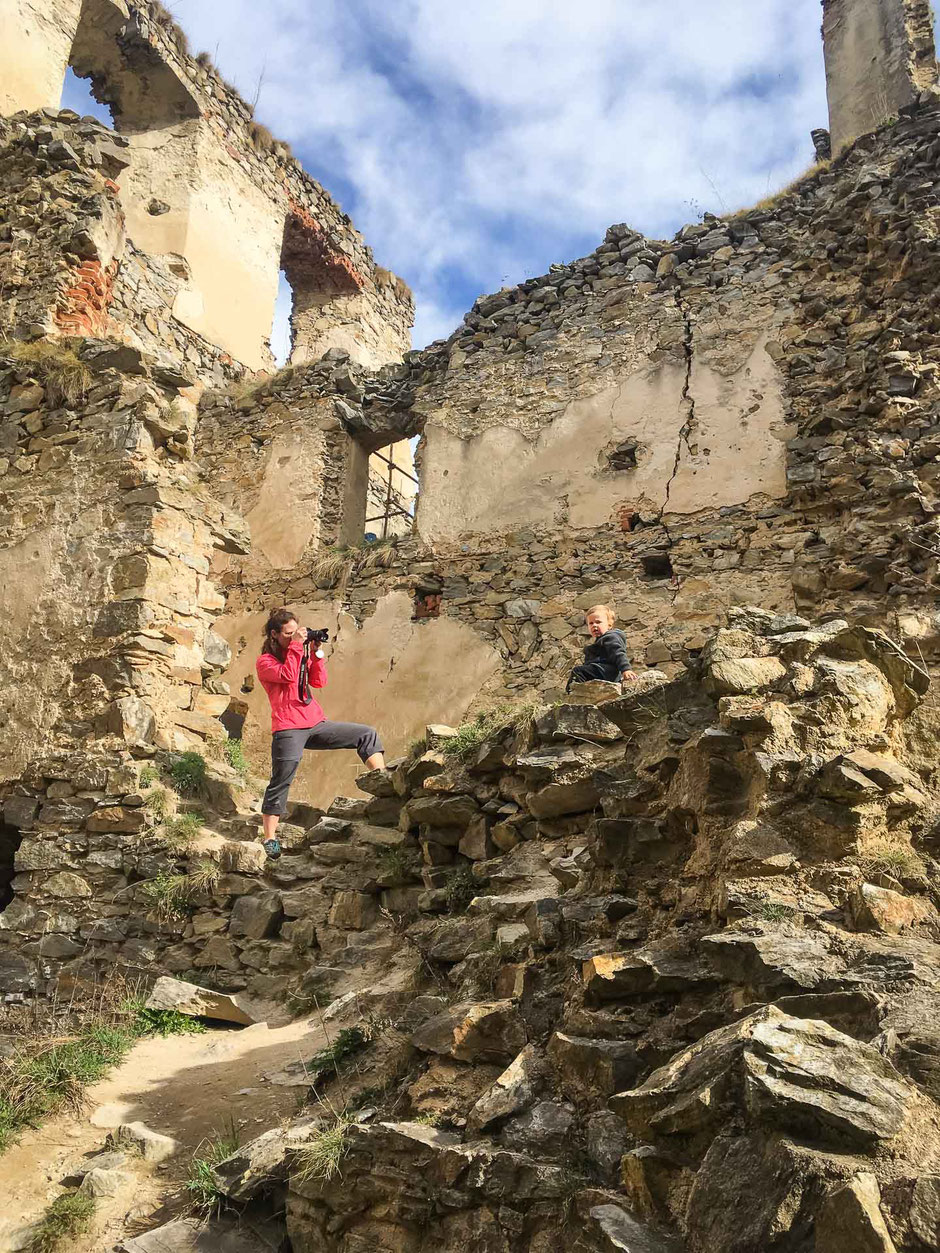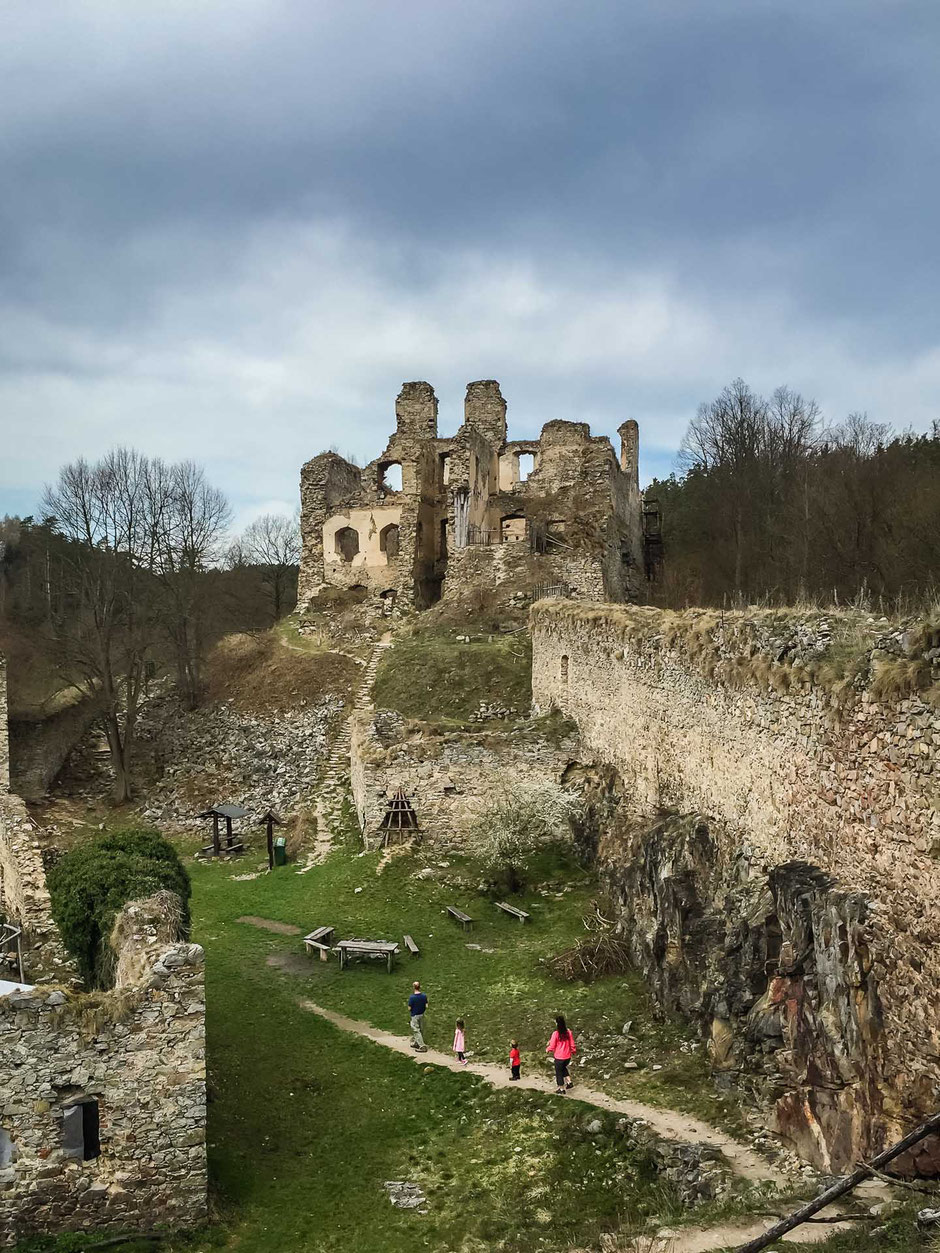 Altogether we spent a few hours here. It's not a huge castle, so it was easy to see it all. But it was big enough that it must have seemed huge to the kids. I can just imagine what a place like this looks like through their eyes…
This was one of our favorite activities during our Czech Republic vacation – I absolutely love outings like this. It's fun for the kids & adults, it's outdoors, interesting and historical; just an all around great day trip.
No car? Visit Divci Kamen with an Off-the-Beaten-Track Day Trip from
Český krumlov…
Visit Cesky Krumlov with Kids
How to get from Prague to Cesky Krumlov.
How to get from Vienna to Cesky Krumlov
Family Friendly VRBO vacation home rentals in Cesky Krumlov
Family Friendly Cesky Krumlov Hotels
Family Friendly Cesky Krumlov Restaurants
Czech Republic with Kids
Pin It For Later!