The seaside hike from Arnarstapi to Hellnar is crazy-beautiful and family friendly, making it a must-do if you are on the Snæfellsnes Peninsula with kids.
Here is what you need to know:
The Arnarstapi trail head has a modest parking lot, but I imagine it'd get full pretty quick in high season. There is a viewing platform a short distance from the parking lot which provides amazing views of the rugged coastline looking north and this glimpse gets you excited about the scenery to come on the hike.
This post contains compensated links.
The trail begins in a southward direction on an easy and well-maintained trail. The scenery in this first section is breathtaking with crashing waves on rocky beaches inside charming little fjords, towering cliffs and hundreds of seabirds who make their home here while soaring all around.
The trail branches off in many locations to viewing platforms where you can soak in this world-class North Atlantic scenery.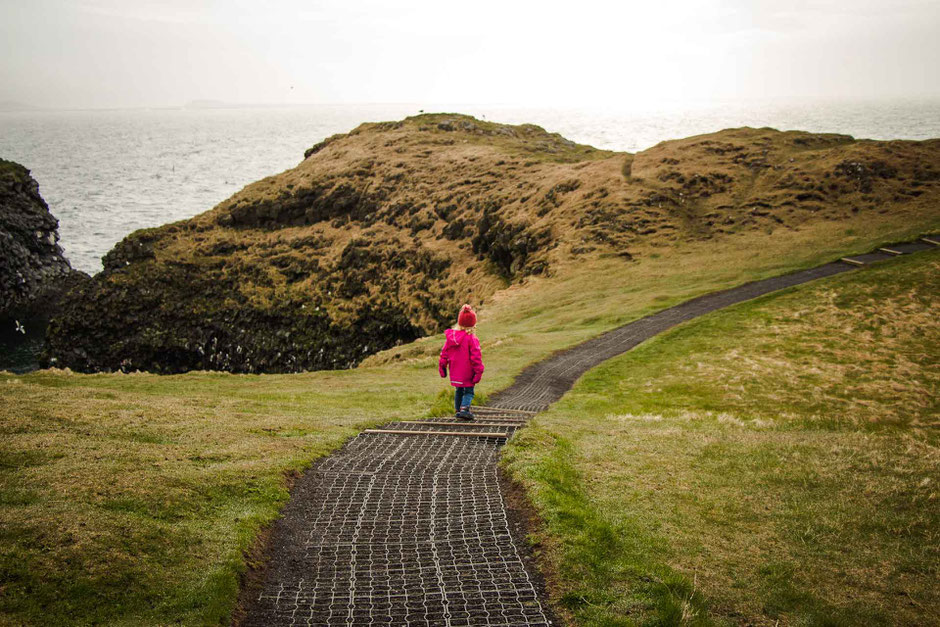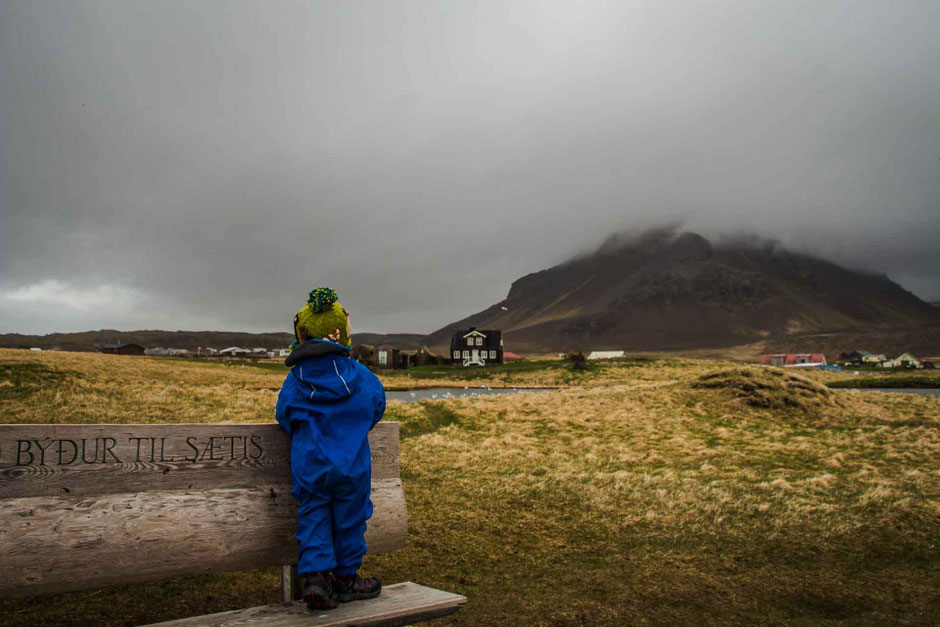 Be sure to take a few moments to visit the towering statue of Bárður Snæfellsás, the half-man, half-troll for whom the peninsula is named. Also watch for Gatklettur, a dramatic natural stone arch just off the coastline. There is a viewing platform which gives the best vantage point.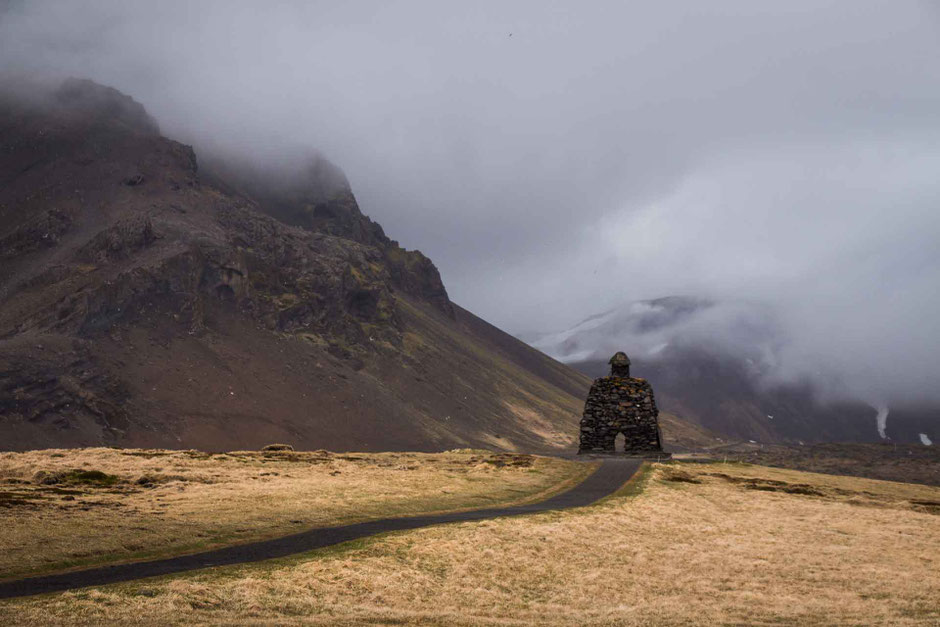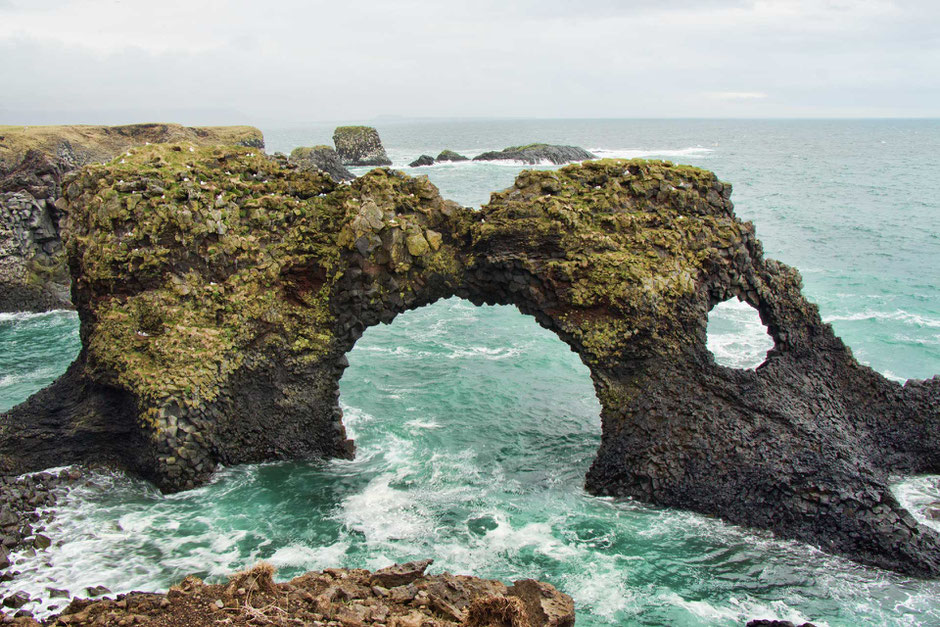 As you leave Arnarstapi you walk through a gate and all of a sudden the terrain becomes much more volcanic. The trail surface becomes more rocky, making it a little harder to find footing, especially if it's wet. There are volcanic rocks of all sizes all around you with vibrant moss filling the gaps in-between.
You can't help but feel you are on another planet as you wander through this unearthly scene.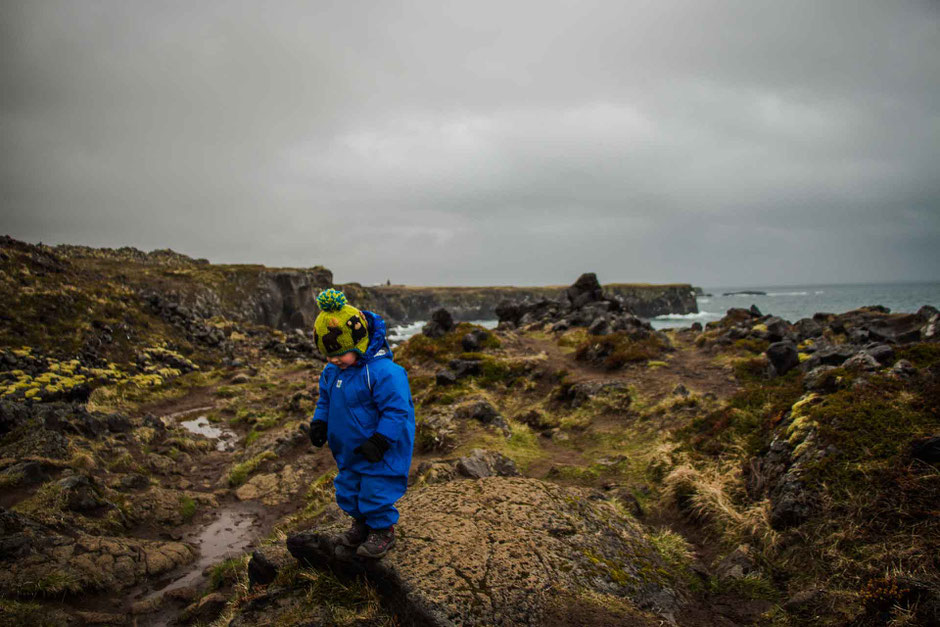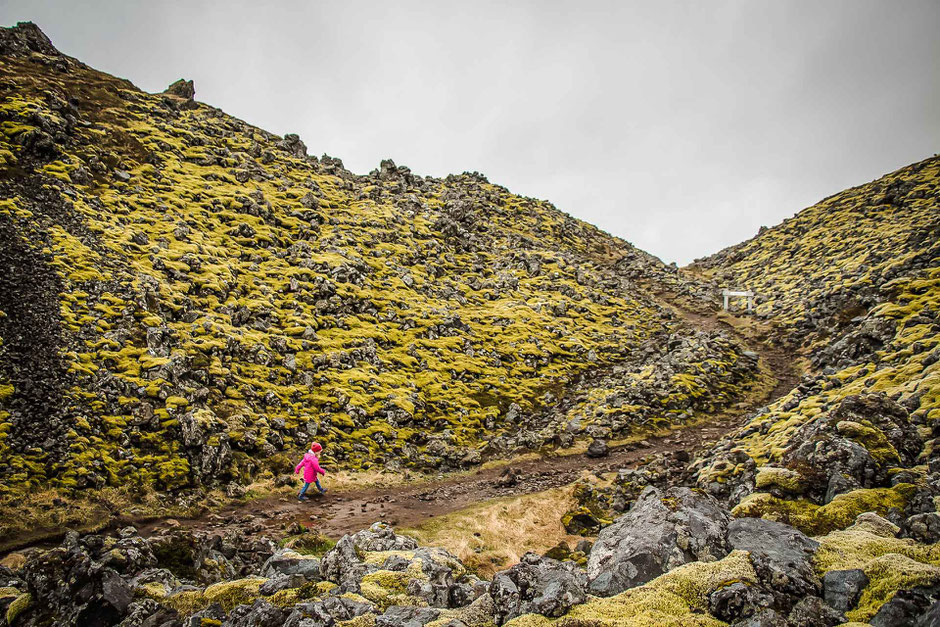 As you near Hellnar and the end of the hike, the path transitions to a long, wide wooden pathway making for some smooth walking as you soak in the views.
We have an entire post full of all our best tips for hiking with kids and this one with all the best hiking gear for kids.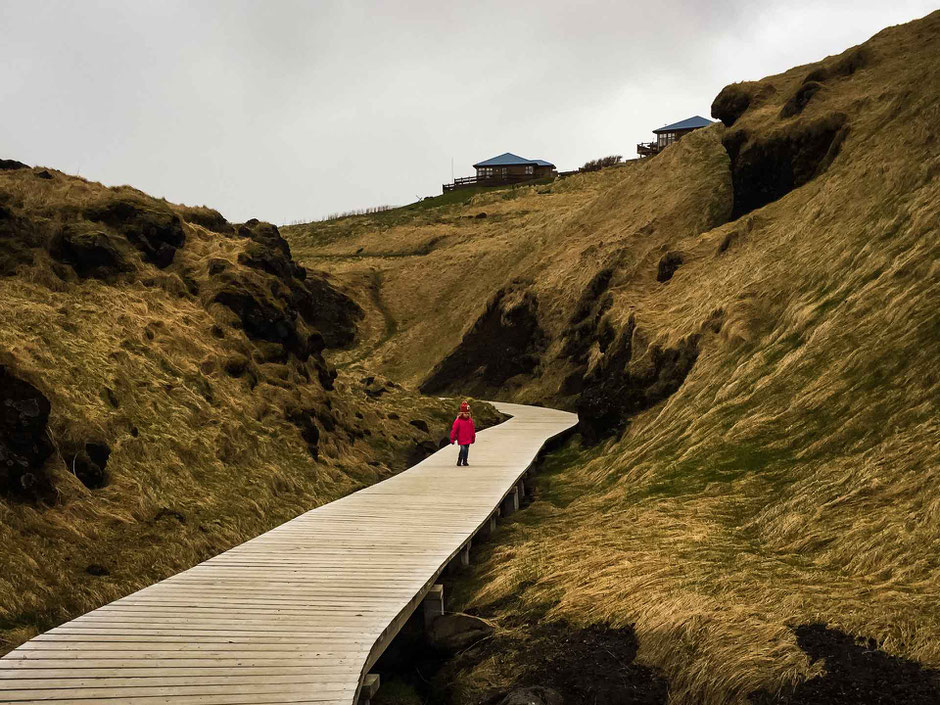 We hiked this trail in mid-May and the weather was around 41F (5C), windy with scattered showers. We each wore a wool base layer (top and bottom) with a t-shirt, a fleece and/or light down jacket with rainproof jacket and pants on top. The wind made it cold enough that we each wore a toque and mitts.
The ground was mostly dry, but there were mud puddles in spots and the rocks got a little slippery when it rained, so having waterproof hiking shoes is a good idea on this trail.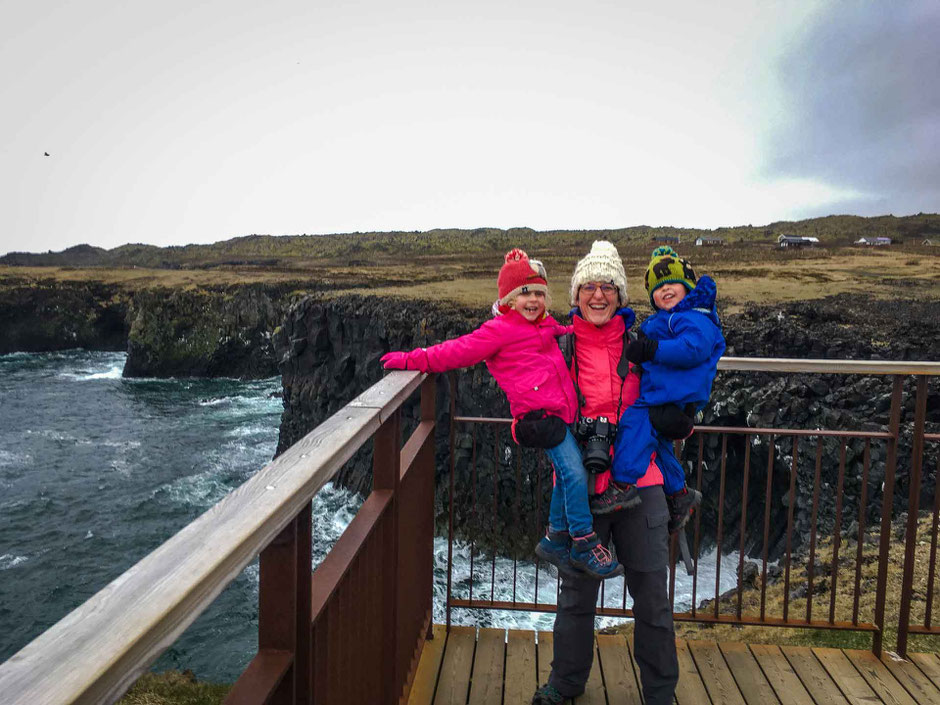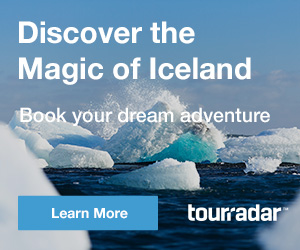 This hike is officially 1.5 miles (2.5km) long in a single direction, but it will be longer after you factor in all the viewpoints, chasing your kids, etc. The trail was easy enough for our 4 year old girl to hike the whole way herself. Our two year old boy wanted to be carried for portions, which actually worked out nice as he's a bit slower anyways.
There are portions of this hike where you need to watch your small ones closely, especially around the top of the oceanfront cliffs. There are typically little rope fences to warn you about the dangers, but they are completely ineffective at keeping a determined or distracted toddler out.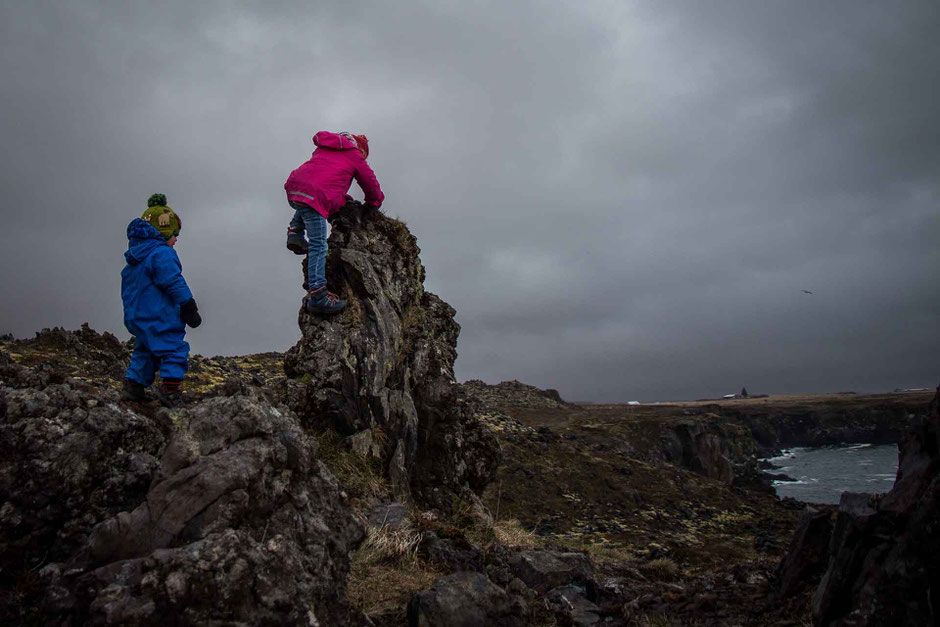 Looking for more adventures around Iceland with kids? Check out how we spent 2 days in the Golden Circle with kids and explores around Reykjavik with kids.
And if you're wondering if the Blue Lagoon is worth it with kids? It is! We definitely recommend taking the time to visit the Blue Lagoon with kids!
Day Trips to the Snæfellsnes Peninsula from Reykjavik
Snaefellsnes Peninsula Day Trip
Snaefellsjokull, The Glacier and The National Park Tour with Cave Exploration
Vacation Packages Which Visit the Snæfellsnes Peninsula
Natural Wonders of Iceland (9 days – min age 5)
Across the Wilderness – Icelandic Interior and More (11 days – min age 6)
Pin It For Later!