After an incredible week in Iceland with kids (who were 4 & 2 years old), our visit to Iceland was sadly coming to an end. Given our flight wasn't until the afternoon, we had time to do one of the best things to do around Reykjavik with kids, and that was visit the world-famous Blue Lagoon.
We had made reservations for the Blue Lagoon for our final morning in Reykjavik. We had hoped taking the kids to the Blue Lagoon would be a special way to cap off our long awaited trip to Iceland and we were right – it did not disappoint.
This post contains compensated links.
Tip: Get your Blue Lagoon tickets and book for your desired time well in advance online. Popular arrival times get fully booked a few days in advance. This is especially important if you hope to visit on your way to the airport.
How to Get to the Blue Lagoon
The Blue Lagoon is a 45 minute drive from Reykjavik and is quite close to the main international airport. It's a great way to spend your time either waiting to check into your Iceland hotel on arrival or as the last thing you do before going to the Keflavik airport. Don't worry if you don't have a car, there are plenty of easy options to get there:
Blue Lagoon Ticket with Return Transfers from Reykjavik
Blue Lagoon Ticket with Return Transfers from the Keflavik Airport
We checked out of our Reykjavik Airbnb and drove our rental car to the Blue Lagoon. We arrived early for our 9am reservation and were glad to see the massive parking lot was still mostly empty. The size of the parking lot shows just how busy this place can get!
From the moment you enter the front door, the excellent customer service is evident. The helpful staff and information screens filled us in on everything we needed to know as we waited in line to enter.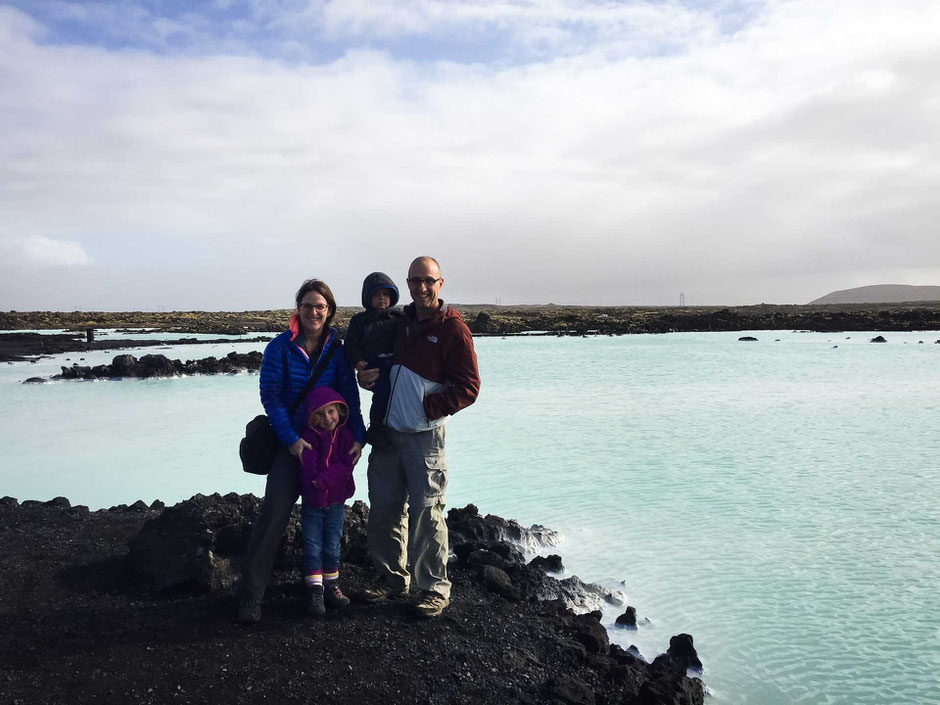 Upon checking in at the Blue Lagoon, we were each given a wristband and a towel. The wristband functions as an in-water credit card, as well as giving you access to your complimentary locker. The lockers are a decent size and each of was able to use a single locker for ourselves and one child.
Be aware that before you enter the lagoon, it is mandatory that everyone take a fully naked shower. There are many privacy stalls available, but if you are visiting the Blue Lagoon with a toddler, make sure they are used to the shower experience before your visit. Our little guy hated it and screamed in protest, but hey – you gotta do what you gotta do!
Anyone with long hair is encouraged to use ample amounts of complimentary leave-in conditioner in their hair to protect it against the silica in the water, which on its own will make hair stiff and difficult to manage. Also note, that wearing prescription glasses or contact lenses in not recommended as the minerals in the water may damage them.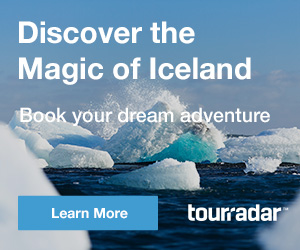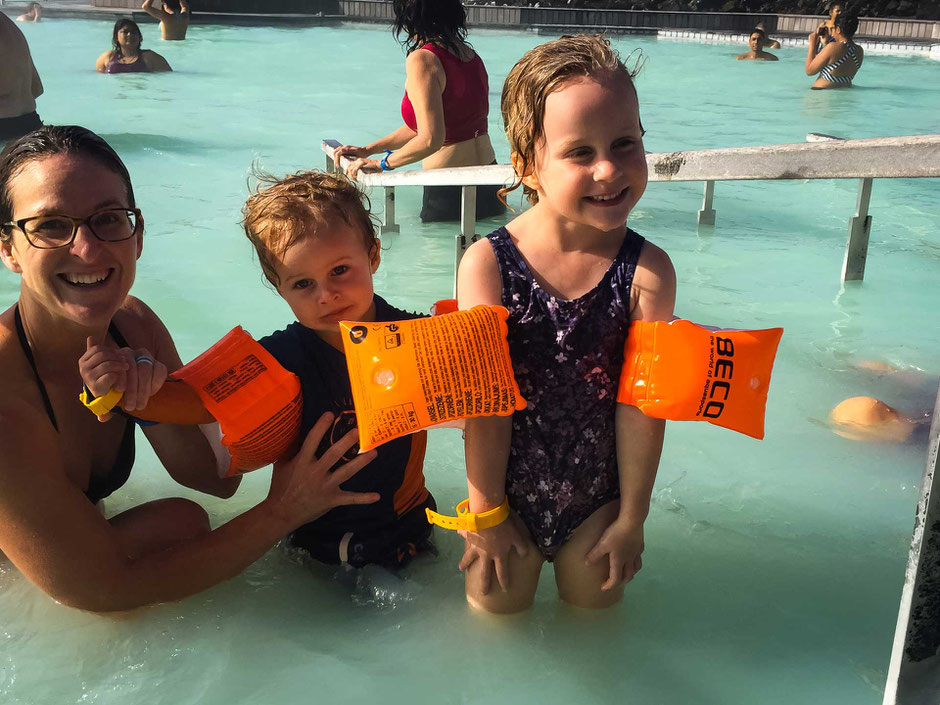 If you had planned to visit the Blue Lagoon with a baby, you are out of luck. The stated minimum age is 2 years old, so you won't have any trouble visiting with the Blue Lagoon with a toddler. Not that anyone checked the age of our children… There is a restaurant and outdoor area at the Blue Lagoon, so if this was one of the things you didn't want to miss out on when visiting Iceland with a baby, parents could take turns in the Blue Lagoon while the other parent waits with the baby.
Any child between the ages of 2-8 must wear complimentary water-wings during their time in the water. They are already inflated and are found in large bins near the entrance to the pool. Although each of us was glued to one of our kids during our stay, we appreciated having this extra layer of safety and the kids didn't mind either.
We visited the Blue Lagoon on a chilly day in mid-May. It was around 40F (4C) and windy. Running the 10 feet from the doors to the stairs entering the lagoon was exhilarating! This short run through the cold air made entering the warm, geothermal waters of the lagoon feel so wonderful. All your tensions and cares melt away as you glide through the ethereal water.
Despite being surrounded by jagged volcanic rock, the lagoon's floor is smooth. Its average depth is around chest height for most adults, meaning any small kids will need to be held while in the lagoon.
The water of the lagoon is not a consistent temperature – you'll be amazed at the natural temperature variations as you move through the water. It's mostly nice and toasty warm, but there are some really nice hot spots, while there are other, rather shocking cool spots.
We found a nice spot to settle with our two toddlers between the in-water bar and the restaurant in the main building. Each adult entry ticket comes with a complimentary drink, so we grabbed a few delicious smoothies and found a spot in this area where there were in-water seats. The seats allowed the kids to stand on their own, while we got to take a well-deserved rest from carrying them.
Also in this area is an in-water ramp leading up to an on-land viewing area. This area had some rocks the kids could climb on and the water was shallow enough that they could play on their own.
The Blue Lagoon was the most expensive thing we did in Iceland, so if you are traveling to Iceland on a budget it might not be in the cards for you. That being said, we spent 50 days in Europe on this trip (including one week in Iceland with kids) and our 4 year old daughter claims the Blue Lagoon was her favorite experience on the whole trip.
Our 2 year old isn't shy about expressing his dislike of anything he doesn't like. He really didn't like the shower, but he was full of big smiles for the whole time in the Blue Lagoon. The kids loved it and we did too. Turns out the Blue Lagoon was one of the best things to do in Iceland with kids. What a great way to end our amazing week in Iceland!
Blue Lagoon Tickets with Transportation
Day Trips from Reykjavik
Pin It For Later!