With all of the amazing natural wonders that Iceland has to offer, it feels like Reykjavik is often an afterthought – a place where people stay when they first arrive or about to leave Iceland.
We dedicated our last two days of our family Iceland itinerary to Reykjavik. We quite enjoyed the charming town center and all of the amazing natural attractions which are easily done as a day trip. Here's how we spent our two days in Reykjavik with kids:
This post contains compensated links.
Things do Around Reykjavik with Kids
Skógafoss Waterfall and Hike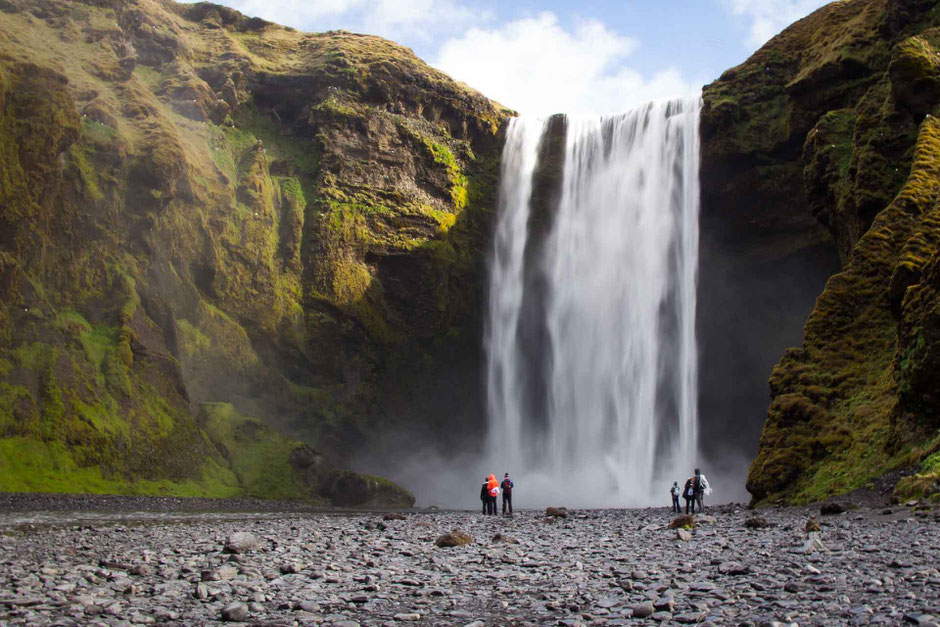 On our way from our cabin in the Golden Circle to Reykjavik, we decided to drive to the south coast to see a few of Iceland's most famous attractions. Our first stop was the Skógafoss Waterfall, which was made famous in part due to its prominent appearance in the Ben Stiller movie, The Secret Life of Walter Mitty.
The drive there was surprisingly boring – the vast majority of it was flat with nothing to look at, but once you hit the mountains, the dramatic scenery makes up for lost time. The mountains rise up out of nowhere and are very beautiful, jagged and impressive.
We arrived at Skogafoss Waterfall at 9am and were pleased with how empty the parking lot was. As we were getting ready for our visit, the first tour bus pulled up. It was still pretty empty this early in the morning and there was still plenty of space for everyone.
By the time we left, the parking lot was nearly full, so get here as early as you can.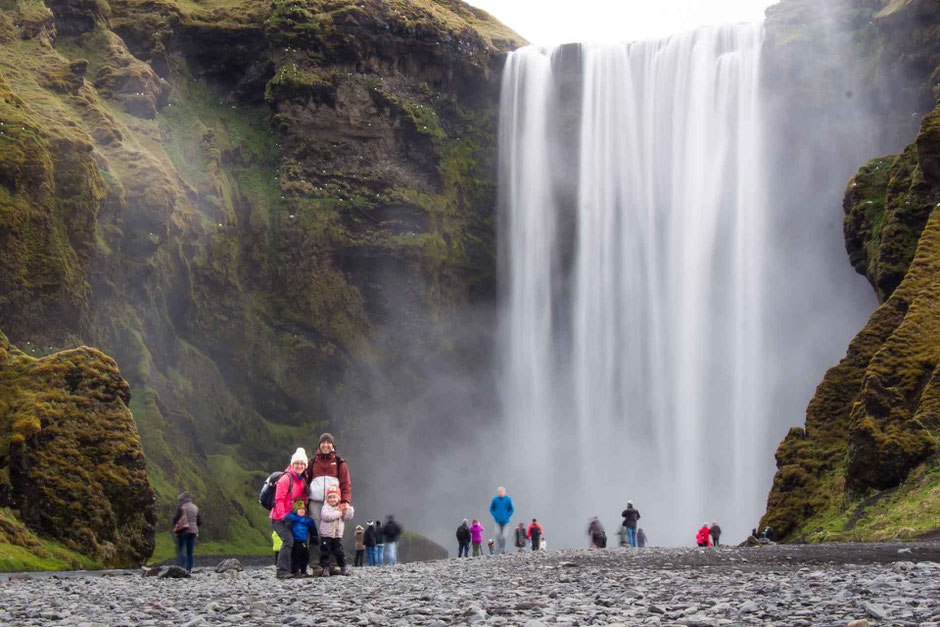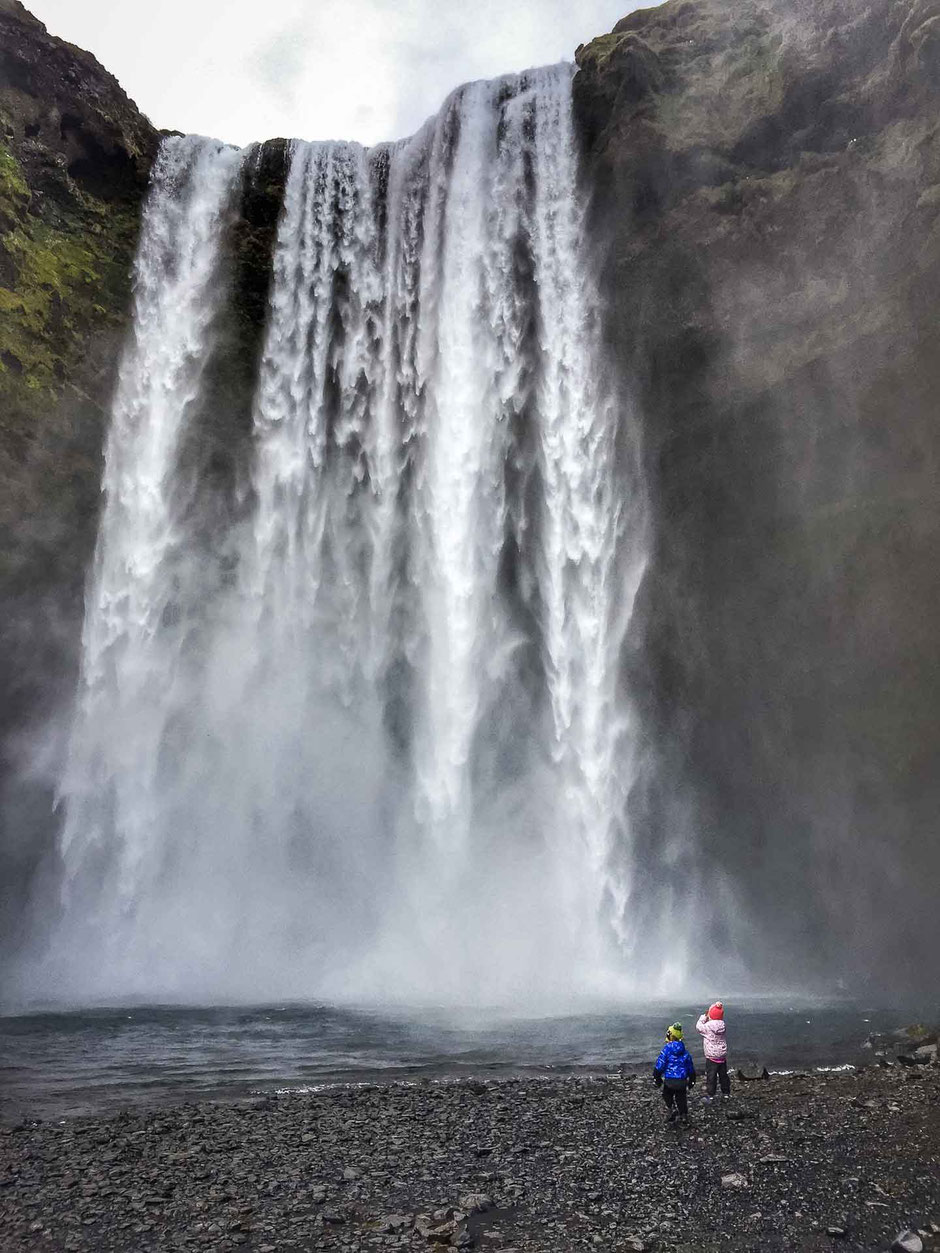 Thanks to its 200 foot vertical drop, you can see the waterfall instantly from the highway and that first glimpse will take your breath away. As you walk along the shores of the surprisingly gentle river which flows from Skógafoss, the views just get better and better.
There is a large rocky beach area just below the waterfall where everyone stops to take pictures and admire the powerful elegance of the waterfall. You can get surprisingly close and you will get soaked if you go too close. Our kids enjoyed playing around with the rocks on the beach, but it seemed like they were not into the waterfall that much. Oh well, they'll appreciate it later…
Once we had enough of Skógafoss from the bottom, it was time to climb the 300+ stairs to the lookout platform at the top of the falls. The stairs are pretty solid and we felt safe with the kids climbing them, but we did have to watch for them getting in the way of other people. As you'd expect, the view from the top was pretty spectacular.
We were happy to see how safe the viewing platform was for our small kids – there was simply no way they could get through that fence to fall through – it's pretty rare to see this level of thought put into safety atop a platform like this.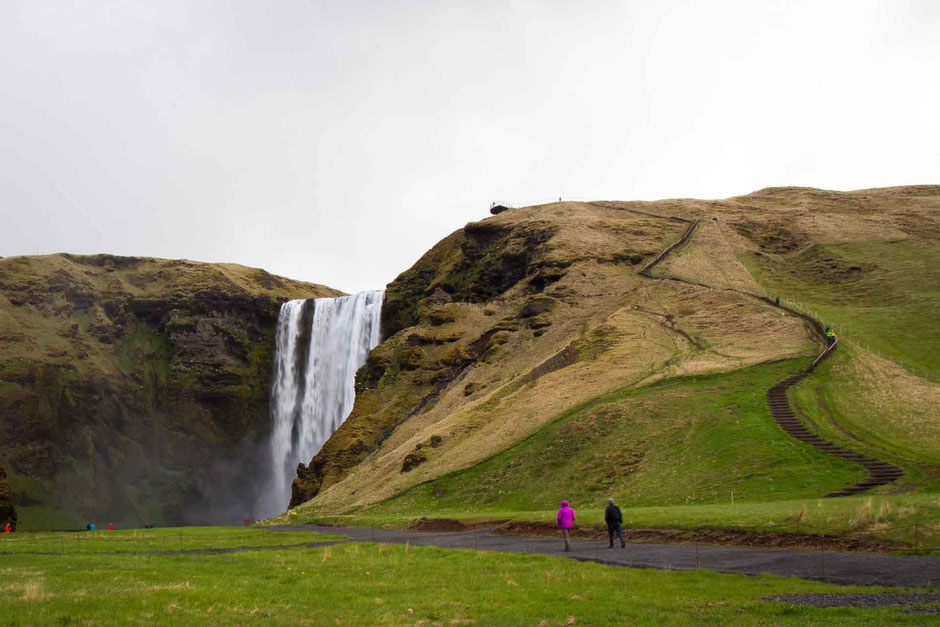 As excited as we were to see the Skógafoss Waterfall, we were equally excited to go on the family friendly hike which begins just beyond the platform, which was nearly deserted. The full length of this hike is actually pretty long and hard, but the first section of it is fairly flat and follows the Skóga River through a beautiful mountaintop valley.
We were only hiking for a few minutes when we came across a really beautiful waterfall, one so beautiful it'd be a major attraction in almost any other country in the world, but it just so happens to be upstream of Skógafoss, so its fate is to be largely ignored. If nothing else, you should at least walk this far to enjoy this cascading waterfall.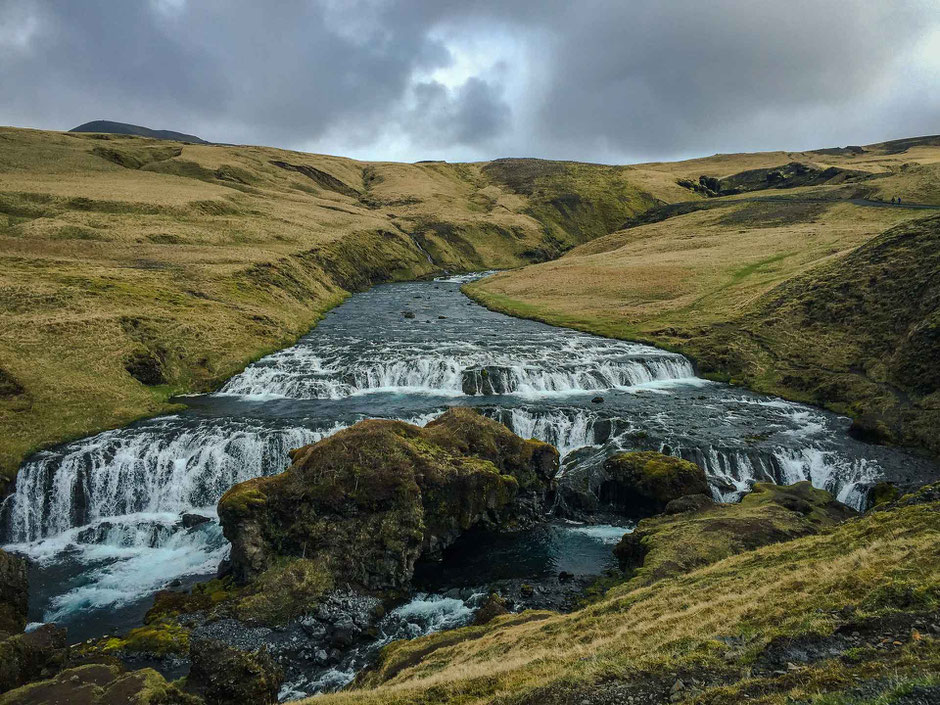 But the fun doesn't stop there, just a few more minutes up the path is yet another amazing waterfall! The scenery along this hike was just crazy beautiful and I was having thoughts like, "This could be one of the best family hikes we've ever done", when disaster struck!! We ran into a "Trail Closed" sign!! Due to the spring thaw, the trail was too sensitive to erosion and they closed the trail until conditions improved. Aggghhhh!
We were having such a great time, it was so disappointing to have to stop. According to our favorite hiking app, there were at least 8 more waterfalls beyond these two and we had wanted to see them all. How disappointing… We are already planning a return trip to Iceland, so completing this hike will be on our must-do list.
We have an entire post full of all our best tips for hiking with kids and this one with all the best hiking gear for kids.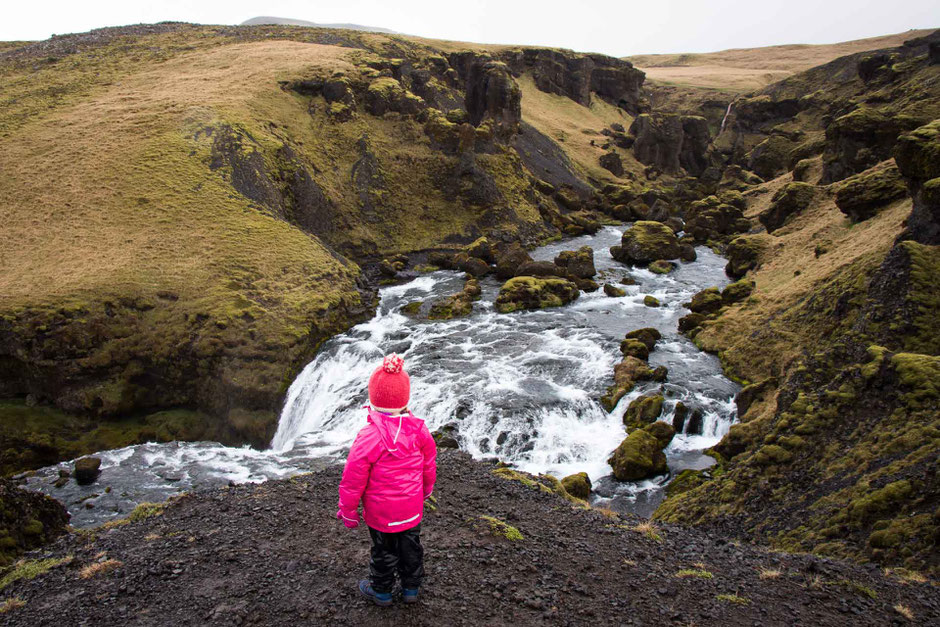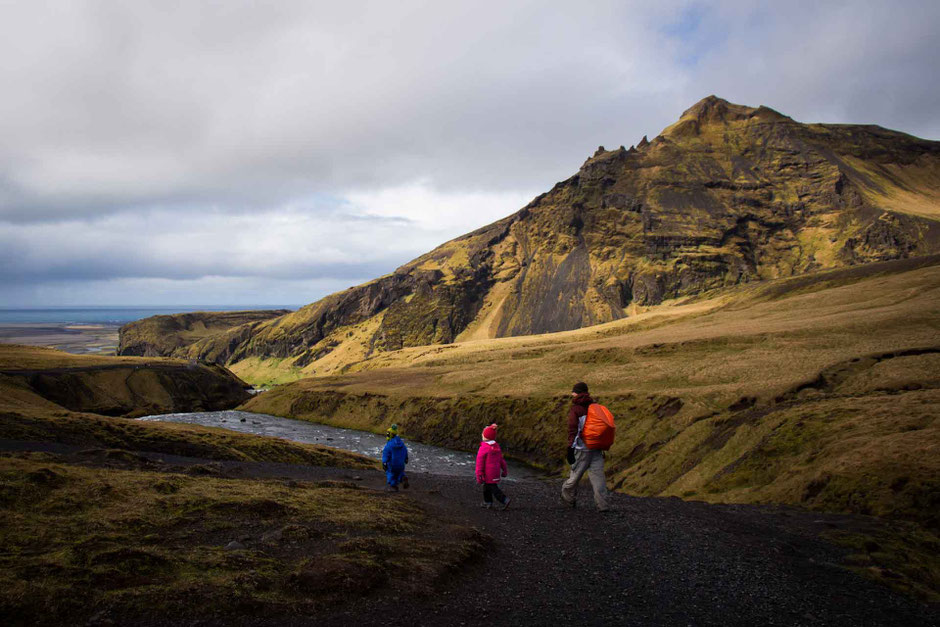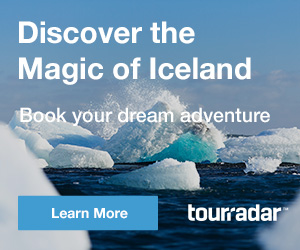 Seljalandsfoss Waterfall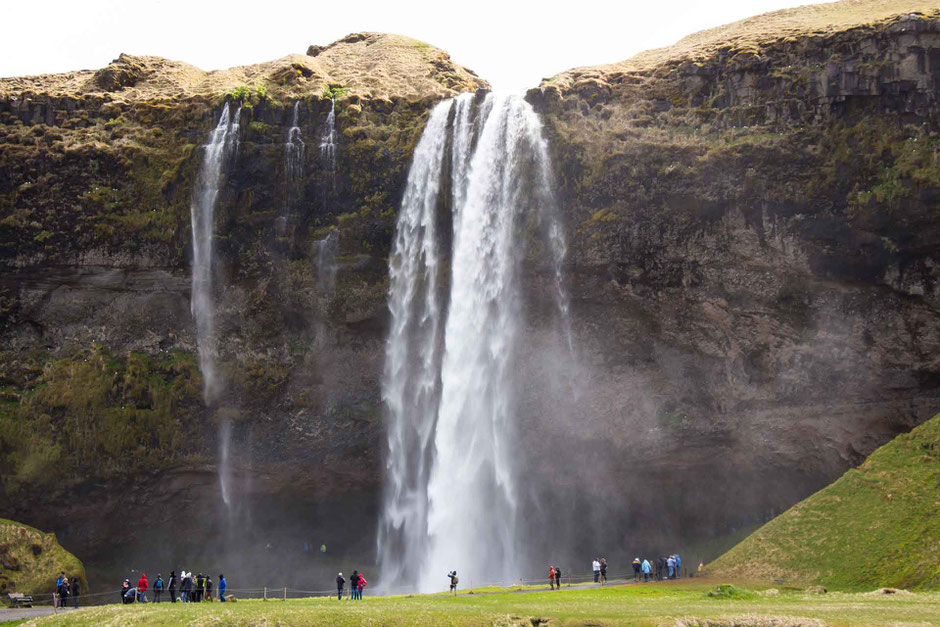 Not to be defeated, we hopped in the car and drove 25 minutes towards Reykjavik to the Seljalandsfoss Waterfall, because chasing waterfalls is one of the top things to do in Iceland with kids.
Although it is much skinnier than Skógafoss, Seljalandsfoss is just as high. Its claim to fame is the path which allows you to walk all the way behind the waterfall. We elected to do this part last as we didn't want to walk around with soaking wet clothes.
If you are visiting Iceland to see the northern lights, check out these two best hotels in Icelands for northern lights!
There is an easy path from Seljalandsfoss which leads you to three additional towering waterfalls. The third one is pretty unique in that you can only see glimpses of it through narrow canyon walls. If you are brave enough you can attempt to walk up the canyon on a few rocks in the river to get a closer view.
We appreciated the little bonus hike after our abrupt ending to the last one.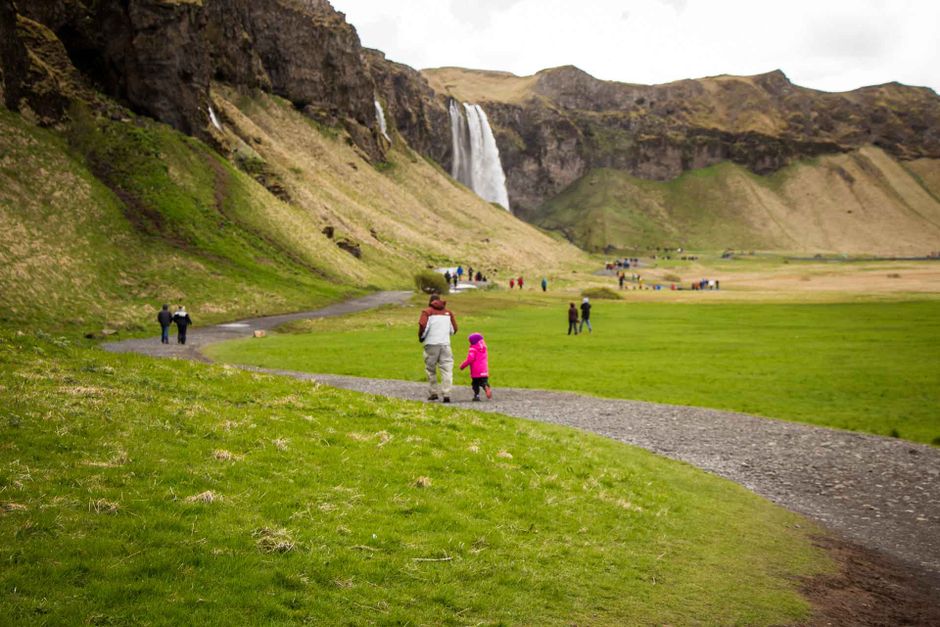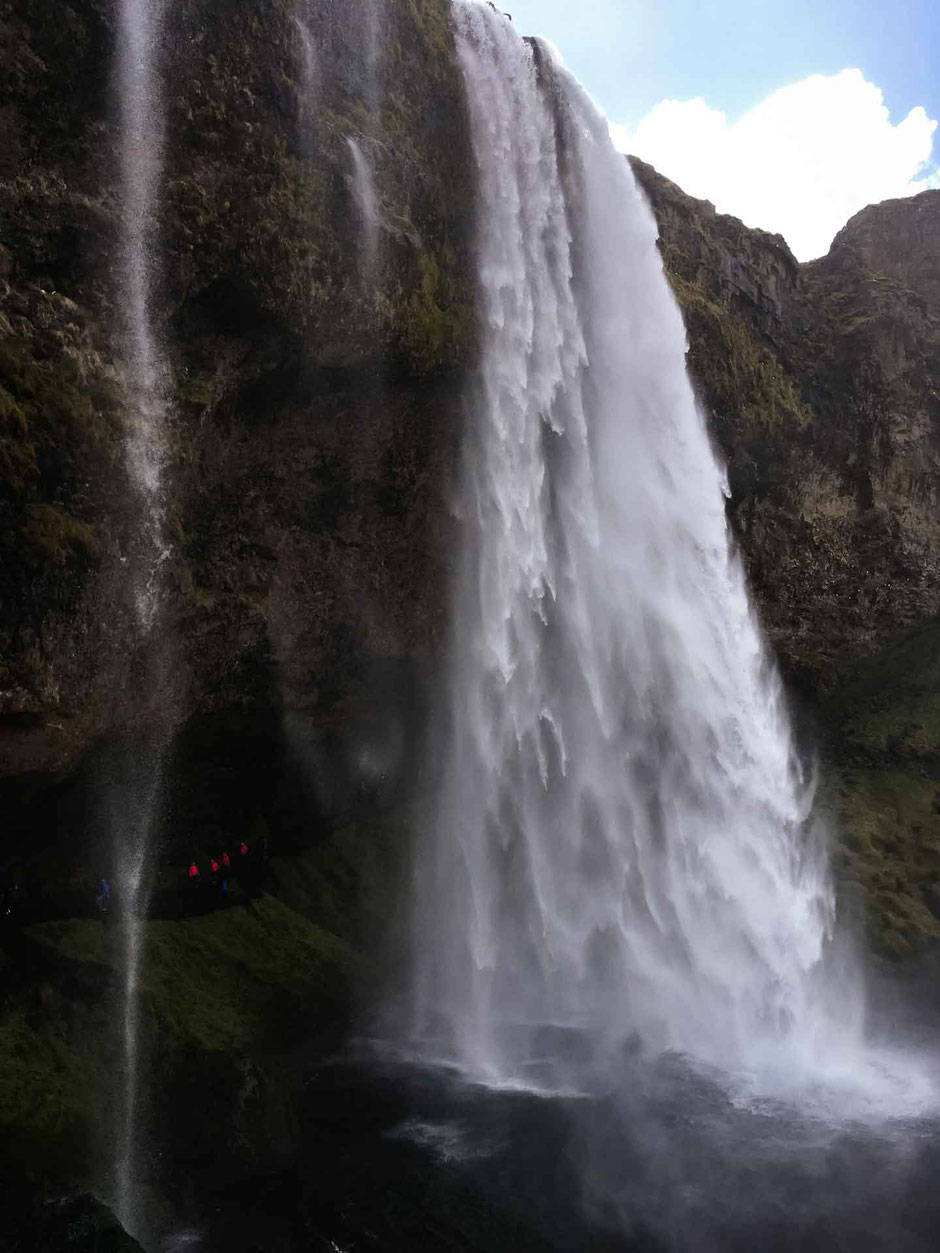 After walking back, it was time to walk the loop behind the waterfall. The amount of spray which Seljalandsfoss kicks up is enormous, so make sure you and your kids are properly dressed for it – make sure everything from head-to-toe is waterproof! Make sure your camera is well protected as there are spots in behind where you can take some fun family photos.
You'll likely need to carry your kids through some of this trail as the stairs and rocks on the trail are slippery. But there are also parts where they can walk and enjoy being part of an amazing nature experience – there are very few places where you can have a waterfall experience as unique as this!
We didn't actually walk all the way around the loop as we found the rock steps on the far end of the waterfall to be too slippery and dangerous to carry small kids up, so we turned back and went back the way we came.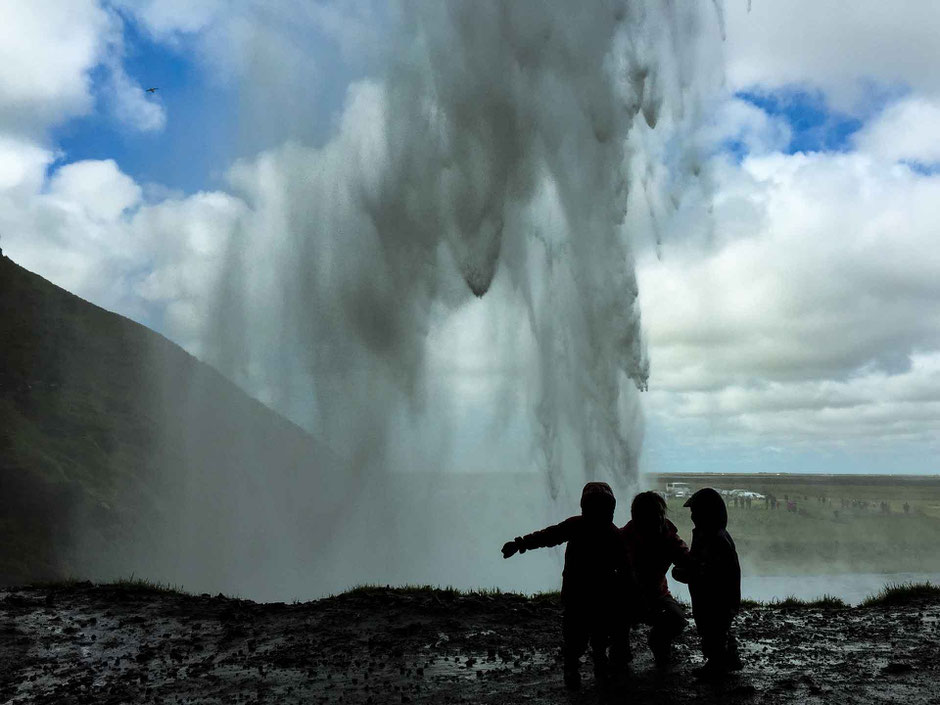 We are nearing the end of our Iceland trip and to be honest, I was getting a little waterfalled out. I almost didn't want to make the drive out to see these two waterfalls, but I'm so glad I did. They were each so amazing and fun to visit.
Reykjanesfólkvangur Nature Preserve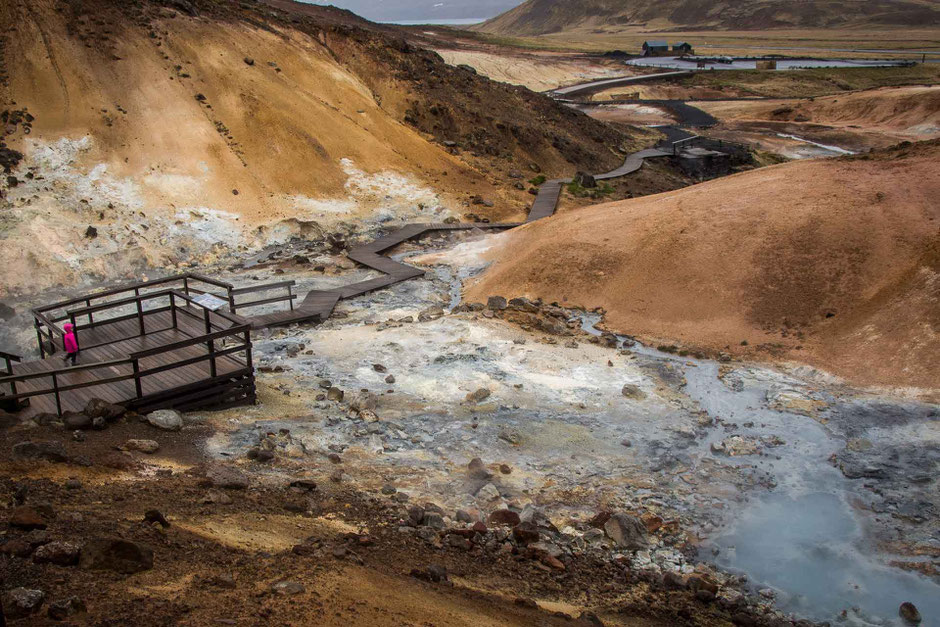 On our second day, we hopped in the car around 7:45 am and drove to the Reykjanesfólkvangur Nature Preserve. This beautiful park is just minutes south of Reykjavik and we were shocked by how empty it was.
The landscape as you drive through the nature preserve is amazing; the road snakes its way through moss covered lava fields, rugged mountains, lakes with black sand, and many more surprises.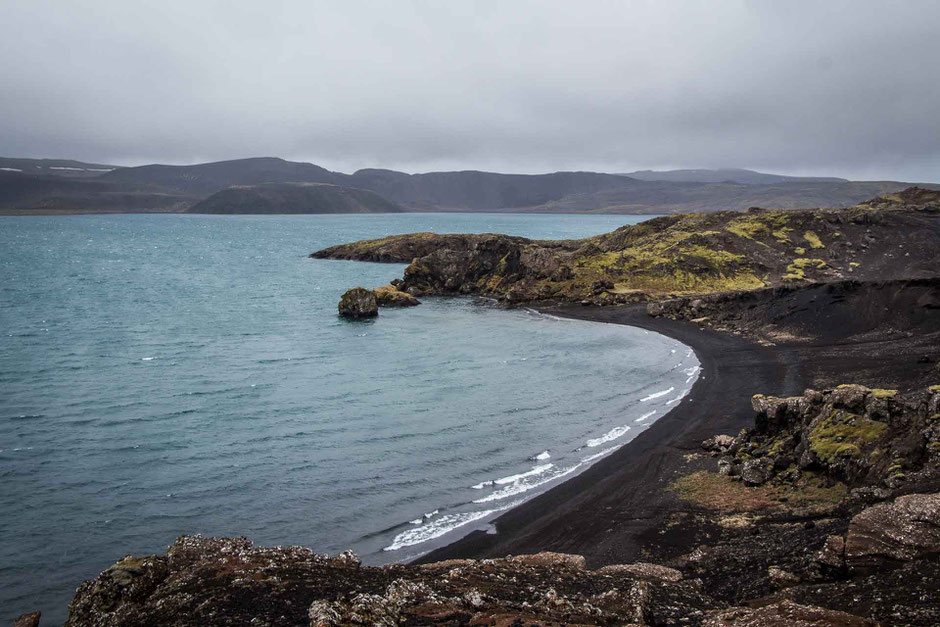 Our primary destination was the Krýsuvík geothermal field. This active geothermal area is home to steaming streams and ponds of boiling mud and water, surrounded by yellow, green and red soil. It was around 37F (3C) during our visit, so the steam coming off the ponds gave an almost spooky ambiance.
This may sound funny, but visiting here really felt like a true Icelandic experience.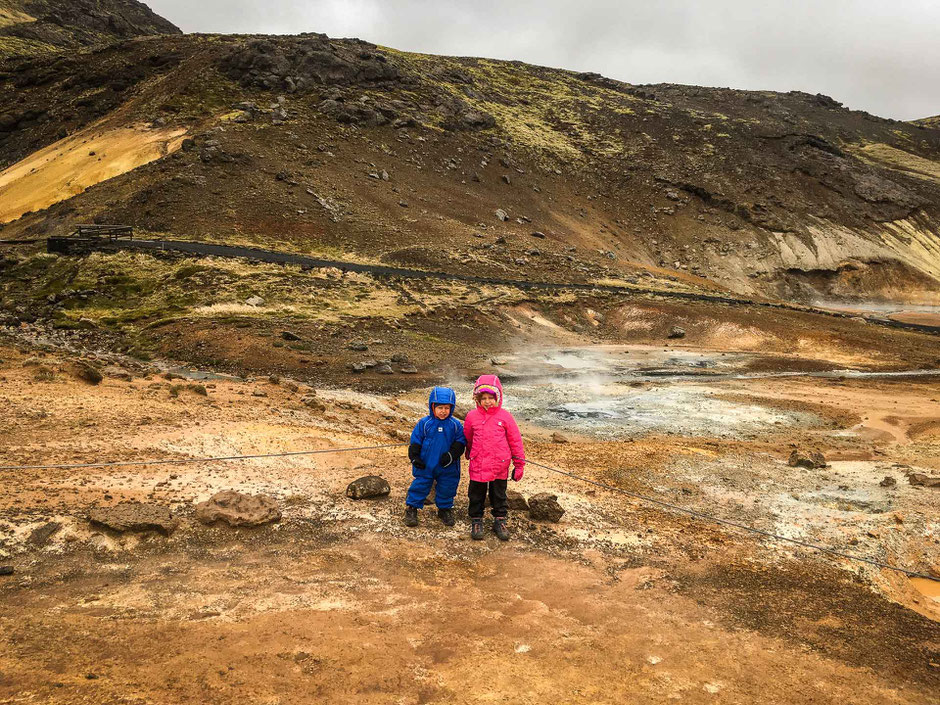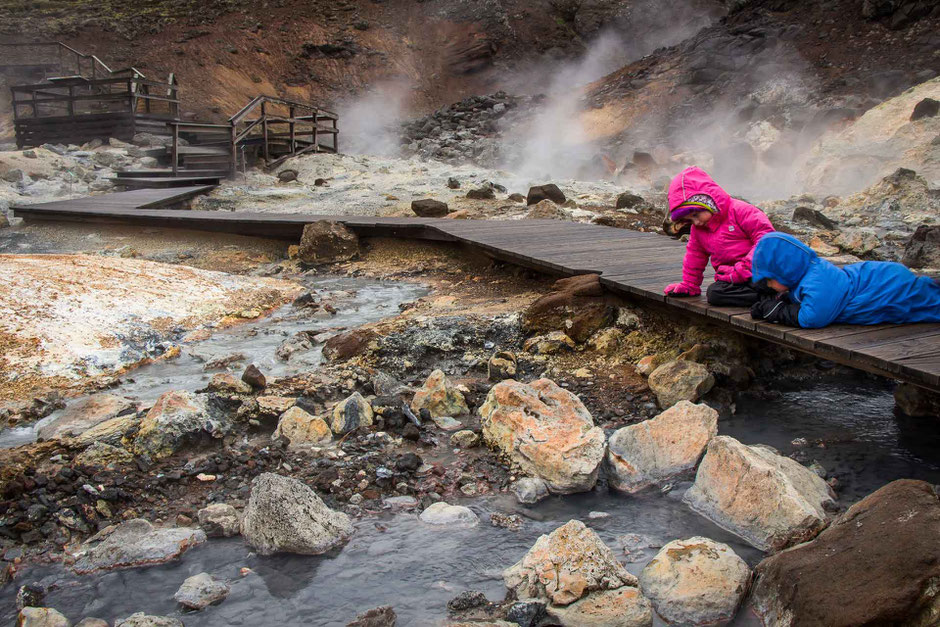 The Krýsuvík geothermal field is a great place for a short family walk and worth a visit when in Iceland with kids, although when you are dealing with boiling water and mud, you really need to watch your kids closely. Our two-year old wasn't listening very well during our visit, so we needed to pick him up for his own safety.
Krýsuvík has wooden boardwalks and groomed, easy trails winding their way through the out-of-this-world terrain. The whole loop is less than 0.6miles (1km) and can be visited rather quickly if you don't have a lot of time or if the weather isn't ideal.
If you are eager for a longer hike, you can take the trail which branches off from the 'easy loop' up a hill to another hot spring. We had hoped to do this hike, but due to the howling wind and rain, we elected not to go up as we have learned through experience that the wind in Iceland gets stronger the higher up you go.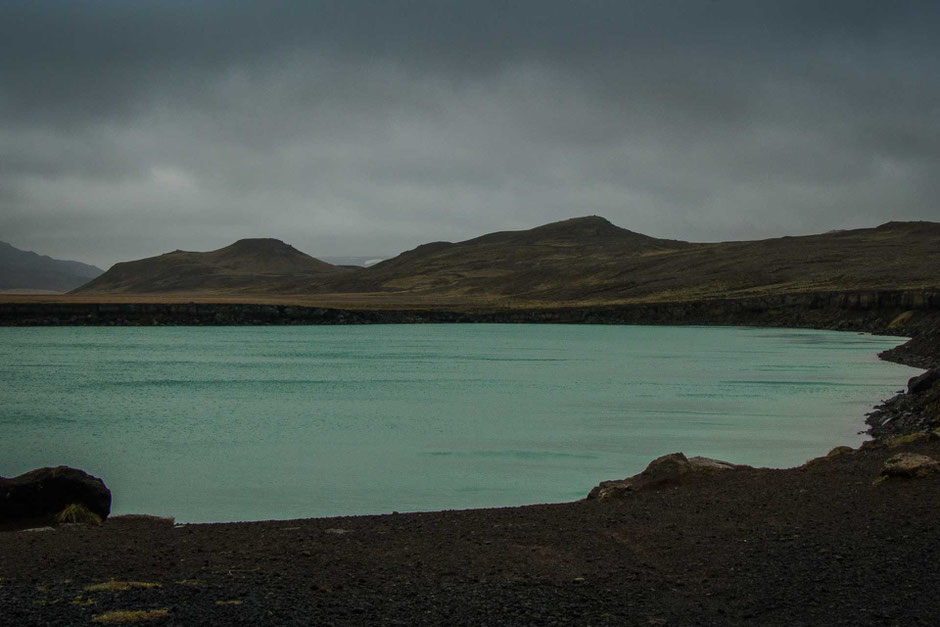 A very quick drive south of here brings you to Gígvatnsvatn Lake. This short drive is worth it to see the vibrant blue color of the water. The sky was completely cloudy during our visit and the water was still an amazing color – I'd love to see it on a blue sky day, it must be incredible!
There is a hike which begins in the parking lot to a nearby mountain peak, but again, we passed on this opportunity due to the inclement weather.
Reykjavik with Kids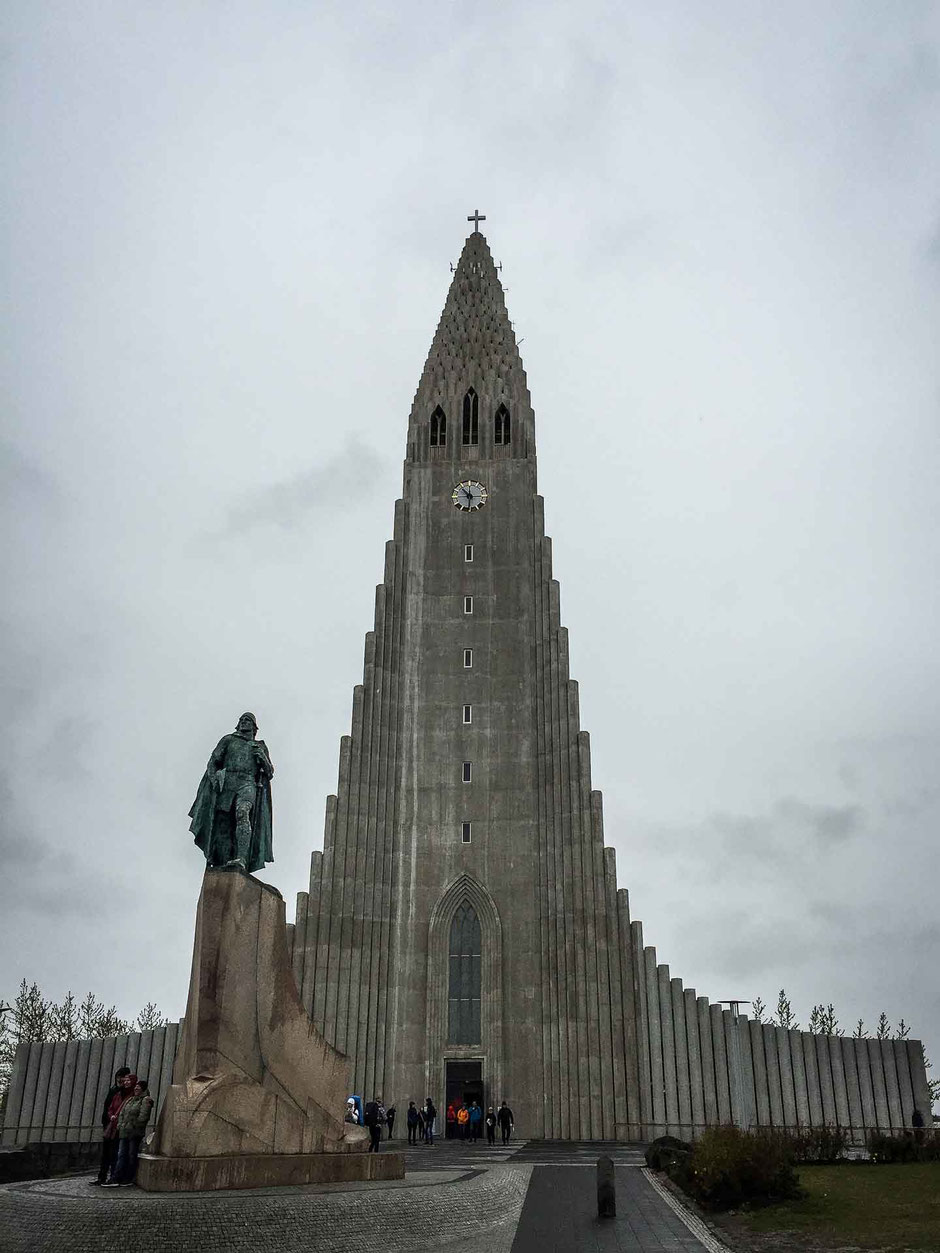 Given our hiking plans were foiled by the weather, we still had some time left to kill, so we decided to cram in our afternoon plans into the remaining time before lunch.
We drove to downtown Reykjavik and parked next to Arnarhóll Park. From here, we walked through a charming residential neighborhood on our way to Reykjavik's best known landmark, the Lutheran church Hallgrimskirkja.
Don't forget your souvenirs from Iceland! Here are the 10 BEST Things to Buy in Iceland!
With its 74m tall spire, Hallgrimskirkja is the tallest structure in Reykjavik and can be seen throughout the city. A modern church by European standards, this church was consecrated in 1986. Its unique design was inspired by the elements of Iceland's landscape, such as trap rocks, glaciers and mountains.
We thought its simple, yet elegant interior was one of the most beautiful church interiors we have ever seen. I could just imagine how amazing the massive pipe organ would sound in there.
We love climbing towers and had hoped to be able to climb up Hallgrimskirkja's tower, but the only way to the top is by elevator. So we paid our admission fee and up we went. The elevator takes you to a room where you are behind the four clocks atop the tower. You still need to climb a few flights of stairs to get to the outdoor observation deck.
The views from up top are excellent and we could see quite far despite the cloudy, rainy weather. It was very windy up there and we needed to hold on to our cameras extra tight. The observation deck is safe for kids as all the viewing windows are approximately 4 feet off the ground. If smaller kids want to see, they will need to be lifted up by an adult.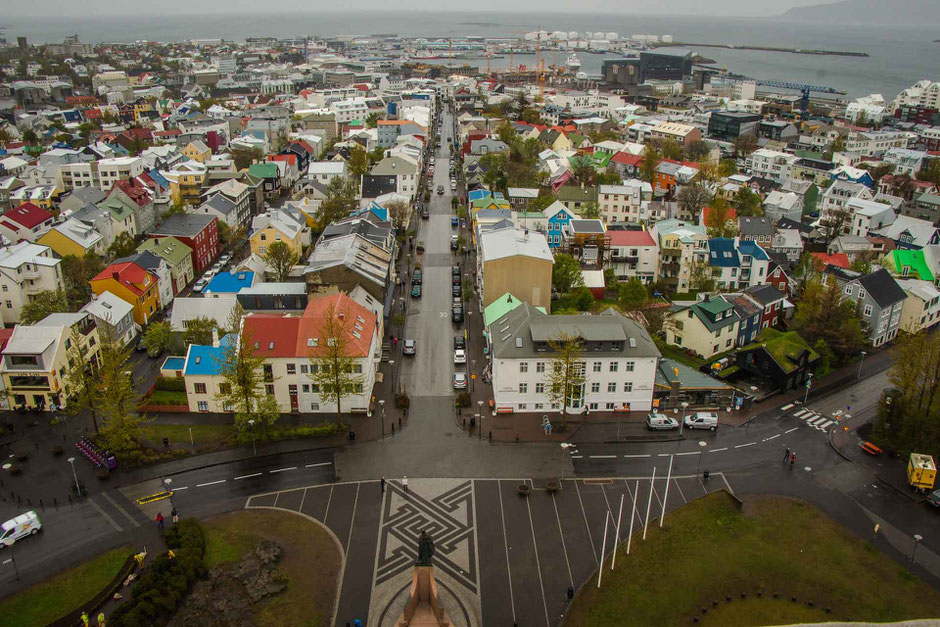 Next we walked to Bæjarins Beztu Pylsur, a hot dog stand which we saw featured on a food travel show on Netflix called Ainsley Eats the Streets. Hot dogs you ask? Well, not only do our kids love hot dogs, but Icelandic hot dogs have a reputation for being way better than their American counterparts. Made from lamb, pork and beef and served on a steamed bun with raw onions, crispy white onions, ketchup, pylsusinnep (a sweet brown mustard) and remoulade (a sauce made with mayonnaise, mustard, capers and herbs).
We found a little spot nearby which was sheltered from the rain and enjoyed our hot dogs. They were indeed very good and the steamed bun was a nice touch on a cold, wet day. I'm not sure I'd go so far as to say they are better than America's, but they do serve up a tasty dog.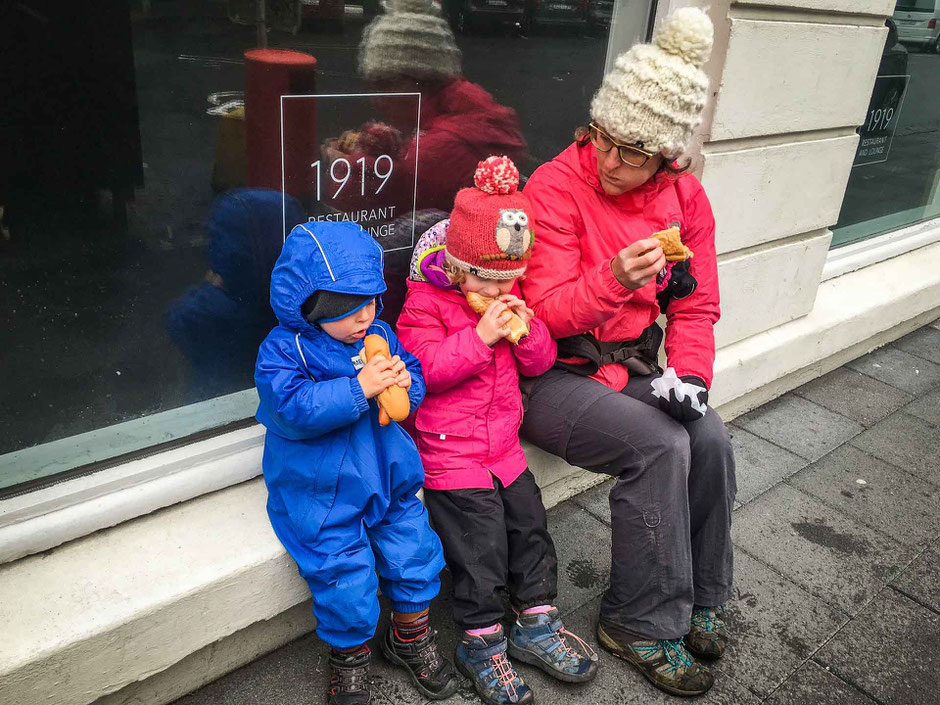 Blue Lagoon with Kids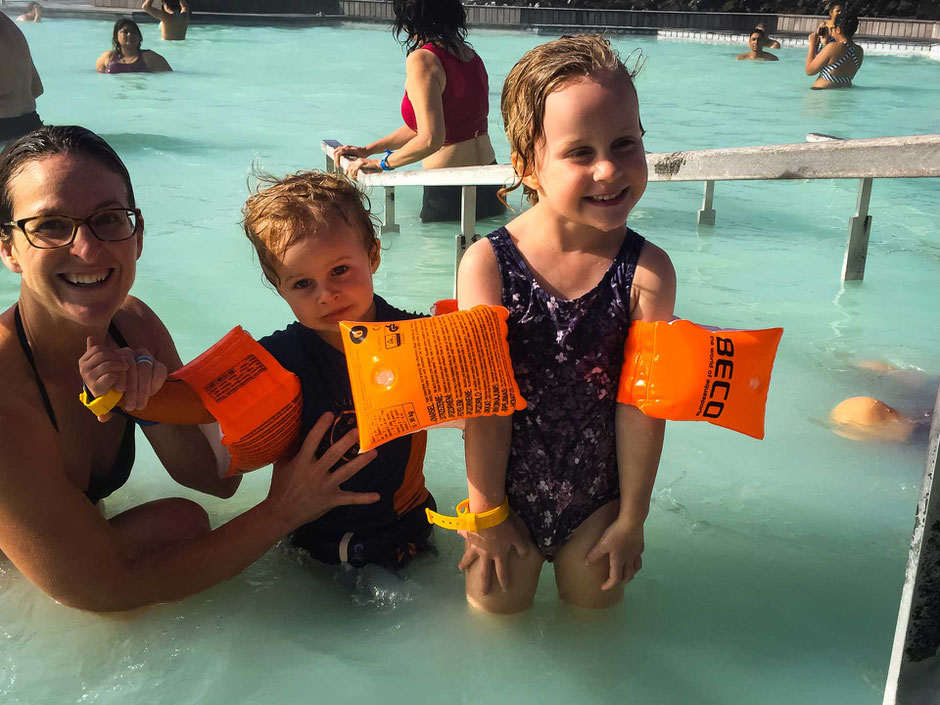 We had a full morning to kill before catching our flight back to Canada. We wanted to do something special on our last day in Iceland, so naturally we chose to visit the world-famous Blue Lagoon. This was a really special experience which all four of us loved. It's pricey, but we found visiting the Blue Lagoon with kids completely worth it.
Gunnuhver Geothermal Area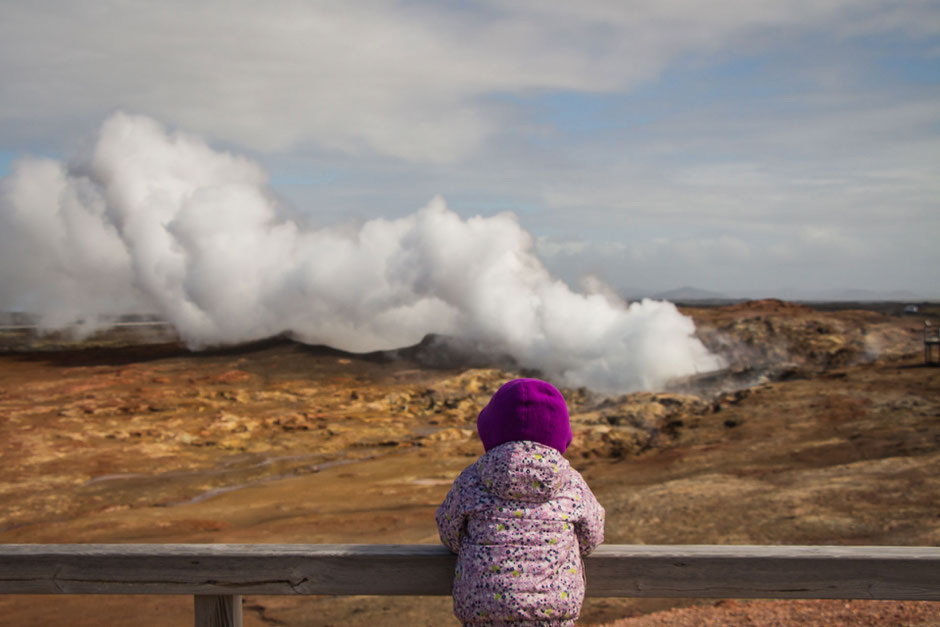 We loved the geothermal springs we visited earlier in our trip, so we couldn't resist seeing one more, the Gunnuhver Geothermal Area. This geothermal area has wooden walkways leading to a viewing platform for the single dominant steam vent in the area.
This steam vent was easily the biggest we had seen during our week in Iceland – the large pool of water underneath the steam was violently boiling, showing just how close the magma pool must be to surface. Yikes! It's an incredible show of nature's force and is worth a quick visit.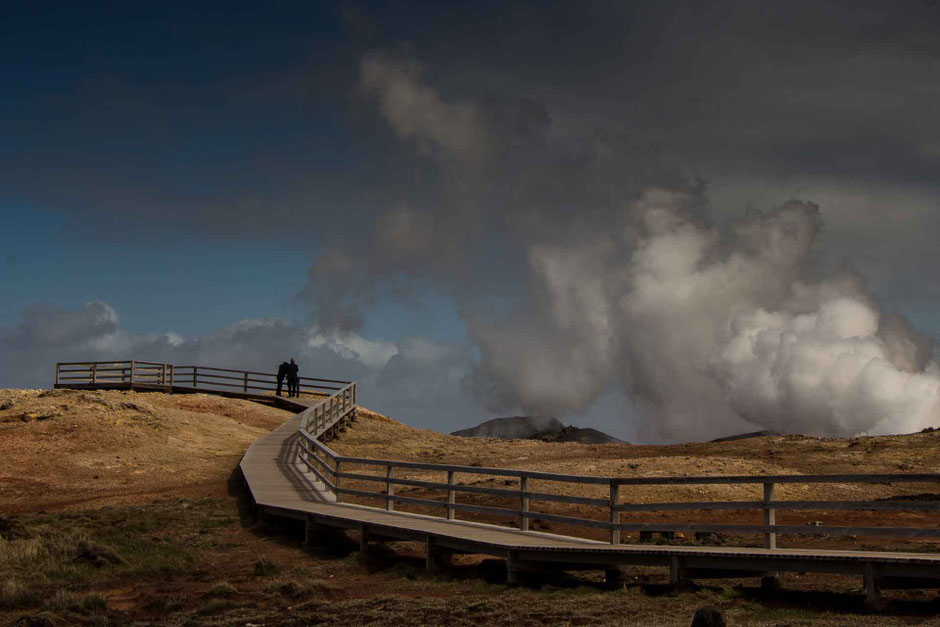 Also in the area is Midlina (The Bridge between Continents). We didn't have time to stop, but we were able to see this 50 foot long bridge from the highway. This bridge is special as it spans a valley which is being continually created as the North American tectonic plate diverges from the Eurasian plate.
This is the same tectonic phenomenon on display at the Thingvellir National Park. If you aren't able to make the trip to the national park, this is an excellent (and much less busy) alternative.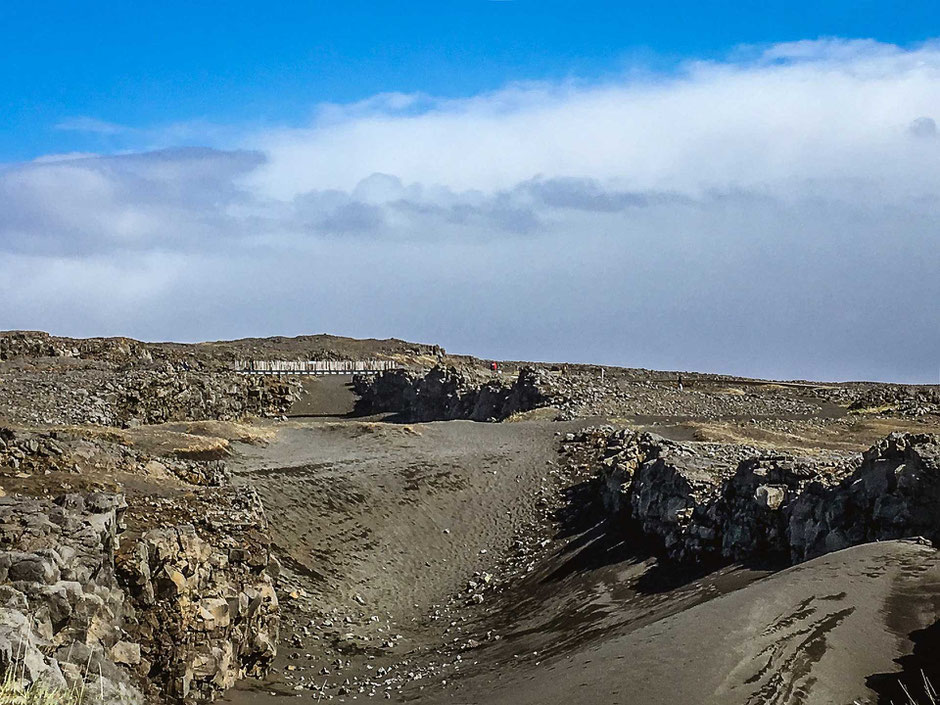 Day Trips from Reykjavik
Blue Lagoon Ticket with Return Transfers from Reykjavik
Golden Circle Classic Day Trip from Reykjavik
Snaefellsnes Peninsula Day Trip from Reykjavik (kids under 12 are free)
Southern Iceland Glaciers, Waterfalls and Beaches Day Tour
'Game of Thrones' Filming Locations Tour From Reykjavik
Pin It For Later!