Located on 200 acres of incredibly beautiful oceanfront & jungle property, Xcaret is the premiere attraction in the Mayan Riviera. Our full day visit was a definite highlight of our month in the Yucatan Peninsula and our kids, aged 2 & 4, loved every minute of it. If you are planning a visit with your children, here is what you need to know to make your visit easier and more rewarding:
Money Saving Tips
Xcaret is the best theme park in the Yucatan Peninsula, so it's not a surprise that it's a bit pricey with basic admission starting at $99.99 USD. Thankfully, there are some easy ways to save some money:
Buying your Xcaret tickets online is fast & easy and the earlier you buy, the more money you save. Children 4 and under are free and kids between 5-11 are 50% off. If you are worried about the weather when buying your tickets in advance, no need to worry as Xcaret offers a weather guarantee.
Click here for more information.
You can save money on food, drink and equipment rentals by upgrading to the Xcaret Plus package. Xcaret Plus includes a buffet meal & beer, unlimited non-alcoholic drinks, snorkel equipment rentals, a locker and use of the Area Plus facilities.
Click here for more info on the Xcaret Plus package. Simply select "Add Food & Beverages" and it will change your plan to Xcaret Plus in the checkout screen).
If you use an HSBC credit card to buy your admission tickets, you will get a second day free. Details here.

Bundling your tickets for all the Xcaret parks and/or archaeological sites you plan to visit is the best way to save a lot of money. Here are a few bundles we recommend:
Xel-ha is another super kid-friendly park on the Maya Riviera. If you plan on visiting both parks, buy a combo pack in advance and save $43USD per person. (Click here for more information on visiting Xel-Ha with kids).
Want to see one of the new Seven Wonders of the World? Bundle a tour to Chichén Itzá with your Xcaret ticket and save $43USD per person. (Click here more information on visiting Chichén Itzá with kids)
Want to swim with dolphins while at Xcaret? Bundle your Delphinus dolphin swim experience with your Xcaret park admission and save 15%. Click here for more info.
There is no limit to the combinations you can pick for your bundle. If you'd like to build your own custom combo package of parks, cenotes and archaeological sites, you'll save between 20-25%!
Click here to build your own custom combo package.
EQUIPMENT RENTALS
Xcaret has all the equipment a family needs for a fun day at the park. You can rent single or double strollers, towels, snorkel equipment and lockers. The stroller rental service is located very near the main entrance and is open from 8:30 am until the park's closing.
If you are going to use a stroller and want to plan your day ahead of time, this map shows the wheelchair accessible routes through the park. Anywhere a wheelchair can go, so can a stroller.
UNDERGROUND RIVER
You don't need to rent a locker specifically for the underground river. Here's how it works:
Getting changed: Basic ticket holders can get changed in the shower room near the main entrance to the park. You'll need to walk a few minutes to the entrance of the river. If you don't feel like walking that far carrying your stuff with a bathing suit on, you can upgrade to an Xcaret Plus ticket which allows you to use the change room at the entrance of the underground river.
Your stuff: At the entrance to the river, you put all of your personal belongings into a large duffel bag. They zip up and lock the bag, give you the only key and then they transport your bag to the far end of the river where you can pick it up. You pick up your complimentary & mandatory life jackets at the beginning of the river and you drop them off at the end. They have life jackets for every age, including babies.
The River: Floating down the entire length of the river takes roughly an hour, so if you don't think your kids will be interested that long, you can get out at several spots along the way (we didn't finish the whole thing). Note, if you end early you will need to walk to the end of the river to collect your duffel bag. If you feel you only want to be in the water a short time, it may make sense to rent a locker for your stuff near the beginning of the river instead.
Small kids: They made us sign a special waiver in order to bring our toddlers into the river as some small children find the water too cold. It may be worth stopping at the first exit to make sure your kids are handling the water temperature OK before continuing on.
Tip: We recommend renting flippers. We cheaped out and didn't rent snorkel gear, which was a big mistake! Our kids don't swim on their own, so we had to swim while pulling them along. The river itself doesn't have much of a current, so to swim alongside a toddler was a big effort. I'd have killed to have had a pair of flippers!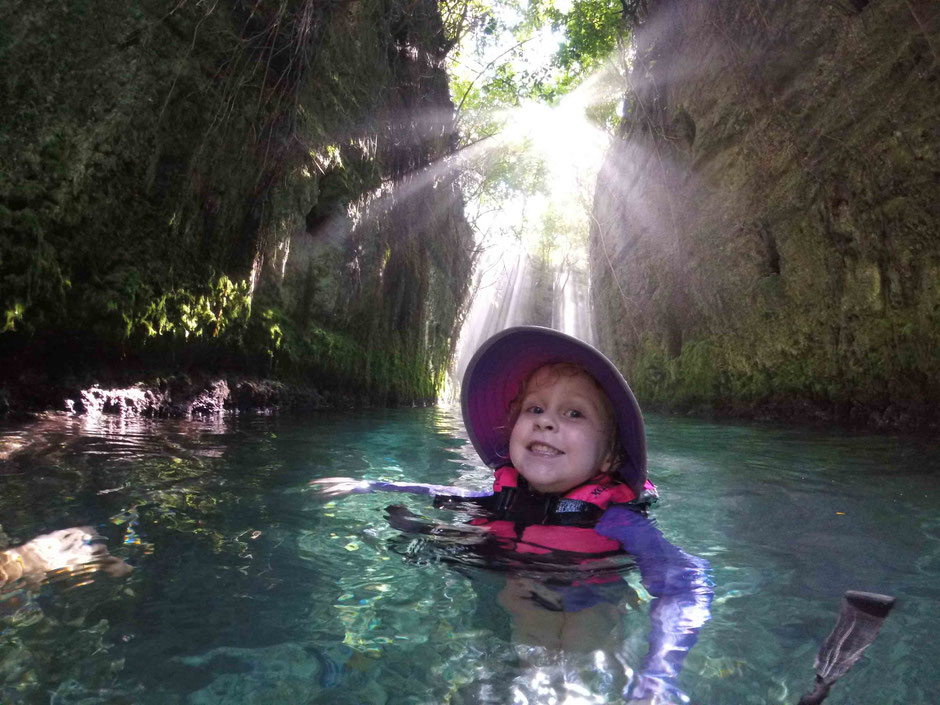 FOOD AND BEVERAGE
Park policy allows baby food to be brought in, but all other outside food and beverages are prohibited. For an extra $27USD (10-15% less if you book online), you can add a food and beverage package which entitles you to one buffet lunch, one beer and unlimited non-alcoholic beverages during your meal. For most onsite restaurants, paying ahead (especially with the online discount) will be cheaper than paying while there.
If you are traveling with smaller kids, you may want to eat lunch a bit early, as we did. Most of the restaurants within Xcaret open at noon or later, but the following restaurants are open earlier:
La Orquídea Coffee Shop opens at 8:30am. Located near the park entrance, you can enjoy a buffet Mexican breakfast or lunch. We ate here and were lucky enough to catch the tail end of their breakfast buffet for our lunch. We loved it! It was also quite affordable compared to the other restaurants we saw.
El Manglar Restaurant opens at 11am. Located close to the Natural Pools, at the exit of the Underground Rivers, this seafood restaurant specializes in the food of the Mexican Pacific.
La Península Restaurant opens at 11:30am. Located in the northern part of the Park, opposite to the Dolphin Swim area, this international buffet has a strong emphasis on seafood, including a sushi bar.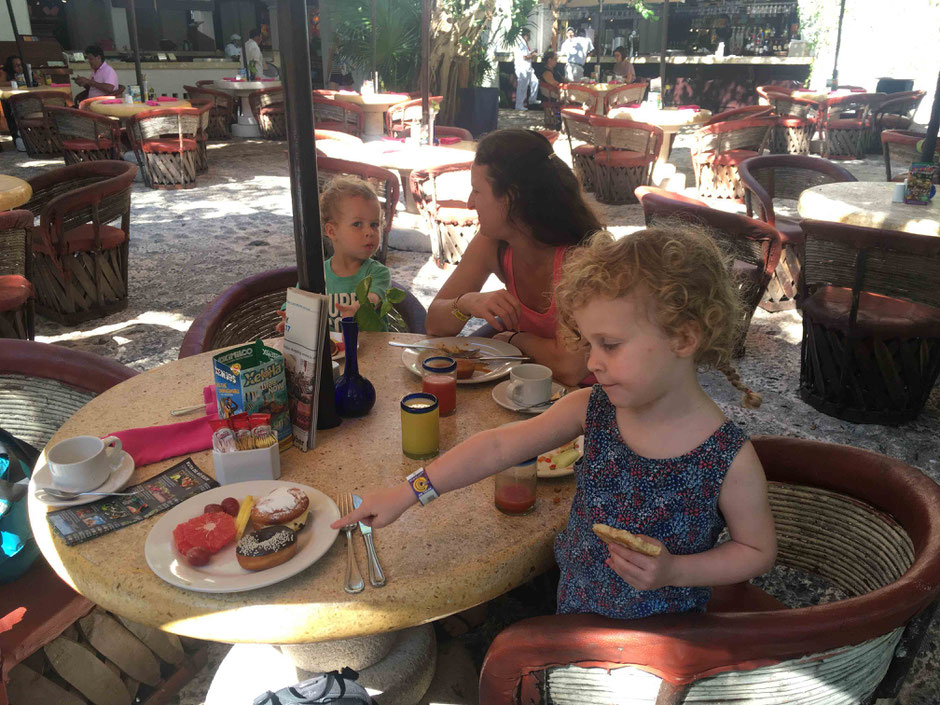 TROPICAL SAFETY
Bring biodegradable sunscreen: Xcaret's natural setting provides for a very pleasant day outside. Most of the park is well treed, in the shade and out of the powerful Mexican sun. You'll still need sunscreen though and it's important to know Xcaret has a policy of biodegradable sunscreen (containing titanium oxide and zinc oxide) only. This is to protect the natural balance of the water ecosystem within the park. Please take this policy seriously – we have been to other water based attractions that felt like we were swimming in a bathtub of coconut oil from all the sunscreen coming off the tourists. This cannot be good for the sea life!
Bring insect repellent: We hardly noticed any mosquitoes during our visit, but we did end up with a few bites which is to be expected given that Xcaret is set in the jungle. We expected the mosquitoes to be way worse and were pleasantly surprised at their absence.
Save your water activities for the end of the day: This allows you to apply biodegradable sunscreen at the start of the day and not have to worry about reapplying until after the water activities. Plus it's easier to deal with wet clothes at the end of the day when you are heading home vs. the beginning.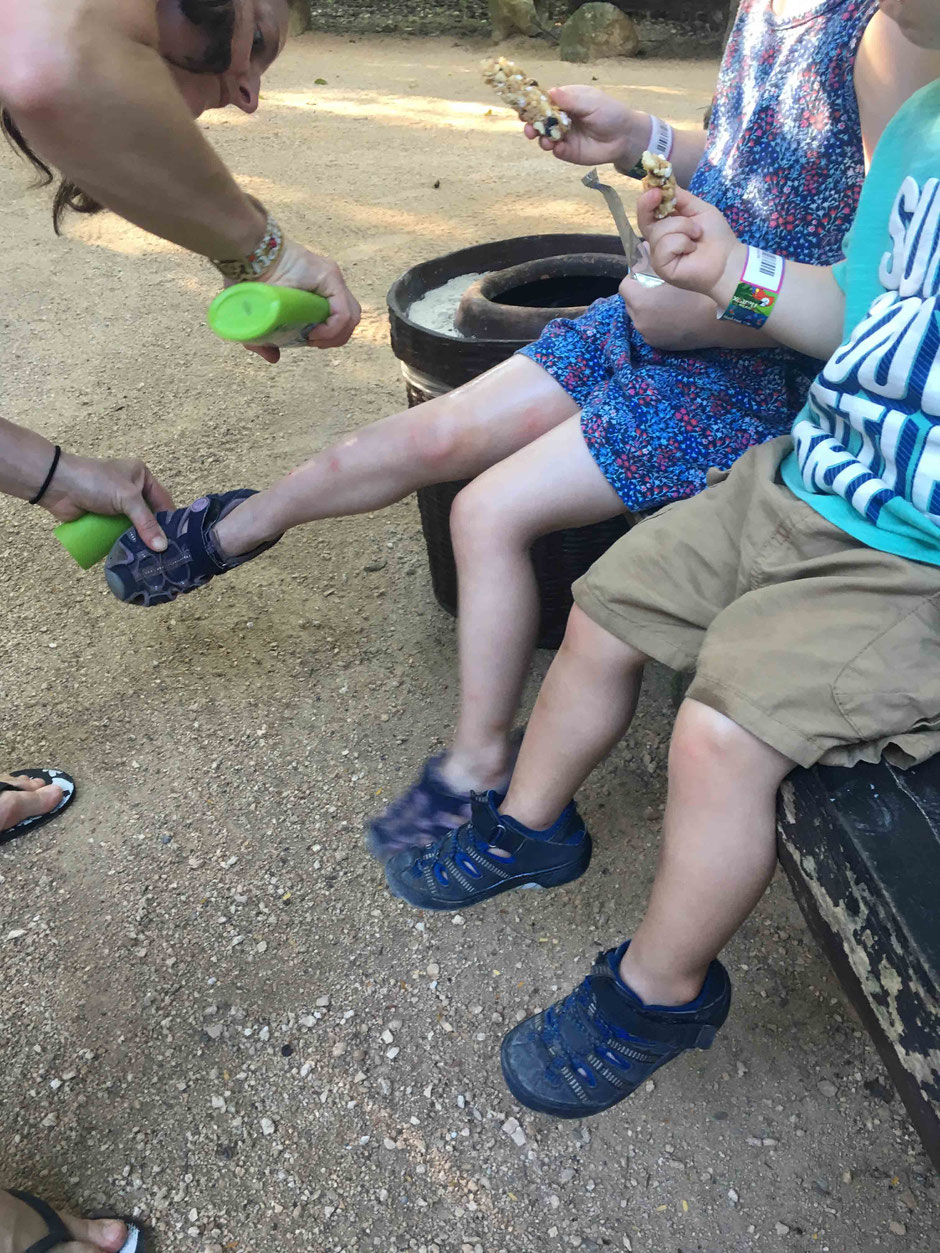 XCARET HOTEL
If you want a really amazing experience Xcaret experience for the whole family, stay at the brand new, family friendly Hotel Xcaret Mexico, where they redefine the term "all-inclusive". Not only are all your meals included, but so are all the parks and tours!
Click here for more pictures and pricing…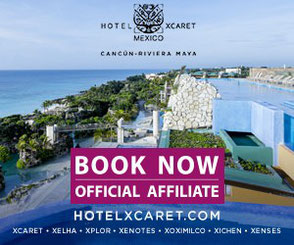 Want to see how much fun your family can have at Xcaret? In our second Xcaret blog post, we share the highlights of our amazing day!
DON'T MISS: If you are currently in the Mayan Riviera or are planning a trip there, don't miss our blog post, Plan the Best Family Trip to the Mayan Riviera. It's packed full of planning tips, exciting family activities and links to all of our Mayan Riviera blog posts. It's sure to help make your family trip a memorable one!

Thank you to Xcaret for hosting us on our visit. As always, all thoughts and opinions are our own.We only write about destinations we have personally visited with our family. This post contains compensated links.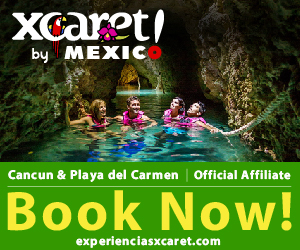 Pin It For Later!