We get pretty excited when we find a city that has plenty of attractions AND has easy access to nature. Not knowing too much about Oslo before planning our trip to Norway, we were pleasantly surprised to find that it was exactly the type of city we love.
How many cities can you hop on the metro and be in the forest within 20-30 minutes? If you are anything like us and like to balance your sightseeing with as much time in nature as possible, then you will also love Oslo!
This post contains compensated links.
Where to Stay in Oslo
Since we were visiting Oslo with a toddler and preschooler, we chose an vacation home rental apartment that was close to public transportation and that would allow us to get from the airport without having to take a taxi (and needing car seats).
We were excited to find a large Oslo rental apartment only a short walk from the Majorstuen T-Bane station.
Things to Do in Oslo with Kids
Here is how we spent 5 days in Oslo with children (4 years old and 23 months old at the time):
Oslo Playgrounds
On our arrival day, we got to our Oslo apartment around 12:30 and put the kids down for a nap. They managed about 3-3.5 hours of sleep on the overnight flight, but were both pretty tired.
After naps, we followed these tips to help with jet lag and tried to get them on local schedule asap, so we took them outside. Our apartment was conveniently close to Stensparken, which had plenty of green space and a playground for the kids to run around.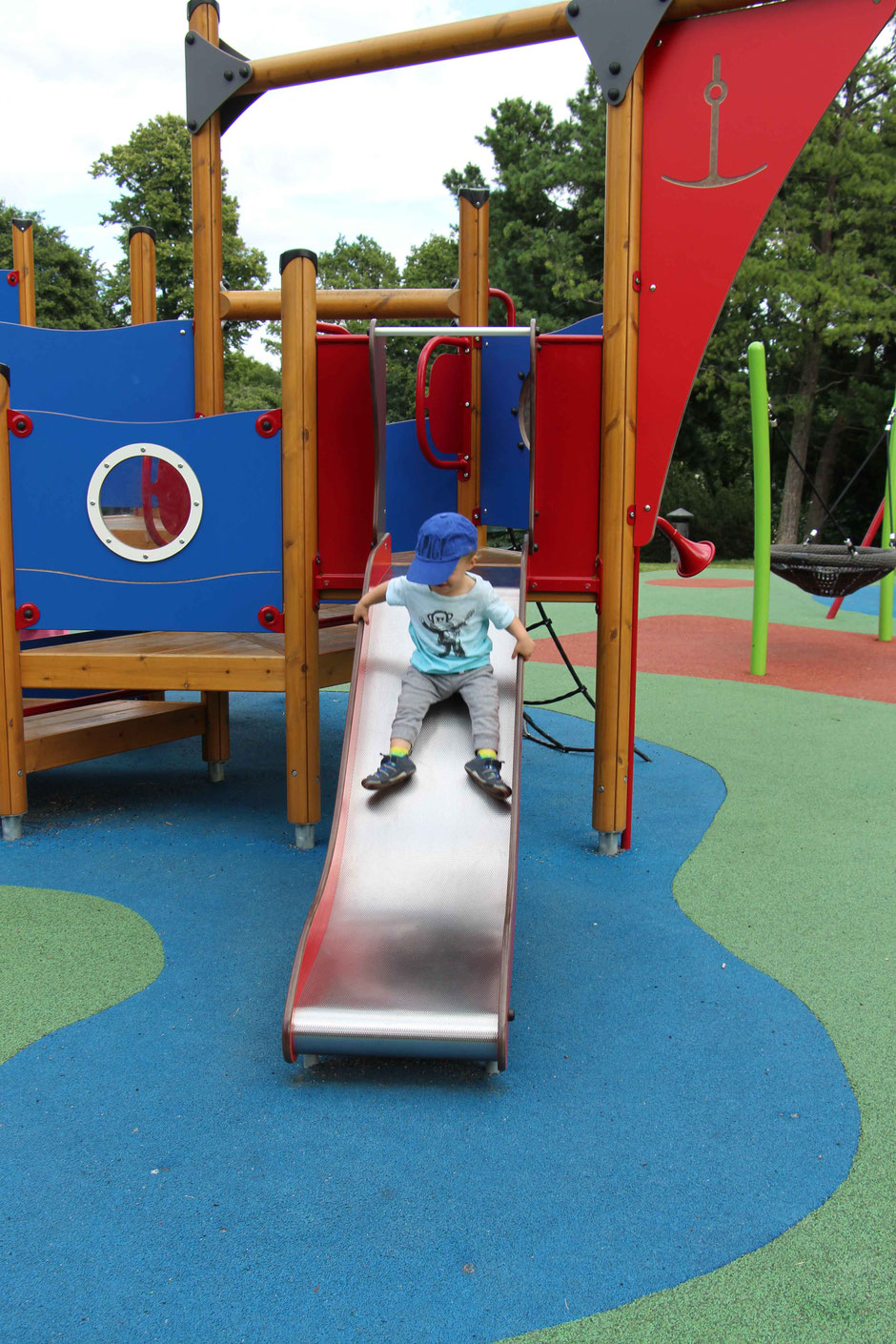 Frognerparken & Vigeland Sculpture Park
After a pretty successful first night and a sleep in until 7:30am, we were off to Frognerparken. This was the perfect first outing as it ticked all our boxes: get outside in the sunlight, let the kids run and burn off some energy and visit our "must-sees" first. It also had the added benefit of being only a 15 minute walk from our apartment.
Frogner Park is the largest park in central Oslo and within it you'll find one of Oslo's (and Norway's) top attractions, Vigeland Sculpture Park. Vigeland Sculpture Park has more than 200 sculptures all done by one artist.
Shortly after we entered Frogner Park, we crossed the statue lined bridge into Vigeland Sculpture Park. Between the bridge and the stunning two-tiered fountain was Norway's largest collection of roses. This was the perfect spot to hand our 4 year old a camera and let her get creative.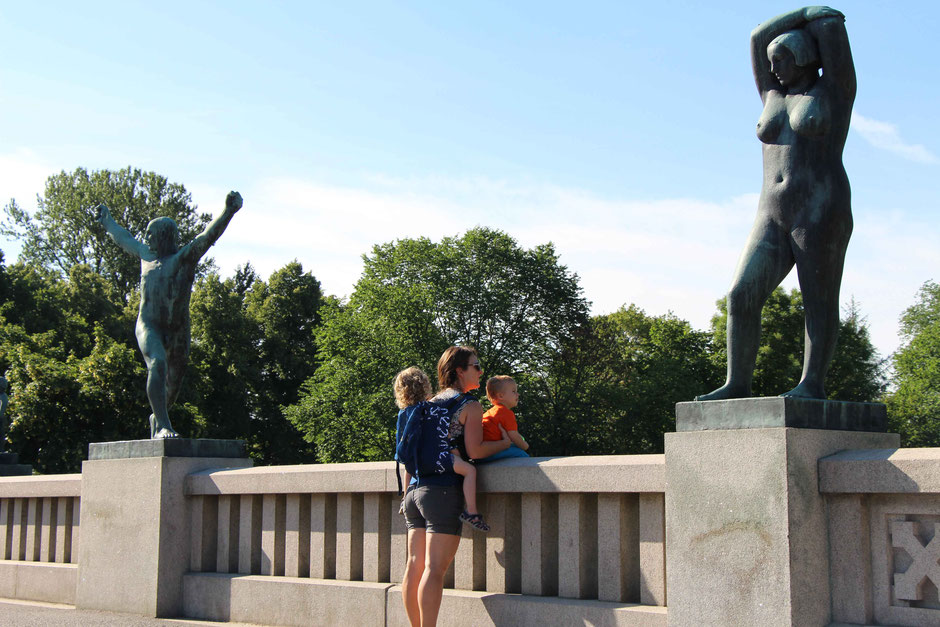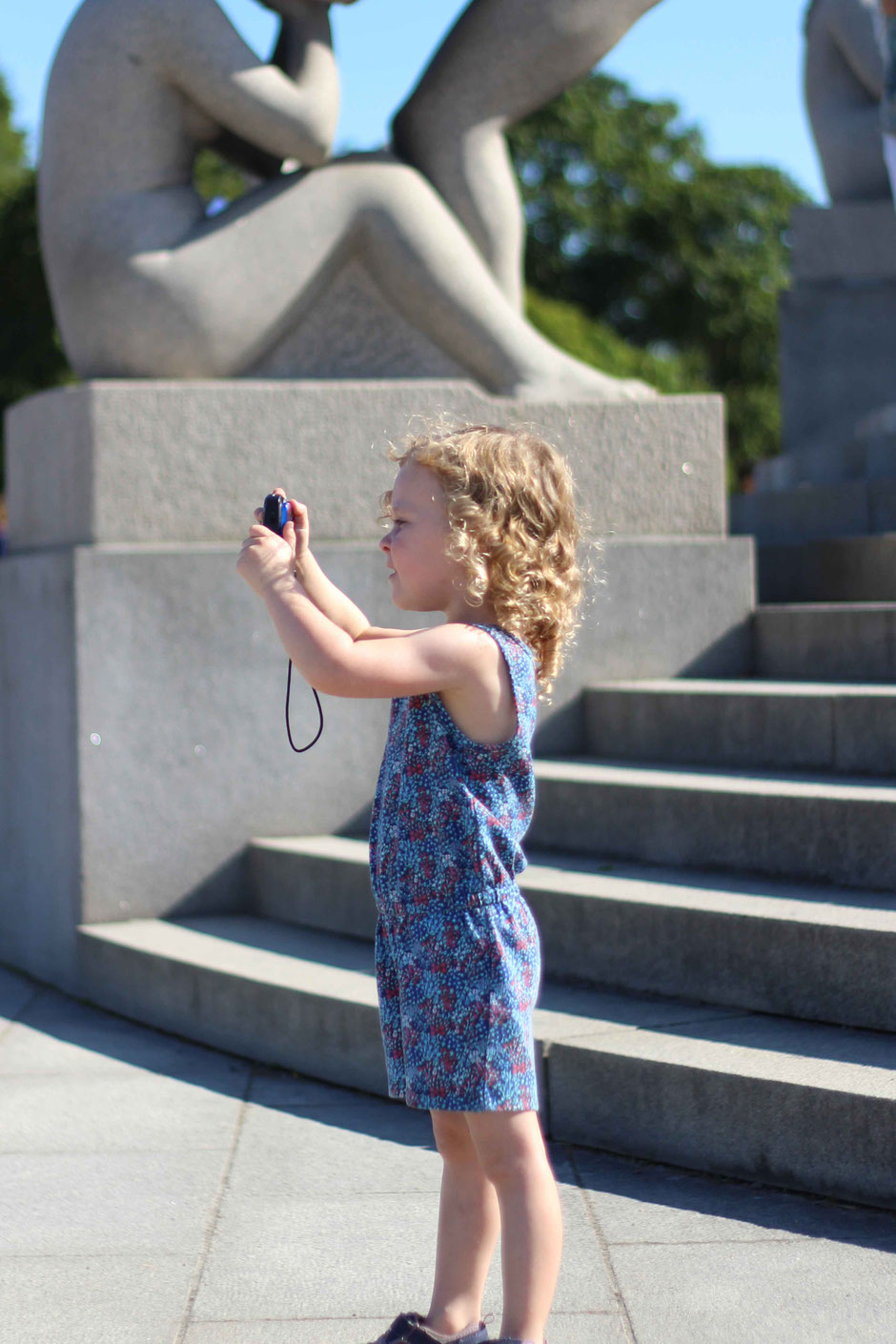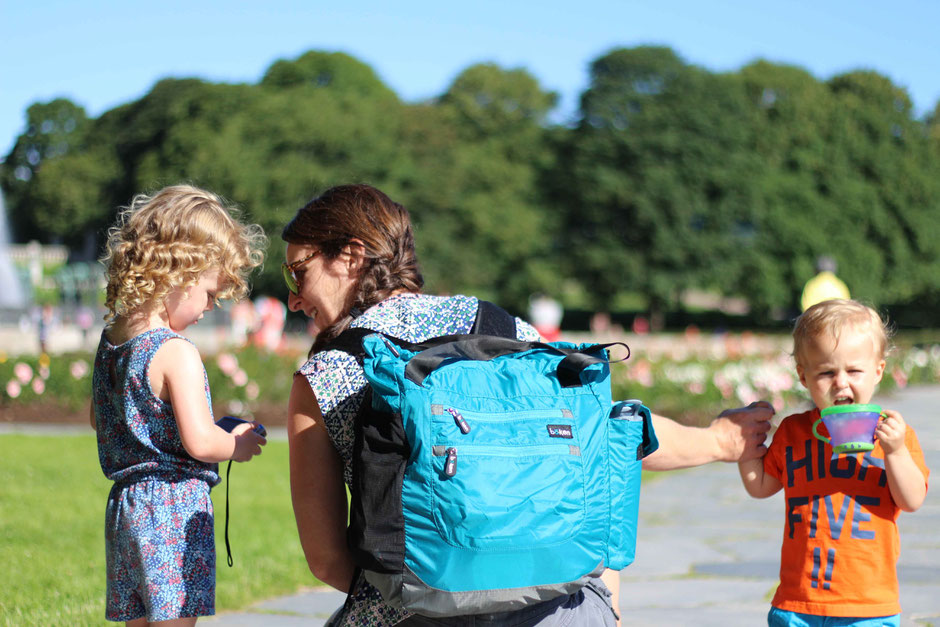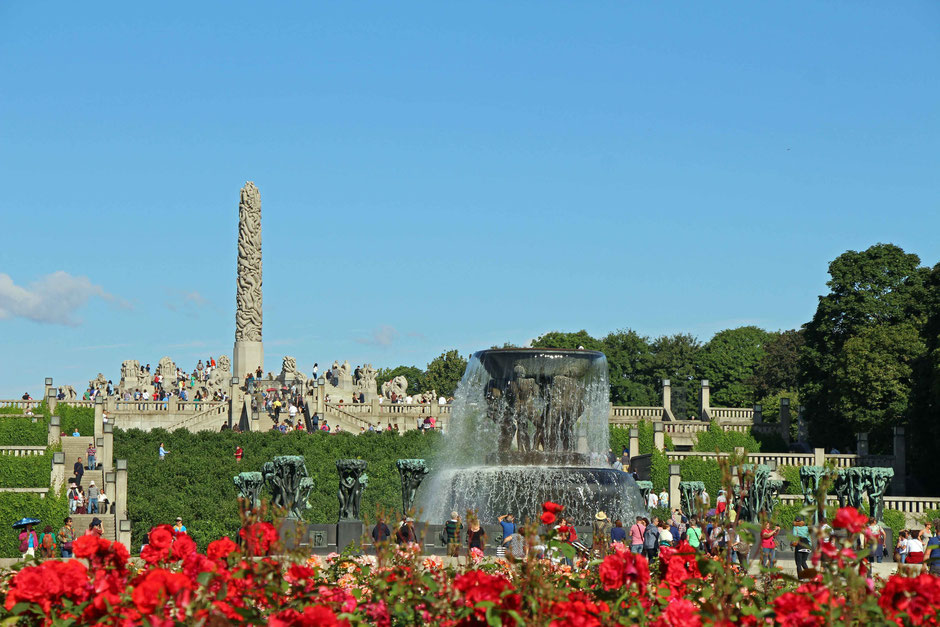 From there we climbed the stairs to the monolith sculpture – a truly incredible piece of work. Of course, as we marveled at all the sculptures, our two monkeys were trying to climb on anything and everything. That aside, this was a great place to let the kids be kids. We finished up the sculpture park by going up another hill to one last sculpture.
It should come as no surprise that this section of the park was filled with visitors, but as we walked back through the park on the west side, we found relative solitude.
That is until we ended up at a very large playground (on the west side of the main entrance to the park). The playground was very busy and for good reason. There was plenty of space and structures for kids of all ages to play, including a sand pit.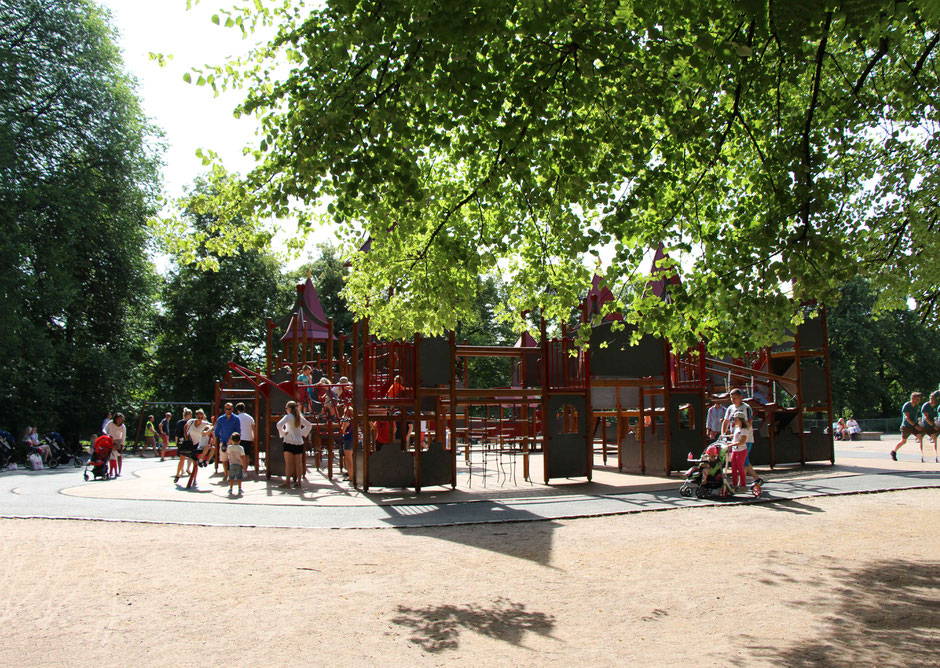 Oslo Opera House
After a short nap break at our apartment, we set out on foot once more to the Oslo Opera House. We were a little surprised to learn that an opera house was within the top 10 rated attractions in Oslo on Trip Advisor, but this one must be seen.
The Oslo Opera House was built as an extension of the Norwegian idea that nature is free for everyone to walk in and thus, you are invited to walk on the roof.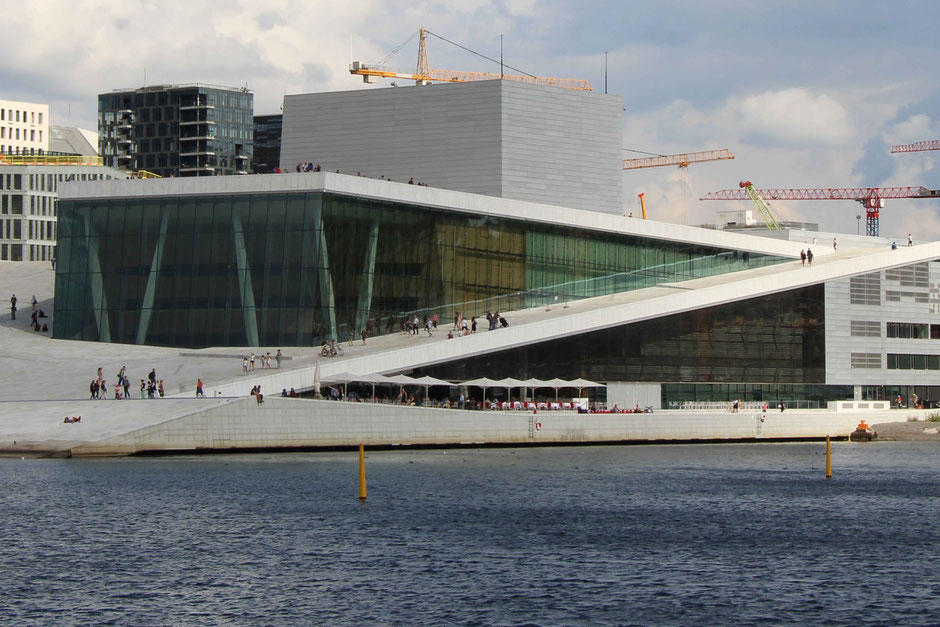 To get to the Opera House, we first walked through Slottsparken, the garden surrounding the Royal Palace. We also walked through Spikersuppa, a park with a large fountain & pool full of little kids playing in it to cool off on a hot day. In the winter this turns into an ice skating rink, free for anyone to use.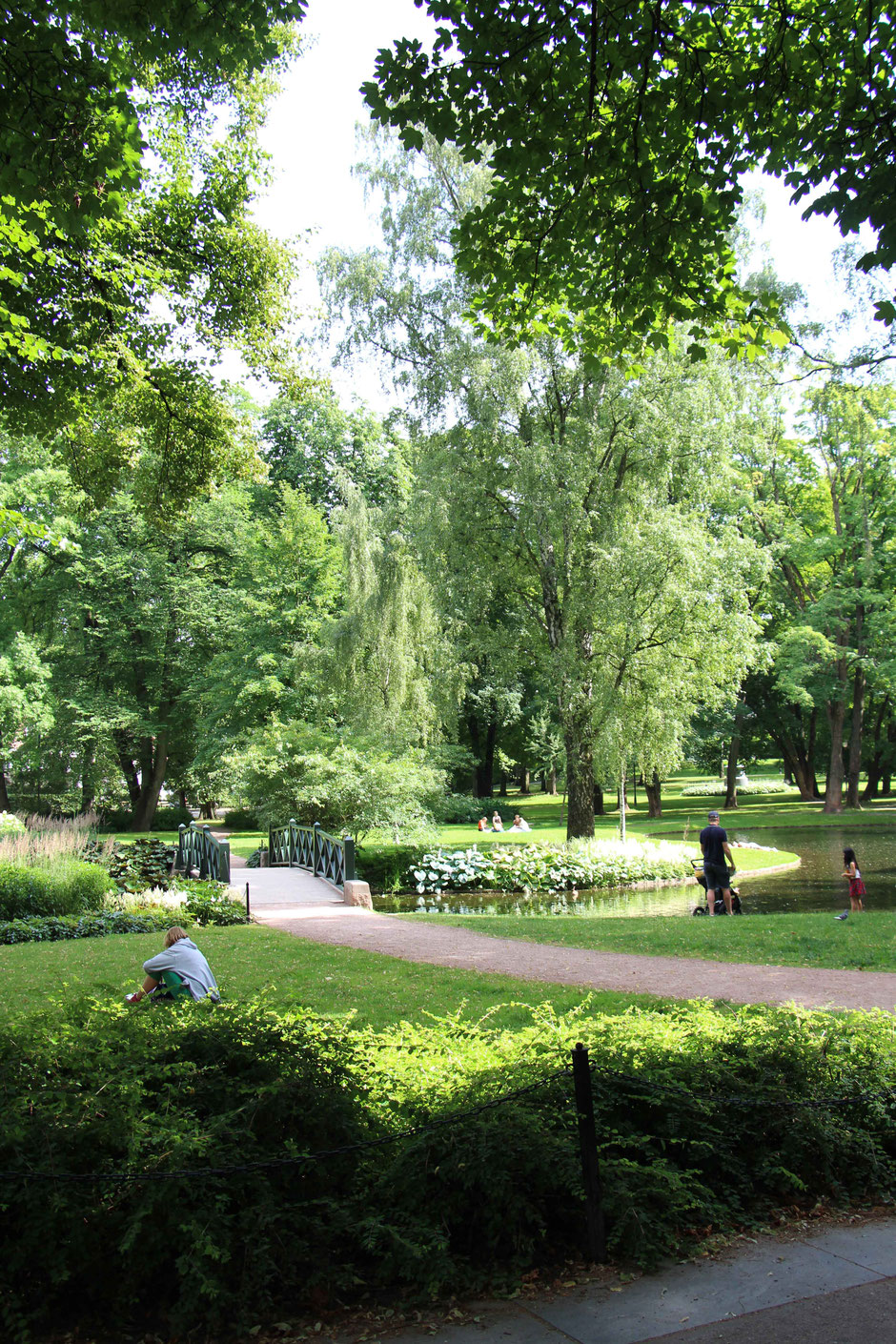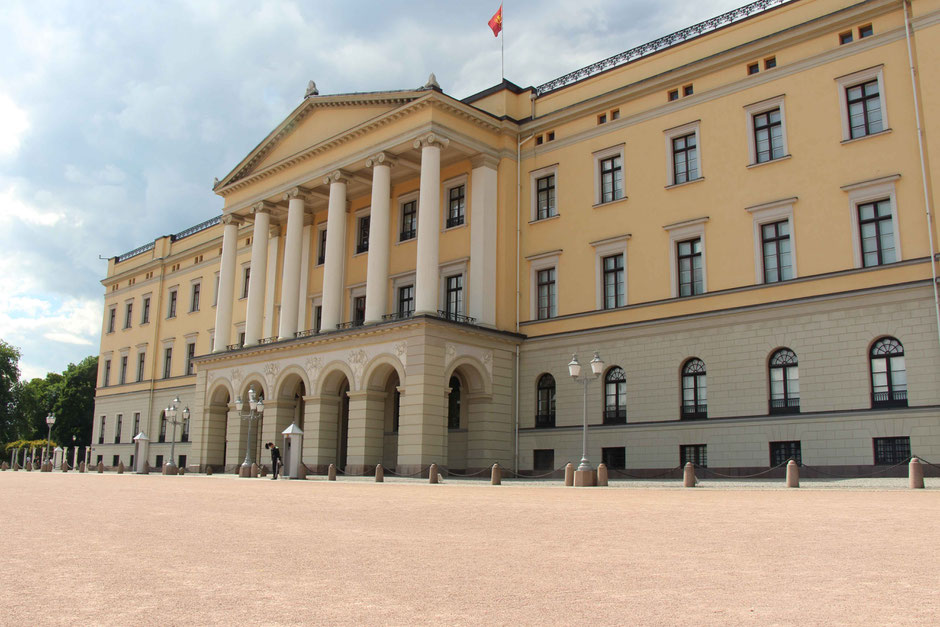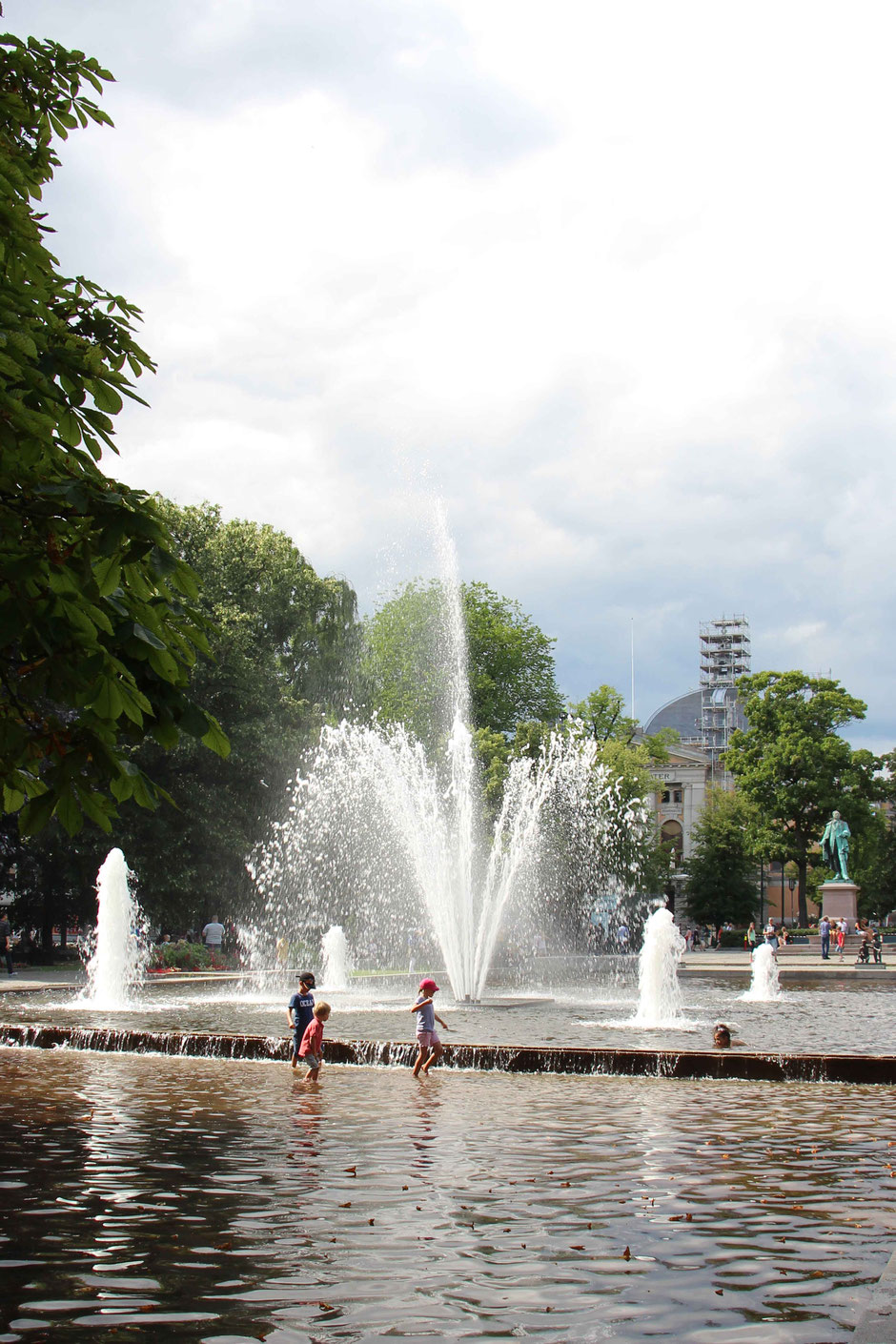 The Opera House is right on the waterfront and you do truly get to walk up the roof all the way to the top of the building. You can walk up either side and it's a great place to let the little ones explore (away from the edge, of course).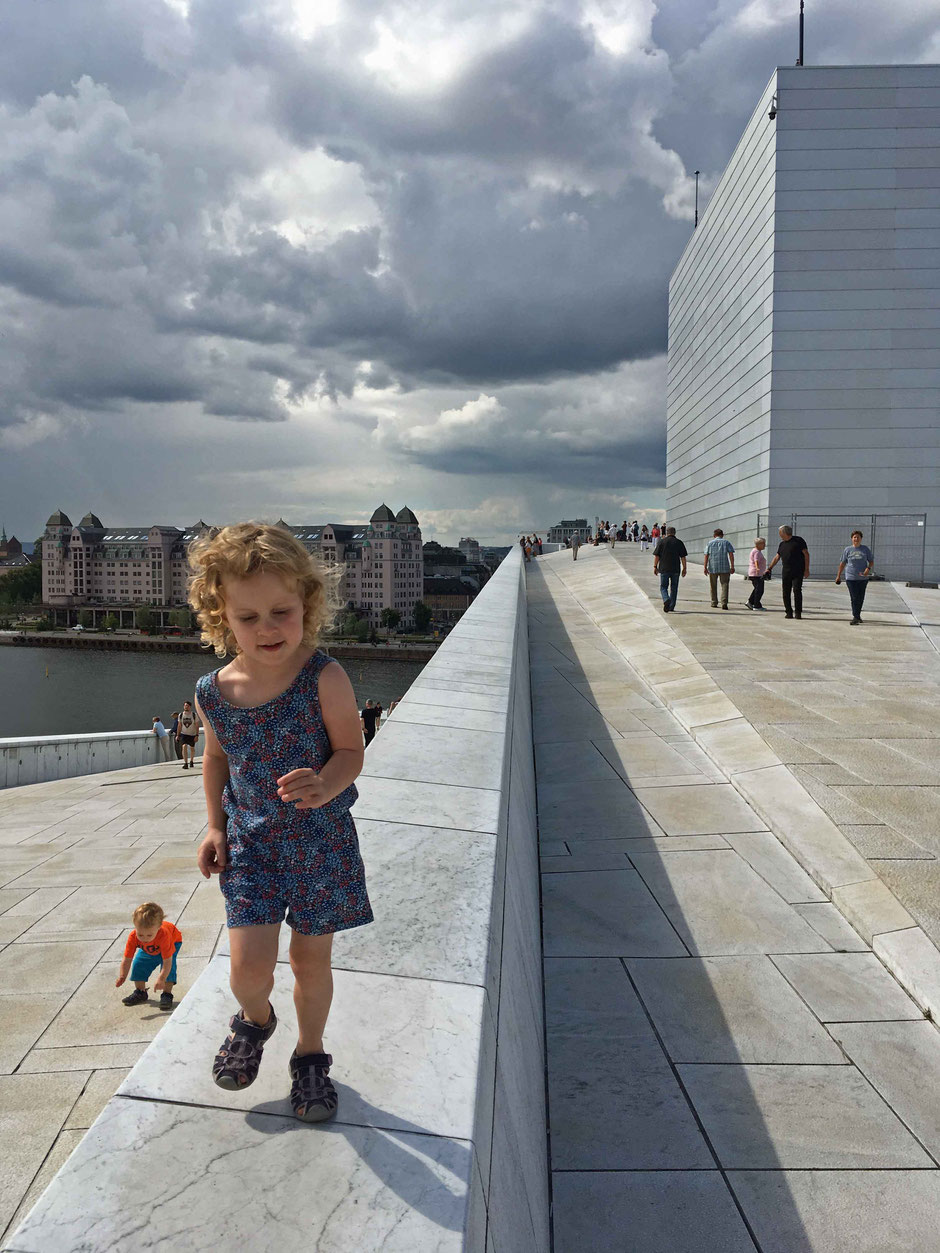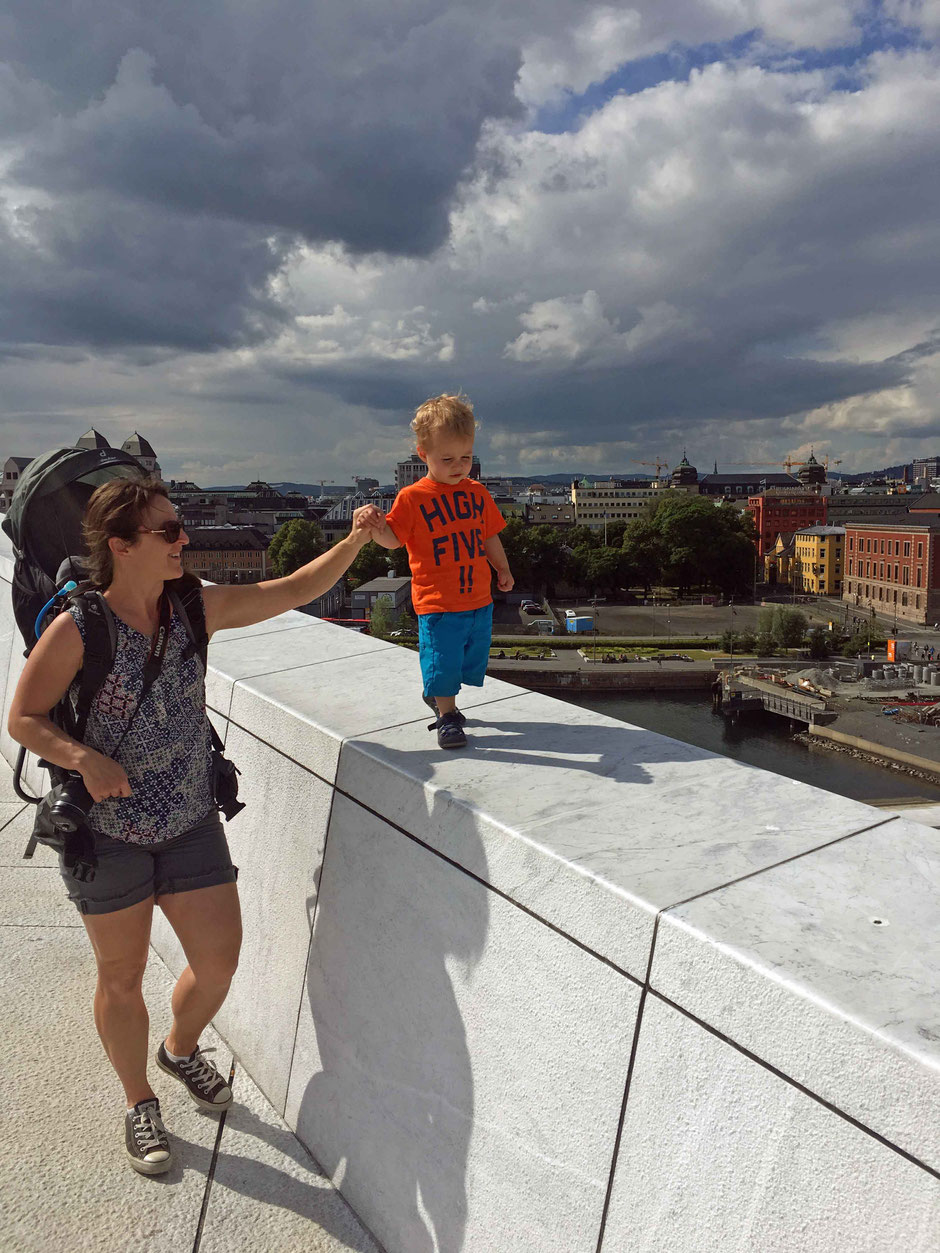 Nordmarka Forest
While researching things to do in Oslo, we discovered that there were several great hiking areas that were easily reached by public transportation. We were excited about the idea of being able to avoid renting a car and still see the surrounding area.
And just as we had hoped, we were able to take the metro, also known as the T-Bane, from central Oslo to the Frognesteren station in about 20 minutes. We basically got off the train and immediately started hiking on a trail in the Nordmarka Forest, it was that easy.
Our 3.7 mile / 6km hike to Sognsvann Lake took approximately 2 hours. The hike itself was not overly difficult and was over varying terrain, from wide hiking trails to single track with some navigating over streams and bridges.
The forest was lush with wild blueberries growing everywhere, which unfortunately weren't quite ripe yet.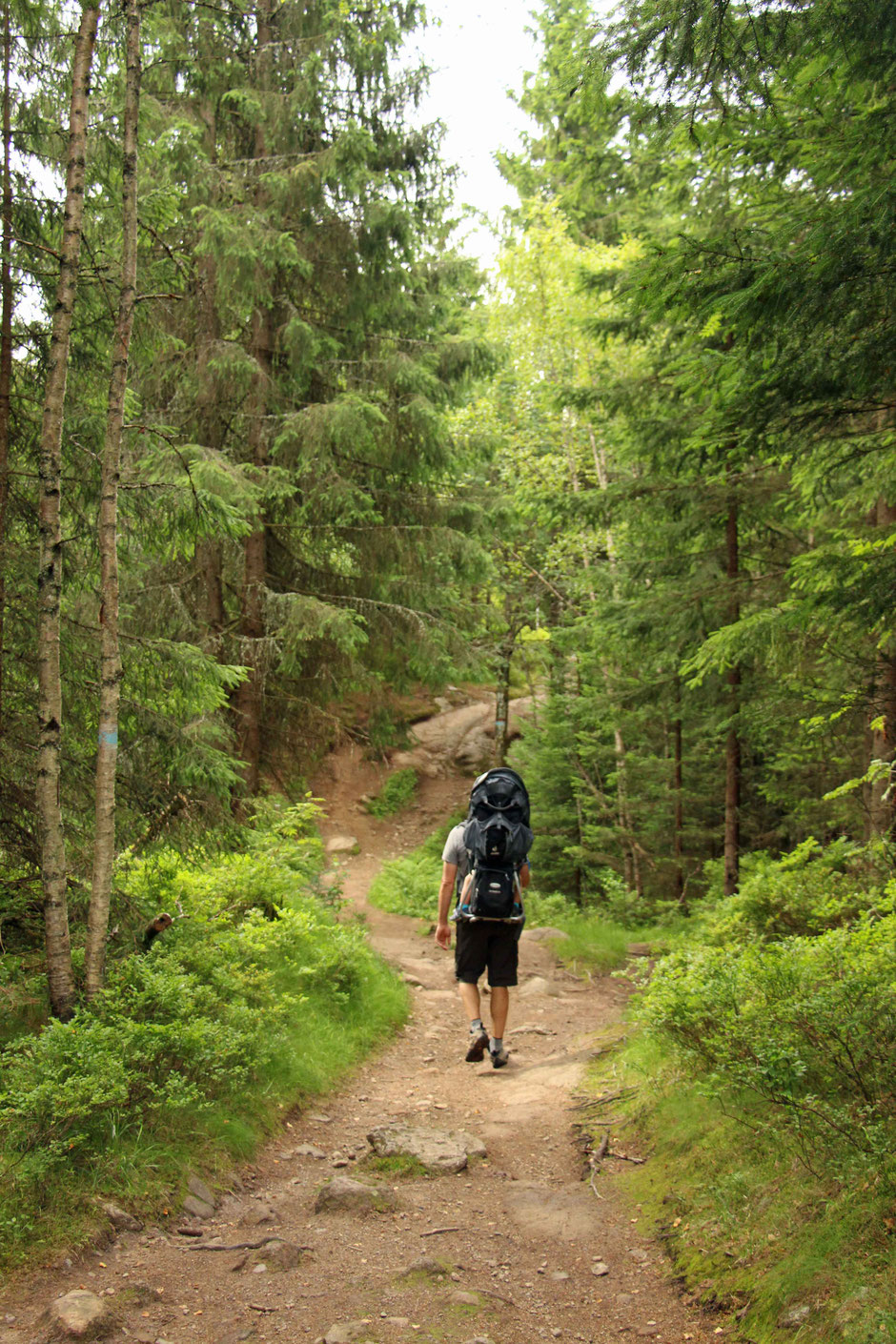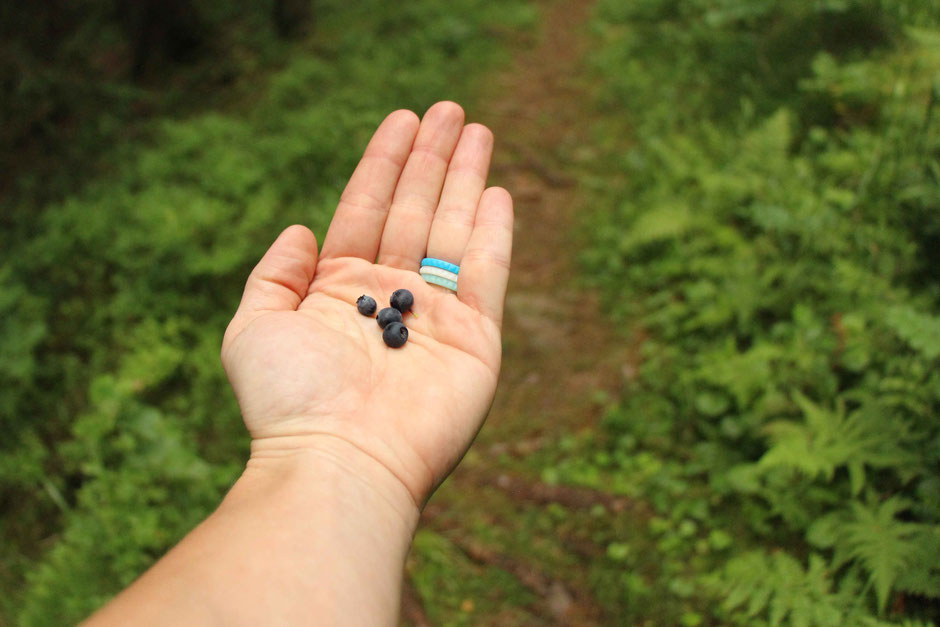 Not being familiar with the area, it would be difficult to find your way without a good hiking app. This area has so many trails and many of them are unmarked. We recommend having a hiking app to help you navigate the hiking trails.
Our final destination, Sognsvann Lake, is a very popular recreation area. It has a 2 mile / 3.2 km walking/jogging path around the lake that is stroller friendly, plus picnic tables, a beach, a dock, beach volleyball, etc. This area is also used for cross-country skiing in the winter. What's even better, it's only a short walk from the Sognsvann train station.
We have an entire post full of all our best tips for hiking with kids and this one with all the best hiking gear for kids.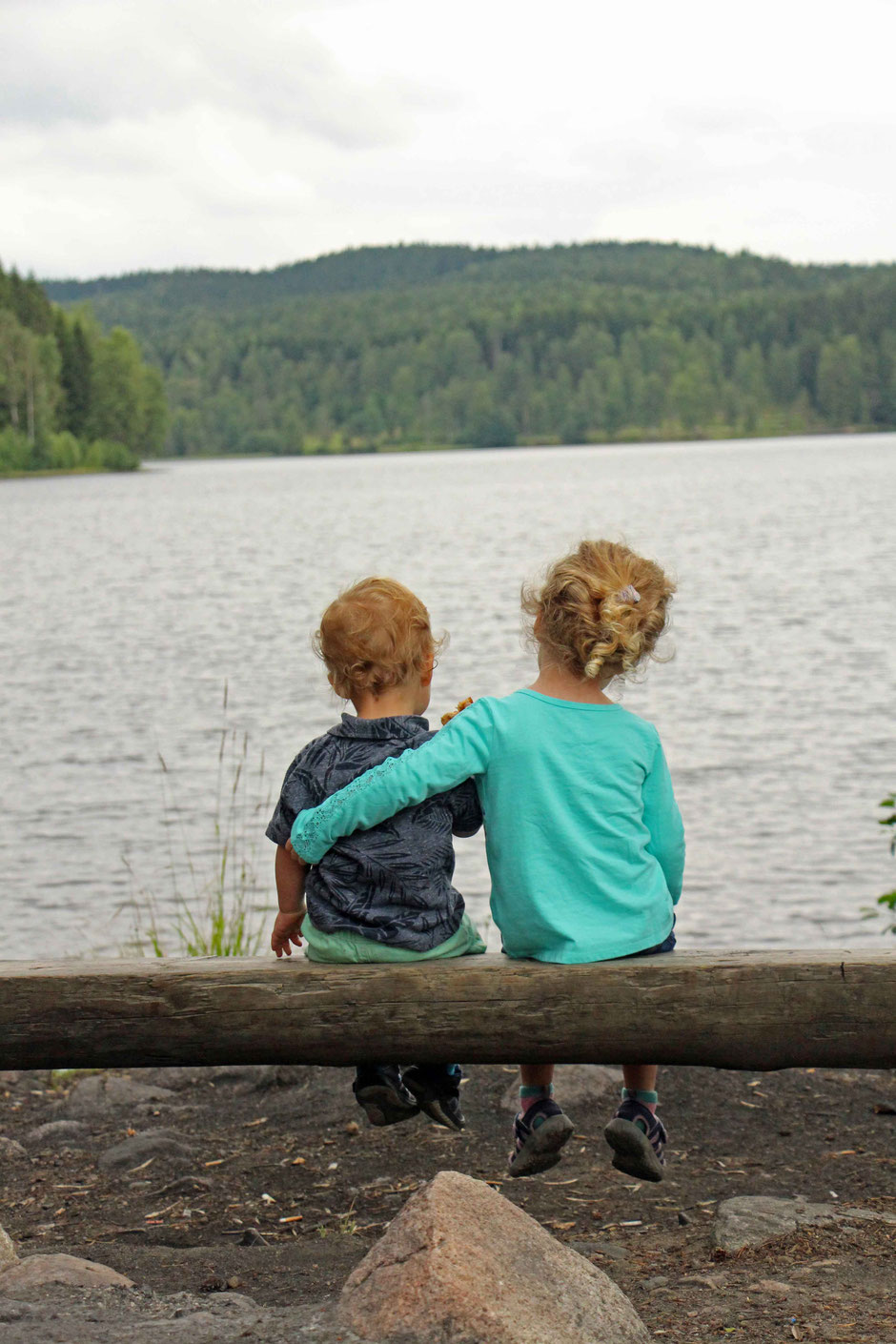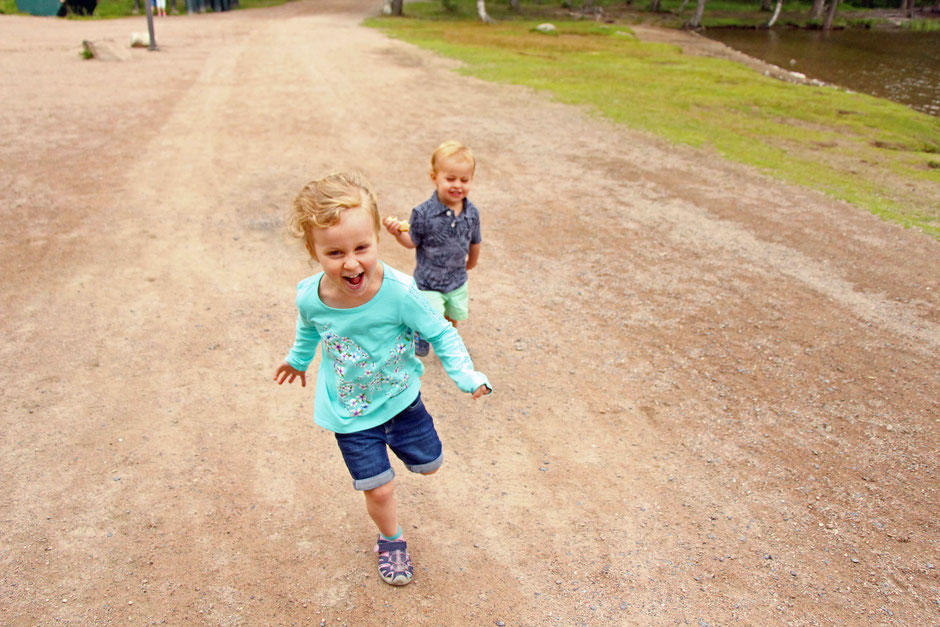 Oslo National Gallery & Reptile Park
After lunch and a nap, we activated our Oslo Passes and went to the National Gallery to see the Scream painting. We walked around the whole top floor in about 20-30 minutes. The Scream was the big attraction, but there were other paintings by notable artists as well.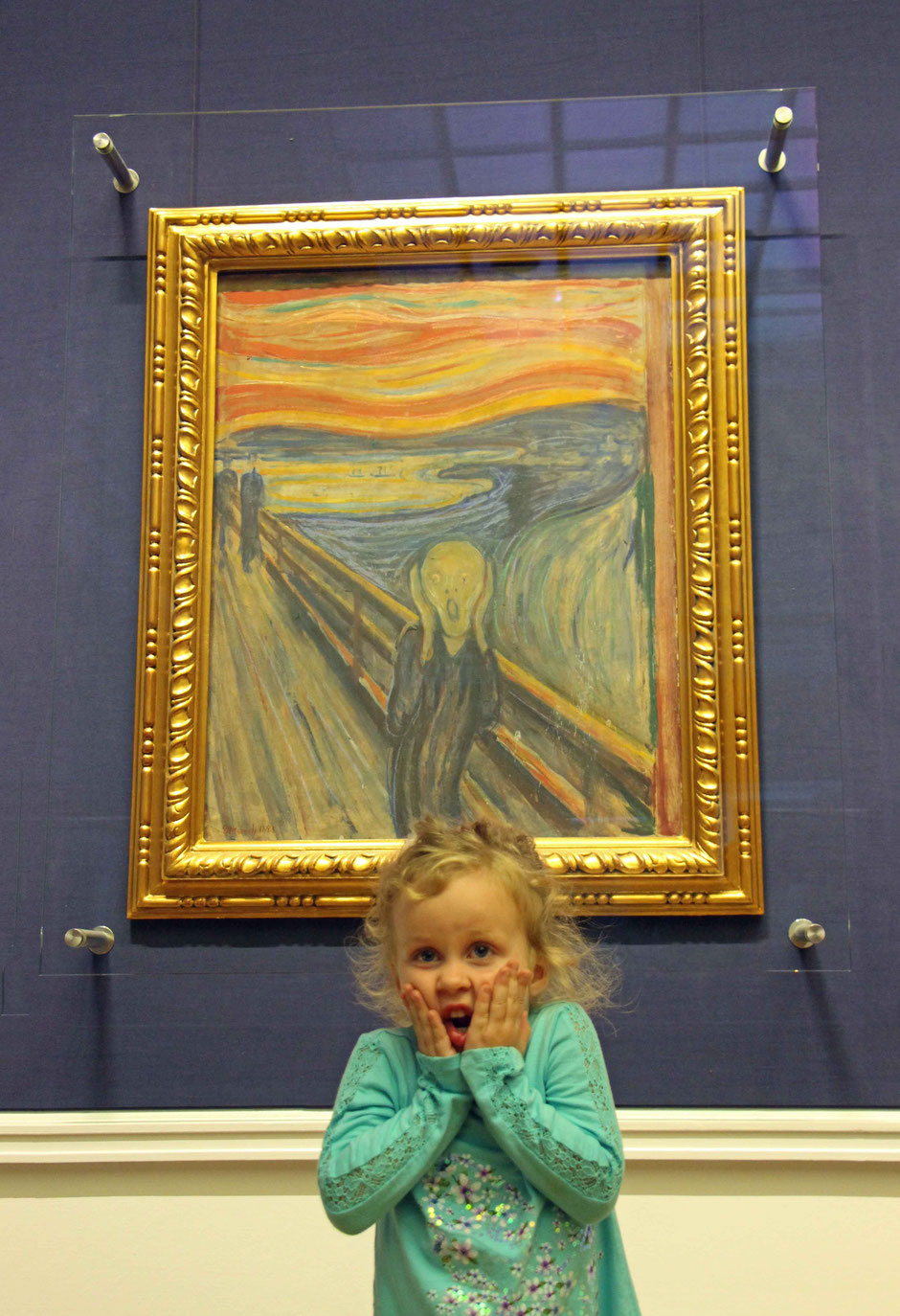 Then it was time for an activity just for the kids. We walked about 5 minutes to the Reptile Park, a small attraction over 2 floors with frogs, snakes, spiders, lizards, monkeys, scorpions, an alligator, stick bugs, etc.
It didn't take long to see everything, but it was definitely worth going for how much the kids liked it. They were not happy when it was time to leave!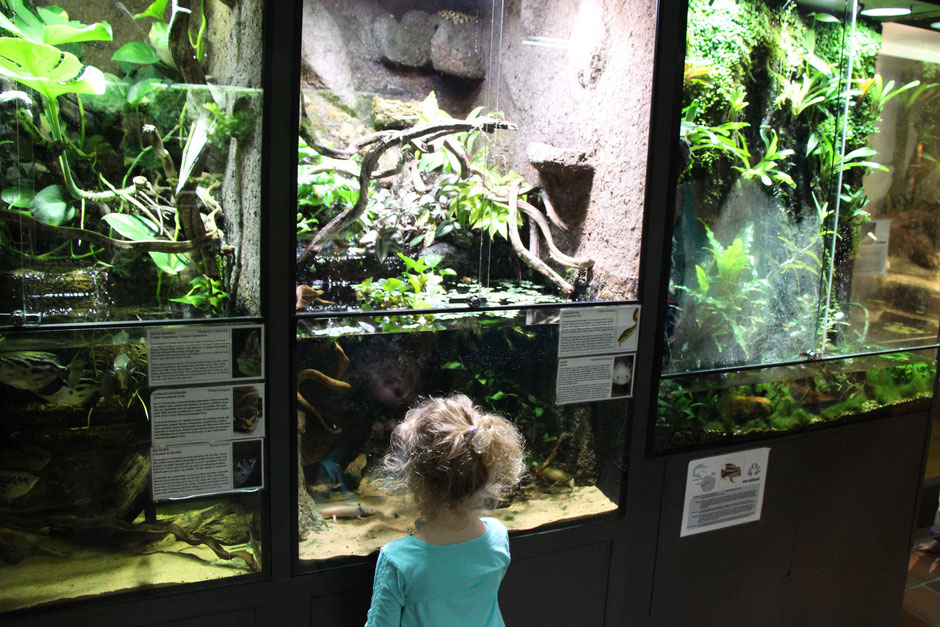 Viking Ship Museum
With our 24-hour Oslo Pass still active, today was our museum hopping day. We took a couple of buses to get to the Bygdøy Peninsula.
It's mainly a residential area on the west side of the city center, but is also home to some of Oslo's most popular museums plus it has a large recreation area with trails and beaches. That's right, you can even do a little hiking between museum stops!
Our first stop was the Viking Ship Museum. This museum has the world's best preserved Viking ships and is worth a visit. It's well set up with plenty of space to walk around the ships plus small sets of stairs leading to lookout platforms to see the ships from up high.
They also project The Viking Alive film on the ceilings and walls of one area of the museum. Of course, anything that even resembled screen time was exciting for our kids!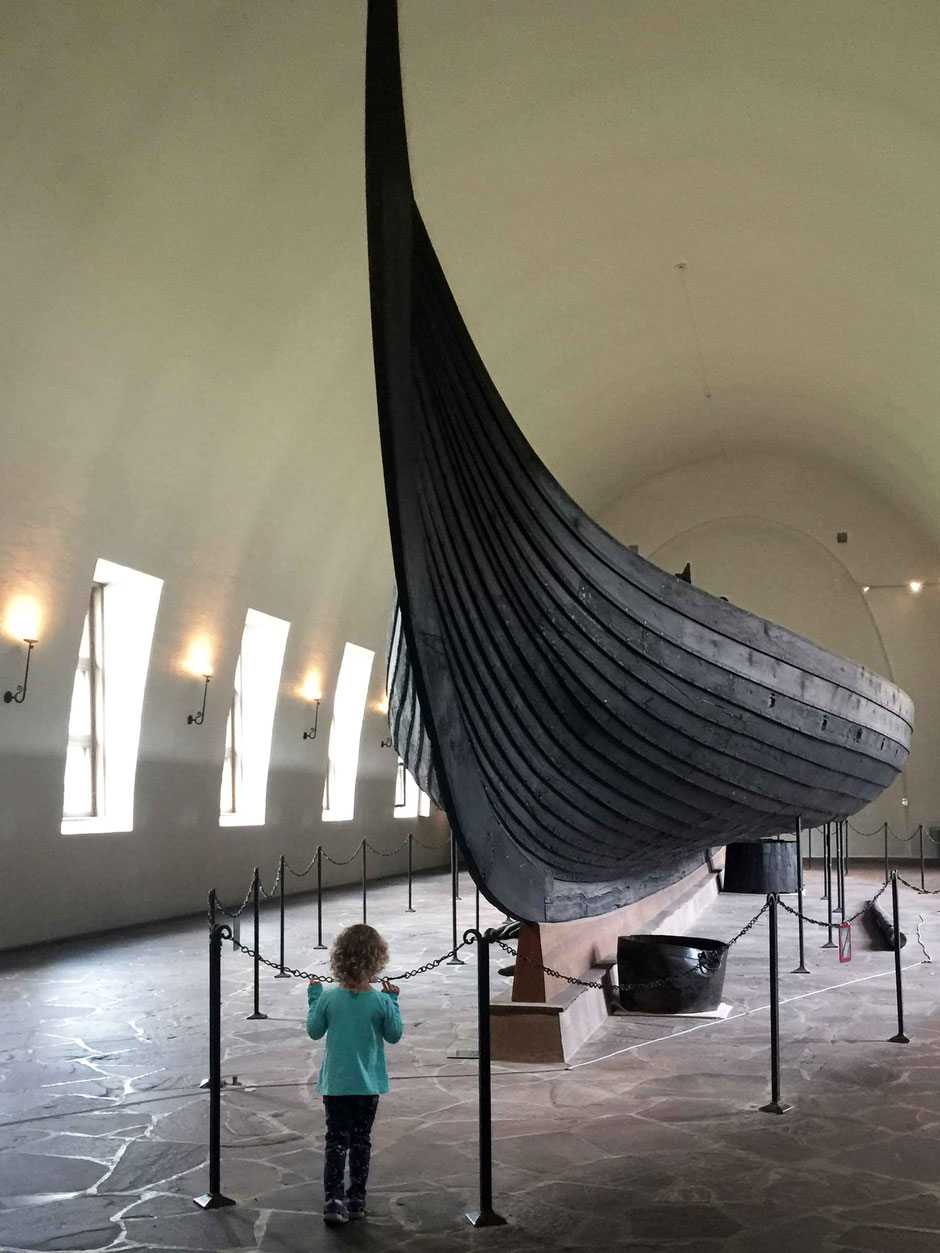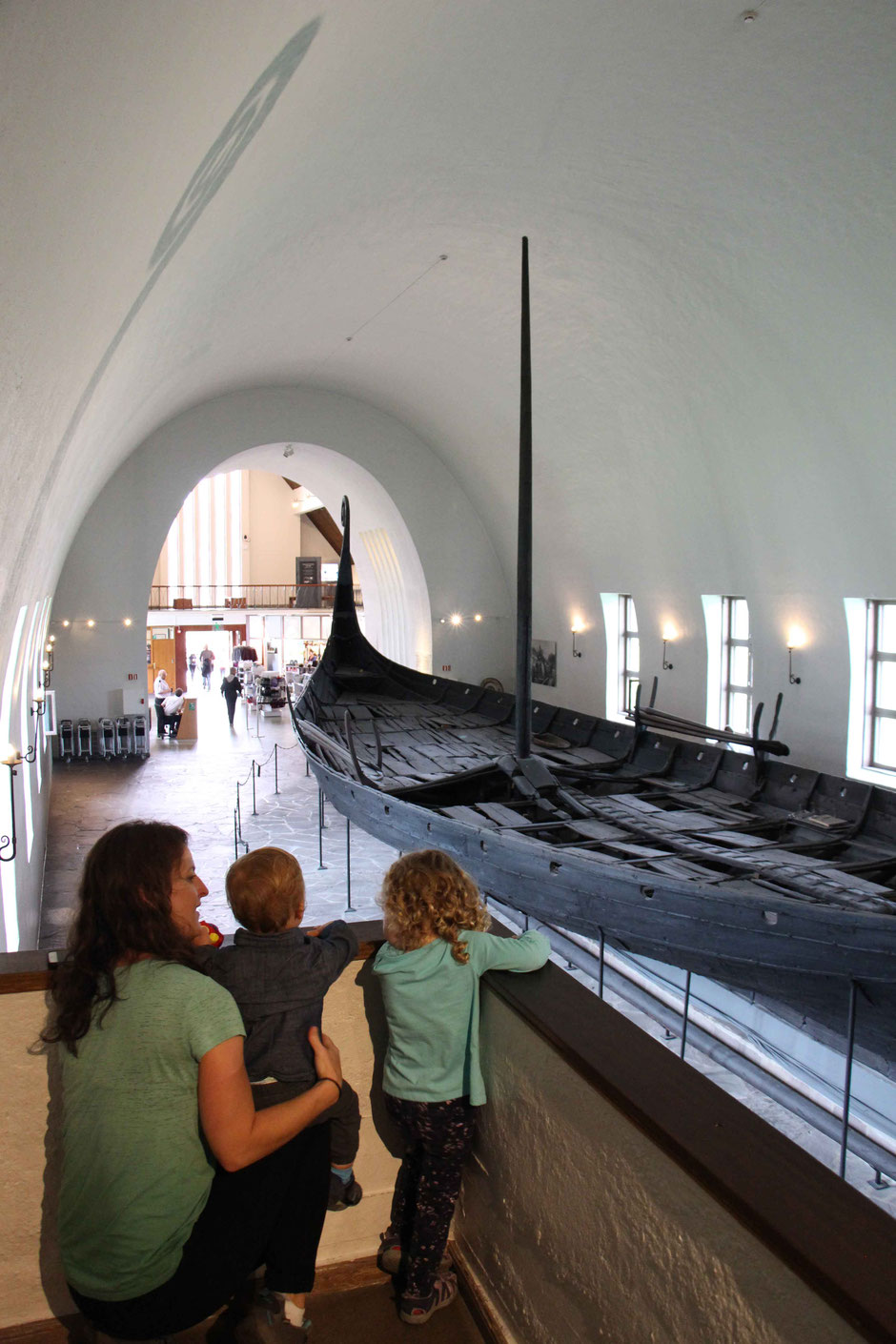 Kon-Tiki and Fram Museums
Between our museum visits, we headed west towards the natural part of the peninsula where there is dense forest and many walking trails.
We enjoyed our walk through the forested area and ultimately came out on the beach. We followed the path as far as we could along the beach before heading back inland. There are many fun places for kids to stop and play, climb rocks, look in tide pools, etc.
From here, we walked about 20 minutes to get to the Kon-Tiki and Fram museums. We later realized we could have saved the extra 20 minute walk by hopping on bus 30!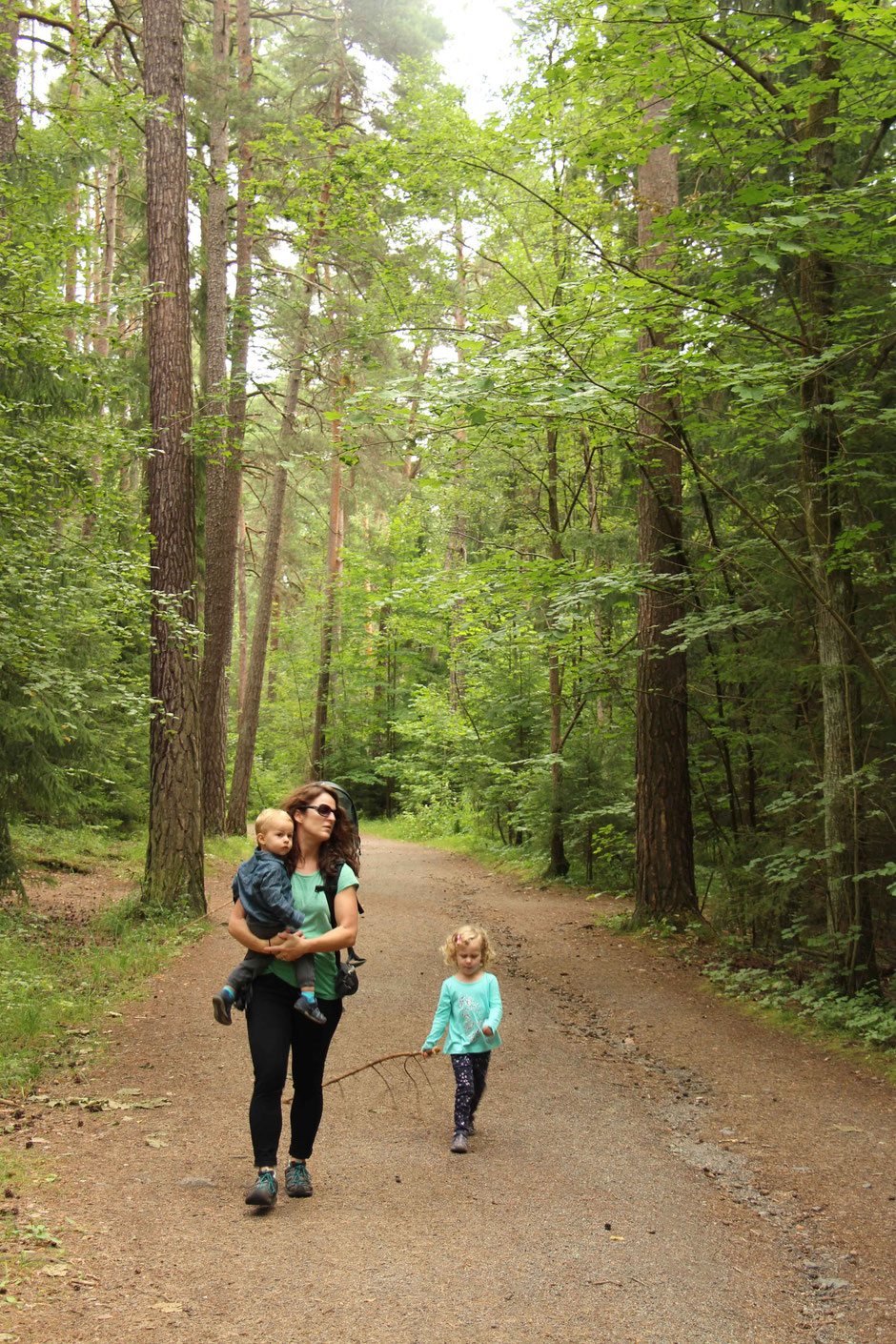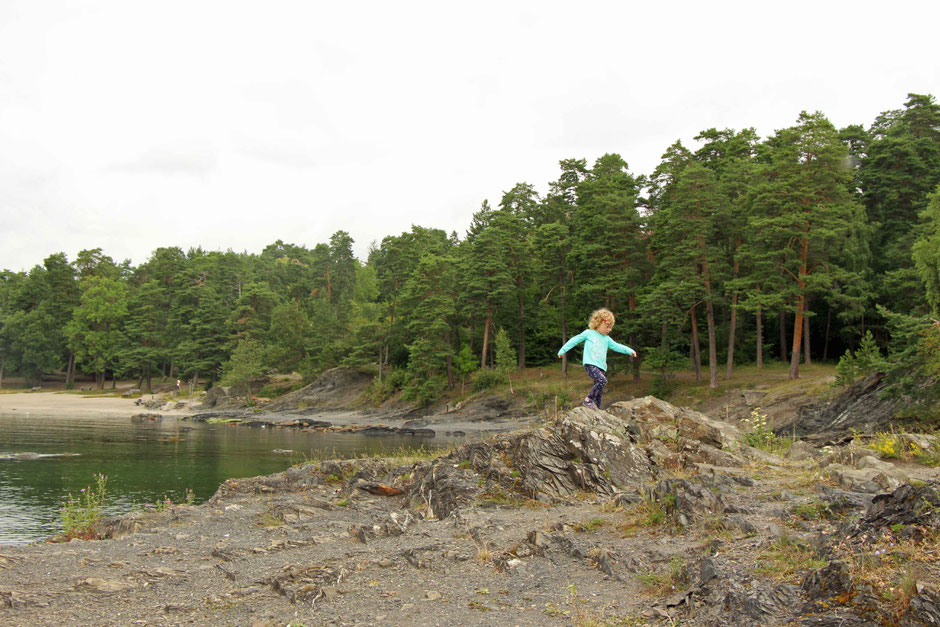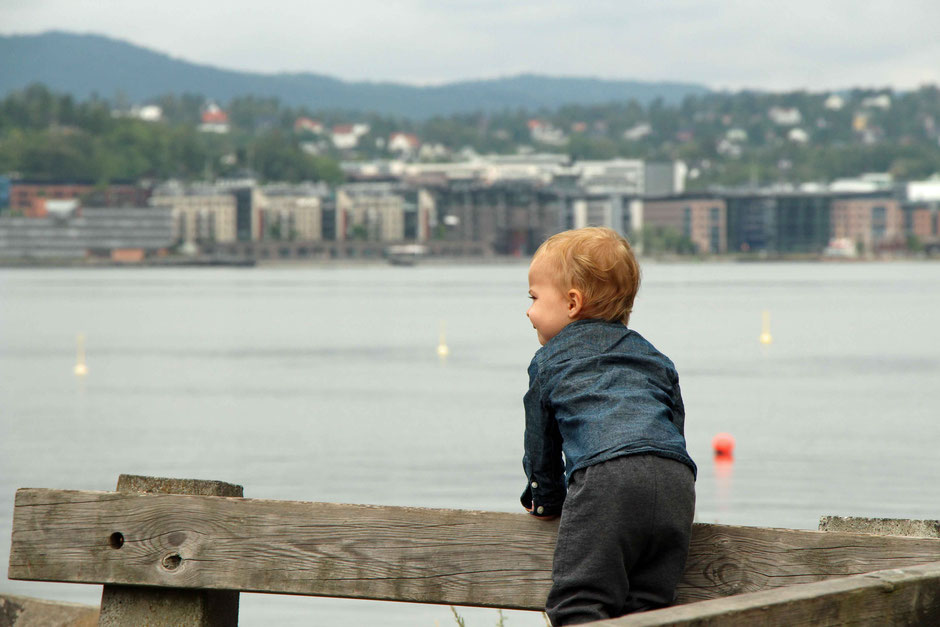 The Kon-Tiki Museum is dedicated to Thor Heyerdahl, who crossed the Pacific Ocean on a balsawood raft Kon-Tiki in 1947. On display at the museum were some of the original vessels used on Heyerdahl's expeditions.
Our kids were somewhat interested in the boats because they bear a striking resemblance to Moana's boat. There was also a life sized whale shark model and a replica of a cave that they could walk through.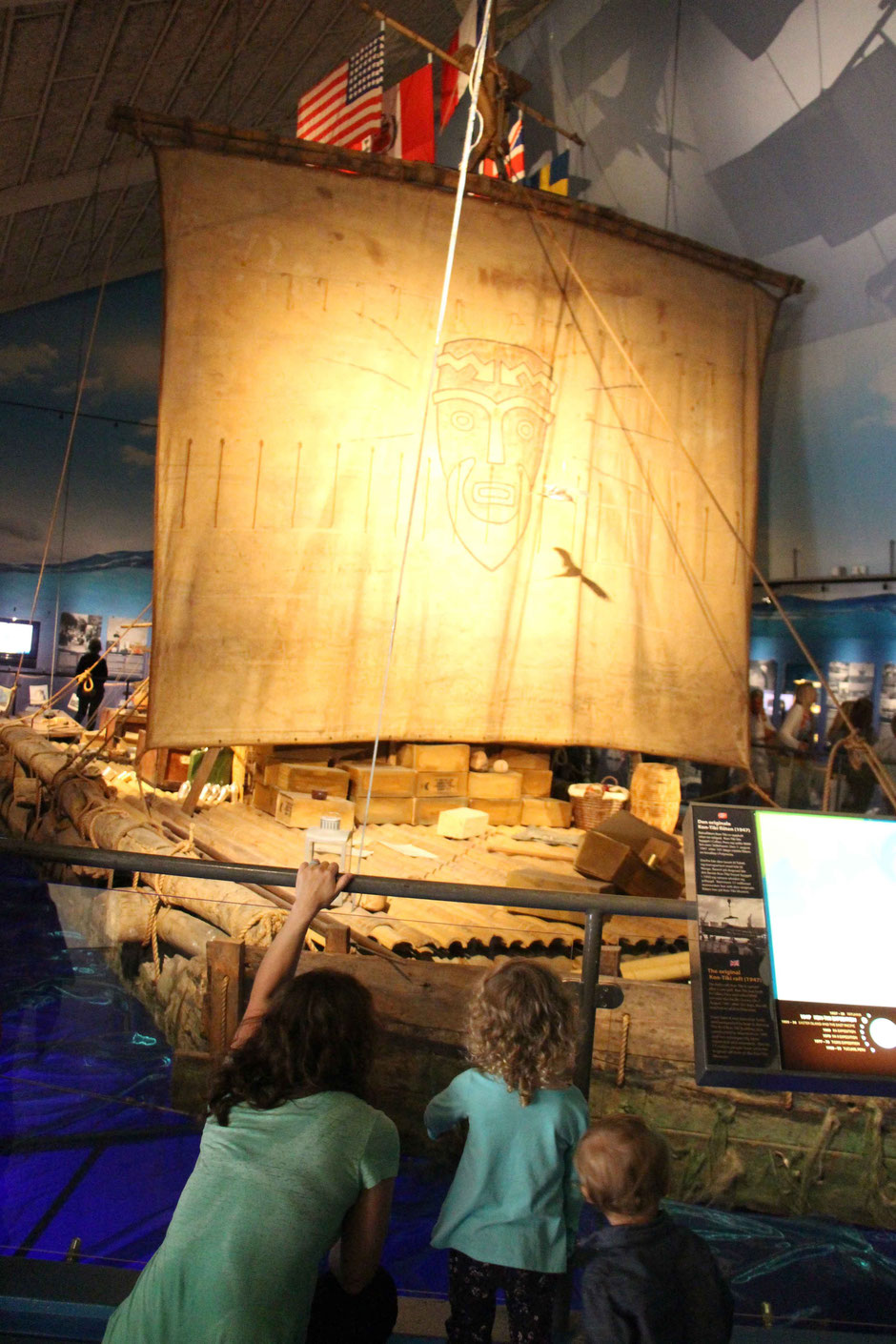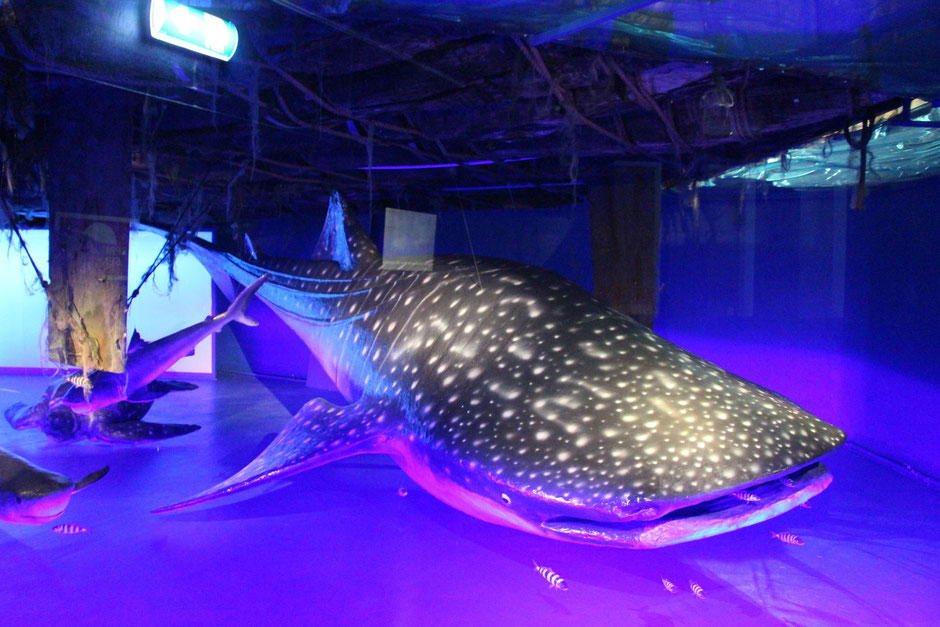 After a brief stop for ice cream, we continued on to the Fram Museum. Almost the entire museum is taken up by the Polar Ship Fram, which is apparently the strongest wooden ship ever built and holds records for sailing the farthest North and South.
You can explore the ship in its entirety and there is also a polar simulator (which we missed). Of course the kids loved this place as they climbed up the pathways to then cross the gangway on to the ship, then finding all the other areas to climb and explore on the ship.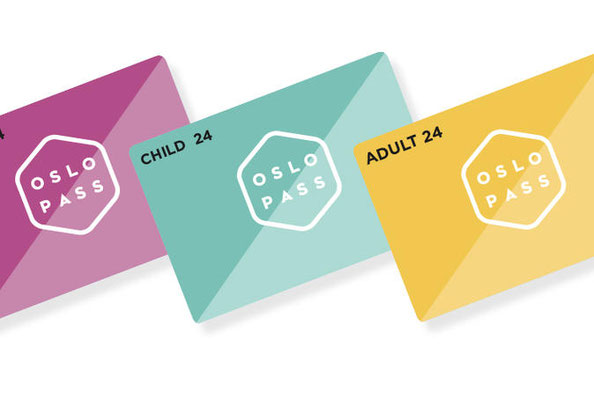 All three of these museums were stroller accessible.
A rainy afternoon gave us a good excuse to take it easy and let the kids play with the toys in our vacation home rental apartment.
Hovedøya Island
We really took advantage of such amazing access to nature right from the city centre during our time in Oslo. We took the tram down to the harbour to catch a ferry to Hovedøya Island.
The island is well worth a visit and is a very short ferry ride (maybe 5 minutes). The ferries are not frequent, so it's worth doing research ahead of time before heading down to the harbor.
Hovedøya Island was beautiful! Most of it is nature reserve, so it has lots of dense forest. There are paths throughout the island, some inland through forest and some by the water.
The views from the water paths were pretty amazing. Aside from the great hiking trails, there are beaches and fields for ball games. You can also find ruins from a monastery and cannon batteries on the island.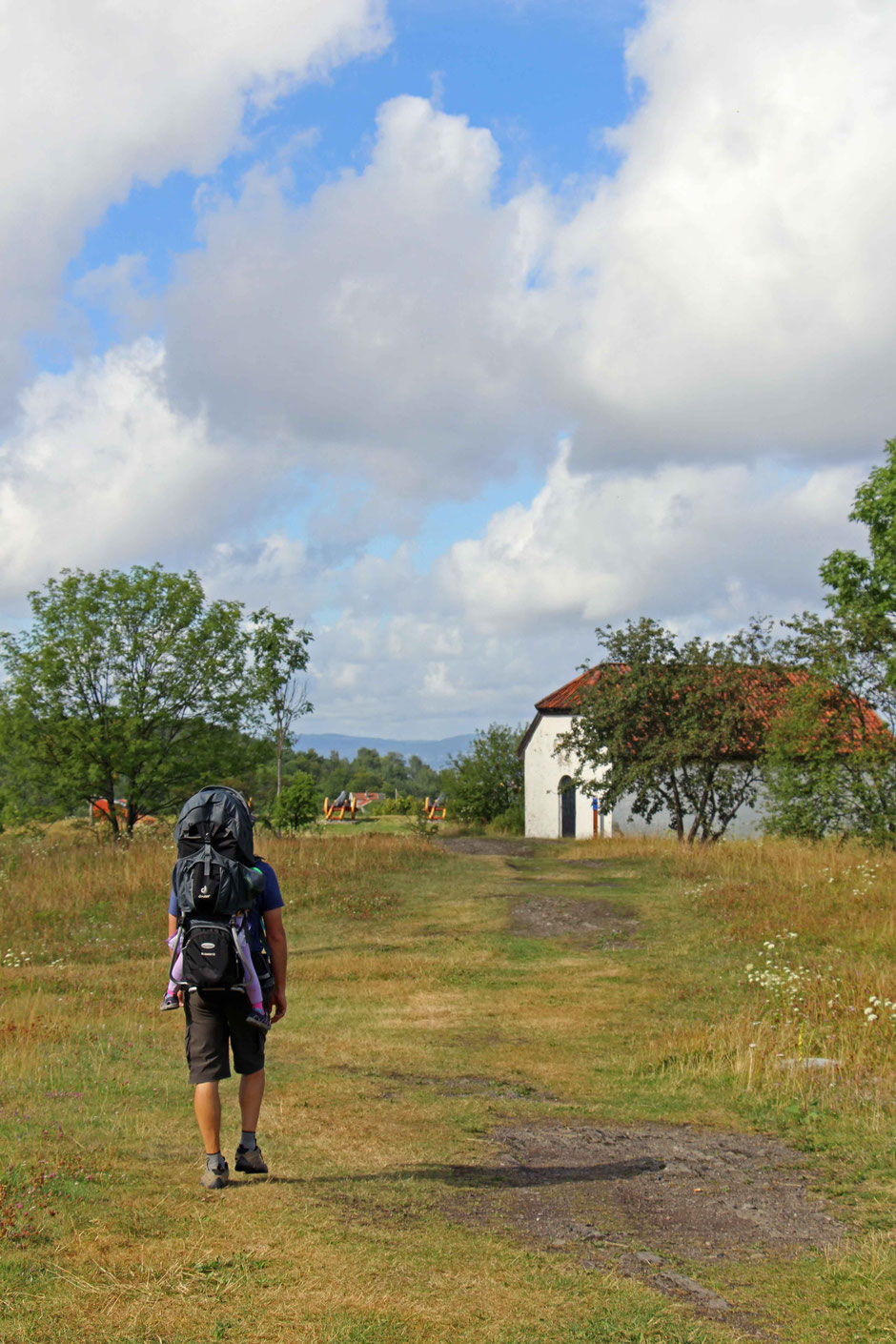 We circumnavigated the island in about 90 minutes, going at a reasonable pace. The kids walked a little bit, but we carried them a lot as they seem to be lacking energy today. Some of the paths on the island are wide and flat, making them stroller accessible.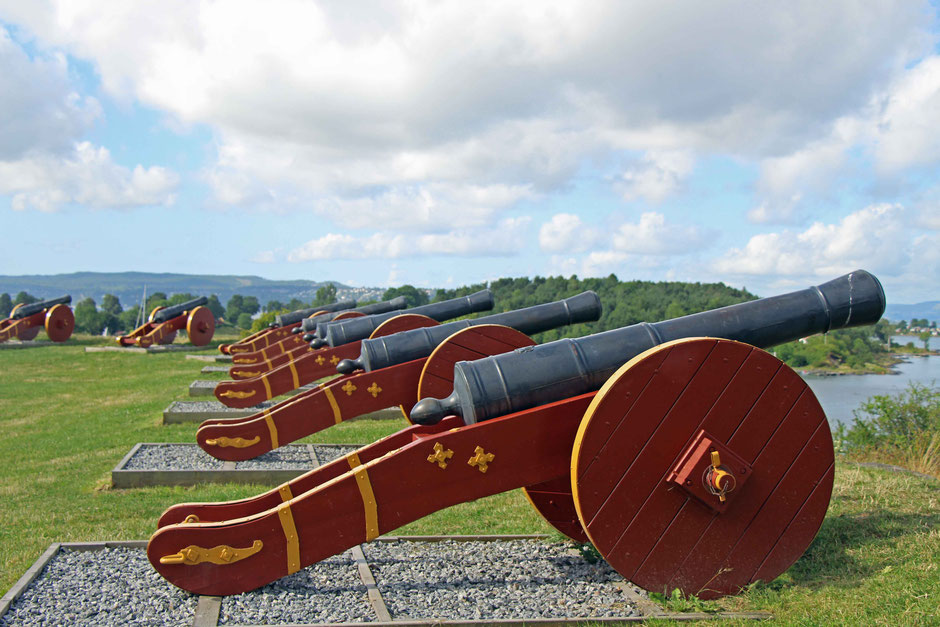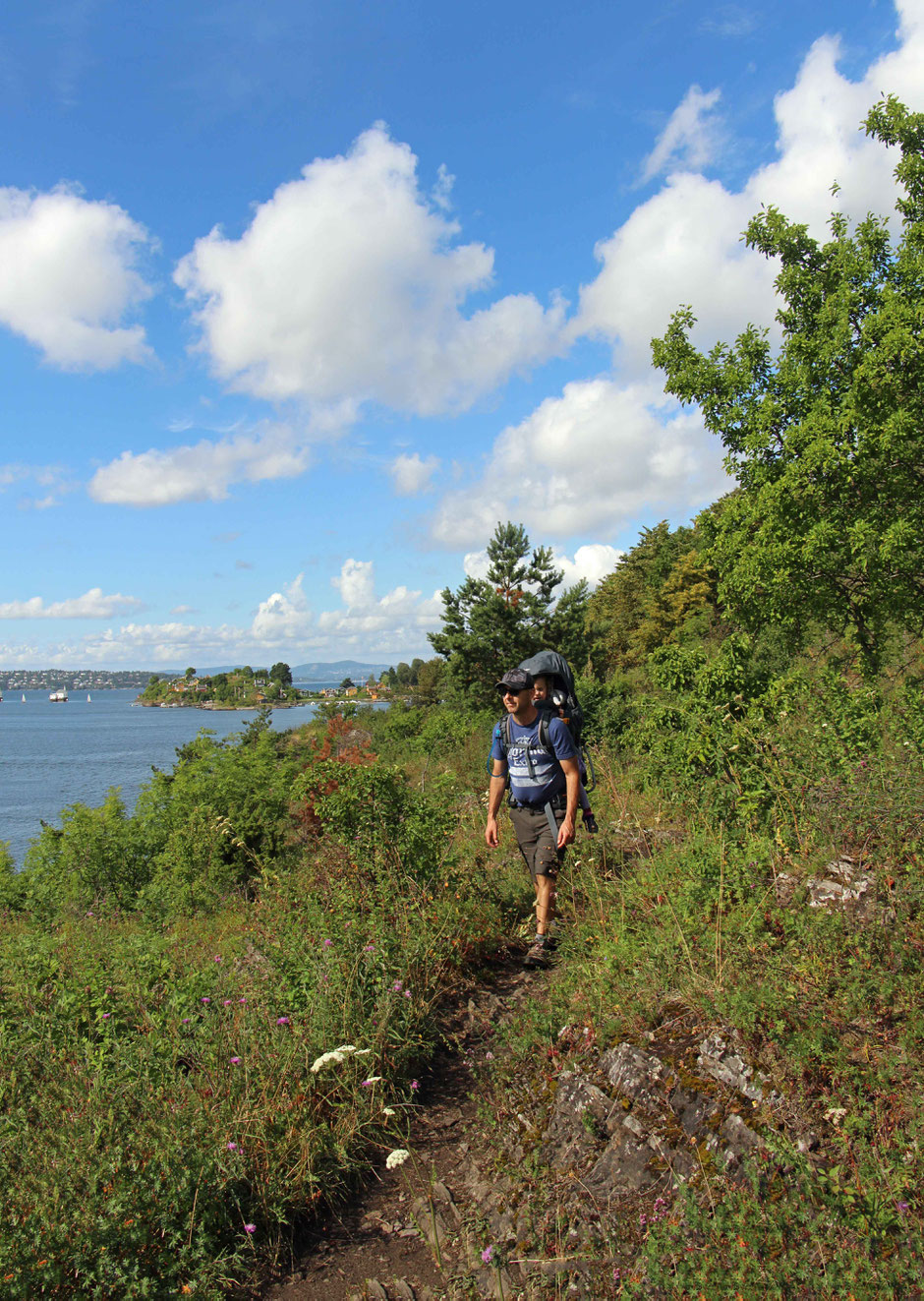 Akershus Fortress
In the afternoon, we took the kids for a fun little walk at the Akershus Fortress. It was a really fun place to take them to explore. There were plenty of old buildings, fortress walls, a pond, good fjord and city views, and some cannons for the kids to climb on.
We spent about an hour there, just wandering and getting the kids some entertainment, exercise and fresh air.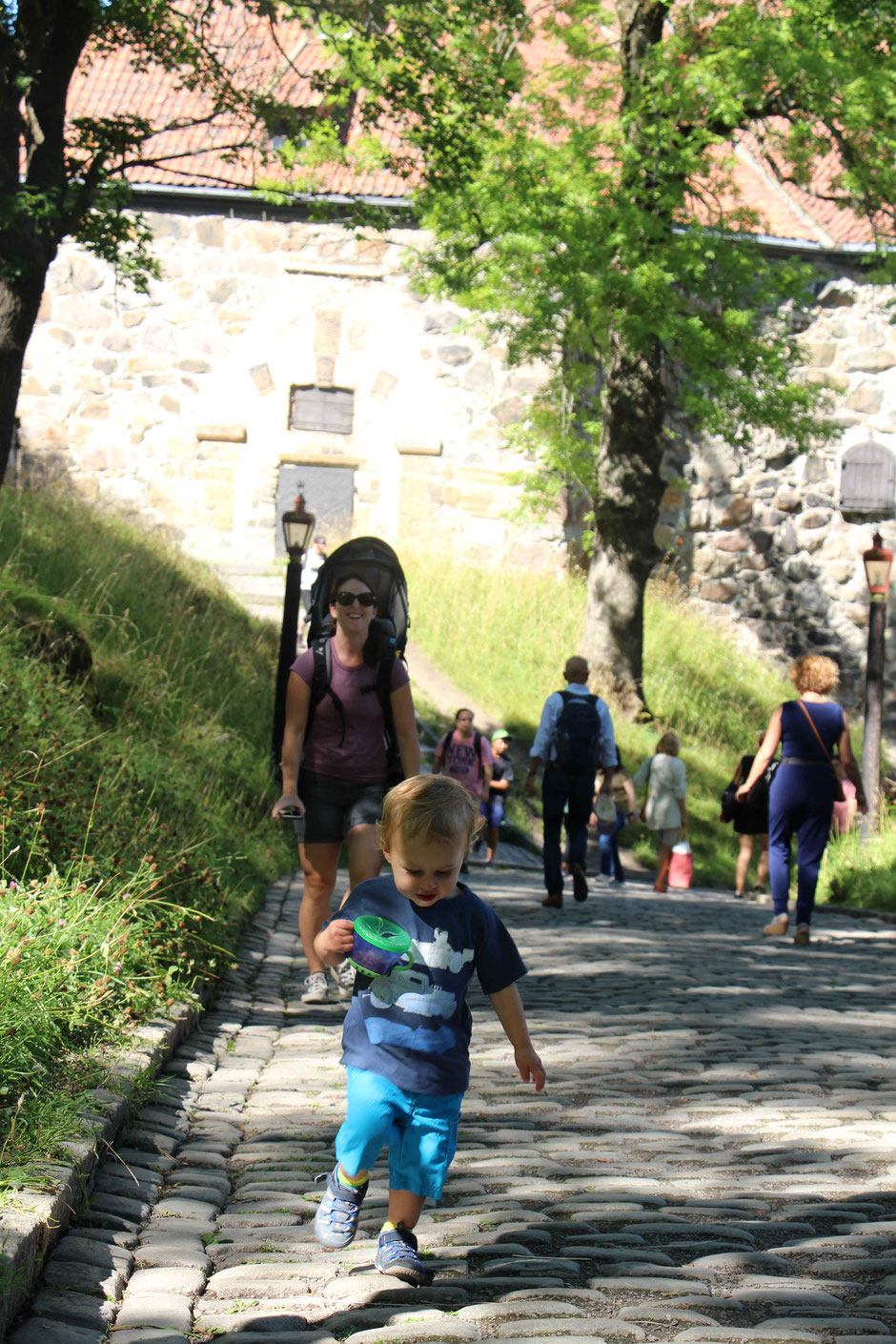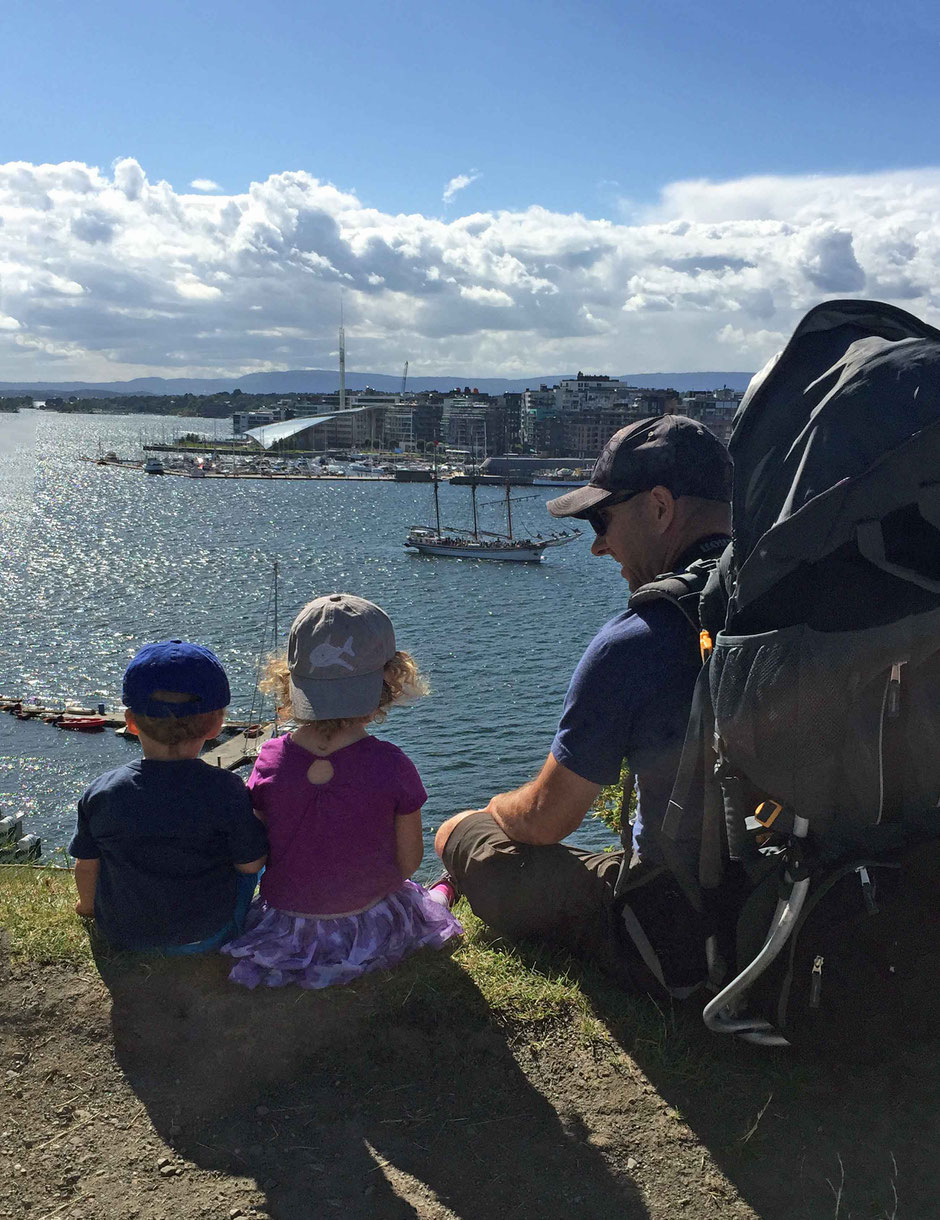 Maridalsvannet Lake along the Akerselva River
For our final day in Oslo with kids, we planned to do the 5 mile / 8km walk along the Akerselva river from Maridalsvannet lake to the centre of Oslo. We hopped on the #25 bus and took it to the headwaters of the Akerselva River.
The entire path is either gravel or paved and is quite beautiful through many forested areas. Along the way we enjoyed the many bridges, waterfalls, trees, ducks, old factory buildings, playgrounds and parks.
The beauty of starting near the lake is that it's all downhill as you walk towards sea level. You could even bike it, which we considered, but we really enjoyed walking it.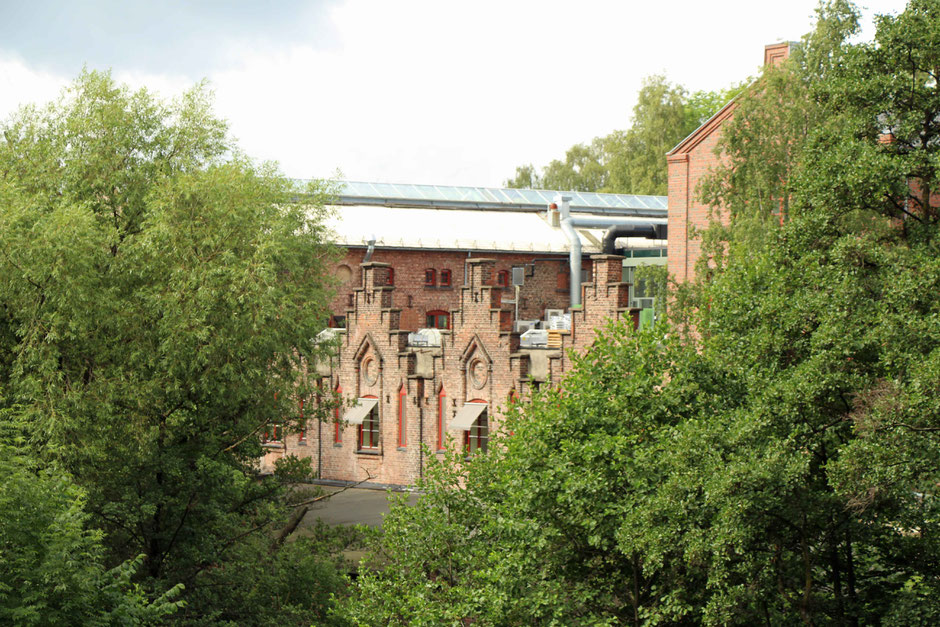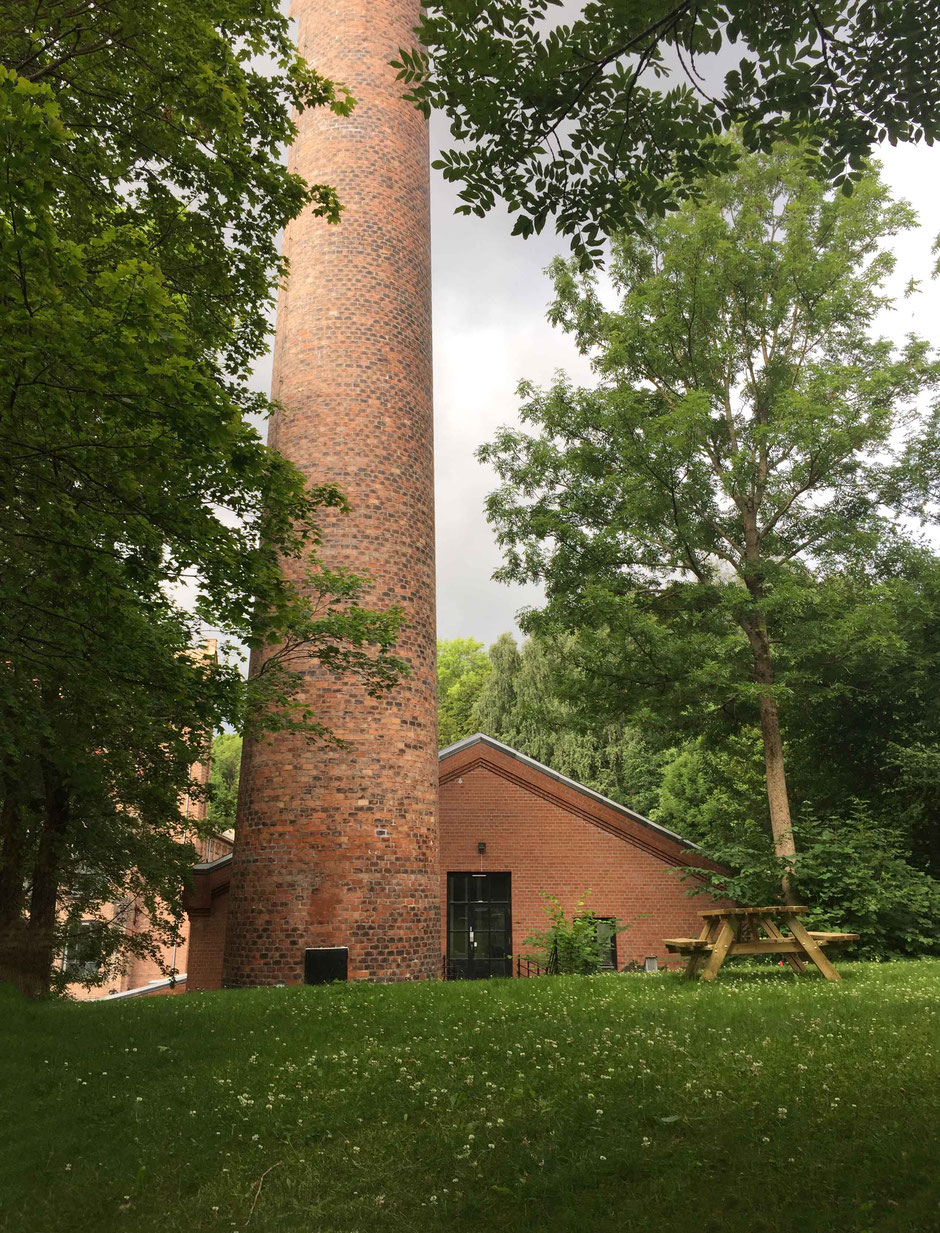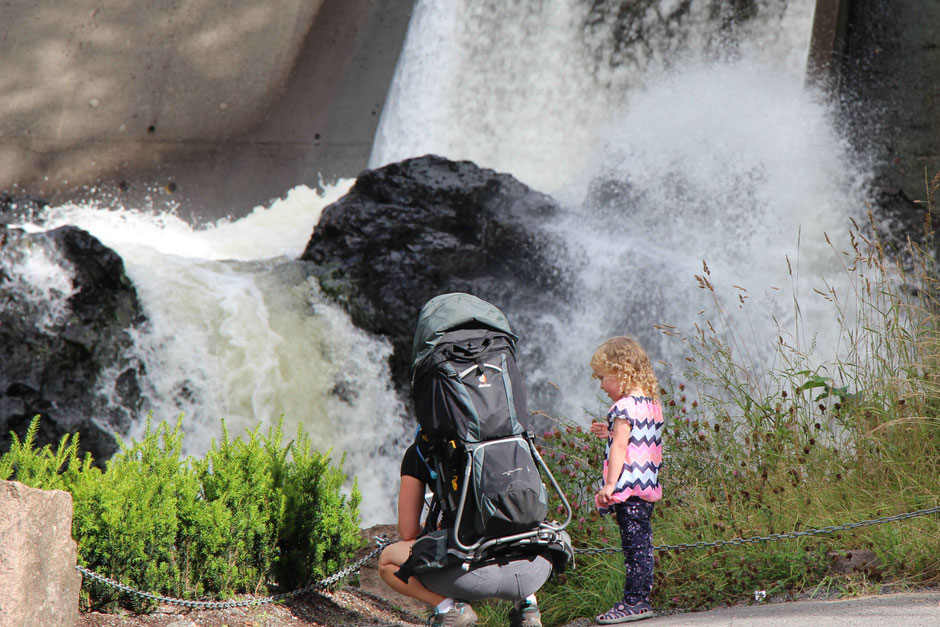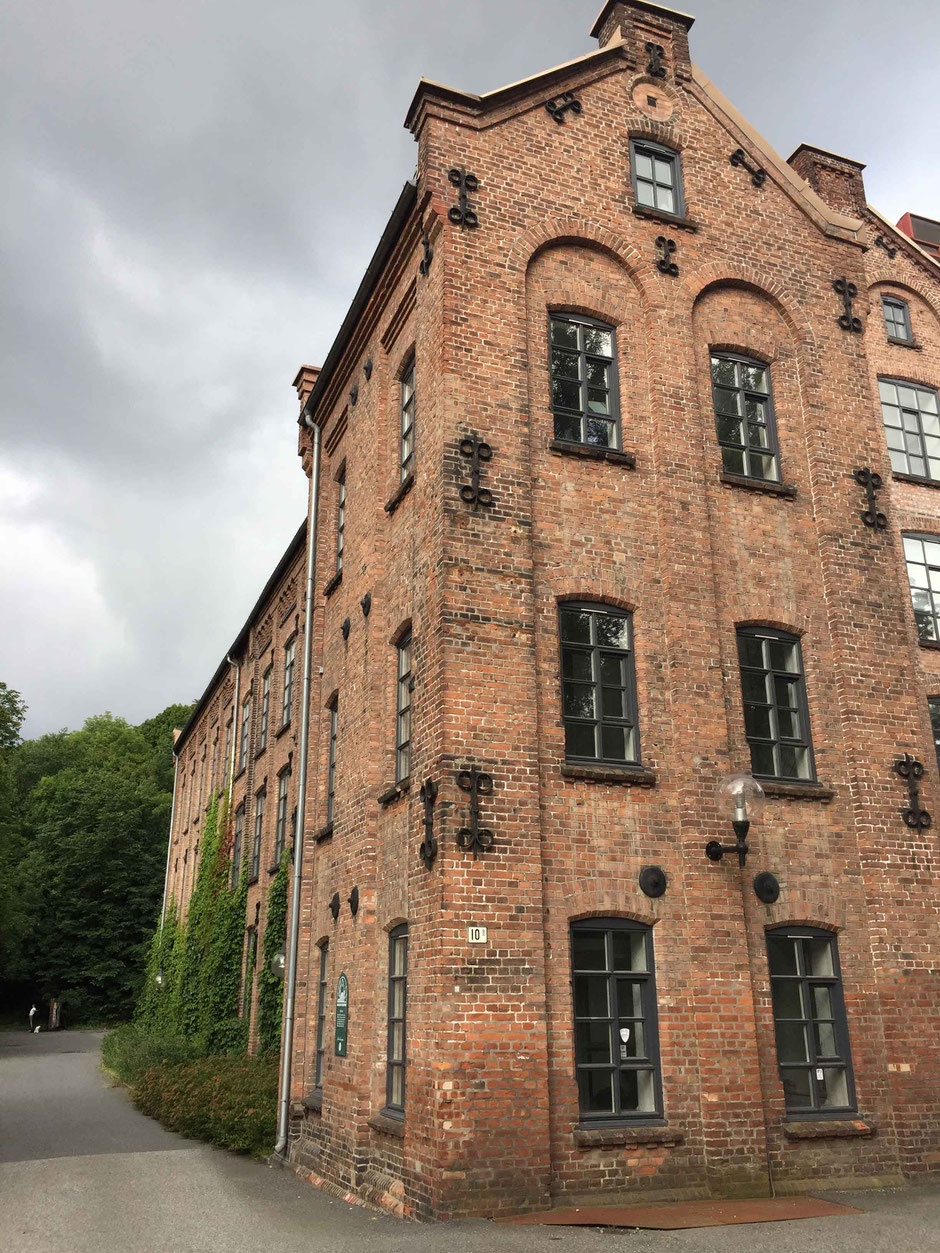 The kids had a lot of fun running along the path and we stopped at two separate playgrounds for them. The second one was especially unique, with a fountain and stream with locks holding back and/or letting water flow downstream.
We also stopped at Hønse-Lovisas hus, a small red cottage which serves Norwegian waffles and coffee.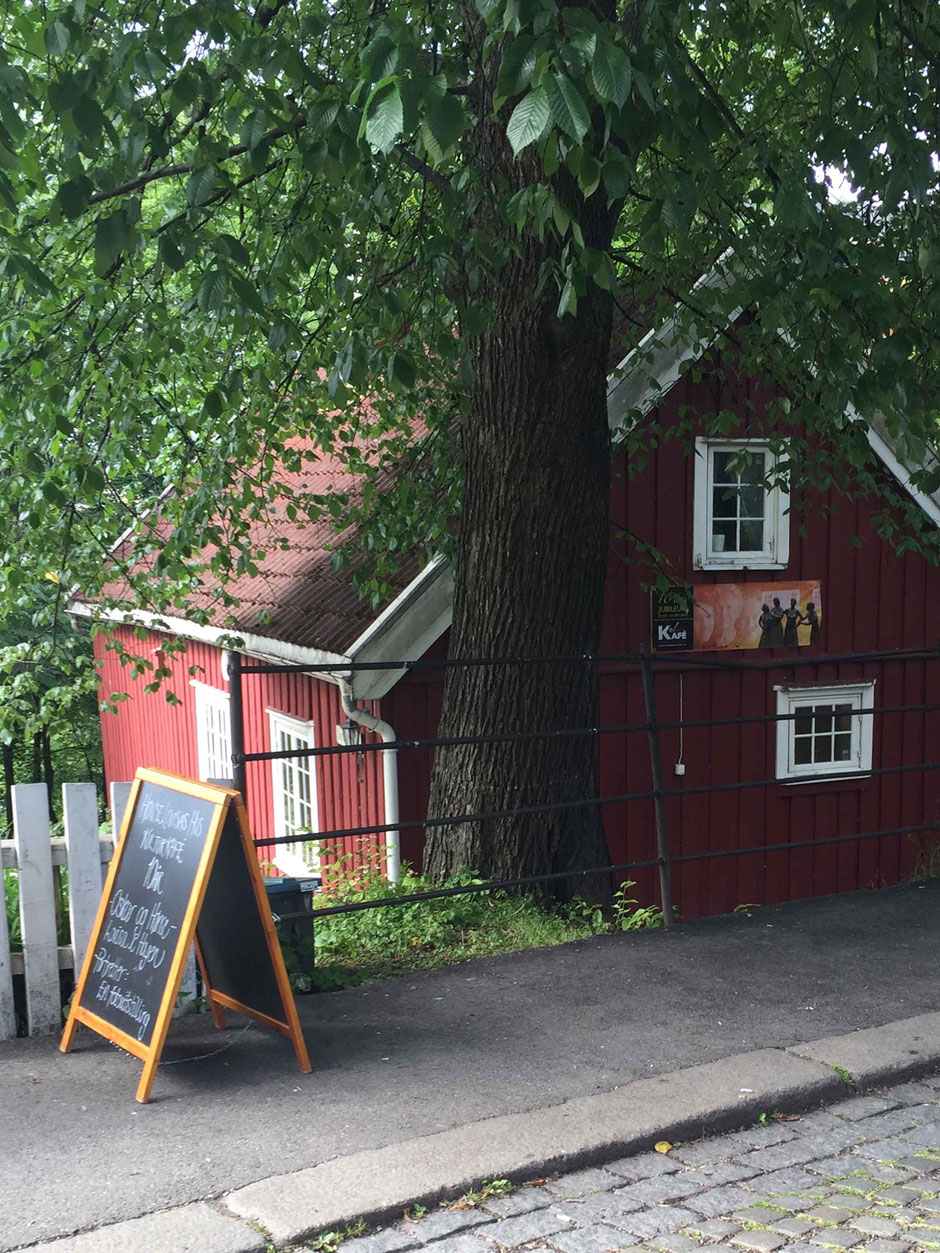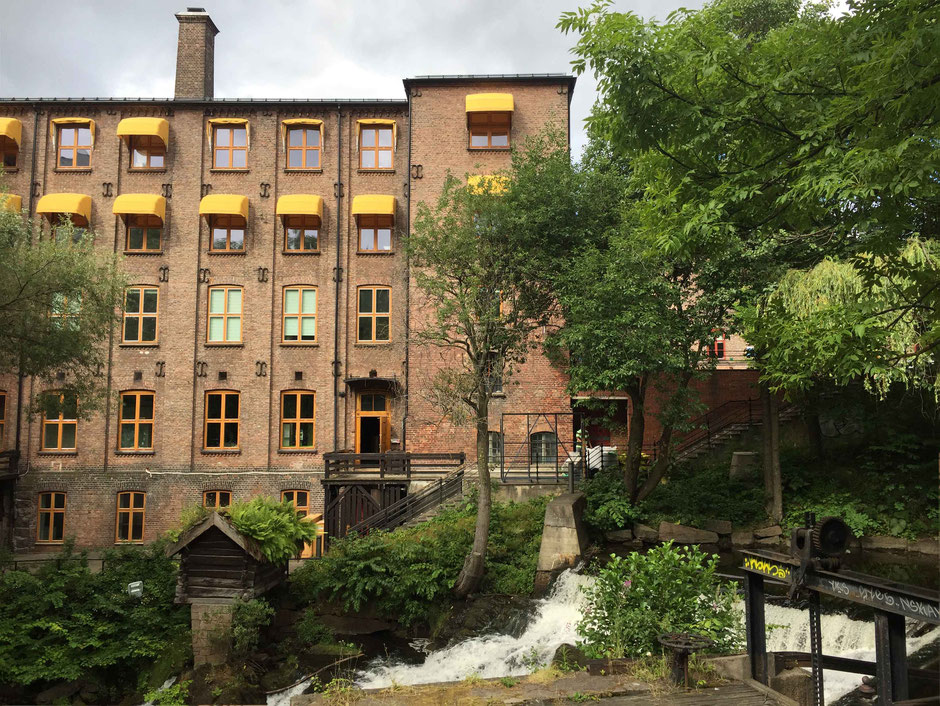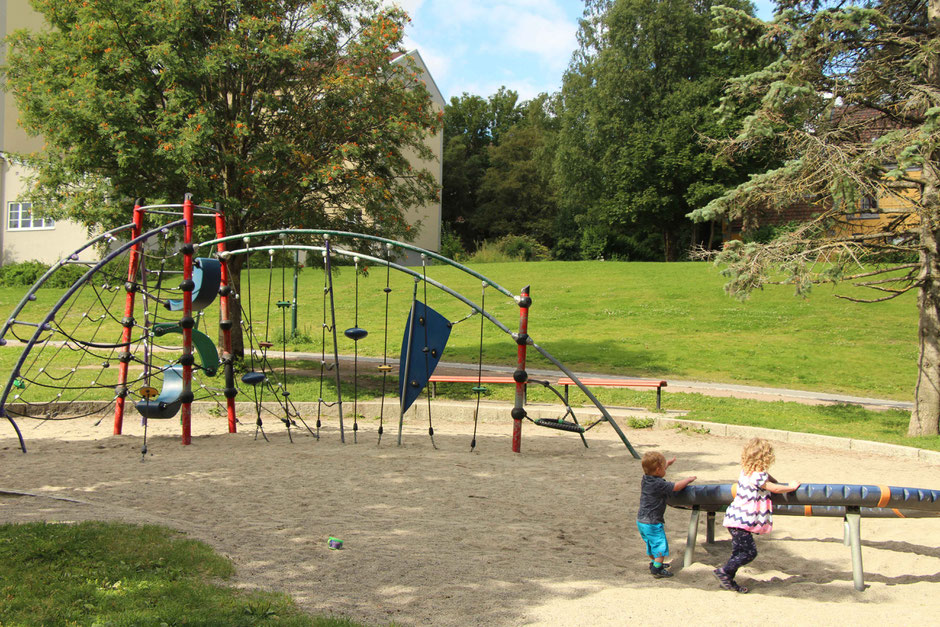 Our final afternoon was spent back at Frognerparken and Vigeland Sculpture park. We wanted to give the kids time to just run and play.
Looking for more info on Norway? This Norway Travel Guide has everything you need to know before you go!
More Norway with Kids
STILL PLANNING YOUR OSLO TRIP?
Oslo Tours, Tickets, Activities & Things To Do – Top Insider's Picks
Kid-friendly Apartment Rentals in Oslo
Pin It For Later!