To be honest, we weren't overly excited about our planned day Zagreb with kids. The only reason we went was to help break up the long bus trip from Budapest to Plitvice Lakes National Park. Our Lonely Planet said the best things to do in Zagreb were to have coffee and to visit the Museum of Broken Relationships. We went in with pretty low expectations…
So is Zagreb worth visiting? Spoiler alert! After a rocky start, Zagreb more than redeemed itself and greatly exceeded our expectations.
This post contains compensated links.
The walk from the bus station to our apartment was through a pretty rundown neighborhood – the buildings were all run down and graffiti covering every surface. We were a little worried we made a mistake deciding to spend a day here.
Things to do in Zagreb with Kids
But the morning of our full day in Zagreb, armed with a Step-by-step walking tour booklet in my back pocket, we set out on foot determined to see the positive side of Zagreb. It didn't take long… Here what to see in Zagreb with children:
King Tomislav Square
Our first stop was King Tomislav Square, which is in the south east corner of the Green Horseshoe (a series of parks in Zagreb which form the rough shape of a horseshoe). We arrived shortly after 7:30 am and practically had the place to ourselves. The sun was shining, the birds were chirping, the flowers were in bloom and the fountain was flowing. It was a beautiful square and a good start to our morning.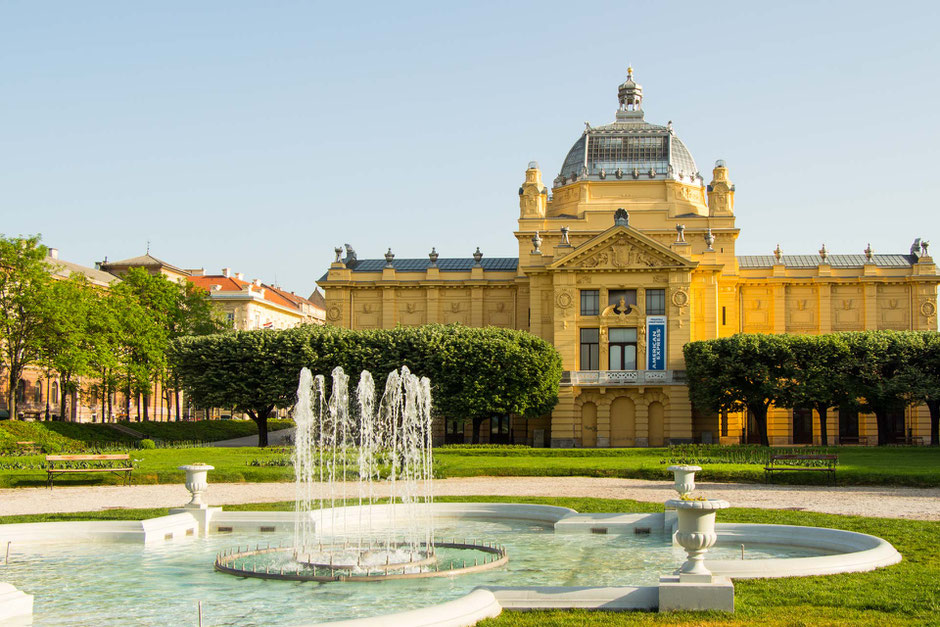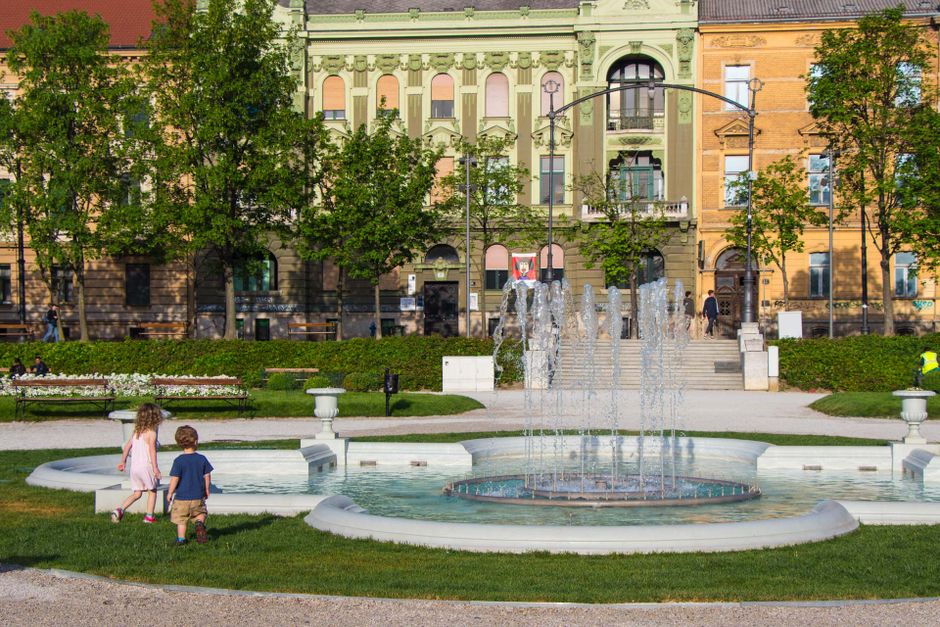 Eurail Austria/Slovenia/Croatia Pass
Nikola Subic Zrinski Square
From there, we continued north up the horseshoe to Nikola Subic Zrinski Square. Wow, what a pretty square! Home to rows of towering trees, fountains and flower gardens, and a classy gazebo at its heart, this is one impressive square and was our favorite square of the day.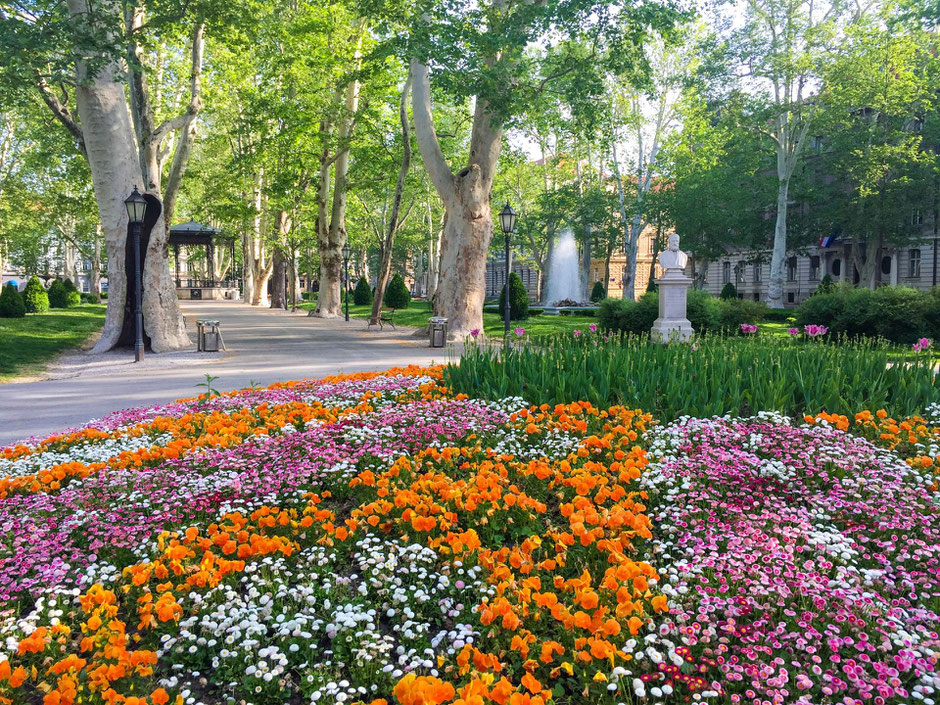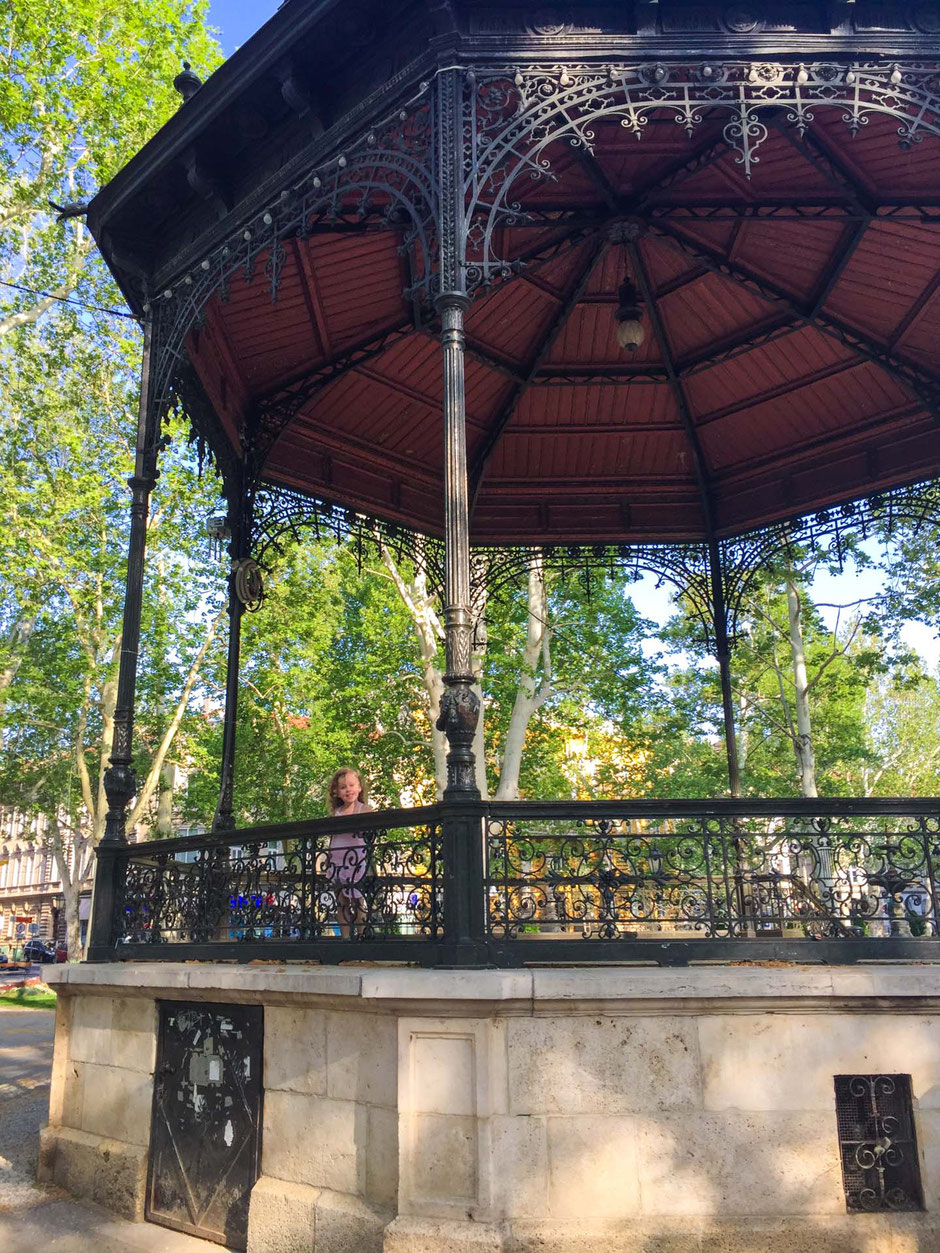 Cathedral of the Assumption of the Blessed Virgin Mary
Continuing north, we entered the Upper Town in Ban Jelacic, the commercial heart of the city. Next up was the Cathedral of the Assumption of the Blessed Virgin Mary, which is a beautiful neo-gothic church. Adding an extra level of interest is the fact the church is surrounded by defensive walls, which were built in the 1500's to protect the Cathedral against the threat from the Ottoman Turks. It was a Sunday and we weren't dressed very nice, so we didn't go inside.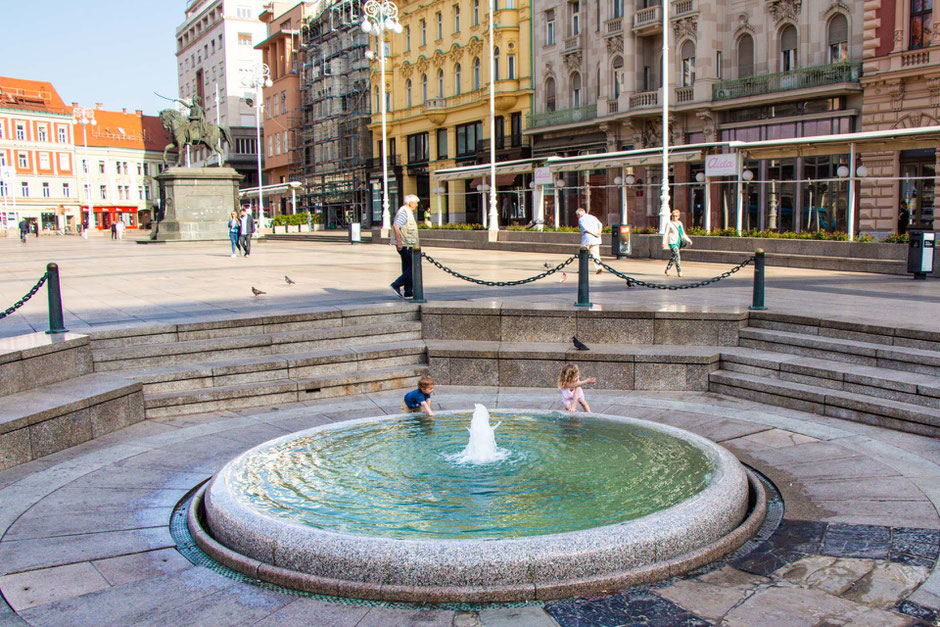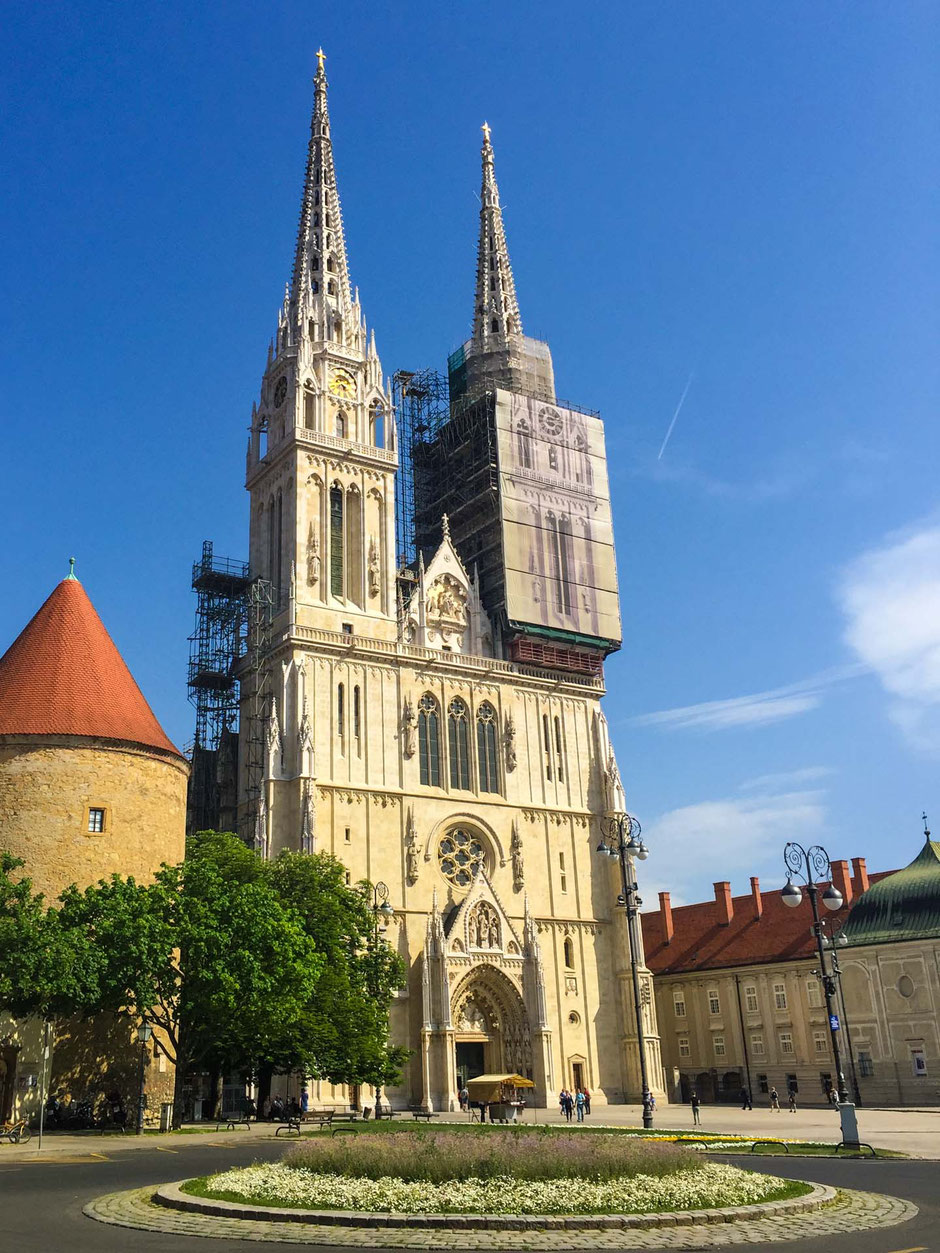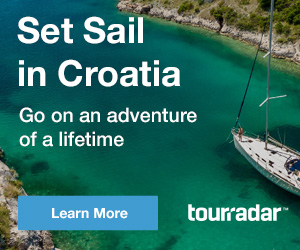 Dolac Market
A few blocks later we arrived in the Dolac Market, Zagreb's most famous open air market. The first few stalls were tourist trinkets, so we thought this was going to be kinda lame, but then we reached the main market and it was a vibrant, busy fruit and veggie market. The kids always love exploring markets and looking at the fun displays, so we spent some time walking through.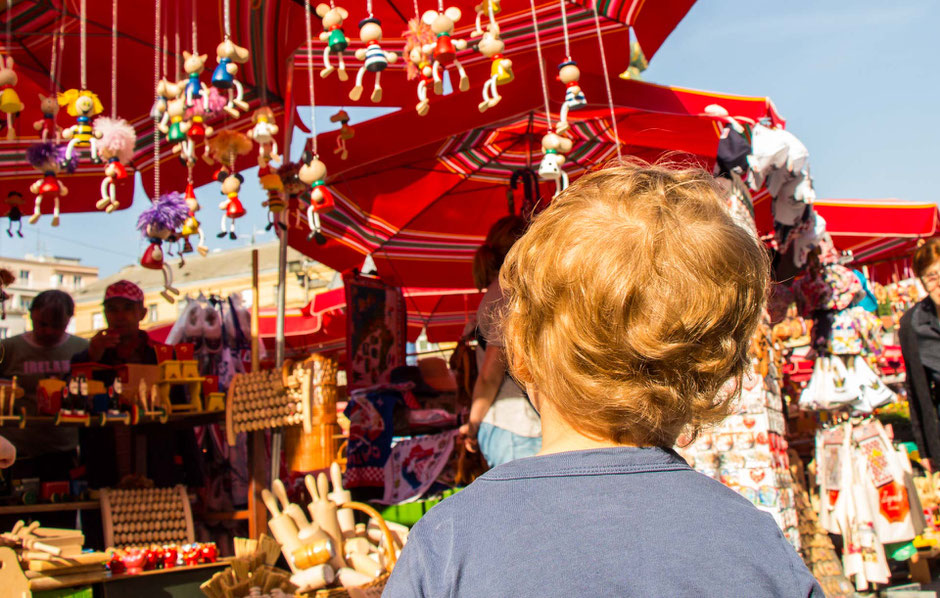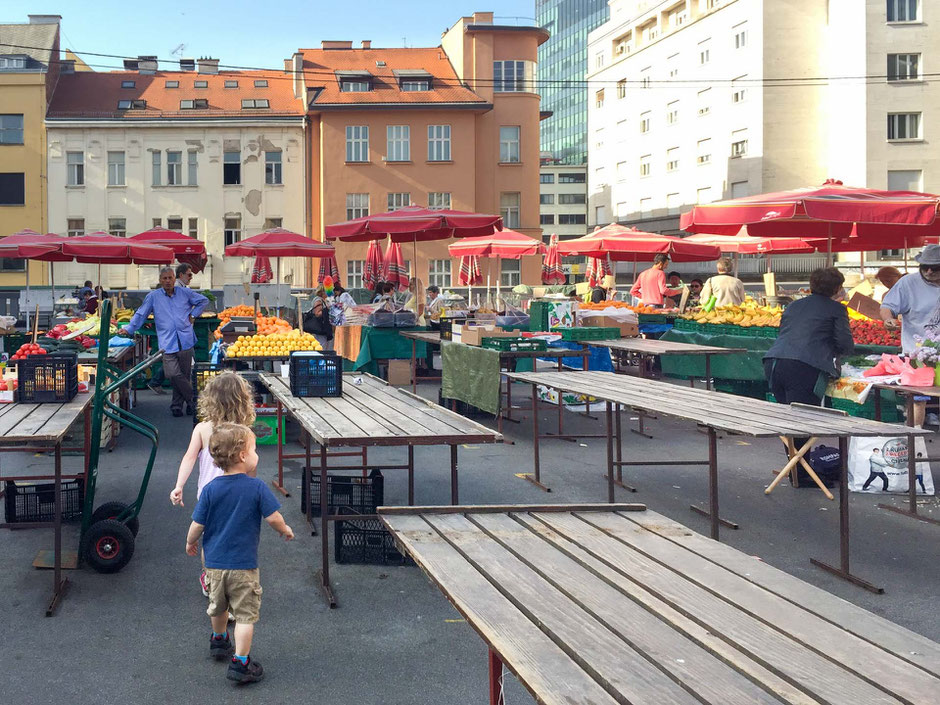 Tkalciceva Street
Next up was a meander down Tkalciceva, Zagreb's most colorful street. This charming street is lined with many restaurants serving the coffee the Lonely Planet spoke so highly of. We decided that our two hyper kids wouldn't sit still long enough for us to sit and enjoy a cappuccino, so we kept on walking.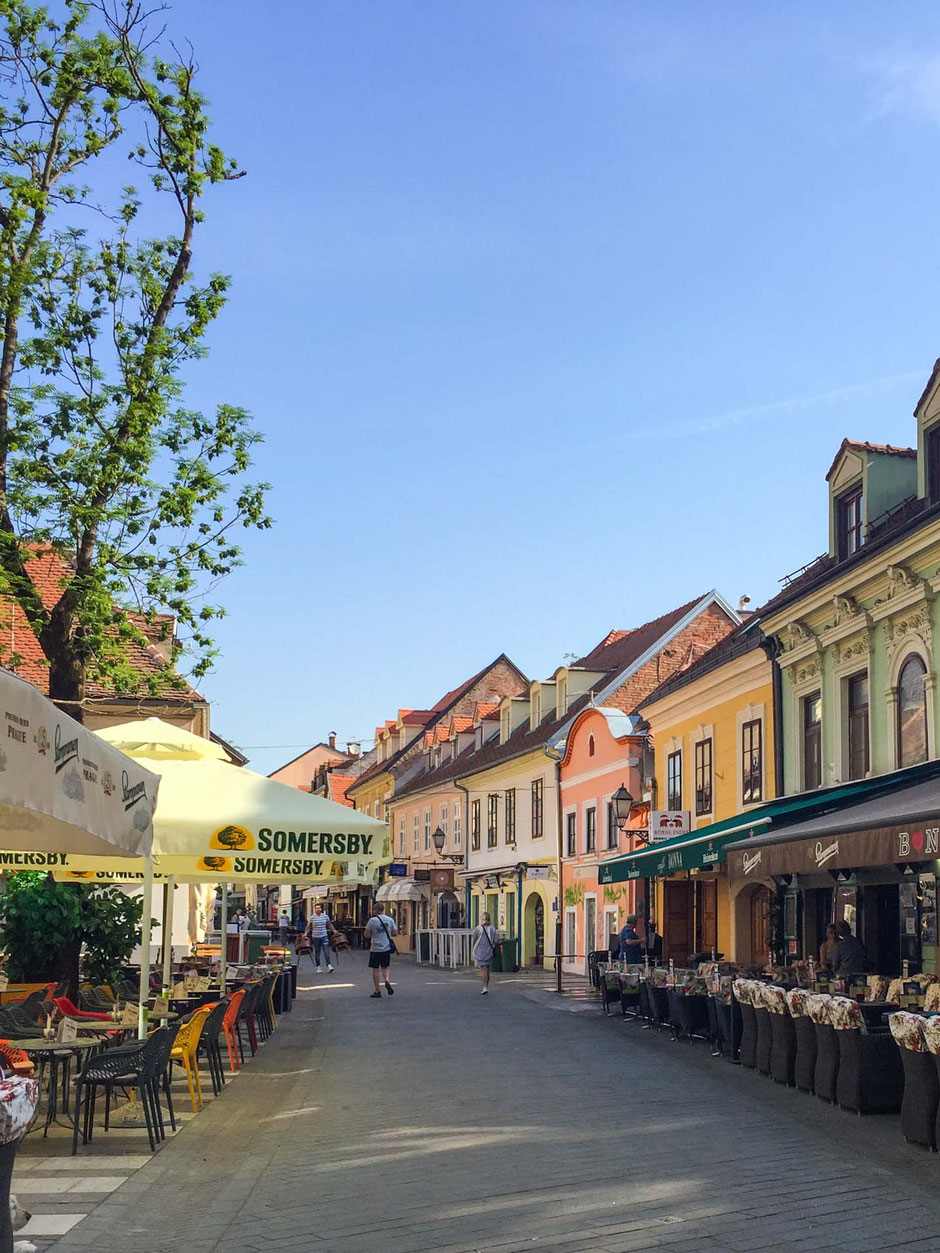 St. Mark's Church
After climbing a series of stairs, we walked through the Stone Gate, the only remaining Old Town gate, on our way to St. Mark's Square. The roof tiles on St. Mark's Church are amazing and it's a must-see on our list of things to do in Zagreb, Croatia.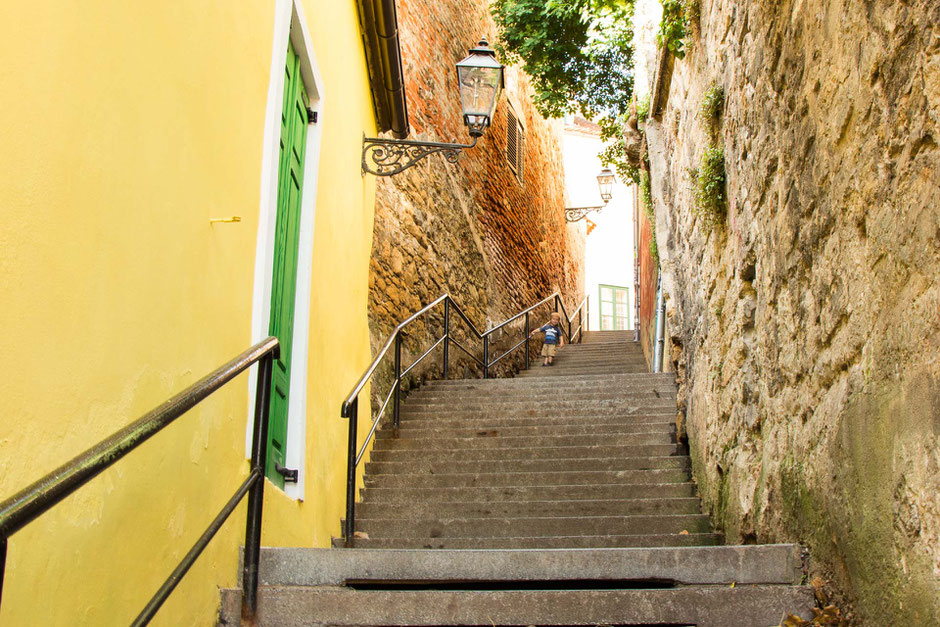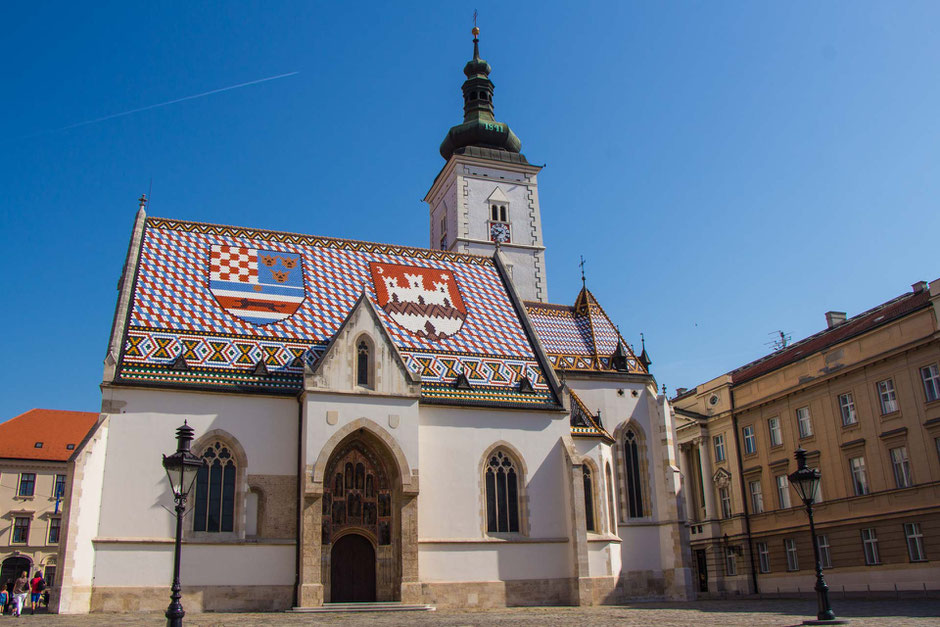 Catherine's Square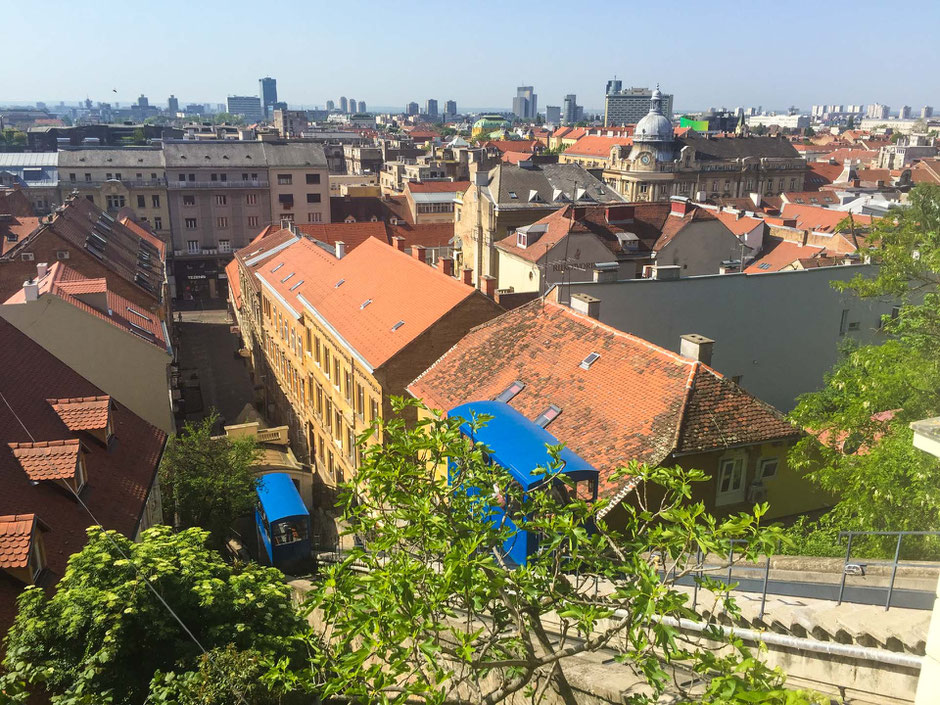 A few blocks south we found ourselves in Catherine's Square, where we enjoyed a nice view of Lower Town from the deck right next to the upper funicular station. It felt good to already be in Upper Town without much physical effort and without needing to take the funicular.
We walked down the path next to the funicular tracks to return to the Lower Town. We walked on Jurisiceva, Zagreb's main commercial street for a few blocks, before turning off to Petar Preradovic Square. Zagreb had so many beautiful squares, this is yet another one!
Croatia National Theatre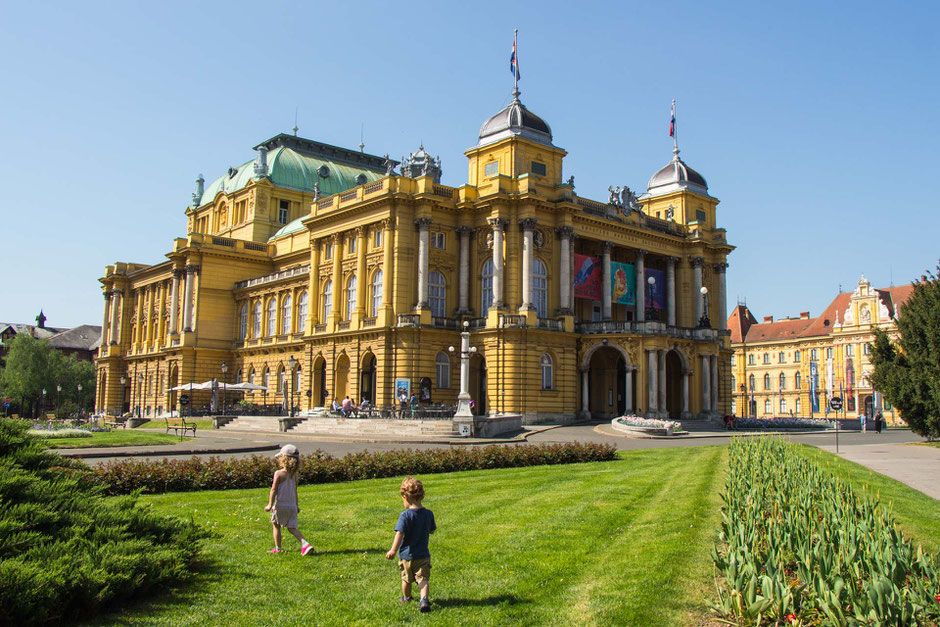 Soon we arrived back at the Green Horseshoe, this time at Marshal Tito Square (in the north-west corner, which is occupied by the large and beautiful Croatian National Theatre. We finished our walking tour a few blocks south in Marulic Square, in the south-west corner of the horseshoe, home to the Croatian State Archives, which sounds boring, but it is a very nice building.
By the time we finished our walking tour, our impressions of Zagreb had completely changed. We were really impressed with its charm, sights and history. Our hiking app showed we walked approximately 3.7 miles (6km). It wasn't overly hard, with only one long set of stairs to contend with. Our 2 & 4 year old kids were able to walk nearly all of it.
Mirogoj
Having seen most of central Zagreb's sights, we went a little further afield in the afternoon. We hopped on a local bus outside of the cathedral and 10 minutes later we arrived at Mirogoj, Zagreb's main cemetery. Yup – a cemetery… but this is no ordinary cemetery, in fact it is considered to be one of the most beautiful cemeteries in all of Europe. What attracted us here was not just the very impressive architecture and the interesting, historical gravestones, but the trees. It was 84F (29C) this afternoon and Mirogoj is home to rows upon rows of ancient, towering trees, providing lots of shade. With two small kids, we like to make sure they stay out of the powerful midday sun as much as possible. We had a very enjoyable walk through the grounds and would recommend this excursion to anyone.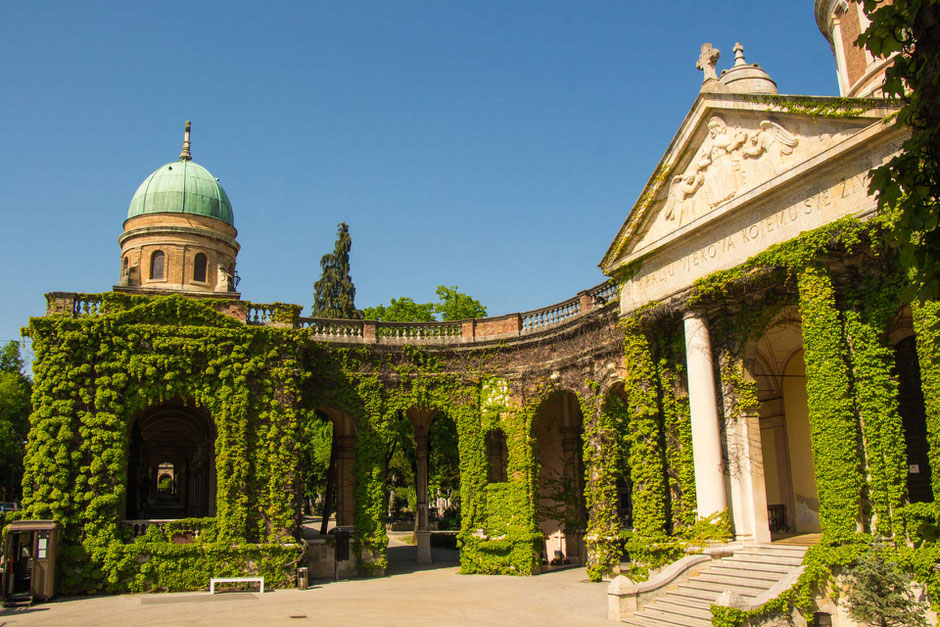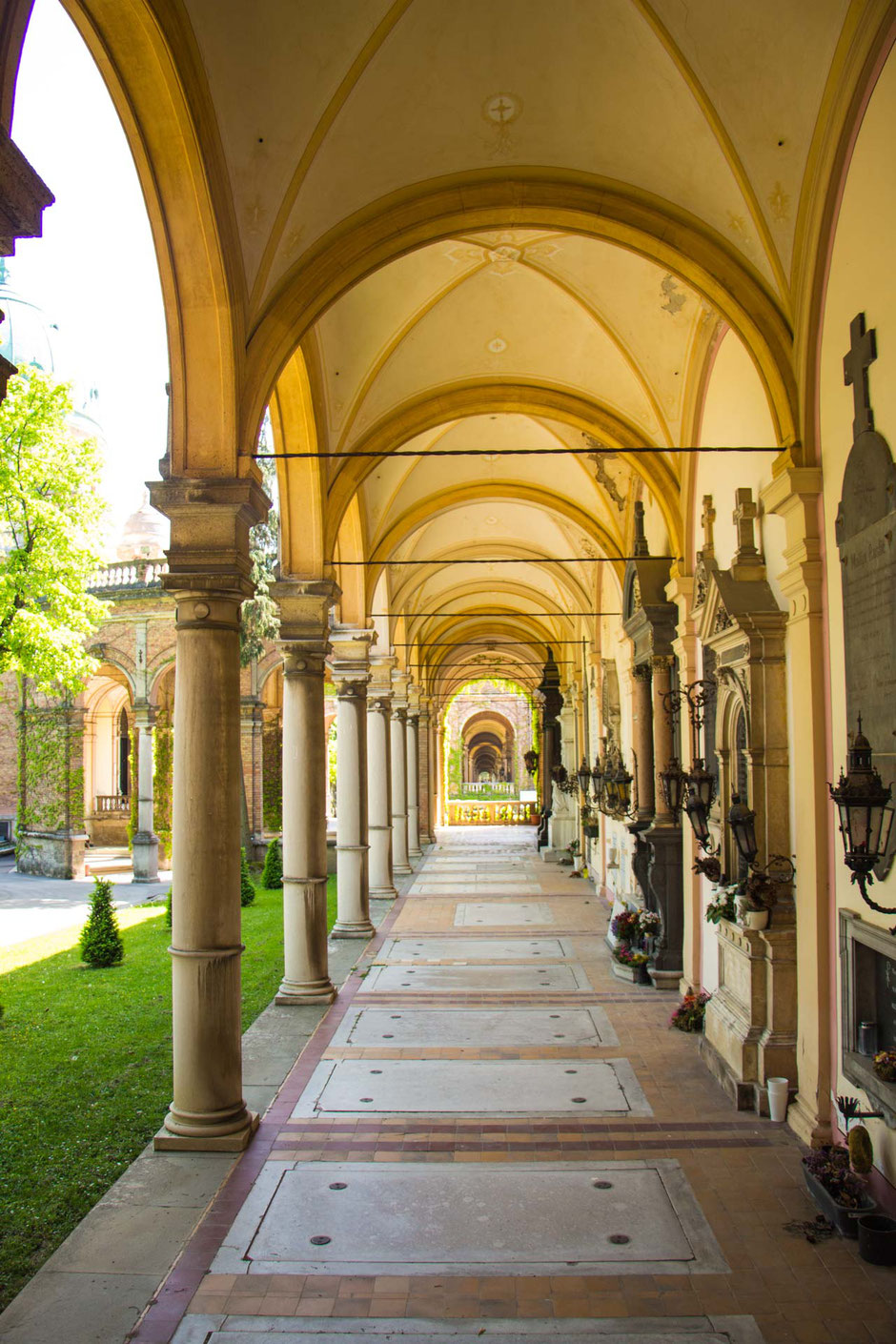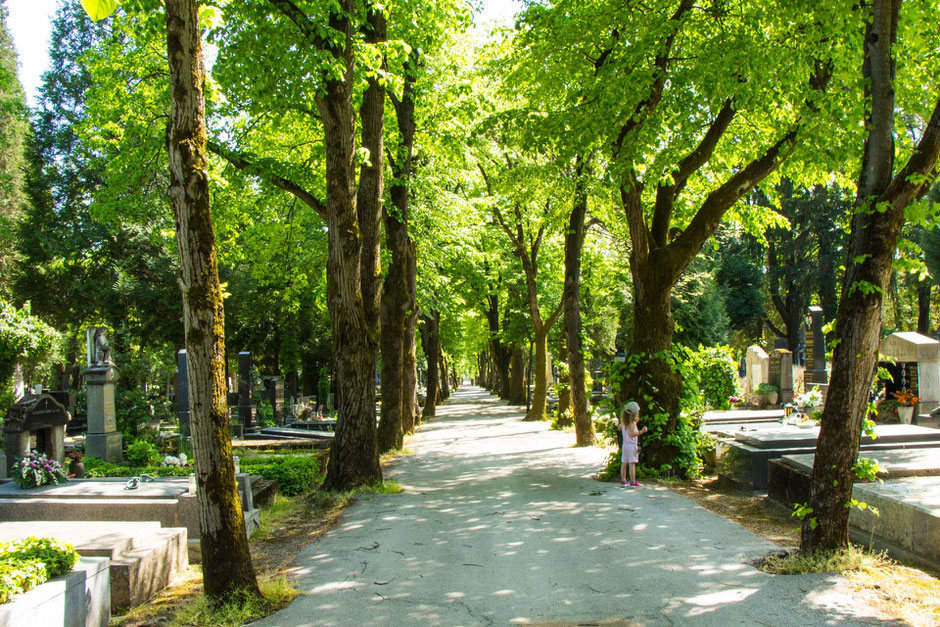 Despite our initial impressions of Zagreb, we are happy to report that it was definitely worth spending a day to see the city. With two small kids, we probably wouldn't recommend much longer than that but we thoroughly enjoyed our full day here!
A fun and easy way to see most of the sights we visited is to hire a guide for a 2.5 hour private walking tour of Zagreb. Alternately, a 4 hour combo walking & driving tour will allow you to see more, including the cemetery.
Our next stop in Croatia was the Plitvice Lakes National Park. Visiting this park was one of our bucket list items and it did not disappoint! See our 15 Tips You need to Know When Visiting Plitvice Lakes with Kids.
Additional Croatia with Kids Resources
Planning Resources for Zagreb with Kids:
Pin It For Later!