Lucca is known for its city walls that surround the historical city center which is filled with cobblestone streets. It's typically done as a day trip from Florence, but if you can afford a little more time here it's worth it. It is also a good base to explore the Tuscan countryside.
This post contains compensated links.
Lucca can easily be reached by train in 20 minutes from either Pisa or Florence. If you can't afford a lot of time here, it's also a perfect little stop between Cinque Terre and Florence, as we did. The easy train connections make it possible (and we'd go so far as saying enjoyable) to forget the car rental and get around by train.
After an afternoon seeing the highlights of Pisa, we arrived in Lucca late afternoon. With the train station close to the historical center, we were able to walk to our apartment. A walk that would have been quite pleasant had it not been for dragging a suitcase with a broken wheel over the cobblestone streets.
Rather than just do a day trip to Lucca, we decided to spend a couple of nights, before moving on to Florence, so we could have one full day without rushing around. The historical part of the city plus the Tuscan countryside that you can see all around felt like the perfect place to take things slow and truly appreciate the Italian culture.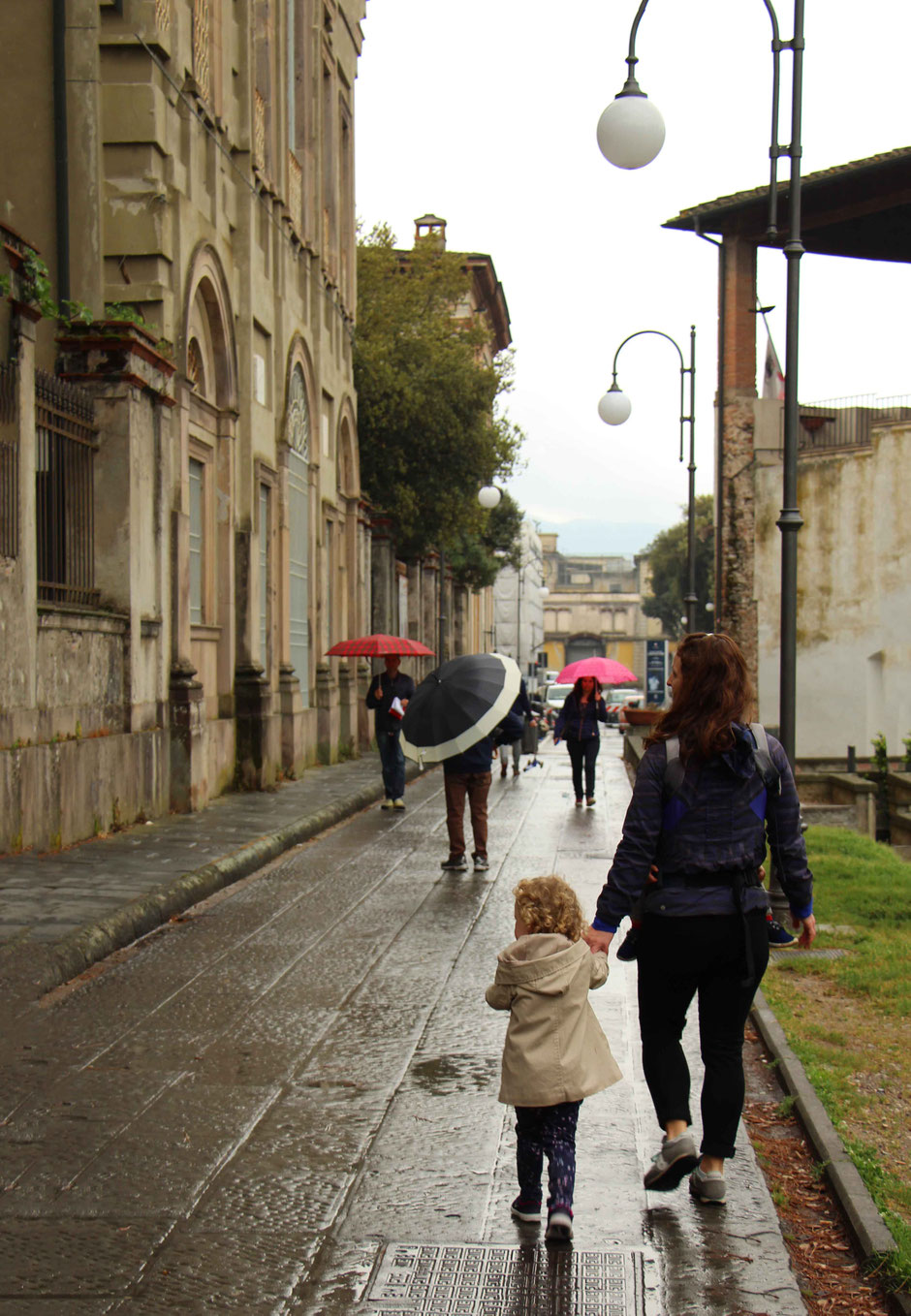 We started our day with an early morning walk, led by the kids. It should come as no surprise that with a 3 year old and a 19 month old, we soon found ourselves at a playground. The main attraction in Lucca is the well preserved city walls that once protected the city and are now used as a pedestrian promenade. During our walk, we caught a glimpse of this 4km/2.49 miles long pathway and were anxious to rent bikes and ride along it.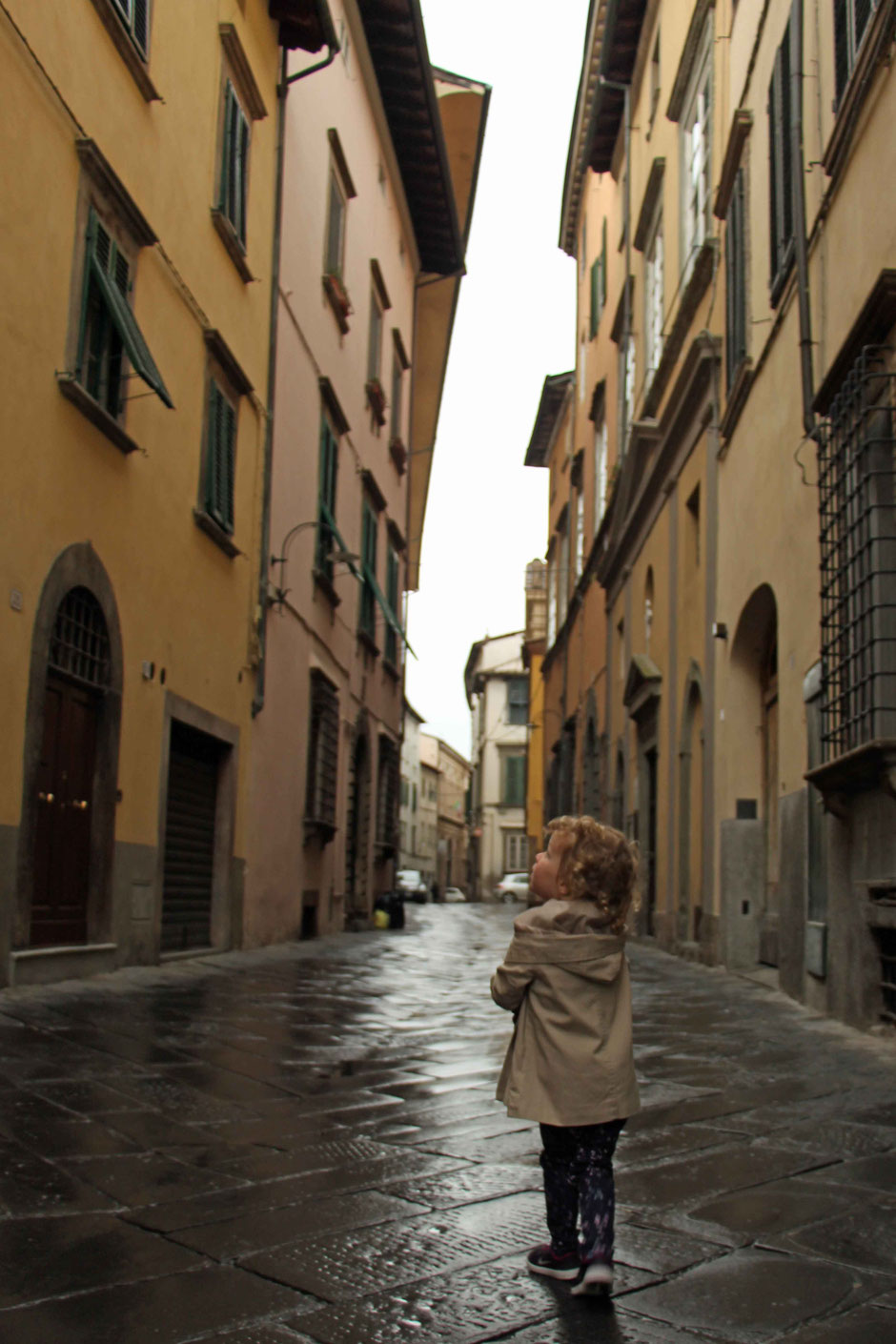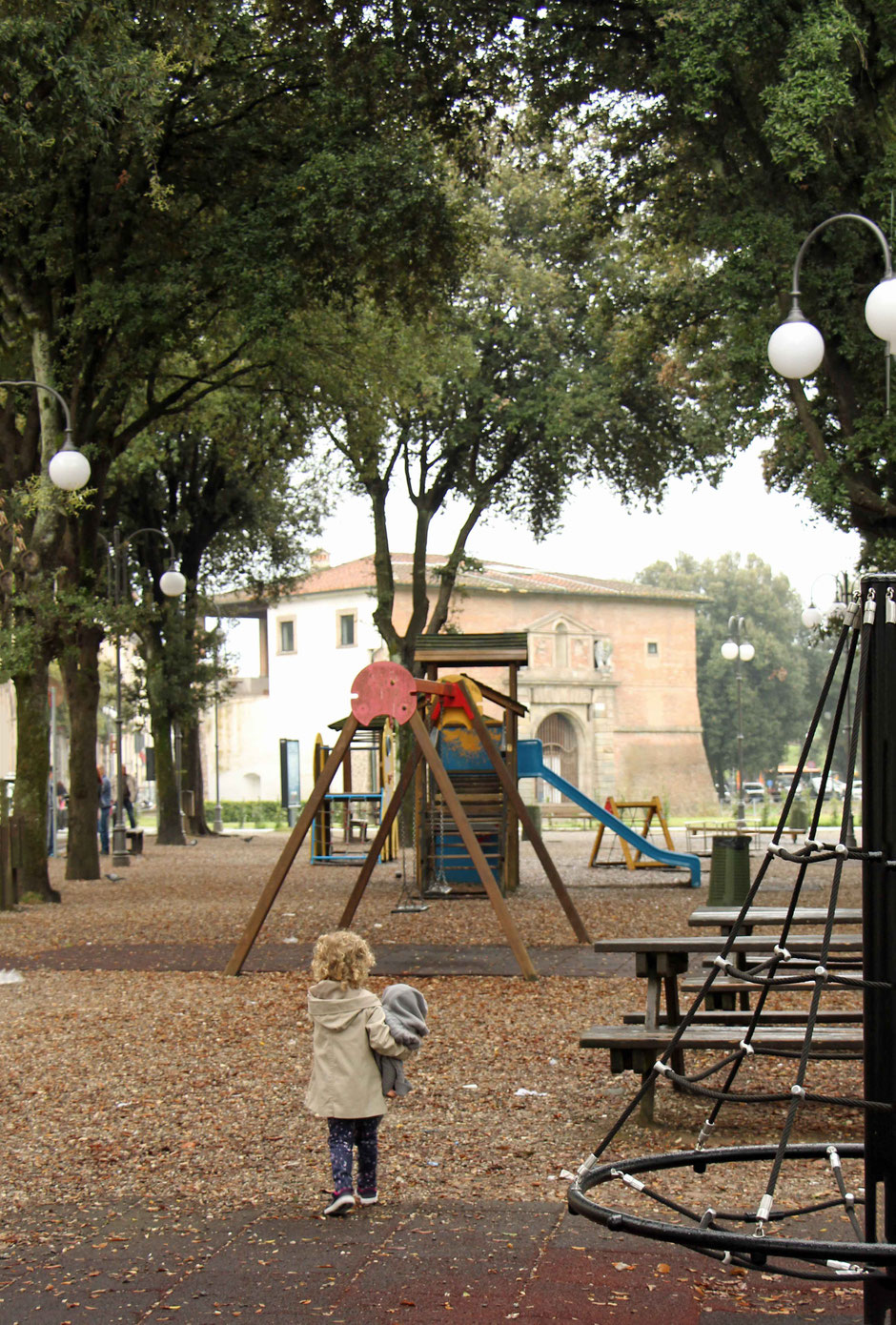 We were easily able to find bike rentals with child seats at La Toscana Nel Cuore right near the Piazza Napoleone and were quickly on our way. The entire pathway is beautiful with trees arching over top and the views of the historical center. Along the way there are plenty of playgrounds and green spaces perfect for a picnic on a sunny day. The only downside is that the entire ride around only took us about 25 minutes.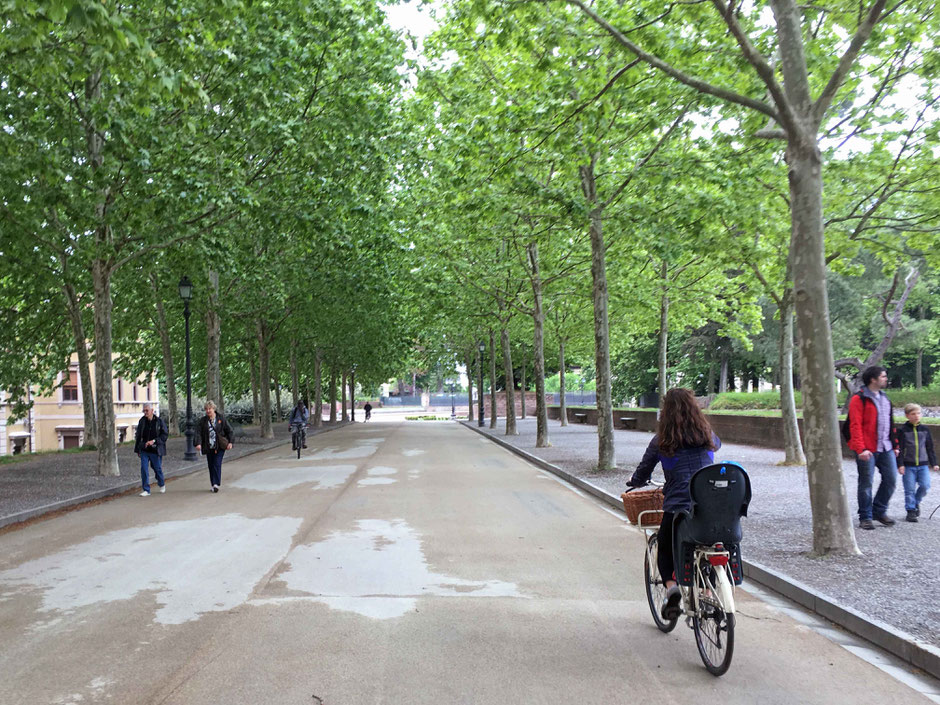 Family Friendly Private Tour: Historic Lucca by Bike
With two happy kids and wanting to spend more time on the bikes, we consulted our map looking for another trail we could follow. On our map we found another aqueduct which looked like it had a path along it and a series of underpasses that would allow us to easily get out of the old town.
You might say that we had become a little obsessed with finding these aqueducts after our wonderful experience at the Aqueduct park in Rome and the playground in Pisa, unfortunately this experience wasn't quite as pleasant. After riding our bikes through the city streets to find a narrow dirt path that quickly came to a busy roadway and very large set of stairs, we were second guessing our decision.
Getting over to the other side would have meant taking the kids off the bikes and then hauling them plus two bikes up the stairs and hoping for a path worth riding to continue on the either side. We decided it was perhaps time to turn back and do something else in Lucca.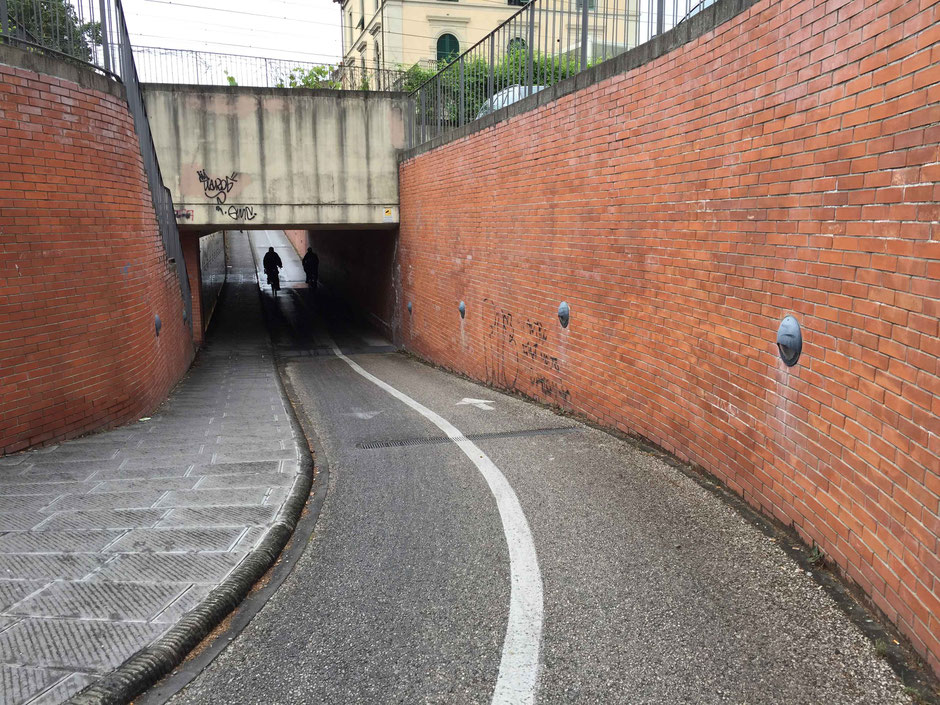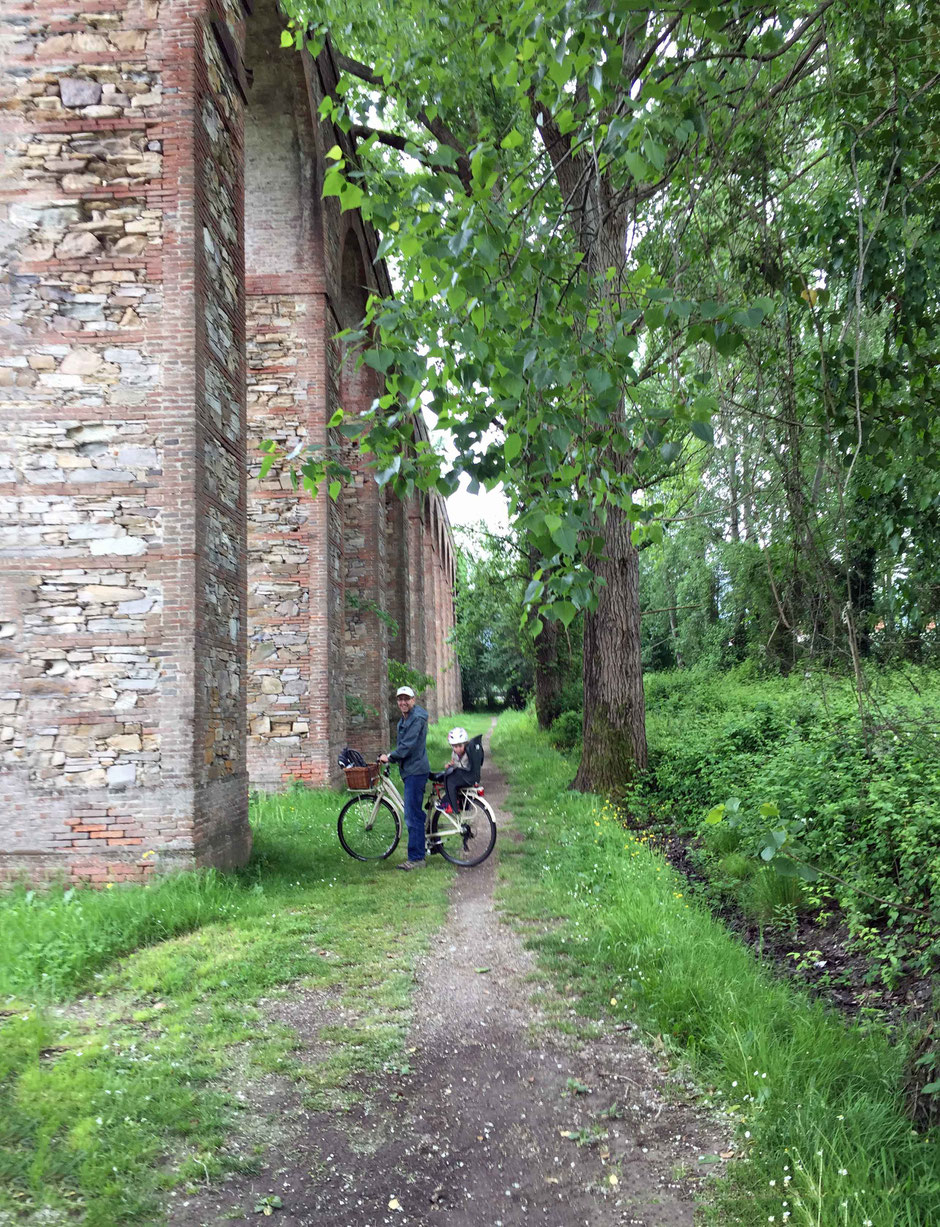 In the afternoon, we took off on foot to explore. One way to ensure you are moving slow is to give a 3 year old a camera. She was so pleased by the idea and we got to slowly meander while taking in the atmosphere of this charming city.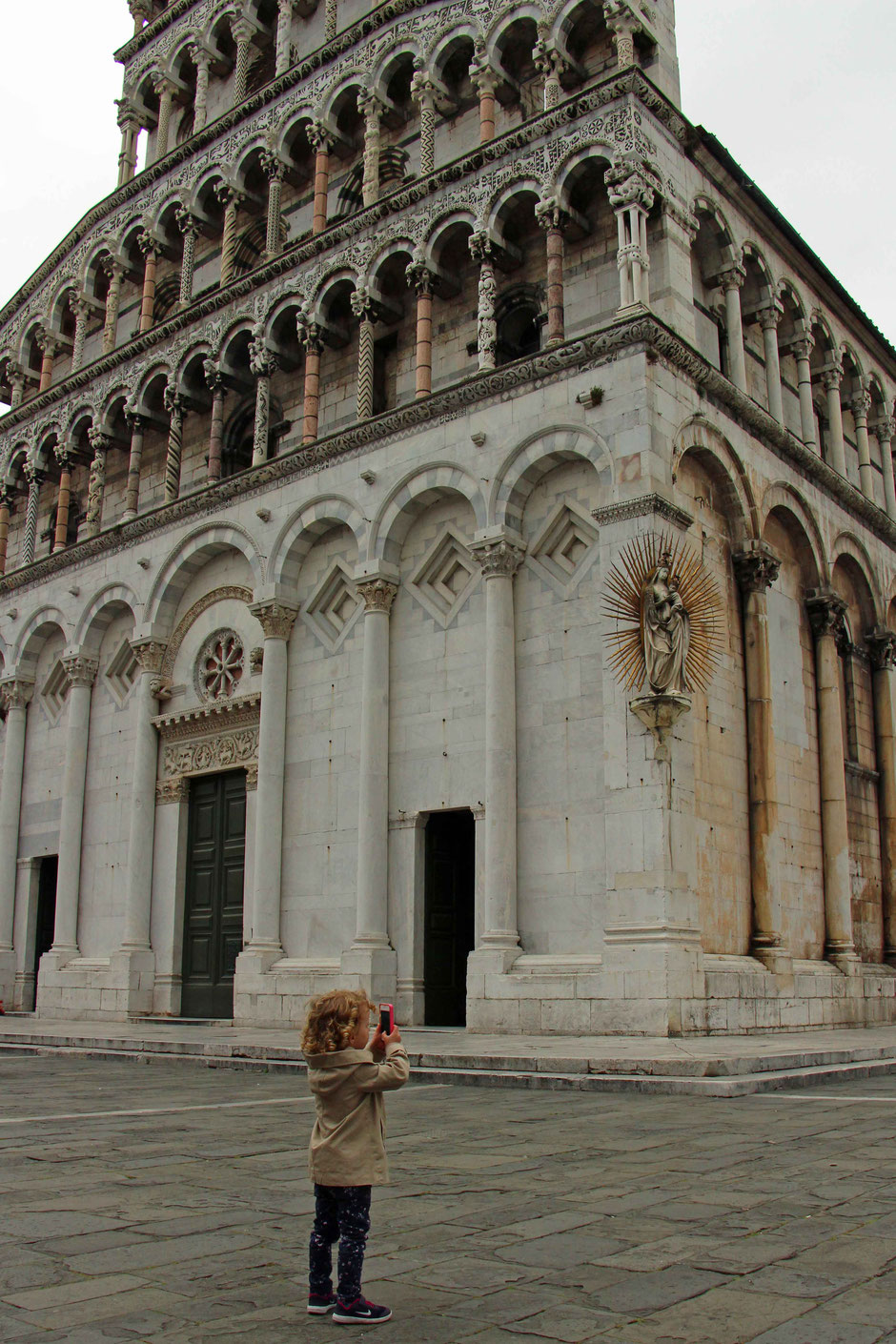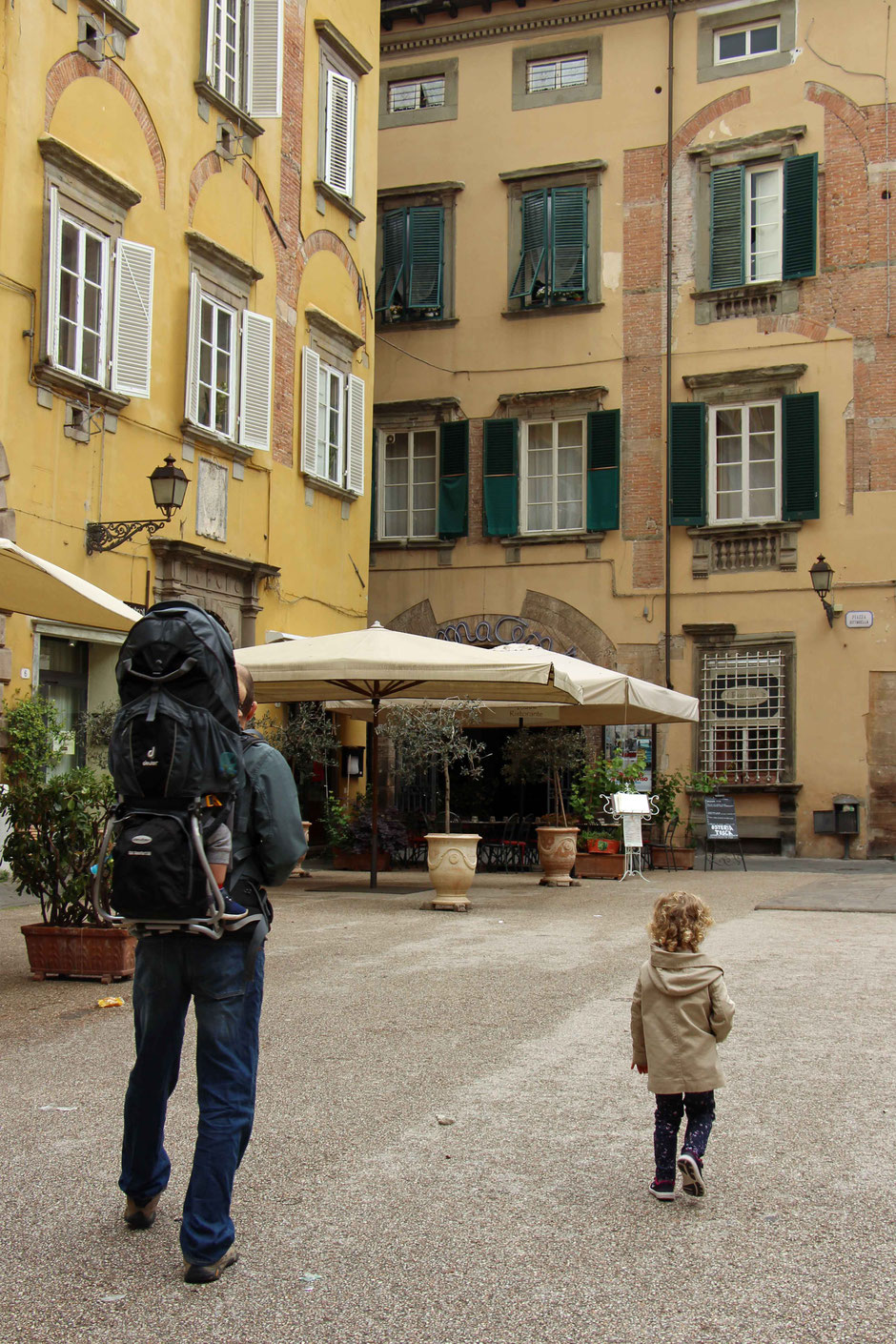 We love an opportunity to get a different perspective of a city that we are visiting, so we decided to climb one of the towers. We chose the Torre della Ore for two reasons. One, we believed it would be less busy than the more popular Torre Guinigi and two, it would afford us views of the Torre Guinigi, which has a roof garden built as a symbol of the town's rebirth .
Aside from being less busy, the Torre della Ore is taller and more central in the old town. The views from up top were excellent, with all the tiled rooftops, the towers, and the mountains in the background.  And we had a proud parent moment as our 3 year old climbed all 200+ steps herself!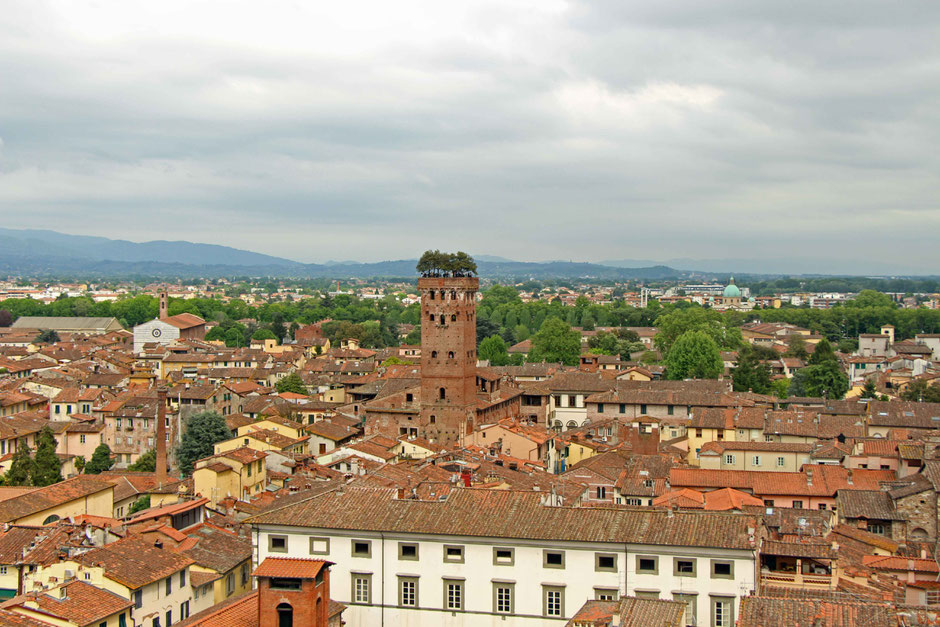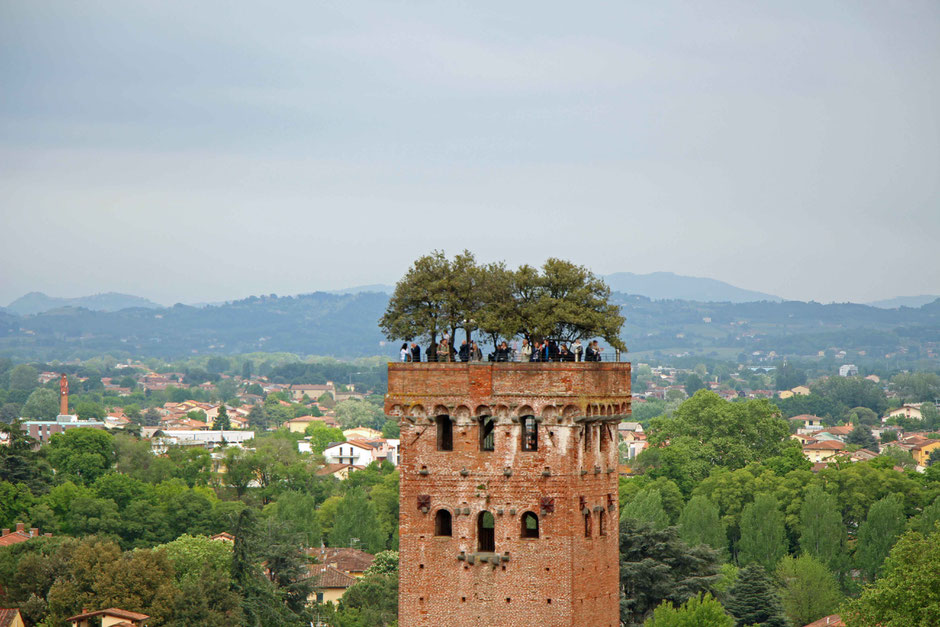 As we continued our walk through the rest of the old town, we stopped by the busy Piazza dell' Anfiteatro, or Amphitheatre Square, and walked by the famous Torre Guinigi. Of course any great day in Italy also has a stop for gelato and this day was no different!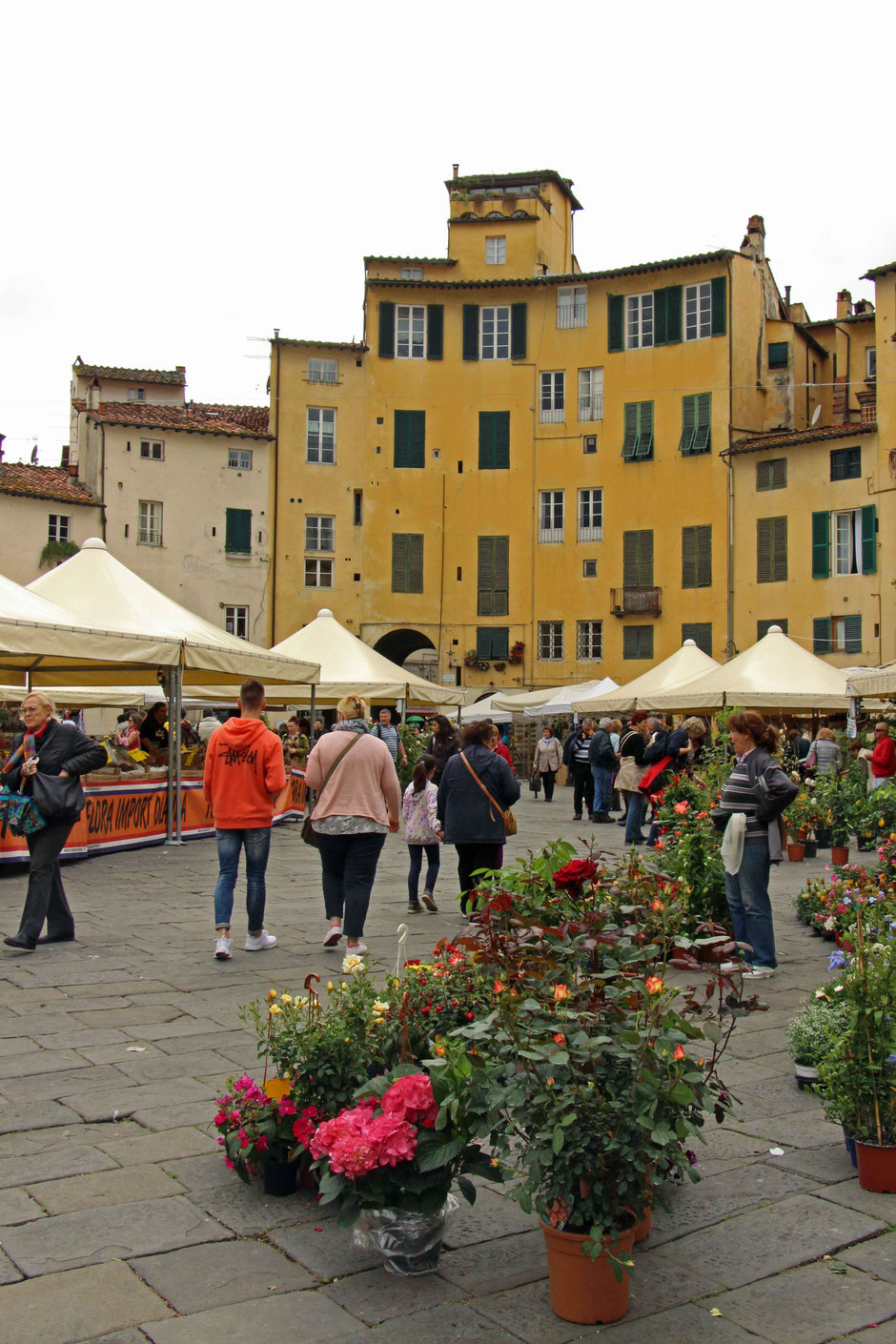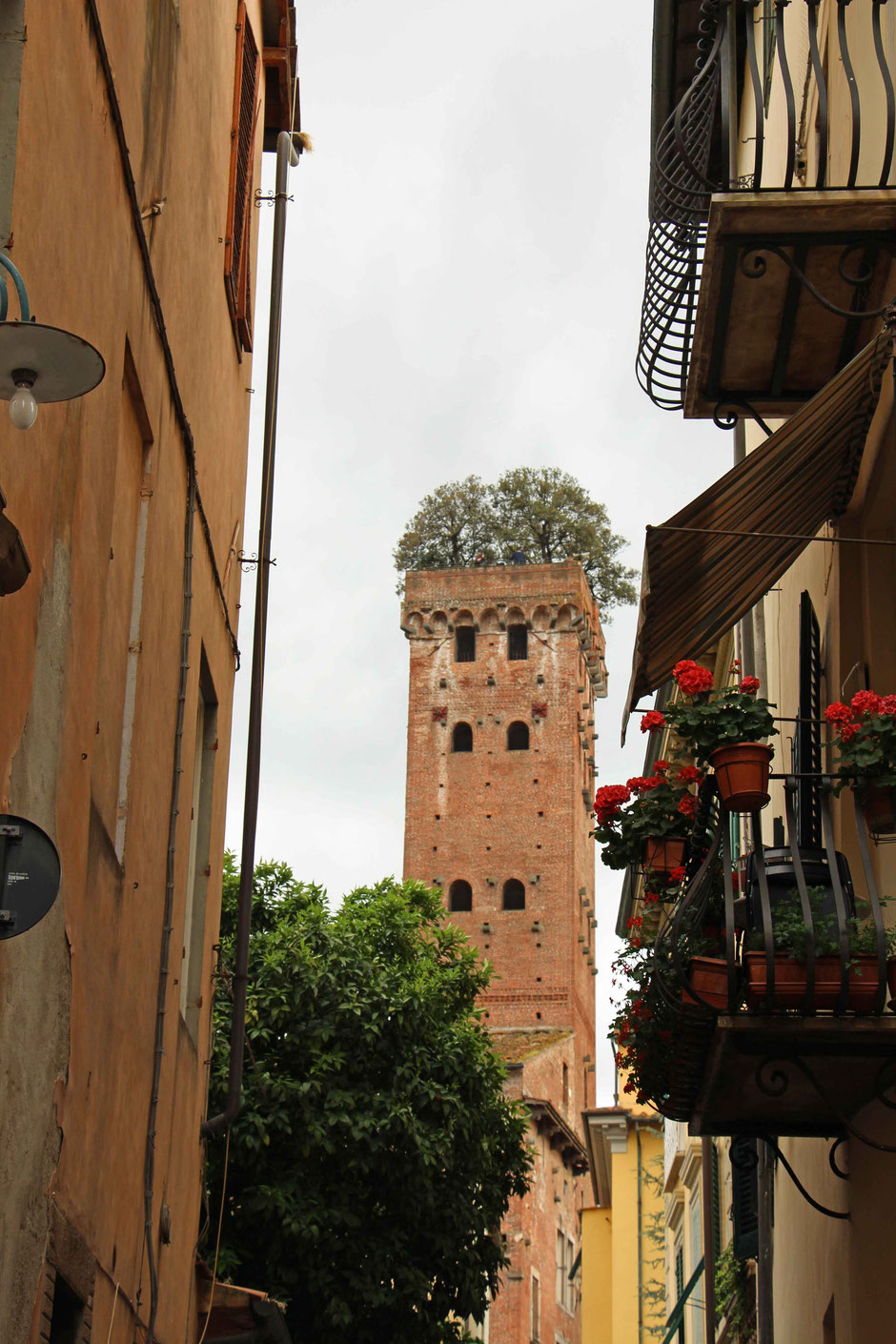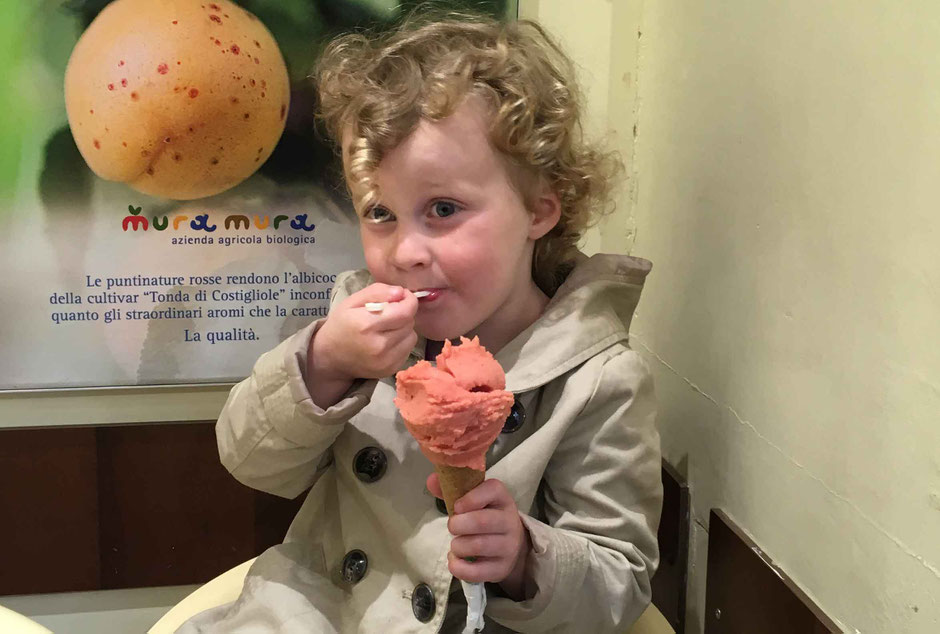 Pin It For Later!