We were on the search for one more place to fill out our month in Italy. We knew that being our first time in Italy, we wanted to visit the major cities like Rome and Florence. Planning to do some hiking as well, we added in a week in Cinque Terre.
This post contains compensated links.
To fill in one more week we had some pretty strict criteria: it had to be easily accessible by train (we weren't renting a car), it had to offer hiking and/or biking, there had to be enough to do over 5-6 days from one home base and we had to be able to get around by foot or by bike. That's some pretty tough criteria.
We combed the pages of our Lonely Planet searching for a needle in a haystack, for one gem that we might have missed. Then we found our answer in one short little paragraph: Elba.
Isola d'Elba is the third largest island in Italy with over 100 beaches. It is also where Napoleon Bonaparte was exiled (which apparently the whole world knew, except us!). What excited us was the possibility of getting around without a car and doing some hiking. It sounded perfect!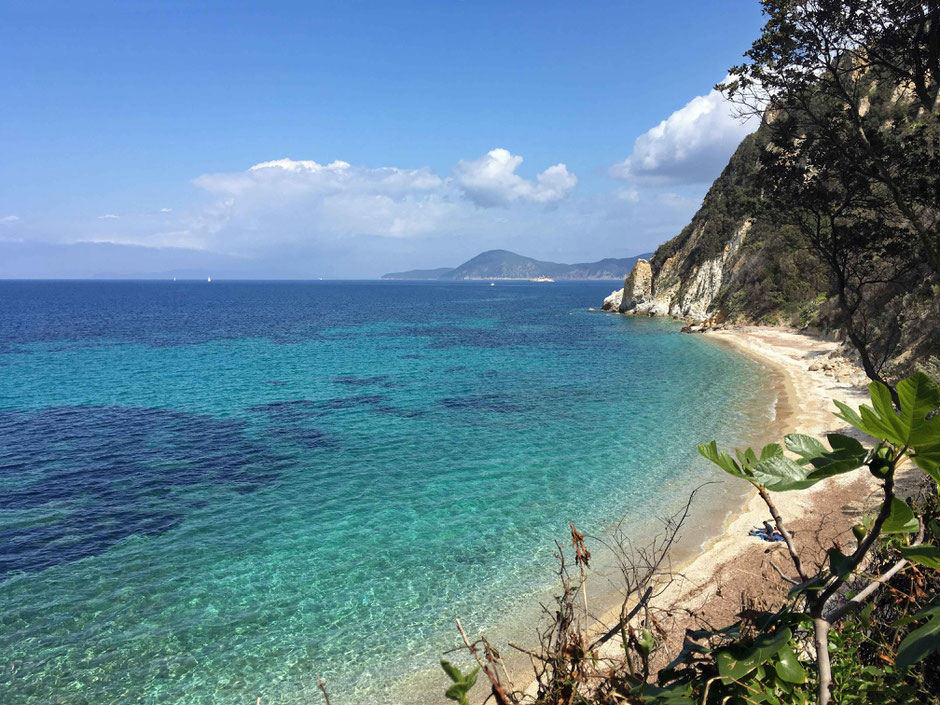 But getting there was unclear. We weren't sure if it was possible by train and assumed it would be far too difficult, so we didn't pursue it too aggressively, but the idea kept resurfacing.
The idea of escaping for a week on an island sounded wonderful. Finding an easy way to get there and making sure we could find an affordable apartment (at Easter) were our next steps…
HOW TO GET TO ELBA FROM ROME
Turns out it was quite easy to get from Rome to Elba! From Roma Termini in Rome, we took a 3 hour train ride to Campiglia Marittima. Switching trains in Campiglia Marittima, we were on a second short 30 minute train to Piombino Marittima. Leaving at 10 am from Rome, this got us at the ferry terminal (located right next to the train station) at 2pm with an hour to spare until our 3pm ferry.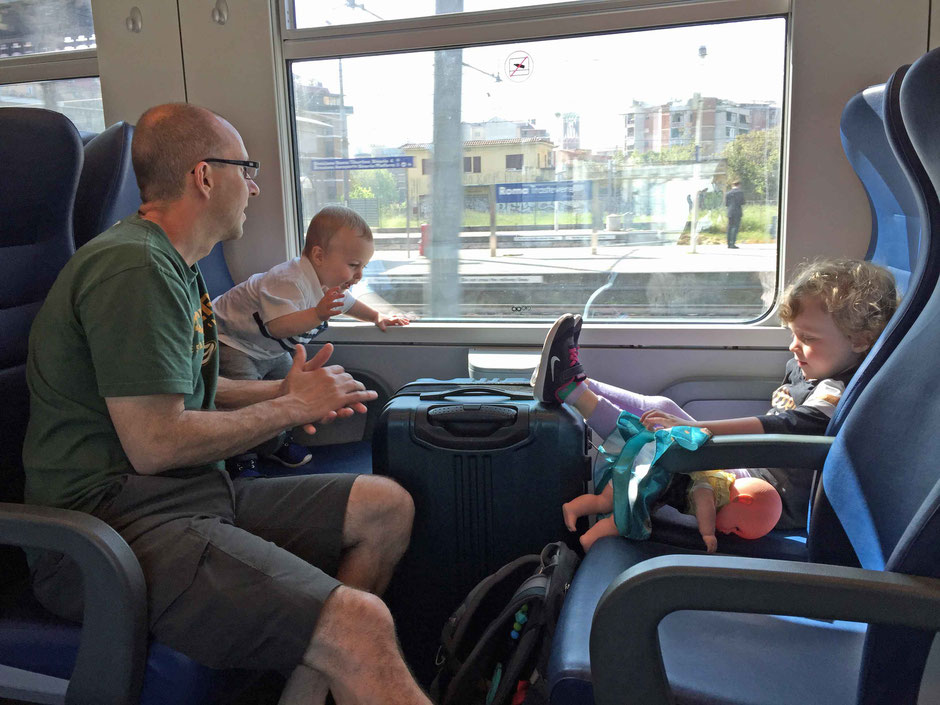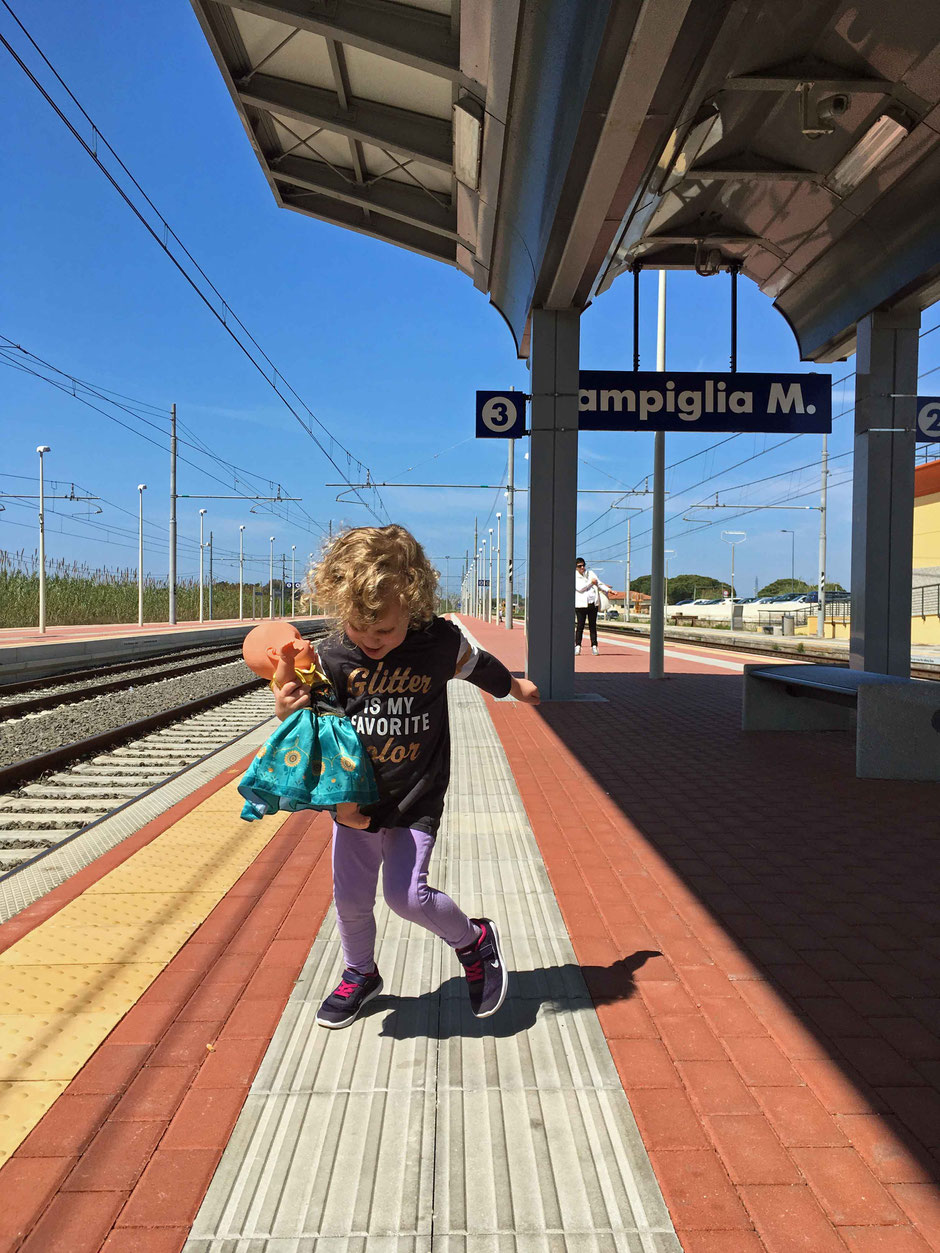 We were pleasantly surprised to find a couple of food options and play areas (one inside and one outside) at the ferry terminal. We had the added bonus on being on one of the large ferries over to Portoferraio, which also had a room with a play area for the kids. These definitely made it easy to keep them entertained and helped with our travel day.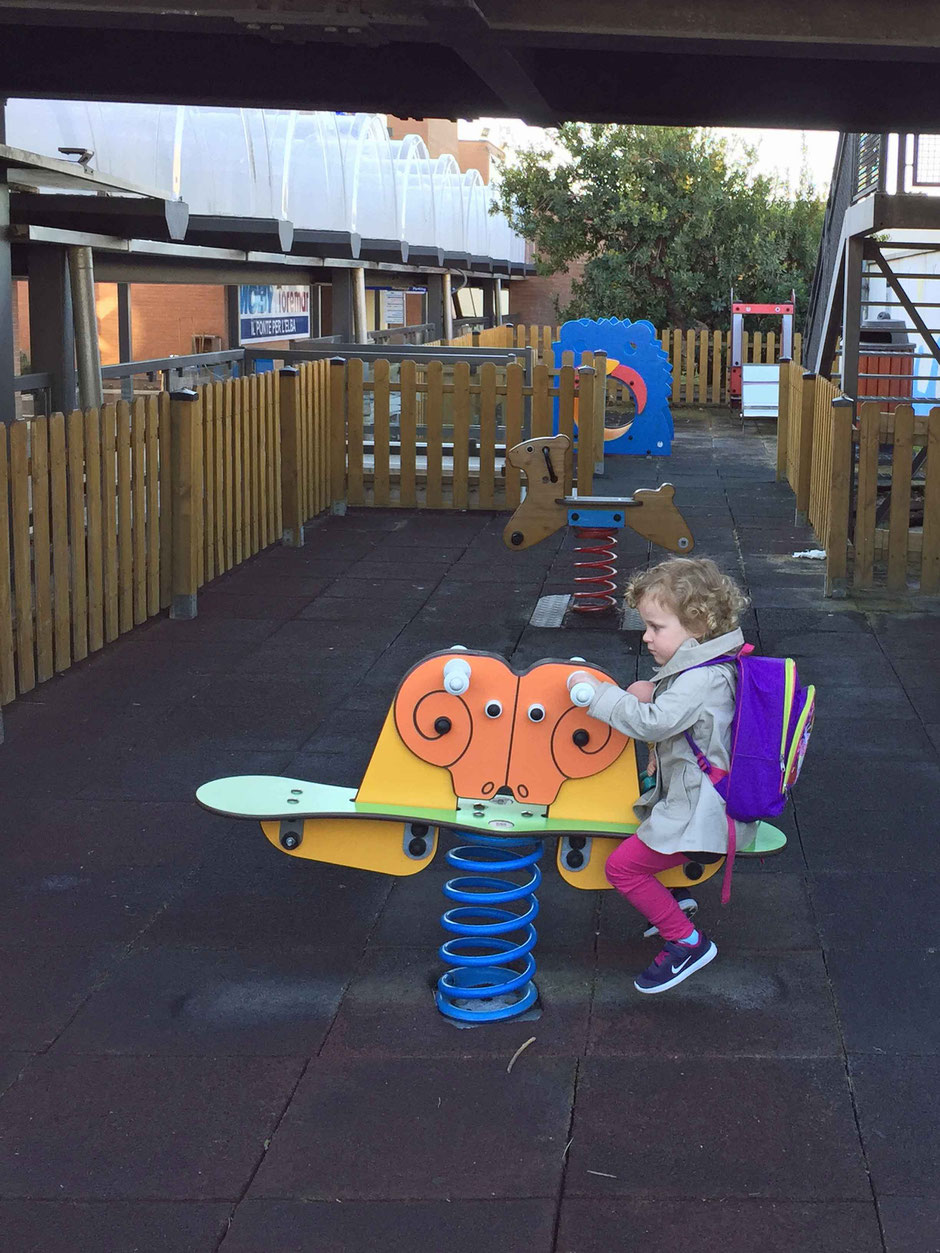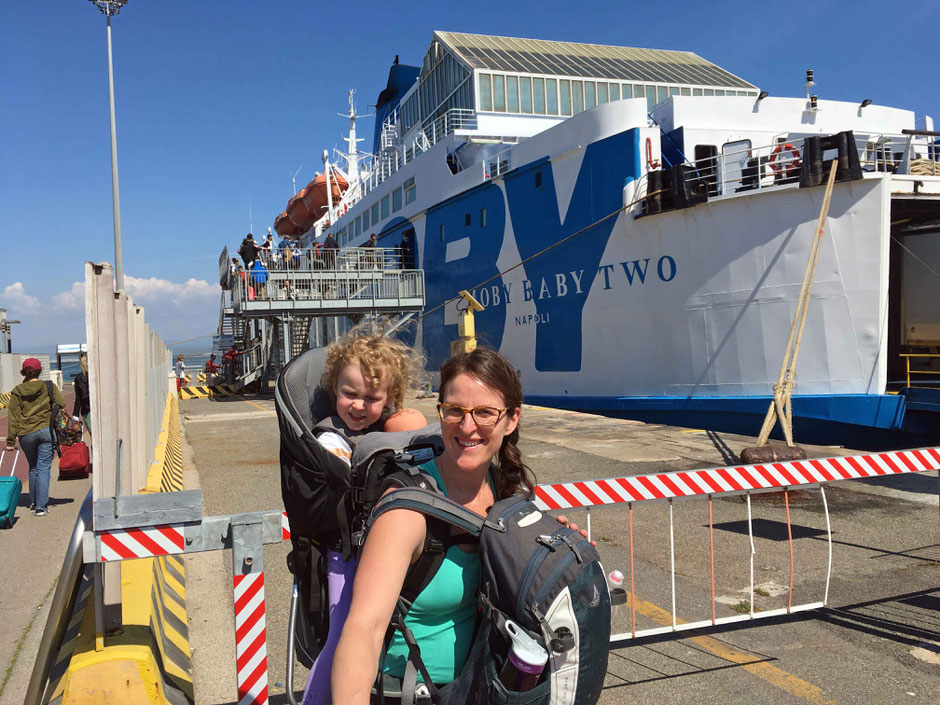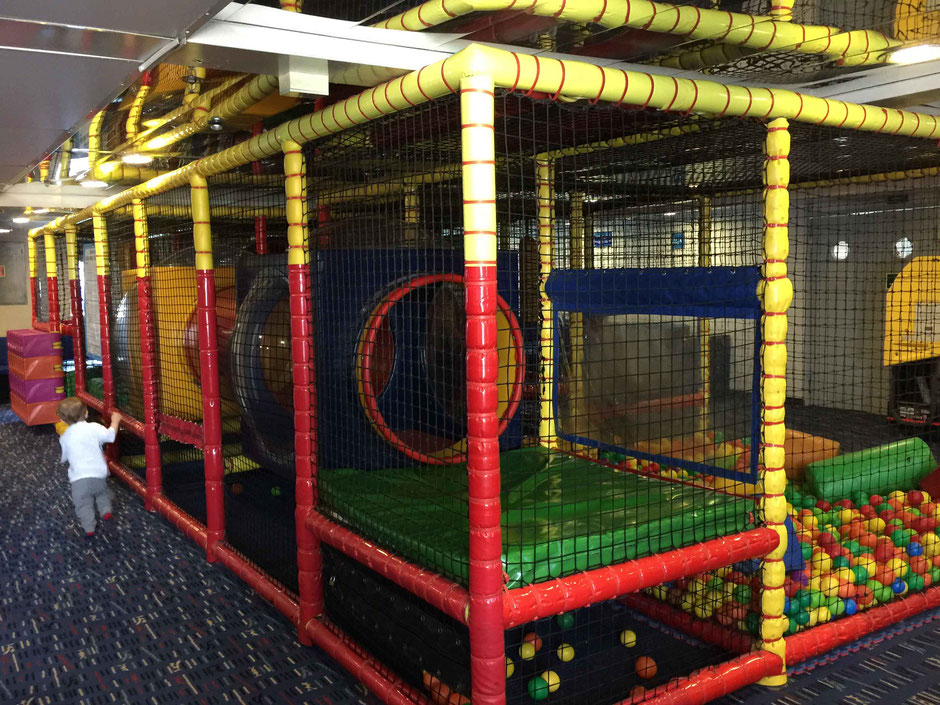 Book your ferry tickets from Piombino to Portoferraio on Aferry.co.uk.
There are four companies that run ferries from Piombino to Portoferraio, Elba every day, all day (in the summer months). Tickets for all four companies are available at DirectFerries.com.
For more information on taking trains in Italy, see our post, The Best Way to Get Around Western Italy
WHERE TO STAY
We chose to stay in the main port town on the island, Portoferraio, making it easy to get to and from the ferry. We were also able to rent bikes with child seats for the entire week to get around (since we chose not to rent a car). The bike rental company, Twn-Rent, was able to secure a child seat big enough for our 3 year old. They did not have helmets for our kids, so we brought our own from home.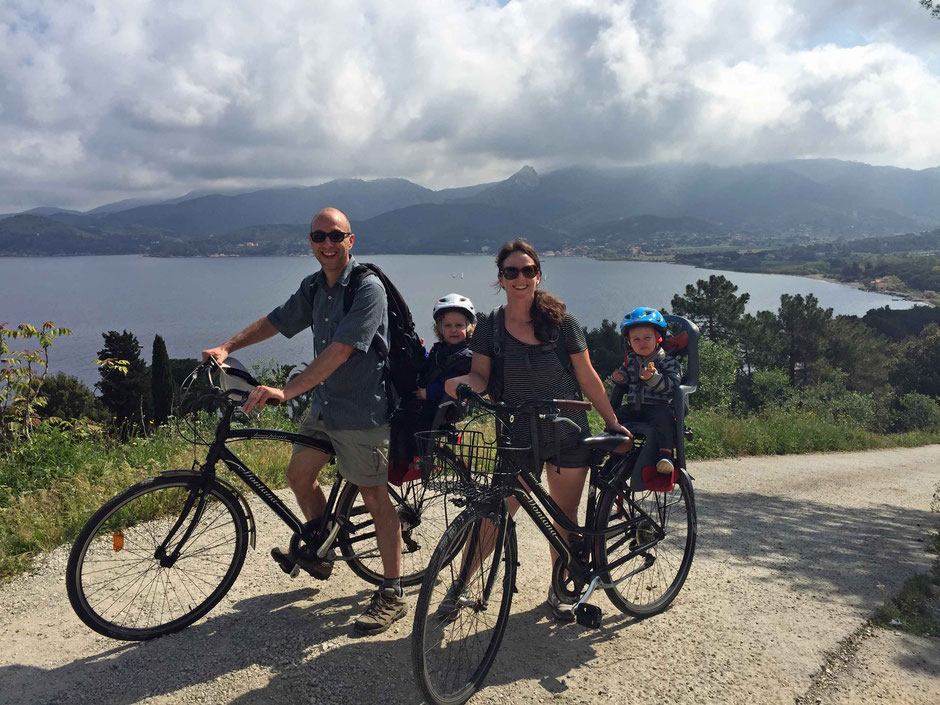 In addition to being able to rent bikes and have the convenience of a large grocery store, there was plenty to do nearby with the beaches, hiking and a historical town center. Of course, the availability of apartments with more than one bedroom was also a factor.
We found a beautiful Airbnb apartment outside of the main part of town. It was in a quiet area with easy access (aside from the large hill to climb – more on that later) to beaches, town and the grocery store. We didn't realize it until we arrived, but we were also right around the corner from a great little playground for the kids.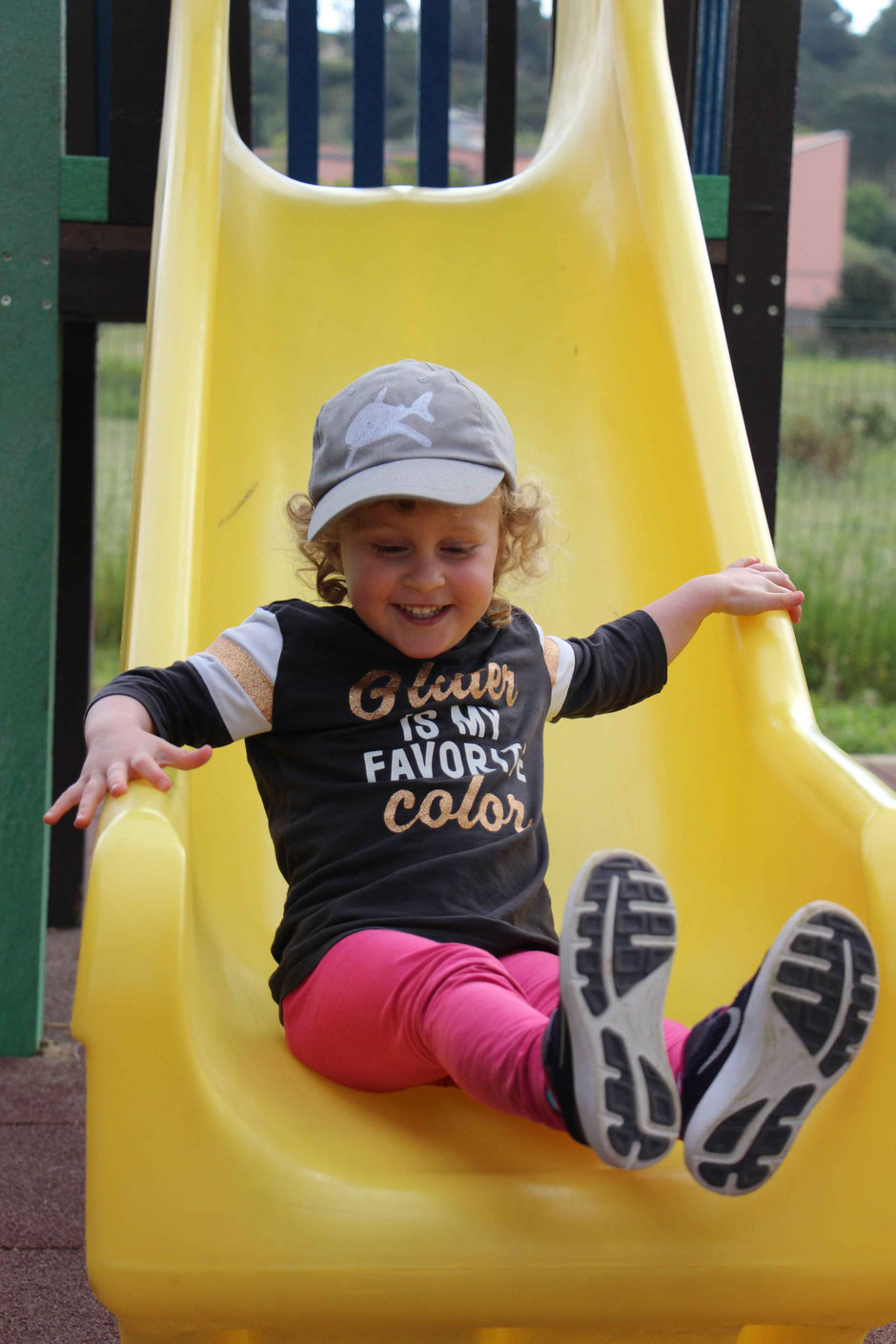 Things to do in Elba
BIKING
As the ferry approached the island and we caught a glimpse of some of the towering hills, we came to realize that some of our original thoughts of taking our rental bikes to some of the further reaches of the island would likely not happen.
Though we had wanted to do more biking, we had underestimated the time required to bike to some of the places and overestimated our abilities! With a week of hiking in Cinque Terre ahead of us, lazy afternoons on the beach started to look pretty good! We managed to do two longer bike rides, plus we used our bikes to go into town for groceries and to explore the historical town center.
Bike/Hike to Capo d'Enfola
Capo d'Enfola, famous for its ancient tuna fishing port, is a peak that is joined by a small strip of land to the rest of the island of Elba. Though there are several beaches nearby, our plan was to bike from our apartment then do the hike to the top of Capo d'Enfola.
The bike ride was approximately 3.1mi/5km from Portoferraio along a road. Early in the morning the traffic was low, but the road did have several curves and a few big hills, so keeping to the side was important. There were a few of the hills that were quite a bit of work on the bikes, but it was worth it for the views of the Mediterranean Sea and the Elba countryside.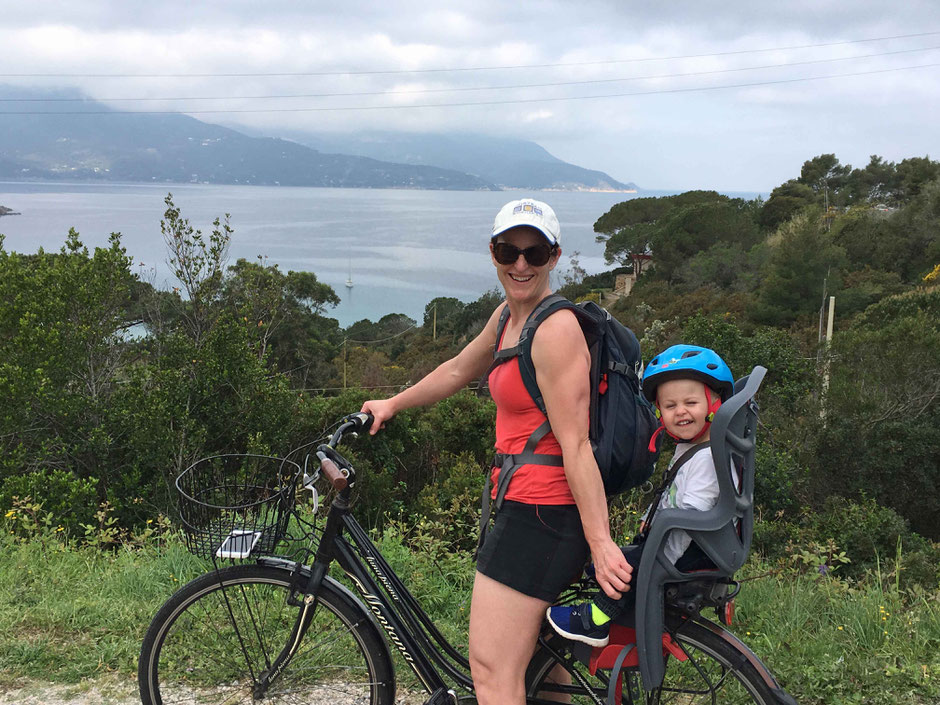 Bike from Portoferraio to Bagnaia
Our second big bike ride took us 6.8mi/11km from Portoferraio to the coastal town of Bagnaia. We picked this destination as the route looked reasonably easy from an elevation gain/loss perspective vs some of our other nearby alternatives. Even though we never got higher than 50m above sea level, we still had to take some rest breaks along the way. The chain coming off one of our rental bikes gave us an extra break too!
Most of our ride was on the highway, which we were a bit worried about with kids on the back, but we found that Italian drivers are reasonably courteous and we never really felt in danger. The scenery along the way was beautiful, with many vineyards, ocean views (mostly of Portoferraio across the bay) and several patches of trees towering overhead lining the road.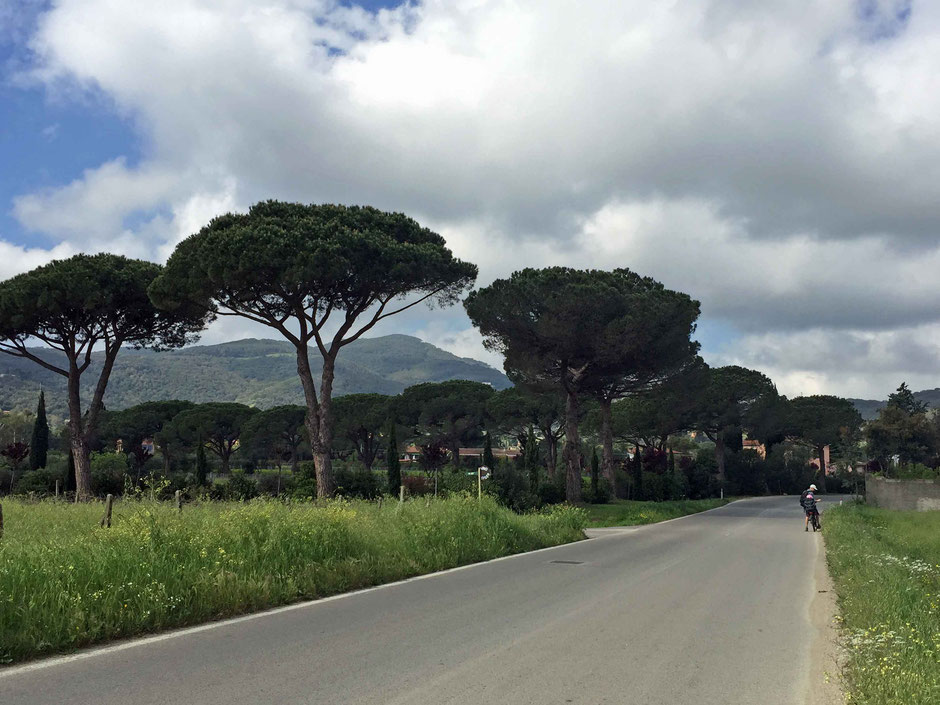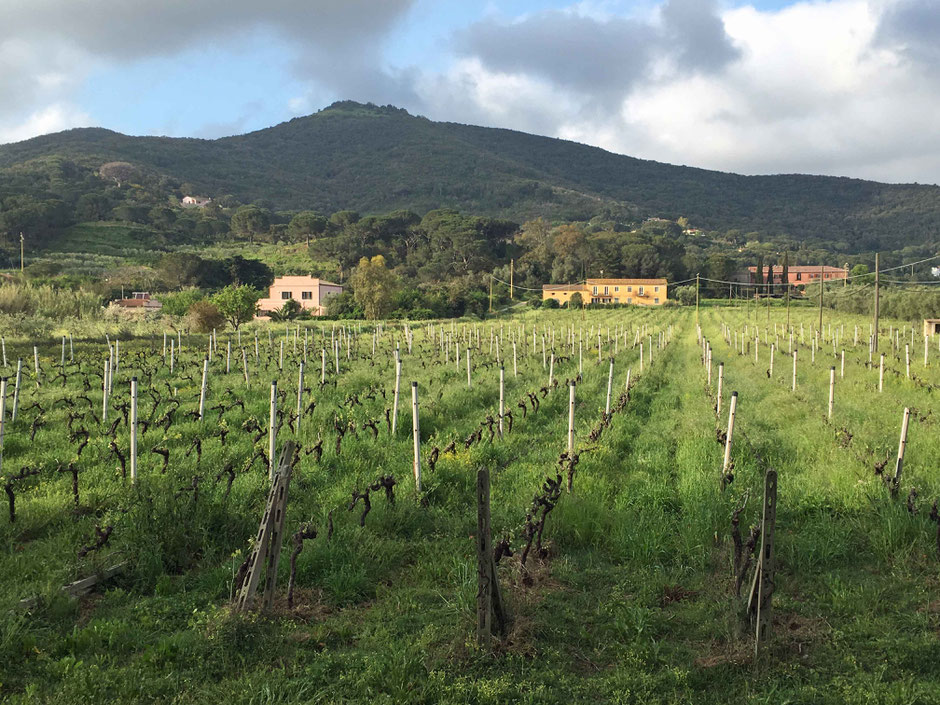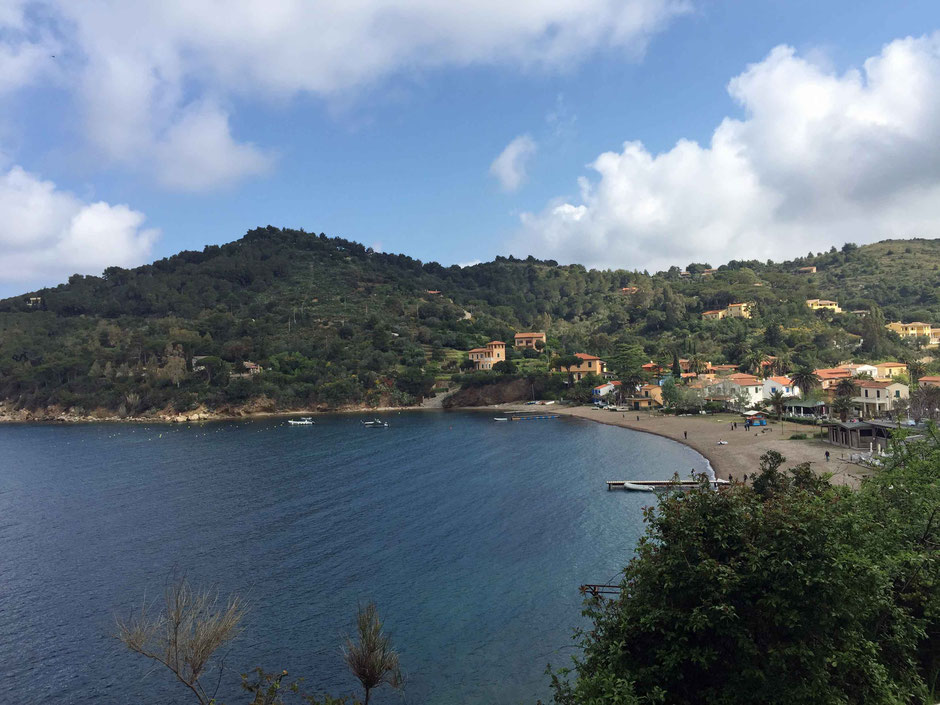 We stopped for a short visit in Bagnaia. The charm of this town was that cars were not allowed, so we could let the kids (especially our toddler) run around without worry. The beach wasn't that impressive to us after seeing the northern beaches.
Since it was a bit chilly anyways, the kids got to spend some time at the nearby playground. With several restaurants & cafes along the waterfront, it was the perfect time to relax with cappuccinos and croissants before conquering the hills on the way back.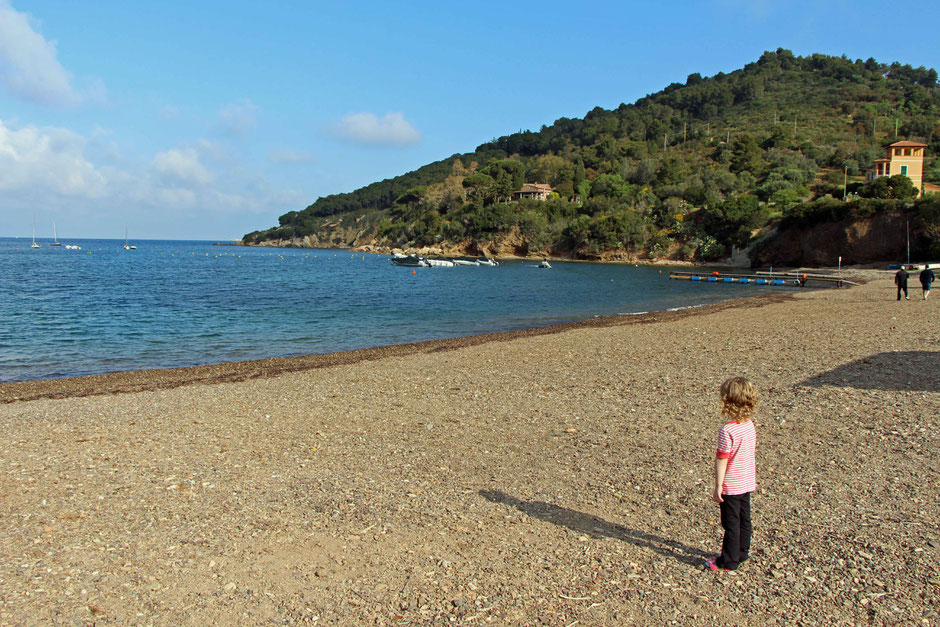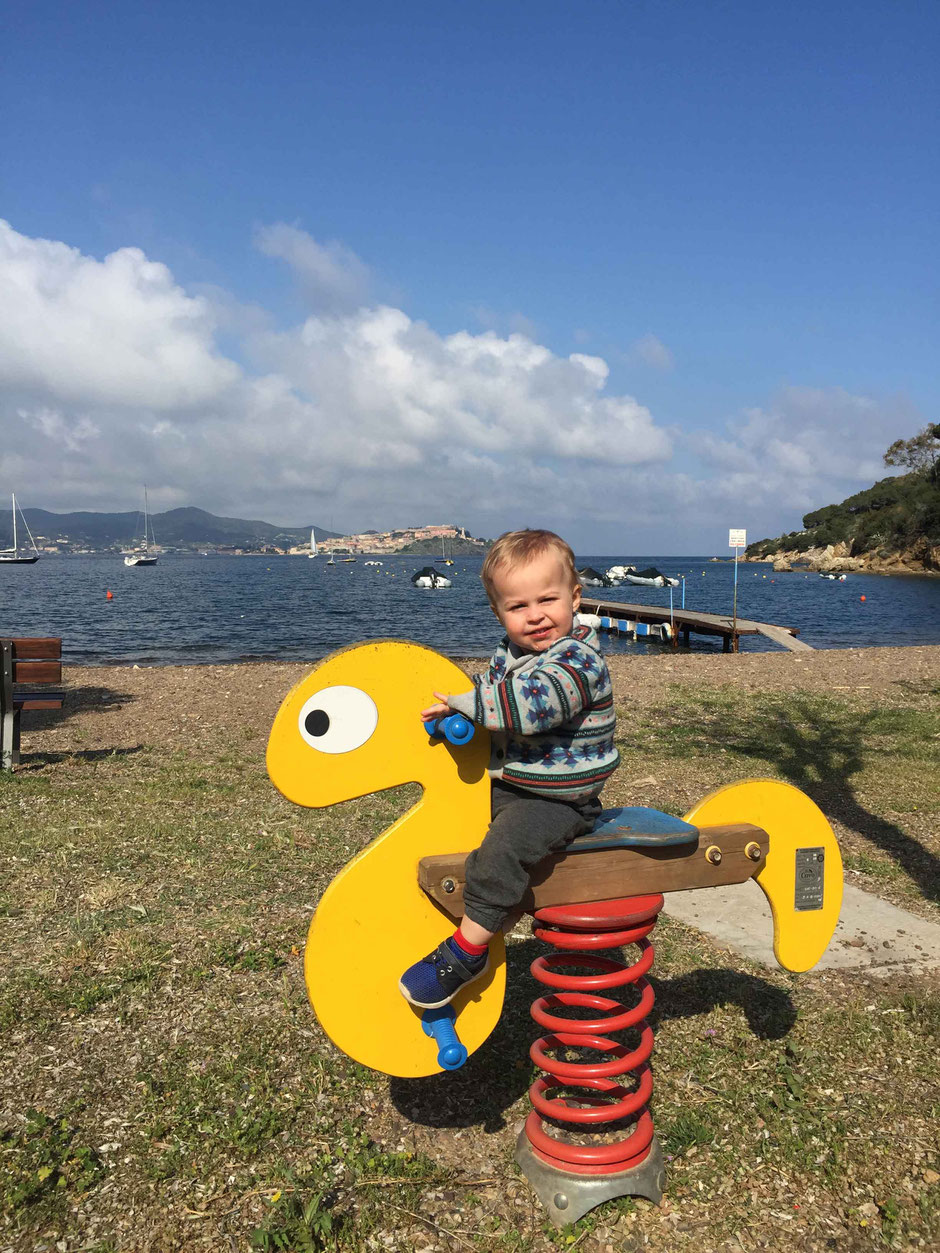 HIKING
Our original vision of our time on Elba was filled with hiking and biking all around the island. Sometimes things just don't go as planned since you just don't know how you will feel when you get there.
We obviously hadn't done enough research on what it would take to get around by bike or maybe it was just the beauty of the beaches that was calling us back every day? With a full week of hiking in Cinque Terre ahead of us, we were happy to just get a couple of hikes in while on Elba. 
Hike Capo d'Enfola
Hiking Capo d'Enfola was the second part of our biking/hiking adventure. We locked our bikes up in the parking lot and started making our way up the nice wide path. This is one of the family friendly hikes on Elba and can easily be done with small children.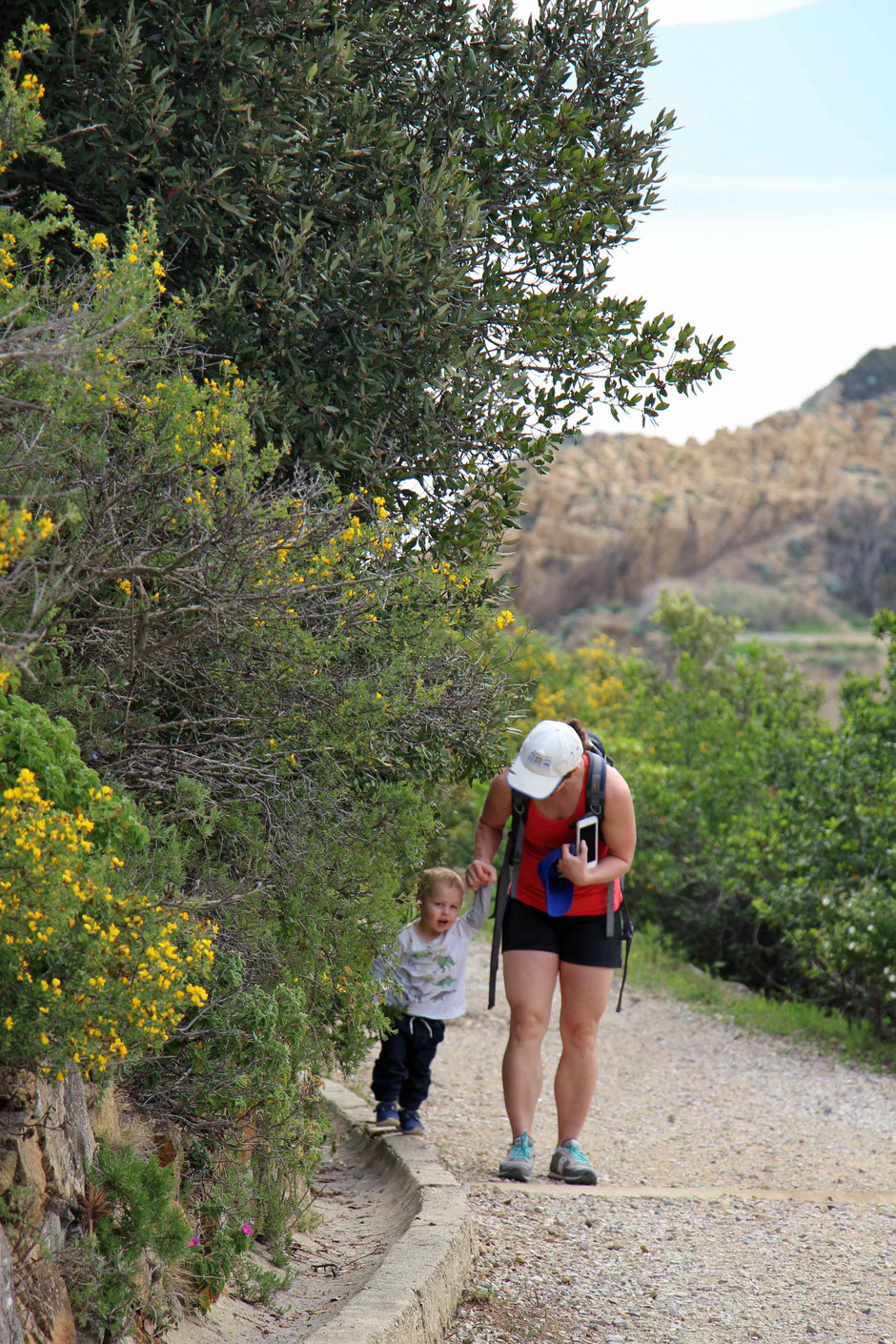 Along the way to way to the peak we were treated to great views of the sea and the countryside. Our April timing meant plenty of flowers along the path adding to the beauty of the Mediterranean bush and sea views.
Nearing the top, there are remnants of WWII defense structures to explore.  Finally, as you approach the top, there is a path which circles the summit of the hill.  There were some decent views in spots, but it was mostly treed in along this path.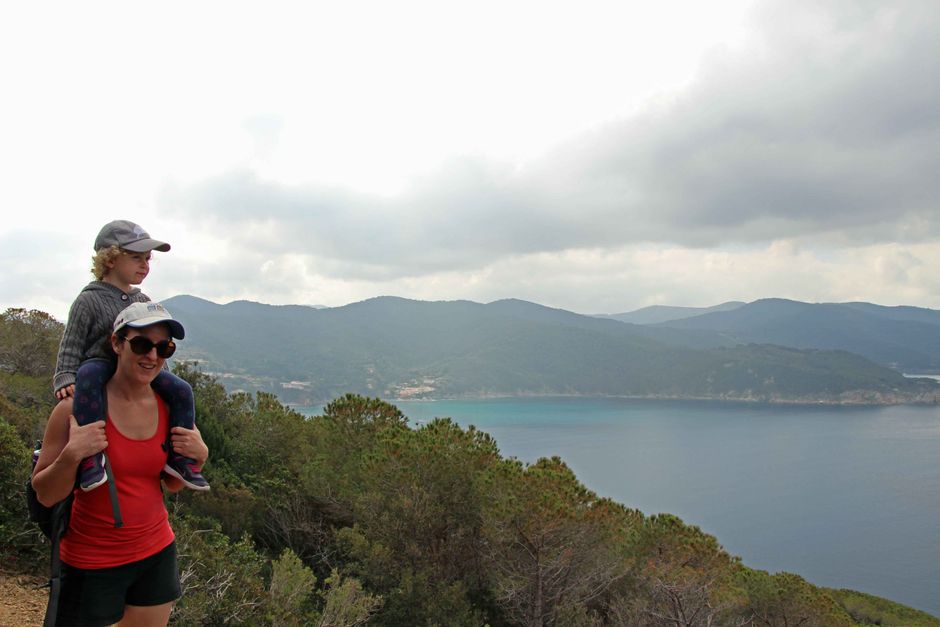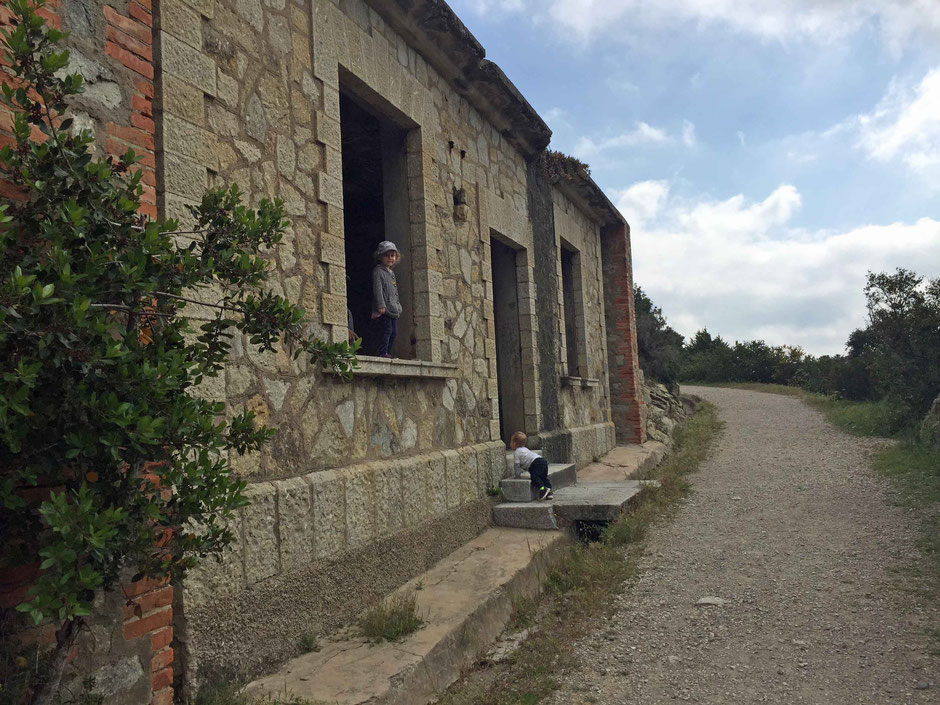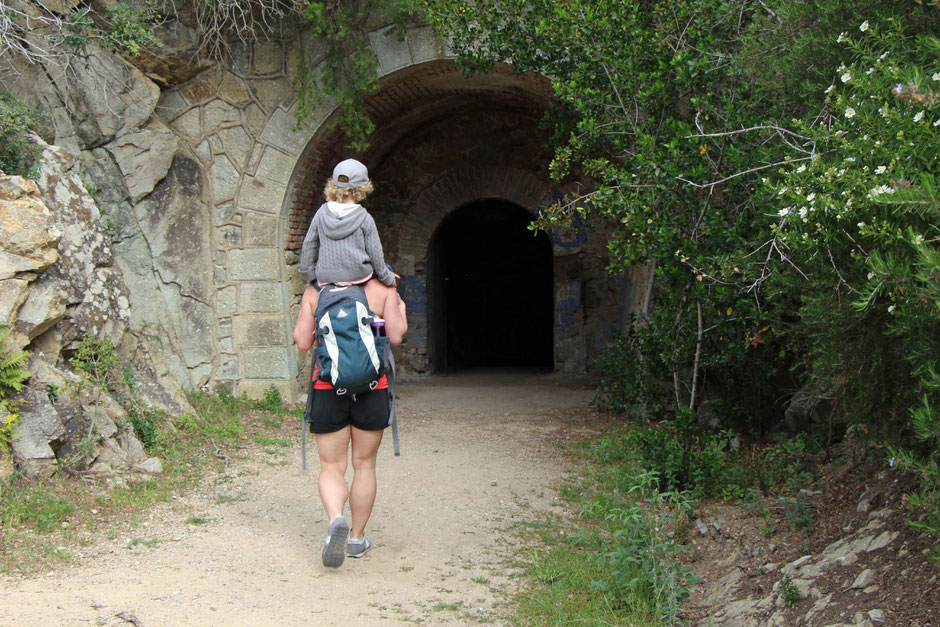 The hike is approximately 3.1mi/5km return. Our 3 year old walked most of the way up (with some complaining) but ended up on my shoulders. And as some hikes go, we were that family quickly ending our hike as our little guy screamed and cried for the last part of it.
We have an entire post full of all our best tips for hiking with kids and this one with all the best hiking gear for kids.
Hike Monte Poppe
We used our hiking app to find a hike that we could do without having to travel too far. The hike up one of the nearby mountains, called "Monte Poppe", was doable right from our apartment. We walked via roads and shortcuts for about 0.6mi/1km from our apartment, until the road ended and the hike began.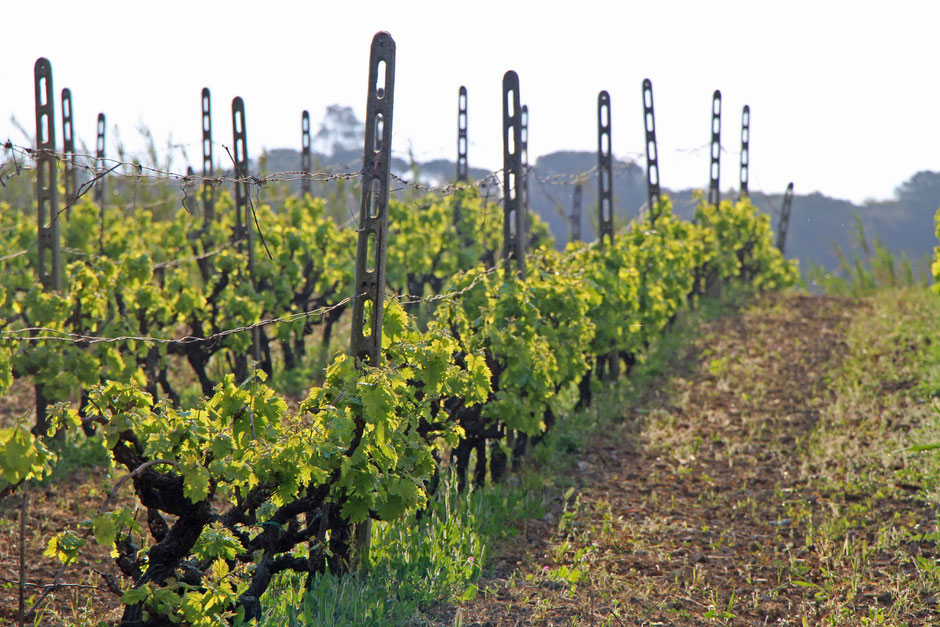 At first, the brush was dense and it was tough getting through with our backpack carriers.  But soon it cleared and it became a very pleasant walk through the forest.  Parts of the hike were quite steep and parts were reasonably level. There were sporadic views of the town and the sea, but mostly it was well treed. 
Exactly an hour after leaving home, we reached the summit of the mountain at 247m above sea level. One small problem – no one had cleared any trees and we couldn't see anything! Thankfully we had a giant container of strawberries to keep the kids happy!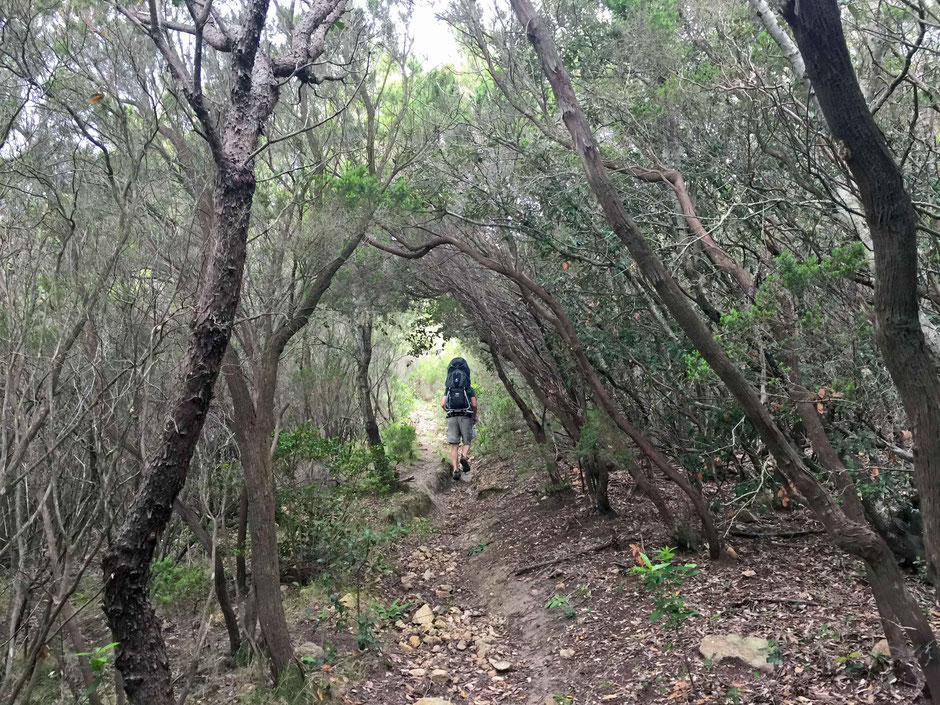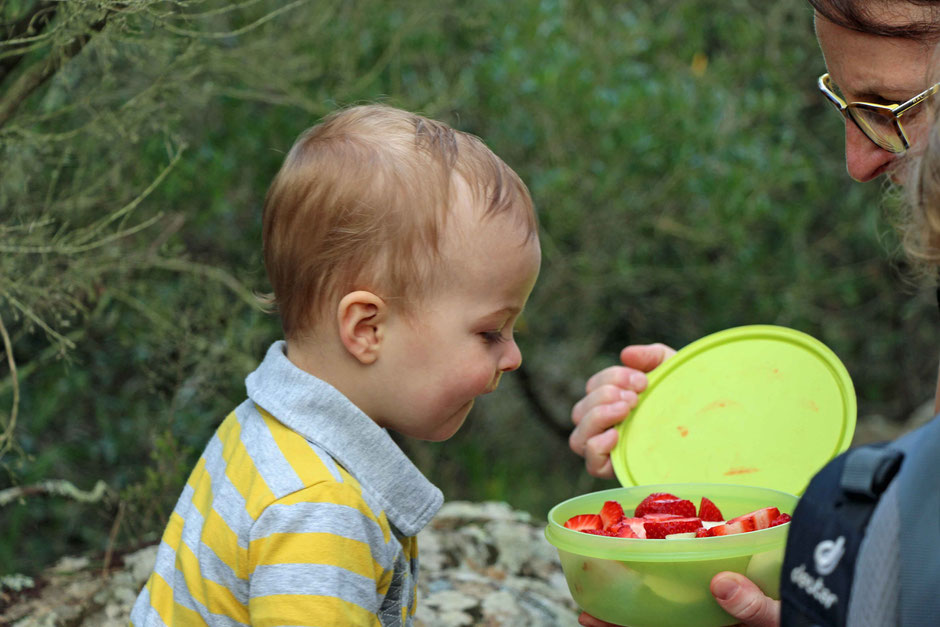 BEACHES
We knew the likelihood of getting real "beach weather" in April was not great and we were certain we wouldn't be spending much time in the water, but beaches aren't only for summer weather are they? Our time on the uncrowded beaches on Elba was one of the highlights!
This should come as no surprise, but the beaches on Elba are not sand beaches. Though they are hard to walk on without shoes, as they are various sizes of pebbles (water shoes recommended), they are actually great with kids who like to throw rocks in the water or search out ones with interesting colors. An added bonus was that we were able to walk to each of the beaches we visited from our apartment!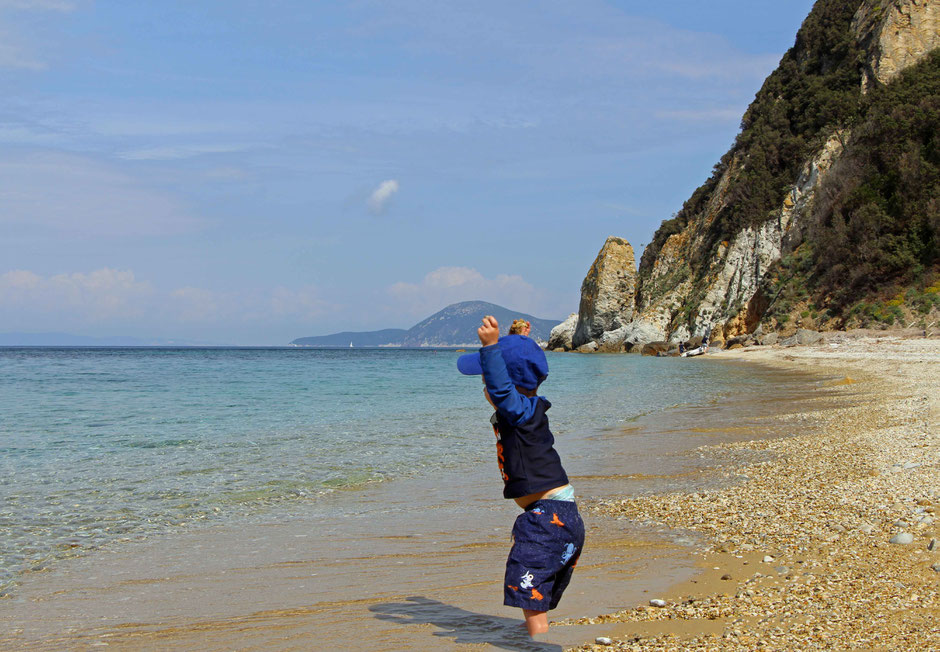 Spiaggia Di Sottobomba
You reach this stunning beach by walking down a steep staircase. There's not a lot of distance between the towering cliffs and the water but the beach is wide. At 4pm on an April afternoon, the beach was as expected, uncrowded. The mix of sand and pebbles makes it hard to walk on without shoes, but that's a small price to pay.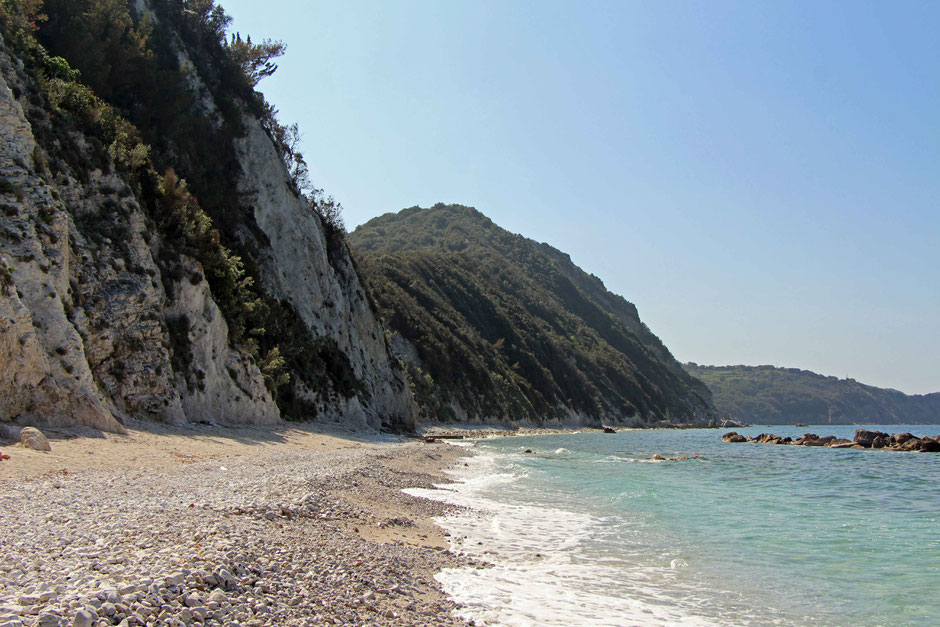 Spiaggia Capo Bianco
This is the #2 rated beach on TripAdvisor on the island. It's deeper and wider than Spiaggia Di Sottobomba but also more popular, though again uncrowded compared to how it must be in the summer. This beach is filled with these beautiful small white rocks with blue specks, which are not at all jagged and easy to walk on.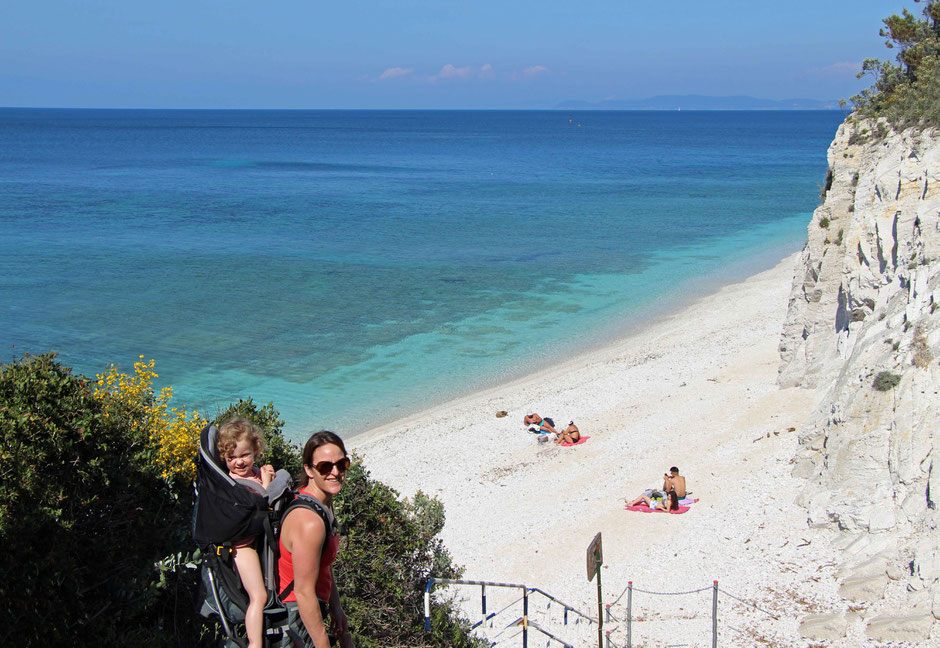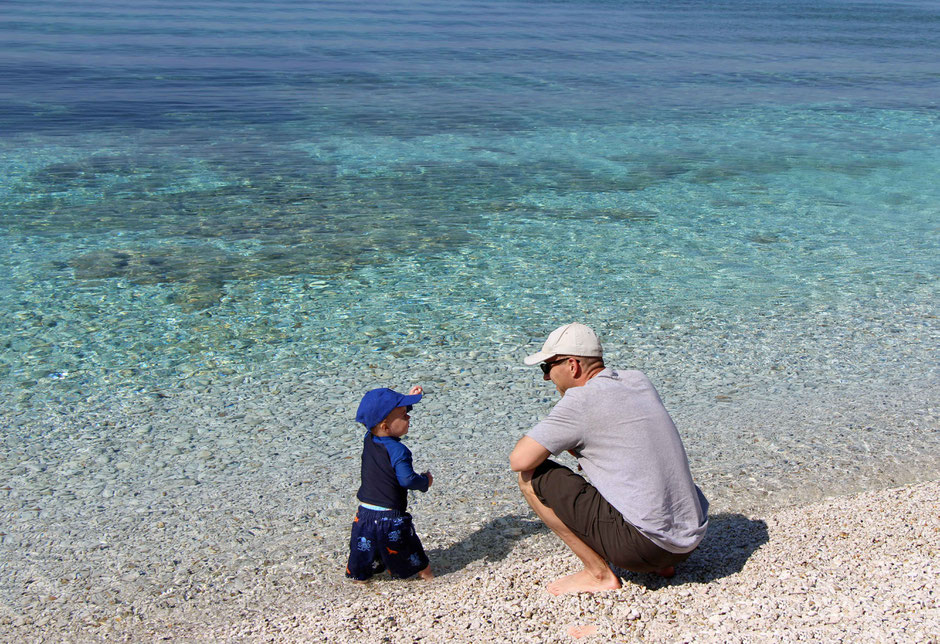 Spiaggia Seccione
This beach was a bit of mystery to find as it wasn't on TripAdvisor but we thought it looked worth finding based on the satellite pictures on Google Maps. Once we got to the approximate area, we had a little more difficulty finding the path to get down to this beach.
Thanks to Info Elba, we found a set of stairs further down the highway than we had thought it should be. We didn't actually see any signs for the beach, so you need to look for cars parked on the side of the road and a few visible steps leading down to the beach.
It's a long way down to the beach, with approximately 120 steps, and given how secluded it is, there were only a few other people on the beach. This beach has patches of actual sand and bigger rocks, making it a little harder to walk on in places. The most impressive part was the beautiful setting a towering rock rising above the east side of the beach.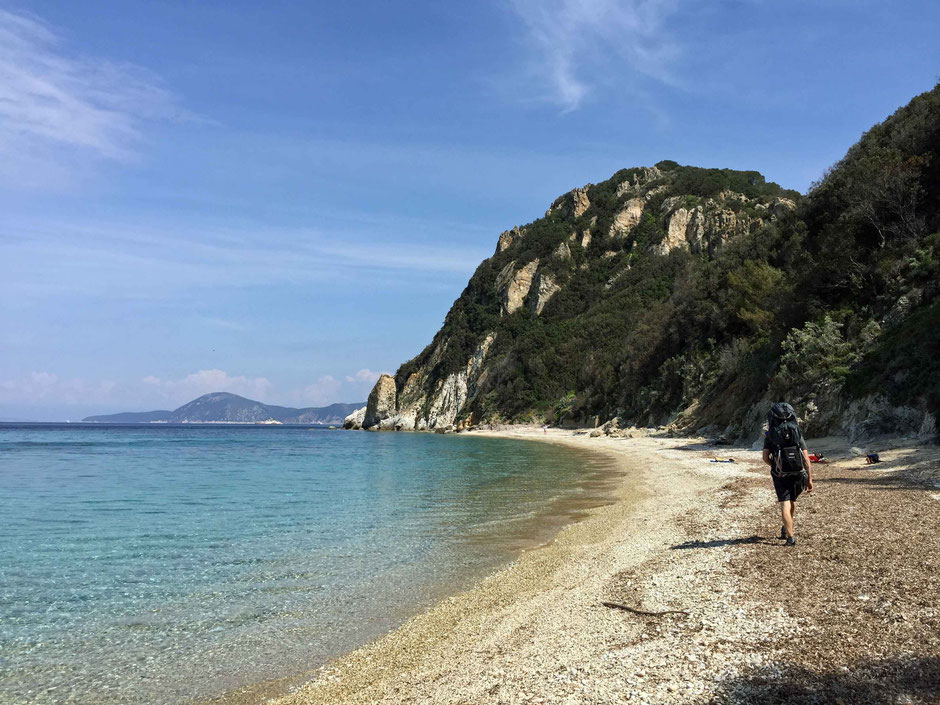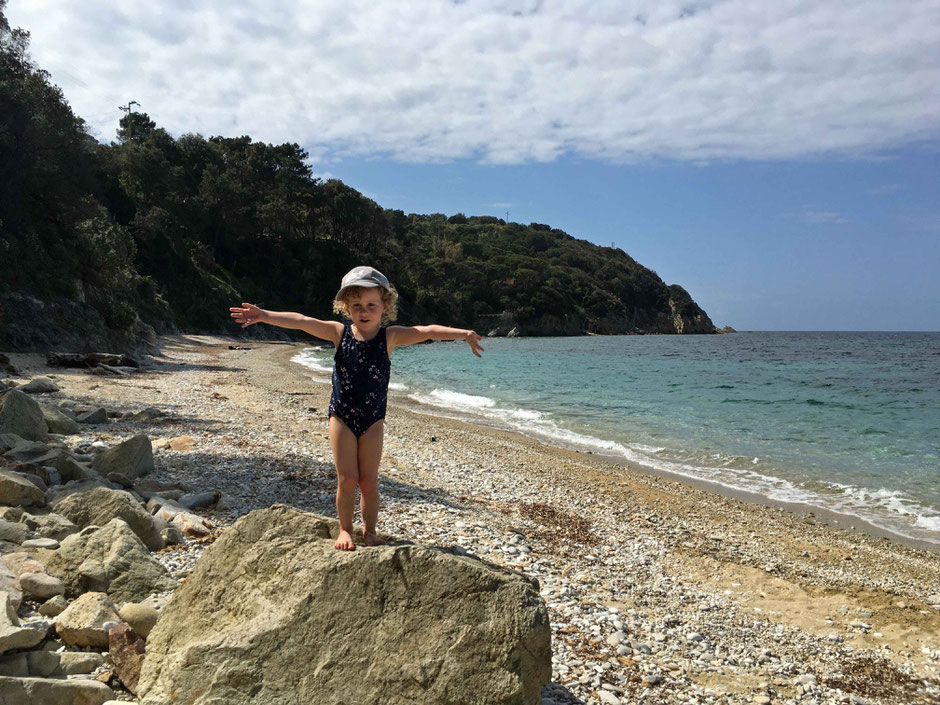 Spiaggia della Padulella
Spiaggia della Padulella is right around the corner from Spiaggia Capo Bianco and is one of the most popular beaches. It is a much smaller beach and visibly more crowded than any others, though it was the afternoon of Easter Sunday when we visited. There were bigger, but smooth rocks which made it a little hard to walk, but again there were small patches of actual sand. 
The water had small waves and it got deeper faster than the other beaches, but it was still ok for the kids to go in a little bit.  The nicest thing about this beach was the varying colors in the water and the really nice view of the fort across the water in Portoferraio.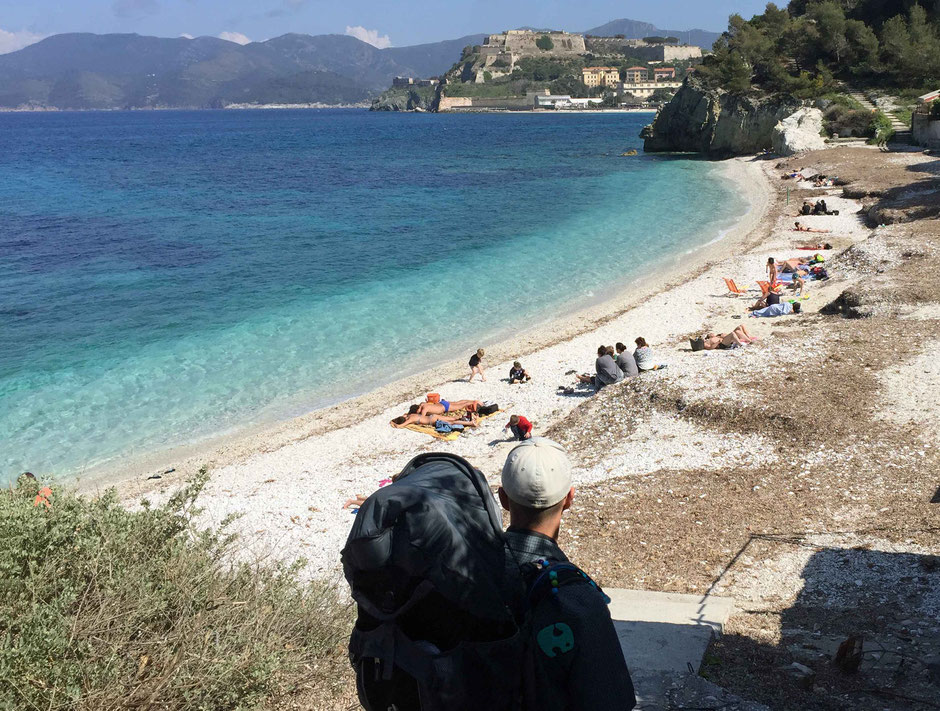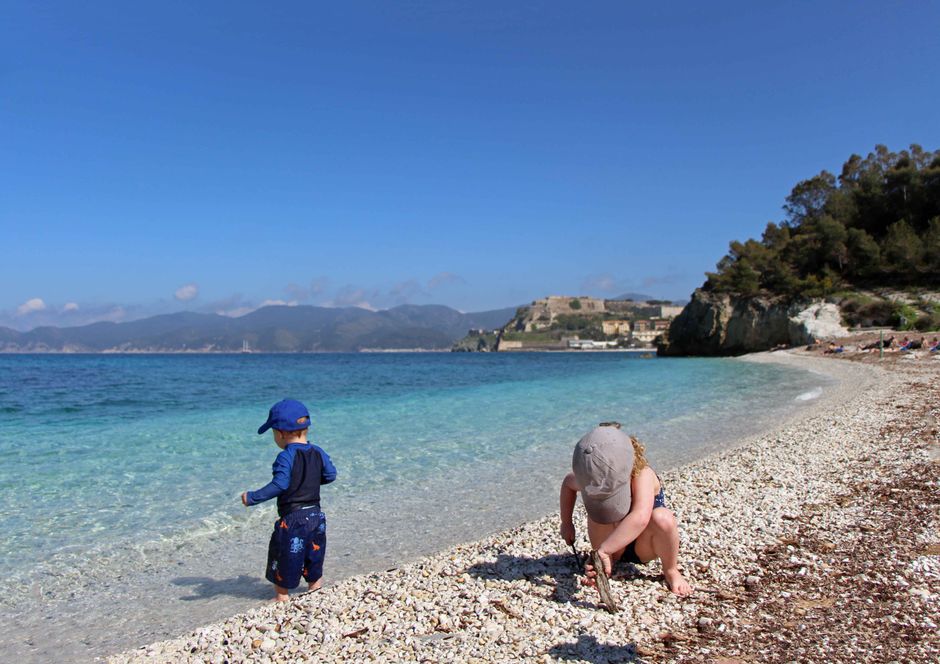 HISTORIC TOWN CENTER
On our last day, the weather had turned a bit chilly and we had to return our rental bikes. It was the perfect opportunity to go into town and spend some time exploring the historic town center. The harbour was stunning with its large U shape filled with sailboats moored all around and colorful buildings providing an interesting background.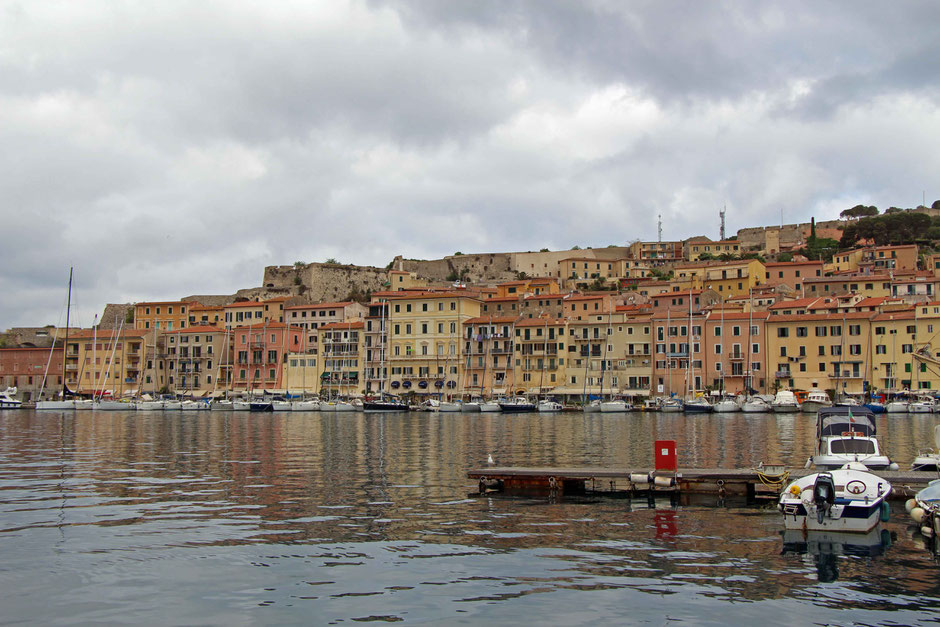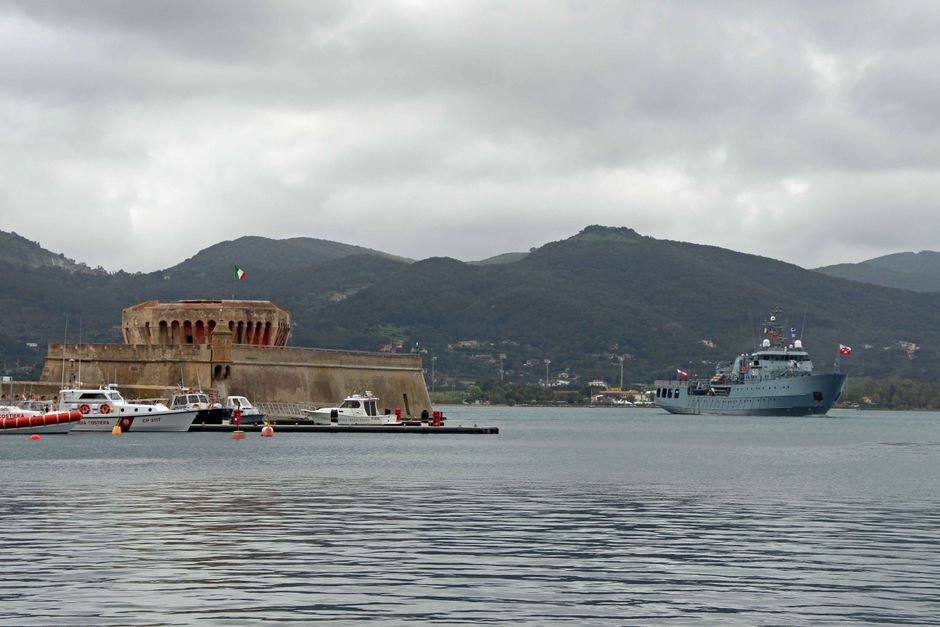 With no real plan, we randomly walked through the town center to Piazza della Repubblica then up the stairs to the Napoleonic Mills House. The long set of stairs was probably the highlight for the kids though it took some encouragement to get our toddler to keep going. We circled back through a tunnel and down another set of stairs. Though it doesn't sound like much, with two small kids this didn't happen quickly as we had to stop for benches and pigeons along the way.
This medieval part with the city walls, forts and narrow streets is fun to just explore and see where you end up.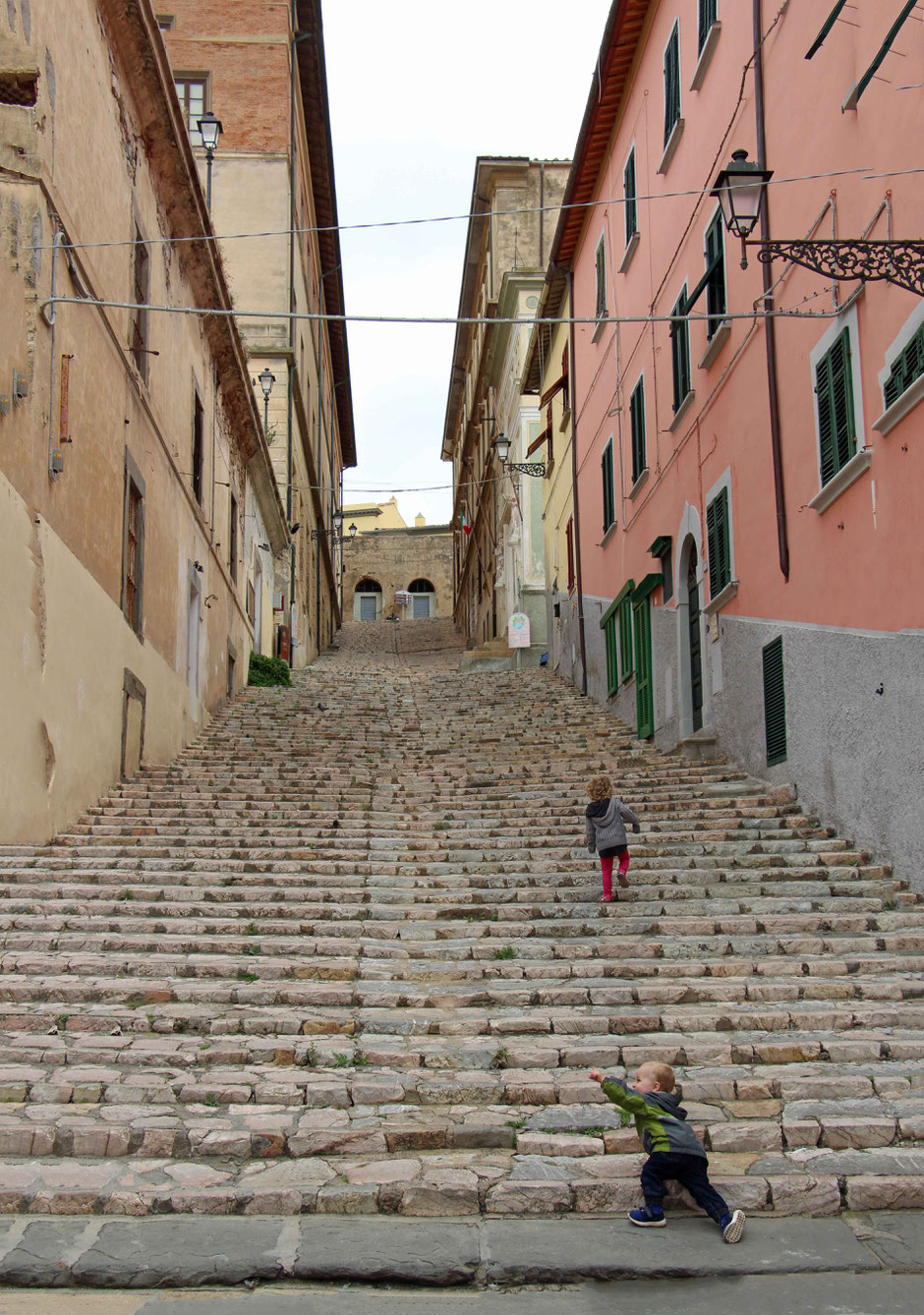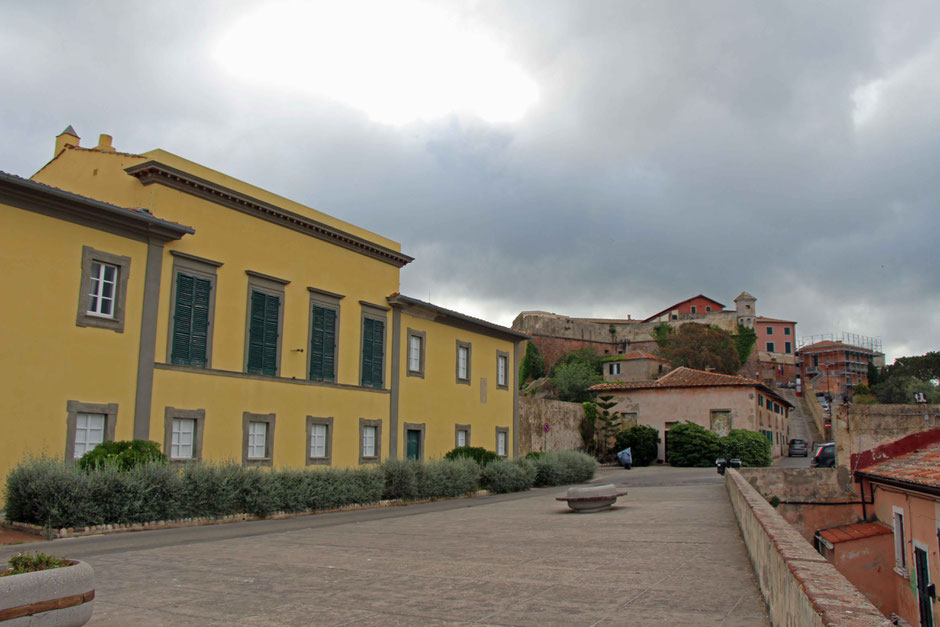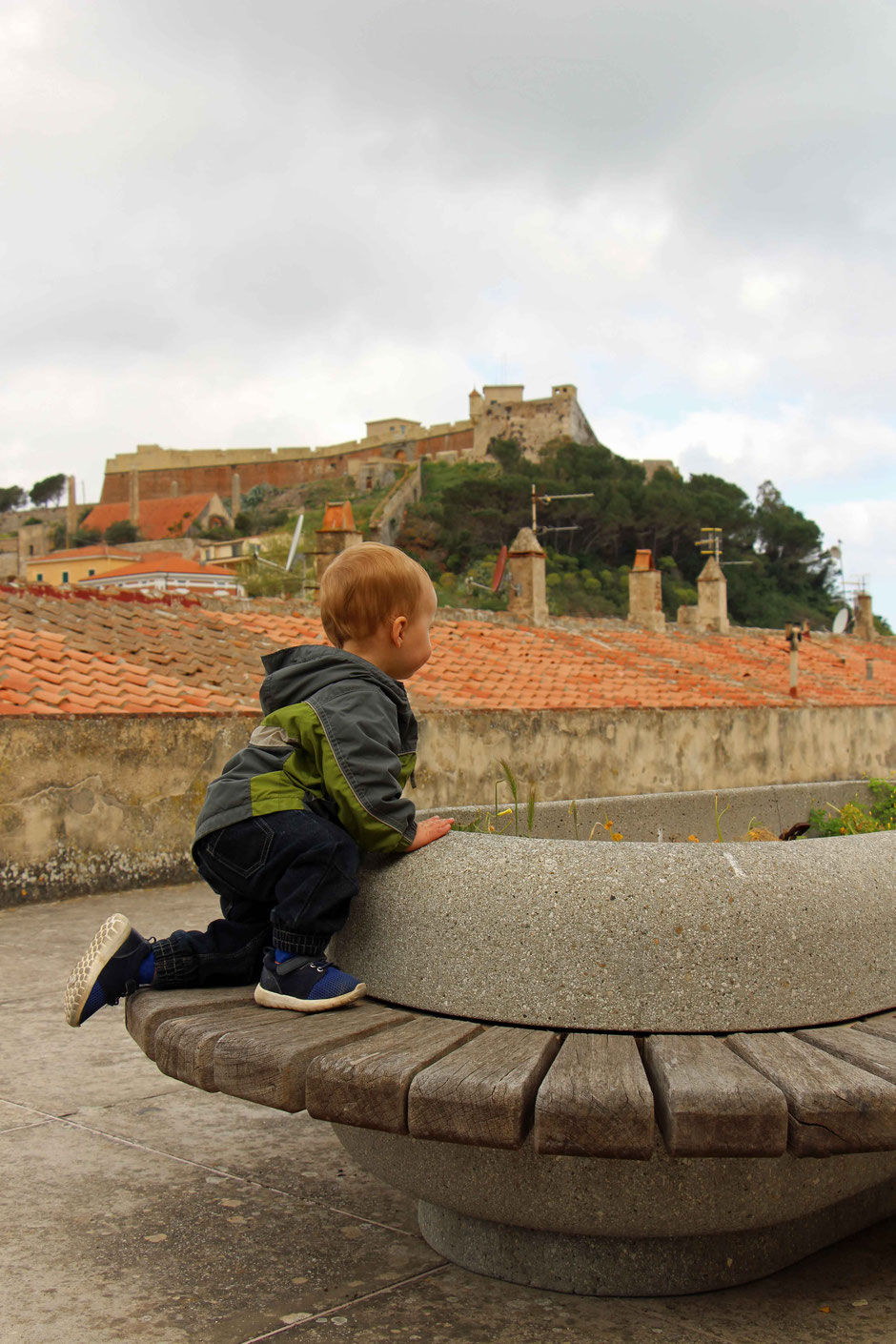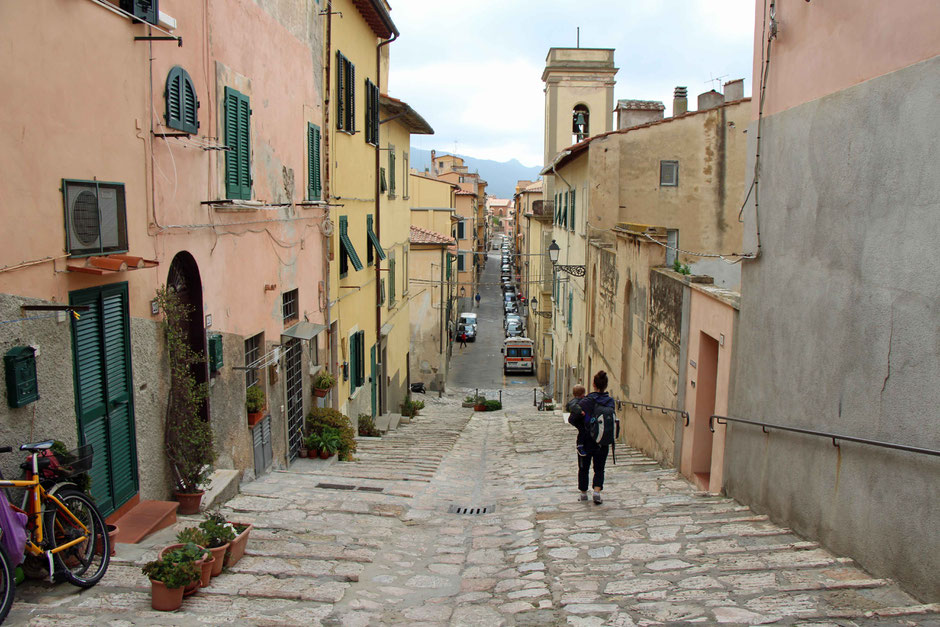 After what ended up being a more relaxed week than we had intended (though thoroughly enjoyed and in hindsight, really needed), we took an early morning ferry back to the mainland then a train up to Cinque Terre.
ELBA TRIP PLANNING RESOURCES
Kid Friendly Apartment Rentals on Elba
Pin It For Later!