Rome is one of the world's most iconic cities and is literally bursting at the seams with world class cultural attractions. Sounds like it will bore a couple of toddlers to death, right? Wrong! Rome isn't all just museums and churches… there are many active outdoor activities which will help create a fun and balanced itinerary the whole family will enjoy!
The secret to a happy family while travelling is to give everyone something to enjoy each day. It's easy to overlook the needs of children while travelling, but even a small effort goes a long way. They will be more likely to behave at the Vatican if there is a promise of a playground or gelato afterwards.
If you are travelling with small children in Rome and want to avoid bringing car seats, read this post on Transportation from Rome FCO Airport to your Hotel.
Here is what we did on our 7 full days in Rome. We hope you find some fun ideas for your family!
This post contains compensated links.
Day 1
We were a little jet lagged after a long flight from Canada, so we found ourselves up quite early. In our experience, this is an excellent opportunity to get out early and see popular sights before the crowds arrive.
With our 20 month old son in his backpack carrier and our 4 year old daughter on foot, we set out to see Rome for the first time. We love walking to our destination, especially on the first day somewhere new as it allows us to get the lay of the land. (See the bottom of this post for tips on walking in Rome with toddlers). 
Our first stop was Piazza Navona, one of Rome's most beautiful and popular piazzas. We arrived around 8am and we seemed to be the only tourists around. With the early morning sun illuminating the fountains, it was a magical first experience in Rome. We spent time soaking in the surroundings, admiring the fountains and chasing pigeons.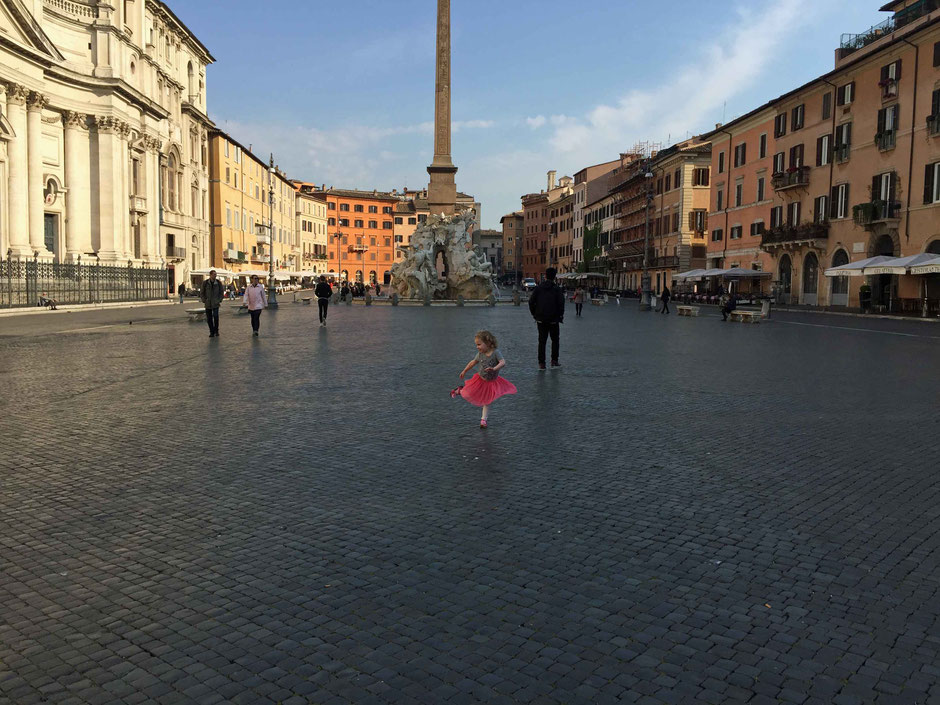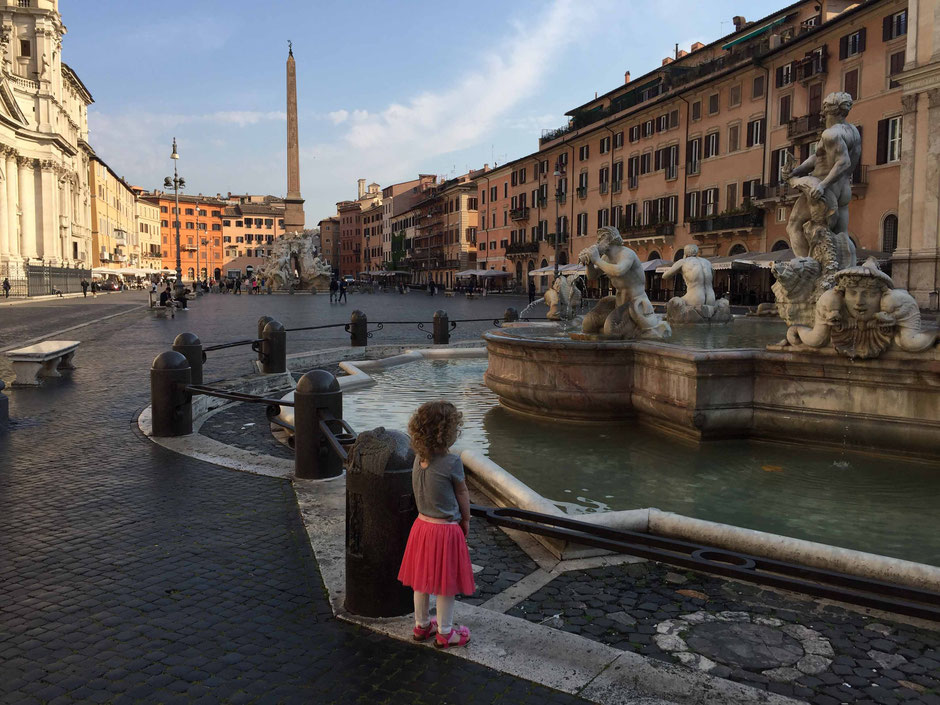 Best of Rome Walking Tour: Pantheon, Piazza Navona, and Trevi Fountain
Pantheon
We got to the Pantheon a few minutes before it opened, so we entertained our kids by letting them balance-walk along the waist-high half wall which surrounds parts of the building. What kid doesn't love walking on a raised walkway?
Entering the Pantheon the moment it opened was great as it was not very crowded, so we let the kids out of the backpacks. We walked around and admired the beautiful domed ceiling, columns and sculptures.
While we enjoyed the culture, our kids had fun doing down dogs on the marble floor. It also didn't take them long to figure out the place had great acoustics, so they started to make loud noises and giggled at the echoes they made. We had to try and shush them, but man they thought it was funny, and no one really seemed to mind…
Afterwards, we sat on the steps of the Fontana del Pantheona, a fountain in the piazza in front of the Pantheon, and had a little snack.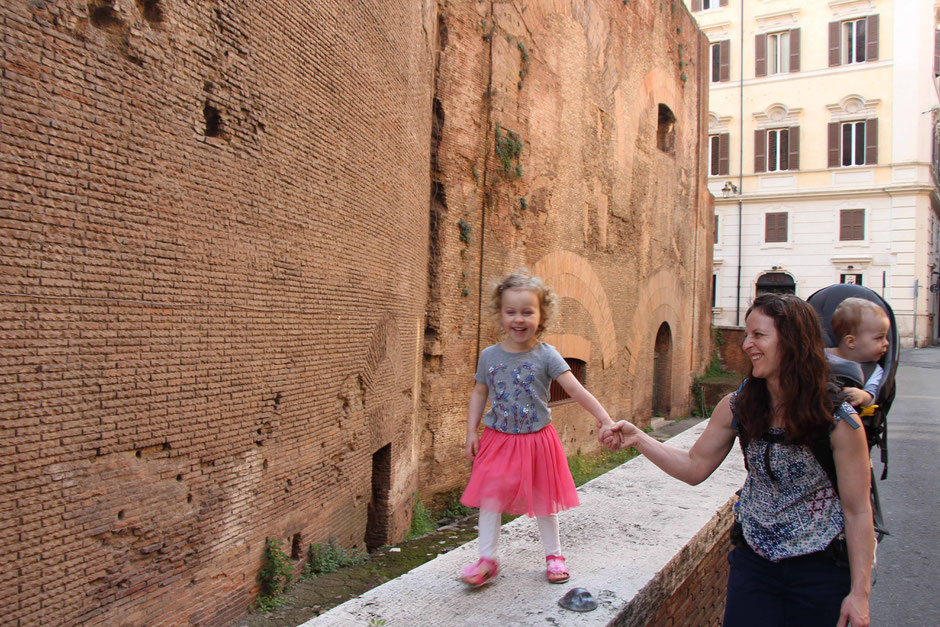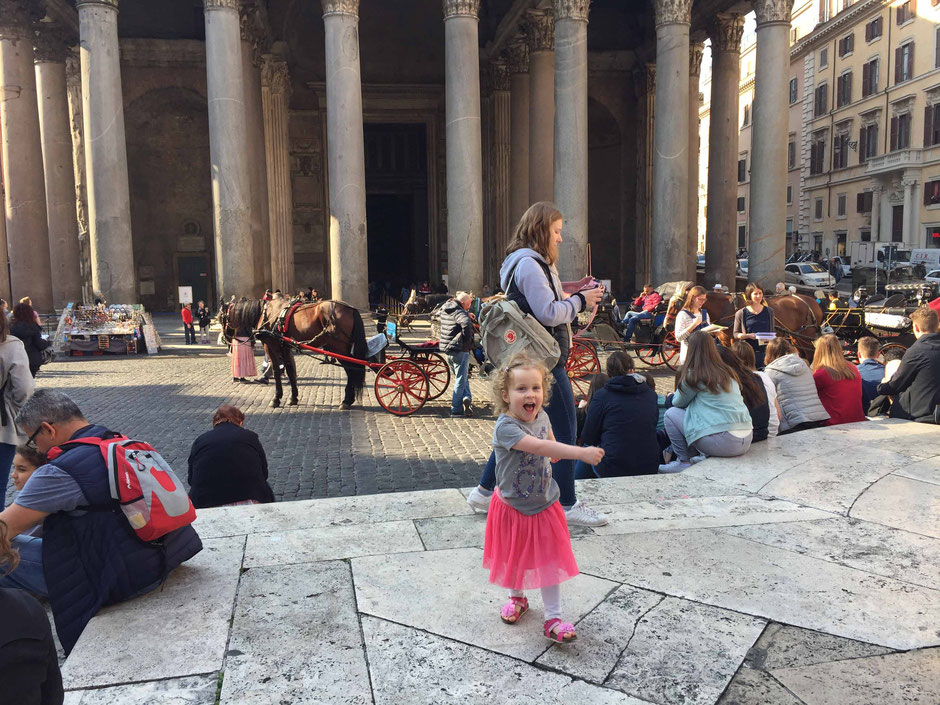 Largo di Torre Argentina
One of the great things about exploring Rome on foot is the unexpected discoveries along the way. On our way, we stumbled across Largo di Torre Argentina, a large archaeological site with the ruins of four temples.
In any other city in the world, this would be a main attraction, but in Rome, it is largely overlooked. The kids loved looking for the many stray cats who call this place home. The Torre Argentina Cat Sanctuary occupies the southwest corner of this property and the cats roam freely amongst the ruins.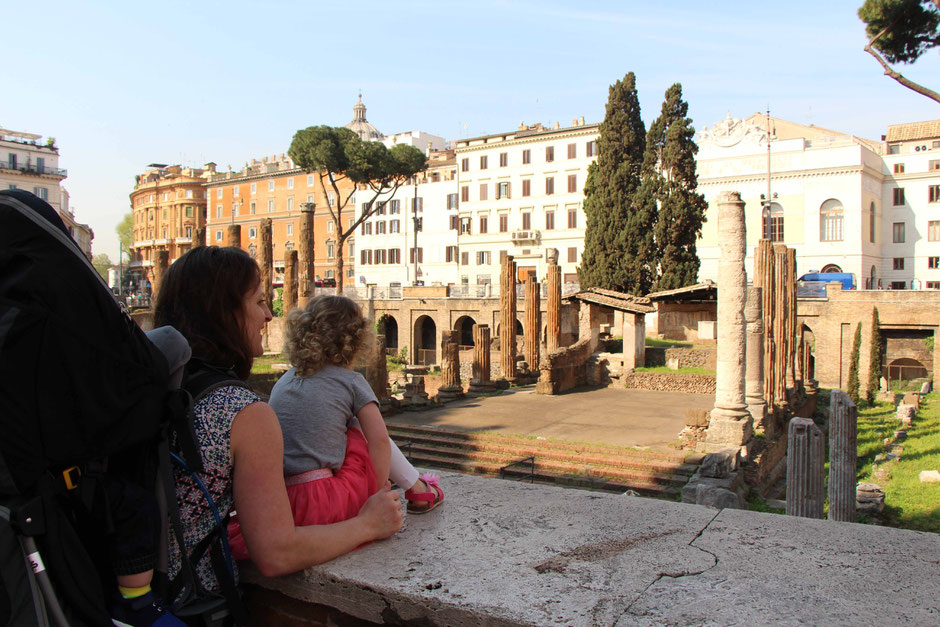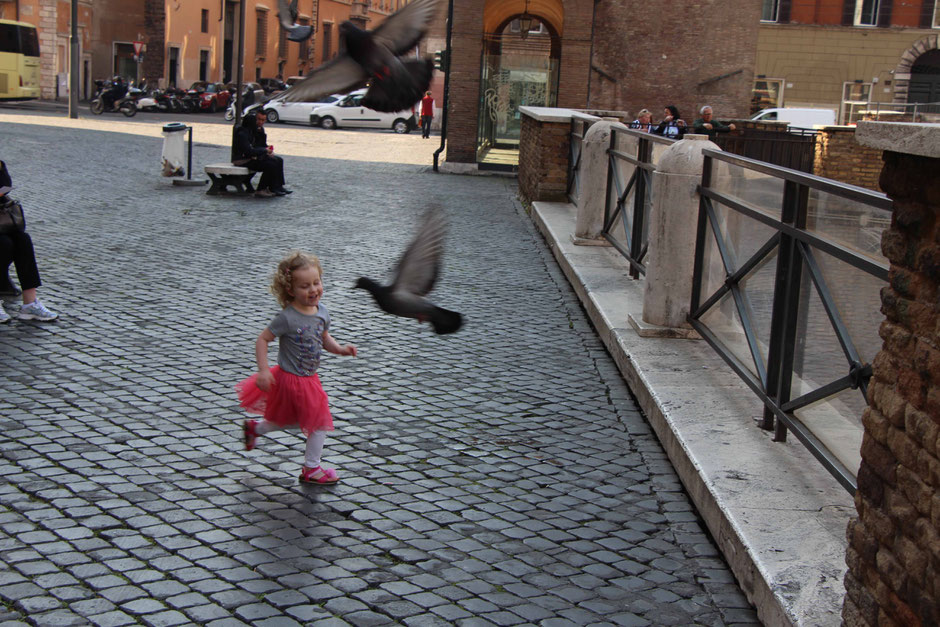 Campo de' Fiori
Campo de' Fiori has everything you'd expect in a Roman street market; fresh fruits and veggies, pasta, flowers, wine and souvenirs. Italians take their food quality very seriously and it shows – I've never seen tomatoes that were so red!
It's a fun place for the kids to walk as the vendors like to interact with them. Unless you are a big time shopper, this is also a reasonably quick attraction. The market is surrounded by café's and restaurants, so it's a good place to come for lunch or a cappuccino. 
Family food tip: Try the pizza at Forno Campo de' Fiori in the NW corner of the market. Some say it's the best pizza bianca in Rome (a very popular street food).
Our morning outing took 3.5 hours and we walked 3.7 miles / 6km.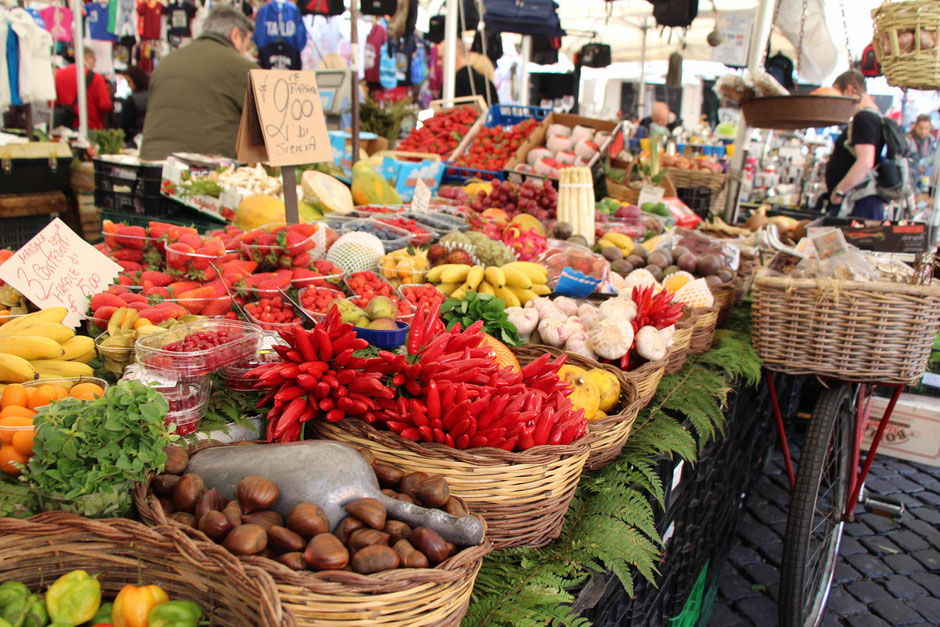 Italian Pizza Making Class for Kids and Families in Rome
Spanish Steps
It's important for small kids to get some play time every day while traveling, so after nap time we decided to take them to a park. The famous Spanish Steps were on our way, so we decided to stop there first.
We arrived at 3PM and it was very crowded; from the fountain at the bottom to the very top of the stairs, people were everywhere. We're not really into crowds, nor just sitting around, so we slowly climbed the stairs, took some pictures, enjoyed the views and then left to go to the park.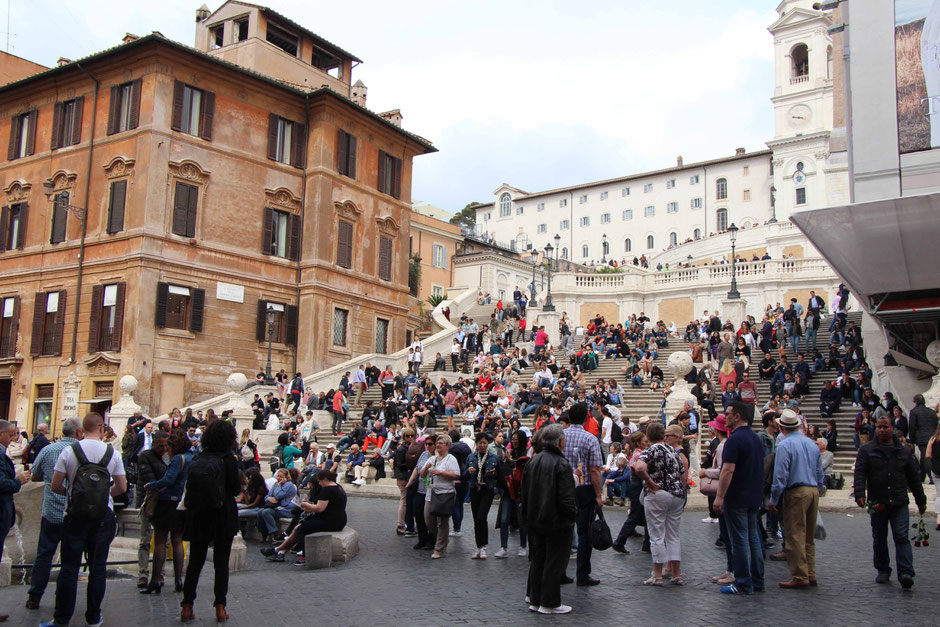 Rome Highlights Private Tour for Kids & Families w Trevi Pantheon & hotel pickup
Villa Borghese Gardens
Villa Borghese Gardens is the third largest park in Rome and the only major park within walking distance of the historic center. This huge park is well treed and makes a nice place to find shade on a hot day.
We entered the park in the southwest corner and immediately started seeing lots of families riding four wheel bikes. It looked like so much fun that we tracked down the rental shop and got one of our own.
Talk about cheap family entertainment – a four seater family bike only cost 12€ per hour. The kids sat up front where they had their own "steering wheel". Our bike had safety buckles for the kids, but we noticed that some of the other bikes didn't, so be careful if you rent one.
The kids absolutely loved it! They laughed so hard and had a great time 'steering' the bike. They waved at everyone, who always waved back, making the experience that much more special for them. As for the adults, we loved giving the kids such a fun experience and found it a great way to explore such a big park in a short time.
Along the way, we stopped at a playground near Casina di Raffaello to let the kids play. Casina di Raffaello is a recreation center for kids and they were kind enough to let us use their bathroom.
Other fun stuff for kids within the park include a train, a zoo, several playgrounds and tons of pigeons to chase.
Our afternoon outing took approximately 2.5 hours and we walked 3.5 miles / 5.6km.
Meal tip: Some of the best takeaway we had in Rome was near Villa Borghese Gardens. It's a little hole in the wall called Pastificio Guerra. It was affordable and very good.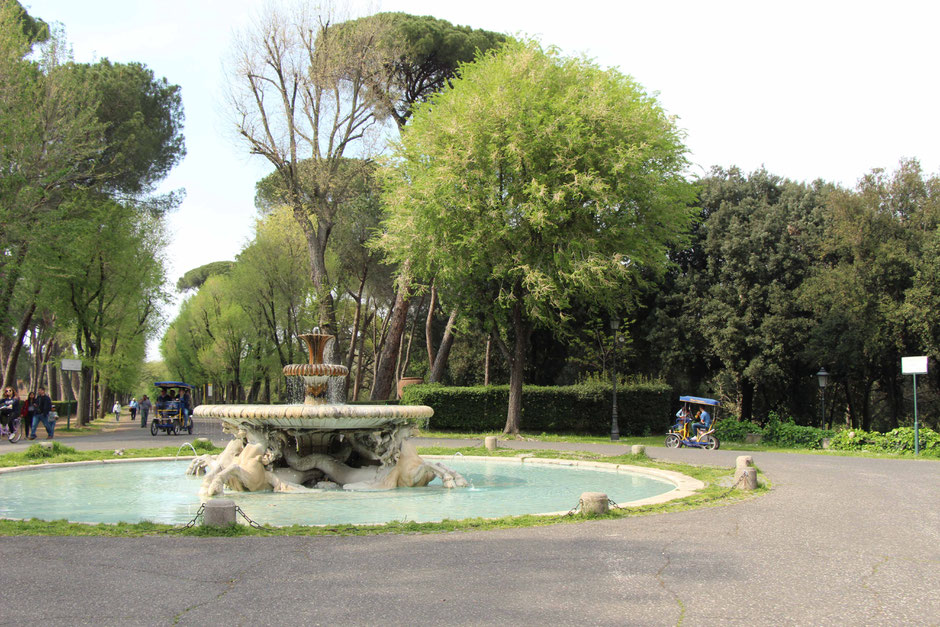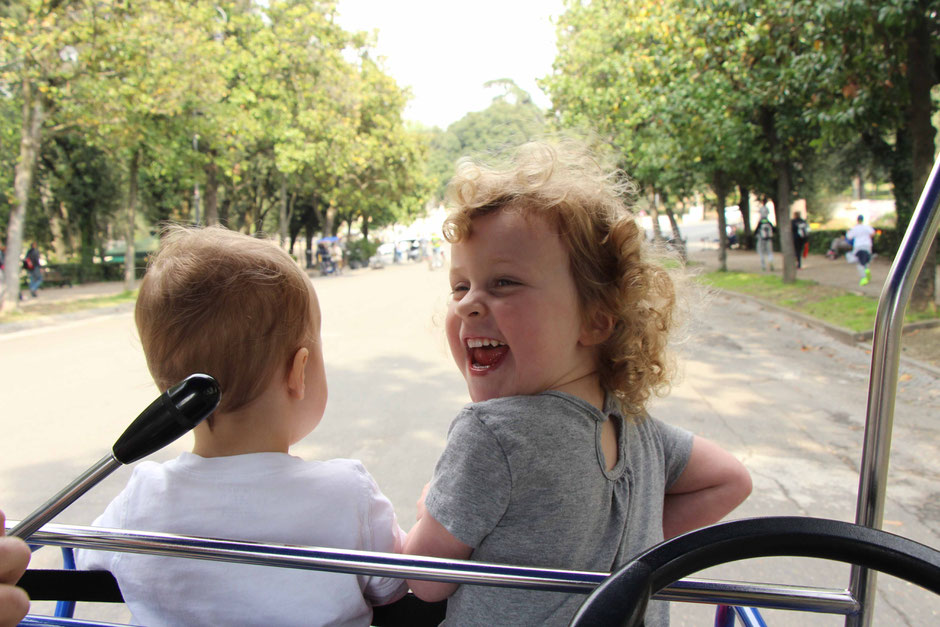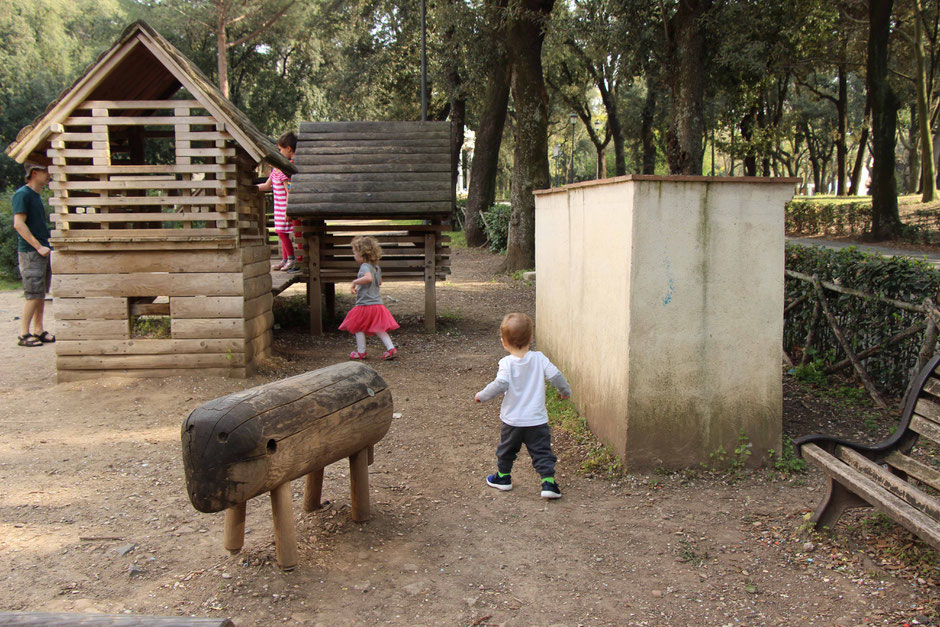 Day 2
Colosseum
Today's "must see" was the Colosseum. We read online that backpacks are not allowed inside, so we guessed this meant that backpack carriers would not be allowed either. So we set out on foot with our daughter walking and our son in the Ergo carrier.
Again, we can't recommend walking the streets of Rome enough. You will be rewarded with endless discoveries. The stretch of road from the Altar of the Fatherland to the Colosseum is especially fun for everyone. There are ruins all along the road, fun street art and even 'scraps' of marble columns the kids will love to climb on.
Wow! Despite being one of those iconic buildings that we've all seen in pictures a million times, the Colosseum doesn't disappoint in person. While inside watch your kids close.
As the walkways are quite narrow and are often filled with tour groups who are not paying much attention to where they are going. There are lots of "Do Not Climb" signs throughout the complex, which is a shame as everything inside must look so fun to climb to a 4 year old.
The kids had a lot of fun exploring the many hallways on the main level and climbing whatever they were allowed to. The importance and beauty of this complex was lost on our kids, but it's fair to say they really enjoyed their visit here. 
Tip: There is a free water bottle filling and cell phone charging station just outside the Colosseo metro station.
Our daughter did great this morning and had walked 4.6 miles / 7.4km by the time we left the Colosseum. We decided to take the bus back to our apartment. It was VERY crowded, but was a nice treat after so much walking. From door-to-door, it took us about three hours to do this outing.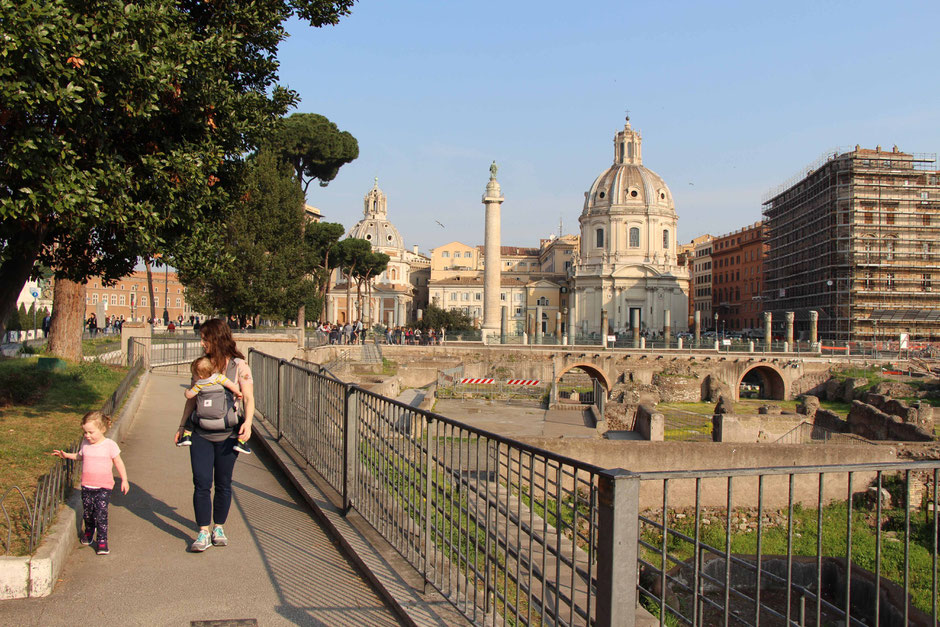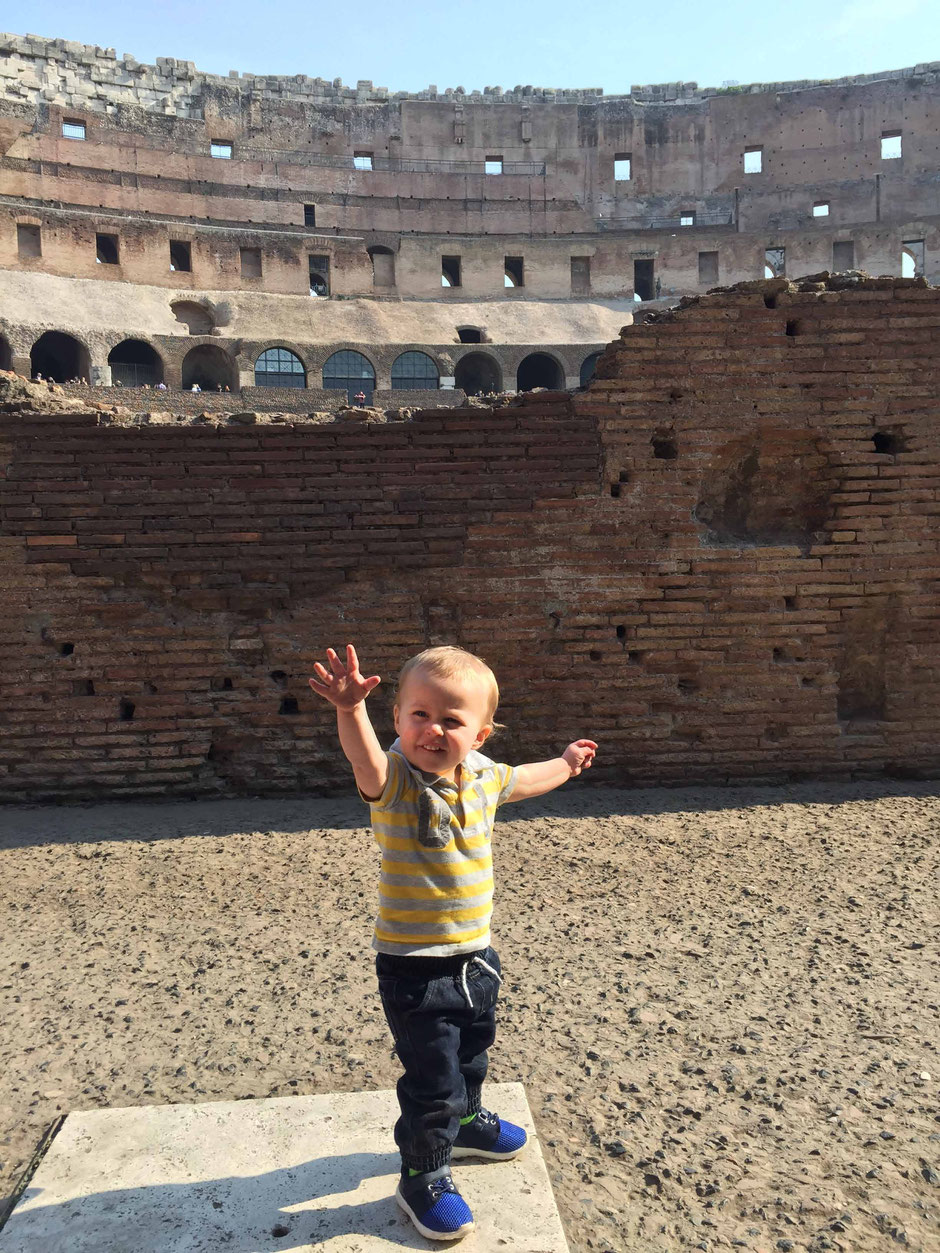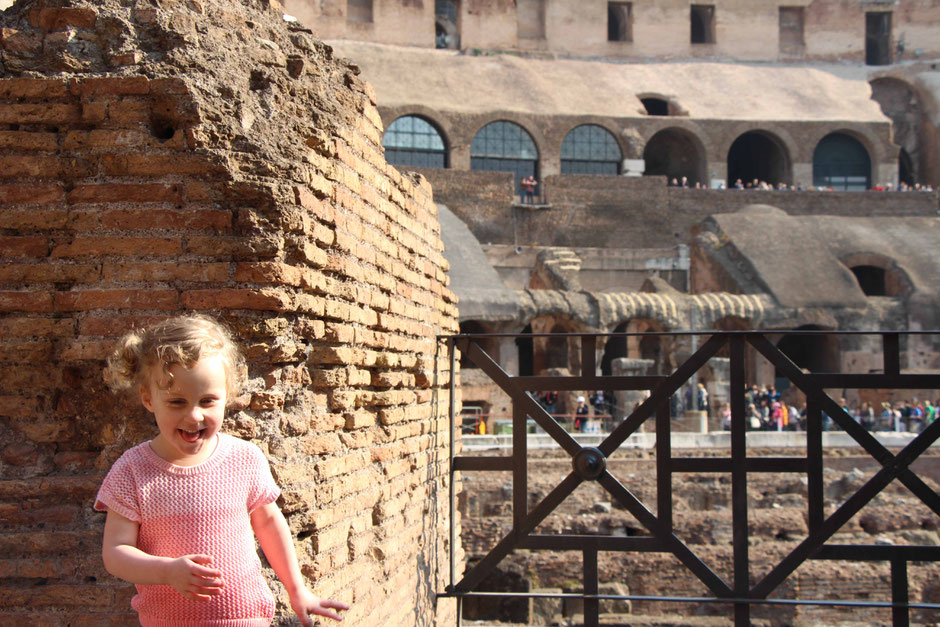 Private Tour of the Colosseum for Kids and Families
Janiculum Hill
After 36 very busy hours in Rome we were already itching for a little nature, so we set out to walk Janiculum Hill. This walk is across the river on the southwest side – it starts here and ends here in the trendy Trastevere neighborhood. We always enjoy walking up to a viewpoint early in a trip as it is a great way to get the lay of the land.
Janiculum Hill is a pleasant walk which follows a tree-lined path through some parks and plazas. The views of Rome below are worth the climb alone, but there are also some interesting sights along the way including a beautiful large fountain, a carousel, statues and a park full of white marble busts.
The walk is approximately 1.5 miles / 2.4 km long and has an elevation gain of 200 feet. The walk took us about 45 minutes from end-to-end.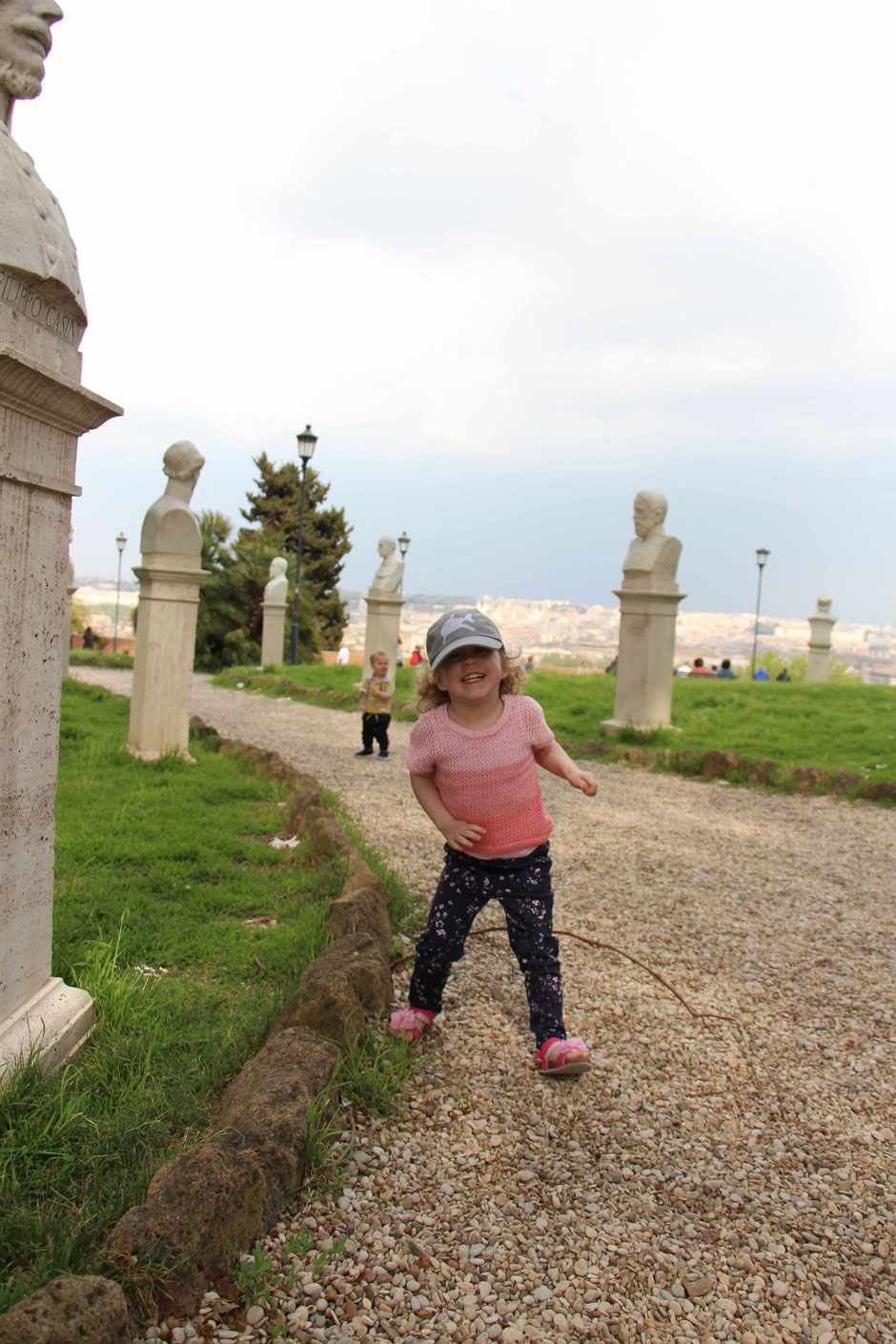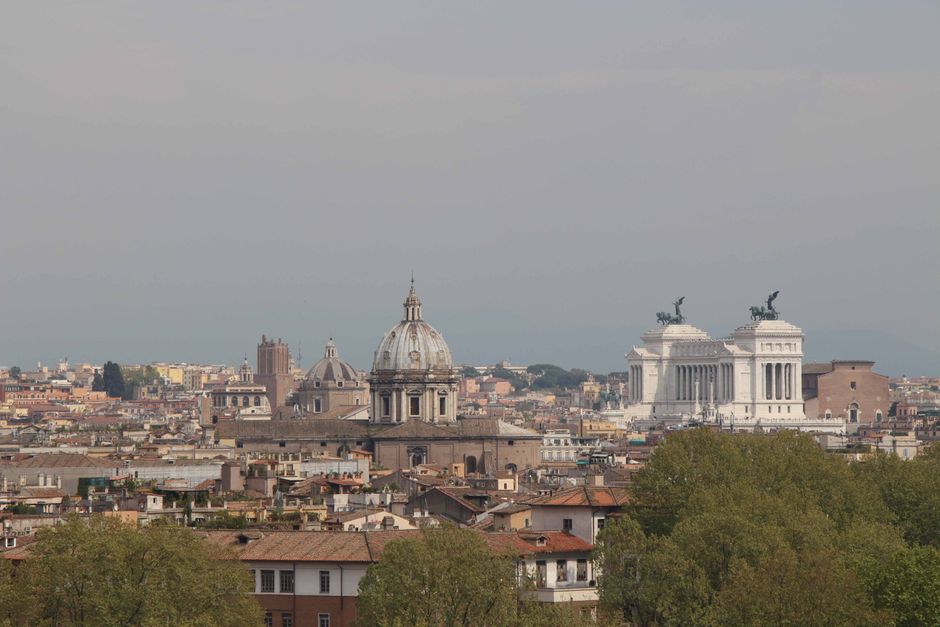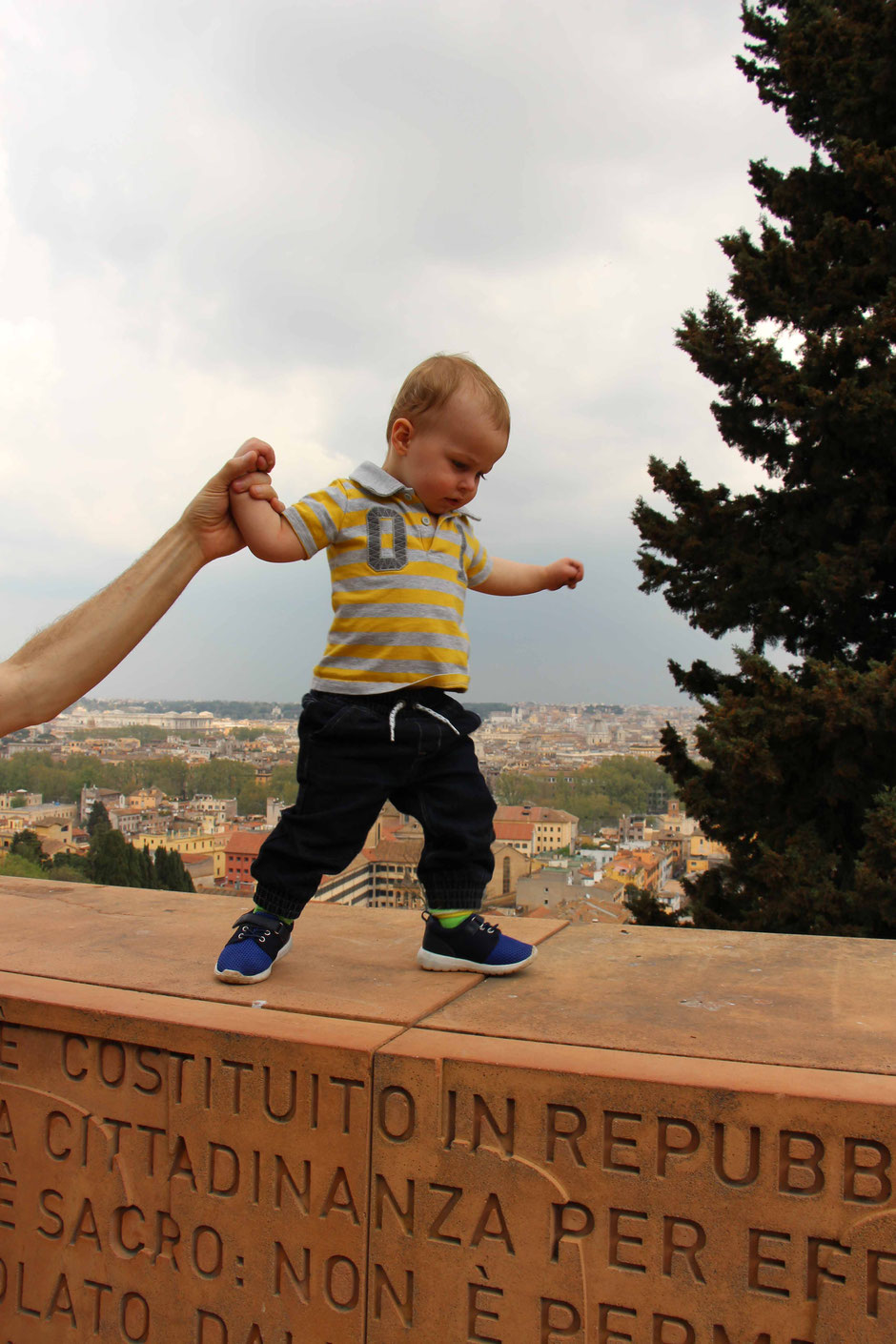 Day 3
Roman Forum
As usual, we arrived very early. We began our visit by exploring Palatine Hill, one of the Seven Hills of Rome and one of the most ancient parts of the city. It wasn't very crowded and this well treed natural area has nice, wide paths so we let the kids run around and explore a bit.
Our son loved watching the green parakeets eating flowers off the trees and our daughter enjoyed running through a garden maze. The views of the Roman Forum are excellent from the various viewpoints on the hill.
Next, we walked back down the hill to explore the ancient government buildings of the Roman Forum. This area was much busier than Palatine Hill, especially along the Sacra Via.
We were impressed by the ruins of these important buildings, but the kids were less impressed. They had more fun up on the hill. If we were to do it again, we'd visit the Forum first as it'd be less busy and gets the 'boring' stuff out of the way. Then we'd 'reward' the kids with some playtime up on the Hill.
Tip: To save a little time and conserve a little energy in the kids we took the bus to the Roman Forum. Note, that you cannot buy bus tickets on the bus in Rome. You must buy them ahead of time from a machine (only found at busy stations), a tobacconist or a newsstand.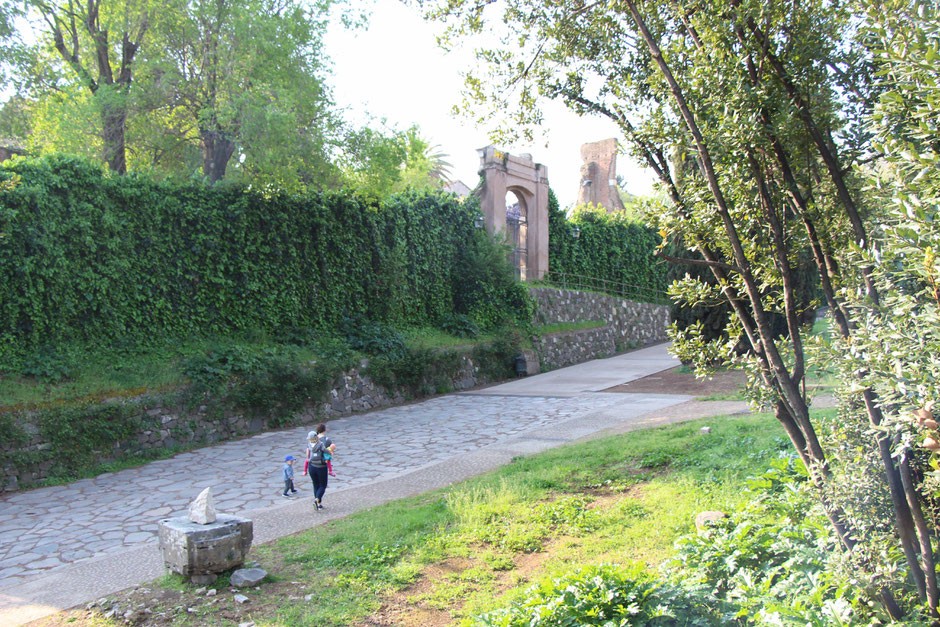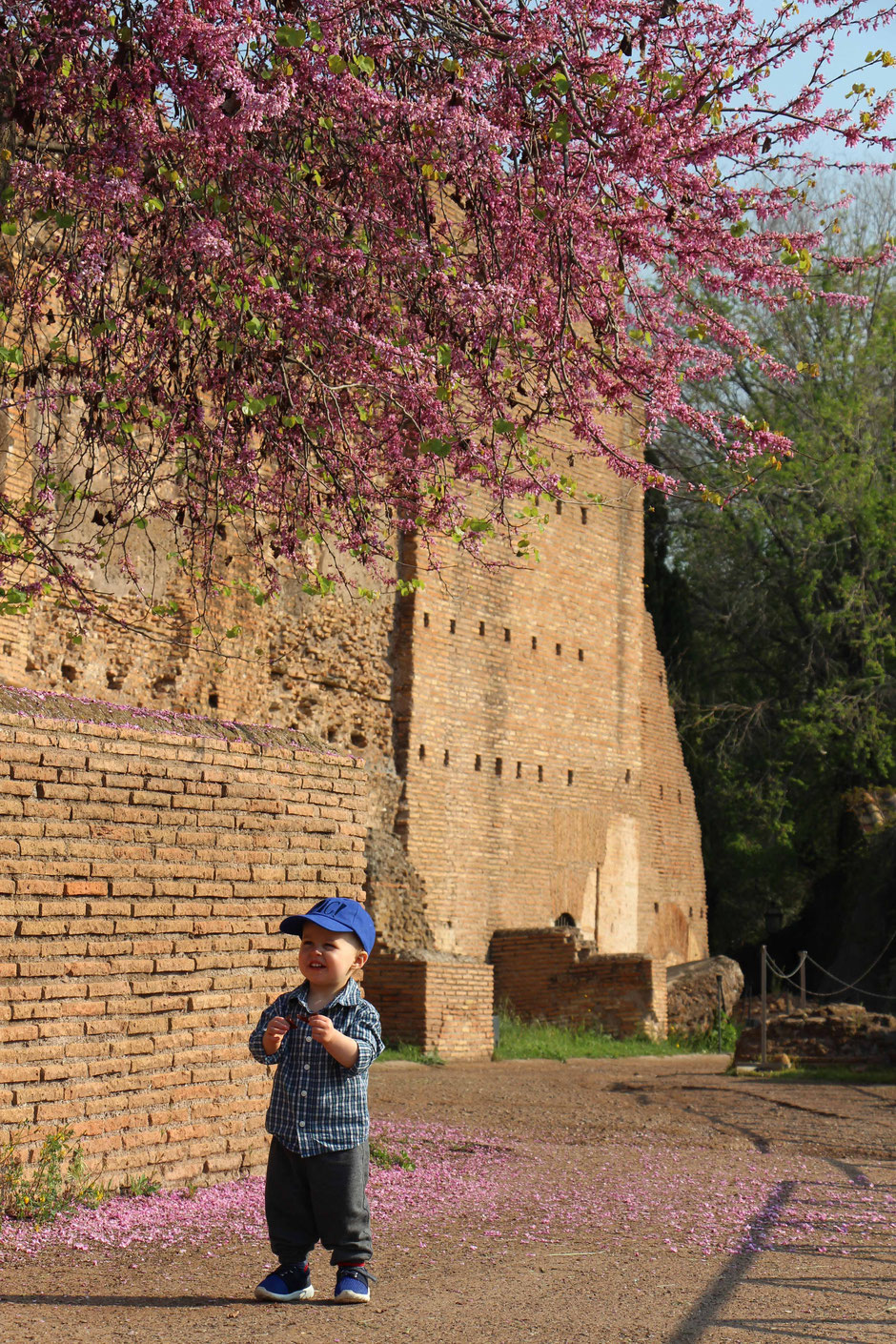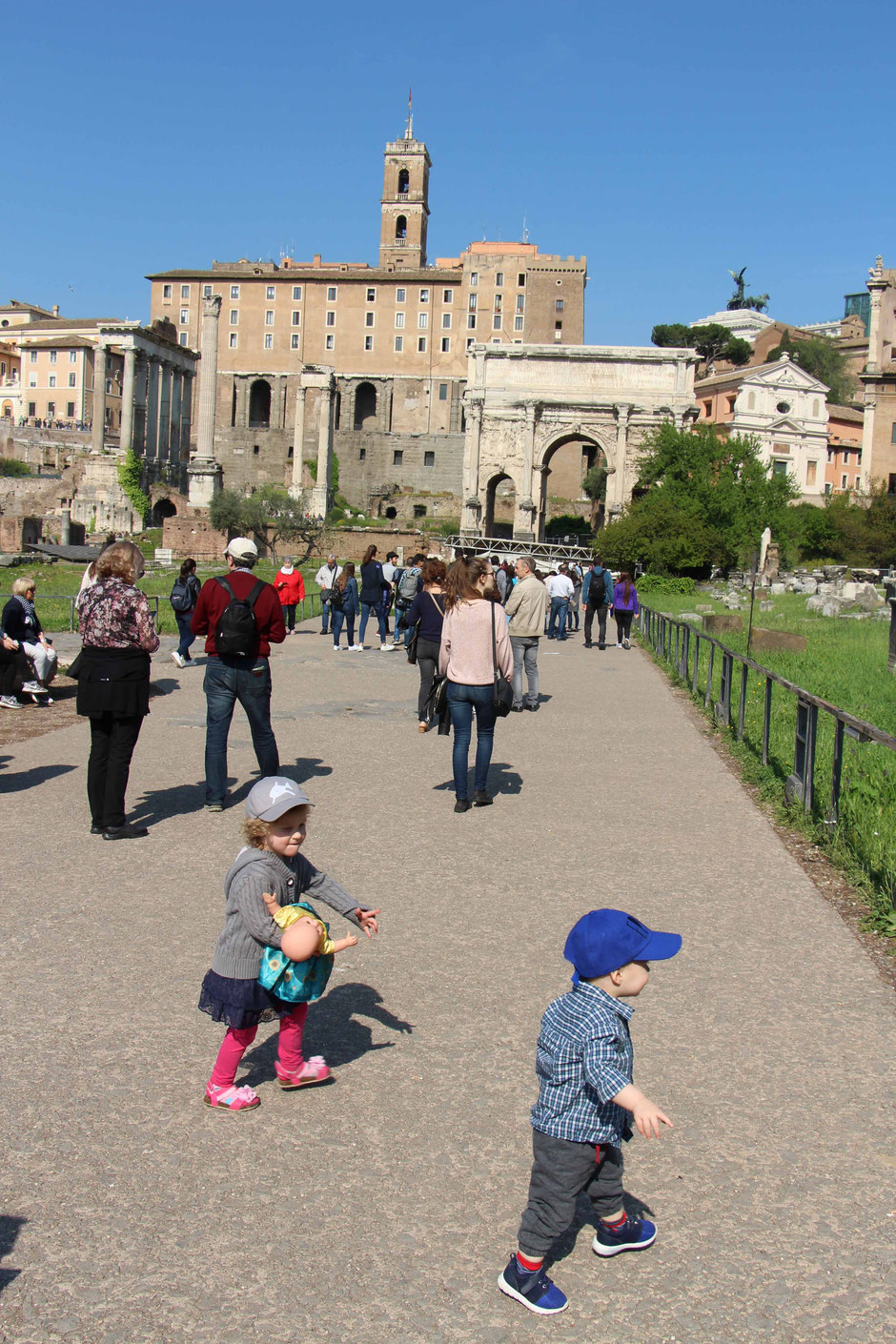 Skip-the-lines Colosseum and Roman Forum Tour for Kids and Families
After nap time we could tell the kids were getting tired from all the activity, so we did something low-key we knew they'd love – chasing pigeons at Piazza Navona. Being mid-afternoon, it was much busier but we didn't mind as this visit was for the kids.
We capped it off with a visit to Frigidarium, our favorite gelato place in Rome. If only we would have had this post on finding the best gelato in Italy, we could have spent so much more time taste testing the best gelato!

Day 4
Via Appia
Early this morning we met up with Jake and Dannie, two very talented family travel photographers for a photo shoot near the Roman Forum. The photos below are examples of their outstanding work.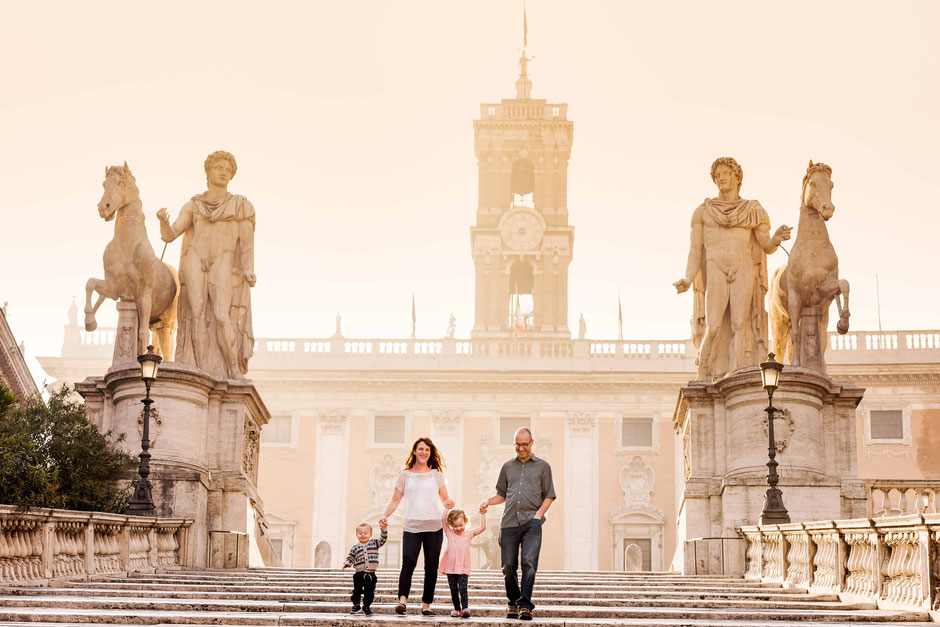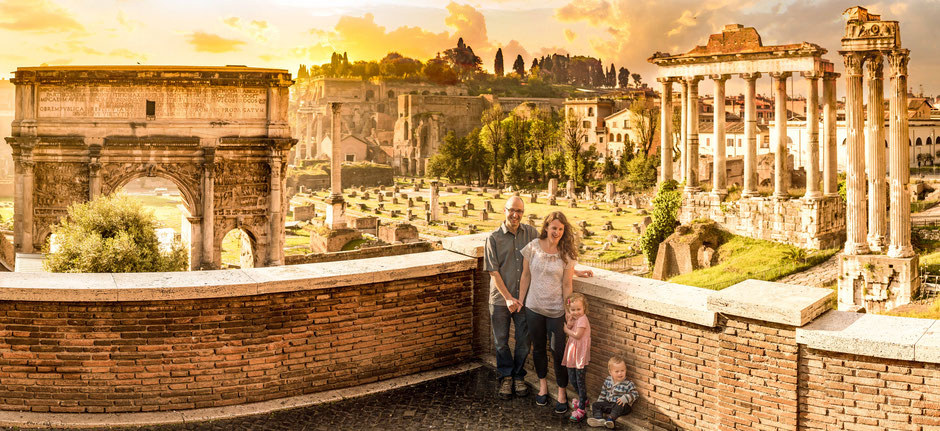 After the shoot, we all hopped on the 118 bus to the Appian Way to rent bikes. Eco Bike Roma, located near the entrance to Via Appia, had 7 speed bikes with child seats for rent and included helmets for the kids.
The first section of road was very busy with cars, but once we passed through the entrance gate the next 1-2 miles was very tranquil with only the odd car or bus going by. We turned around at that point as it seemed to go back onto a busy road again. Besides, we wanted our kids to have a chance to get out and play with each other. The kids had a great time on this outing.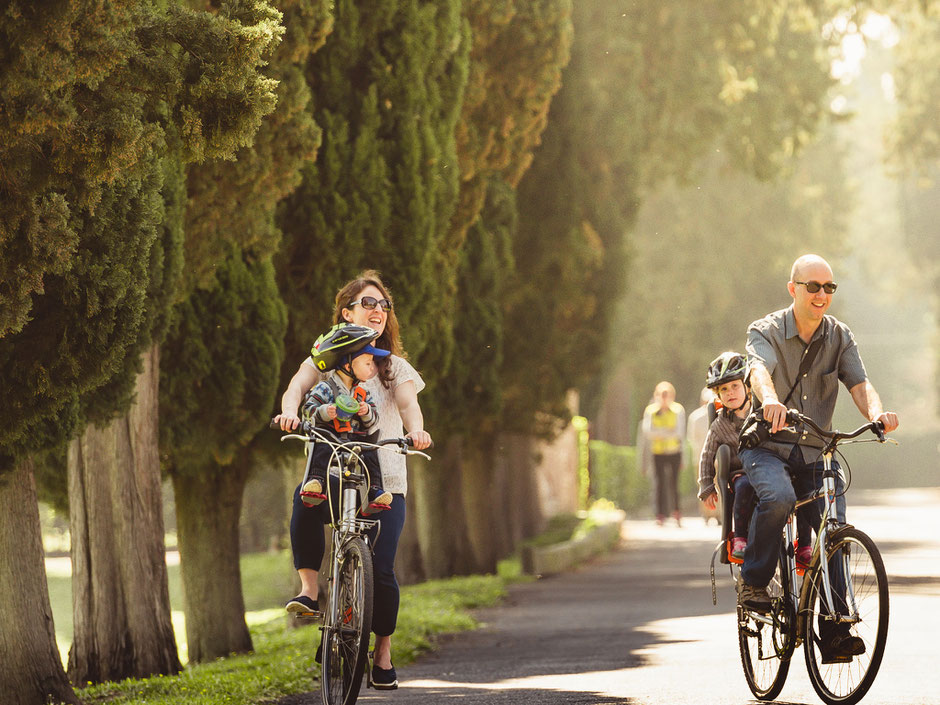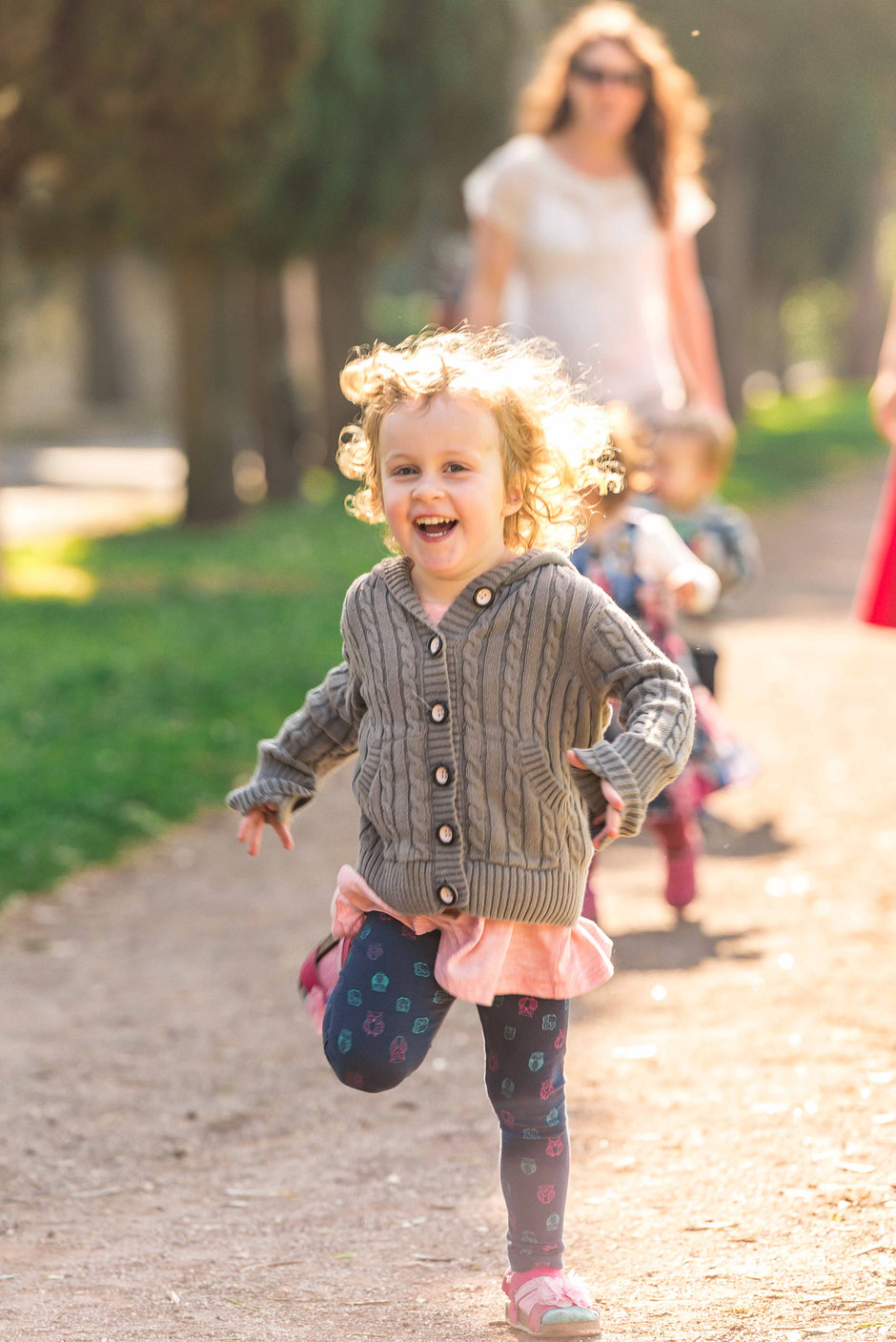 River Walk
Through our travels, we have learned that it is very important to give our kids time to play every day. It's important for their development and frame of mind. We try to find playgrounds everywhere we go, but up to this point in our Rome trip we had not yet found one near our apartment. We had noticed the Tiber River had wide walkways along its banks, so we thought the kids would have fun running and playing along the river this afternoon.
These walkways are not widely used, so there was tons of room for them to run and play. Both sides of the river have wide walking/biking paths. One side is cobblestone (and seems to be less used) and the other is paved and much busier. Our kids had a great time here, but watch out for people on bikes and for patches of broken glass.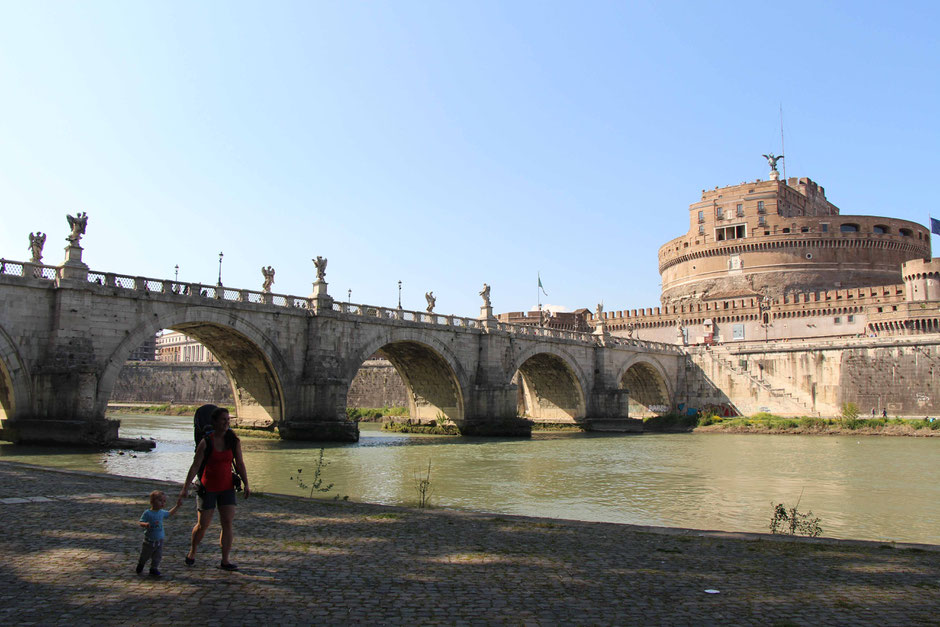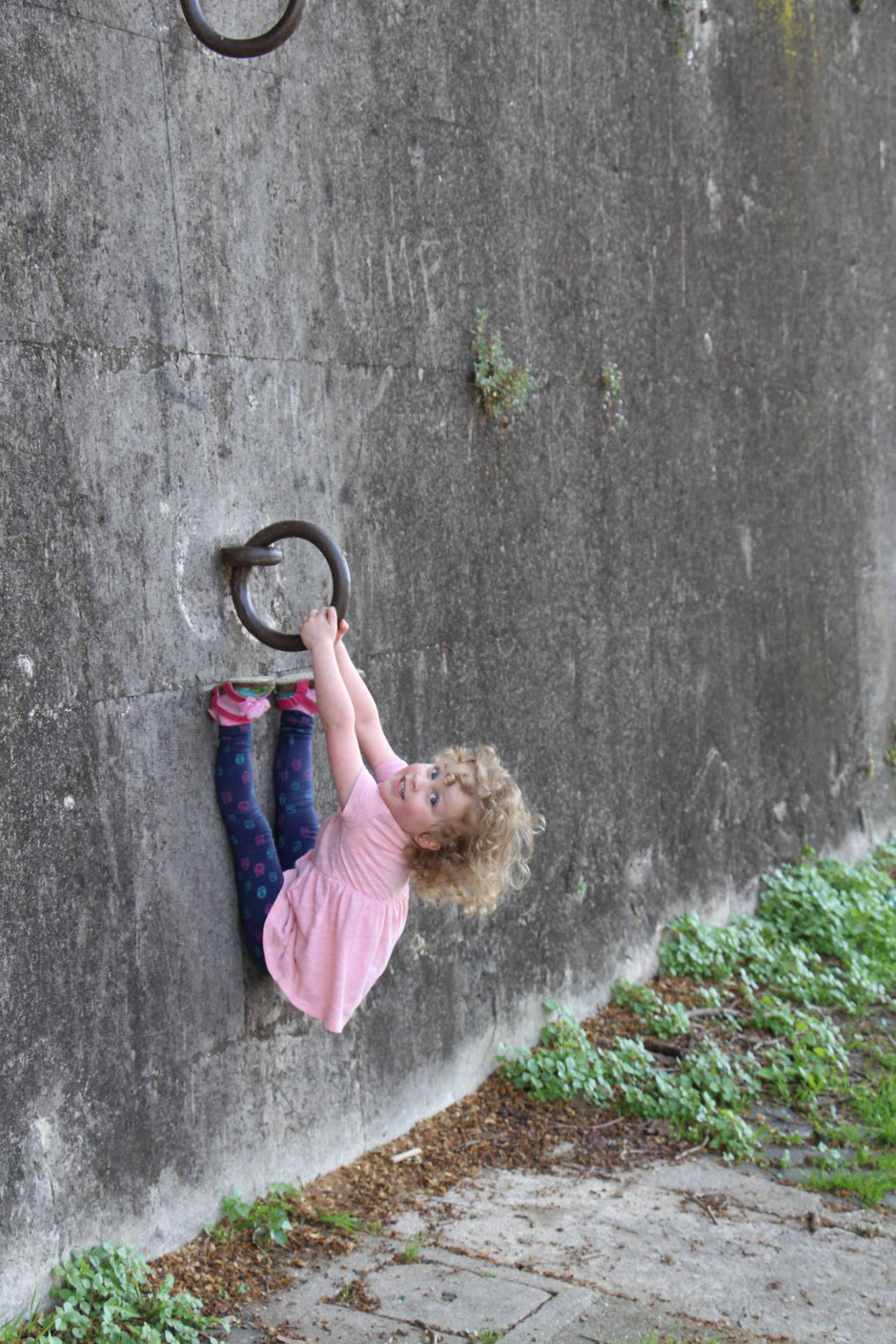 Day 5
Trevi Fountain
The Trevi Fountain is one of Rome's most famous sights. We got there at 8:40am and it was already noticeably busy, but there were still spots open near the fountain for the kids to play and get some decent pictures of the family. We enjoyed the stunning beauty of the fountain, while the kids simply enjoyed sticking their fingers in it and getting wet.
There's a famous legend that states if you throw a coin with your right hand over your left shoulder into the fountain, it will ensure that you will return to Rome in the future. Guess who forgot to bring any coins?? Sigh…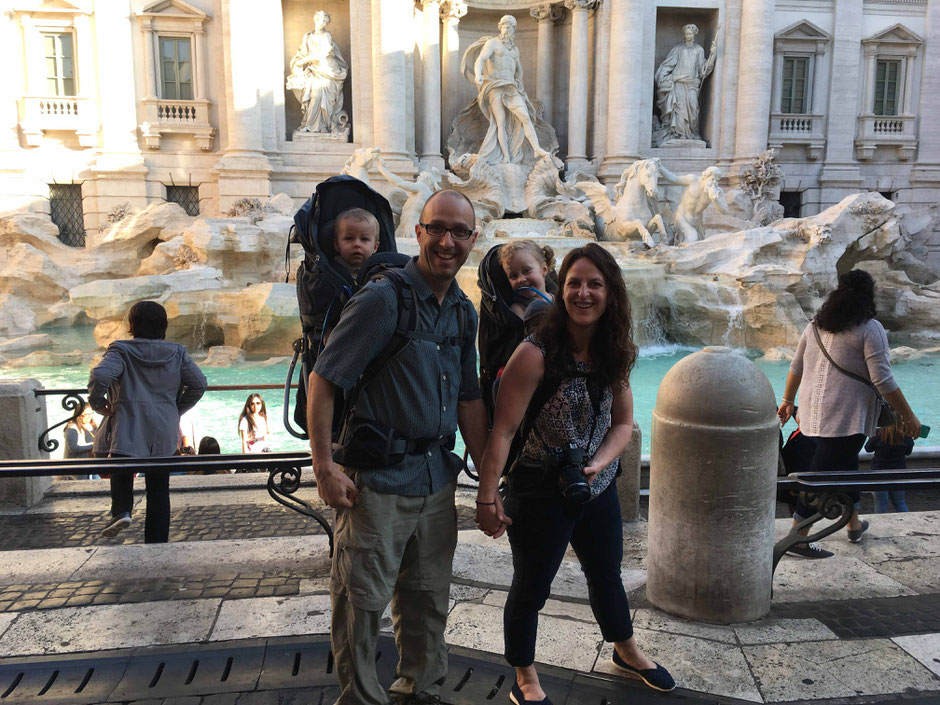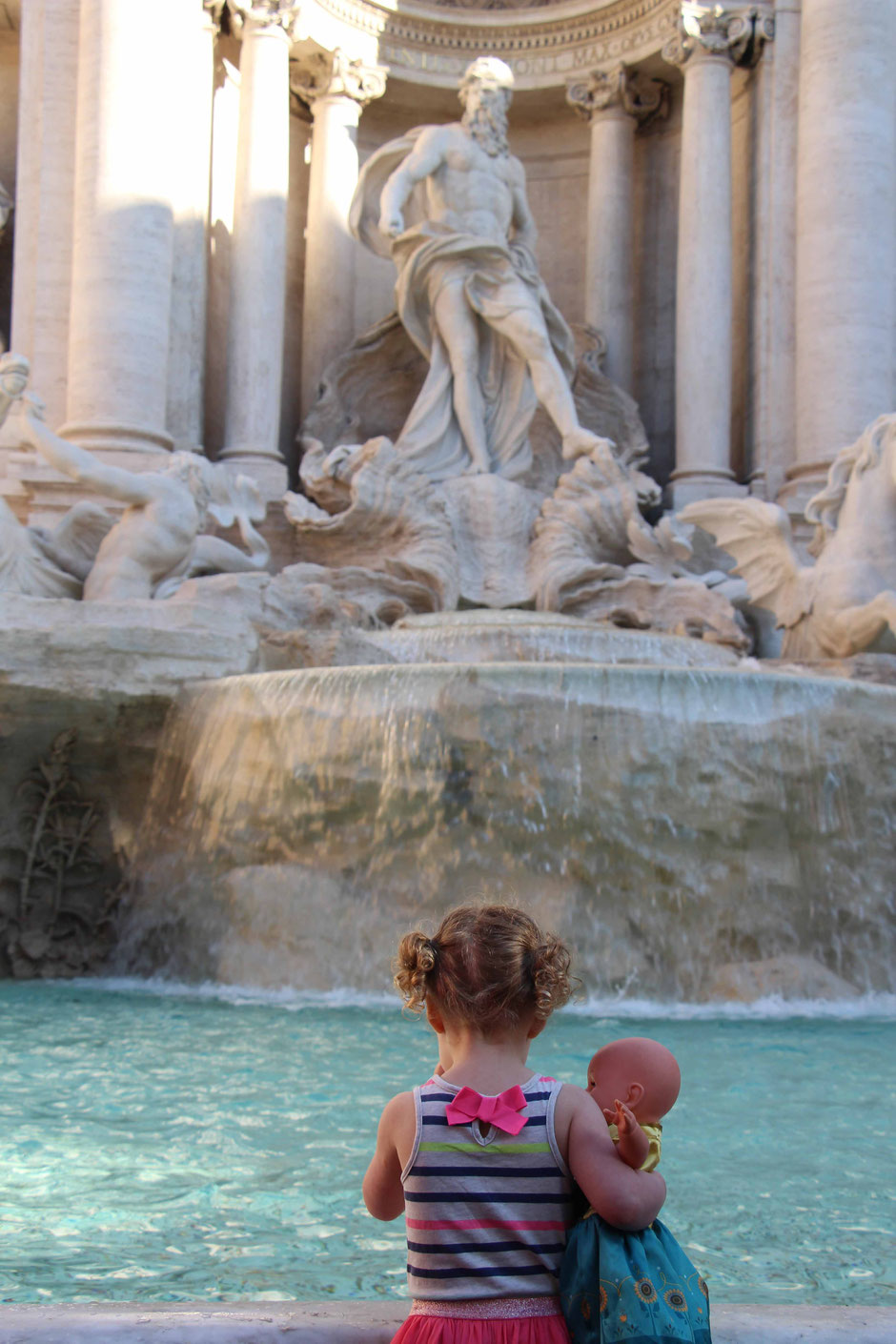 Trevi Fountain Pantheon and Piazza Navona Tour for Kids and Families
Spanish Steps
By the time we were done it was around 9am, so we stopped by the nearby Spanish Steps again. This time is was much less busy and we had a chance to stop and enjoy it. The kids had a lot of fun climbing the steps themselves and interacting with people along the way.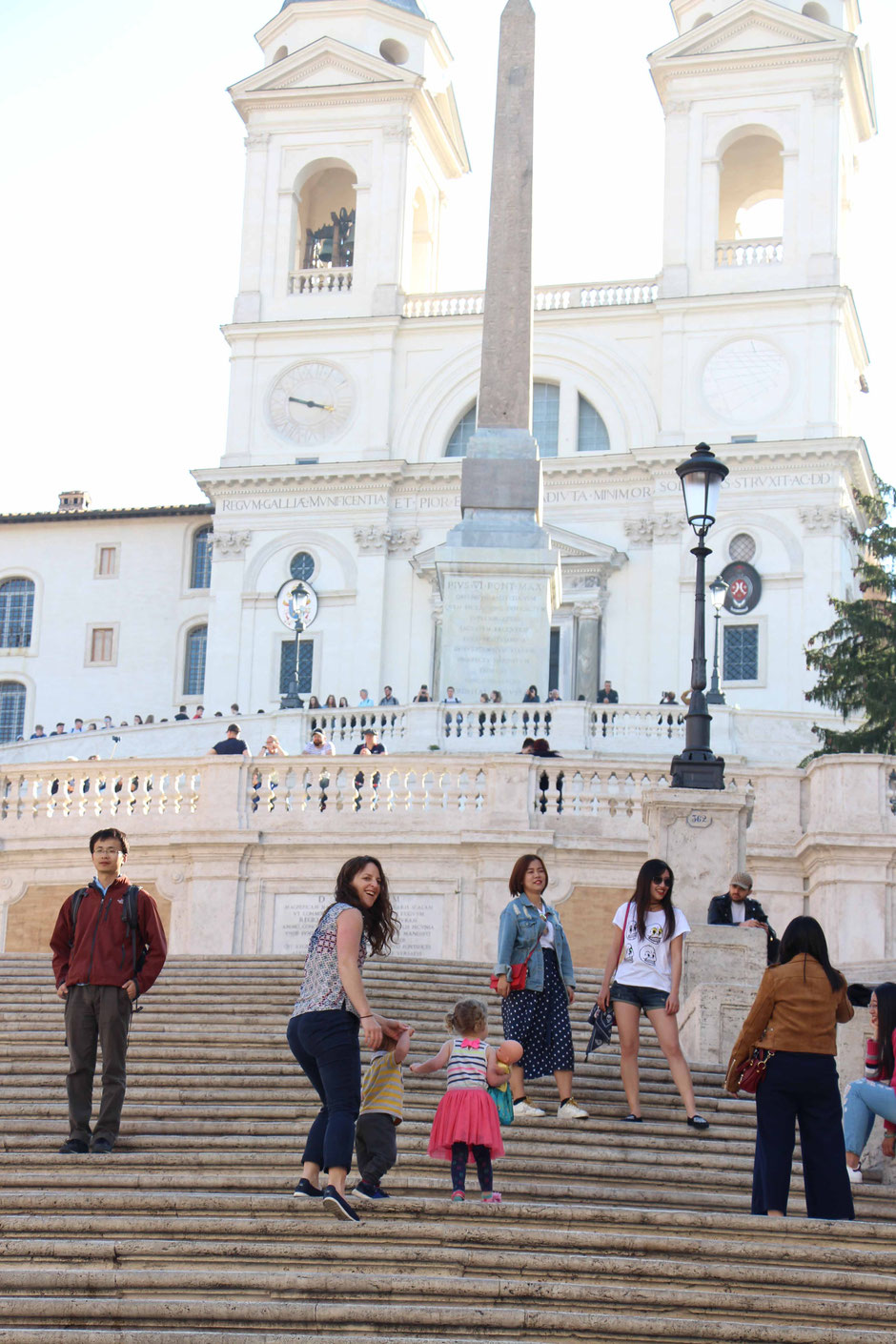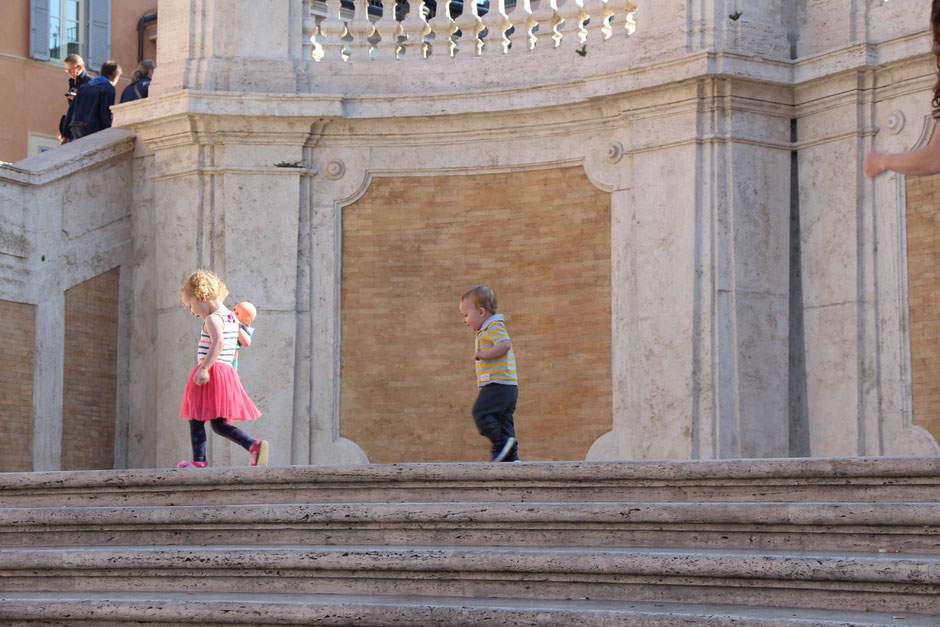 Private Family Tour to Fountains and Squares
Villa Borghese Gardens
Rome is a hectic, urban jungle and after 5 days we were craving more trees. The kids loved Villa Borghese so much the first time that we wanted to take them back for more play time in the park.
It was a Sunday, which is always a great time to go to parks with kids as that is when the locals also show up with their kids. After a few cappuccinos and pastries at La Casina dell'Orologio, we walked to the beautiful Il Giardino del Lago (Lake Garden) where the kids enjoyed listening to local buskers play music and looking at the birds in the water.
A quick potty break at Museo Carlo Bilotti (complete with live piano music!) was followed by some much needed playtime at a playground. The morning was finished off with a quick walk through Piazza del Popolo on our way back home.
Our morning journey took us roughly 3.5 hours and we walked 6.2 miles / 10km.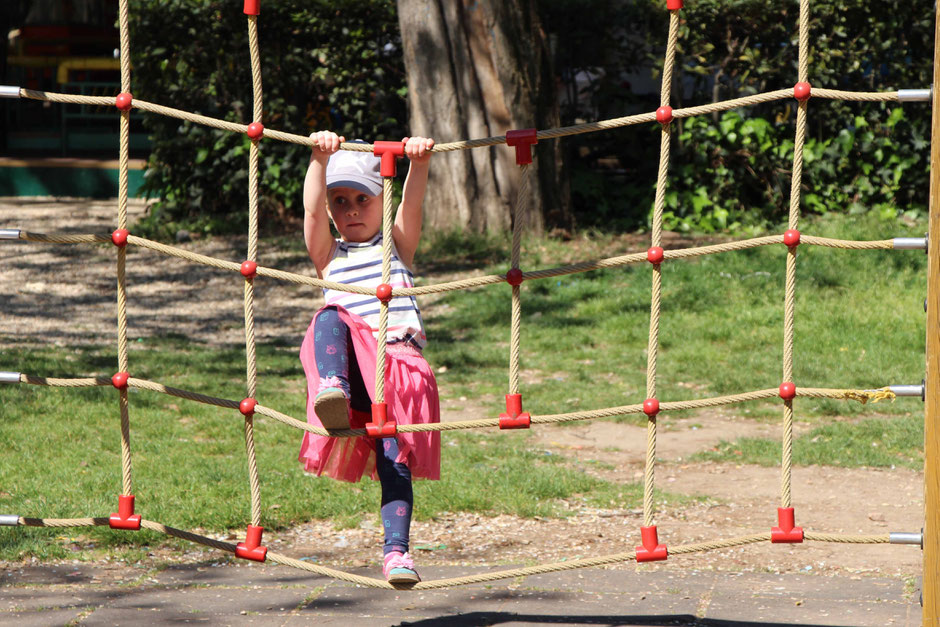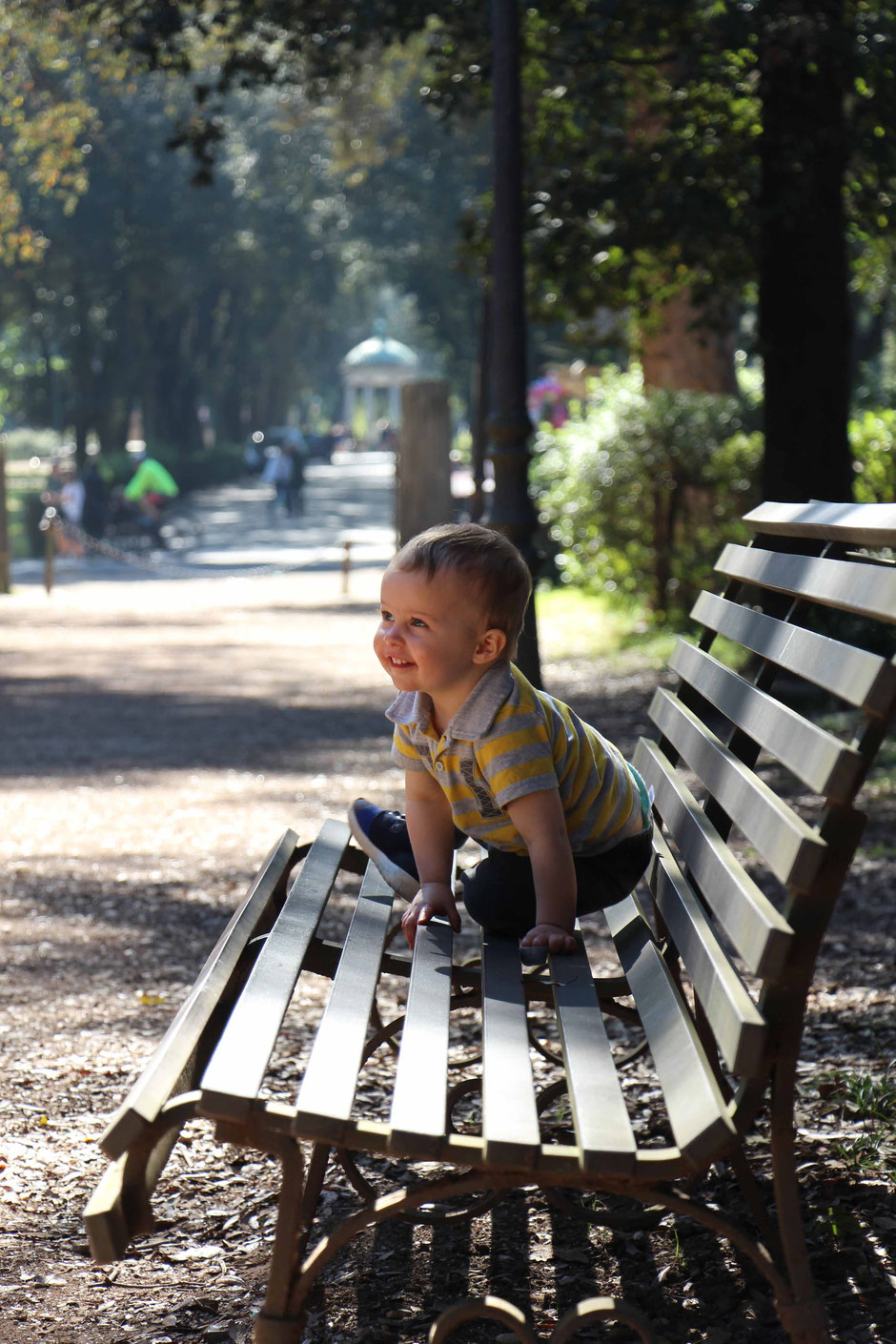 Day 6
Aqueduct Park
This was our favorite outing in Rome! It takes about an hour to get to the Aqueduct Park via bus & metro from central Rome, but it is worth the effort. Dating back to AD 52, these ancient superstructures are an amazing sight.
Set in a beautiful meadow filled with wildflowers, this is an excellent place to take the family for a walk they won't soon forget. Even if your kids find it boring, you can buy them off with a visit to the playground at the end.
Starting and ending at the Subaugusta metro station, we walked 2.6 miles / 4.2km in about two hours.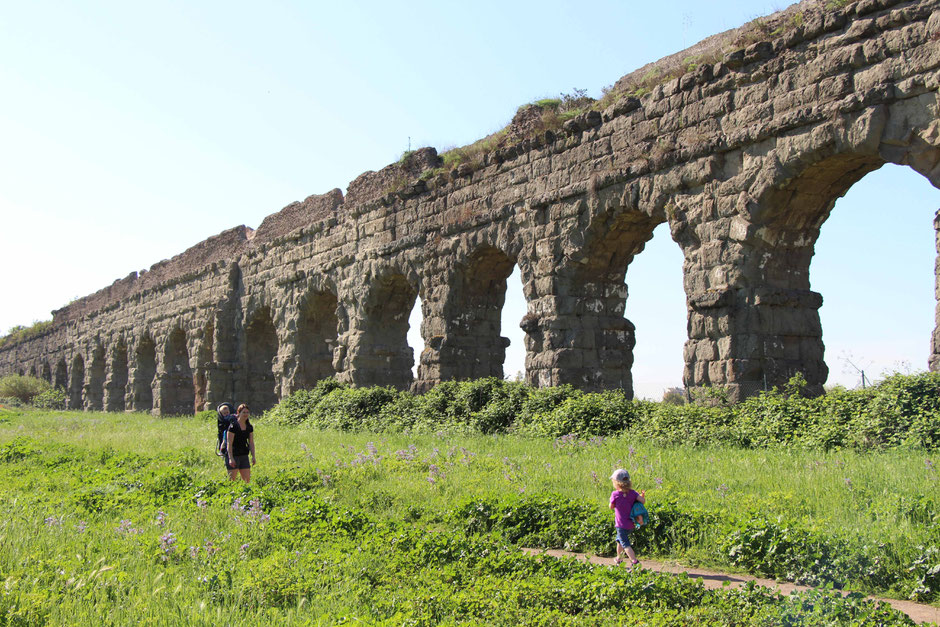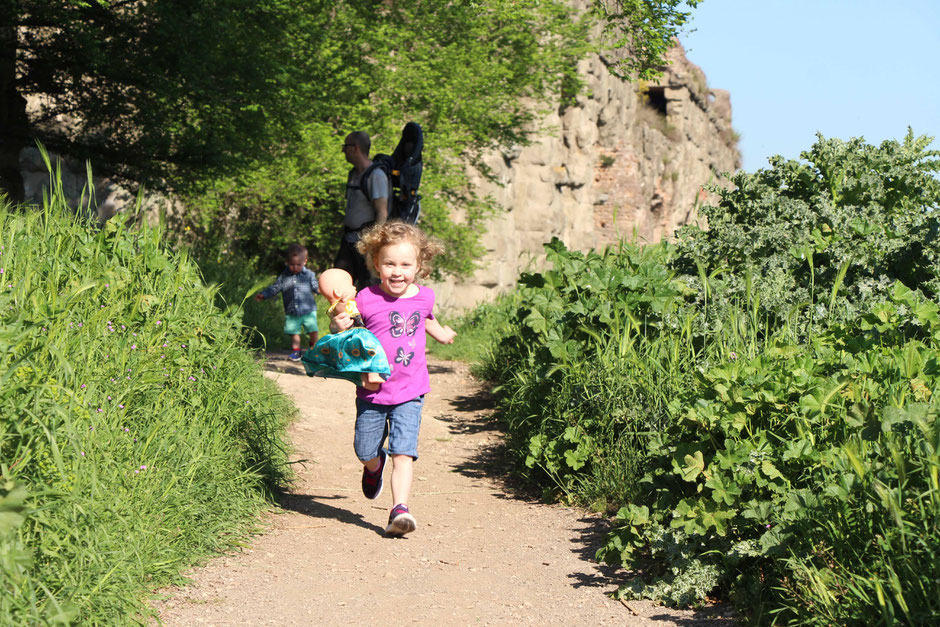 Rome on Two Wheels: Appian Way and Aqueduct Park Bike Tour
Day 7
The Vatican
Our intention was to start our day with a visit to the Vatican Museums, but when we got there 30 minutes before opening, the lineups were already huge. Don't be like us, follow these Rome travel tips and book in advance!
Given we'd have to wait in the line and then again to check our backpack carriers, we made the difficult decision to skip the Sistine Chapel (a great reason to come back to Rome! Oh wait… we forgot coins to throw into the Trevi Fountain… oops!)
We love this post about a visit to Vatican City and will definitely have it on our list for next time we visit Rome.
So, we headed over to St. Peter's Basilica as it was already open. We had to go through an airport style security check, but we were allowed to keep our carriers on through the process. St. Peter's is awe inspiring and even the kids seemed to have a good time, likely due to the fact we were there early enough to let them walk.
Next up was the climb up the Dome, which was designed by Michelangelo himself. We love climbing domes! The 551 steps to the top wasn't too bad (took about 15-20 minutes) and the views of St. Peter's Square and beyond are well worth it!
Afterwards, the kids had a great time running around St. Peter's Square, chasing pigeons, climbing on the buildings and watching the water in the fountains.
Tip: backpacks and strollers need to be checked before going into the Basilica, but backpack carriers are allowed inside. We were even allowed to bring them on the climb up the dome!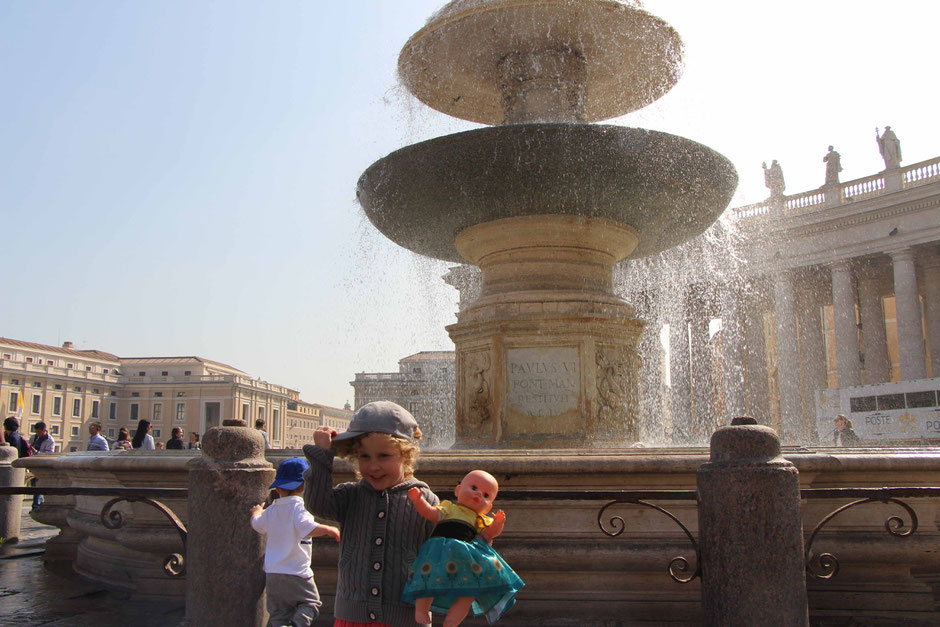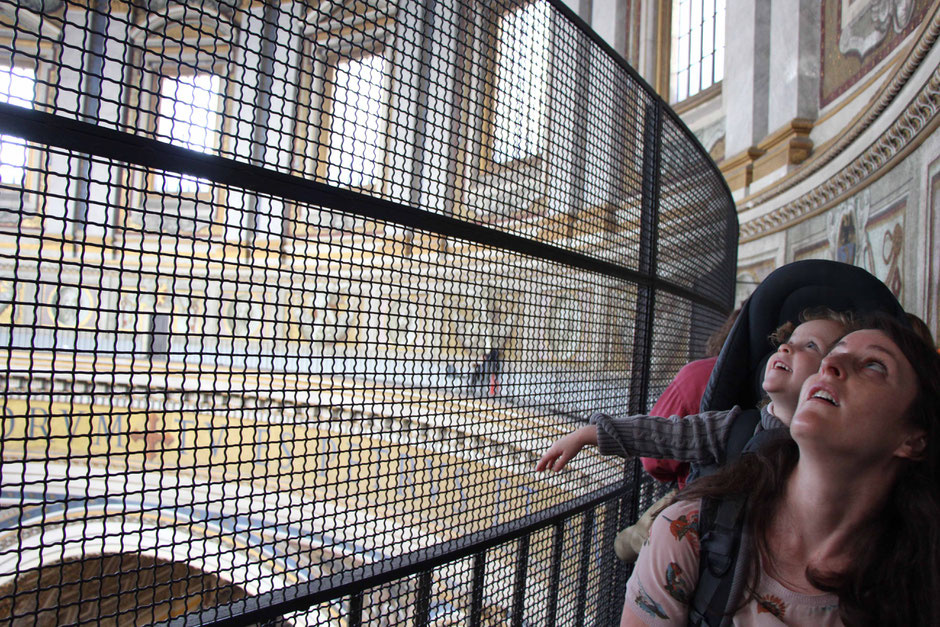 Skip the Line: Private Vatican and Sistine Chapel Tour for Kids and Families
Castel Sant' Angelo
For our final afternoon in Rome, we decided to spend it in the park which surrounds the imposing Castel Sant' Angelo. The park is in a really cool setting as it occupies the space which used to be the moat. There is a lot of grass and trees in the park, but best of all was the discovery of a nice playground for the kids. It's not shaded though, so bring sunscreen or a hat.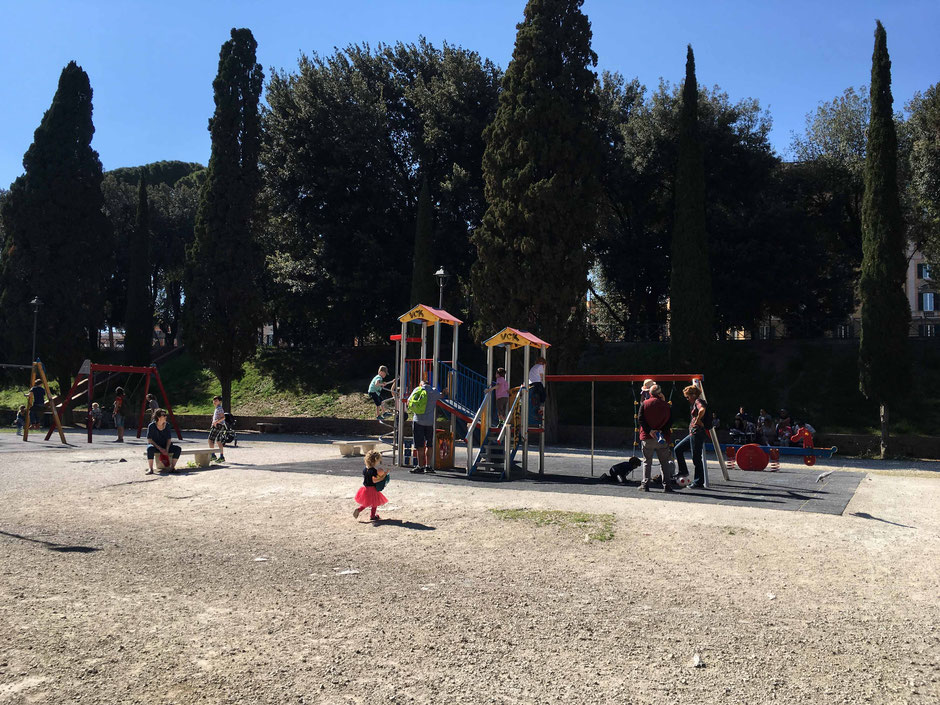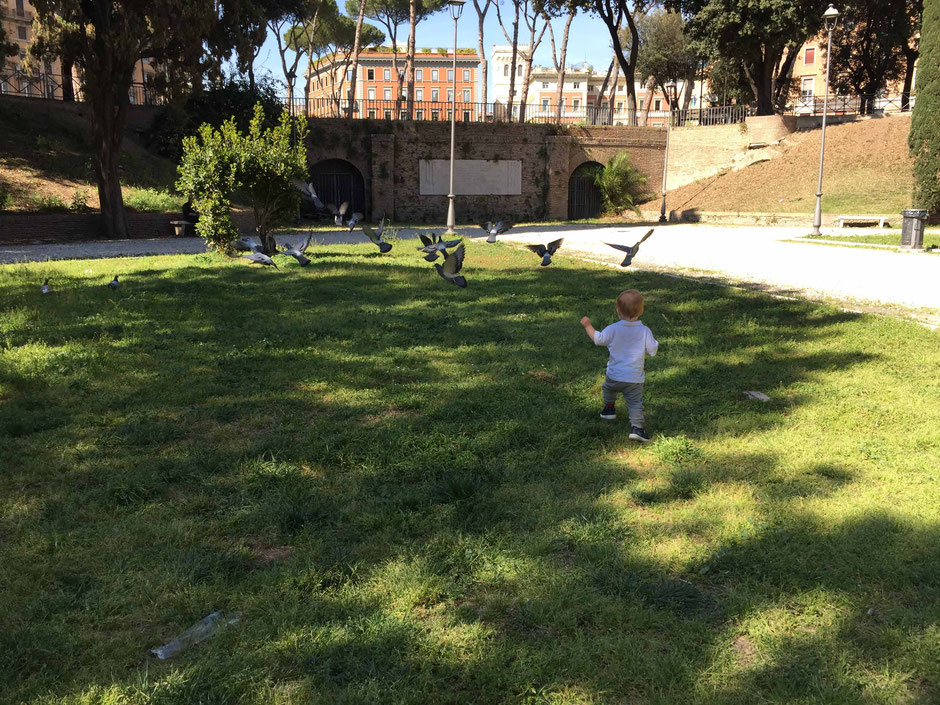 Tips for Walking Rome with Toddlers
Most of the streets in Rome are cobblestone, so strollers are not a good choice. We had good success with our Deuter Kid Comfort III backpack carriers.
If a street has a sidewalk, and not all do, it will often be very narrow with only enough for one person in single file. Many of the streets have a "sidewalk" painted on the road. As a parent, this was often pretty scary as there is a lot of traffic in Rome. We didn't have any safety incidents, but we were constantly watching our kids to make sure they didn't stray from the painted walking lane.
There are many useful tourist sign posts around town which have maps with your current location, suggested walking routes and nearby attractions.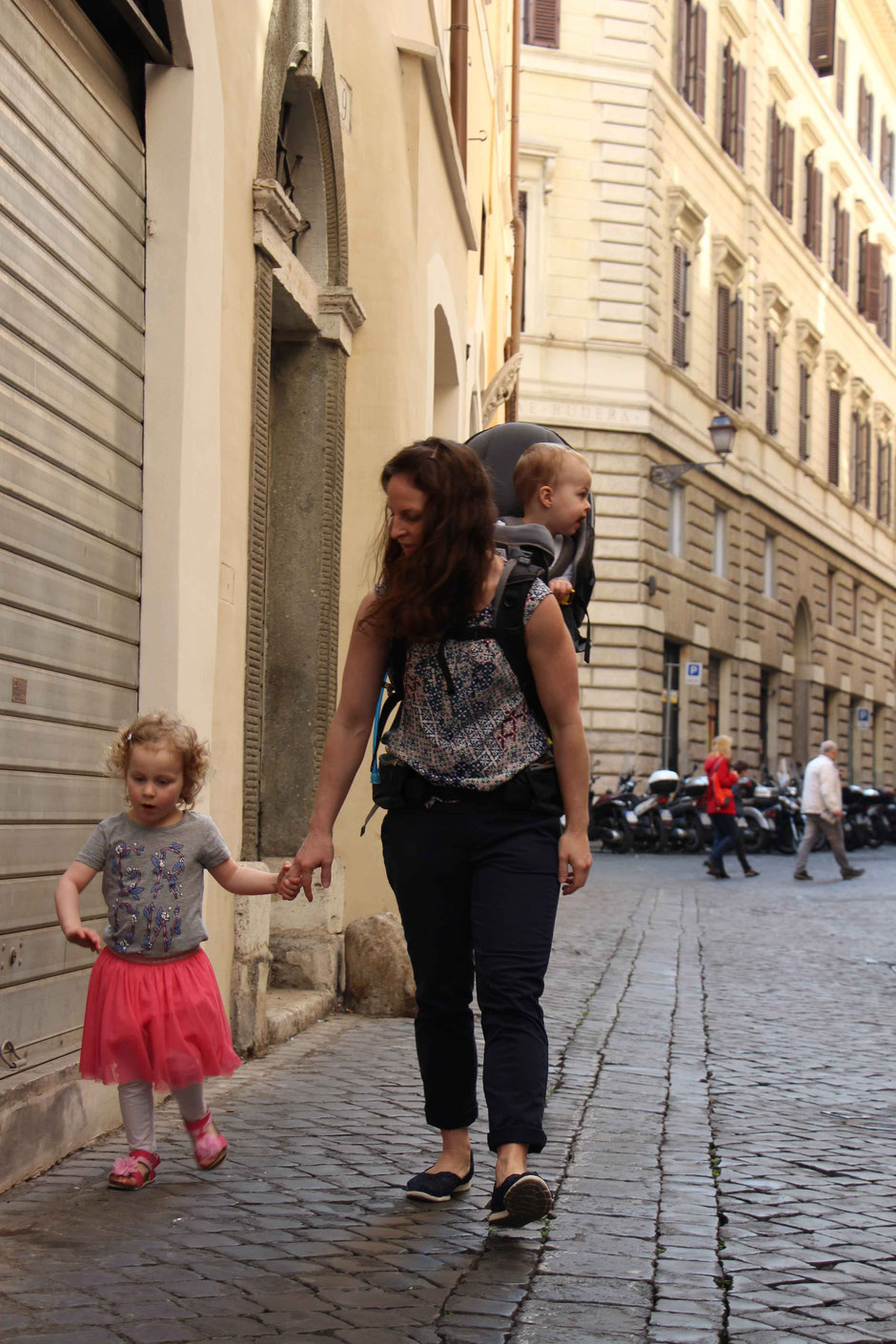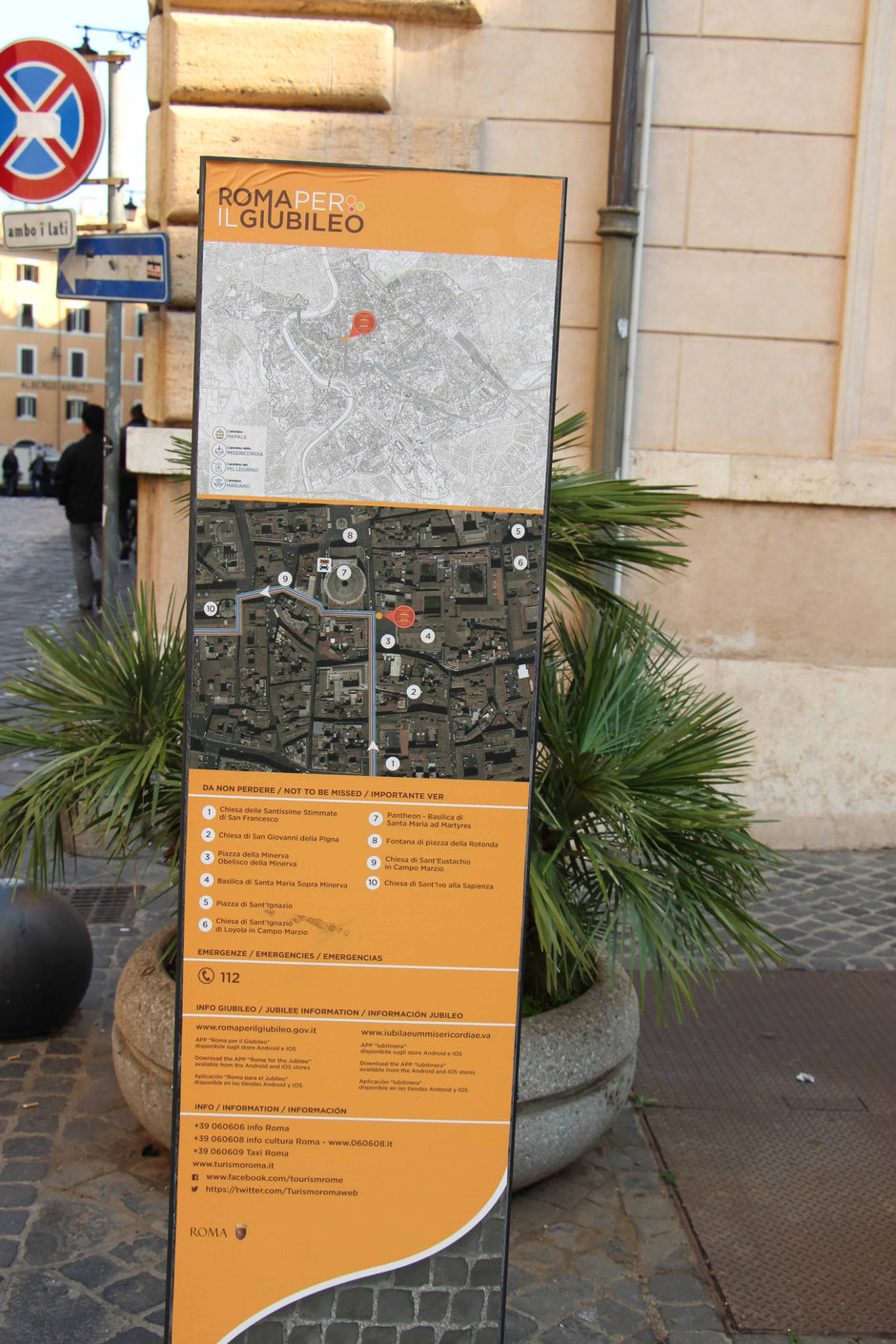 Still Planning Your Trip to Rome?
Family Friendly Apartment Rentals in Central Rome
Private Transfer from Rome Airport to Your Hotel with Car Seat
Rome Kid Friendly Tours & Activities
Pin It For Later!