We try to instill a love of nature into our kids, currently aged 2 & 4. Everywhere we take them around the world we look for opportunities to take them outdoors to see how beautiful the world and all its creatures are. While in the Mayan Riviera we couldn't pass up an opportunity to take our kids to Xcaret, an oceanfront nature & cultural theme park.
This post contains compensated links.
Thank you to Xcaret for hosting us on our visit. As always, all thoughts and opinions are our own.
Our kids had so much fun here. On any normal day, they drag their heels around lunch time and our little guy is ready for a nap. Not here though – they were both full steam ahead all day, never showing signs of boredom or being tired. Of course, they both crashed in the car minutes after we got on the highway! To give you a flavor of what you can do with your small kids at Xcaret, here is what we did during our visit:
Immediately upon entering the park, our kids were greeted by some beautiful parrots. This made them so excited and set the tone for the rest of the visit. Just look at the excitement on her face…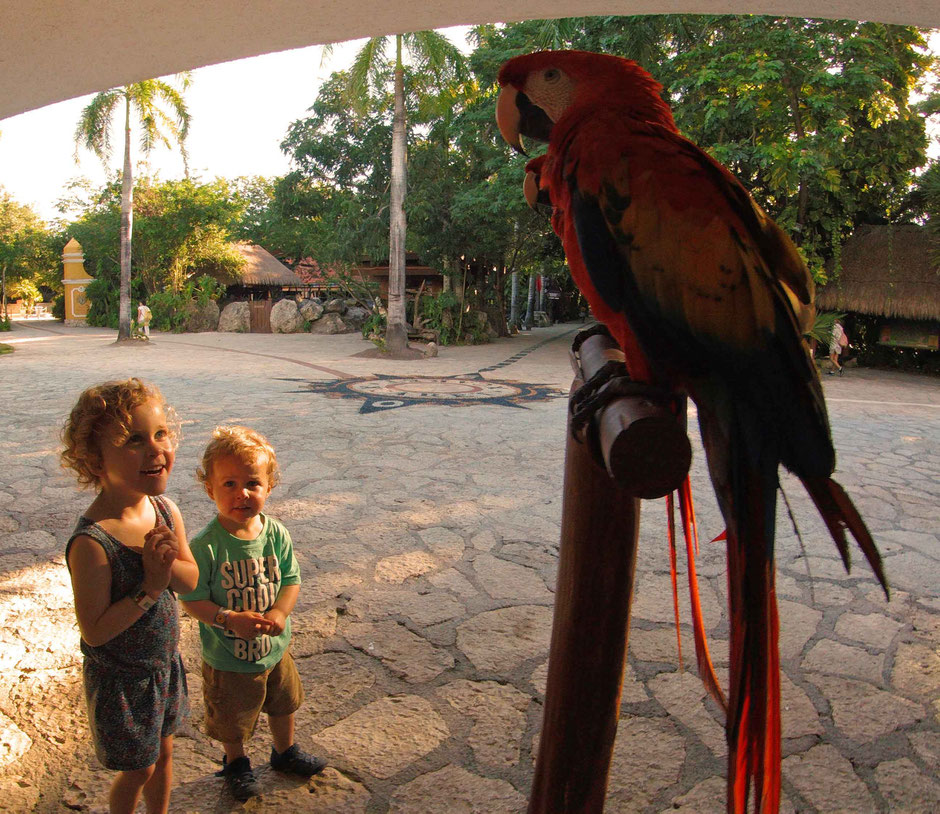 Purchase Xcaret Tickets online and save 10-15%
We began our visit by heading towards the cluster of animal exhibits on the White Pathway (Ruta Pueblo Maya). Getting there was a fun adventure in-of-itself! First we ran through the Caves to the Mayan Village. Yes, we literally ran through it – the kids were so excited they were bursting with energy. Thankfully we were there right at the opening time of 8:30 and the park was empty enough that they could run wild without issue.
The caves lead you to the beautiful Mexican Cemetery, located atop a circular hill with colorful tombstones. Our daughter really enjoyed walking around the pathways looking at all the brightly colored tombstones. I could tell she was interested in the cemetery as she actually slowed down to look and ask questions along the way. The cemetery leads to a beautiful reproduction of a Mayan village. We didn't stop here for long, as the kids were too excited to see the birds, but we were impressed by what we saw.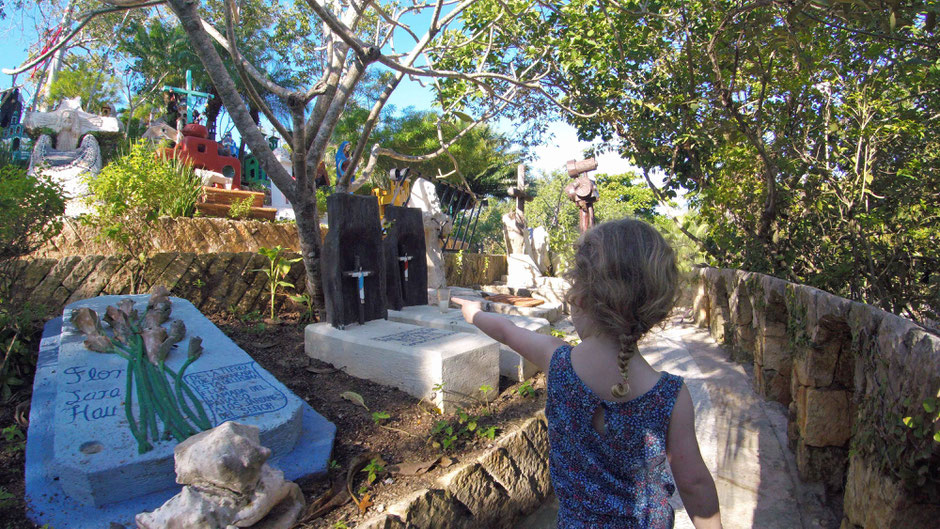 The Aviary was our first nature stop of the day. This is a truly beautiful complex holding an impressive number of birds and species. It is surprisingly big and it took us a long time to make our way through it all. The aviary is many stories high, with the trail spiraling downwards along the edge. The aviary features a towering waterfall, which makes the whole place feel like a tropical paradise. The kids enjoyed walking along the suspension bridge at the top and seeing the birds stopping at the feeders along the way. And of course, the kids loved the birds; there were so many brightly colored parrots, smaller tropical birds, ducks etc, but it was the pelicans they loved best.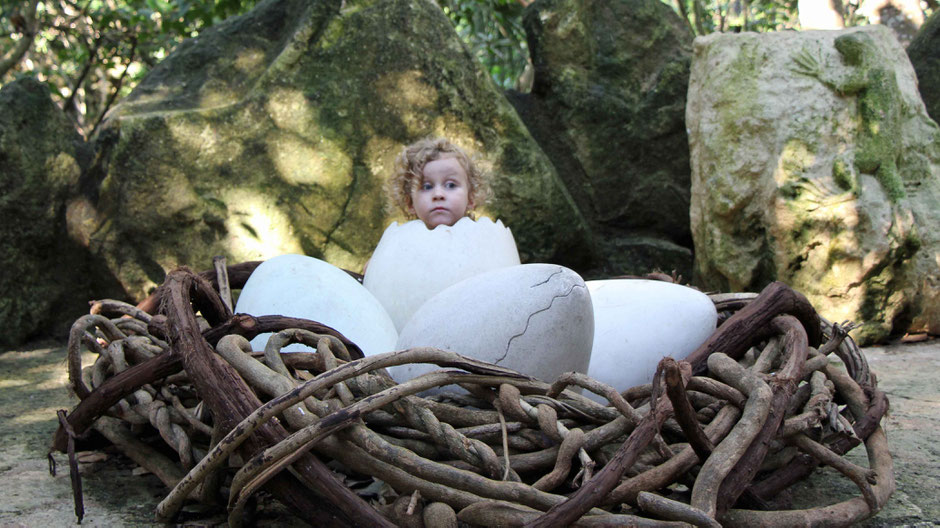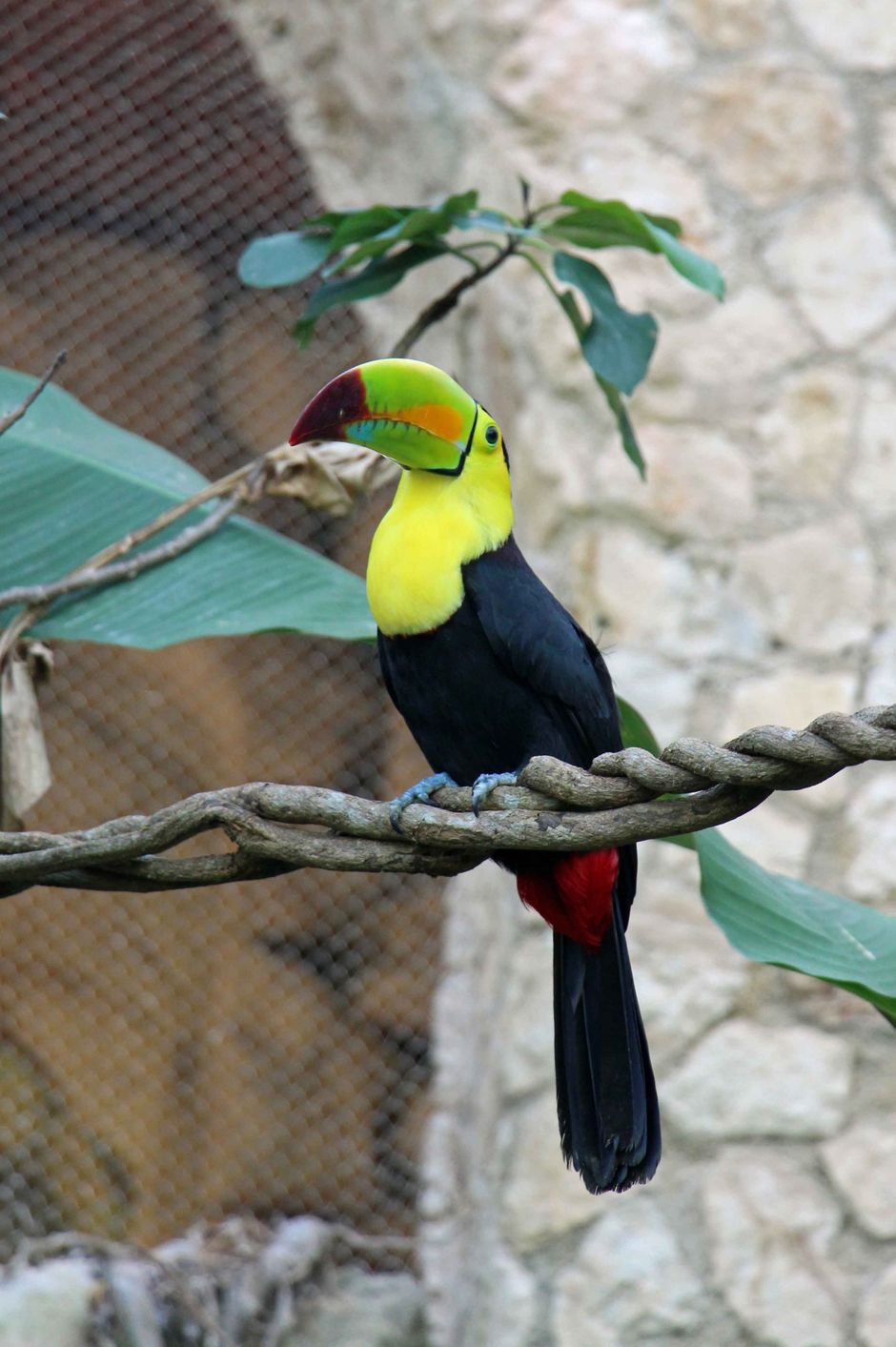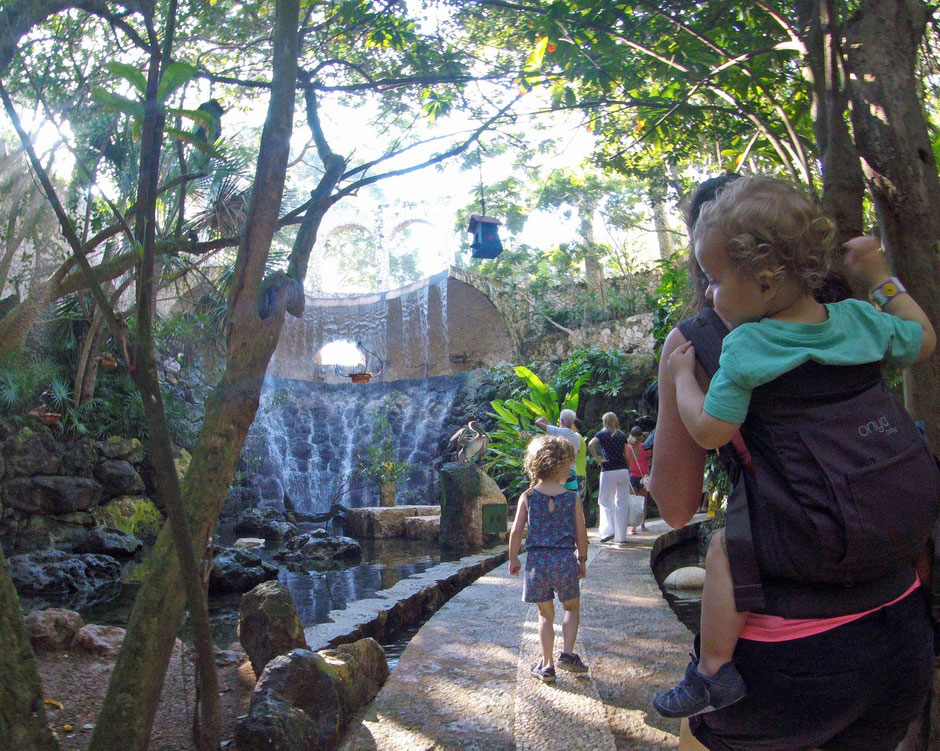 Next up was the Butterfly Pavilion, which is an equally impressive enclosure. The journey begins with a display featuring a series of small trees. Each subsequent tree shows the gradual transformation from caterpillar to butterfly a little further until the transformation is done. This display is very cool and really helps the kids understand the process. Inside the pavilion was very fun for the kids, getting to see the hordes of butterflies flying all around and up close. Our kids are little, so we had to watch them closely to make sure they didn't touch any (they didn't). We were happy to see lots of Blue Morphos flying around which brought back amazing memories of a pre-children trip to the Amazon jungle. If you haven't seen one yet, be sure to visit this attraction as you simply won't believe the color.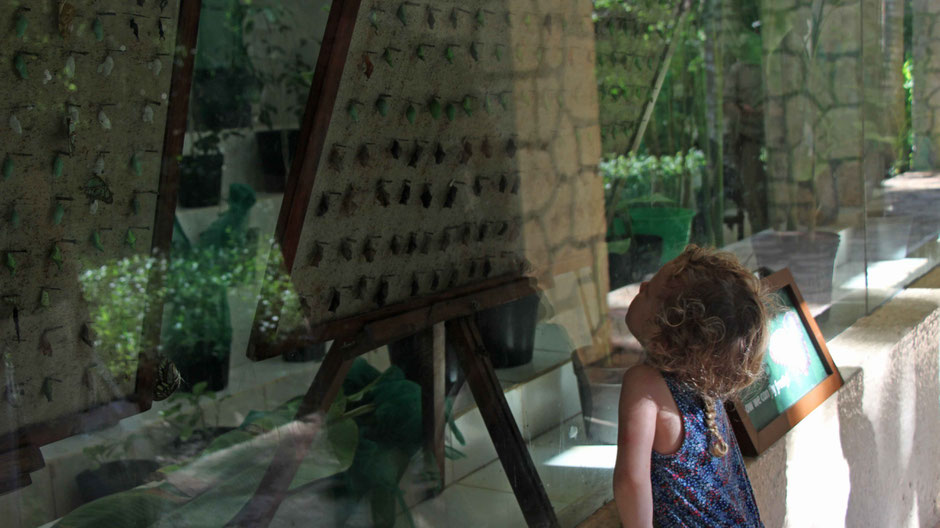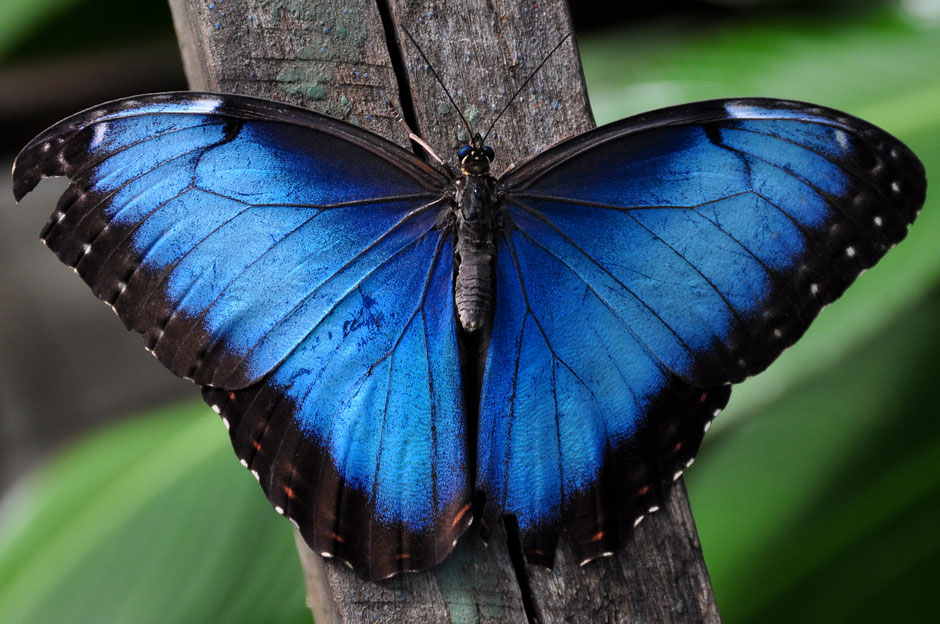 Our next must-see attraction was the sea turtles. On our way there we stopped at the Jaguar exhibit. We were lucky enough to see the jaguar awake and walking around his little island. What a beautiful creature!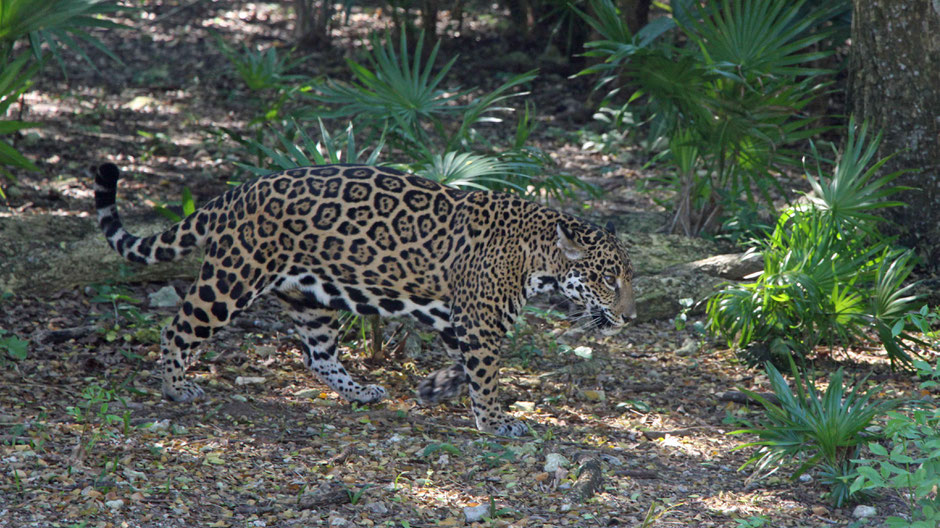 Next we descended some stairs into the Bat Cave, but this time there were no bats there. This happens with nature sometimes – no big deal! We got to see a glimpse of the underground river, which made the kids excited for what was to come.
Next up was the Manatees. This large pool contained several manatees, including a super-cute baby manatee! The manatees were eating lettuce at the time, so we were lucky they were quite active, sticking their noses out of the water quite a bit. It's easy to get a feel for how big these graceful creatures really are!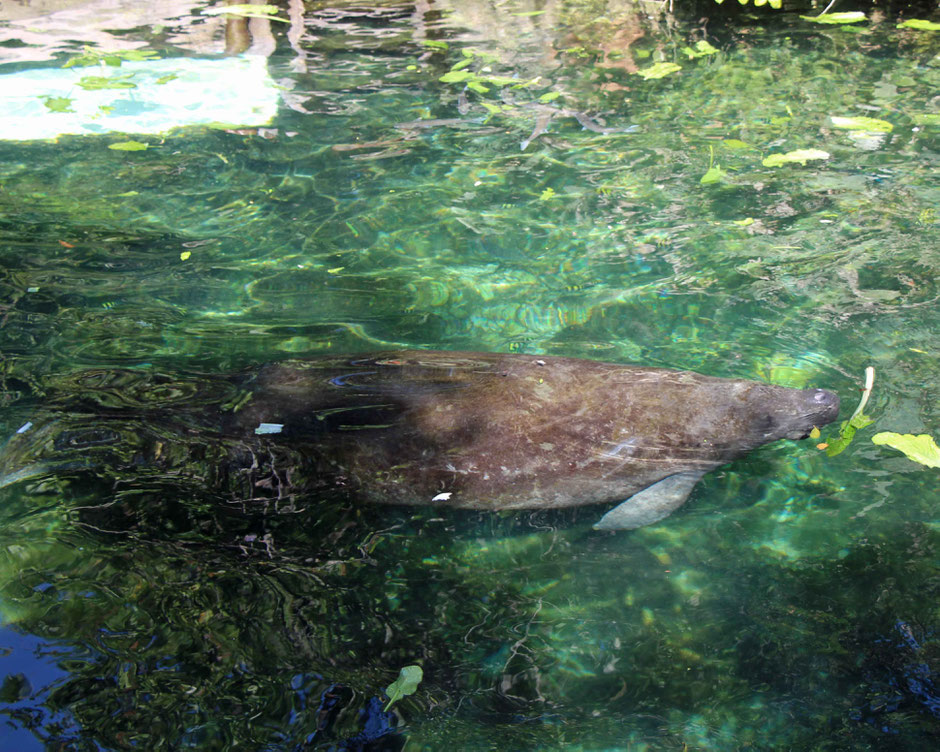 It's safe to say that the Sea Turtle attraction was the favorite of the day. Our daughter asked, "Can we watch the turtles forever?" This complex features a big open pool of crystal clear water with an amazing number of huge sea turtles. There were so many turtles, it seemed like there was always at least one super close to us. The kids just stayed there and watched for a long time. There are no guard rails, so watch your little ones don't get too close. After a long while at the big pool, we were happy to find a series of smaller pools with hordes of insanely cute baby turtles.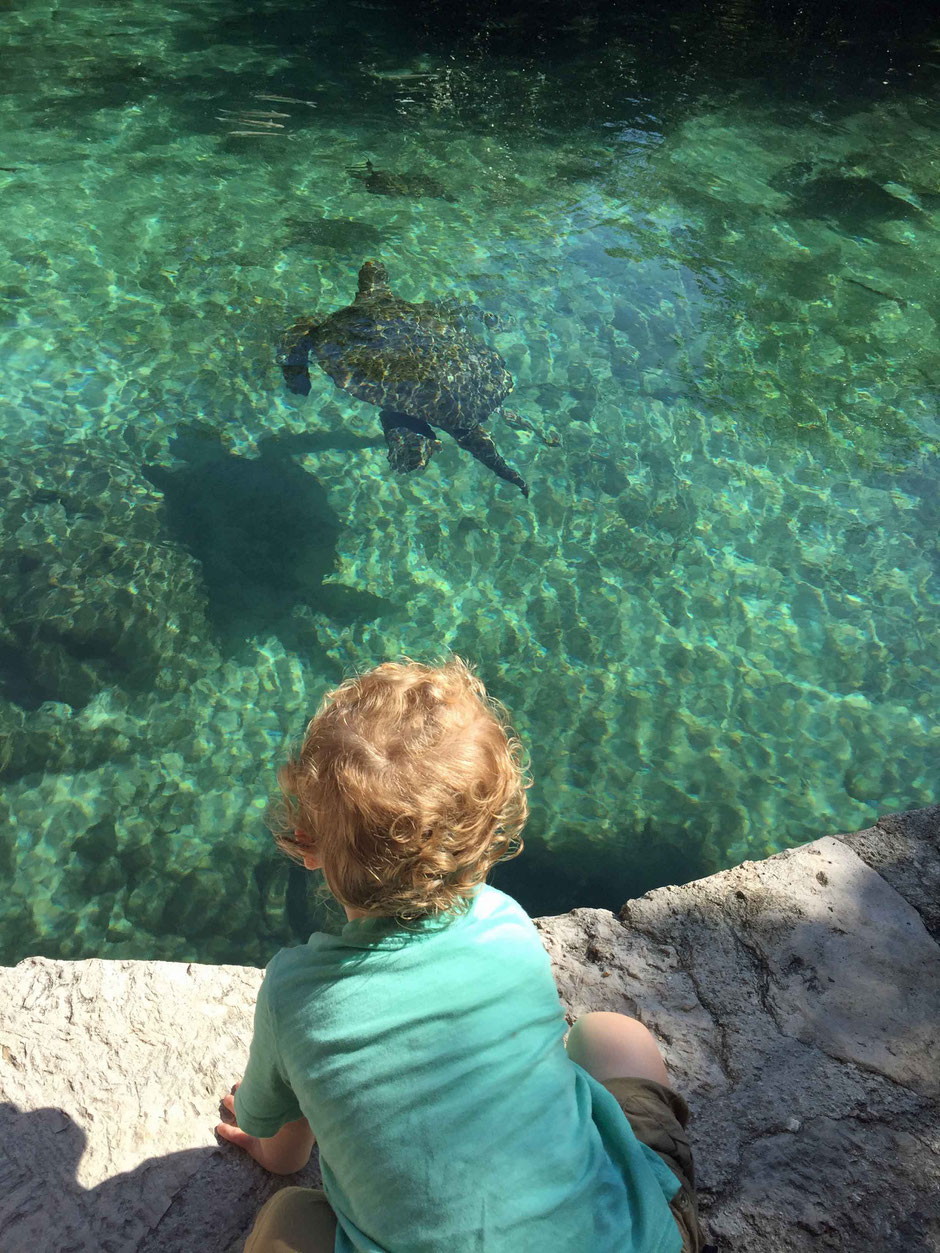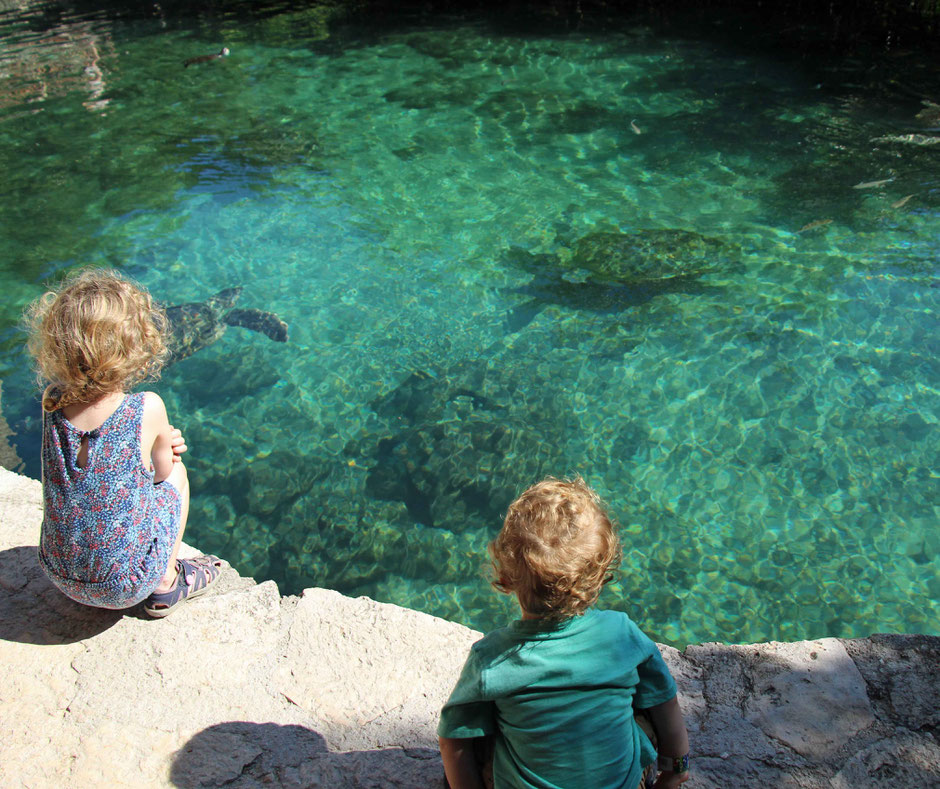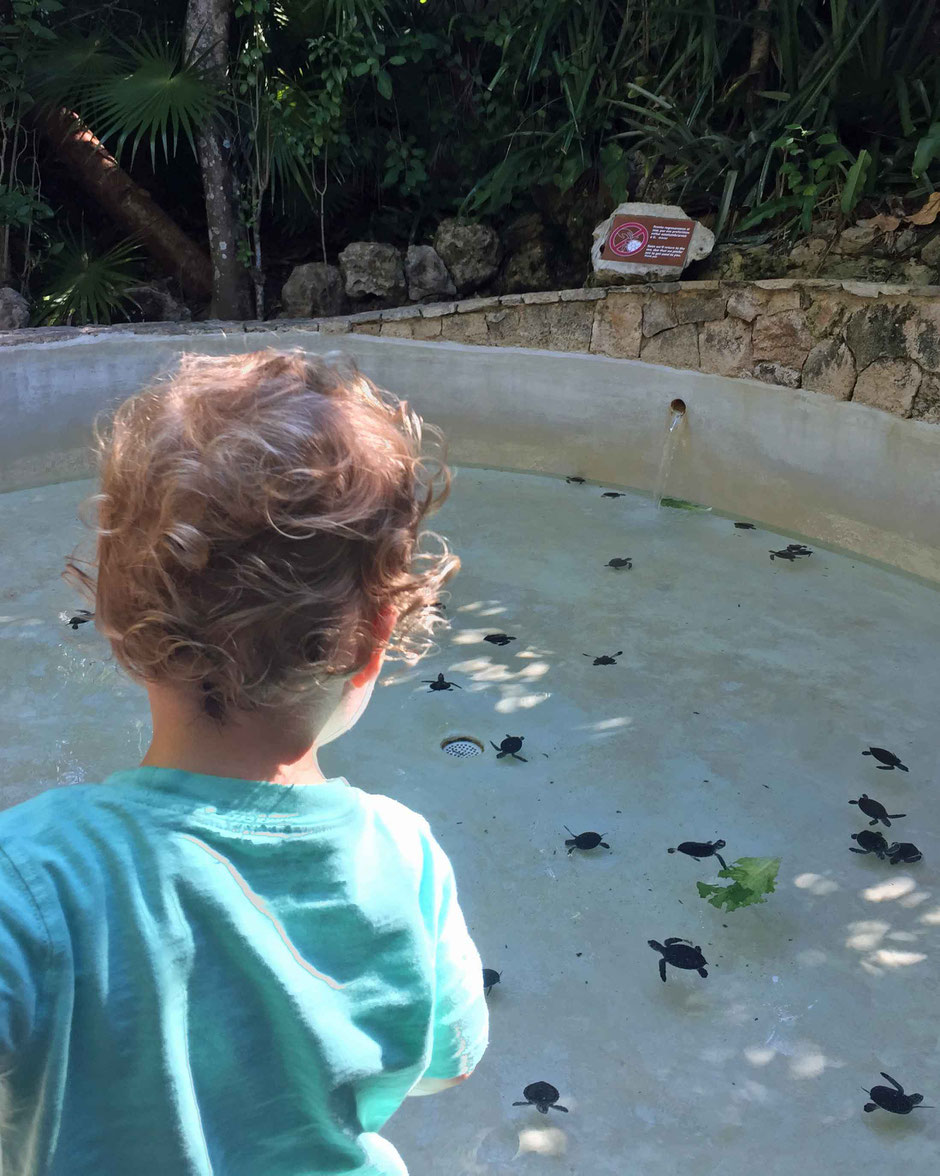 The kids loved the Aquarium, which features tons of fish tanks filled with local tropical life. Our kids get super excited in aquariums and they literally run from tank-to-tank, so we don't really get to see anything for very long. The one exception to this was the two jellyfish tanks – the kids stopped and watched these mesmerizing creatures for quite a while.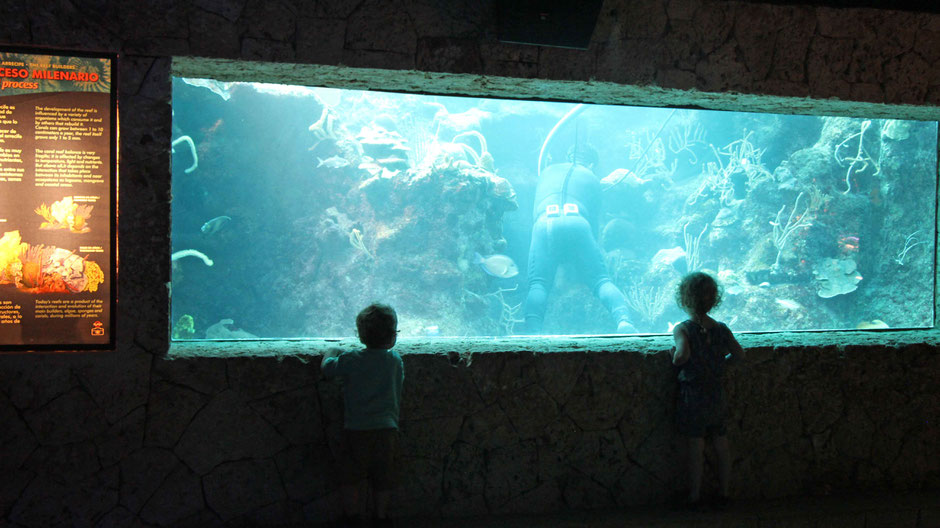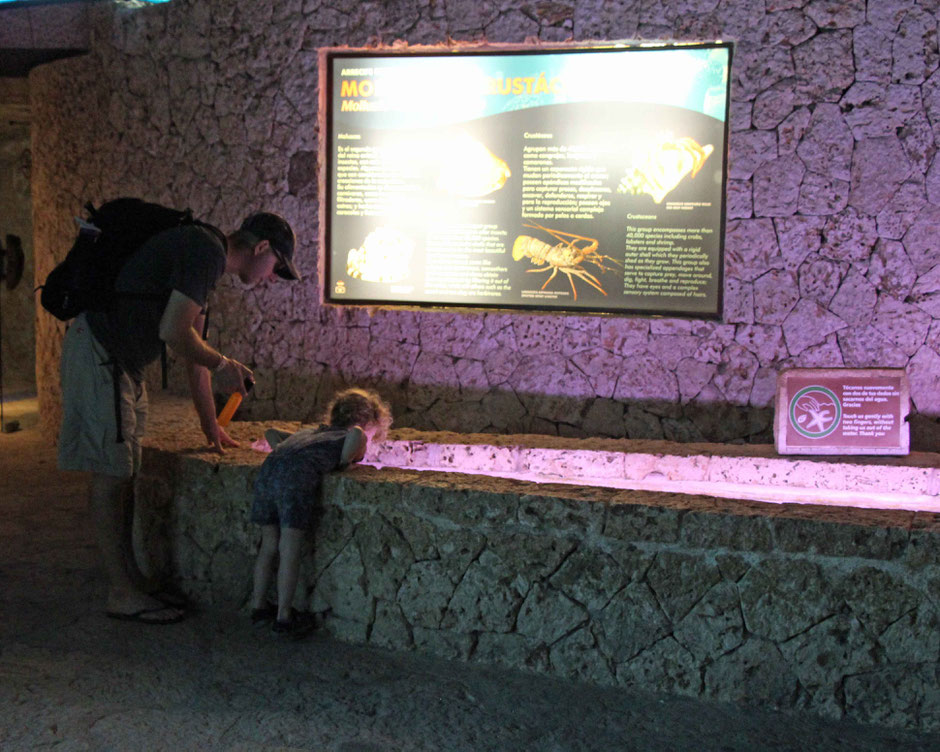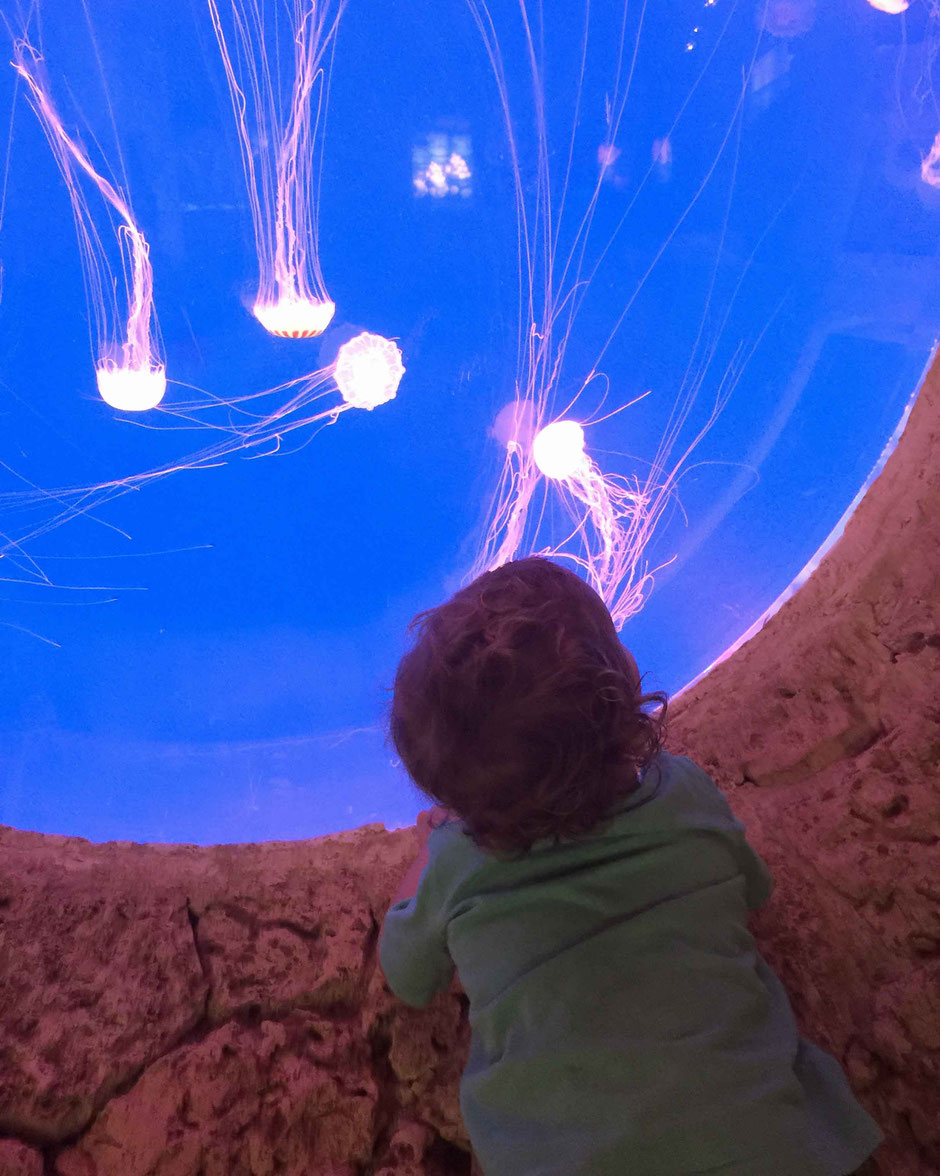 Purchase Xcaret Tickets online and save 10-15%
On our way to lunch we stopped and looked at the Tapir – a large pig-like animal which is closely related to horses. They are pretty weird and worth a quick look. We had an action packed morning and we were all pretty hungry and tired at this stage, so we didn't stay long.
For lunch, we walked back to La Orquídea Restaurant by the main entrance and were happy to see they were still serving breakfast. Unlimited fresh fruit juice and coffee were included – the kids really liked the strawberry juice and we enjoyed all the coffee refills! There was an egg station, a quesadilla station, Mexican stews, a huge fresh fruit section (great for kids!), lots of fresh breads and pastries. We worked up a huge appetite and ate a ton of food. This was a great option for families with small kids!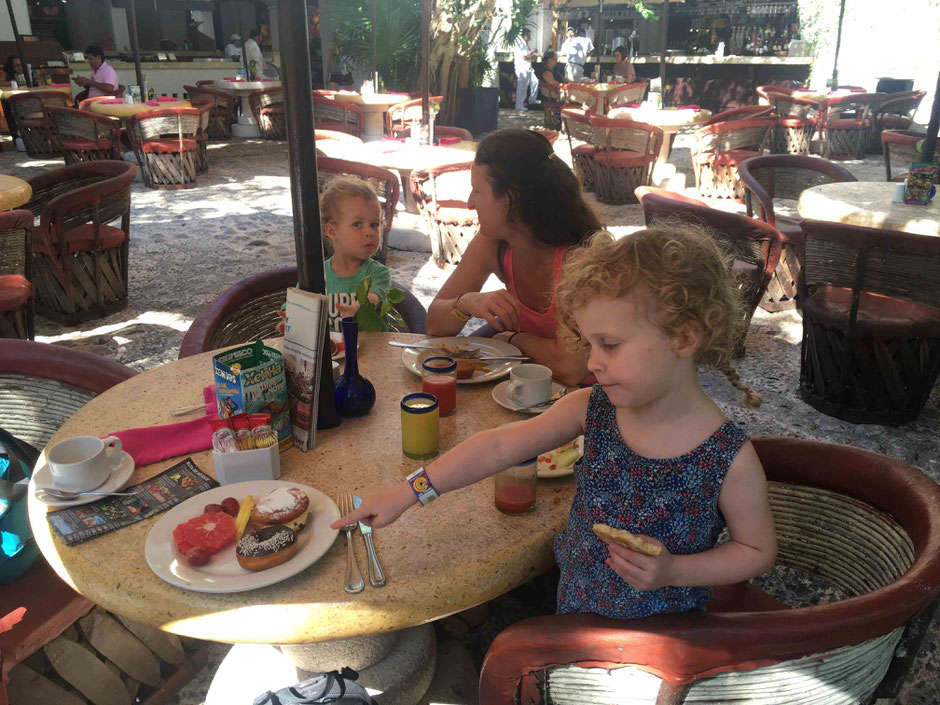 After lunch we rewarded the kids for a great morning with a trip to Children's World. I was so impressed with this area, it was actually hard to leave as the kids were enjoying themselves so much. Upon arrival, our daughter grabbed a kid sized life jacket and jumped straight into the little lake, which has a surprisingly beautiful cascading waterfall flowing into it. There was a little wading pool next to the lake which our little guy played in. He started to "swim", which was a huge confidence boost for him. You could see how proud he was! From there, our daughter went up to the splash park, where she made some new friends, while our son dug for buried Mayan treasure in the large sandbox.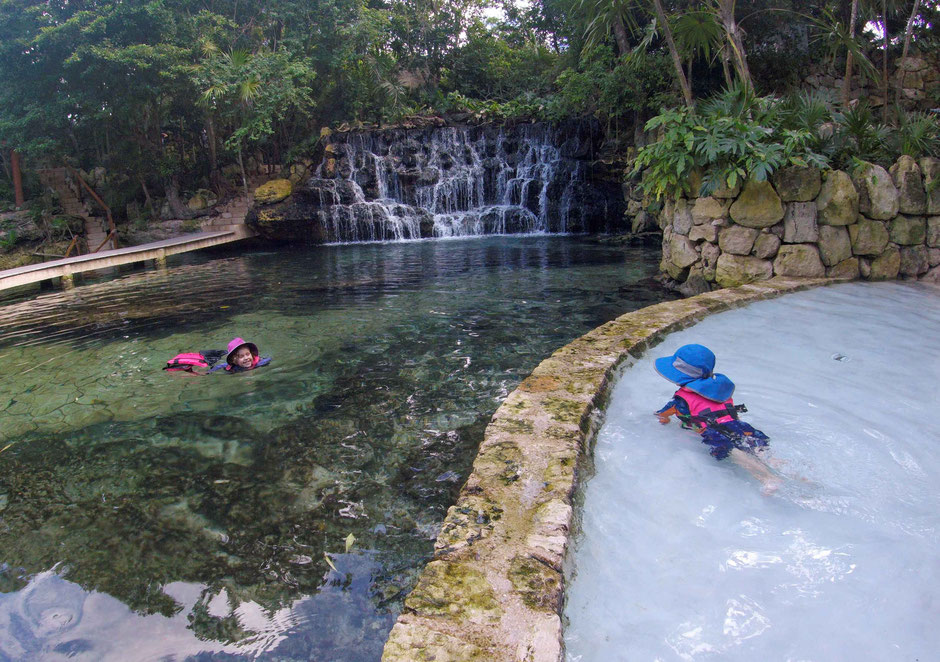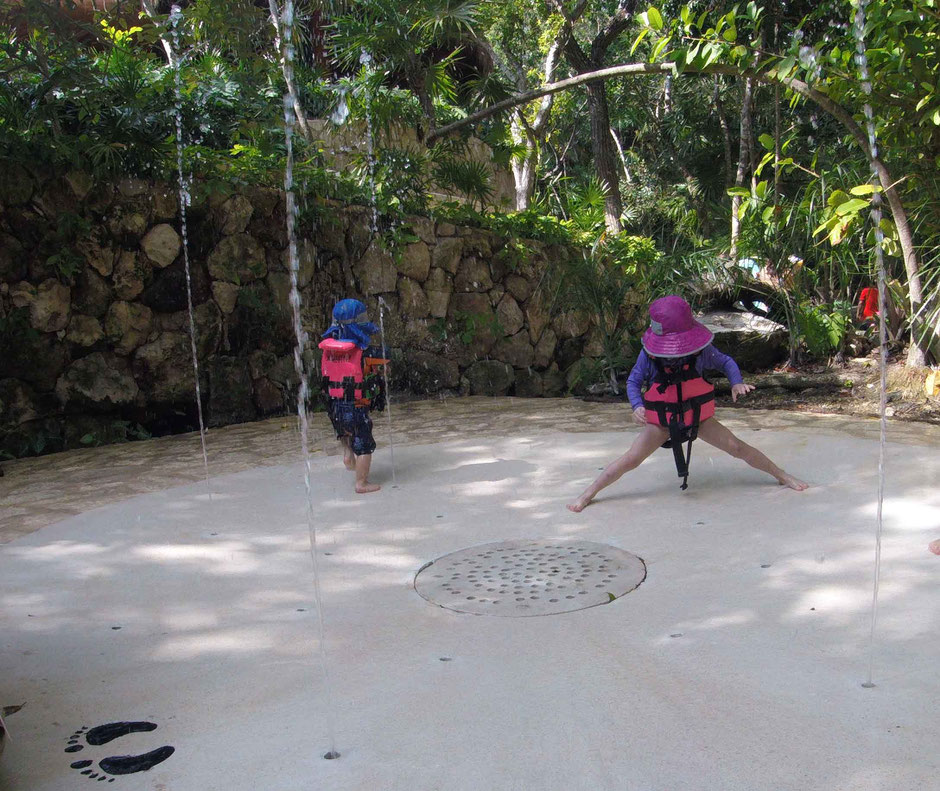 Our daughter's favorite part of Children's World was the Secret Adventure, which she was able to do with some help from Mom. It's a long pathway with jungle gym-type obstacles to navigate, ropes to climb, bridges to cross, waterslides to go down and bird houses to walk through. Our daughter simply loved it!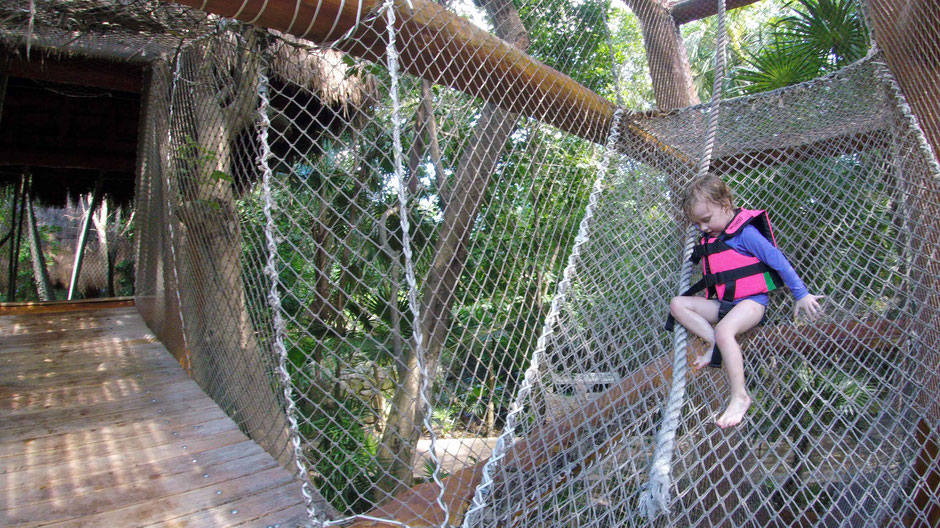 Our last activity of the day was the Underground River. Our son built off of his "swimming" success at Children's World and actually got into the river with Celine! He'd barely gone into the water at our pool all trip and there he was going into the river – amazing! The water was quite cool and the kids teeth started to chatter a little bit. The first little stretch of river goes through a really beautiful tall canyon, lined with waterfalls and trees at the top. Before long we entered a dark cave with high ceilings. It got pretty dark in there, but there were light holes in the ceiling every so often which allowed us to see just enough. It was a little scary for our daughter, but we had some fun with it.
There are 4-5 exits along the river in case you want to get out before the end. We ended up getting out at the first exit as we ate too much at the buffet and we weren't feeling great swimming with such a full stomach. Besides, we wanted to keep the experience fun for the kids and if we stayed in too long, they would likely start to fuss, etc. So we ended it at the first exit and everyone walked away with a great memory.
Park policy requires guests wear biodegradable sunscreen to help protect the hydrological system. Also, there are some helpful, but somewhat complex logistics associated with your belongings and equipment for the underground river. For full details, visit our Xcaret Tips blog post.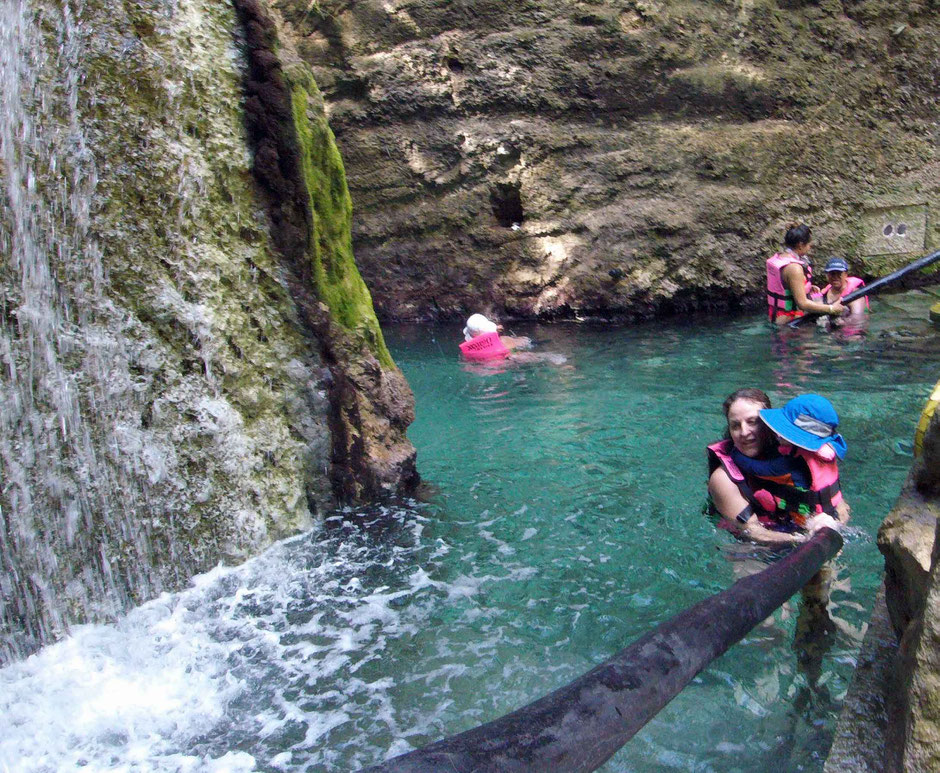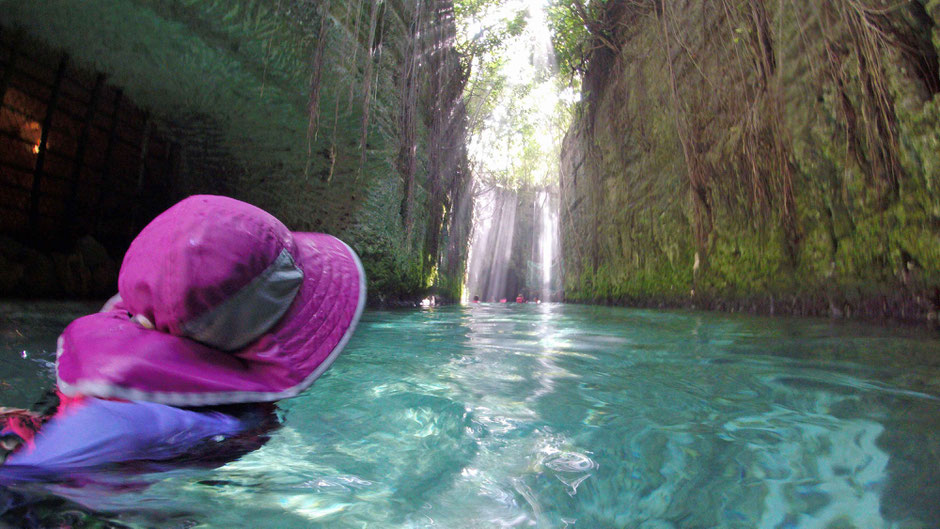 That's our day! We focused on the nature attractions, but that is not all Xcaret has to offer. There are an equally impressive number of cultural attractions, including Mayan ruins, museums, shows, chapels, etc. We could have easily spent another full day here to take it all in.
Before you go, be sure to read our Top 15 Tips to Have the Best Day at Xcaret!
And don't forget to buy your tickets online. You can save 10-15% by ordering your tickets in advance.
DON'T MISS: If you are currently in the Mayan Riviera or are planning a trip there, don't miss our blog post, Plan the Best Family Trip to the Mayan Riviera. It's packed full of planning tips, exciting family activities and links to all of our Mayan Riviera blog posts. It's sure to help make your family trip a memorable one!
Pin It For Later!