We have been using the Epic Reading app for kids for over three years now. It began with a free trial of Epic Books for Kids for this review, but our kids loved Epic books so much, we it for two more years with our own money.
Our daughter just started Grade 2 and her teacher indicated that her reading skills are very advanced for her age. There are a lot of variables which led to her advanced reading skills, but we are confident the Epic reading app played a big role in improving her reading skills.
This post contains compensated links.
Read Books Online for Kids
Our kids have always loved having stories read to them. This was a problem for us when we traveled as we couldn't pack enough children's books to keep them happy. The size and weight of the books limited the number of children's books we could bring on our travels.
Our kids are used to having a large library of books at home, so they'd quickly get bored with the same children's books over-and-over. We wished there was a way to read books online for kids…
Then one cold February day, I was drinking my morning coffee and randomly opened the App Store on the iPad. The featured app of the day was Epic Books for Kids.
The feature picture for the Epic Reading app showcased a bunch of children's books, so I eagerly clicked it to see what the Epic reading app was all about. I rarely get excited about apps, but it didn't take me long to get excited about Epic books for kids!
Benefits of the Epic Reading App
The Epic reading app for kids was a game changer for us, both at home and while we travel. Here's why:
Epic books for kids is an online digital reading platform with 40,000+ popular, children's high-quality books from the world's best publishers. For a low monthly fee, up to four kids can enjoy unlimited access to all the Epic books for kids.
The Epic app has many formats of online children's books: traditional read yourself books, read-to-me books, audio books and educational videos too.
I instantly knew the Epic library of online children's books was going to be a huge benefit for us when we traveled. Not only would this allow us to leave all the old, heavy paper books at home, but the Epic reading app has a virtually limitless supply of online children's books. This solves the problem of the kids getting bored of reading the same old children's books over-and-over.
We have been using the Epic books app for over three years now. Our original vision was to use the Epic reading app for travel, but it has become an important part of our library of children's books at home too.
What we like about the Epic Reading Books App:
1. Epic Books for Kids App For Travel
We have taken the Epic! books app with us on over 100 days of travel now and as suspected, Epic! is a great way to access a library of online children's books while traveling!
Using the Epic Books App for Travel Days
We love using the Epic reading app to entertain our kids for long parts of our flights and train rides. The Read To Me books are especially good for flights as your children can sit and use airplane-friendly headphones and listen to the narrator read the online stories to them.
Epic's library of Read To Me books are an excellent alternative to cartoons. The toddler headphones for airplanes ensure that the children's stories do not disturb other passengers.
You don't need to buy wi-fi on your flight, just be sure to download your favorite Epic books for offline use prior to the flight.
The Epic Books App for Bedtime
Before the Epic reading app, the kids would be bored after a few nights as we'd already read all the titles we brought with us several times over.
We never have this problem with the Epic reading app. The kids love the virtually limitless supply of online children's books to read at bedtime.
A Surprise Bonus to the Epic Reading App
Another huge benefit that the Epic digital library gives the kids is the ability to bring extra toys on our trips. The room in our luggage that we used to use for packing paper copies of their favorite children's book can now be filled with extra travel toys.
Not only do the extra travel toys make the kids happier, but the large selection of online children's books makes them very happy too. This is a huge win-win!
Using Epic Books for Kids At Home
We don't just use the Epic reading app while traveling; we also use it a lot at home. In fact, we find the Read To Me books are a great alternative to entertaining the kids with Netflix cartoons.
When she was 4, our daughter was 4, she was old enough to know how to use the Epic! app to open new Read To Me titles after she finished each one. Our kids use use Epic books to listen to story-after-story with the same attention as if they were watching Paw Patrol.
We are so grateful we discovered the Epic reading app! The kids have used Epic to read Epic to read over 1,000 online children's books in the time we have used it. That is truly amazing!
The greatest thing about the Epic reading app is that the kids have no idea they are learning or developing language skills – they just think they are getting iPad time. The Epic reading app a must-have app for all parents with kids under 12.
Epic Books For Kids offers a free 7 day trial, which offers a full access to their massive 40,000+ library of kids books. Worst case scenario, your kids get to read some new online children's books. Best case, you'll be hearing from your kid's teacher about their excellent reading skills (as we did). Music to any parent's ears!
A family vacation is an excellent time to try the Epic reading app for free! Start your free 7-day trial the morning your family trip begins and download some titles for offline use on the plane.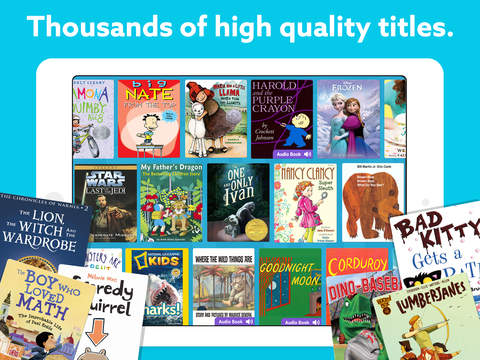 Sign up for a free 7-day trial for the Epic Reading App for Kids today!

Pin It For Later!
Celine Brewer is a dedicated family travel blogger with a profound passion for helping families create unforgettable adventures together. Her blog blends captivating travel narratives with practical tips for family-friendly destinations and enjoying active travel with kids. As a mother of two, she understands the unique challenges of traveling with children and offers valuable insights to empower parents.
When Celine isn't traveling with her husband and two kids, she's either working on one of her three travel sites (Family Can Travel, Baby Can Travel and Travel Banff Canada) or out enjoying the majestic Canadian Rockies her family calls home.