Norway is one of the world's most beautiful countries, but it's also one of the most expensive to visit. Thankfully there are ways to minimize the costs for your family, while actually improving your experience.
This post contains compensated links.
We are grateful to VisitOSLO for providing us with complimentary Oslo Passes to help us enjoy their amazing city.
If you are going to visit Oslo, we recommend you buy an Oslo Pass.
The Oslo Pass gives the holder free admission to over 30 museums and attractions plus free use of public transportation. If it's not free with the Oslo Pass, then chances are you can still get a decent discount with it.
The beauty of this pass is that it is good for 24 hours after you activate it, which means you can use it over more than one calendar day. Here is how our family of four (2 adults along with a 1 & 4 year old) used our 24-hour Oslo Passes:
Day 1
In the morning we took the train to Nordmarka forest and hiked to Lake Songsvann. Aside from the cost of transport, this amazing, outdoor activity was free.
In the afternoon, we activated our Oslo Passes at 2:30PM. We then:
Hopped on the subway (which normally costs adults 55 NOK, 4-15 cost 28 NOK and under 4 are free)
Went to the National Gallery to see Edward Munch's "The Scream" (adults cost 100 NOK while kids under 18 are free)
To reward the kids for their (reasonably) good behavior at the National Gallery, we then took them to the Reptile Park to see some cool snakes, lizards, etc. (adults cost 115 NOK, while children cost 85 NOK)
Took the subway home
Day 2
Our Oslo Pass was still valid until mid-afternoon, so we headed out to the Bygdøy Peninsula to visit their excellent museums and do a little bit of hiking. With the Oslo Pass:
We took the bus (same cost as the subway)
Our first stop was the Viking Ship Museum (adults are 100 NOK, while kids under 18 are free)
We then went on a great forest & oceanfront hike to the Kon-Tiki museum where the kids were so excited to see "Moana's boat" (adults are 100 NOK, kids 6-15 are 40 NOK and under 5 are free. Note, up to 5 kids are free with two paying adults)
After a quick ice cream cone, we walked to the nearby Fram Museum – home of the world's strongest polar vessel. It's way more fun than it sounds! (adults are 100 NOK, kids are 40 NOK and under 5 are free. Note, up to 5 kids are free with two paying adults)
We took the bus home
Once the Pass had expired, we walked with the kids to a playground near our apartment, which of course was a free activity. By using a single 24-hour pass, we were able to have two full calendar days of diverse family fun.
OSLO PASS SAVINGS
Adults: During the 24-hour period our Oslo Pass was valid, we each consumed 735 NOK ($92 USD) worth of attractions and transportation. The cost of a 24-hour Oslo Pass is 395 NOK ($50 USD), which resulted in savings of 340 NOK ($42USD)!
Kids: Our son was only 1 at the time of this trip, so he was free almost everywhere without an Oslo Pass. Our 4-year old daughter consumed 197 NOK ($25 USD) worth of attractions and transportation. The cost of a 24-hour Oslo Pass (aged 4-15) is 210 NOK ($26 USD), which resulted in a small loss of $1 USD.
Note, that children get free admission to most museums, so look at your projected costs carefully before buying a Pass for your children. In our case, going to the Reptile Park helped us break even on our daughter's Oslo Pass. Even though we didn't "make-money" with her card, it was nice to have as we didn't have to go through the trouble of buying subway & admission tickets just for her.
AN UNEXPECTED BENEFIT WE LOVED
When we travel, we love to enjoy as many experiences as possible, but we also like to get good value for the money we spend. For example, I know for sure we would have only gone to the National Gallery on Day 1. We'd be like, "well, we paid for it, so let's make sure to see it all". But having an Oslo Pass allowed us to leave without guilt after we saw "The Scream" and go to the Reptile Park for the kids. We'd have never done that without the Pass. It allowed us to see so much more of Oslo than we otherwise would have!
Read more about our 5 day itinerary for Oslo with kids.
SUMMARY
To us, getting an Oslo Pass is a no-brainer. Not only did we save 40% as a family on our admission and transportation costs, we also got to see way more Oslo attractions than we otherwise would have. We recommend splitting the use of the card over two days, so you don't overload on museums in a single day. Just be careful with the kid's Pass as it will be harder to break even with it.
For us, the 24-hour Pass was enough as we got to see all the museums we wanted to over this time frame. If you are more into cultural attractions than we are, you can get even better value with a 48 or 72 hour Pass (costing roughly $75 and $93 USD respectively).
(USD costs are approximate and will fluctuate. Costs above were based on the October 5, 2017 exchange rate of 7.98 Norwegian Kroners (NOK) to 1 USD)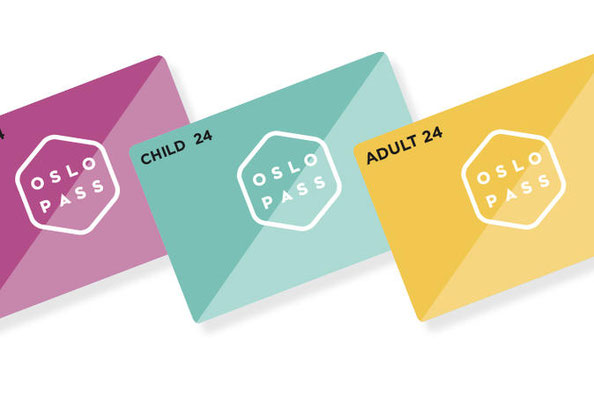 Oslo Trip Planning
Kid-friendly Oslo Apartment Rentals
Pin It For Later!