Florence with small kids, is it doable? It certainly is. It may not be the leisurely strolls through art museums or enjoying a late afternoon glass of wine, but there are plenty of activities in Florence for everyone. Even if the art, culture and architecture aren't high up on your list of things to see, you can still find fun things to do with kids in Florence that will keep the whole family happy.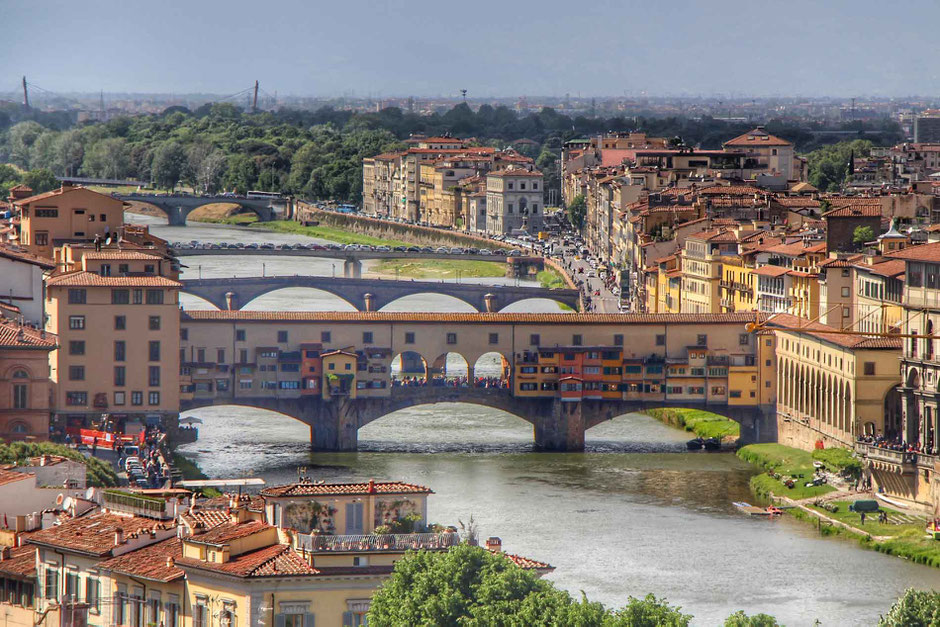 This post contains compensated links.
How Long Should You Stay in Florence with Kids
We recommend staying 4 full days in Florence. Add a day or two if you'd like to do a day trip to Pisa or Lucca from Florence. We were there for 6 full days and we felt we could have easily reduced this by 1-2 days as we had already been to Pisa and Lucca.
Where to Stay in Florence with Kids
Choosing where to stay in Florence will depend mostly on how you plan to spend your time. Your options will be to stay within the historic city center, outside the center or in the countryside. If you won't have a car and plan to spend your time visiting the main sights in the historic center, then that is where you should stay.
If you are planning a longer visit or have a car, then you probably don't want to be staying in the historic center. Additionally, you'll get more of a local feel by staying outside the historic city center of Florence. The countryside would also be a great option for exploring more of Tuscany plus you are only a bus ride away from visiting Florence.
We stayed slightly outside the center near Piazzale Michelangelo, which was great since it enabled us to stay in a larger Airbnb apartment with 3 rooms and we were still only a 15 minute walk from the main things to see in Florence. We also learned we were very close to a great playground (more on that later)!
If you haven't yet signed up for an Airbnb account, use our link and get a $35USD credit towards your first stay!
Getting to Florence
We found the trains to be a great way to get around Italy. We came to Florence from Lucca, arriving at Firenze S.M. Novella after a short 1.5 hr train ride. From there it was a 30 minute walk to our apartment, which we opted to avoid by taking the bus directly from the train station. Most buses will stop at the main train station, making it easy to make use of the bus system upon arrival.
Tip: It's recommended to buy your bus tickets at a ticket stand before getting on and then validate it on the machine on the bus.
If you are arriving by plane, your options to get to the city center are bus, taxi or private transfer. The bus, called Volainbus, will take you to the bus station near the main train station, Santa Maria Novella . Tickets can be purchased from the driver. The bus runs from 5:30am until just past midnight.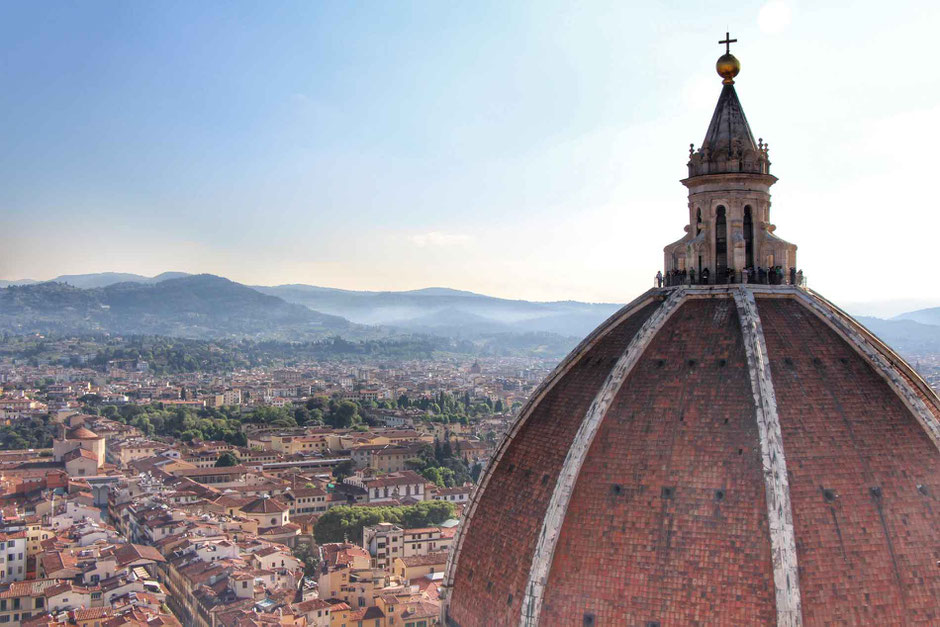 Getting Around Florence with Kids
If ever there was a city perfect for walking, it's Florence. The historic city center is fairly compact making it easy to walk everywhere! Since you will be doing a lot of walking, we recommend a baby or toddler carrier or a very lightweight stroller if traveling with a baby, toddler or small child. Aside from our trip up to Fiesole and the bus to get us back from our failed hike, we walked everywhere we went in Florence.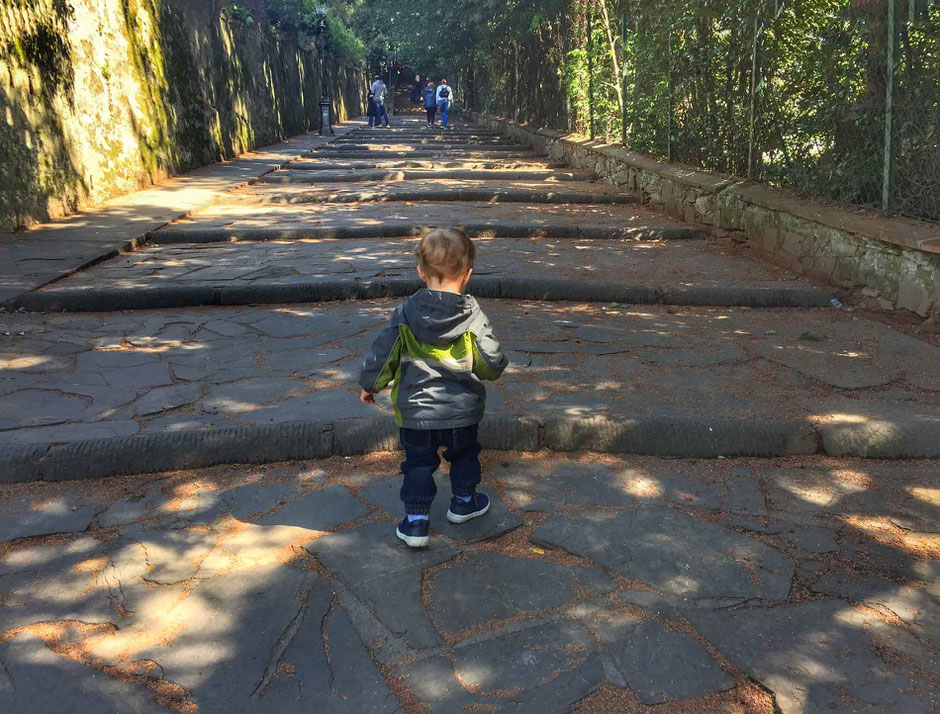 Things to do in Florence with Kids
Piazzale Michelangelo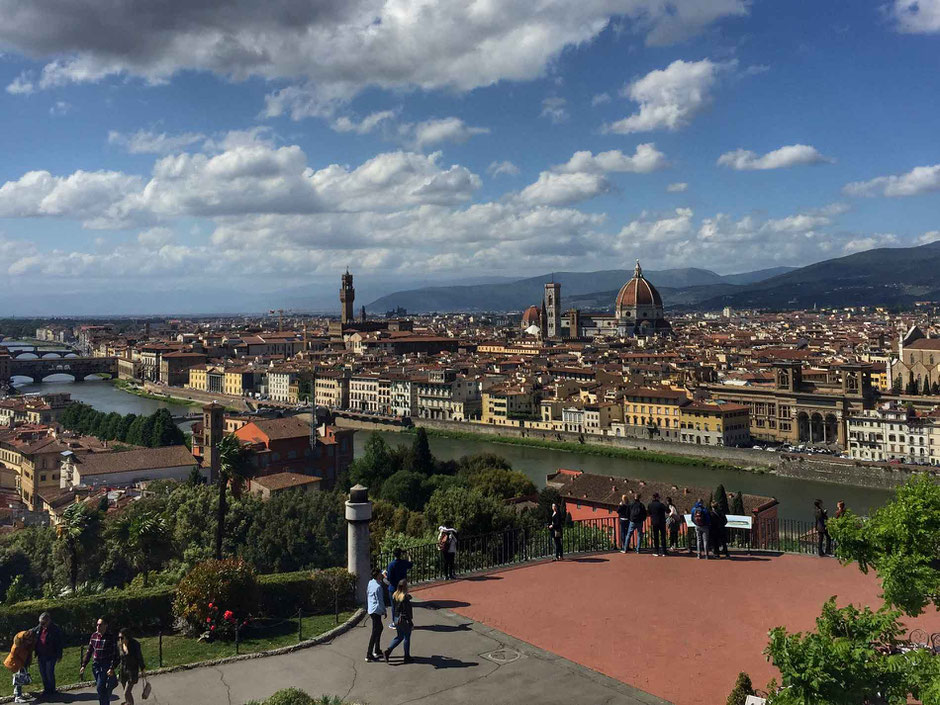 We arrived in Florence just in time to settle into our Airbnb apartment and have enough time for one activity. Given the proximity of Piazzale Michelangelo to our apartment, it made for a perfect introduction to Florence.
After a morning on the train and buses to get to our apartment, our kids were ready to burn some energy and climbing the long staircase up to Piazzale Michelangelo was ideal. The views from up top are worth every step! Of course, the kids were far more interested in chasing pigeons than seeing a replica of Michelangelo's David!
With no chance of sitting for any length of time to take in the view, we were off again back down the stairs. We took a slight detour off the stairs into the rose garden. Again, though perfect for a lazy afternoon basking in the sun amongst the blooming roses, there was no stopping for us!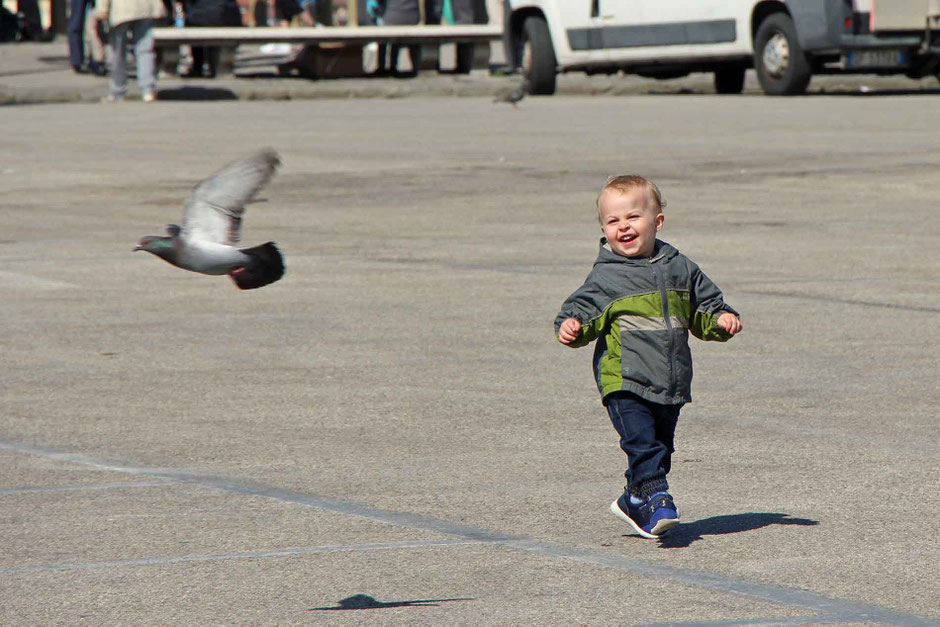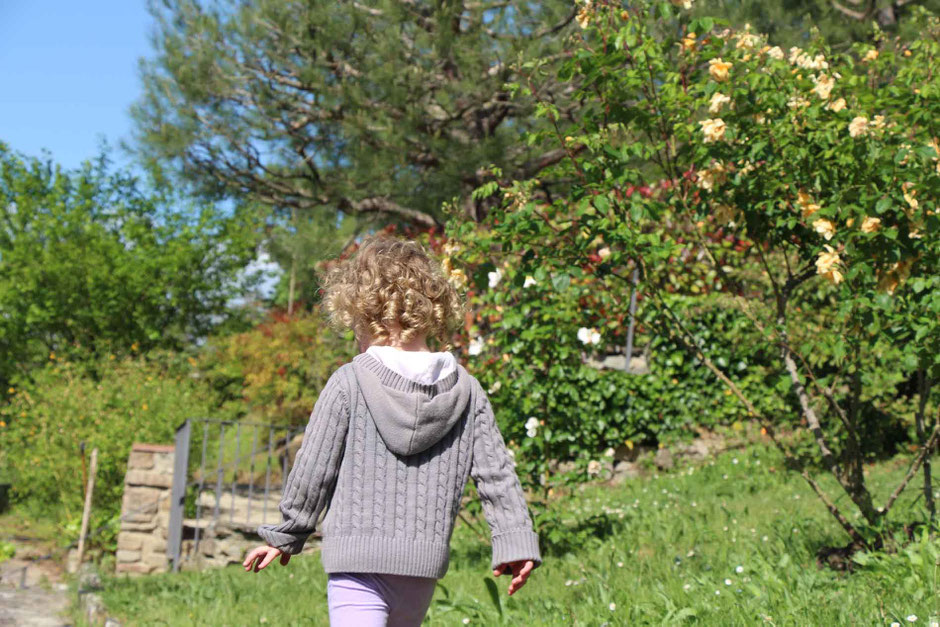 Giotto's Campanile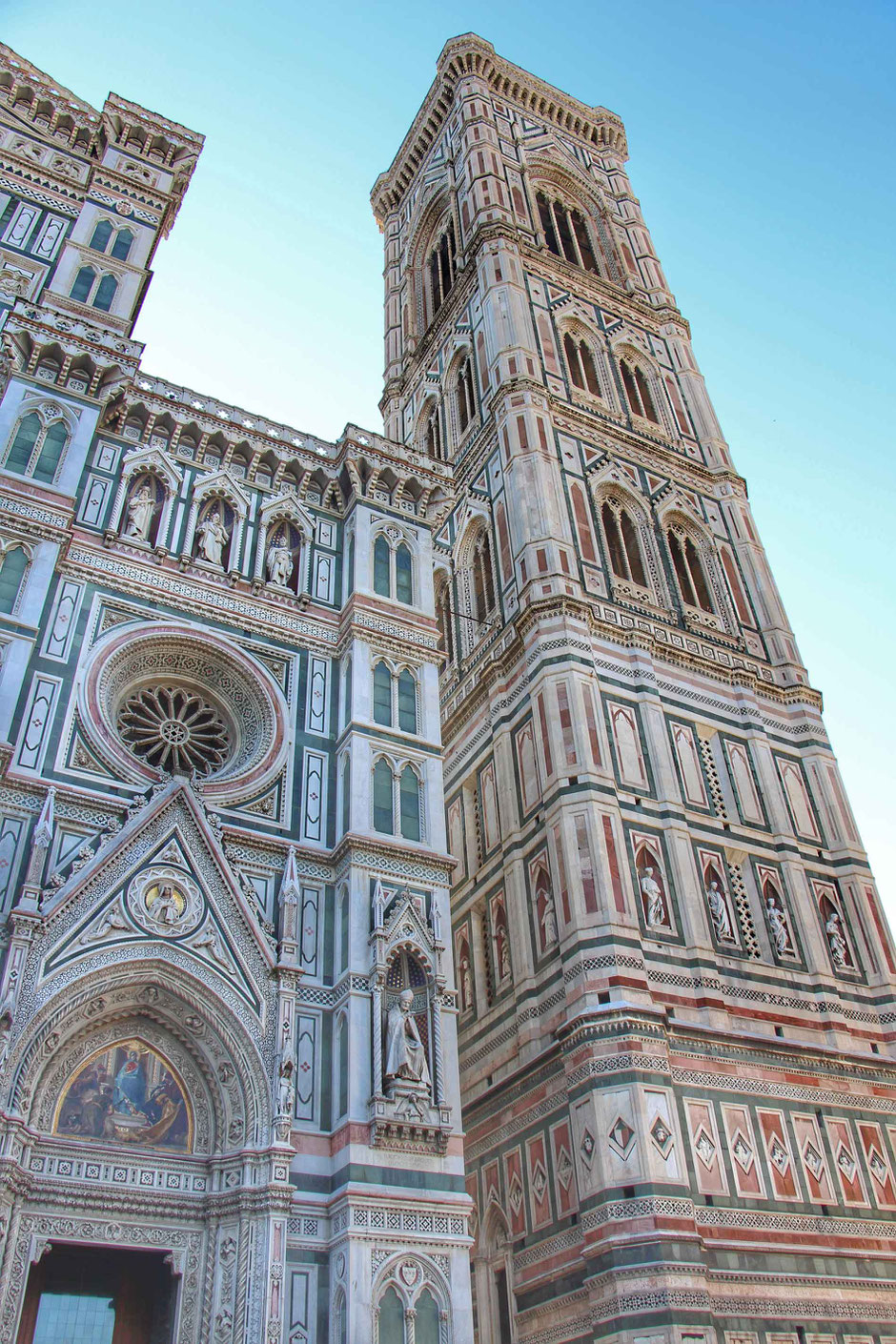 Next on the agenda was to climb one of the three bell towers and get those incredible sweeping views of Florence and the Tuscan mountains. We started at the Tower of Palazzo Vecchio, but quickly learned that even with our kids in the backpack carriers, we would not be permitted to climb. Kids have to be a minimum of 6 years old to climb this 96 meter high tower.
We continued on to Giotto's Bell Tower or Giotto's Campanile, one of the four monuments on the Piazza del Duomo. Arriving shortly after it opened, one benefit of travelling with toddlers who get up early, we walked right in without any line up.
As is typical, the stairways were tight with our backpack carriers on and got progressively tighter the higher we got (though not nearly as narrow as the stairway up the dome at St. Peter's Basilica in Rome). Thanks to our early arrival, there were very few people climbing back down.
One nice thing about this bell tower is there are three intermediate decks you can stop at along the way to rest as you climb the 414 steps (85 meters) to the top. At the top, the inside area had sufficient space to take off our backpack carriers and leave them while we went out to the viewing area – which is far too narrow to comfortably walk around with them on, especially when there are other people present.
And the view that we came for did not disappoint! Though our early arrival put the sun directly behind the Cupola of Brunelleschi, it was still worth it for the incredible views of both the Cupola and the Cathedral!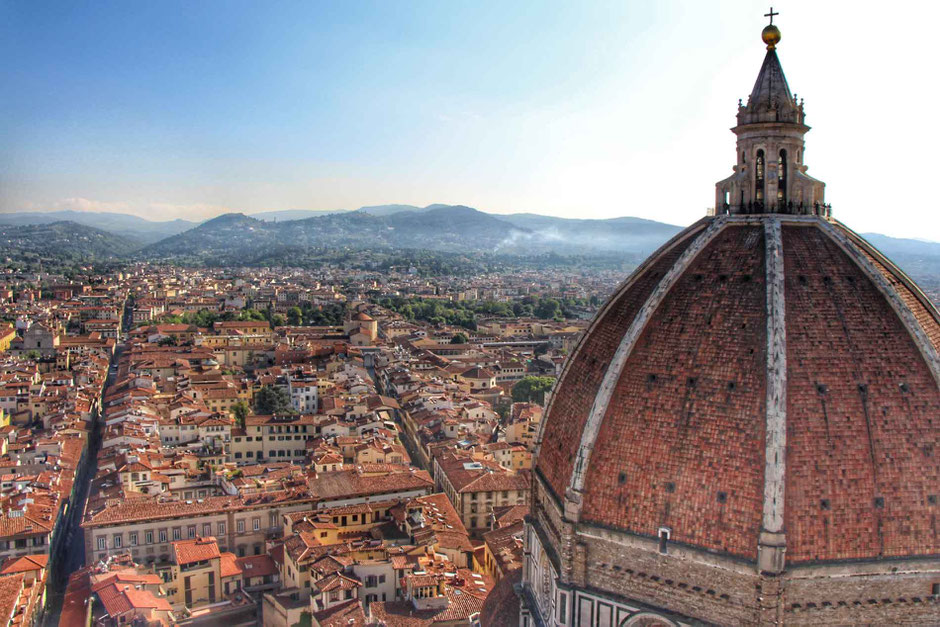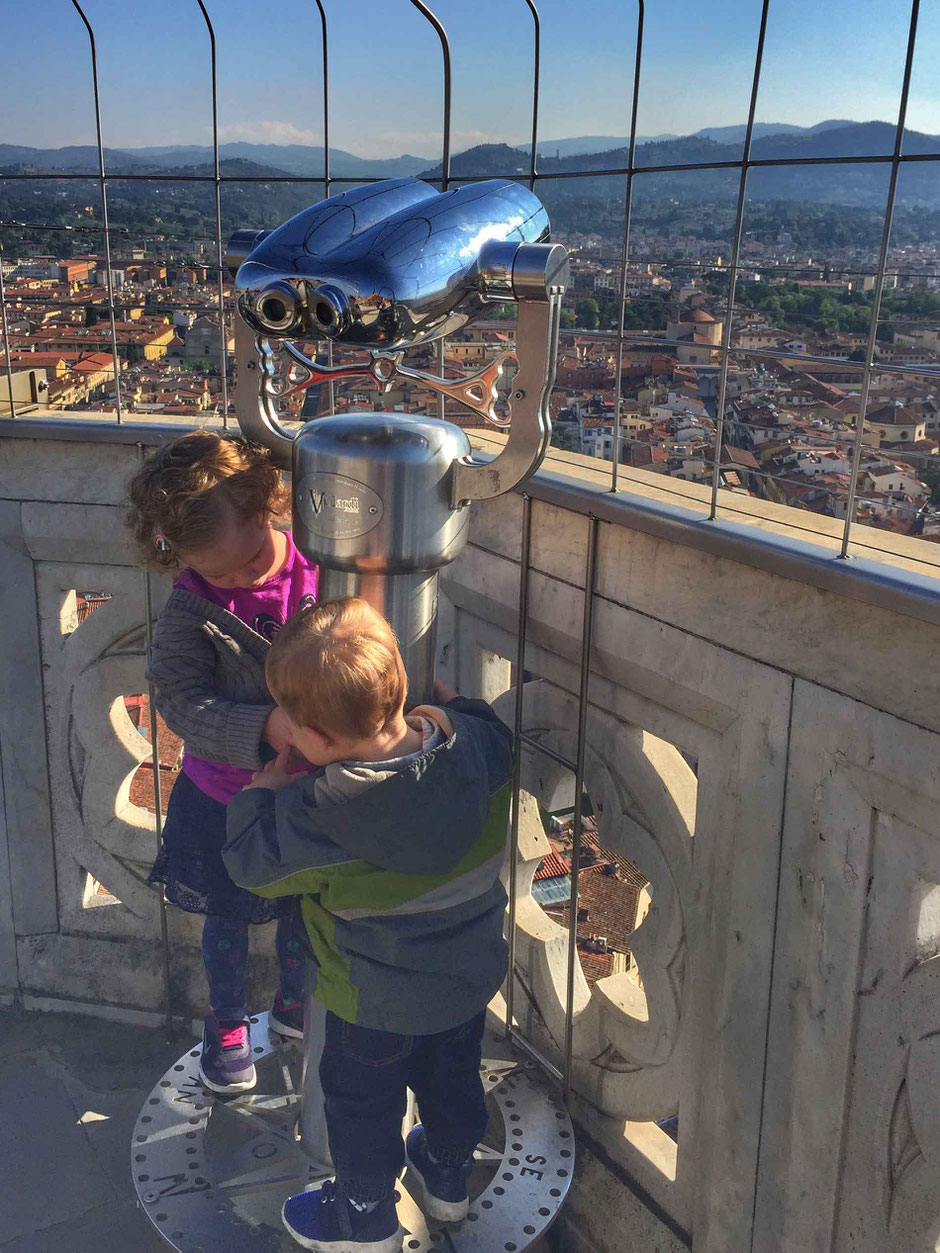 By the time we got down, the lineup had started to grow and within the hour it was very long. We recommend getting there early, especially if you will be carrying a baby or toddler up.
Cattedrale di Santa Maria del Fiore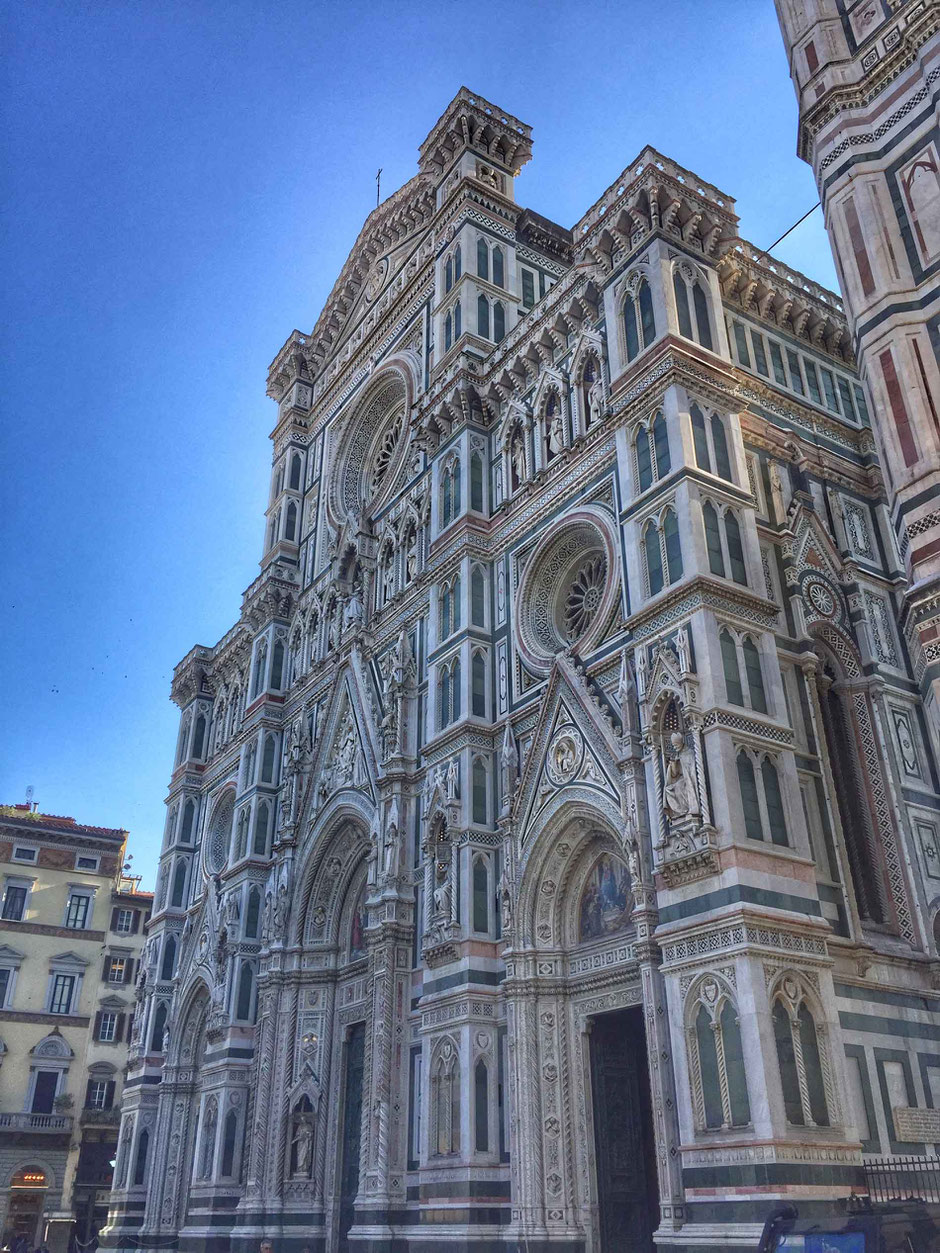 After our climb up the Giotto's bell tower and a snack for the kids, we proceeded to get in a very long line for the Cattedrale di Santa Maria del Fiore. We were several hundred people back by the time we got in line at 9:40am for the 10am opening, but thankfully the line was very fast once the doors were opened.
The Santa Maria del Fiore Cathedral is the fourth largest church in the world, after the Duomo in Milan, St. Peter's Basilica in Rome and St. Paul's Cathedral in London. Given the ornate façade of this Cathedral with its pink, white and green marble, we were surprised to find the church to be quite ordinary inside.
In addition to the visit inside the church, there are also excavations under the church that visitors can see while walking along narrow pathways (not ideal with a stroller, especially with the crowds).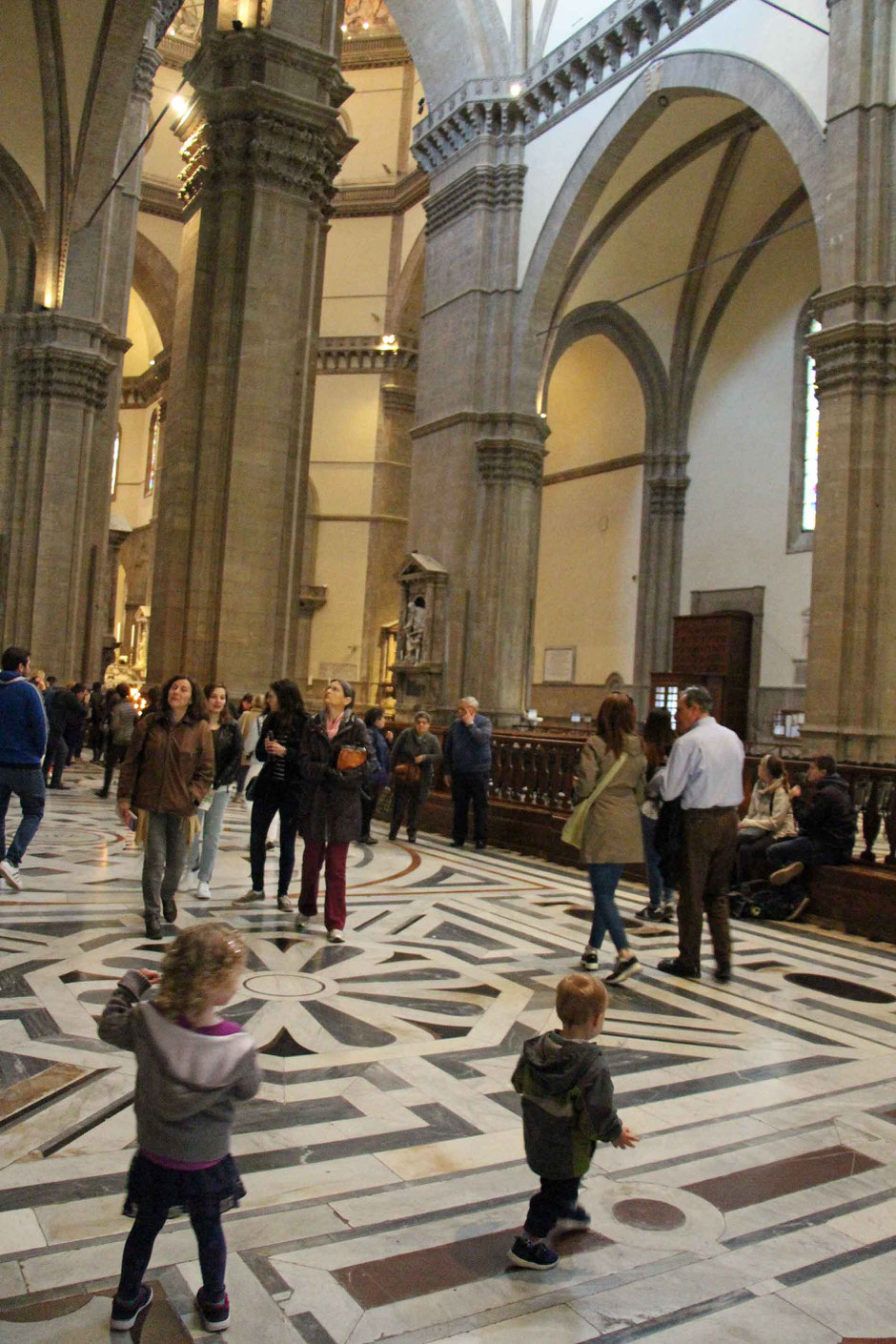 If it's the Duomo you had your heart set on climbing, you can only see it by advance online reservation so make sure to do this early. It was fully booked 3 days in advance, so we were not able to fit it in.
Food Tip: Don't miss the sandwiches at All'Antico Vinaio, not only are they delicious but they are great value at 5 euros each. Our favorites were the Dante, the Inferno & the Favolosa.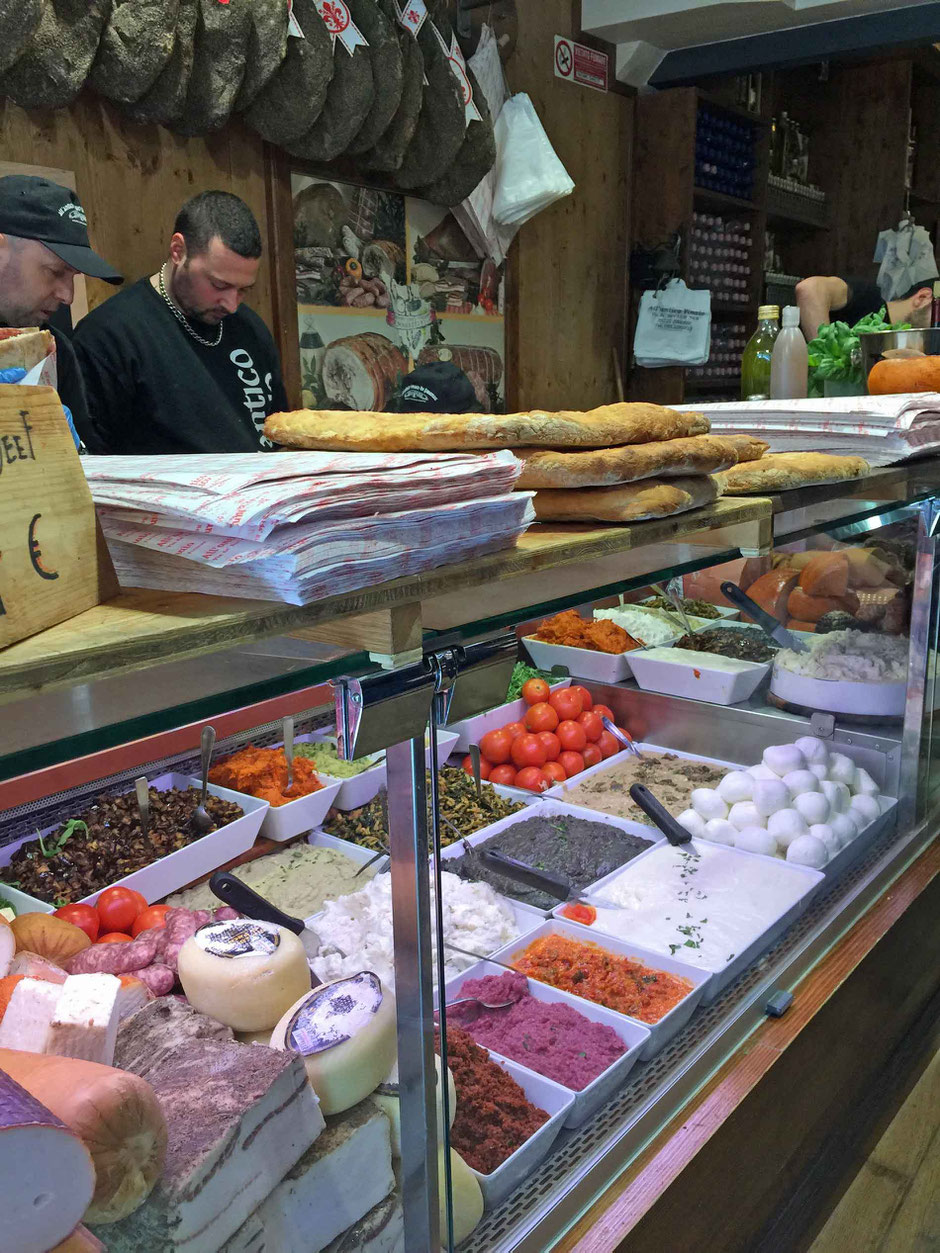 Ponte Vecchio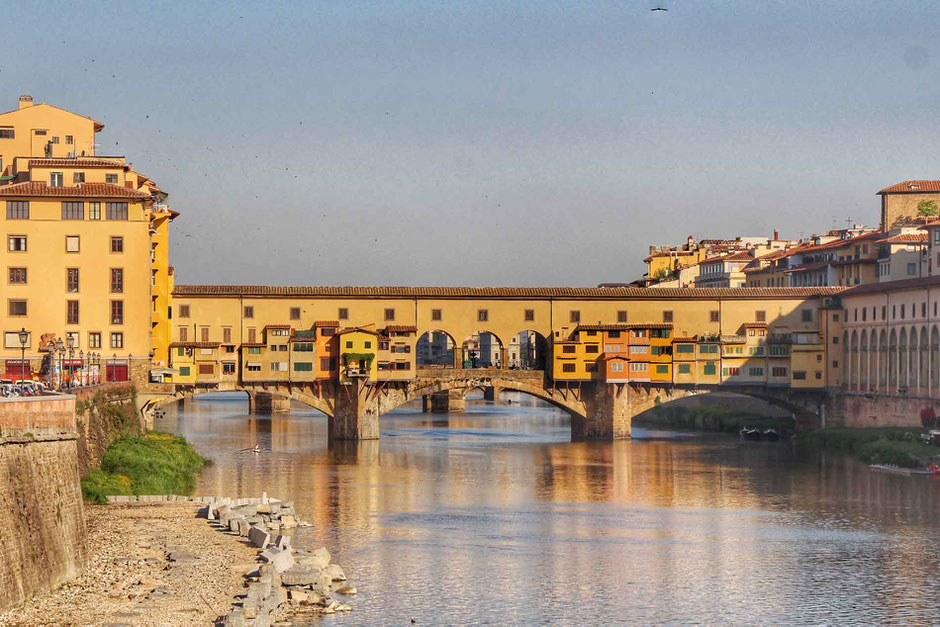 The Ponte Vecchio, or "old bridge", is an icon of Florence and worth a walk across. It has been standing for centuries and even rebuilt when the Arno River flooded. Though at one time it was filled with all different types of shops, that changed to be only goldsmiths & jewellers in the 15th century. Today you'll find jewellers, art dealers and souvenir shops.
We initially walked across the bridge at 8:00am when it was very quiet and the shops were all still closed. It was a quiet and peaceful walk across, a much different experience than seeing it slightly later in the morning when it got increasingly more crowded.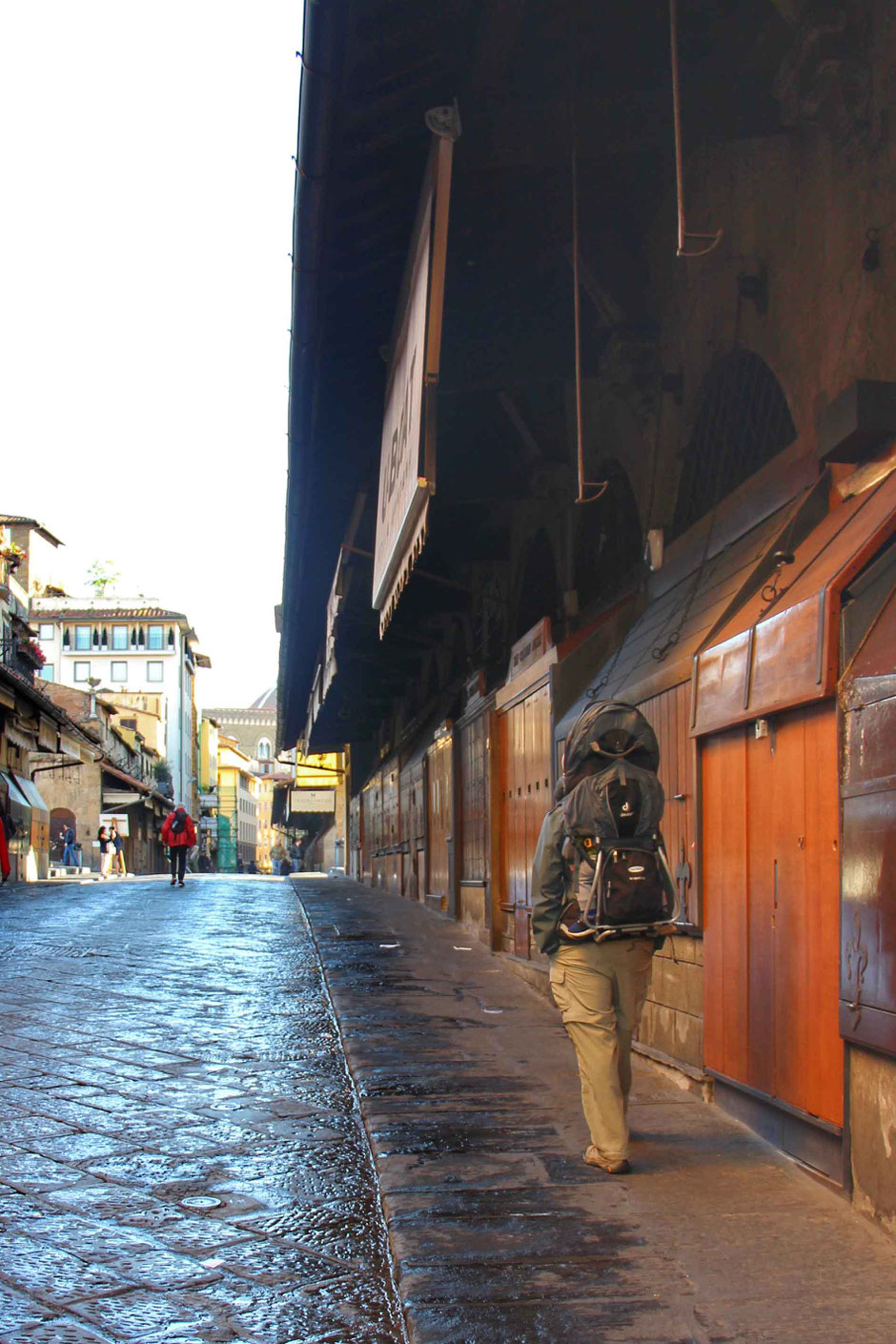 Giardino di Boboli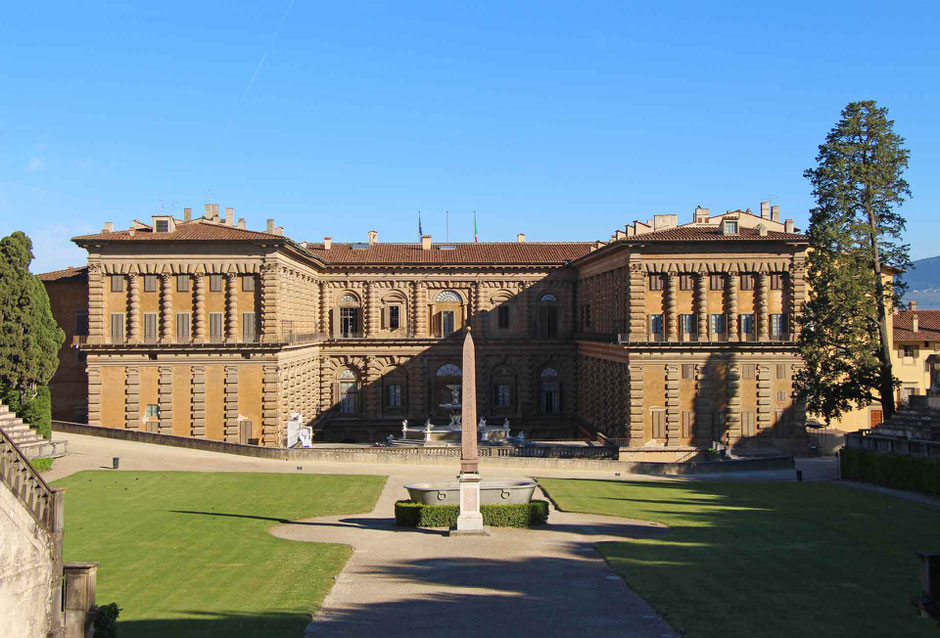 Not one to miss a great park and escape to nature, we spent a morning at Giardino di Boboli, found directly behind the Pitti Palace. Getting there at opening time, we got to enjoy the feeling of solitude in nature. Parks are also a great opportunity to let the kids be kids and burn off some energy.
The Giardino di Boboli seems to be much more than a park and rather an open air museum, with its fountains and sculptures. It's a beautiful park to spend a morning at and especially with kids who will enjoy the ponds with ducks and plenty of pathways to wander on, though there was some effort on our part to keep them off the grass and from climbing all the sculptures. This would also be the perfect park to escape to on a hot sunny afternoon with its shade and covered pathways.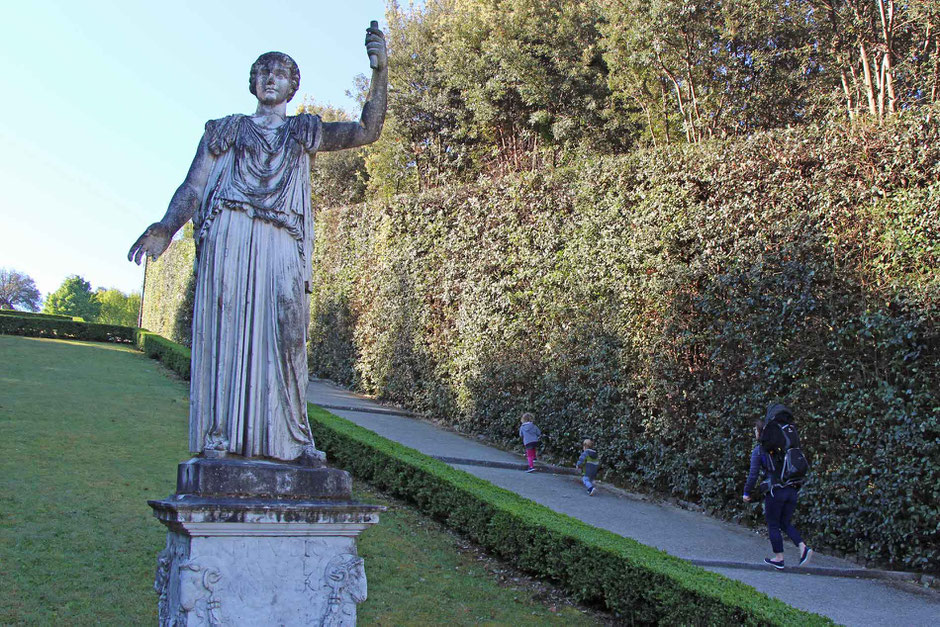 Giardino Bardini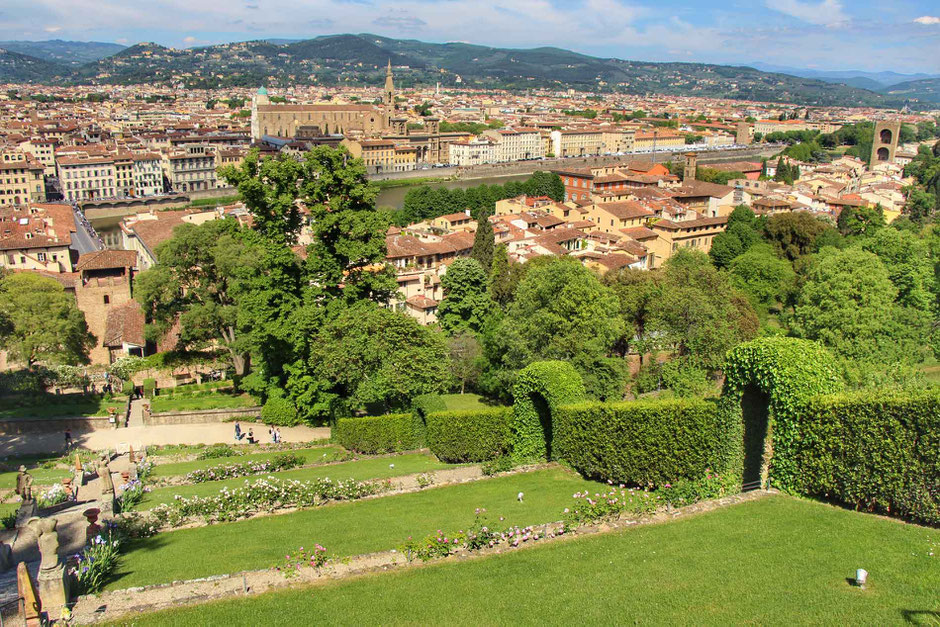 We found the historic city center of Florence to be very lacking of green space and trees, though there are many piazzas they just aren't the same, hence why we sought out some of the famous gardens.
With our ticket to Giardino di Boboli, we also got free admission to Giardino Bardini. The small storefront entrance certainly doesn't give away what you will find once you enter the park. We were also lucky to visit in the spring when the roses and irises were in bloom.
Though this park is much smaller than Giardino Bardini, the views of Florence are spectacular! As you would expect, to get views like this, the park is built up a steep hill, but there are long, winding pathways that make the walk to the top a lot easier. You'll also find a café at the top to enjoy a treat before heading back down.
Tip: If you are staying longer in Florence, you might enjoy a visit to Cascine Park.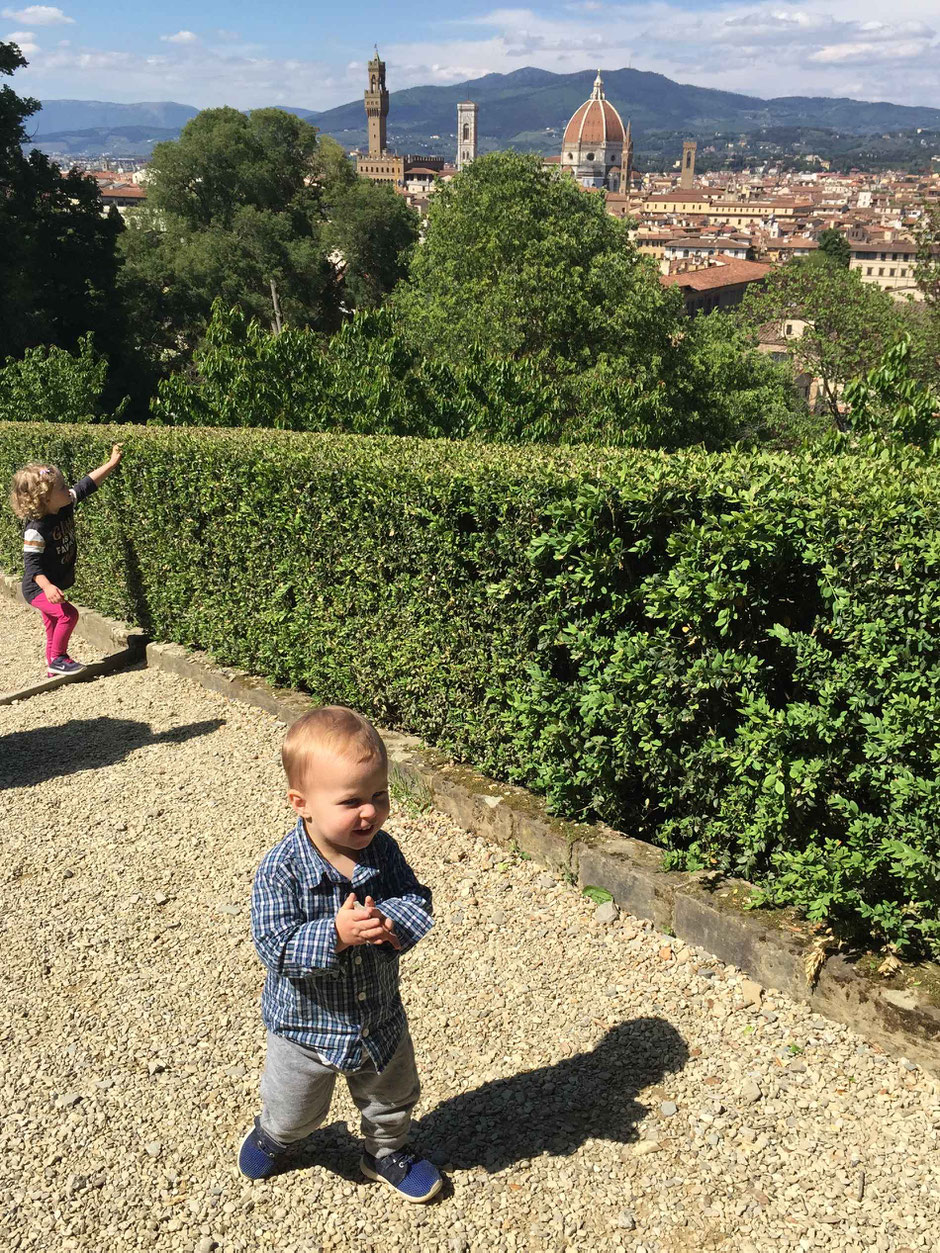 Fiesole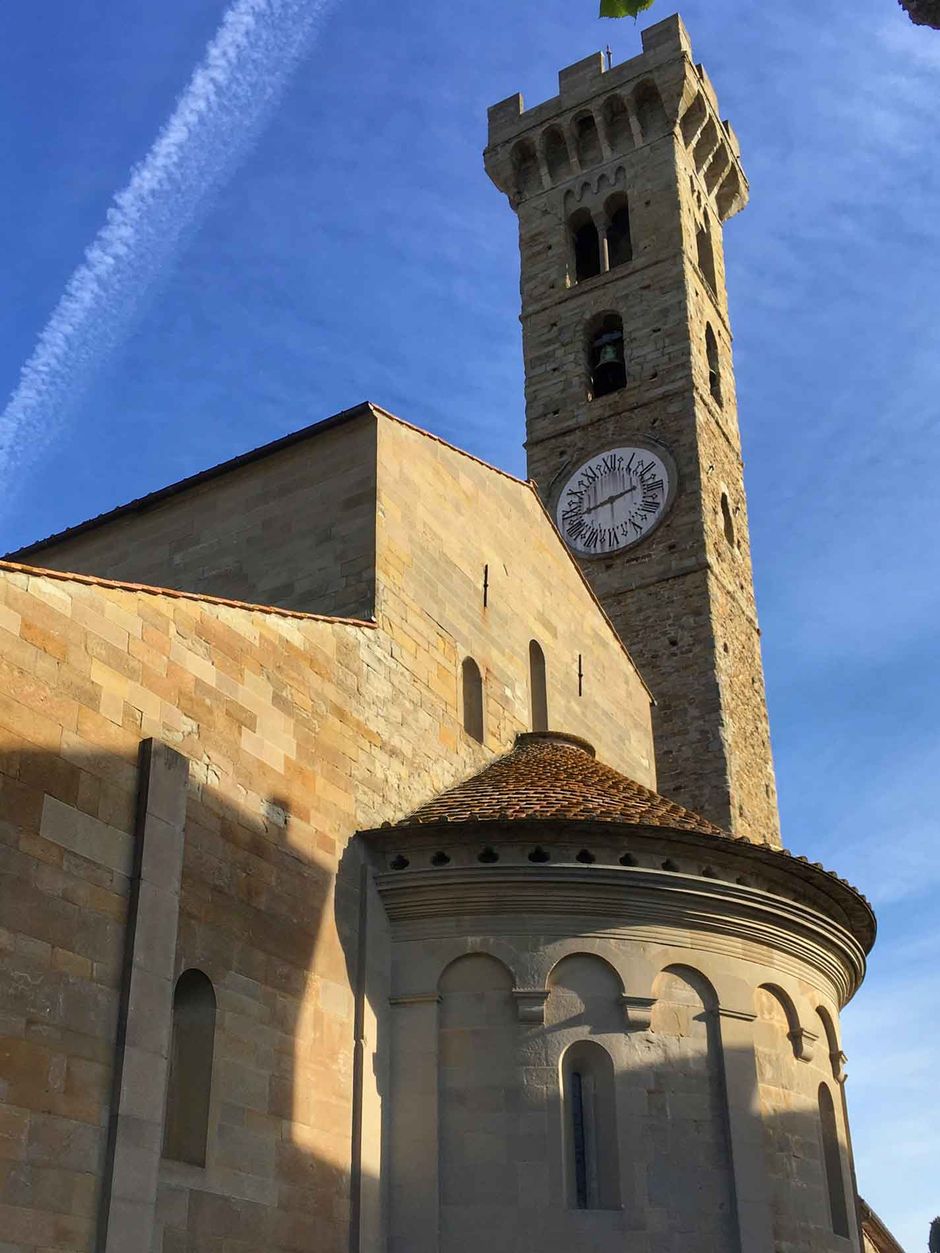 Taking it one step further in our pursuit to be in nature, we took a trip out to Fiesole, a picturesque town high above the outskirts of Florence. It took us 2 buses from our apartment and approximately 50 minutes to get there. From the historic city center in Florence, take the city bus number 7 from Piazza San Marco to Piazza Mino da Fiesole.
Fiesole is a wonderful little village to wander around. There are three walking paths that leave from the central piazza (see attached map). We managed to walk two of them during our visit, the "Breathtaking Views" and "The Stonemasons and Leonardo".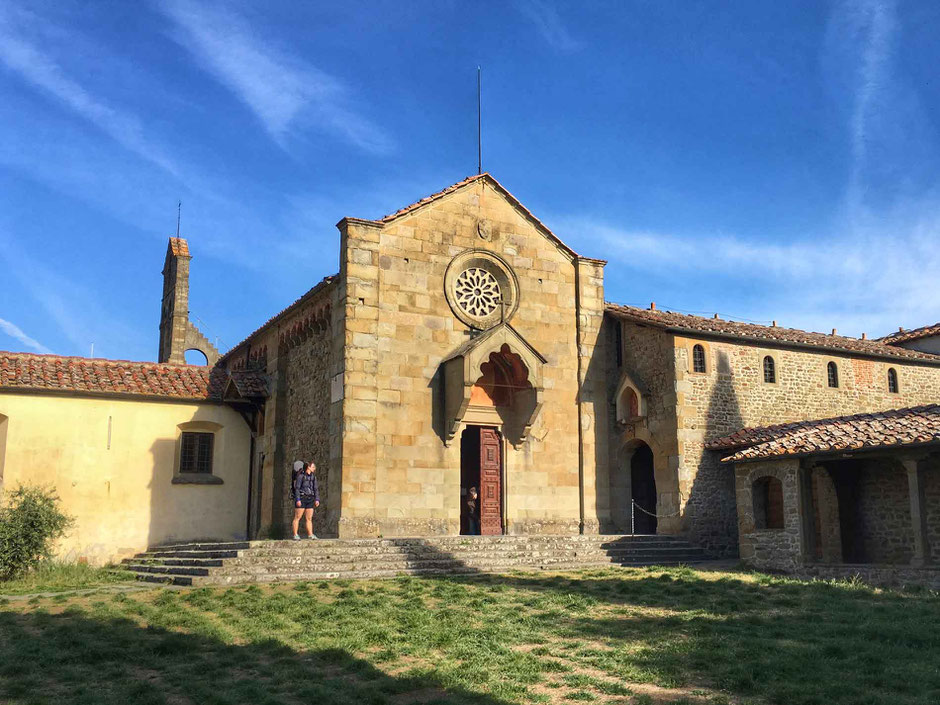 The first path went up to a viewpoint, past a convent (Chiesa e Convento di San Francesco) then through a beautiful treed path which eventually brought us down past a cemetery and back to a paved pathway.
From there the path circumnavigated the Roman amphitheater, but you couldn't really see much of the ruins. You have to go into the site for that, which we opted not to. Though short at 1.3km / 0.8 miles, the entire walk was along nice, quiet streets and some dedicated walking paths, with some good views of Florence and the Tuscan countryside along the way.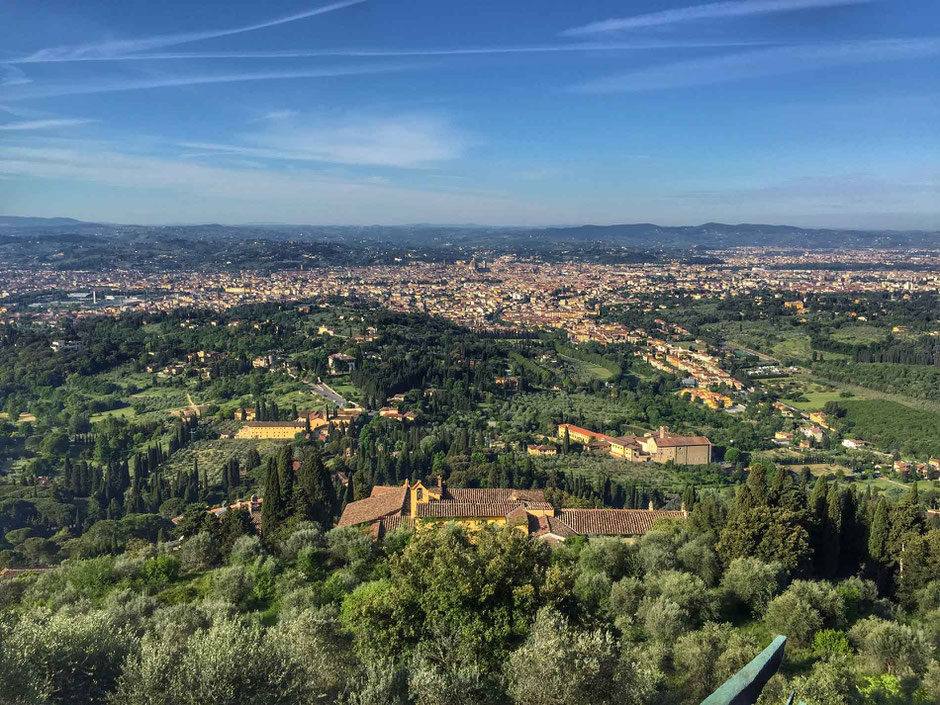 We enjoyed the second, longer 2.5km / 1.6 mile path (The Stonemasons and Leonardo) more. Starting up the quiet streets, we were afforded some great views of Florence. Not long into following the path, we entered the Parco di Montececeri where it became proper hiking trails.
The park has several hiking trails amongst its dense trees many of which afforded some great views. We opted to stick to the trail from the map, but had we been in Fiesole longer we would have enjoyed exploring this park more. There were even a couple of playgrounds along the way which make a perfect place to stop for a snack.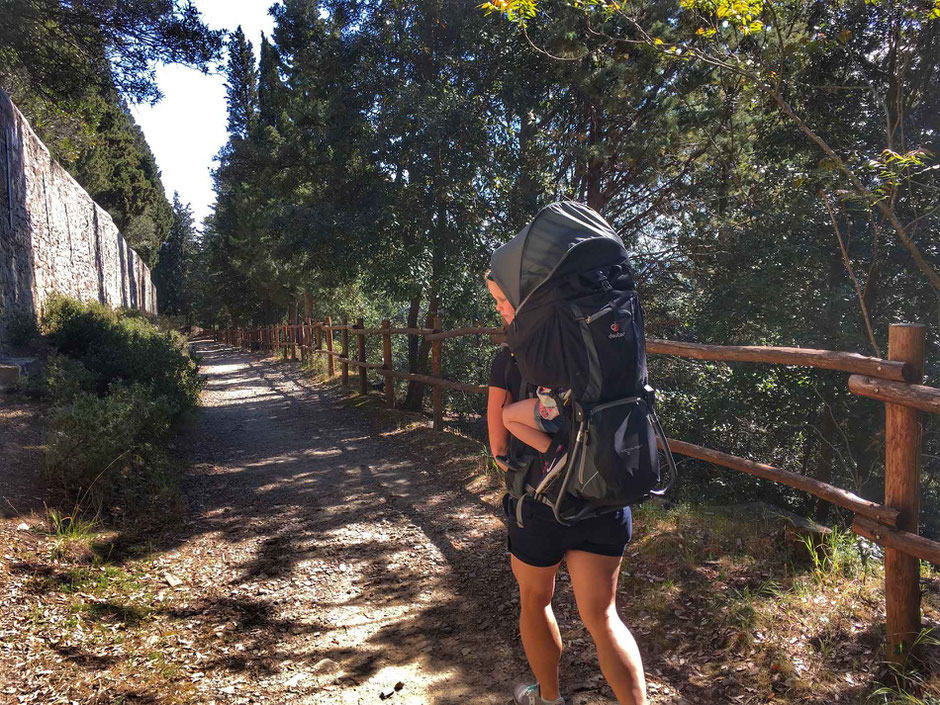 Looking for a good backpack carrier for your baby or toddler? Check out our Deuter Kid Comfort 3 review on our Baby Can Travel site.
Local Hiking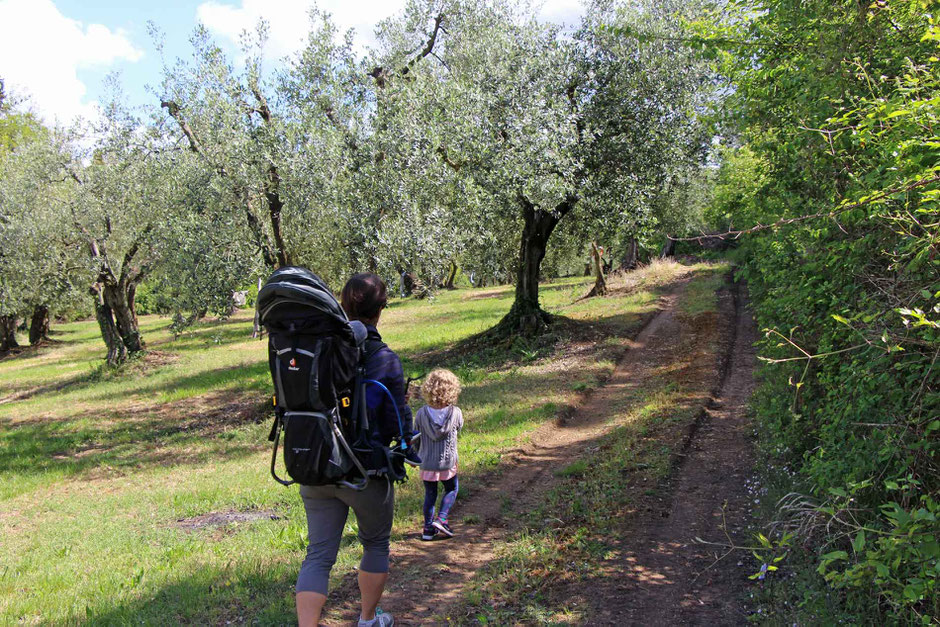 Fueled by our trip to Fiesole, we tried to do more hiking from our apartment. Trying to rely on Google Maps to find areas were we could hike without any prior knowledge proved to be a little frustrating.
We attempted to walk the hills in the Sorgane area, but had a difficult time finding exactly where we could be walking as there were many private property signs that discouraged us from trying. In the end we found a road which went up and over the hill, which gave us great views of the countryside and a fun olive grove on the other side. 
The entire "walk" ended up being far too long and on very busy, narrow roads. We would have been better off to take a tour out to the Tuscan countryside to visit some vineyards.
Palazzo Vecchio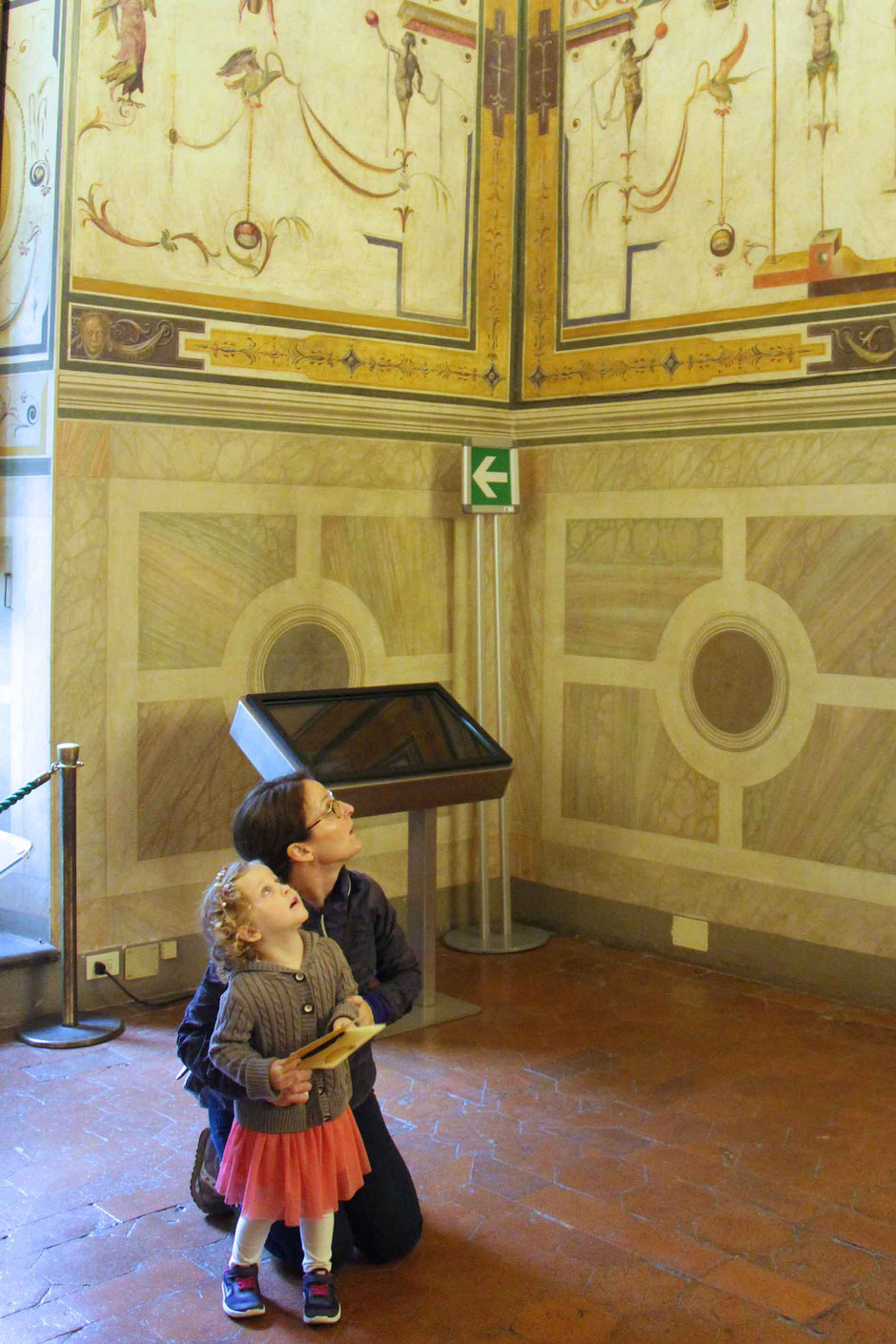 After much deliberation about what to do on our last day, we decided to go to Palazzo Vecchio. The Uffuzi and L'Acadamia were busy with long lines and didn't feel worth our time with two small kids. We felt like we had exhausted our options of easy nature outings.
The Palazzo offered a "Family Pack" with a princess crown, binoculars and games for each of the rooms, so we thought that was a good outing for the whole family. To be perfectly honest, the museum was just ok, but we did have fun with the activities and finding the pictures in each of the rooms. The free stroller rental was a novelty for our toddler, so he had fun with that.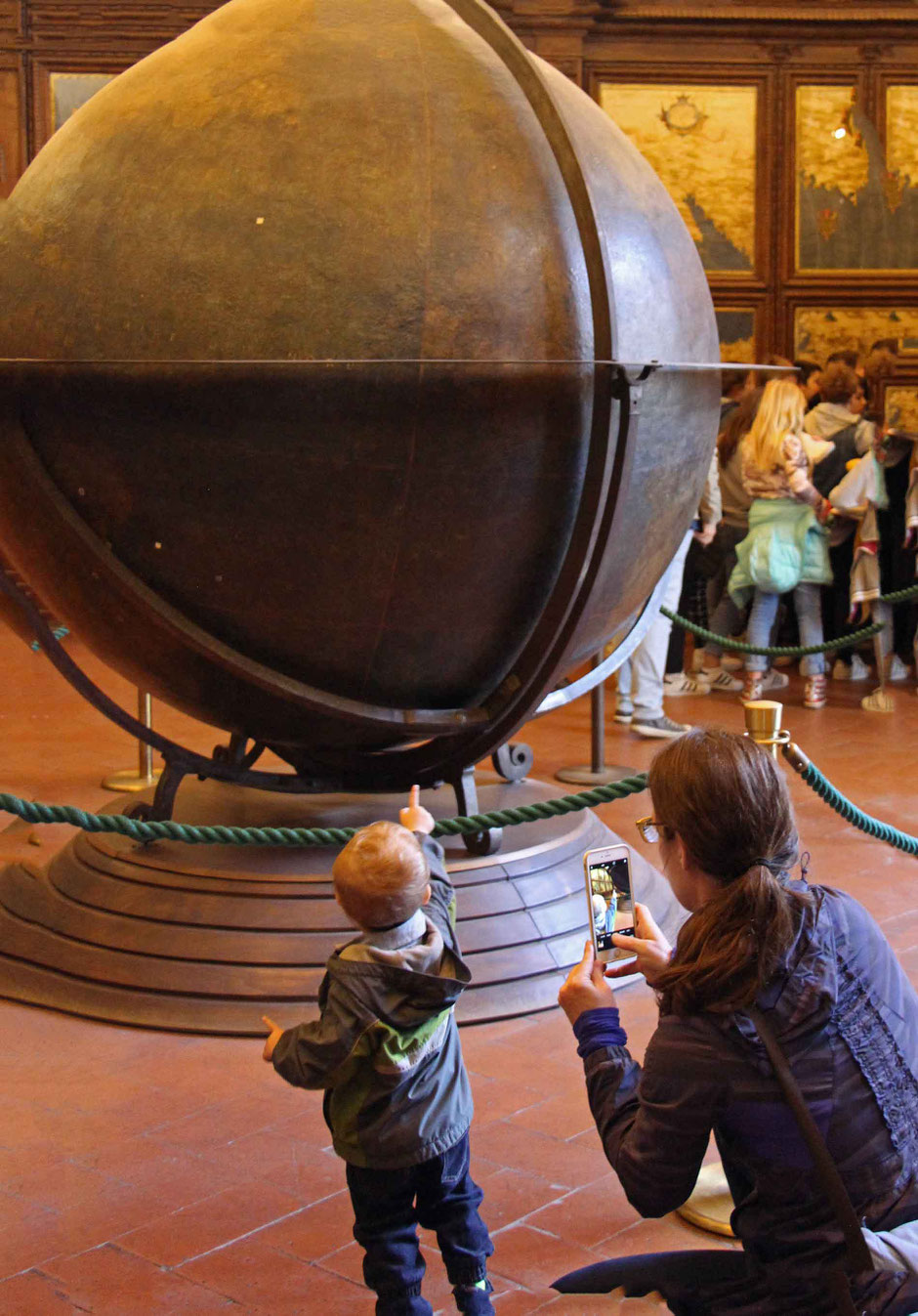 Day Trips from Florence
Though we didn't technically visit Lucca and Pisa from Florence, our visits to both of these places would have been perfect day trips from Florence.
Read about our stop in Pisa here.
Read about our stop in Lucca here.
Where to Let Kids Play in Florence
Finding Local Street Art
Thought it's not a place to let kids play, we loved pointing out all the street art around Florence and more particularly the street signs changed by Clet Abraham or the works of art by 'Blub'. It wasn't long before our 3 year old was finding them before us!
Giardino alla Carraia
We asked our Airbnb host for some info on local playgrounds in Florence and he recommended one about 10 minute walk away. What a great, hidden surprise! It's a large playground at the end of Via dell'Erta Canina, that is very popular with the locals. With its proximity to our apartment and large area to run around, we returned here often.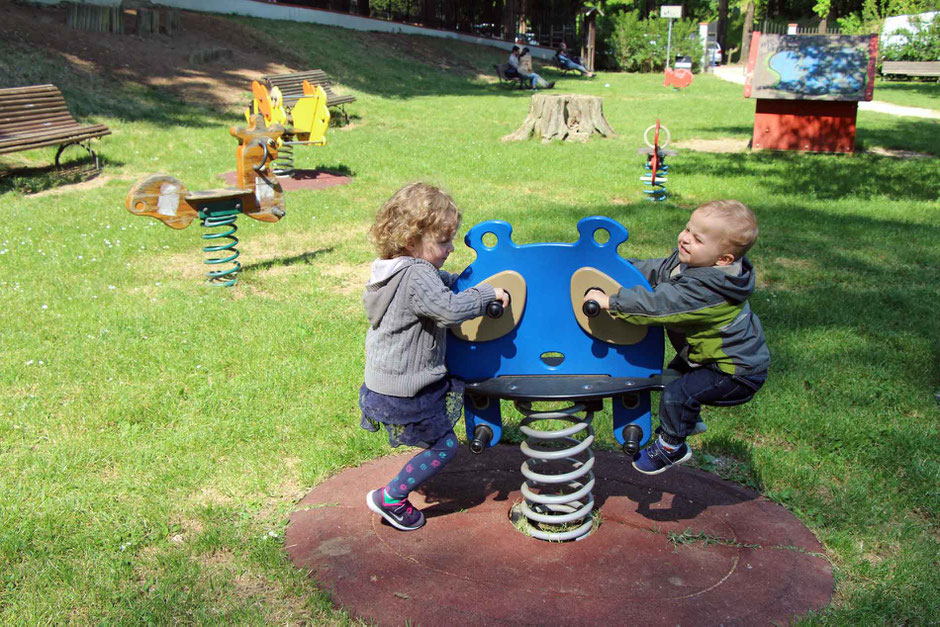 Playground at Lungarno Santa Rosa
We were excited to find this playground, on Lungarno Santa Rosa just west of Ponte A. Vespucci, in the city center along the Arno river. It was a great playground (ignoring the graffiti) for all ages, including babies & toddlers, and nicely shaded on a hot day.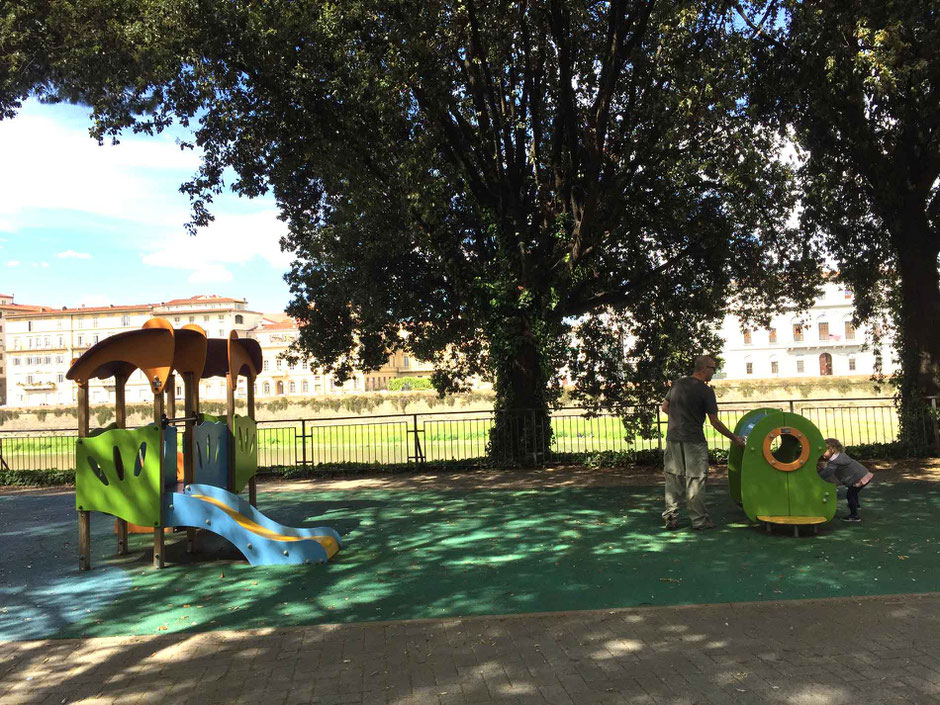 Carousel at Piazza della Repubblica
The carousel, in Piazza della Repubblica near the Duomo, is the perfect spot to stop while out for the day! At only 1€ per kid per ride, it's worth it to see their smiling faces!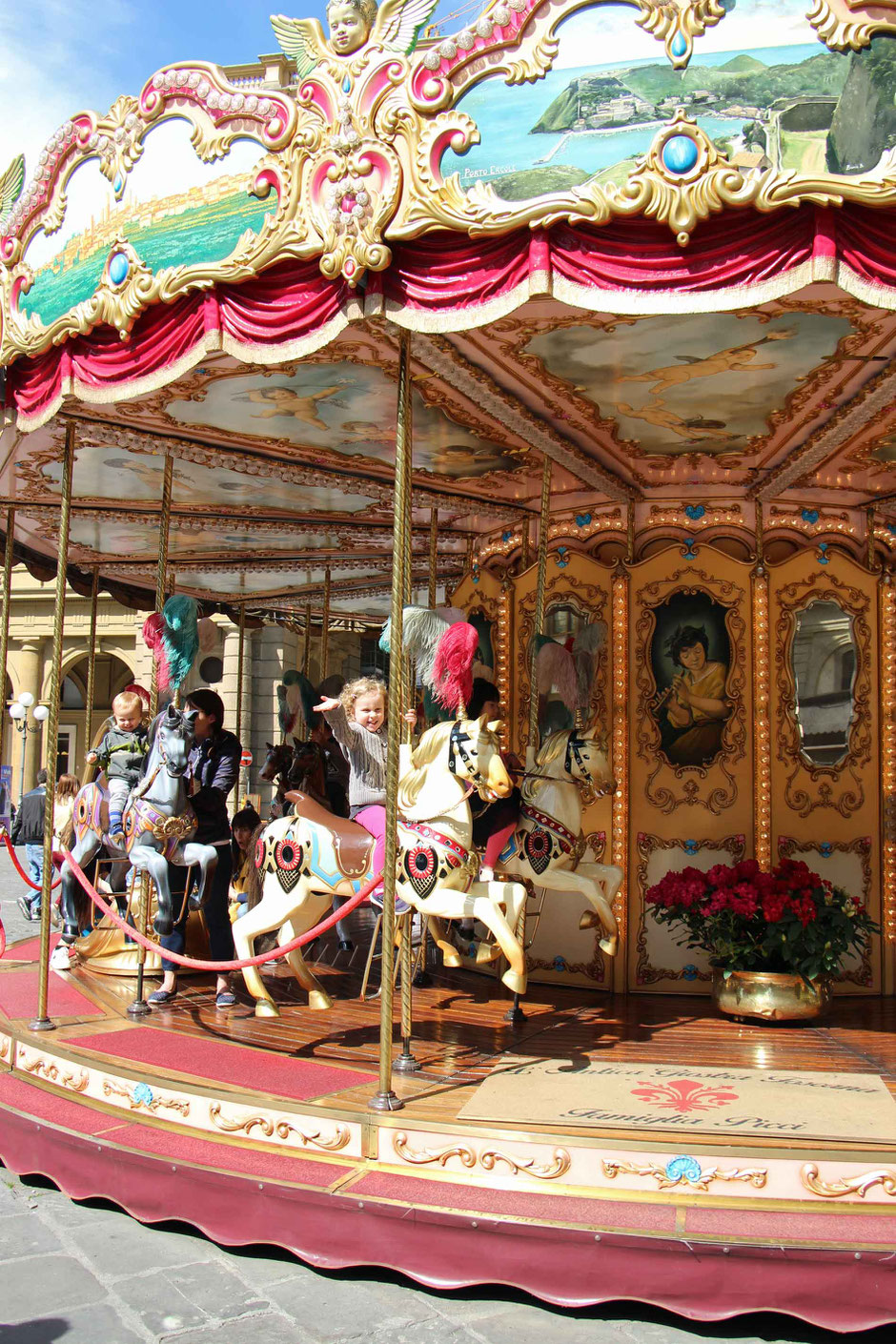 We hope this post has shown you that Florence can be a great city to visit with kids!
Florence Trip Planning Resources
Buy train tickets to/from Florence
Family-friendly Florence Airbnb apartments. Get a $35USD credit when you sign up for an account
Private transfers from the airport
Kid-Friendly Activities in Florence
Pin It For Later!